Tomato Pie has become one of my favorite summer dishes! Fresh tomatoes layered over cheese and mayo filling make this an easy, but scrumptious meal that I will be making as long as summer lasts, and I am hoping it lasts a lot longer! Take the pie a step further by making my Tomato and Corn Pie.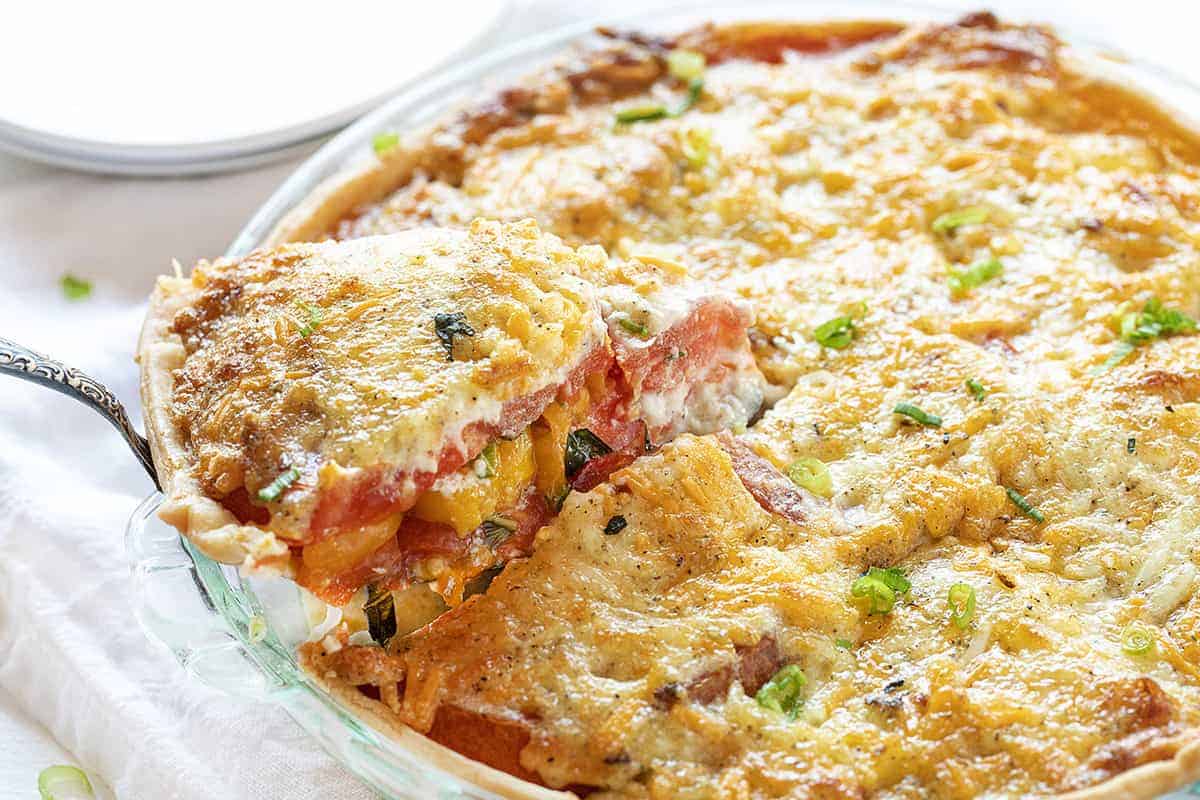 Tomato Pie
I have definitely been on a tomato kick lately, and I am in luck because we are still in the peak tomato season! When you think of pies, you probably think of a fruit pie, like apple or strawberry. Well, throw Tomato Pie into the mix, since tomatoes are actually a fruit. They were categorized as a vegetable in 1893, but since they grow on a vine, they are a fruit. Thus, Tomato Pie makes total sense to me! Whether categorized as fruit or not, this pie belongs in a category of its own because of how delicious it is! The layer of cheeses over heirloom tomatoes makes for a perfect meal you have to try before summer is gone! Use your remaining heirloom tomatoes for my Tomato Galette.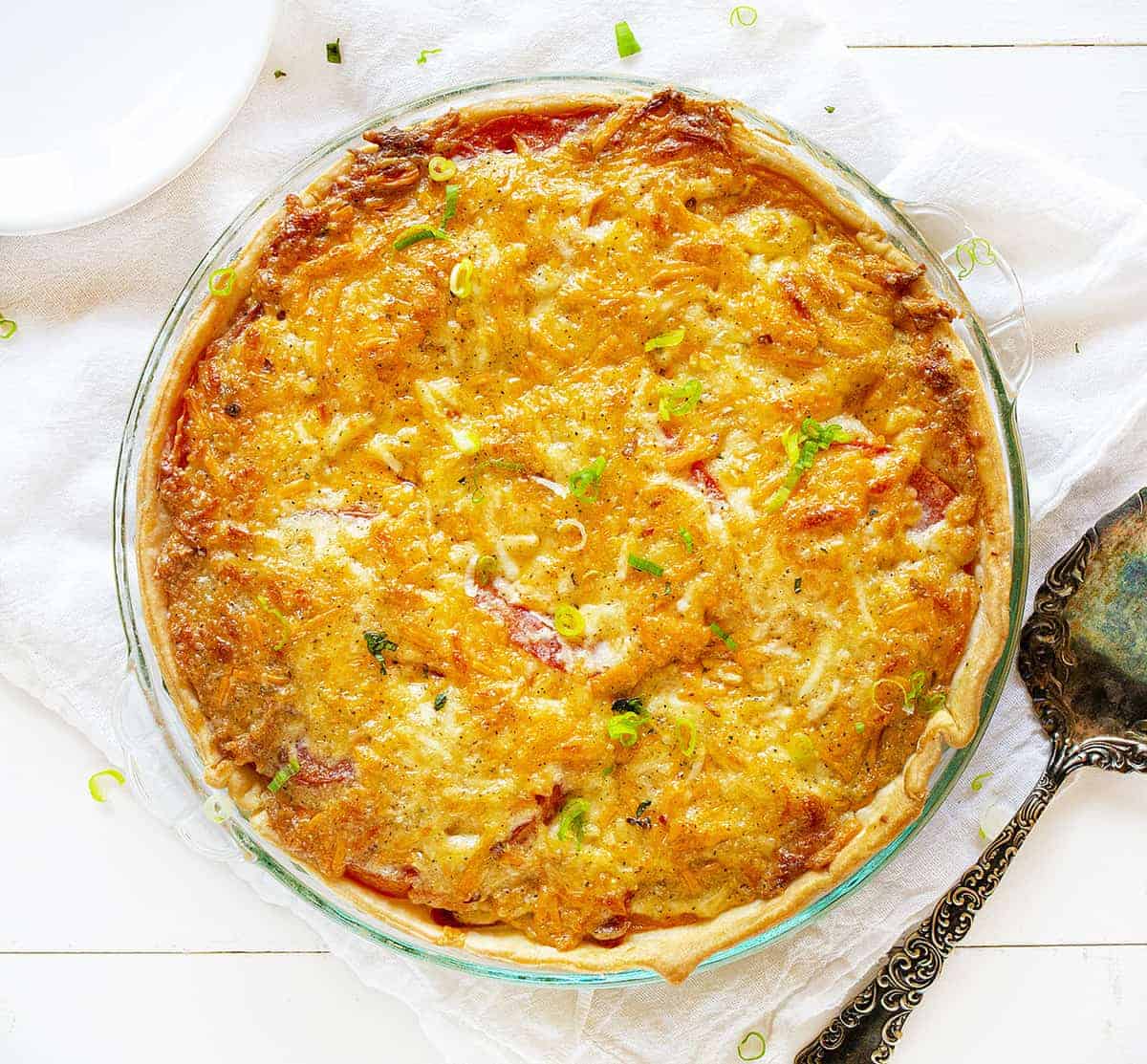 Tomato Pie Recipe
Tomato Pie is easy to make, and you will want to have it a few times from now until the end of summer. It's all about the tomatoes and cheese mixture.
Ingredients
Heirloom tomatoes: Heirloom tomatoes are tomatoes that use seeds that have been passed down from generation to generation. They are a bit heavier than other tomatoes, and they come in a variety of colors. They are more expensive because they are not mass-produced, but they are worth purchasing for Tomato Pie. If you can't find heirloom tomatoes, Roma tomatoes would work as well.
Salt
Basil leaves
Green onion
Pie shell: No need to bake the pie shell ahead of time. It will all bake together after you layer the tomatoes and cheese mixture. But, I would be all for you making your own pie crust if you so desired! I have a no-fail pie crust recipe that works for pies, hot or cold!
Cheese Mixture
Grated Mozzarella cheese
Grated Cheddar cheese
Parmesan
Mayonnaise
Garlic Powder
Oregano
Salt
Pepper
Cayenne pepper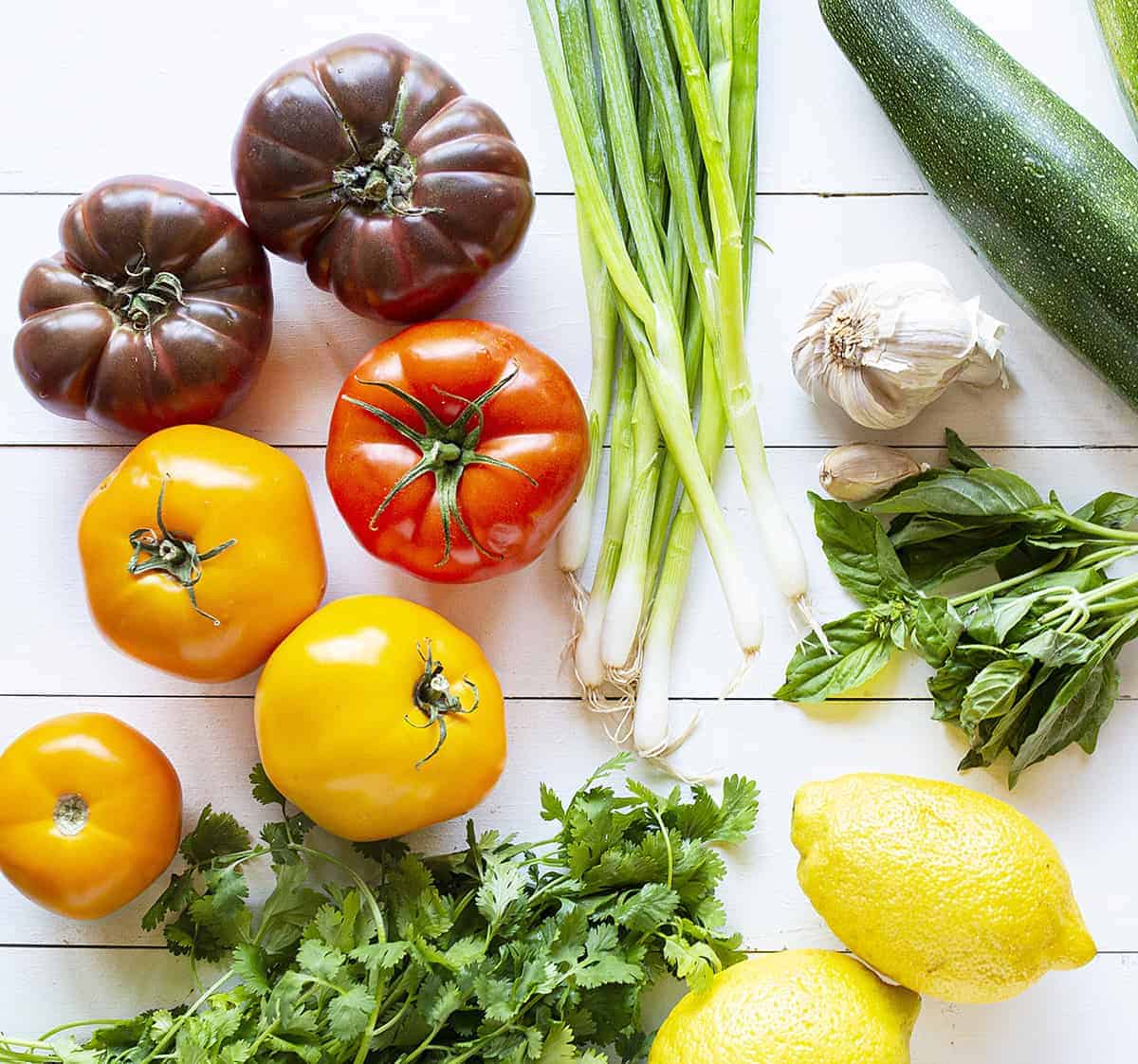 How to Prepare Tomatoes
It is important to get as much moisture out of your tomatoes before baking. If too much is left behind, your Tomato Pie may get soggy, and that we don't want that! Here is a quick step by step process you can follow. Whatever you do, DO NOT skip this step! If you don't dry the tomatoes your pie will be mushy!
Slice the Heirloom tomatoes no more than 1/4 inch thick.
Line a baking sheet with paper towels.
Season the tomatoes with salt. This will help remove any extra liquid from your tomatoes, and enhance the flavor!
Place the salted tomatoes on the paper towels to let the salt work its magic and pull out any extra liquid from the tomatoes.
After 20-30 minutes, blot the tomatoes with dry paper towels. They are now ready to use for the pie!
How to Make Tomato Pie
You are going to see how easy Tomato Pie is to make. You don't even have to bake the pie crust ahead of time! Bonus, I know! To get started, preheat the oven to 350°F. You should have your tomatoes 'salting' right now since they need 20-30 minutes to prepare. After the tomatoes are laid out and the oven is preheating, use a medium-sized bowl to combine the mozzarella, cheddar, and parmesan cheeses. Then, add the mayo, garlic powder, oregano, salt, pepper, and cayenne pepper to the cheeses. This is your flavorful pie filling if you will.
Place your pie crust in a 9-inch pie pan and start layering! First, take a 1 cup scoop of your cheese/mayo mixture and spread it over the bottom of the pie crust. Next, add your tomato slices, basil, and onion. Finish it off with the rest of your cheese/mayo mixture, add some salt and pepper, and bake for 35-40 minutes. Tomato Pie is best served warm, and if you do happen to have any leftovers, put it in the refrigerator to eat cold the next day!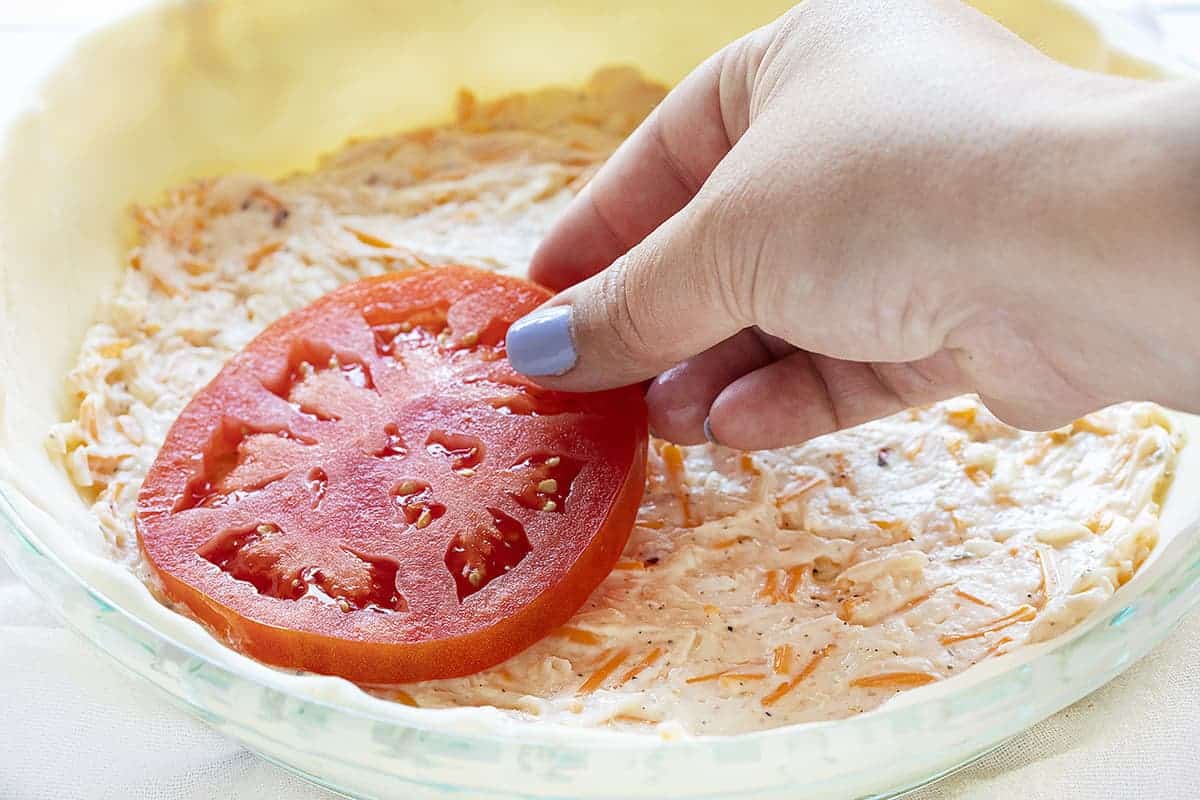 Can I add Meat to Tomato Pie?
There is always someone in the group that does not consider a meatless dish a 'real meal'. Well, to satisfy this request, simply add bacon to the mix. Cook about 4 slices of bacon, extra crispy, and crumble it into pieces to add to the cheese and mayo mixture. Complete the meal with a fresh garden salad or my grilled corn on the cob.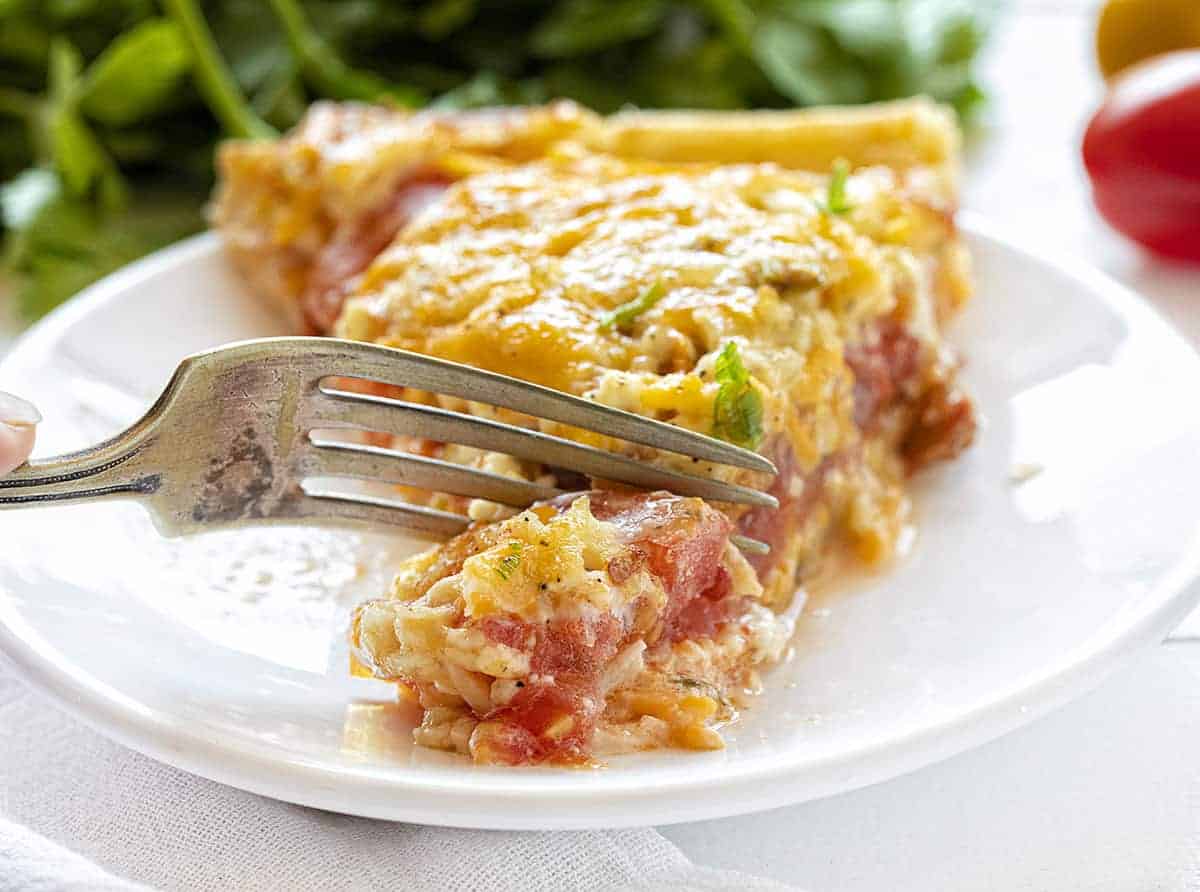 Are you Looking for More Summer Dishes?
I know, I know, summer is almost over, but that doesn't mean we have to stop enjoying these delicious recipes immediately! Here are some recipes that will keep you in the summer vibe.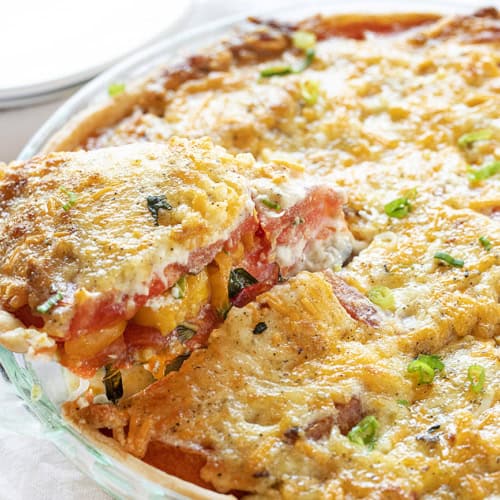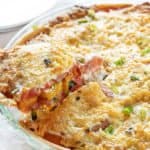 Tomato Pie
Tomato Pie has become one of my favorite summer dishes! Fresh tomatoes layered over cheese and mayo filling make this an easy, but scrumptious meal!
Ingredients
4

large heirloom tomatoes,

sliced

1

teaspoon

salt

10

fresh basil leaves,

chopped

1/2

cup

chopped green onion

1

(9-inch) unbaked pie shell

1 1/2

cup

grated mozzarella

1 1/2

cup

grated cheddar

1/4

cup

parmesan

1

cup

mayonnaise

½

teaspoon

garlic powder

1

teaspoons

dried oregano

1/2

teaspoon

salt

1/2

teaspoon

pepper

1/4

teaspoon

cayenne pepper
Instructions
Preheat oven to 350° F.

Lay sliced tomatoes out on a baking sheet lined with paper towels. Sprinkle with salt and allow them to sit at room temperature for 20-30 minutes.

In a medium bowl, combine mozzarella, cheddar, parmesan, mayonnaise, garlic powder, oregano, salt, pepper, and cayenne pepper.

Scoop 1 cup of the mixture into the pie shell. Spread to cover the bottom of the pie shell.

Layer the tomato slices, basil, and onion on top of the mayo mixture. Season with salt and pepper.

Spread the remaining mayo mixture on top of the tomatoes and bake for 35-40 minutes or until lightly browned.

To serve, cut into slices and serve warm.