We have kicked up traditional homemade Pot Pie and added Steak Bites (beef), giving this classic dish a… dare I say elegant?… twist! Steak Bites come together really quickly and add amazing texture and flavor to this Beef Pot Pie recipe!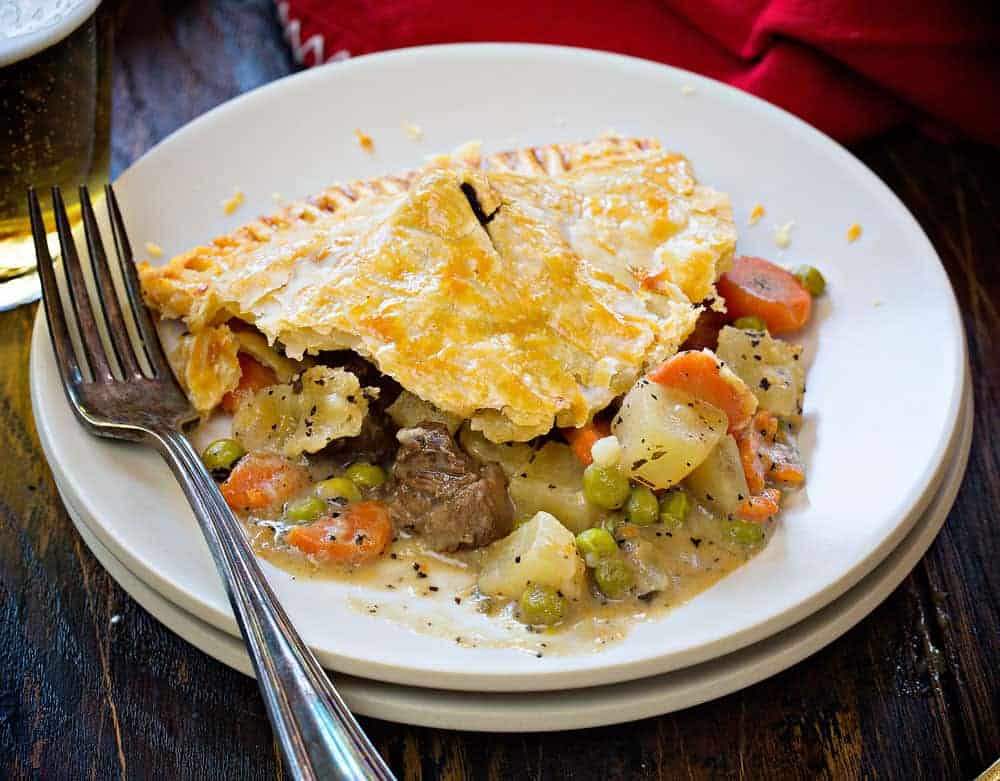 Beef Pot Pie
Here on the homestead, we make an awful lot of pot pie. Usually, it's in the fall after my hubby gets home from deer, pheasant, or elk hunting and we use any one of those meats in a basic pot pie recipe. He prefers to go big when we are preparing them, often making 20+ at a time. All the kids line up and we do it assembly style; someone does the pie crusts, someone adds the filling, someone adds the top crust, someone cuts vents, and someone vacuum seals them for safe freezer storage. (I will do a post on that soon, it's a labor of love that lets us enjoy homemade pot pie all year round!)
For this recipe specifically, we kicked up our beef game and added Steak Bites. The addition of the marinated steak bites adds amazing flavor to this dish and is one that everyone enjoys!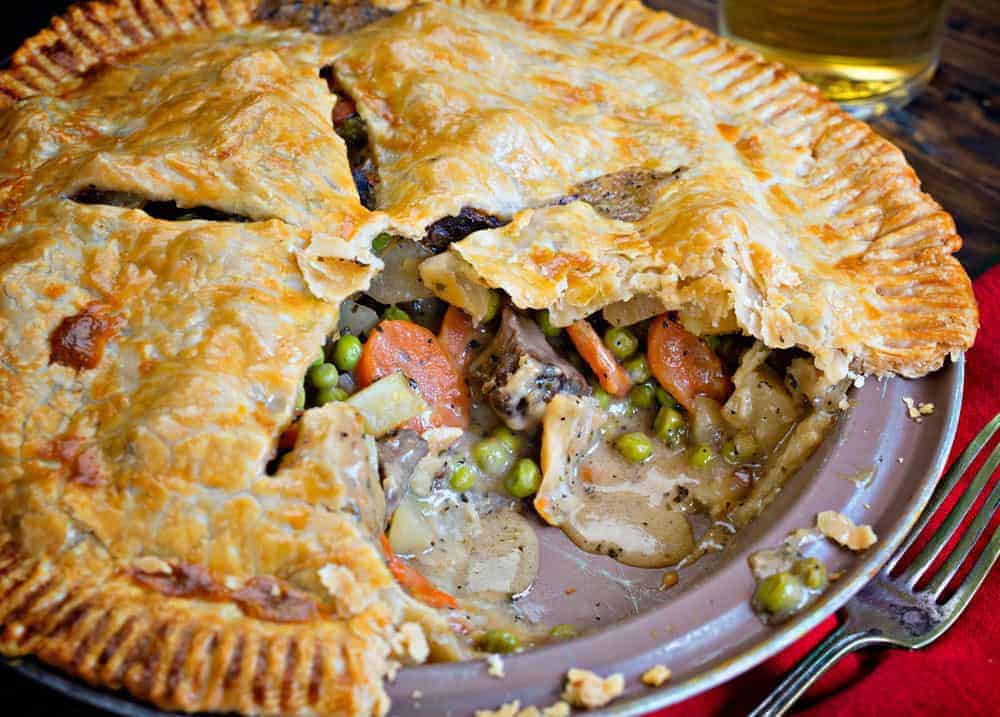 Store Bought Crust vs. Homemade Crust
I mentioned that we will often make several of these at a time and therefore opt to use a store-bought crust. As much as I love all things homemade, I also love the consistency of a reliable store-bought crust. (That happens to taste great and look great too.) Should you prefer to make yours from-scratch, I have a great Amish Never-Fail Pie Crust recipe that I highly recommend.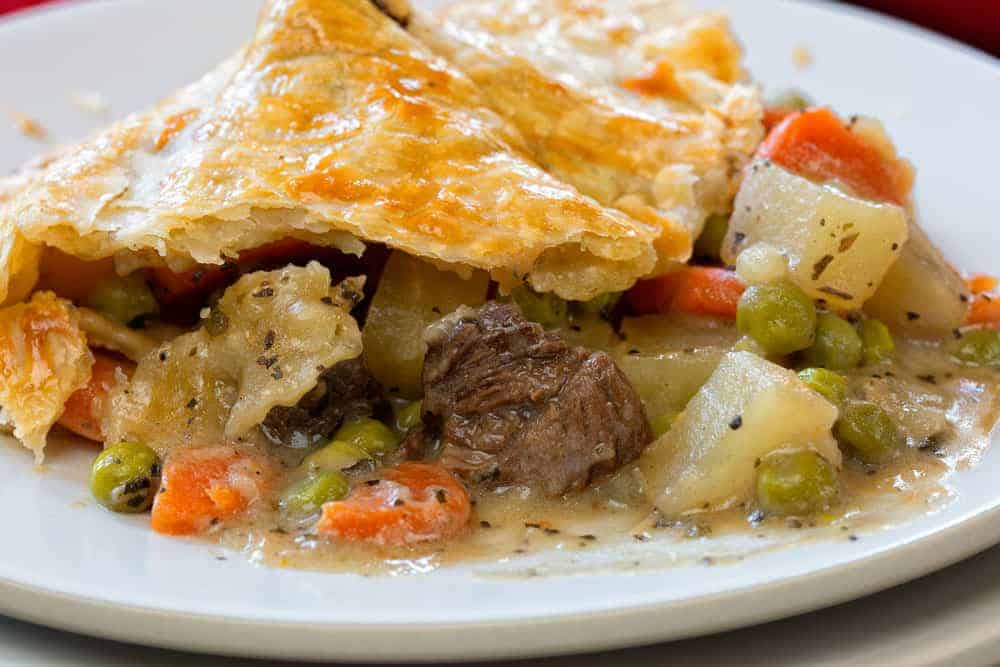 Beef Pot Pie Recipe
This recipe calls for boiled potatoes. To do that add about 2 pounds of peeled and diced potatoes to boiling water and boil for about 15 minutes. Drain and set aside until ready to add to the beef pot pie.
One thing that is important in this recipe is the "other" ingredients. We've covered the beef, we've covered the crust, but what about all that other deliciousness? This beef pot pie recipe calls for cooked potatoes. Boiling them up beforehand, just until they are fork tender, tends to be a great help. This is a bit of a delicate science. Cook the potatoes too long and they will overcook in the oven, cook them too little and you'll undercook the potatoes, or worse, overcook the crust. I recommend cutting them up into bite sized pieces and boiling for about 15 minutes. Keep checking on them though, once your fork goes through with ease, time to pull them off the heat.
The consistency of the carrot is a bit of a debate in my household. Some like them to have a soft and some like just a tiny bit of crunch left to them. We use garden carrots that we have frozen, but you could use store bought as well. If you are using carrots straight off the grocery store shelf, you could throw them into the boiling water for the last 5-10 minutes or so to help soften them a bit. Canned carrots will still work, but you won't get any crunch (which by my standards is just fine!).
How to make a Pie Foil Shield
I'm just going to give you one last tip on this pot pie recipe, or really any pie recipe for that matter. Cooking times tend to vary from pie to pie (including pot pies), and sometimes you will find yourself in that awful predicament. Your pie hasn't finished cooking but (gasp) your crust edges are starting to burn. A simple trick I have learned is to create a tin foil barrier around the edge of the crust. You don't have to put it on right away, just when you notice the edges are starting to brown. Tear off a square of foil large enough to cover your pie and fold it twice to make a square. Using scissors, cut a pie shaped circle out of the middle. When you unfold the foil, you should have a foil ring. Place shield over pie and crimp lightly to hold it in place before returning the pie to the oven.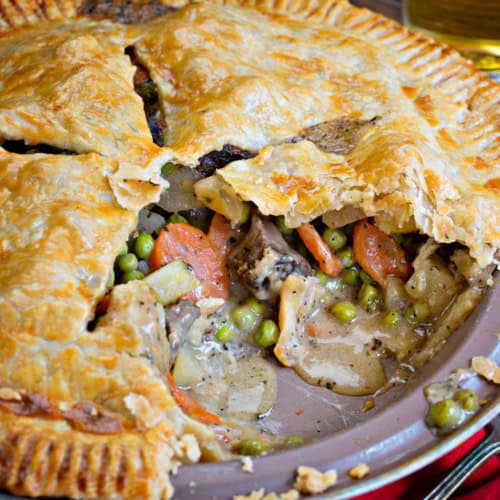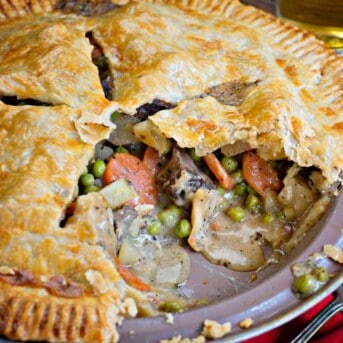 Beef Pot Pie
We have kicked up traditional homemade Pot Pie and added Steak Bites (beef), giving this classic dish a… dare I say elegant?… twist! Steak Bites come together really quickly and add amazing texture and flavor to this Beef Pot Pie recipe!
Ingredients
¼

cup

(½ stick / 56 g) unsalted butter

2

pie

crusts,

1 for top and 1 for bottom

2½

cups

marinated steak bites,

(previously cooked and slightly cooled)

1½

cups

boiled potatoes,

diced

1

cup

cooked carrots,

sliced

1

cup

(134 g) peas,

frozen

1

beef

bouillon cube,

crushed

1

cup

(245 g) whole milk

2

cups

(480 g) beef broth

½

cup

(62.5 g) all-purpose flour

1

large

egg,

beaten (for egg wash)
Instructions
Preheat oven to 375°F.

In a large skillet over medium-high heat, melt butter.

Add flour, whisk and cook for 1 minute.

Add beef broth, milk, and bouillion.

Simmer until thickened, stirring often (about 5 minutes).

Add peas, carrot, boiled potatoes, and marinated steak bites, mix well.

In a prepared 9-inch pie pan, add the bottom pie crust.

Pour the steak mixture on top of the crust.

Cover with the second pie crust.

Using a fork, seal the edges of the two pie crusts together.

Brush the top lightly with egg.

Make 4-5 small cuts in top crust to vent.

Bake for 40-50 minutes (until top crust is golden brown). (see notes for how to avoid burning the edges)
Notes
Here is the recipe for Steak Bites. (clickable) They should be prepared ahead and then added to the pot pie cooked. 
Did you make this recipe?
You can tag me at @iamhomesteader.
Tools used to make Beef Pot Pie
The most important tool you will need for this recipe is a skillet. I like to use the biggest one I have which is a 12 inch cast iron skillet but you can get them even bigger. Also, you will want a pastry brush for the egg wash. Our pastry brush gets way more use than I ever thought it would!