Marinated Steak Bites are tender cubes of steak, perfectly marinated to bring out the most explosive and amazing flavor! I also have some other steak bites you could try, too!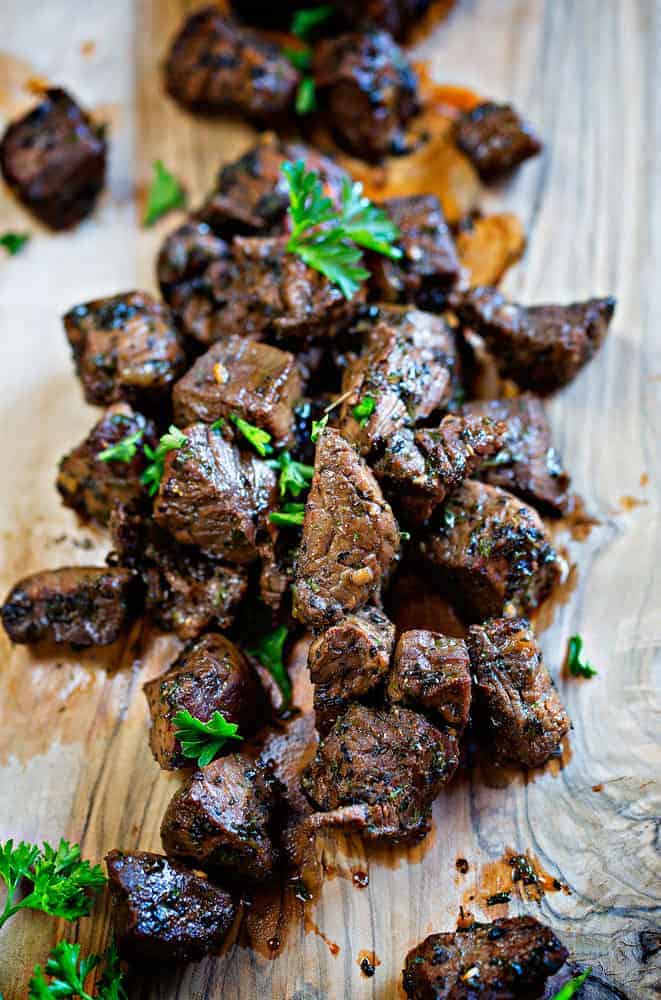 Marinated Steak Bites
These steak bites will knock you straight in the taste buds. The marinade soaks into the steak so that every bite is just as amazing as the one before it. This recipe is about 2 steaks, which as an appetizer, feeds about 4 people. You don't have to eat it as an appetizer though! If this is your whole meal, you better knock that down to just 2.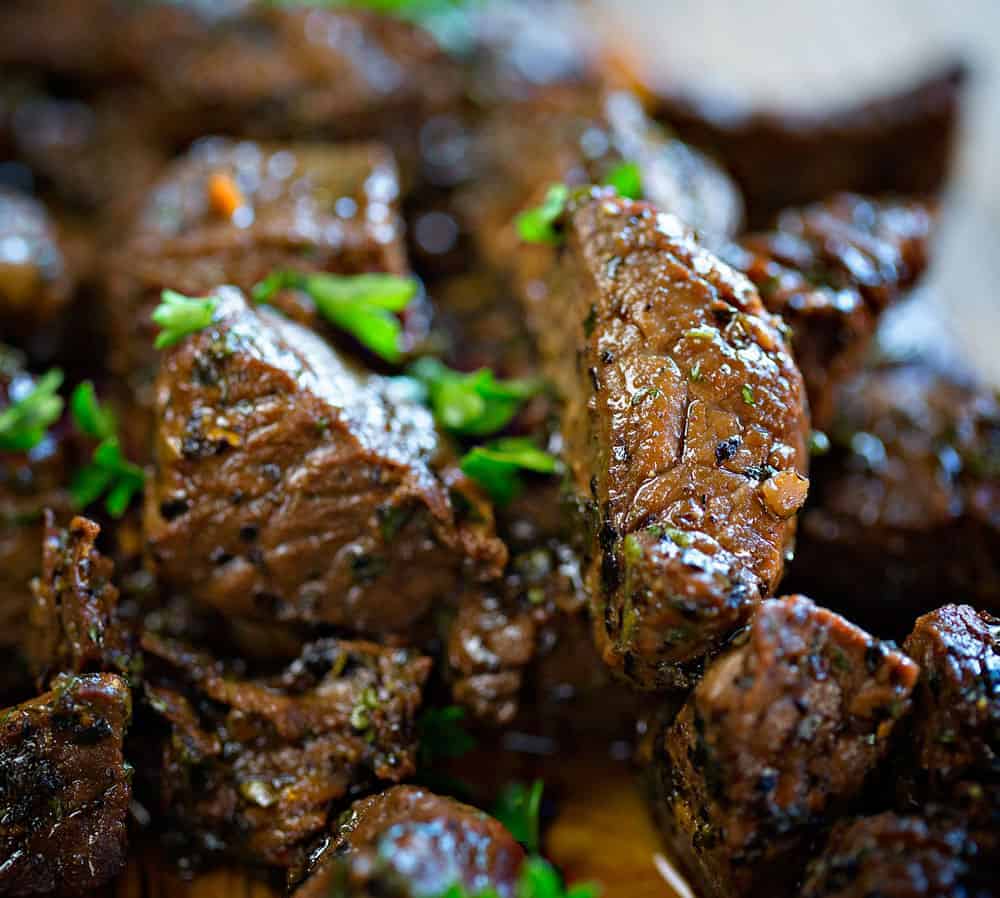 How to Marinate a Steak
The process of marinating steak does a couple of things. First, it adds a blast of flavor to the meat. Allowing the marinade mixture to soak into the meat and fat, gives it the chance to permeate the entire cut and ensure that each bite will be filled with layers of that amazing flavor. Second, it makes the meat more tender. Different cuts of meat have different degrees of toughness and marbling. Marbling in steak refers to the fat content. If you look closely, a well-marbled steak will have the streaky look of actual marble, and in my opinion, will taste better.
I have found that the optimal amount of time to allow a steak to marinade is about 30 minutes. However, I am one that likes to taste the flavor of the actual meat though. I want the flavor to have a chance to soak in, but without overpowering the natural flavor of the steak I am eating.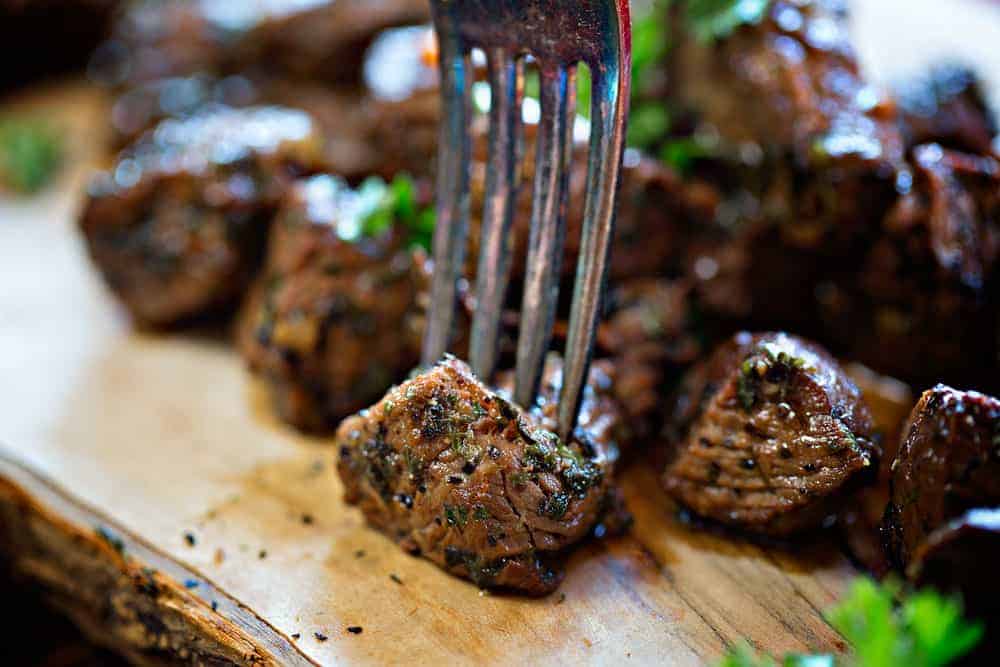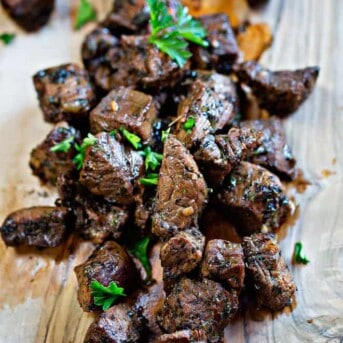 Marinated Steak Bites
Tender steak, perfectly marinated to bring out the most explosive and amazing flavor!
Ingredients
16

ounces

top sirloin or ribeye steak,

cut into 1-inch cubes
MARINADE
½

cup

soy sauce

⅓

cup

olive oil

⅛

cup

Worcestershire sauce

1

teaspoon

garlic,

minced

2

tablespoons

dried basil

1

tablespoon

dried parsley

1

teaspoon

ground black pepper

1

teaspoon

kosher salt
Instructions
Place all ingredients except the steak in a large bowl or ziplock bag. Stir to combine.

Drop in steak pieces and seal (or cover bowl) for about 30 minutes. (I like it right at 15 minutes, but you can do as much as overnight)

Heat a large skillet to medium-high heat. (You want it hot) Remove steak pieces from marinade and place in hot skillet. Discard remaining marinade.

Cook for 1 minute then flip each piece and cook an additional minute. That is for medium steaks, so cook longer if you prefer yours well done.

Serve hot.
Did you make this recipe?
You can tag me at @iamhomesteader.
Tools used to make Marinated Steak Bites
The most important tool you will need for this recipe is a skillet. I like to use the biggest one I have which is a 12 inch cast iron skillet but you can get them even bigger. If you don't have one that large, a smaller skillet will work similarly but you may need to cook the bites in small batches. They need a little space to cook evenly.