Steak Bites are a quick and easy bite to make for an appetizer or a meal. You don't have to wait for the summer months or more than 15 minutes for that matter to have these tender and juicy steak bites. Pair them with Roasted Parmesan Green Beans and some Skins on Mashed Potatoes for a complete dinner idea.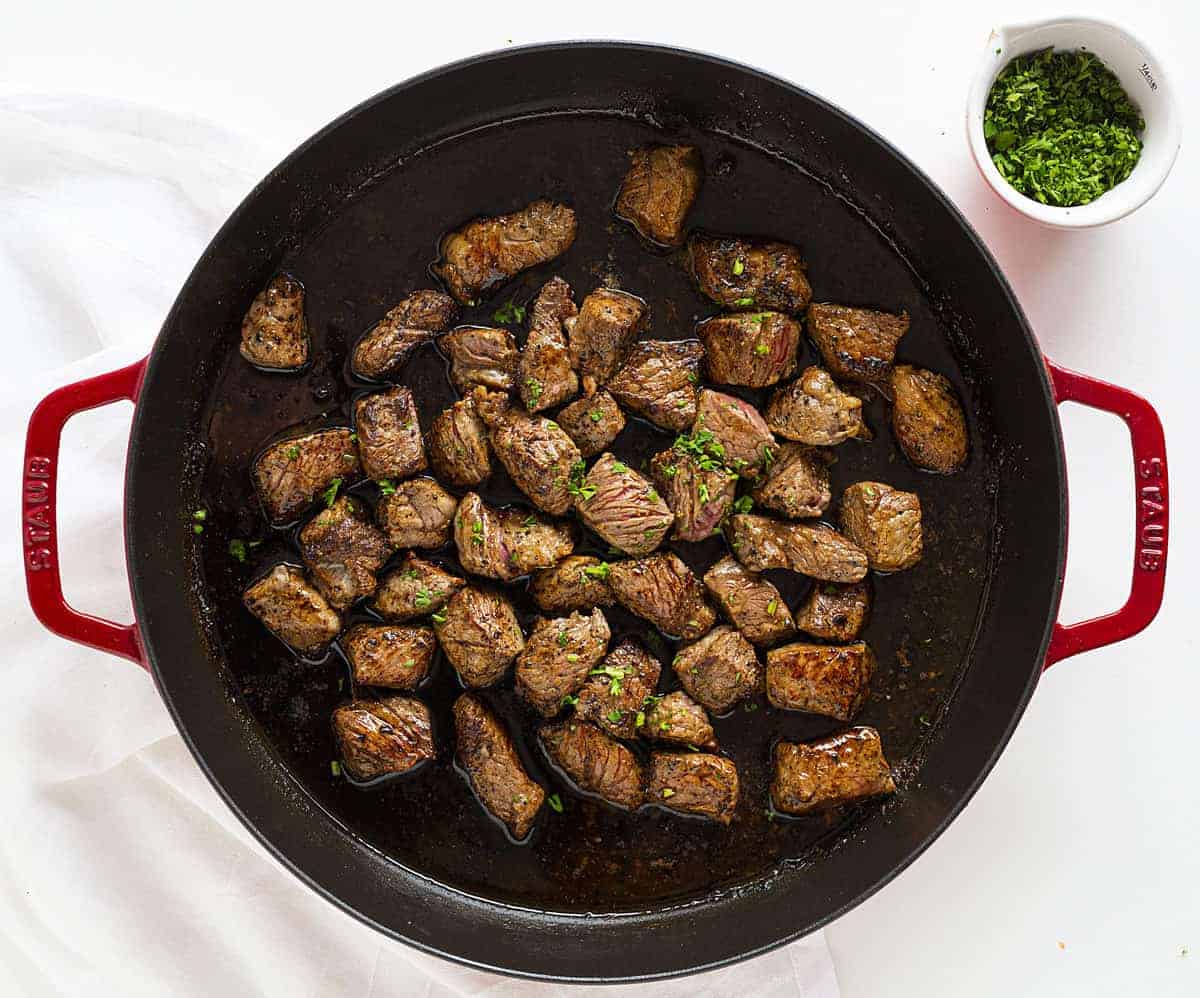 Steak Bites
When you think of steak, you may think of grilling them. But, here in the midwest, it gets plenty cold during the winter months, which makes it hard to think of grilling. I love steak, so I don't want to just forget about it. Well, these Steak Bites give you seared cubes of steak in a matter of minutes, and you don't have to go outside and freeze around your grill!
Steak Bites Ingredients
Sirloin steak: I prefer sirloin for my steak bites, but I will give other great options below.
Kosher salt: I love to use kosher salt in just about all of my recipes.
Cracked pepper: I used freshly cracked black pepper for this recipe.
Unsalted butter: I chose to use unsalted butter for this recipe since I will be using salt as a seasoning. If you use salted butter, you may want to adjust the amount of salt to your taste.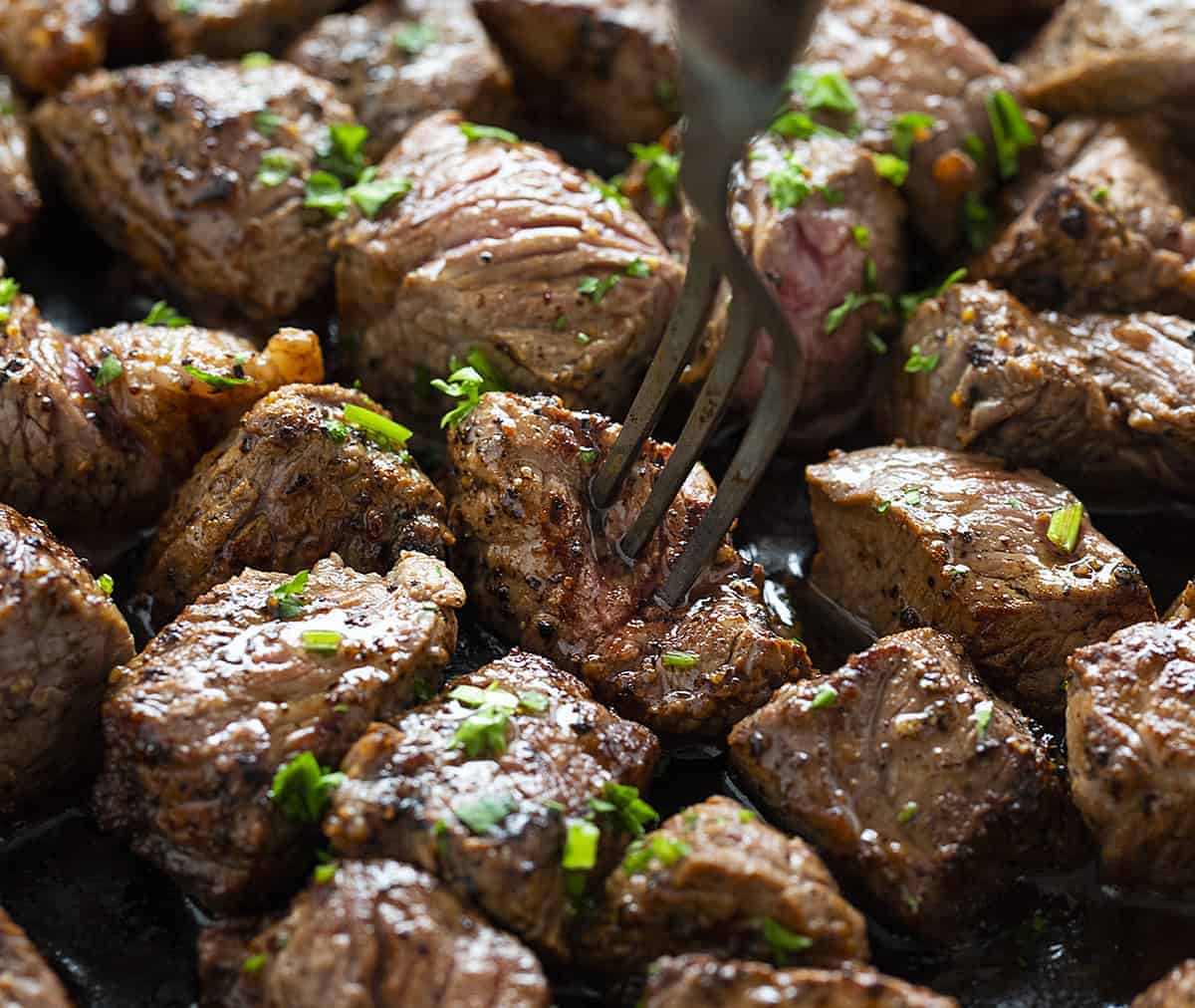 How to Make Steak Bites
You can have perfectly cooked steak all year round, no grill needed! All it takes is a skillet, butter, and salt and pepper. I recommend a cast-iron skillet. If you do not have one yet, order one now! They can be used for so many things, including a few of my favorite dips like my Skillet Onion Dip and Skillet Pizza Dip.
Anyway, back to the steak bites. Get your skillet, if not cast-iron, a heavy-duty pan. Cut up your sirloin into 1-inch sized cubes. Add salt and pepper to the cubes of meat. Set the heat to high and add the butter. As soon as you add the steak pieces to the skillet, they should sizzle! If not, the pan is not hot enough. Then, take the steak bites and cook them on each side for about 1-2 minutes each side. If you have a meat thermometer, it is easy to get your beef exactly as you want it. Here are some benchmark temperatures to follow:
125°F=Rare
130-135°F=Medium Rare
140°F=Medium
145°F=Medium-well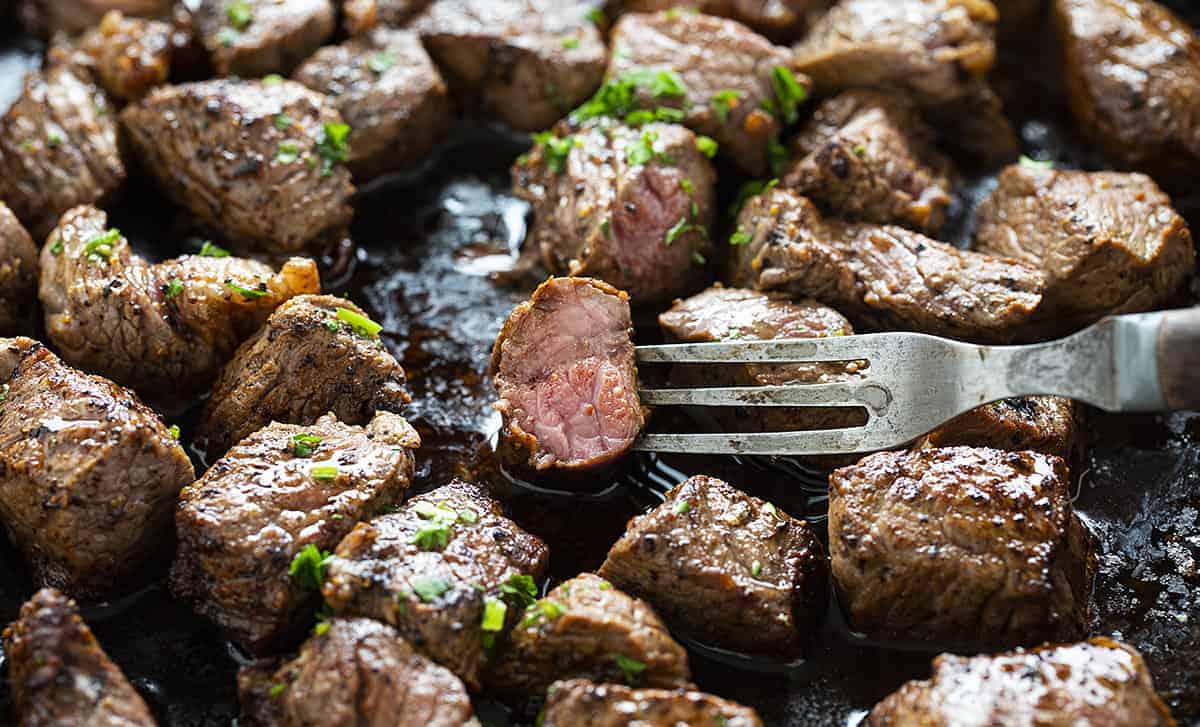 How to Choose the Best Meat for Steak Bites
For my Steak Bites, I chose to use top sirloin steak. You want to choose a tender cut of beef for pan-frying. Here are some other tender meats that come from the rib or loin section of the animal.
tenderloin
Ribeye
New York Strip
Porterhouse
T-bone
Air Fryer Steak Bites
To make these in the air fryer, drizzle the raw, cubed steak with olive oil. Combine the salt & pepper and coat the cubed steak. Place in an even layer in the air fryer for 4-6 minutes, or until you reach the desired doneness. Using only 1/4 cup of melted butter, remove the steak bites from the air fryer and coat the bites in the butter. Serve warm.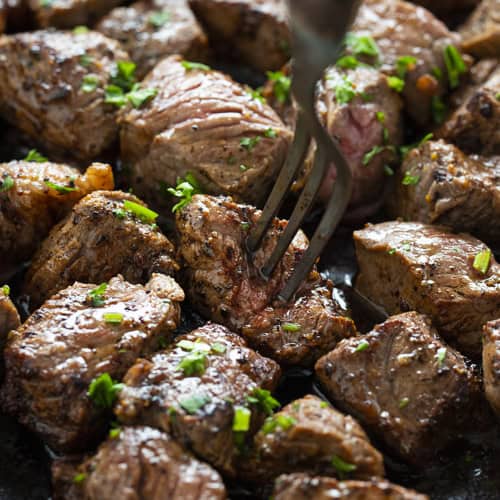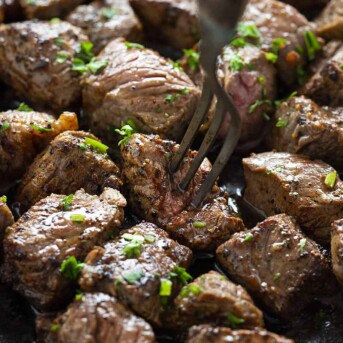 Steak Bites
Steak Bites are tender bites of steak that are easy to make whenever you are craving an appetizer or a meal.
Ingredients
3

pounds

top sirloin steak,

cut into 1-inch cubes

1

tablespoon

kosher salt

1

teaspoon

fresh cracked pepper

1

stick

(½cup, 113 g) unsalted butter,

divided if necessary
Instructions
Season steak cubes with salt and pepper. Toss to coat evenly.

Melt butter in a large skillet over high heat. (I prefer cast iron here, a 12-inch pan fits 1 steak cut into bites nicely.) If you are working in batches, use only HALF the stick of butter, or ¼ cup. Reserve the rest for the next batch.

Place steak cubes in the skillet in an even layer. Remember to work in batches if your pan isn't large enough! The butter should sizzle when you drop the first batch of meat into the skillet. That means it's hot enough to sear, and you definitely want to sear them.

Cook for 1-2 minutes on one side and then flip and repeat with the other side. Meat should be brown and crispy on the outside and pink on the inside. (Cook longer for a more well-done steak bite).
Did you make this recipe?
You can tag me at @iamhomesteader.