With just the right amount of texture and creaminess, Skins on Mashed Potatoes will be a favorite on your next dinner menu, especially your Thanksgiving menu! Yes, I said texture. With the skins left on the potatoes, the mashed potatoes will be more rustic-looking and vibrant. I also have creamy Country Mashed Potatoes you will love!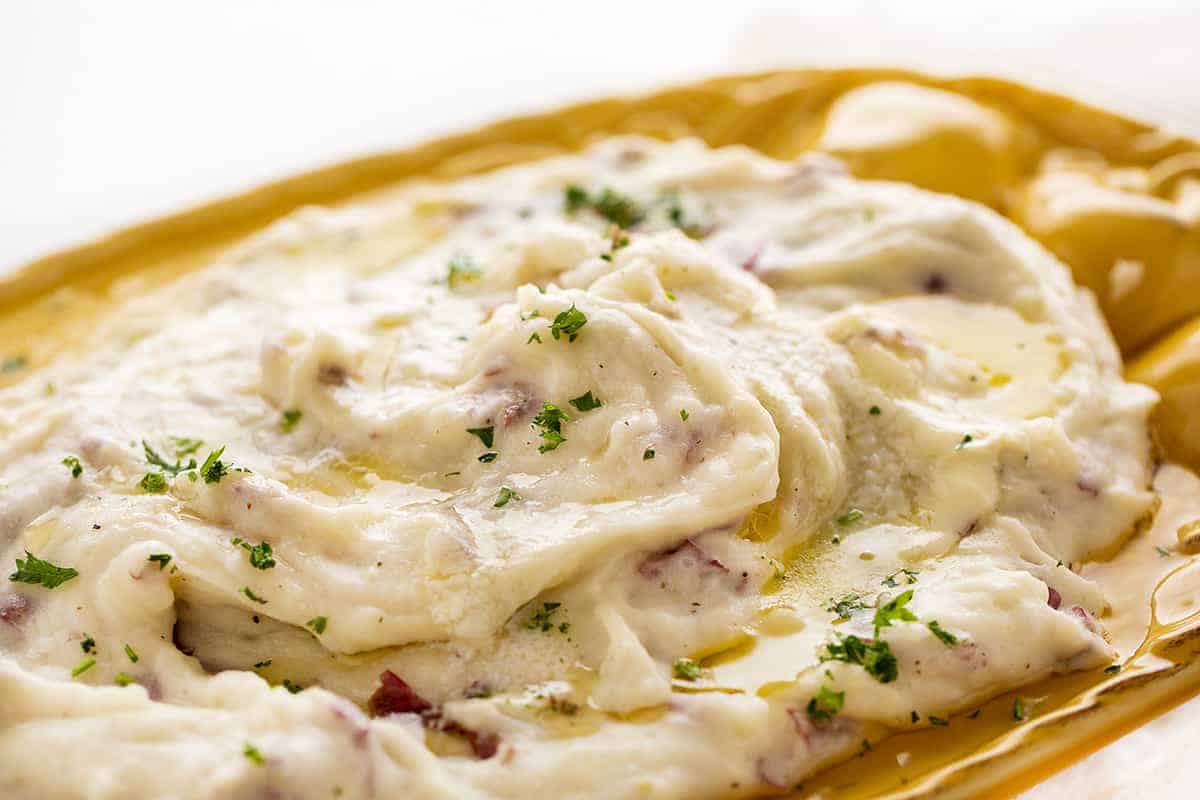 Skins on Mashed Potatoes
To peel or not to peel, that is the question. Many people would say they want the creamiest, smoothest mashed potatoes possible, and I can't help but agree! Leaving the skins on the potatoes saves you a lot of time and can add a little nutritional value, as well as some 'character'. Potato skins have iron, potassium, and vitamins B and C. There is also a study on antioxidants in a potato, especially in the skin. The more color the potato (like the reds I used) the higher the antioxidant level!
I think I will be leaving the skins on my potatoes from now on! In fact, hold on while I make some Twice Baked Potatoes, skin on, of course!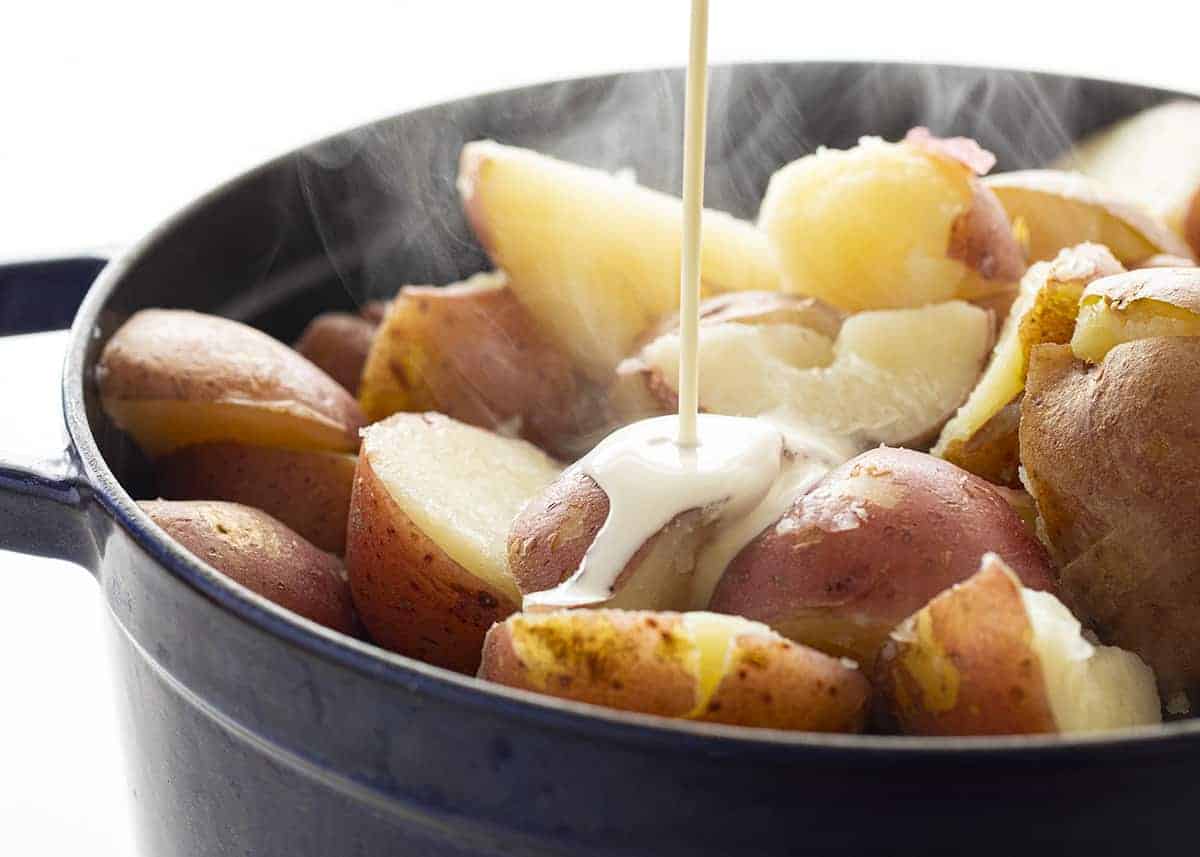 What Kind of Potato is Best for Skins on Mashed Potatoes?
For Skins on Mashed Potatoes, I chose to use red potatoes. They will give more of a texture than a Yukon Gold potato, but you could go with either option. In fact, you could go with any potato and leave the skin on. I only caution about using potatoes that are 'young' (picked in the spring or summer) because they can be a bit waxy and you will lose the rustic texture that I love in these potatoes. If you really want to make an impression, try Purple Peruvian or Blue Potatoes! Remember all those antioxidants I mentioned earlier?!? Plus, all that color will bring some conversation to your table!

What To Serve With Skins On Mashed Potatoes
Skins-on mashed potatoes can be a delicious and nutritious side dish, and there are many options for what you can serve with them. Here are some ideas:
Roasted Vegetables like carrots or Brussels sprouts
Meats like chicken, steak, and pork chops
Cheese: Melt some cheese on top of your pile of mashed potatoes!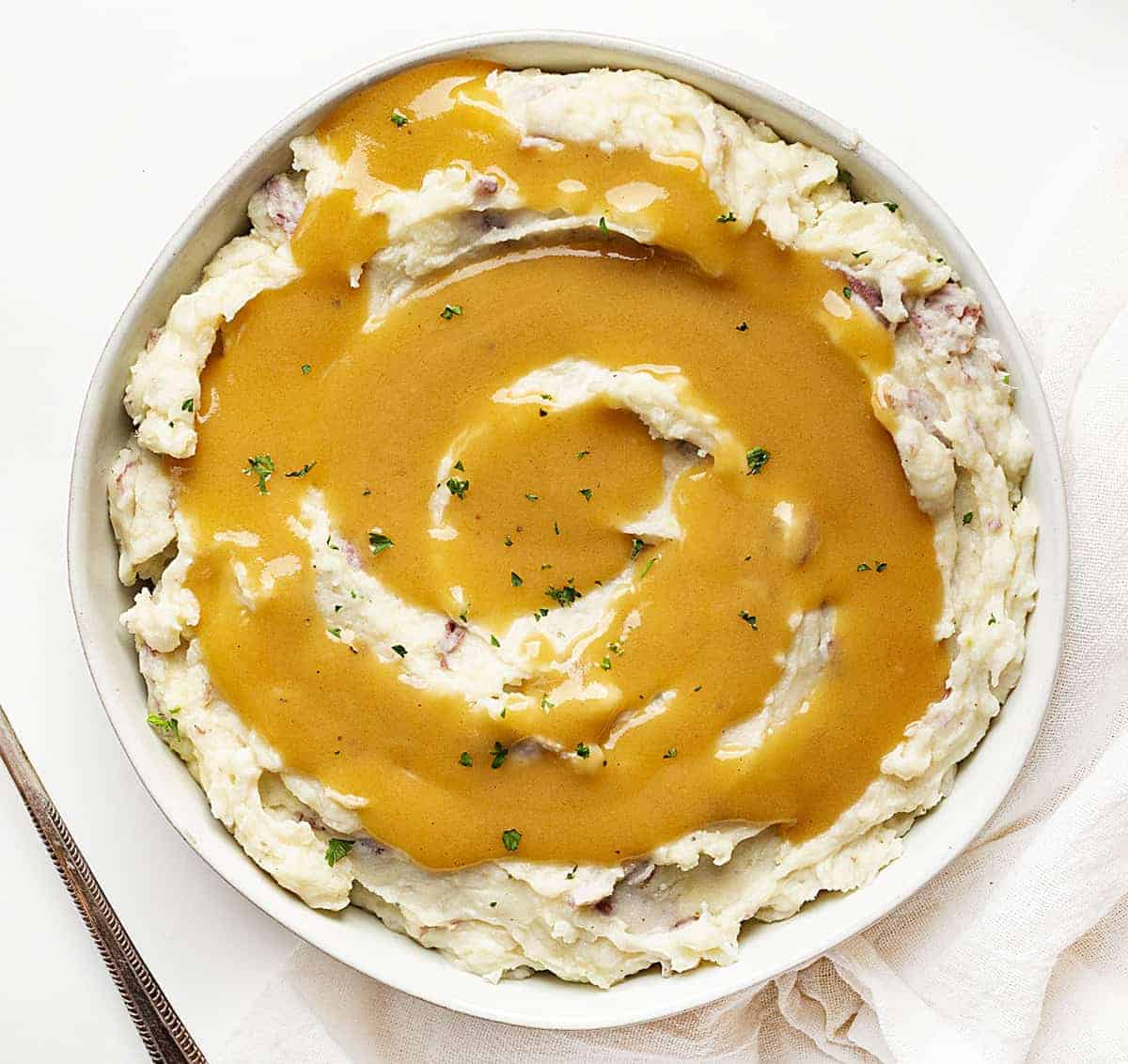 Mashed Potatoes with Bacon Turkey Gravy on Top
How To Store Mashed Potatoes
Any leftover potatoes should be stored in an airtight container in the refrigerator. They will last up to 3-4 days.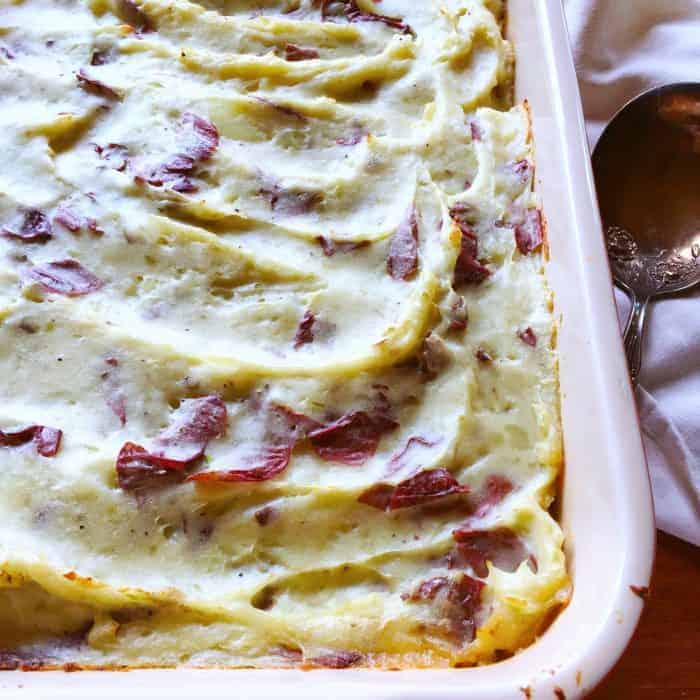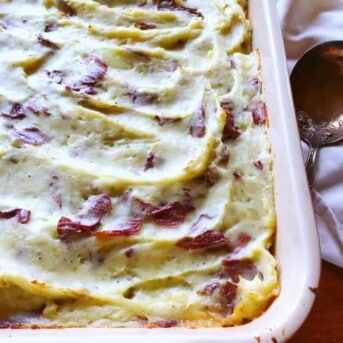 Skins On Mashed Potatoes
With the perfect blend of creaminess and texture, Skins on Mashed Potatoes are a rustic and colorful way to serve this popular side dish.
Ingredients
Potatoes
6

pounds

red potatoes,

washed, quartered

1

large

pinch kosher salt
Mashed Potatoes
1

cup

(2 sticks / 227 g) unsalted butter,

softened

1

cup

(120 g) heavy cream

2

teaspoons

kosher salt

½

teaspoon

black pepper
Instructions
To a large pot, add potatoes and a large pinch of salt. Fill with enough water to cover the potatoes. Cover the pot and bring to a boil over high heat.

After the water has come to a boil, uncover and boil over medium-high heat until fork-tender, about 25 minutes.

Drain the potatoes and return them to the pot. Remove from heat.

Lightly mash the potatoes. Add the butter and cream. Mash until incorporated. Add salt and pepper.
Did you make this recipe?
You can tag me at @iamhomesteader.