Homemade Apple Sauce is perfect for when you are craving a delicious and healthy sweet treat! When the kids come home from school begging for a snack, you can bet this easy recipe will fit the bill! With your leftover apples, try my Apple Nachos with Peanut Butter as another healthy, after school, or anytime snack!

Homemade Apple Sauce
Did you know that homemade Apple Sauce can supply up to 80% of your daily Vitamin C?  Not to mention that once you make your own homemade batch of apple sauce you can say goodbye to the grocery store! You may be worried about the peeling and coring of the apples, but don't let that get in your way! Lucky for us, there are apple corers and peelers. Yes, I said appliances that can do that for you! Whew. With that out of the way, let's get to choosing the perfect apples for you. Although I used Granny Smith apples for my recipe, you can choose a sweeter or tarter apple, based on your desired sweetness. Here are some additional options for apples in each category:
Sharp/Tart Apples:
Braeburn
Liberty
Ida Red
Rome
Tart with a little Sweet
Sweeter
Fuji
Cortland
Golden Delicious
With so many varieties of apples to choose from, give a few a try to see what flavor you are going for in your apple sauce. On a side note, texture can also be determined by the type of apple you choose. For instance, the Granny Smith apples I used created a chunkier, looser apple sauce, which we put through a blender to smooth it out a bit. A McIntosh (or any apple with less air) generally creates a creamy, smooth apple sauce.
How to Select The Best Apples
Once you choose what type of apple you want, how do you select the best?  As you pick up the apples, check for the firmness of the apple. If it is soft or indents easily, it may not be the best choice. Also, check for any bruising or decay, and leave those apples behind. Finally, take a big whiff of the apple. That being said, you don't have to hold it directly up to your nose (unless you want to), and you should be able to smell a light aroma from the apple. If the scent is too strong or unpleasant, the apple is probably on its last leg, or stem, if you will:)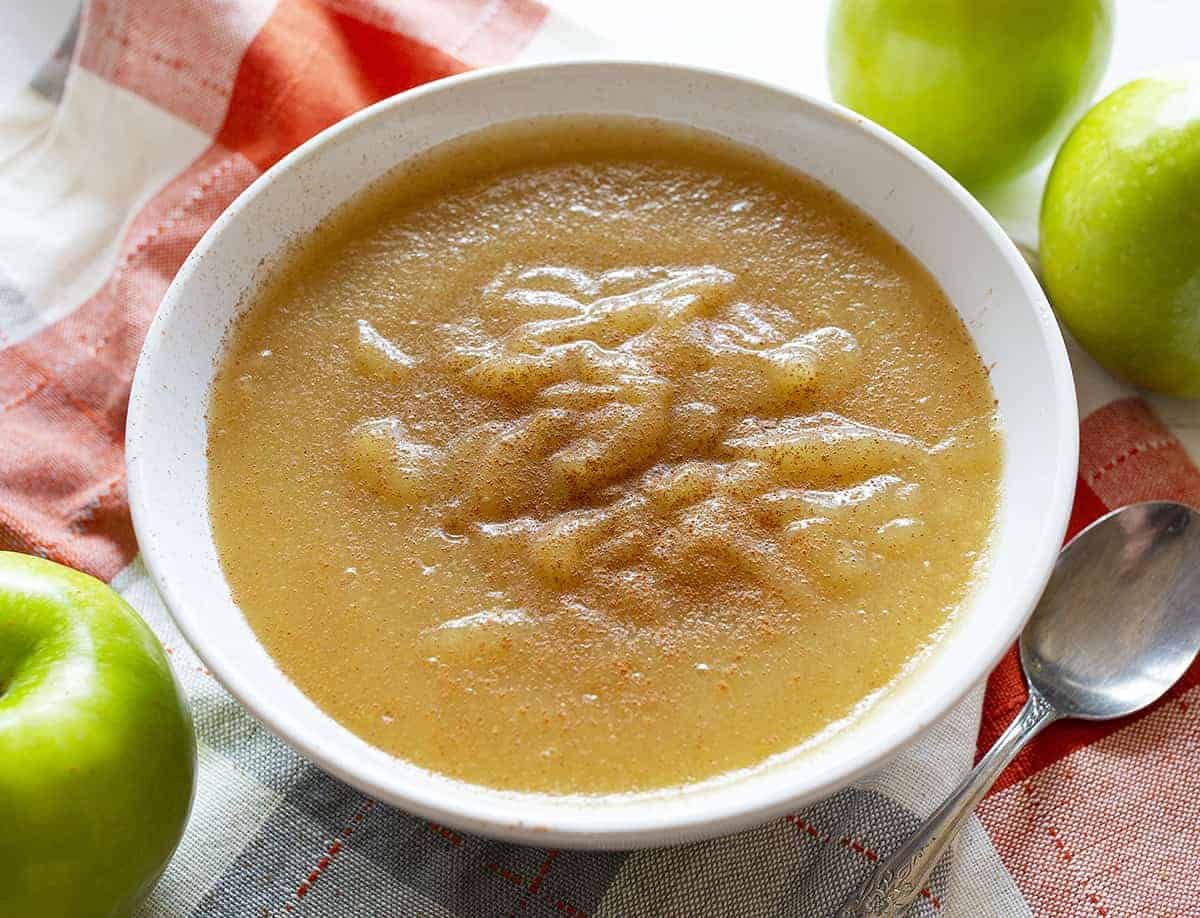 How to Make Apple Sauce
It's time to get to making your homemade apple sauce.
Ingredients:
3-4 pounds of your carefully chosen apples
apple cider vinegar
cinnamon
white sugar
water
salt
After you have peeled, cored, and quartered your apples, put them in a large pot. Add the apple cider vinegar, cinnamon, sugar, water and salt to the pot of apples. Bring the pot to a boil and then lower the heat and cover the pot. Let the apples simmer for 20-25 minutes, just to make sure they are tender and cooked. After the apples are cooked, they are ready to be put in the food processor to be mashed.
Apple Sauce Variations
Let's be honest, everyone's tastes buds are just a little bit different.  If the apple sauce comes out tasting different than you expected, here are a few ways to tweak the recipe to your liking.
Too Thick? Adding more water will thin out the apple sauce.  You can also run it through a blender a few more times to thin it out.
Not Sweet Enough? The addition of more sugar will help sweeten this recipe.  I recommend 1 teaspoon at a time.
Too Sweet? Apple cider vinegar will cut through some of the sweetness.  You can also add some dried fruits or raisins to the recipe for a fun twist!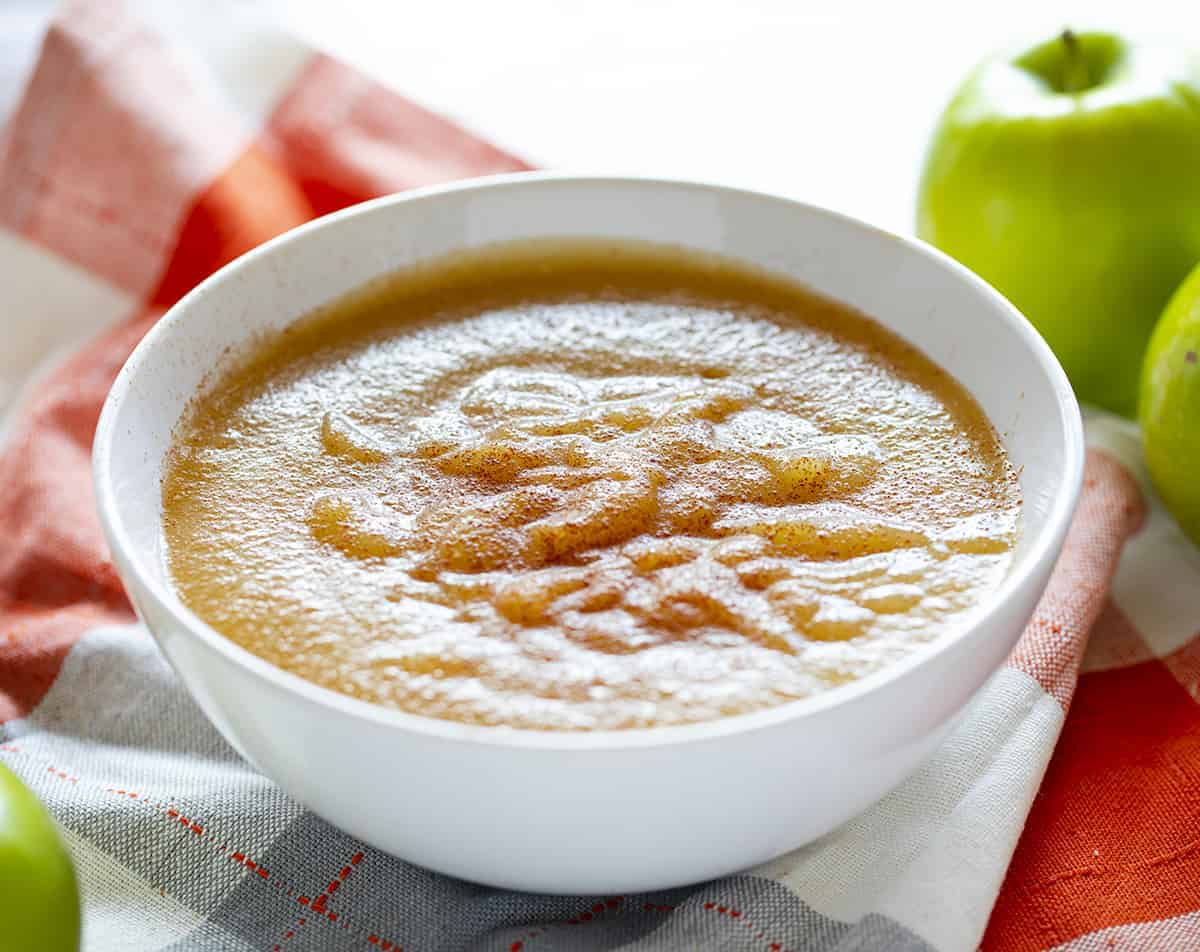 Other Uses for Apple Sauce
Did you know that it's more than a healthy snack? Try it as a glaze for roasted meats. Or, substitute half a recipe's margarine, butter, shortening, or oil with apple sauce to make it a healthier choice. How about replacing that sugar on your oatmeal with your homemade apple sauce? Better yet, use it in my Glazed Apple Cinnamon Bread recipe to wow all your friends and family!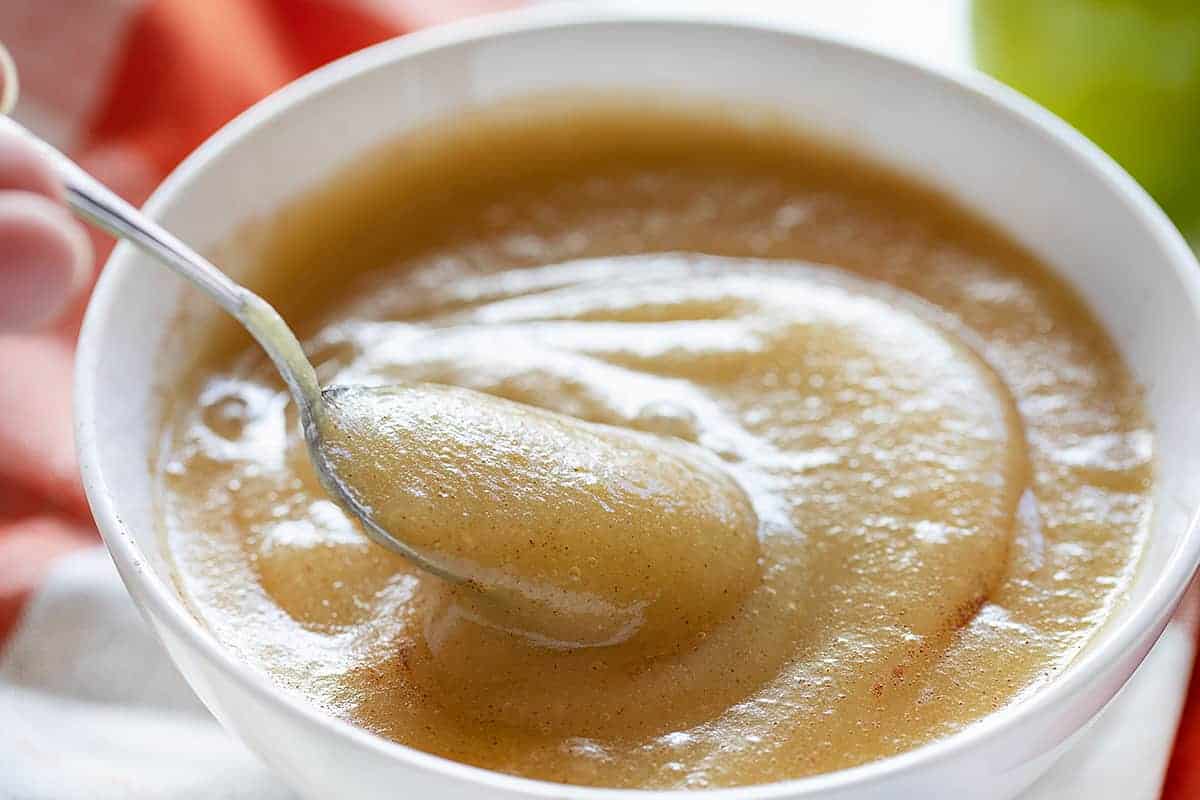 Love Apple Recipes? Try these favorites!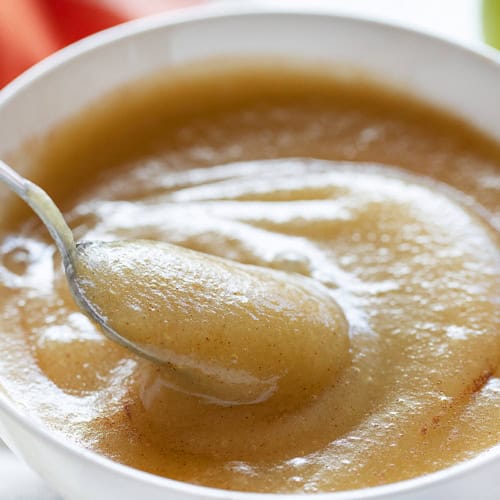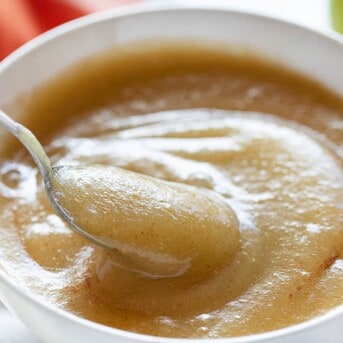 Apple Sauce
Are you craving a delicious and healthy sweet treat? Are your kids coming home from school begging for a snack? Homemade Apple Sauce can supply up to 80% of your daily Vitamin C and is a tasty healthy snack.
Ingredients
3-4

pounds

Granny Smith apples peeled,

cored and quartered

1

tablespoon

apple cider vinegar,

more or less to taste

1/2

teaspoon

ground cinnamon

1/2

cup

granulated sugar

1

cup

water

1/2

teaspoon

salt
Instructions
Place apples into a large pot. Add vinegar, cinnamon, sugar, water, and salt.

Bring to a boil on high heat, then lower the temperature, cover the pot, and maintain a low simmer for 20-25 minutes, until the apples are completely tender and cooked through.

Remove from heat. Use a food processor to mash the apples.

If the applesauce is too thick, add more water to thin it out.

If not sweet enough, add more sugar to taste. If too sweet, add more apple cider vinegar.
Did you make this recipe?
You can tag me at @iamhomesteader.