Glazed Apple Cinnamon bread is soft and moist with an incredible apple flavor consuming every last bite!  Second to the flavor, will be how easy it is to make this amazing bread recipe!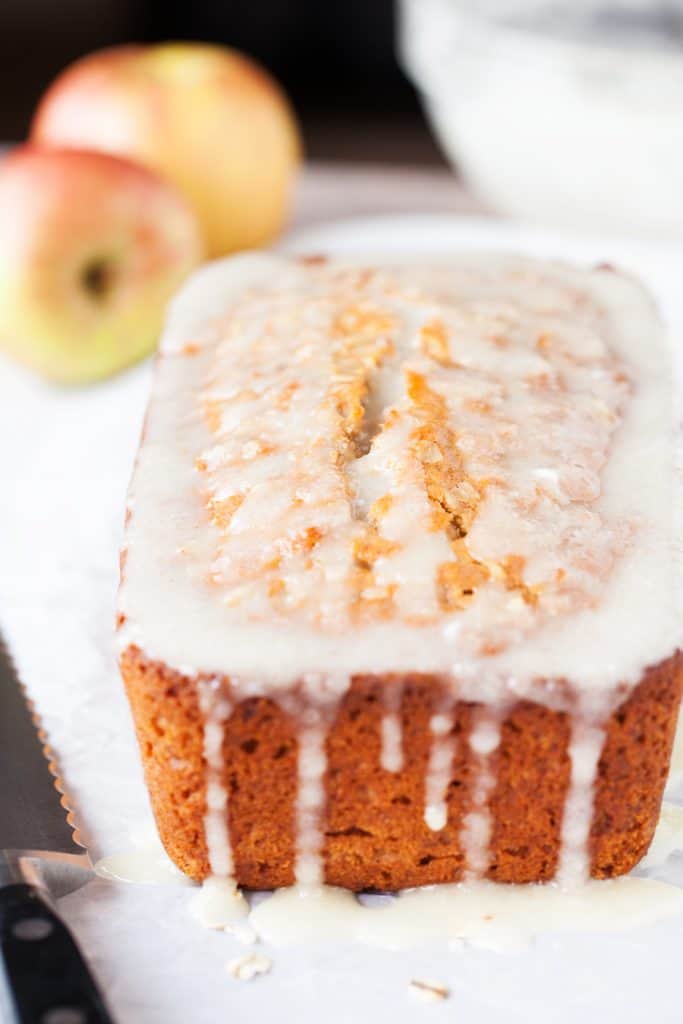 Glazed Apple Cinnamon Bread
We enjoy this glazed apple cinnamon bread for breakfast, but it could also be replaced as a dessert. A slice in the morning is delicious with a cup of coffee and a slice after supper is divine with ice cream! The bread is soft and moist, with an incredible apple flavor in every bite. Topped with the incredibly addicting apple glaze and you have yourself a finger-lickin' good treat!   You will be surprised how easy it is to pull together.  This dish will become a staple treat in your house!  We love to bring it as a dish for a potluck.  No one is expecting something like this!

MY LATEST VIDEOS
I love bread.  Like, love it.  This one is different though.  Just take a quick scan of the ingredients.  What do you notice?  Hopefully, you saw what every non-bread maker notices.  No yeast.  That is what attracted me in the first place.  You would think with all of my homesteading that I would be patient, but I like a little instant gratification just like the rest of you.  No yeast means no waiting.  I am all in on that!
Another quick win (and I do mean quick), this recipe does not require chopping up apples.  If you want to go that route you certainly can!  However, this recipe calls for apple sauce.  Since we make applesauce annually, we are always looking for ways to use it up before it expires.  This is an amazing way to use up our applesauce and enjoy a tasty treat!
Love this Apple recipe? Try the BEST Apple Crisp!
Photography by The PKP Way.