Beef Stew with Dumplings is a hearty stew loaded with tender beef, vegetables, and a flavorful broth with large, plump homemade dumplings. It is the perfect comfort food based on my Crock Pot Beef Stew. One of those dishes that becomes an instant classic in your house! You could also make this stew with dumplings made in a slow cooker.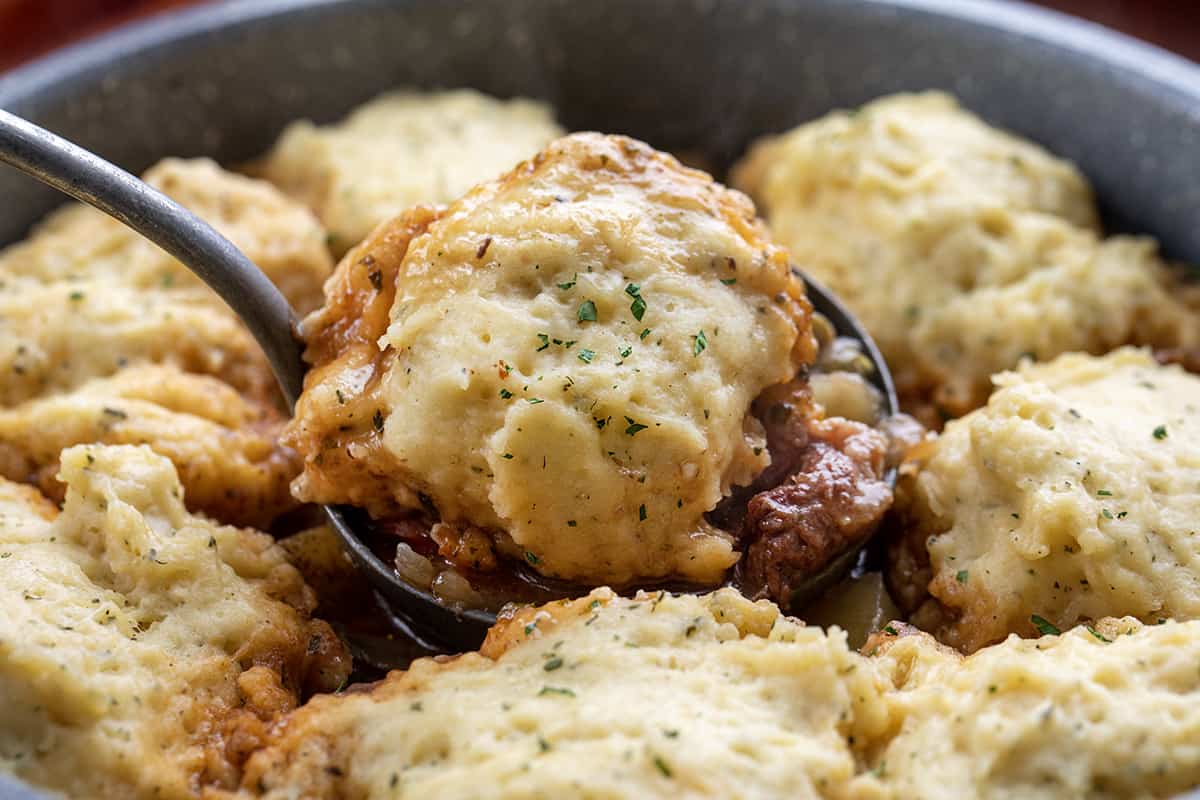 Ingredients & Substitutions
Meat: When making beef stew, choosing a chuck roast is best. It's a good choice because it has a lot of marbling, which adds flavor and keeps the meat moist while it cooks. Chuck roast also has a good mix of lean meat and fat, which makes the stew tender and tasty. If you can't find chuck roast, you can use bottom round or brisket instead. It's important to brown the meat before you add the rest of the stew ingredients.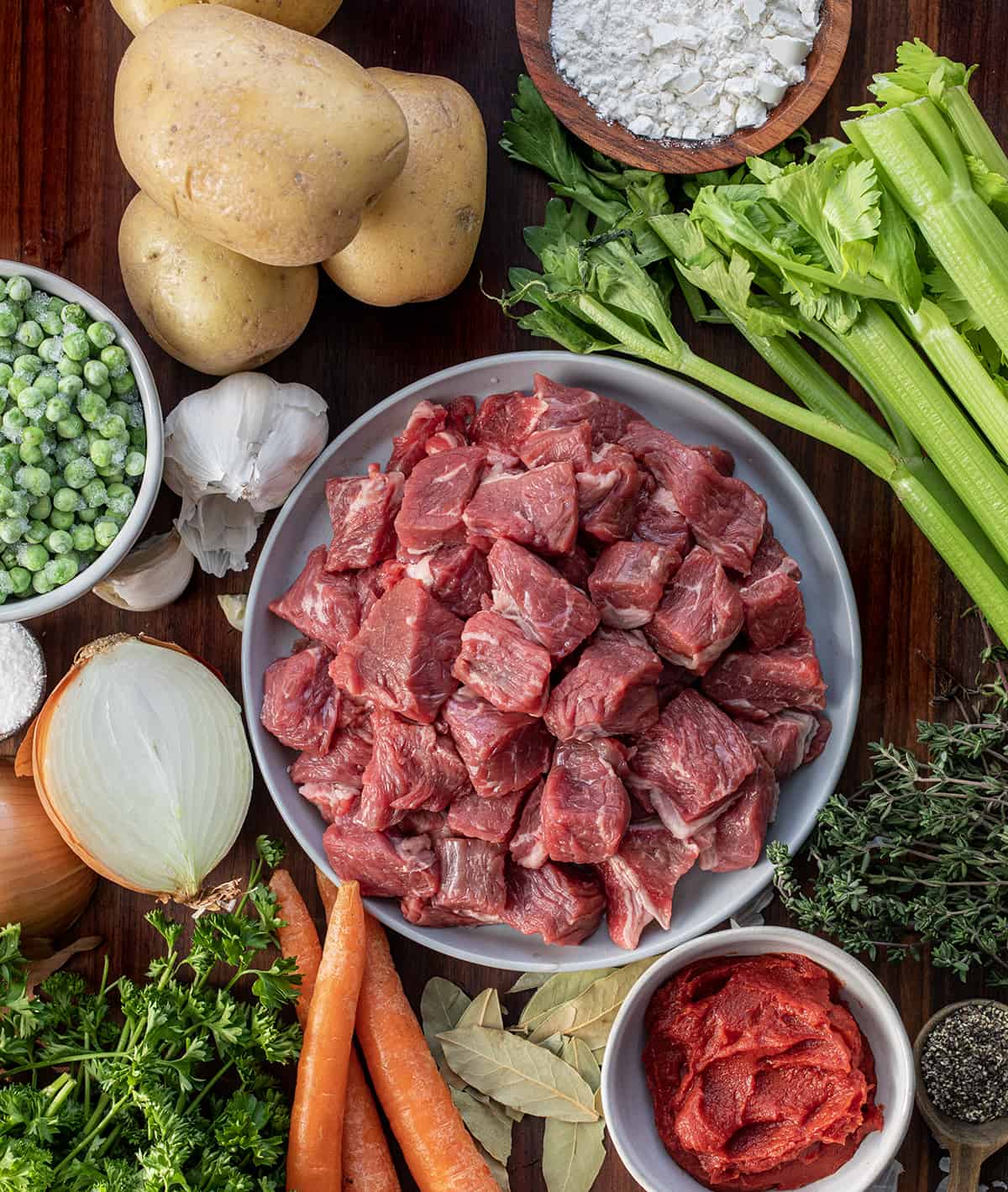 Vegetables: Adding an abundance of vegetables is a surefire way to enhance a stew's flavor and nutritional value. In this recipe, I included celery, carrots, peas, potatoes, and onions, but the possibilities are endless. Other vegetables that would make excellent additions to beef stew include mushrooms, green beans, parsnips, turnips, sweet potatoes, or any of your personal favorites.
Wine: A full-bodied, dry red wine like Cabernet Sauvignon or Merlot is a good choice, as it will hold up well to the bold flavors of the beef and vegetables. Make sure it is a wine you enjoy drinking for the best results. If you prefer not to add wine, substitute a little more beef broth.
Herbs: I used both fresh thyme and fresh parsley in the stew. In fact, I even added thyme to the dumpling dough to add a little subtle flavor. If you only have dried herbs, use about 1/3 of the amount of each fresh herb.
Dumplings: The large homemade dumplings are added to the stew to steam for about 20 minutes before serving. You could also use the store-bought dumpling dough.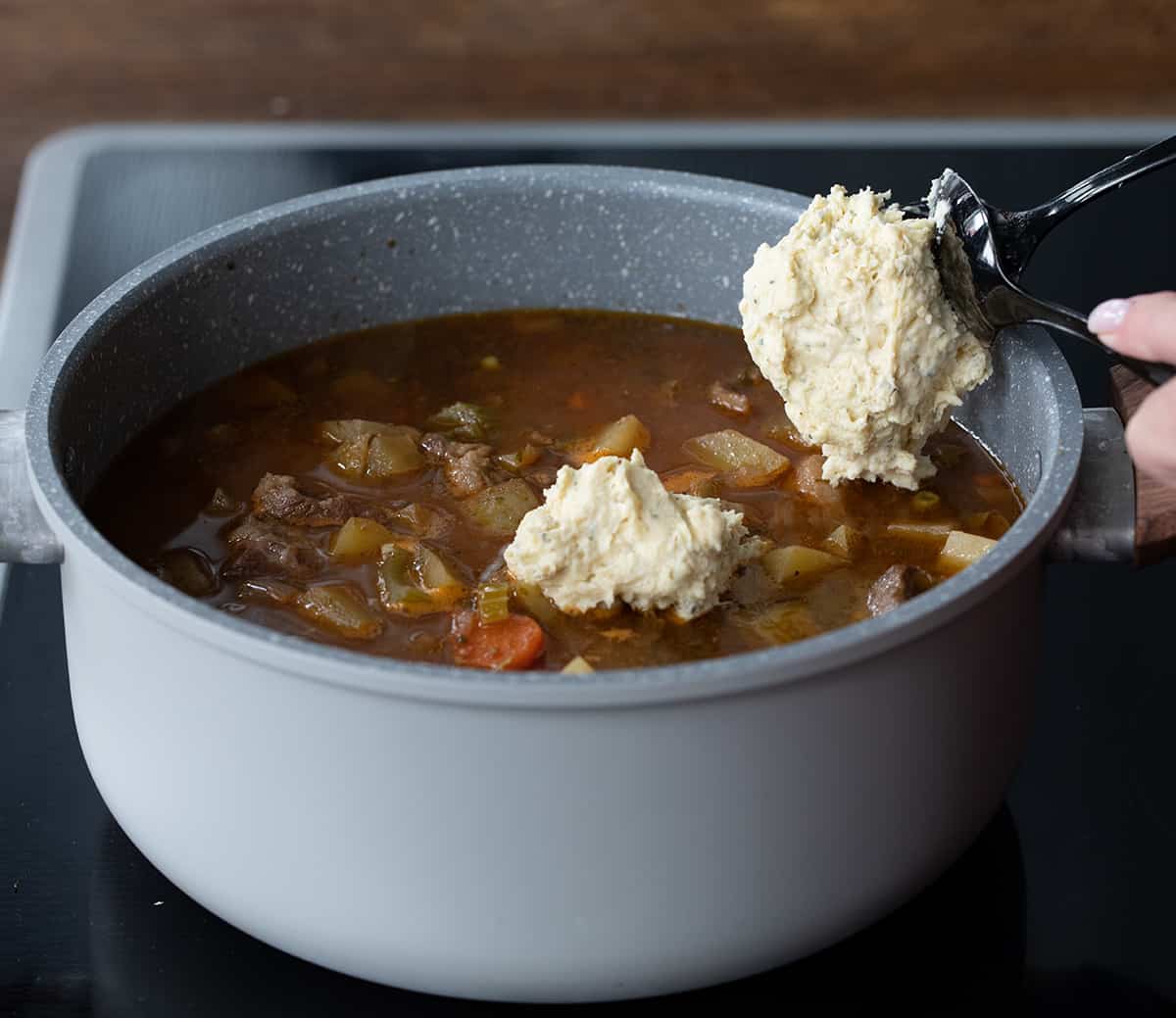 How to Tell When Dumplings are Done
The cooking time can vary depending on the size and thickness of the dumplings. For instance, these dumplings took over 20 minutes to cook. First, look for a soft, golden-brown texture to indicate that the dumplings are cooked. They should not be sticky to the touch. To double-check for doneness, insert a toothpick into the center of a dumpling – if it comes out clean, the dumplings are ready to eat!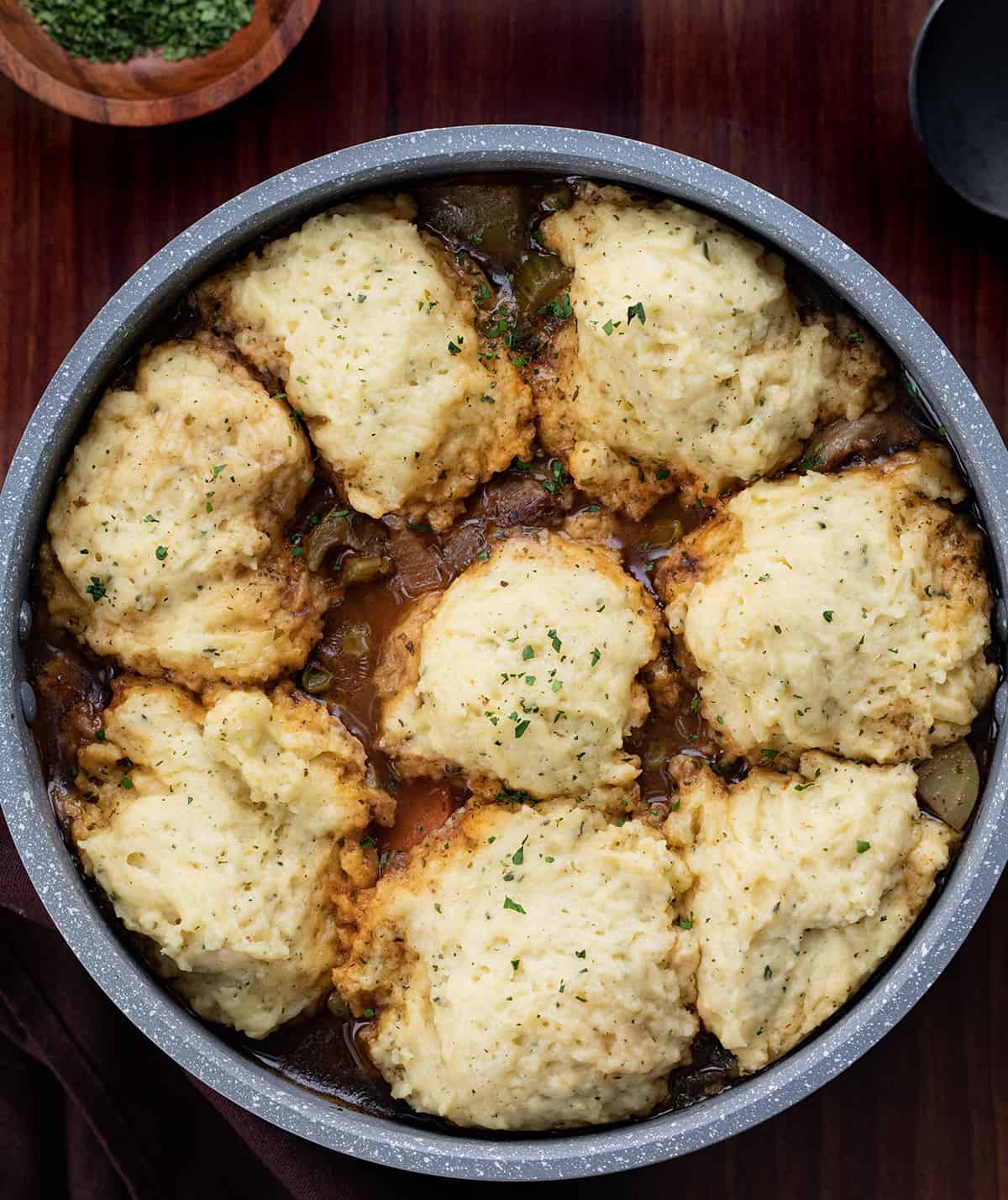 Slow Cooker Beef Stew with Dumplings
To make Beef Stew with Dumplings in a slow cooker, first, brown the cubes of beef in a pan and coat them with flour. Next, add the browned beef to the slow cooker along with the remaining stew ingredients. Cook on low for 8 hours. In the final 15 minutes of cooking time, remove the bay leaves and add the dumplings.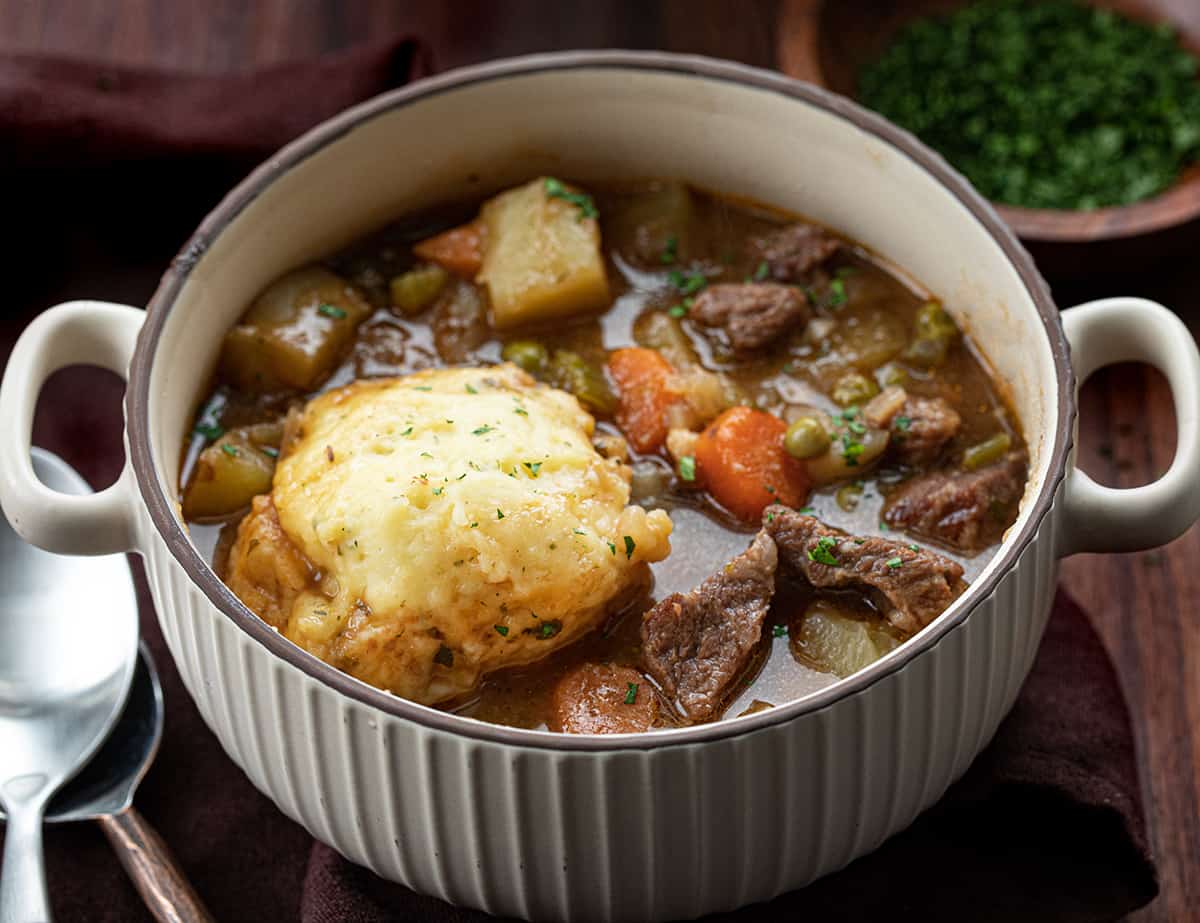 How to Store Beef Stew with Dumplings
To store beef stew with dumplings, first, let it cool to room temperature. Then, you can store it in the refrigerator or freezer.
To Refrigerate: In an airtight container, the stew can be stored in the refrigerator for up to 3-4 days. Heat it in a pot on the stovetop or use a microwave-safe bowl to warm it up in the microwave.
To Freeze: To freeze beef stew with dumplings, it's best to freeze them separately. This will prevent the dumplings from losing their shape and texture when reheated. Begin by separating the dumplings from the stew and freezing each component separately. Store the stew in a freezer-safe container or a resealable plastic bag, and label it with the date and contents before placing it in the freezer. When you're ready to eat the beef stew, thaw it overnight in the refrigerator. To reheat the stew, heat it on the stove or in the microwave until it's heated through. To thaw frozen dumplings, let them sit in the refrigerator overnight, and then reheat them by steaming them before adding them to the stew. They will last 2-3 months in the freezer.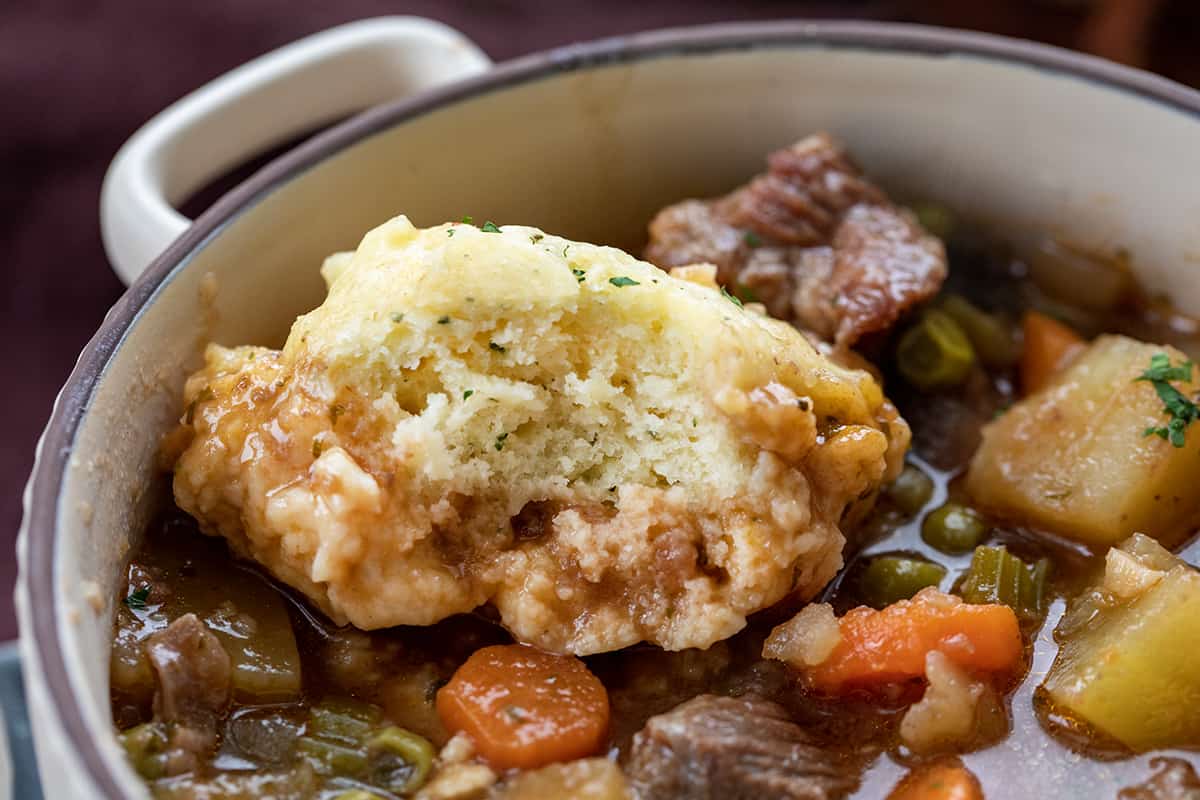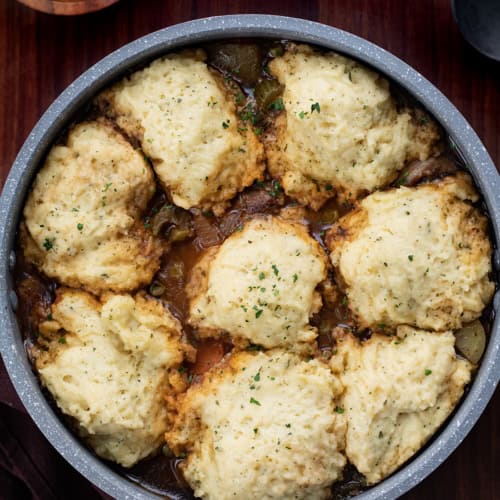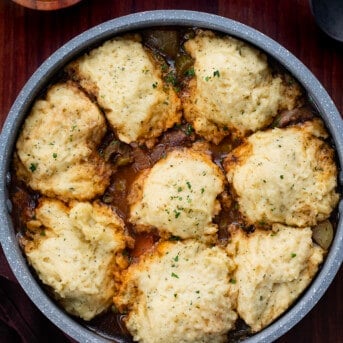 Beef Stew with Dumplings
Beef Stew with Dumplings is a hearty stew loaded with tender beef, vegetables, and a flavorful broth with large, plump homemade dumplings.
Ingredients
3

tablespoons

extra-virgin olive oil

1 ½

pounds

chuck beef,

cut into cubes

¼

cup

(31 g) all-purpose flour

2

ribs

celery,

chopped

3

large

carrots,

sliced into rounds

½

cup

(67 g) frozen peas

5

Yukon

gold potatoes,

cut into bite-sized cubes (about 2 pounds)

1

yellow

onion,

chopped

1

teaspoon

garlic,

minced

2

bay

leaves

½

teaspoon

fresh thyme leaves,

chopped

¼

cup

fresh parsley leaves,

chopped

2

tablespoons

tomato paste

salt and pepper,

to taste

3

cups

(720 g) beef broth

½

cup

(119.5 g) red wine,

we used cabernet
Dumplings
1

cup

(230 g) sour cream

½

cup

(122.5 g) whole milk

2

large

eggs,

room temperature

2

teaspoons

fresh thyme leaves,

chopped

2

cups

(250 g) all-purpose flour

3

teaspoons

baking powder

1

teaspoon

kosher salt

parsley,

for garnish
Instructions
In a large pot with a lid or Dutch oven over medium heat, add the oil.

Once hot, add the cubes of beef to the pot and brown them on all sides, about 10 minutes.

Sprinkle the flour over the beef cubes and stir to coat.

Add the celery, carrots, peas, potatoes, and onion to the pot. Stir to combine.

Add the garlic, bay leaves, thyme leaves, fresh parsley, tomato paste, salt, and pepper to the pot. Stir to combine.

Pour in the beef broth and red wine. Bring the mixture to a boil.

Reduce the heat to low and let the stew simmer for about 1-1 ½ hours, or until the beef is tender.

While the stew is cooking, make the dumplings.
Dumplings
In a large mixing bowl, whisk together the sour cream, milk, eggs, and fresh thyme.

In a separate bowl, whisk together the flour, baking powder, and salt.

Gradually add the flour mixture to the sour cream mixture, stirring until just combined.

When the stew has finished cooking, remove the bay leaves. Use a spoon to drop spoonfuls of the dumpling mixture into the stew. Cover the pot and let the dumplings cook for about 20-25 minutes, or until they are puffed and fully cooked.

Serve the stew hot, garnished with parsley.
Did you make this recipe?
You can tag me at @iamhomesteader.