Birria quesadillas are a hearty and flavorful Mexican-inspired dish made with flour tortillas coated in the juice from slow-cooked meat and filled with tender shredded beef, cheese, onion, cilantro, and jalapeno peppers. These quesadillas are not only packed with bold flavors and aromas but also are messy and delicious! Try them with my slow cooker shredded beef recipe.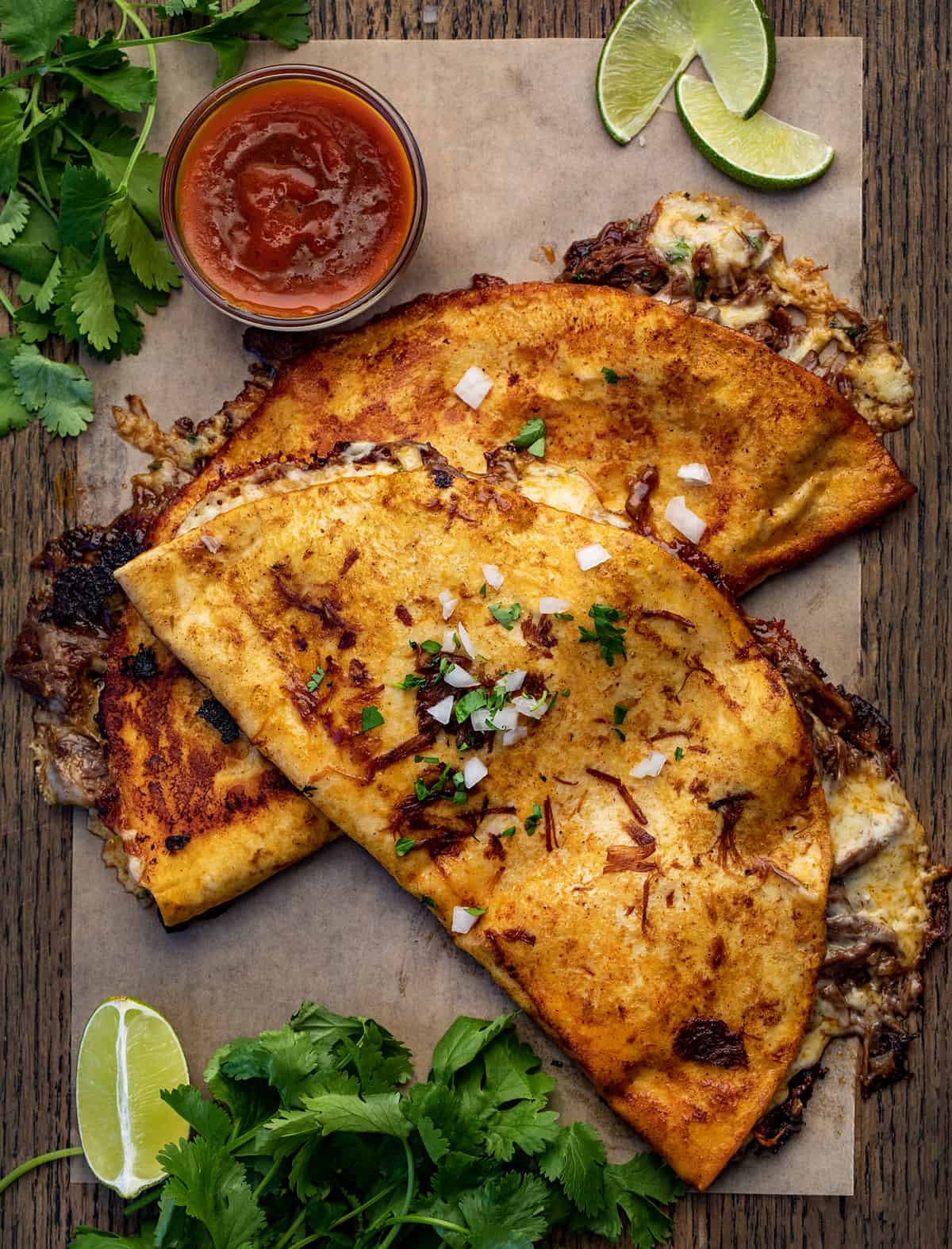 Birria Quesadillas
Birria is a traditional stew made with beef or goat and seasoned with various spices like chili powder, cumin, and oregano. In this recipe, I did not use goat, I use shredded beef for a modern twist on the classic dish. Served with a side of consommé broth, these birria quesadillas are a delicious and unique dish that will impress everyone who tries it.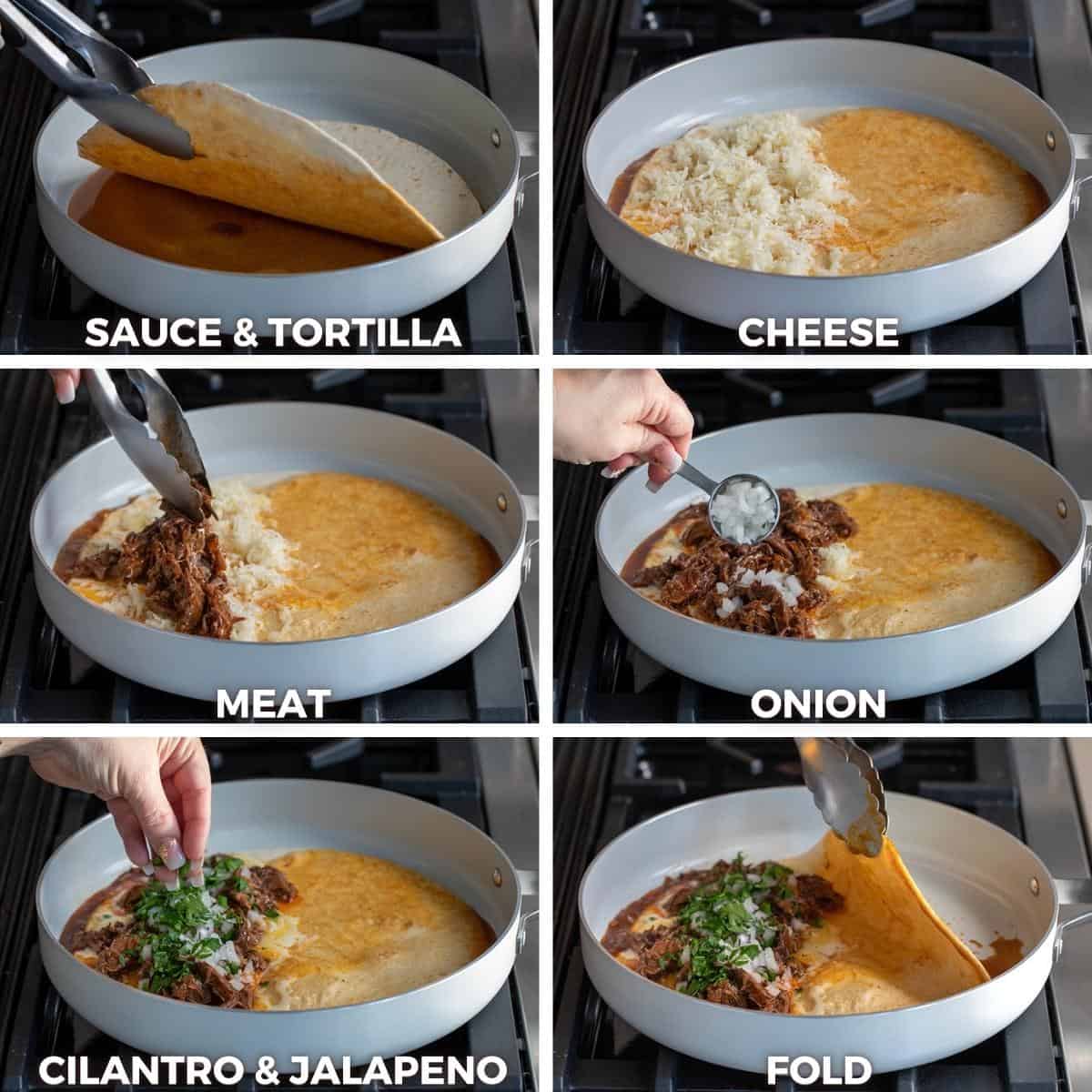 Ingredients & Substitutions
Meat: If you don't want to make your own shredded beef, you can find it precooked at some supermarkets. I recommend something like this, Hormel Beef Roast Au Jus. This is not as flavorful as the homemade, but you can always add more seasoning. You can also purchase Birria meat, which may be packaged as a stew or shredded. I also used my tender meat on my Shredded Beef Sliders, which are so good!
Tortillas: Look for large flour tortillas to use for the quesadillas. Or, you could make your own homemade tortillas to use. I prefer flour tortillas for their flexibility.
Cheese: I love Monterey Jack cheese in these quesadillas. However, you could certainly use your favorite kind of cheese or a blend of cheeses. Just be sure the cheese can be melted quickly. Shredding your own can help.
Cilantro: If you are not a fan of cilantro, you could leave it out. However, before simply omitting it altogether, try a quesadilla with just a little bit of it first.
Jalapeno Peppers: Jalapeno peppers are not always spicy. If you don't want a lot of kick from the jalapenos, look for younger peppers without any white streaks or striations (shiny green color). The older the pepper (more white lines) will give you a spicier pepper.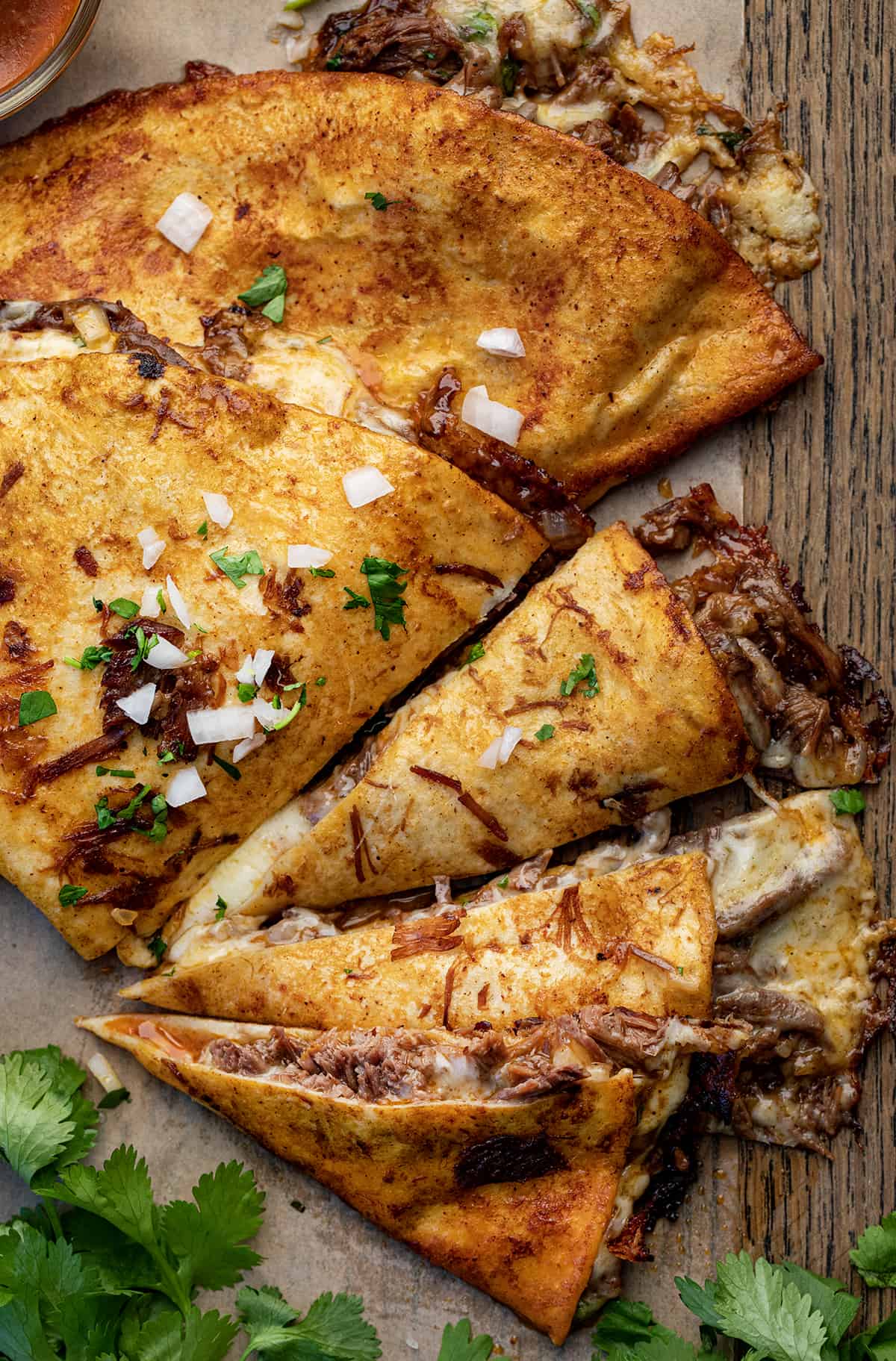 Can I Make Birria Quesadillas Ahead of Time?
Sure! You can get a head start on this appetizer in a couple of different ways. The birria stew or shredded beef can be made up to two days in advance. Simply store it in the refrigerator until ready to assemble the quesadillas. A second way to get these made ahead of time is to get the quesadillas assembled. Then, wrap them up in plastic wrap to be stored in the refrigerator. When ready, simply heat them in the skillet or air fryer.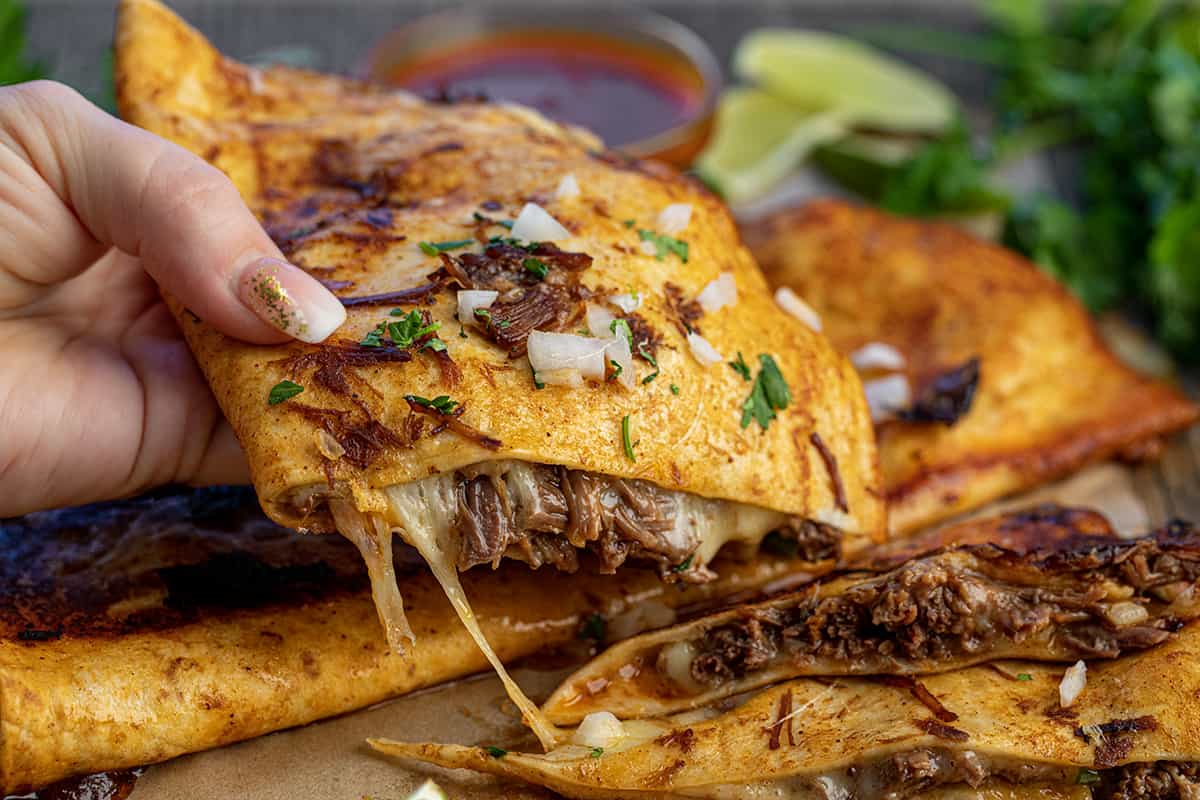 Can I Make Quesadillas In An Air Fryer?
Yes! First, preheat the air fryer to 400°F. Next, coat the tortillas in the shredded beef juice. Fill as instructed in the recipe. Finally, air fry the quesadilla for 4-6 minutes, flipping halfway through cooking time. They are done when the cheese has melted and the tortillas are crispy.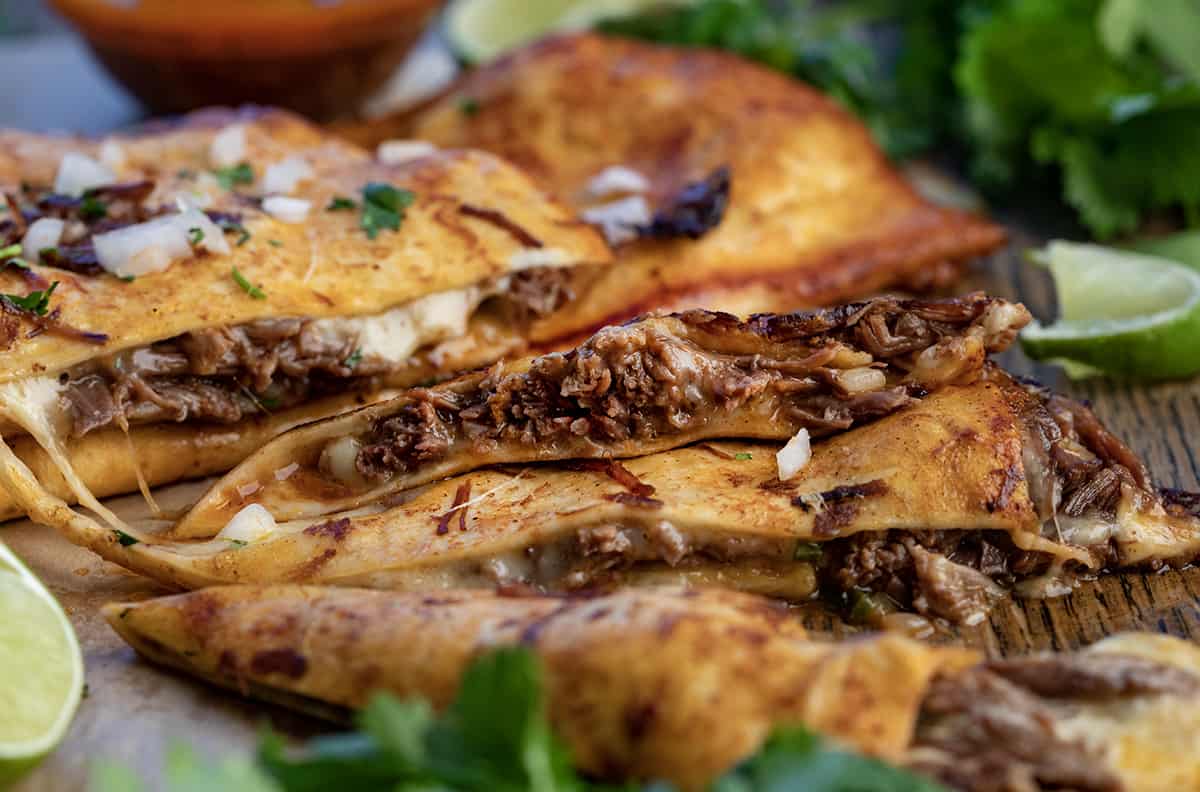 Freezing Birria Quesadillas
Although best served hot and fresh, quesadillas can be stored in the freezer. To store them, first, let the quesadilla cool completely. Next, wrap it in plastic wrap or aluminum foil and store it in a freezer-safe container for up to 3 months. Be sure to label and date the packaging. When ready to enjoy, reheat them in the oven, in a skillet, or in the air fryer. Keep in mind that the crispiness of the tortillas and the texture of the other ingredients may be affected when reheated.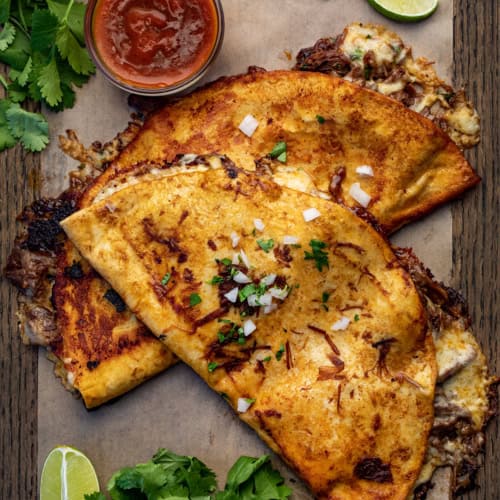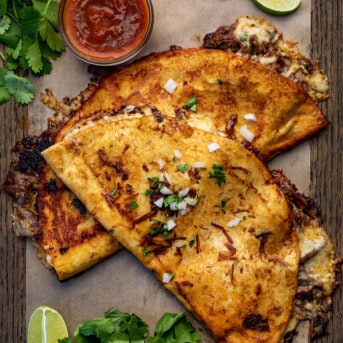 Birria Quesadillas
Birria Quesadillas are made with flour tortillas coated in the juice from slow-cooked meat and filled with tender shredded beef, cheese, onion, cilantro, and jalapeno peppers.
Ingredients
1

cup

shredded beef juice,

warmed (this is the juice that is with the meat when you make it), divided

4

large

(10 inches each) flour tortillas

2

cups

Monterey Jack cheese,

shredded, divided

2

cups

shredded beef*,

divided

1

medium

white onion,

diced, divided

¼

cup

freshly chopped cilantro,

divided

2

tablespoons

jalapeno peppers,

diced, divided
Instructions
Heat a large skillet over medium heat.

Coat the pan with ¼ cup shredded beef juice, reserving the rest for dipping.

Once hot, add one flour tortilla to the skillet, flipping it over to cover both sides with the sauce.

Top one side of the tortilla with ½ cup of Monterey Jack cheese, ½ cup of shredded beef, 2 tablespoons onion, about 1 tablespoon cilantro, and ½ tablespoon jalapeno peppers.

Fold the tortilla in half. Cook for 3-5 minutes on each side, or until the cheese is melted and the tortillas are golden brown and crispy.

Repeat with the remaining ingredients to make a total of 4 quesadillas.

Slice each quesadilla into 3-4 wedges. Serve with extra shredded beef juice for dipping. Enjoy!
Notes
*Recipe for Lazy Man's Birria (called Shredded Beef) It's quite easy to make and perfect in these quesadillas.
Did you make this recipe?
You can tag me at @iamhomesteader.