Broccoli Cheese Twice Baked Potatoes are perfectly baked potatoes that are filled with homemade cheese sauce and broccoli, topped with even more cheese, and baked again! You definitely don't have to tell me twice to devour it! Perfect as a meal or a side dish, these potatoes are sure to be a hit with everyone. If you love a more traditional twice-baked potato, give my Twice Baked Potatoes a try!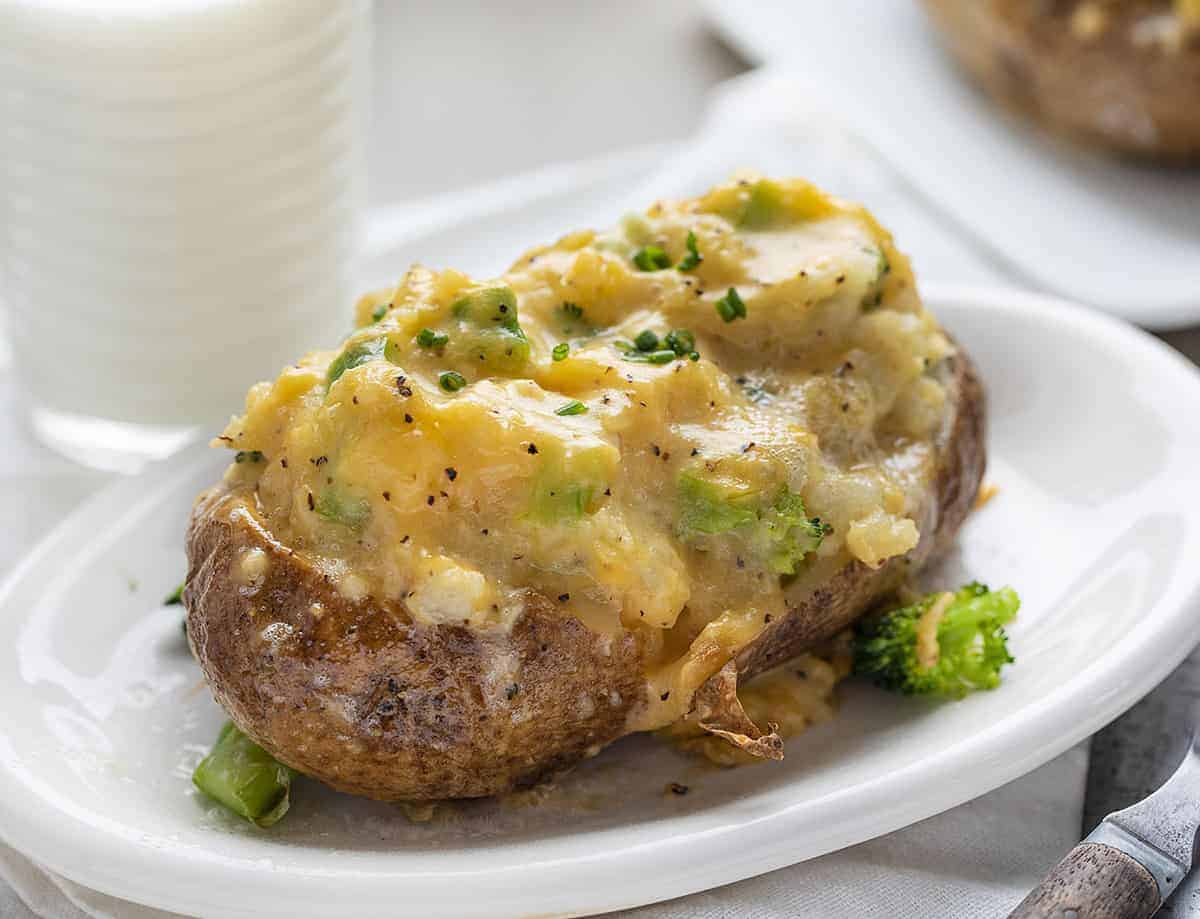 Ingredients & Substitutions
Potatoes: Look for large baking potatoes like Russet potatoes for this recipe. They are large and sturdy enough to hold all of the fillings and cheese sauce.
Cheese Sauce: My homemade cheddar cheese sauce is perfect for these potatoes for the broccoli cheese combination. Or, buy cheese sauce to use.
Broccoli: Before adding the freshly cut broccoli florets to the cheese sauce, blanch it. Blanching broccoli will help it keep its green color and hold in the flavor. You could also use frozen broccoli, which is often blanched before freezing. If using frozen, let the broccoli thaw first.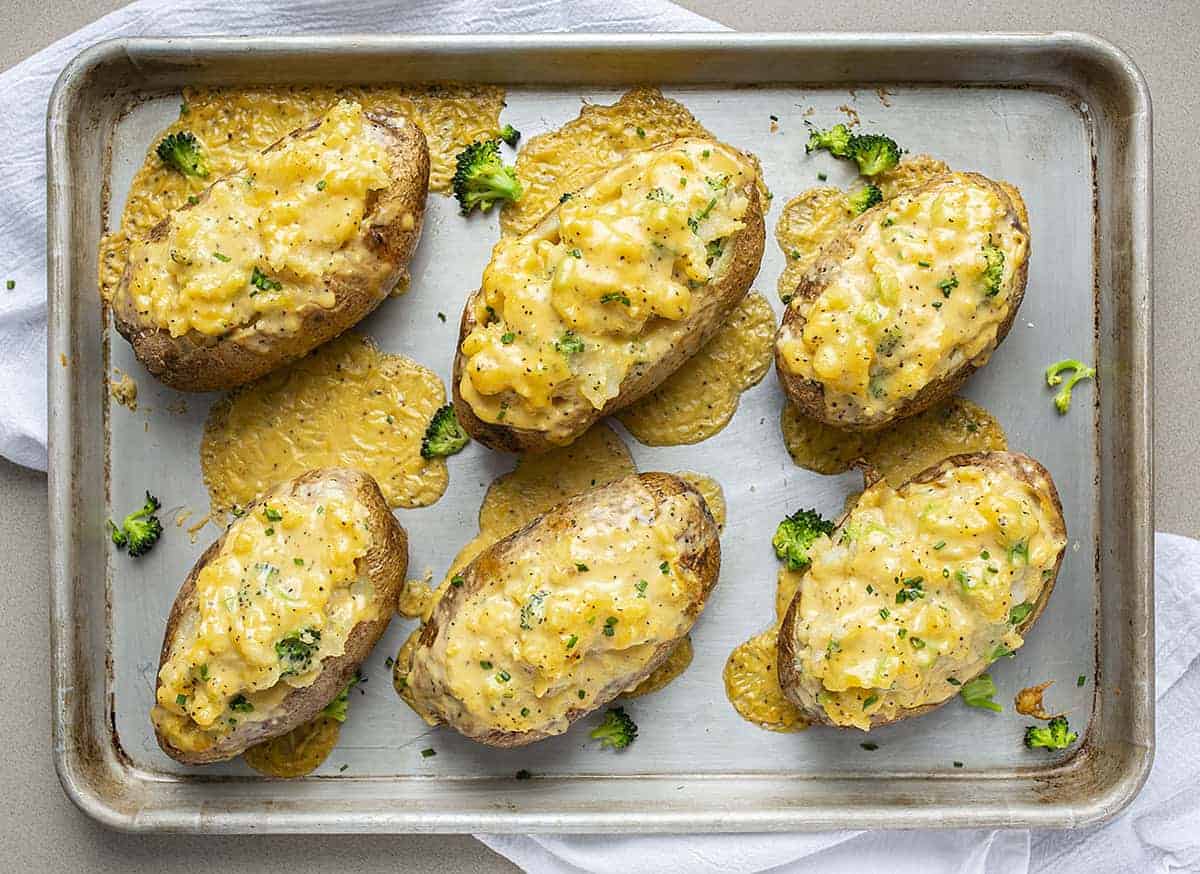 Can I Make Twice-Baked Potatoes Ahead of Time?
Yes. A shortcut I have used before is to bake the potatoes the night before, refrigerate them overnight, and use them the next day for the second part of baking. You can also get the cheese sauce made ahead of time. It will last in the refrigerator for up to 4 days.

Can I Make These in a Microwave?
While it works to bake potatoes in the microwave, I do want to stress that you won't get the crispy potato skin.
Scrub and wash the potatoes.
Poke holes in the potatoes using a fork or knife.
Rub the canola oil over each potato and sprinkle with salt.
Wrap the potatoes in a paper towel that has been moistened with a little more canola oil.
Cook two potatoes at a time in the microwave, checking if they are fork-tender after 8 minutes. If not, cook a minute more at a time until they are ready.
I would recommend baking them in the oven the second time, which only takes 15-20 minutes.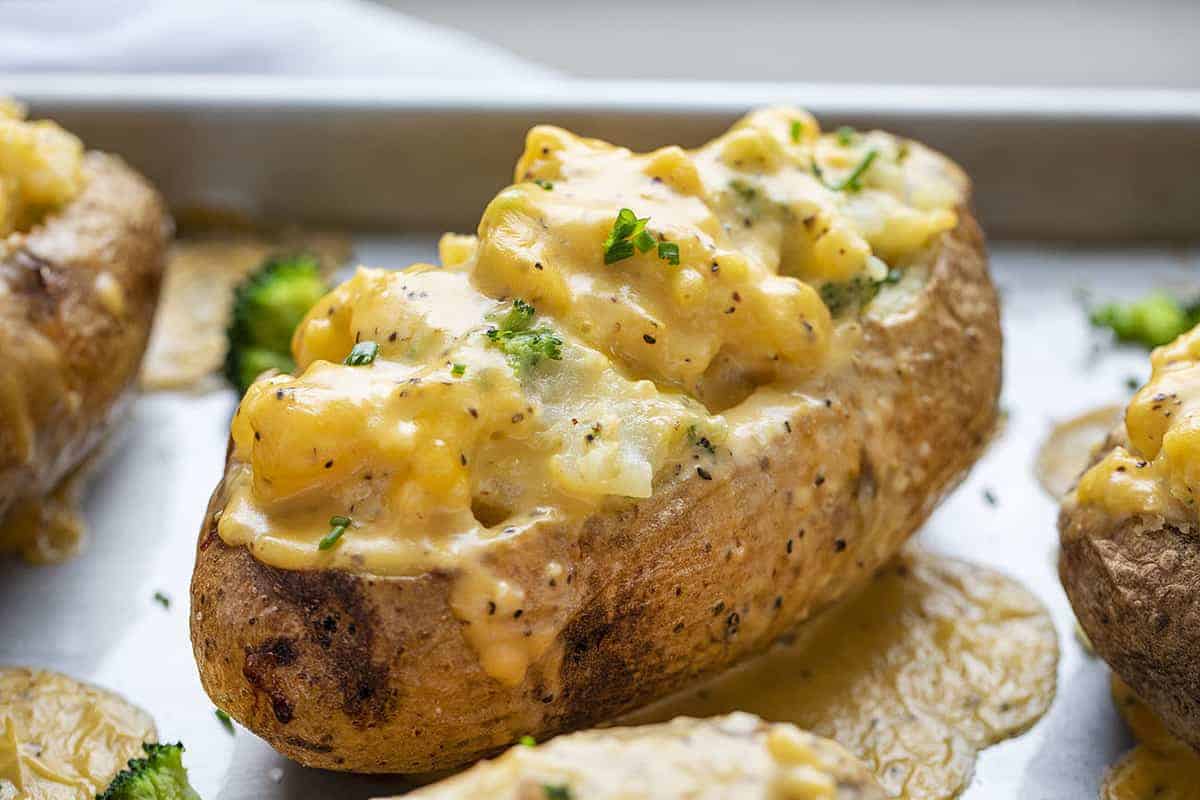 Air Fryer Broccoli Cheese Twice Baked Potato
Check out our step-by-step guide on how to make the perfect Air Fryer Baked Potatoes and use those times and temperatures for this recipe. To prevent any filling from spilling out, we recommend lining your air fryer with aluminum foil or parchment paper before cooking. Not only does this make for easy clean-up, but it also ensures that every bite is filled with cheesy, broccoli goodness.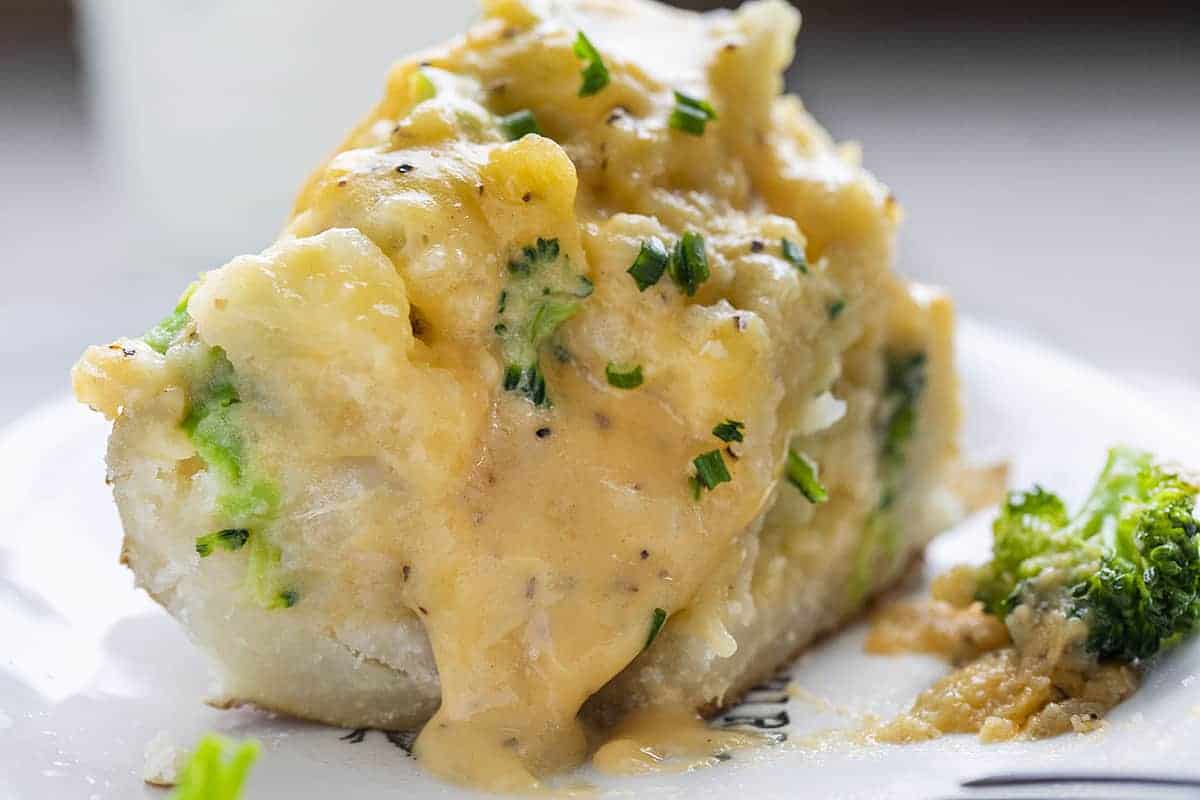 How to Store Broccoli Cheese Twice Baked Potatoes
Store leftover broccoli cheese twice-baked potatoes in the refrigerator for up to 3-4 days for maximum freshness. To preserve the quality and taste of the potato, make sure to first let it cool to room temperature before wrapping it tightly in plastic wrap or aluminum foil. Place the wrapped potato in an airtight container to prevent any air or moisture from getting in. When you are ready to enjoy your leftovers, simply unwrap the potato and heat it up in a 350°F oven for 15-20 minutes for a delicious and warm meal.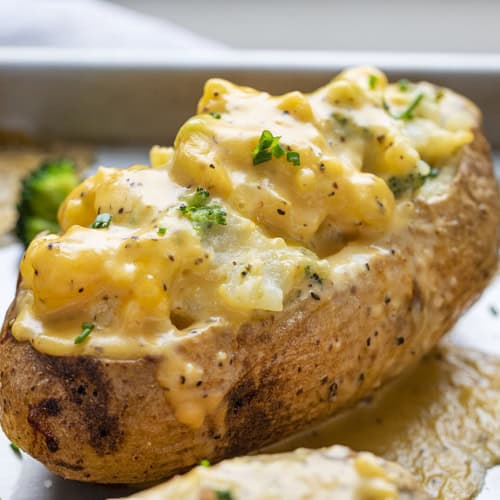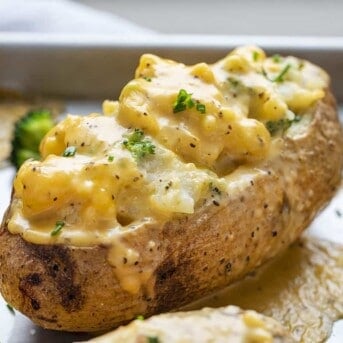 Broccoli Cheese Twice Baked Potato
Filled with broccoli and a homemade cheese sauce, Broccoli Cheese Twice Baked Potatoes are filling enough to be a meal!
Ingredients
Potatoes
6

large

baking potatoes,

washed

1

tablespoon

canola oil

2

teaspoons

kosher salt
Broccoli
2

cups

(182 g) fresh broccoli florets,

chopped
Cheese Sauce
2

cups

(490 g) whole milk,

divided

3

tablespoons

all-purpose flour

1

teaspoon

kosher salt

2

cups

(226 g) sharp cheddar cheese,

divided

1

teaspoon

freshly ground black pepper

chives,

for garnish
Instructions
Potatoes
Preheat the oven to 350°F. Line a baking sheet with parchment paper.

Prick a few holes in both sides of the potatoes with a fork or knife.

Coat each potato with canola oil and salt. Place on the lined baking sheet.

Bake the potatoes for one hour, or until they are fork-tender. Let the potatoes cool a bit before assembling. While the potatoes are baking, blanch the broccoli.
Blanching Broccoli*
In a large saucepan over medium-high heat, add water, filling halfway to the top.

Add a pinch of salt and heat to boiling.

To the boiling water, add broccoli. Cook for three minutes (or until bright green). Meanwhile, prepare a bowl of iced water for the ice bath.

Transfer the broccoli to the ice bath to cool. When completely cool, drain and set aside.
Cheese Sauce
In a medium saucepan, whisk together ¼ cup of milk and the flour.

Pour in the remaining milk and salt, bringing it to a boil over medium heat. Stir frequently.

Reduce heat to low and simmer for 2 minutes, stirring constantly. The mixture will start to thicken.

Remove from heat, and stir in the cheese and pepper until the cheese melts. Reserve 1 ½ cups of the sauce for the topping.
Assembly
Using a sharp knife, slice the top (horizontally) off of each baked potato.

Using a spoon, remove the centers of the potatoes and place them into a large mixing bowl. Be careful not to tear the potato skin. Lay the hollowed-out potato shells onto a parchment paper-lined baking sheet.

To the bowl of potatoes, add the cheese sauce from the saucepan (remembering to reserve 1 ½ cups of sauce first), mashing and mixing well. Salt to taste.

Fold in the broccoli, mixing everything together.

Fill each hollowed-out potato skin with an equal amount of the filling.

Top each potato with about 2 tablespoons of the reserved cheese sauce. Bake for 15-20 minutes, or until the cheese is melted and the potatoes are warmed through.
Notes
*If using frozen broccoli, skip this step. Simply let the frozen broccoli thaw before adding it to the cheese sauce.
Did you make this recipe?
You can tag me at @iamhomesteader.