Buffalo Chicken Nachos are a plate of tortilla chips smothered in a creamy, cheesy buffalo chicken sauce for an appetizer that will leave you craving more! Instead of individually layering toppings, I opted to pour the mixture over the chips. It is a game-changer! These will be devoured by anyone who likes buffalo chicken! For more of the same flavors, try my Buffalo Chicken Cheesy Fries, too!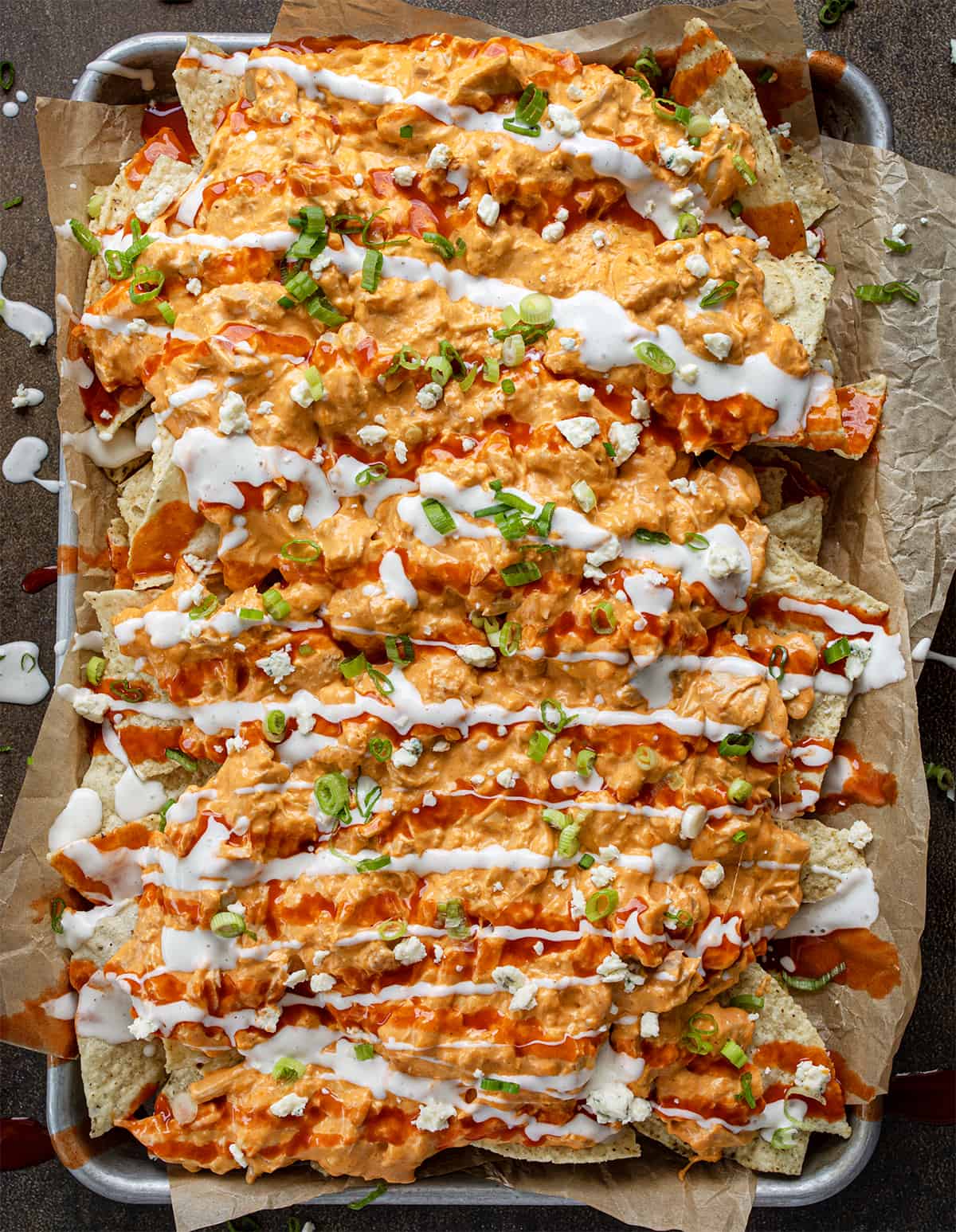 Ingredients & Substitutions
Cream Cheese: For easy melting, let the cream cheese first come to room temperature.
Buffalo Sauce: For the best buffalo sauce, make your own! If using store-bought sauce, double-check the labeling to make sure it is not hot sauce, which is different.
Ranch Dressing: Just like you can make homemade buffalo sauce, you can also make homemade ranch dressing. Once you taste how good it is, you will want to use it for more than just this recipe! Or, if preferred, you could also use blue cheese dressing.
Sour Cream: Sour cream adds a rich and creamy texture to the sauce. It also helps to balance out the heat from the buffalo sauce. If you are making the nachos and realize you don't have sour cream, you could leave it out and still have a delicious appetizer!
Cheese: To enhance the overall cheesiness of the dish, I added both mild cheddar cheese and mozzarella cheese. If you prefer one kind of cheese over the other, just use that kind of cheese.
Rotisserie Chicken: Rotisserie chicken is great for this recipe because it is already cooked! You will need the entire rotisserie chicken for this recipe. Or, use leftover shredded chicken.
Chips: Grab a bag of your favorite kind of tortilla chips to cover with the buffalo chicken sauce.
Toppings: Top the nachos with blue cheese crumbles and green onions. Or, serve them as an option for others to top their plate of nachos.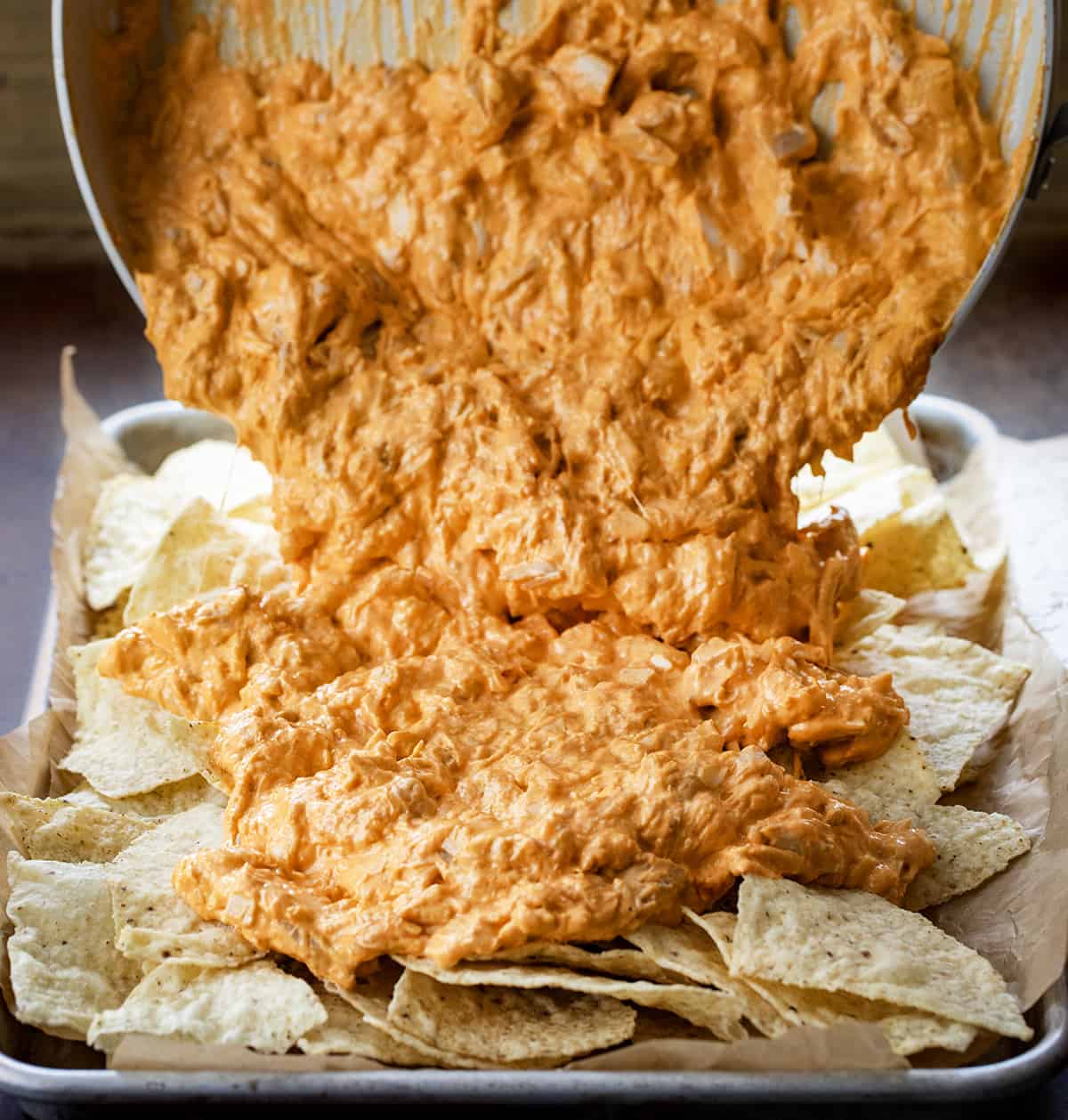 Are The Nachos Spicy?
If you are a buffalo chicken fan, you will really love these nachos. The buffalo chicken sauce is not very spicy, especially with the added cream cheese, sour cream, and ranch dressing. These ingredients help to balance out the spiciness. (However, they still have a little bit of heat.) If you prefer more of a kick, add more buffalo sauce!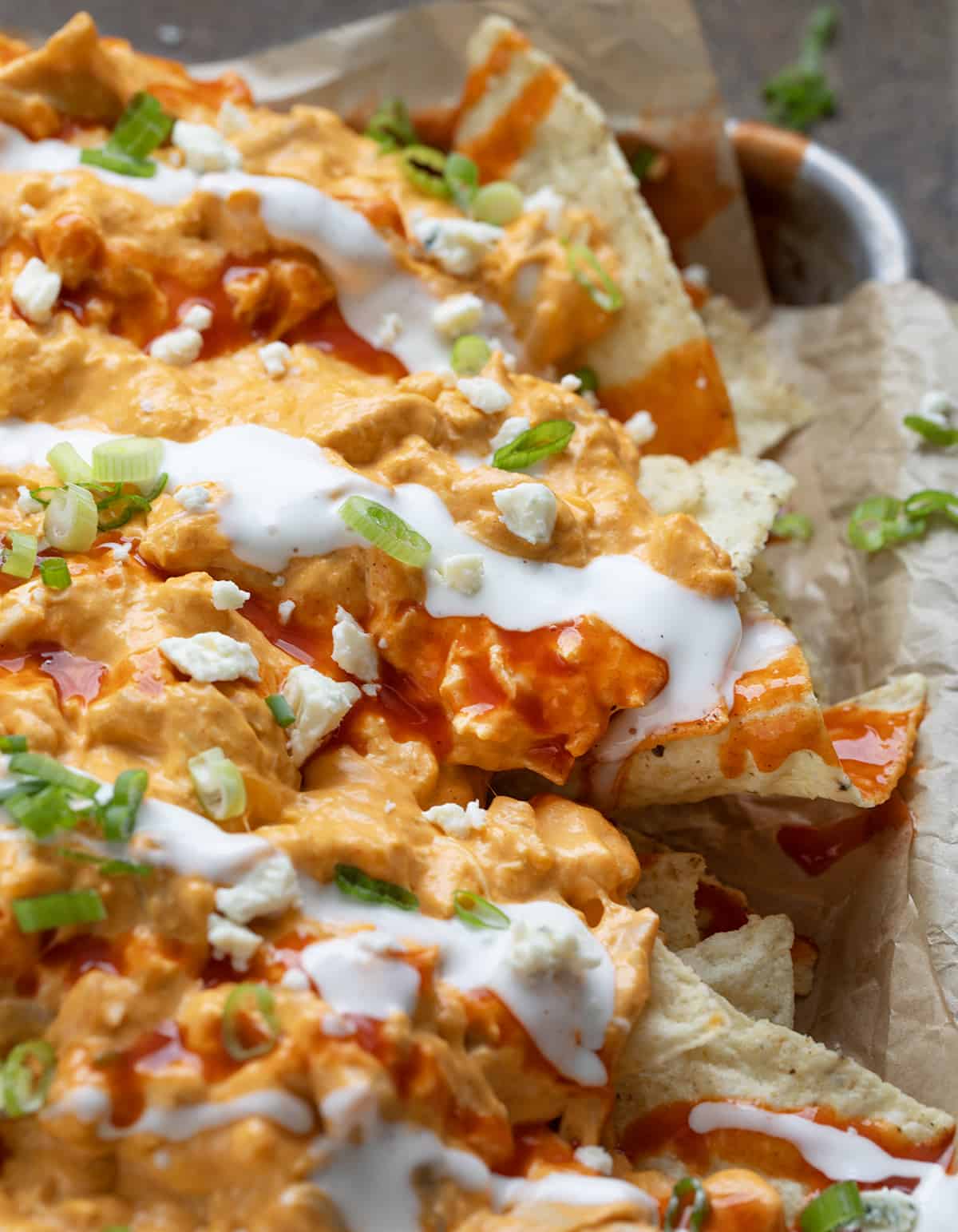 Can I Make Buffalo Chicken Nachos Ahead Of Time?
Yes, you can certainly get the sauce made in advance. After you have prepared the sauce, let it cool. Then, store the buffalo chicken sauce in an airtight container in the refrigerator. It will last up to 3-4 days. When you are ready to assemble the nachos, heat up the sauce on the stovetop or in the microwave.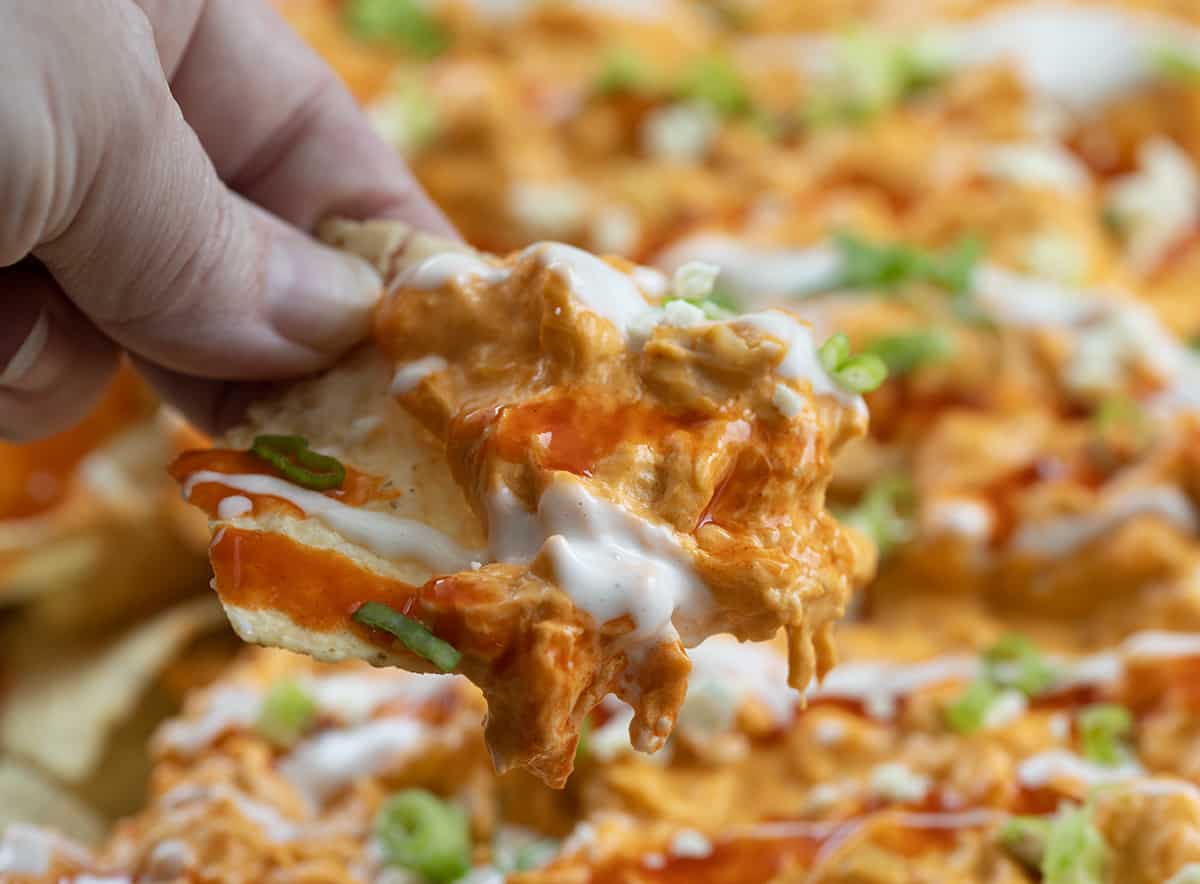 How To Store Buffalo Chicken Nachos
If you have leftovers (which I highly doubt), store the chips and the buffalo chicken sauce separately. The sauce will last up to 3-4 days in the refrigerator. Heat it up when ready to serve or enjoy the nachos.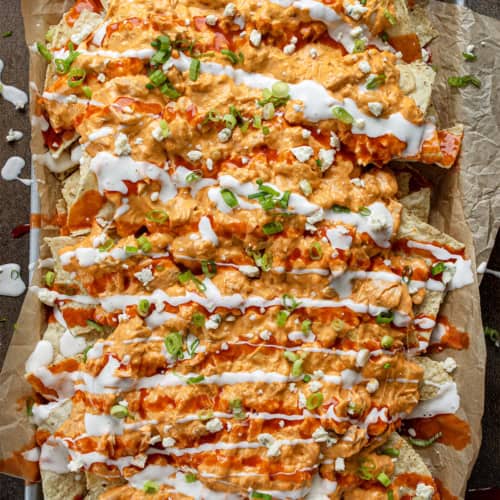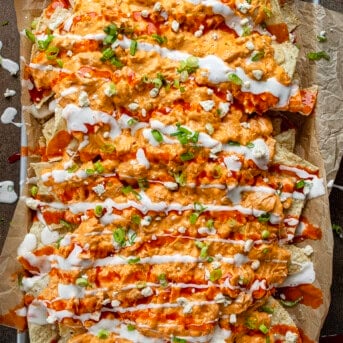 Buffalo Chicken Nachos
Buffalo Chicken Nachos are a plate of tortilla chips smothered in a creamy, cheesy buffalo chicken sauce for an appetizer that will leave you craving more! Don't worry about having any leftovers of the nachos, they will be devoured in no time!
Ingredients
1

block

(8 ounces) cream cheese,

room temperature

¾

cup

(205 g) buffalo sauce

¾

cup

(180 g) ranch dressing,

plus more for topping

½

cup

(115 g) sour cream

1

cup

(113 g) mild cheddar cheese,

shredded

1

cup

(113 g) mozzarella cheese,

shredded

3

cups

(420 g) rotisserie chicken,

shredded, diced (about 1 whole chicken)

1

bag

(11 ounces) tortilla chips

¼

cup

(56 g) blue cheese crumbles

2

tablespoons

green onion,

chopped
Instructions
To a large skillet over medium-low heat, add the cream cheese, buffalo sauce, ranch dressing, and sour cream. Heat until the cream cheese has completely melted.

Add the cheddar and mozzarella cheeses. Stir until melted.

Add chicken and cook for an additional 3-4 minutes, or until the chicken is heated through.

On a platter or baking sheet arrange the tortilla chips. Pour the buffalo chicken mixture over the chips. Top with a drizzle of ranch dressing, blue cheese crumbles, and chopped green onion. Enjoy!
Did you make this recipe?
You can tag me at @iamhomesteader.
What the Test Kitchen had to say about this recipe: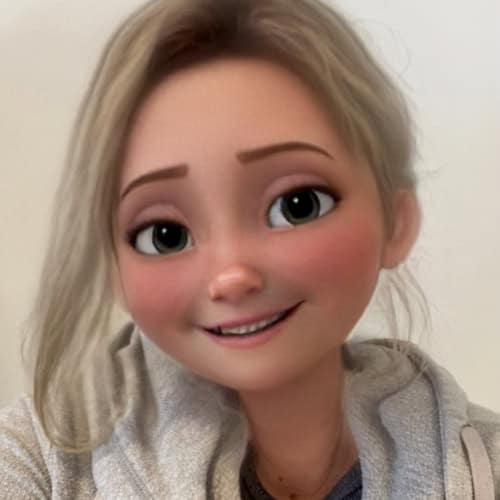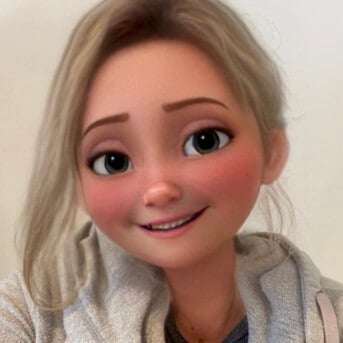 Autumn
Watch out, these are highly addicting. I kept having to pry myself away from the tray. If you are a fan of buffalo chicken dip you are going to love these nachos! Every chip is covered in the buffalo-chicken mixture. We topped ours with blue cheese and extra buffalo sauce. SO GOOD!!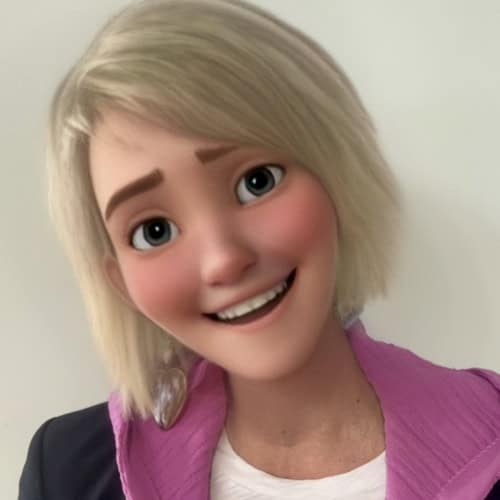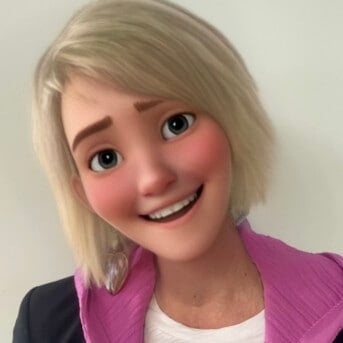 Elizabeth
I could not stop eating these nachos. They are so good and addicting with just the right amount of kick to them! They are almost too easy to make, which could be trouble for me…but trouble in the most flavorful way!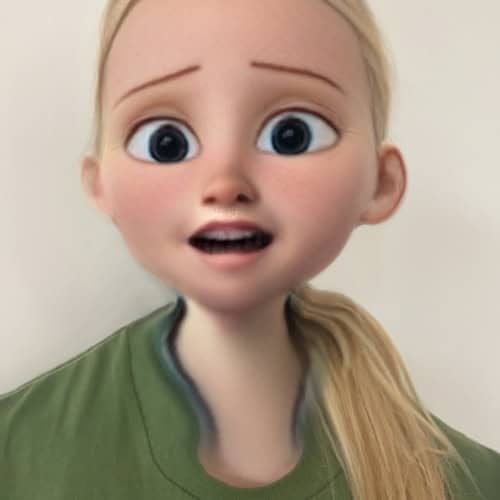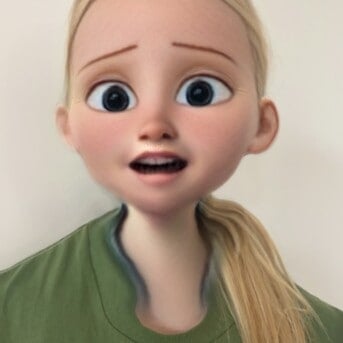 Annabelle
I loved these, they pack all the buffalo flavor without too much heat. These would be great for any gathering!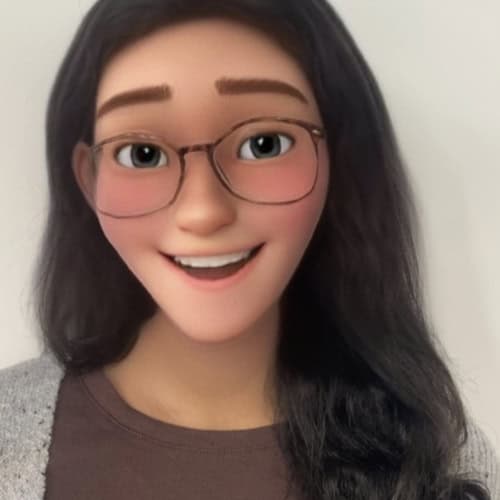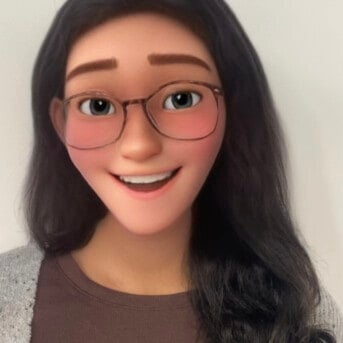 Bella
Oh wow, these are hard to stop eating! The tangy, slightly spicy and creamy buffalo chicken mixture is perfect on top of some crunchy chips!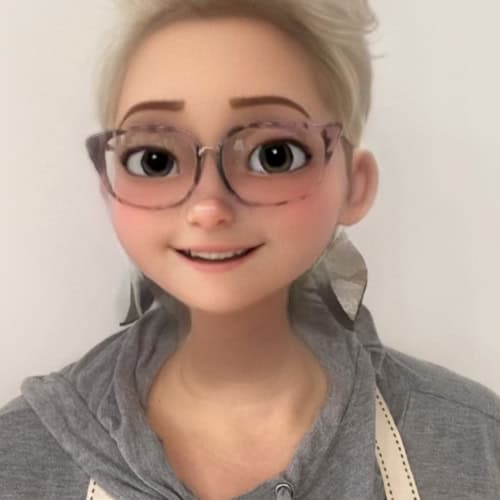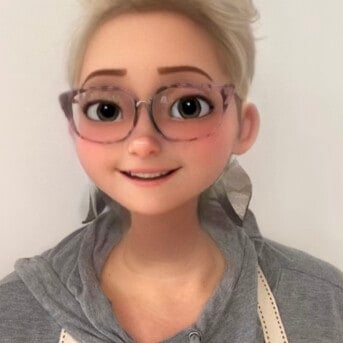 Selena
These nachos are the bomb. I couldn't stop eating them. And I keep telling myself I don't like buffalo sauce, but I just must be wrong.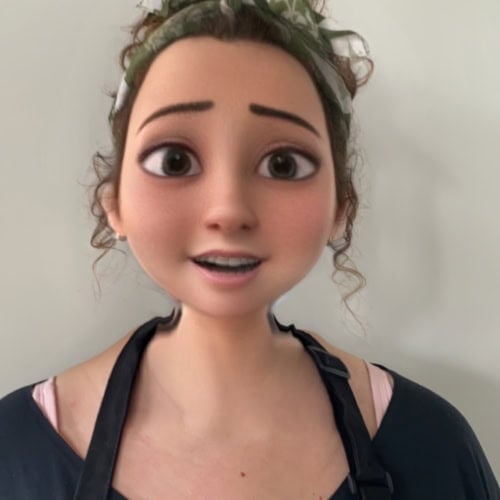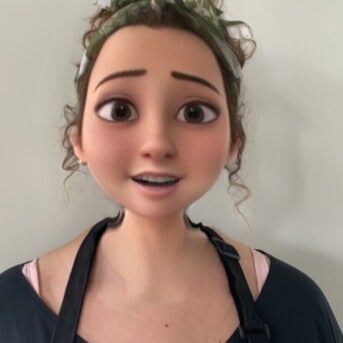 Rachael
Buffalo chicken EVERYTHING is my favorite! These are such an easy way to eat buffalo chicken dip, which is amazing, and nachos, which are amazing! I could eat these all day!