Buffalo Chicken Twice Baked Potatoes give you the flavor of your favorite saucy chicken wings stuffed into a perfectly baked potato. For a more traditional potato, try my Twice Baked Potato.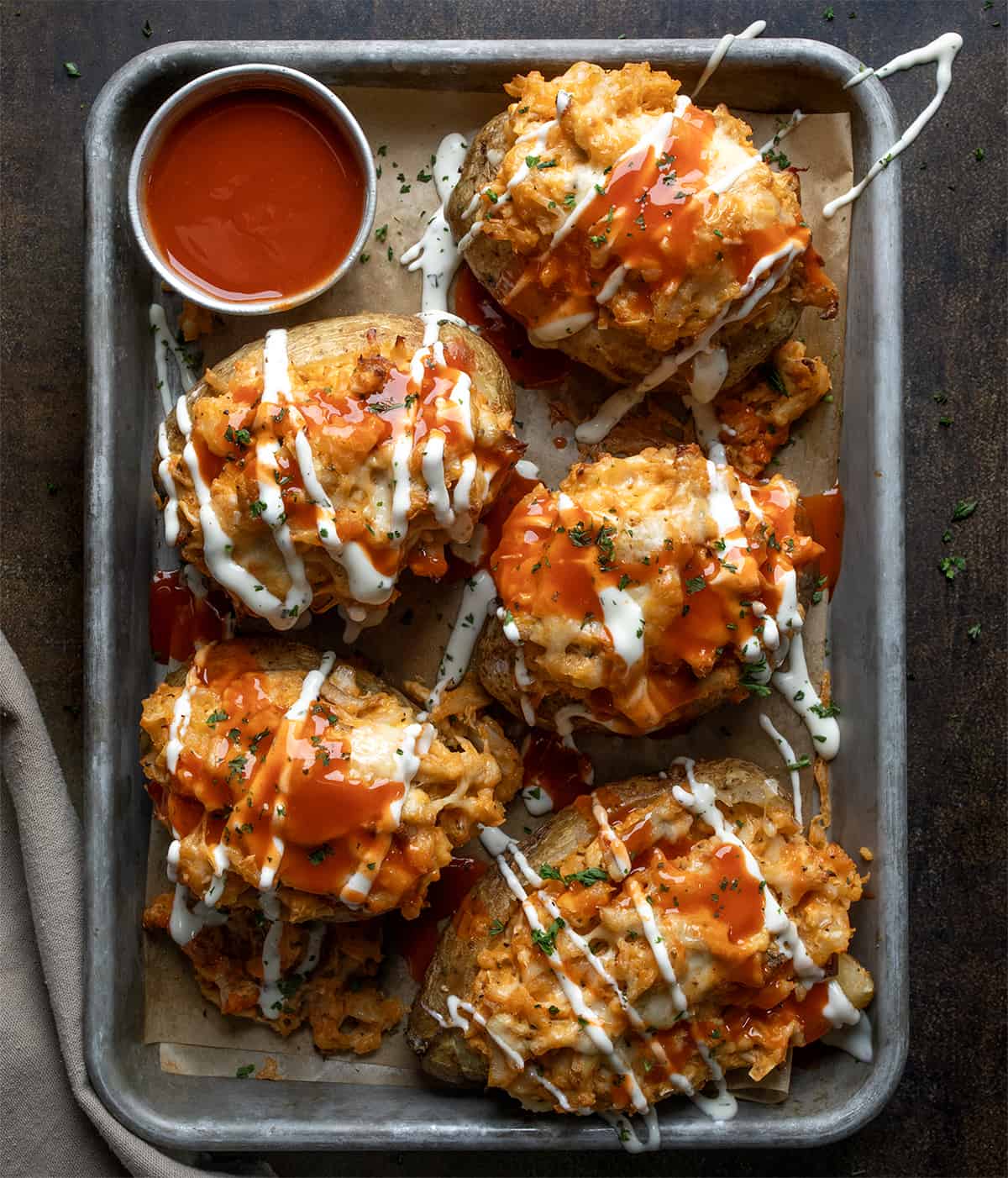 Buffalo Chicken Twice Baked Potatoes
My love for buffalo chicken started with classic buffalo wings. Even with all the other spices and flavors that are available to choose from, I still find myself sticking with the traditional buffalo sauce. I even made my own homemade buffalo sauce recipe, so you can guess just how much I love it! I have even gone so far as to make Buffalo Chicken Deviled Eggs! One of my favorite buffalo chicken recipes has to be my Buffalo Chicken Macaroni and Cheese. So, when I tasted how well the carbs of the pasta went with the protein of the chicken, I figured I had to try another carb with it, so why not a potato? Thus, we have the Buffalo Chicken Twice Baked Potatoes.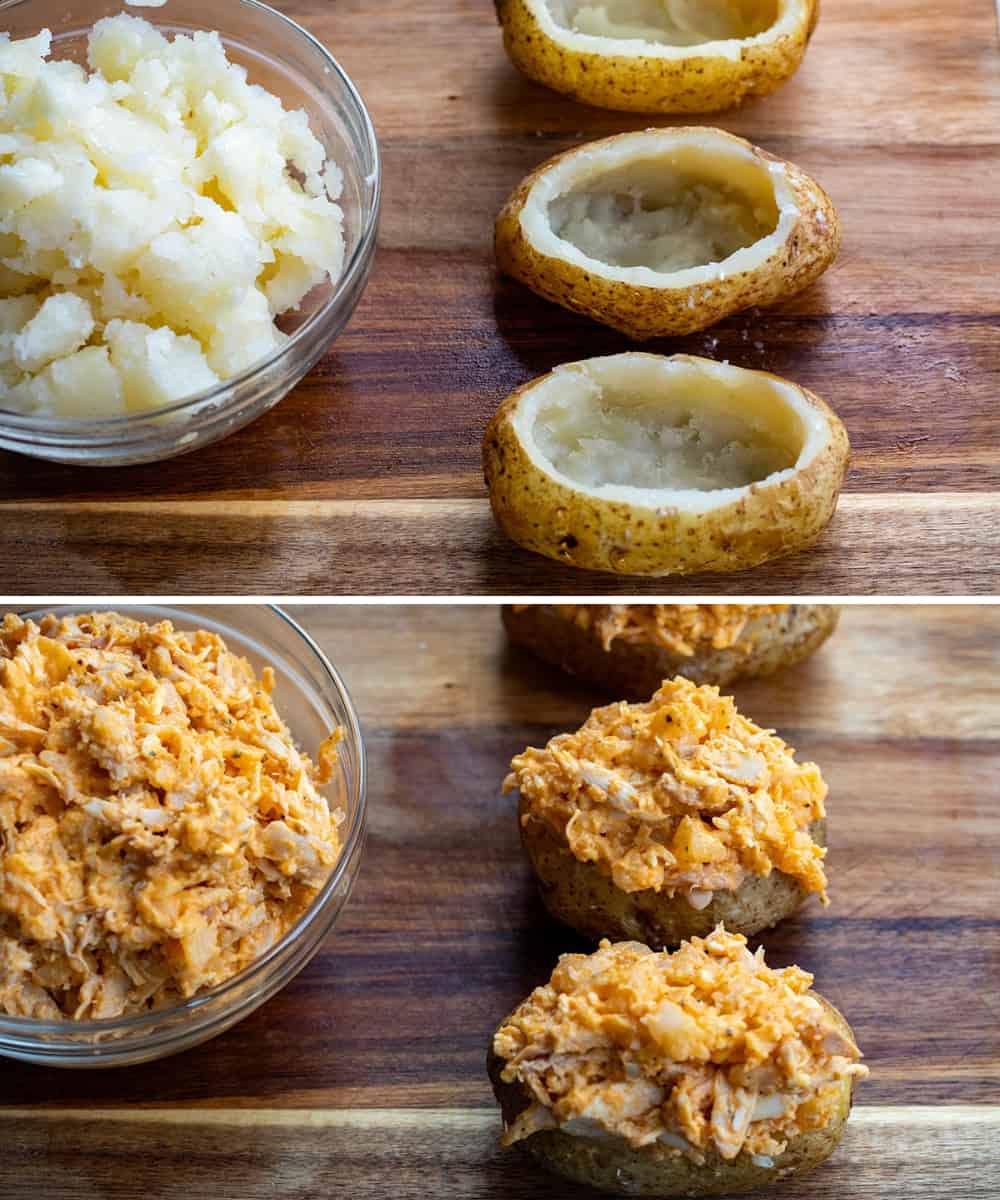 Ingredients & Substitutions
Rotisserie chicken: Buy a store-bought rotisserie chicken, or make homemade rotisserie chicken.
Dry Ranch Seasoning: Either storebought or homemade dry ranch seasoning would work great for this recipe.
Buffalo Sauce: Feel free to use storebought buffalo sauce, or if you feel adventurous you could even make homemade buffalo sauce!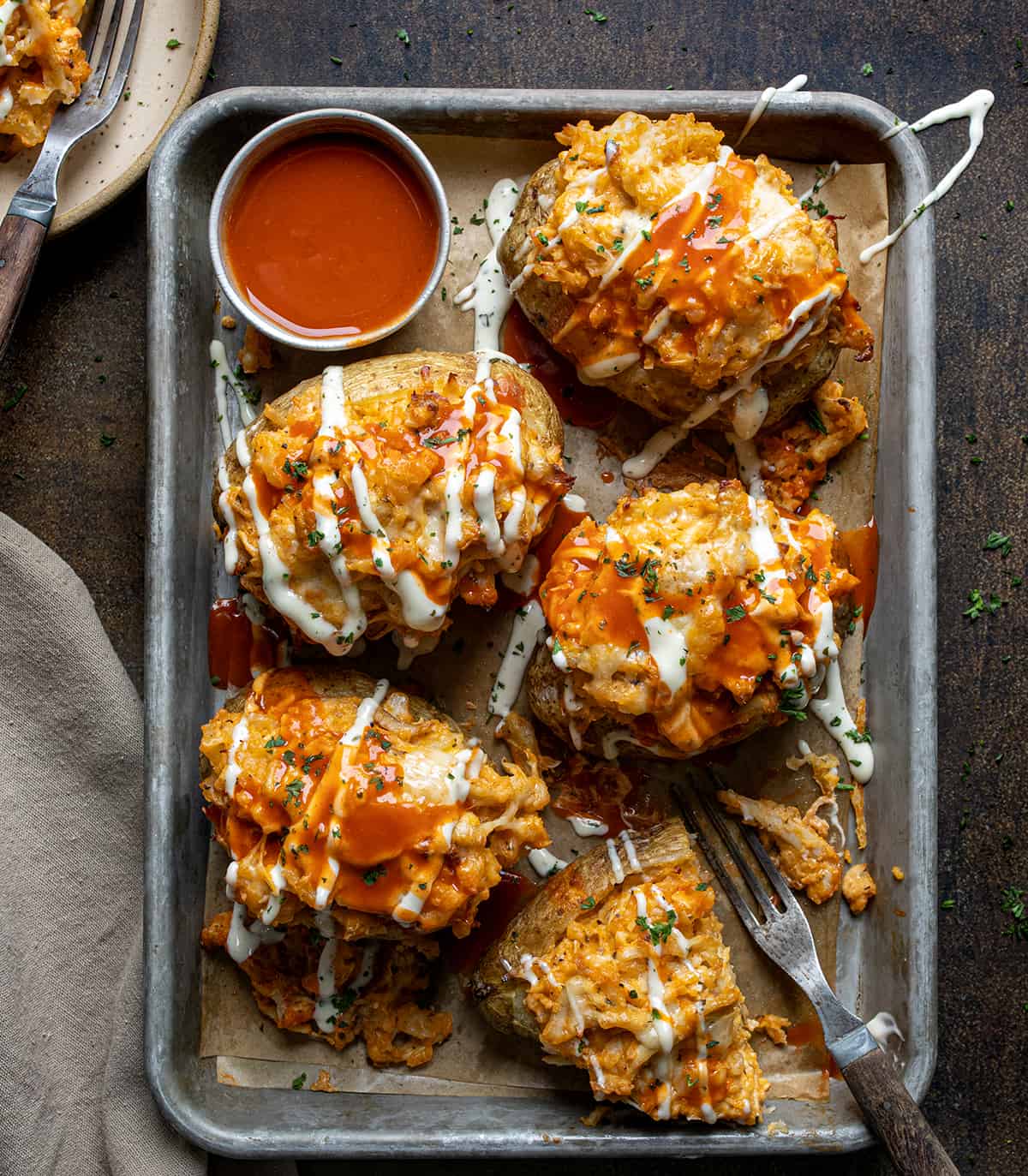 How to Bake a Perfectly Baked Potato
As I mentioned, it starts with the baked potato for this and all other baked potato recipes.
First of all, choose a starchy potato like a Russett potato or Idaho potato. Clean it well to get off all the dirt.
Preheat the oven to 350°F.
Prick holes all around the potato (carefully), using a knife or fork. This allows the steam to escape from inside the potato. If you do not prick holes in the potato, it may burst inside your oven.
Rub the potatoes with oil and season them with Kosher salt. Be generous with the salt.
Place the potatoes on a foil-lined baking sheet and let them cook at 350°F for about an hour, or until they are fork-tender. A fork should easily pierce the baked potato when it's done. If it is hard, bake it for a little longer. Be careful not to overbake, though! If you want to be exact, the temperature of a fully cooked potato is around 210°F.
Remove them from the oven and let them cool before you handle them.
You could also make air fryer baked potatoes!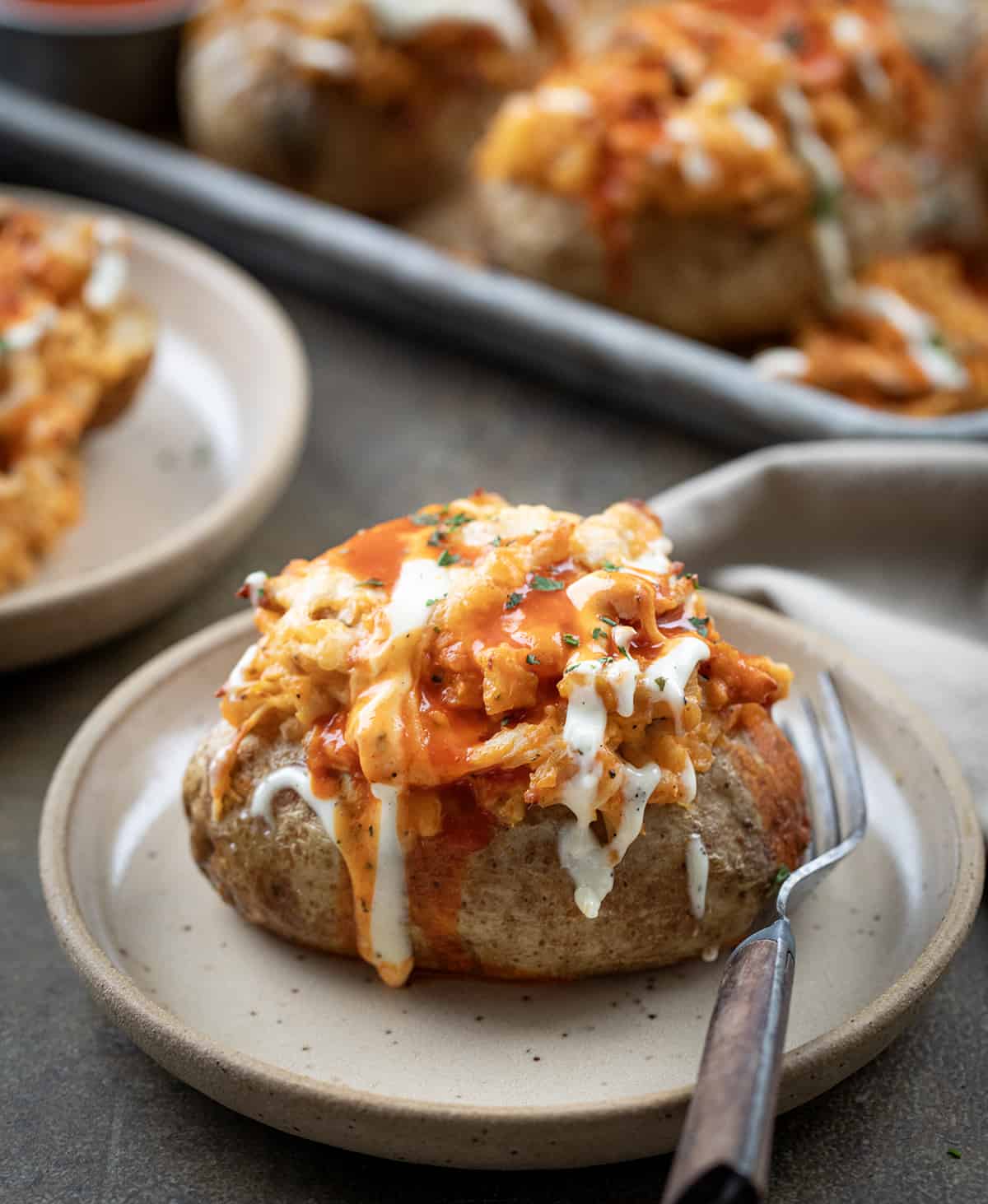 Can You Bake Twice Baked Potatoes in the Microwave?
Yes. Not everyone has an hour or two to get dinner on the table. One solution would be to use the microwave for the initial baking of the potato. Most of the prepping of the potatoes is the same as baking them in the oven. First, scrub and wash the potatoes. Then, poke holes in the potatoes using a fork or knife. Rub the canola oil over each potato and sprinkle on the salt. Finally, wrap the potatoes in a paper towel that has been moistened with a bit of canola oil. Cook two potatoes at a time in the microwave, checking if they are fork-tender after 8 minutes. If not, cook a minute more at a time until they are ready. Then, simply follow the rest of the instructions to finish them up. I would recommend baking them in the oven the second time, which only takes 15-20 minutes.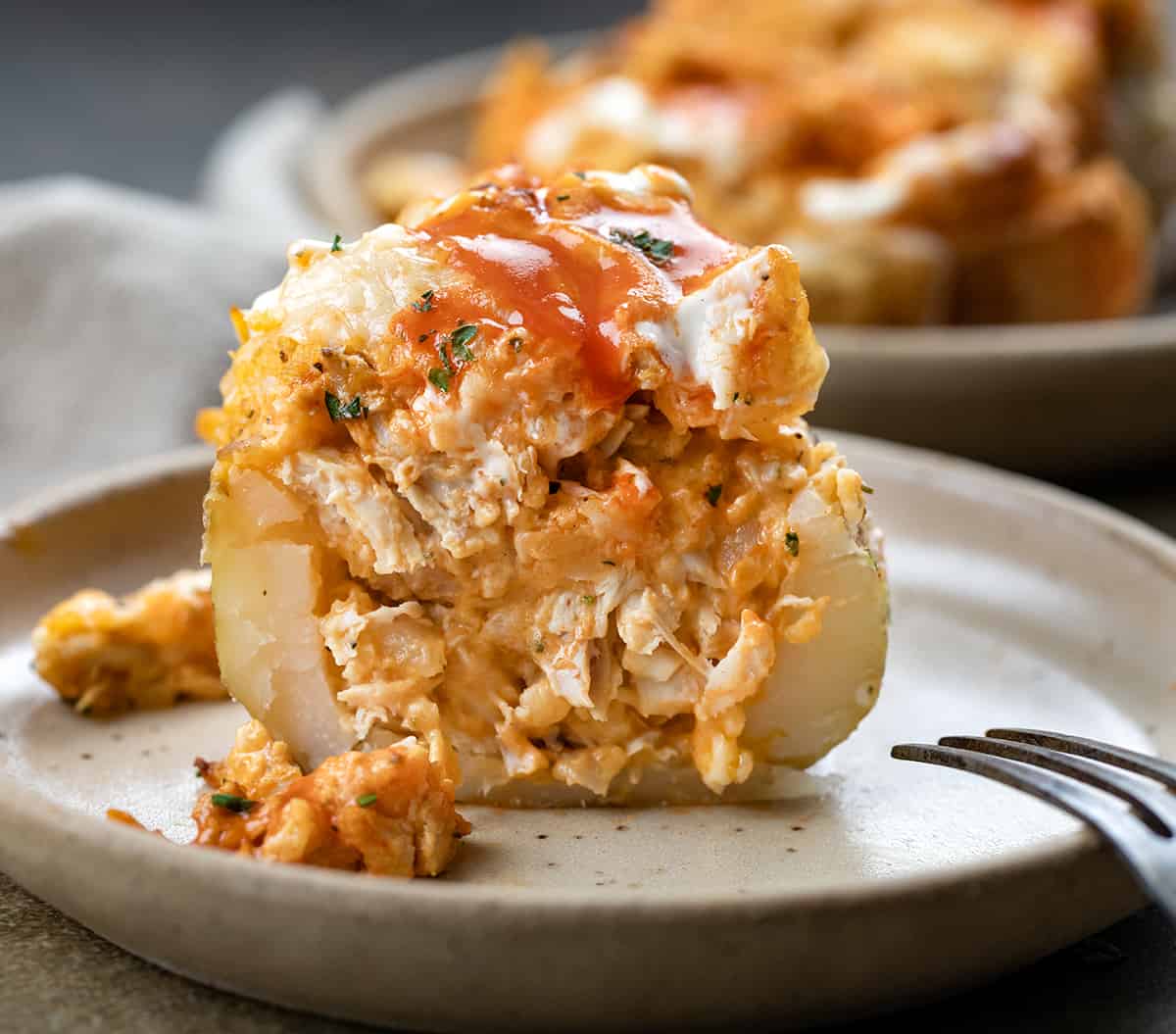 Can I Make This Ahead Of Time?
You can certainly get the filling made in advance. Once mixed together, store it in an airtight container in the refrigerator for up to 2-3 days.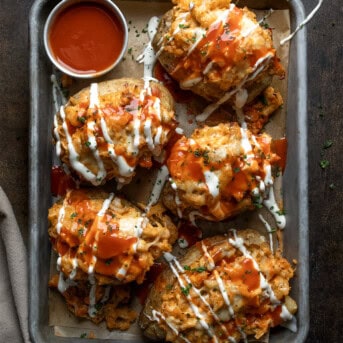 Buffalo Chicken Twice Baked Potatoes
Buffalo Chicken Twice Baked Potatoes give you the flavor of your favorite saucy chicken wings stuffed into a perfectly baked potato.
Ingredients
Potatoes
6

large

potatoes,

scrubbed and pricked with holes

1

tablespoon

canola oil

2

teaspoons

kosher salt
Filling
3

cups

rotisserie chicken,

shredded

3

tablespoons

homemade dry ranch seasoning,

or 1 ½ packages (1-ounce each) store-bought ranch seasoning

½

cup

buffalo sauce,

plus 2 tablespoons for topping

4

ounces

cream cheese,

room temperature

1

cup

(113 g) mozzarella cheese,

shredded

3

tablespoons

butter,

melted

½

teaspoon

ground black pepper

½

cup

(56.5 g) white cheddar cheese,

shredded

ranch dressing,

for drizzling

extra buffalo sauce,

for drizzling

parsley,

for garnish
Instructions
Potatoes
Preheat the oven to 350° F.

Wash each potato and prick all over with a fork or knife.

Coat each potato with canola oil and kosher salt and place on a foil-lined cooking sheet. Bake for 1 hour or until potatoes are fork-tender.

Remove from oven and let potatoes rest until they are cool enough to handle.

Using a sharp knife, slice the top off (horizontally) of each potato.
Filling
Using a spoon, remove the center of the potato and place into a large mixing bowl. Be very careful not to tear the potato skin. Lay the hollowed-out potato shells on a baking sheet.

To the bowl of potatoes, add the ranch seasoning, buffalo sauce, cream cheese, mozzarella, butter, and pepper and stir until well combined. Fold in the rotisserie chicken.

Fill the hollowed-out potato skins with the chicken mixture.

Top each potato with the white cheddar cheese and bake for 15 to 20 minutes or until cheese is melted and the potato is warmed through.

Drizzle with ranch dressing and buffalo sauce. Garnish with parsley.
Did you make this recipe?
You can tag me at @iamhomesteader.