Buffalo Honey Mustard Chicken Wings are tossed in mustard and buffalo sauce before being deep-fried to a crispy golden brown, then smothered in a sweet and tangy sauce. This recipe will be your new favorite when making chicken wings, especially if you make my homemade ranch dressing for dipping! If deep-frying in oil is not your preferred method, alternative cooking methods using an air fryer or oven are also provided. If you love wings, be sure to check out my Baked Buffalo Wings, too.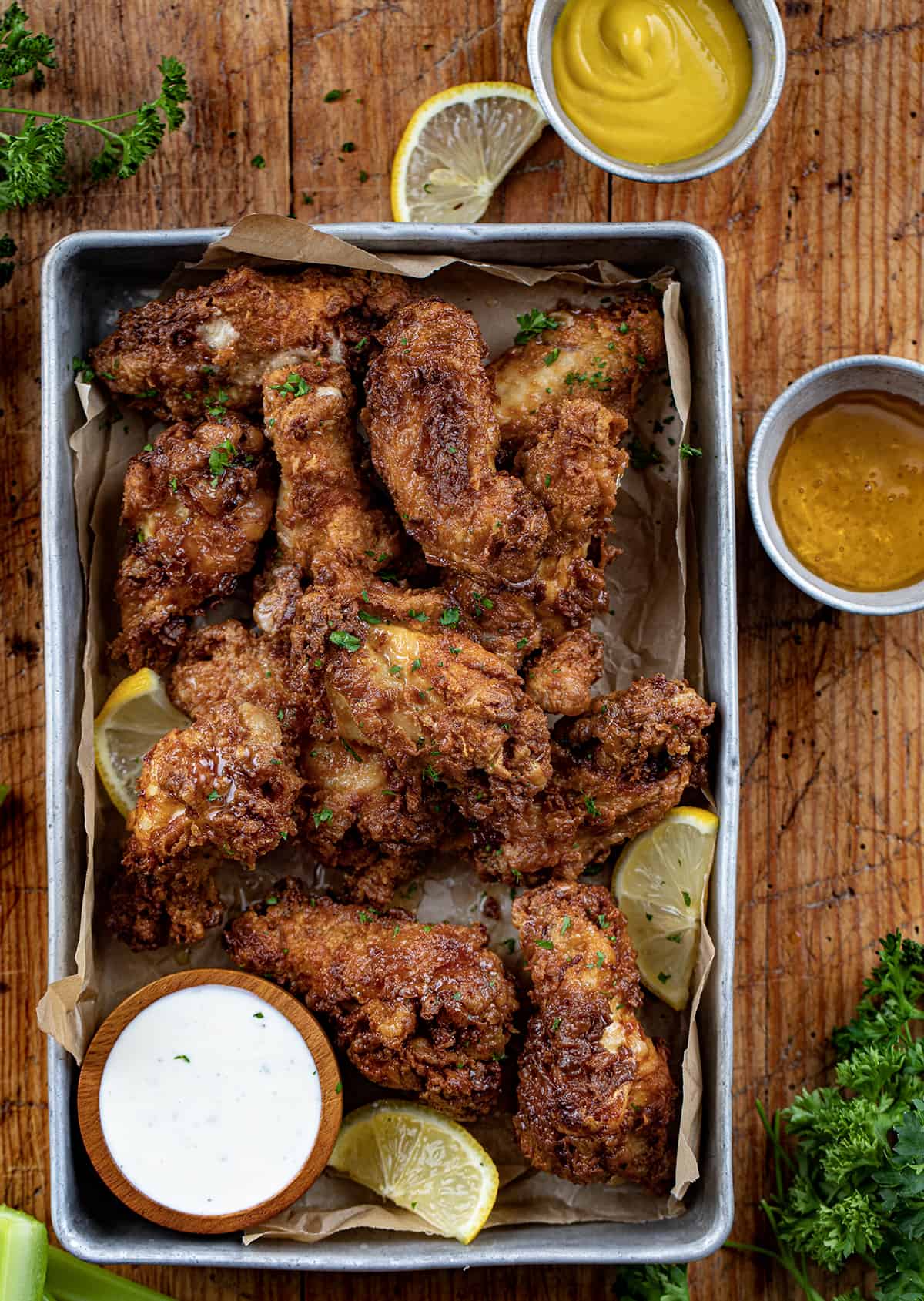 Ingredients & Substitutions
Chicken Wings: For the best results, look for fresh and plump bone-in chicken wings. The 'flats' and the 'drummettes' are preferred. The flats are the larger, meatier portion of the wing, while the drumettes are the smaller pieces that look similar to a drumstick. You could also use boneless wings, but the frying time may need to be adjusted.
Oil: For deep-frying, vegetable oil or canola oil are both excellent choices. These oils have a high smoke point and a neutral flavor, making them suitable for deep-frying. After use, the oil can be clarified to extend its life and be used again. Here is information on how to clean used cooking oil.
Mustard: In this recipe, yellow mustard was used, but if you have Dijon mustard available, it can be substituted as an alternative. Keep in mind that Dijon mustard has a slightly different flavor profile compared to yellow mustard, so it may alter the taste of the wings slightly.
Buffalo Sauce: Buffalo sauce is not hot sauce, but a mixture of hot sauce, vinegar, butter, and spices. Hot sauce is made from chili peppers and vinegar. Buffalo sauce has a creamy texture and tangy, spicy flavor, while hot sauce is thinner and has a straightforward spicy flavor. Make your own buffalo sauce if you don't have any on hand. The buffalo sauce flavor in this recipe is very subtle.
Homemade Ranch Dressing: Yes, you could dip your wings into your favorite kind of dressing. But, I strongly encourage you to make your own homemade ranch dressing to give it a try. I can almost guarantee that the difference in flavor will keep you from ever buying store-bought dressing again! (It's THAT good…)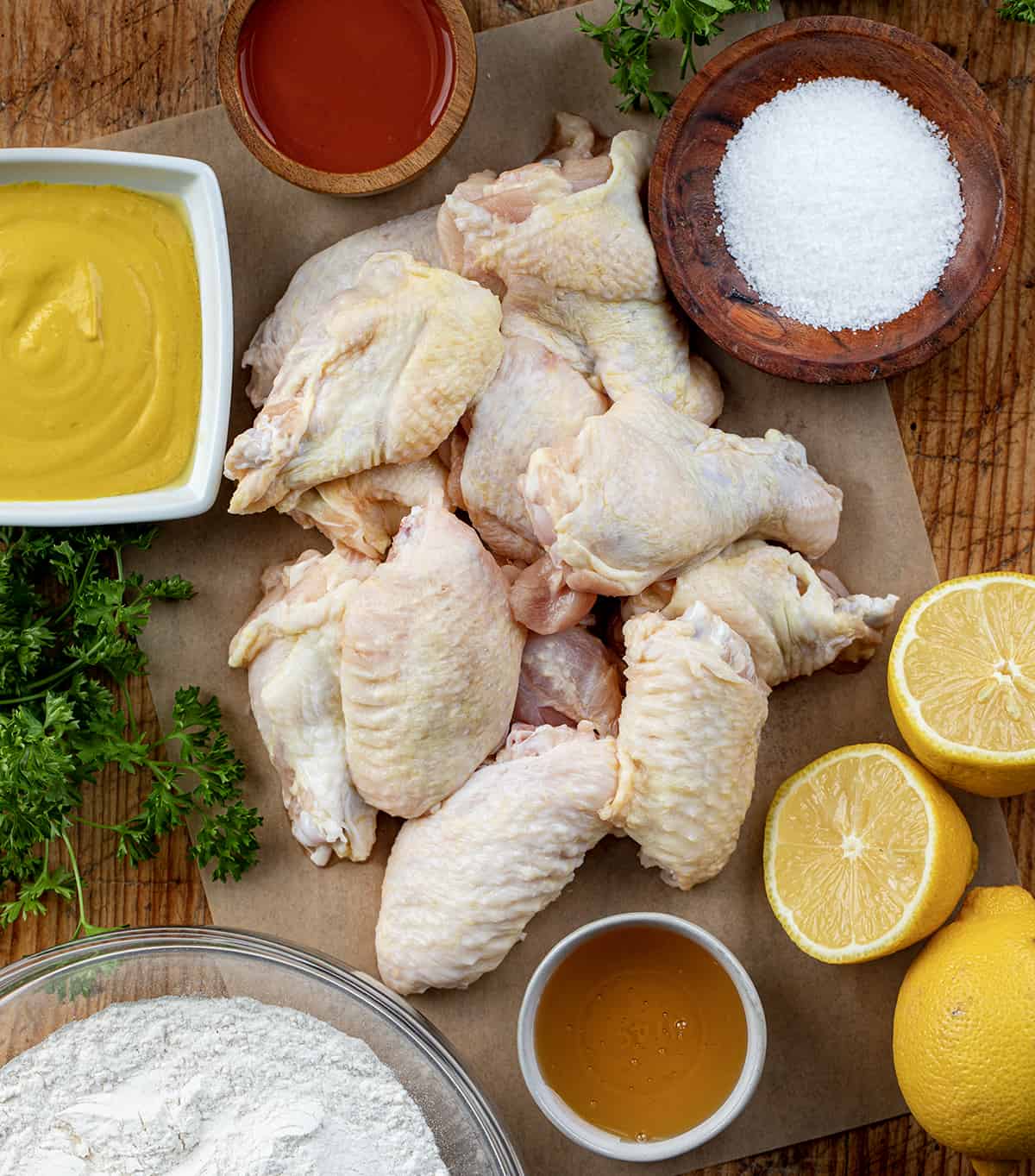 What Do These Wings Taste Like?
Perfection! To be a little more descriptive, each bite offers the perfect balance of a hint of buffalo sauce (not spicy or over-powering at all!), tangy mustard, and sweet and tangy sauce. It's a mouth-watering flavor combination that will appeal to most chicken wing lovers!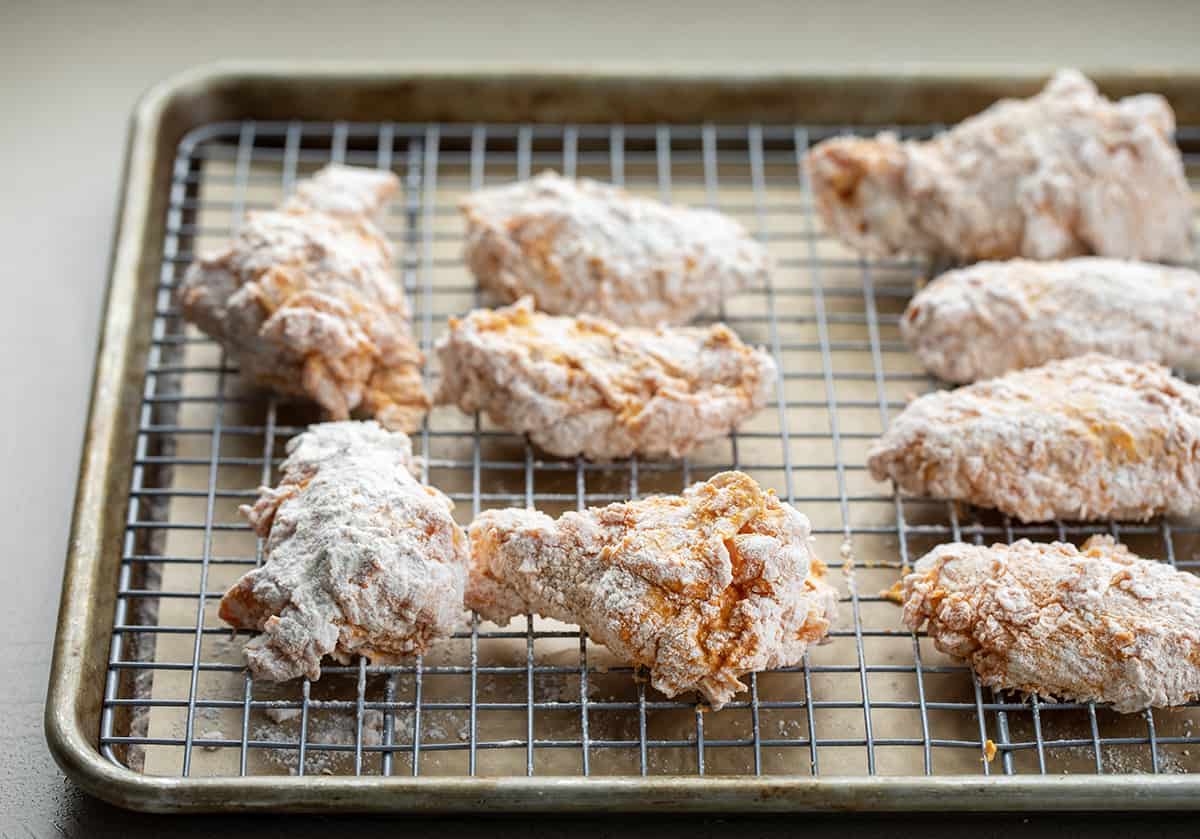 Air Fryer Buffalo Honey Mustard Wings
Get crispy chicken wings without deep-frying with this easy air fryer recipe. Enjoy healthier, oil-free wings with the added benefits of quick and easy clean-up and the ability to cook more wings at once, depending on your air fryer size. Simply coat the wings in mustard, buffalo sauce, and flour. Then, cook at 400°F for 20-25 minutes, flipping halfway through. Finish by tossing in the sweet and tangy sauce for the perfect bite.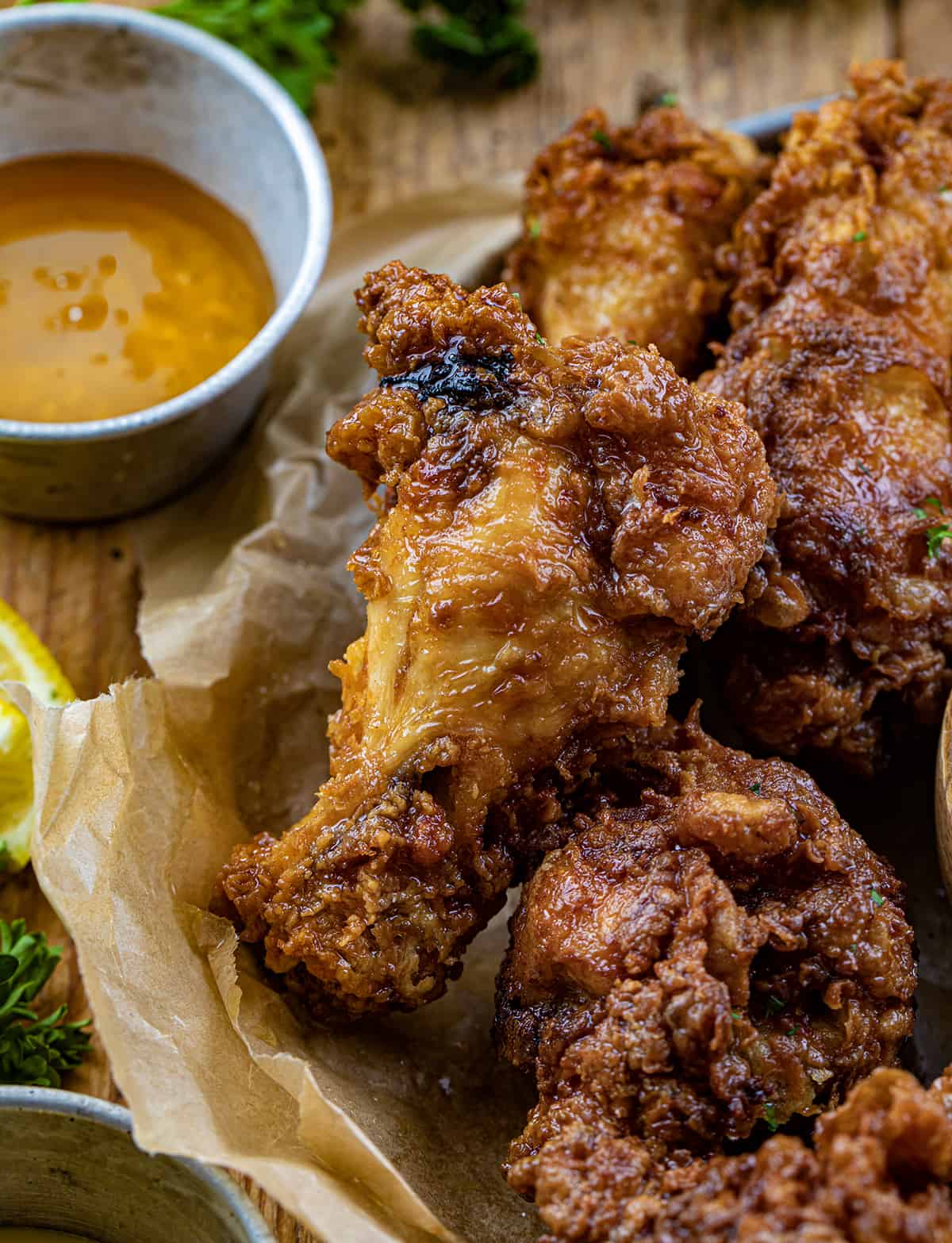 Baked Buffalo Honey Mustard Wings
Get the same great taste of fried wings with this healthier oven-baked option. Line a baking sheet with parchment paper, place coated wings on the sheet, and bake at 425°F for 45-50 minutes, flipping halfway. Enjoy crispy, golden brown wings tossed in the delicious sauce.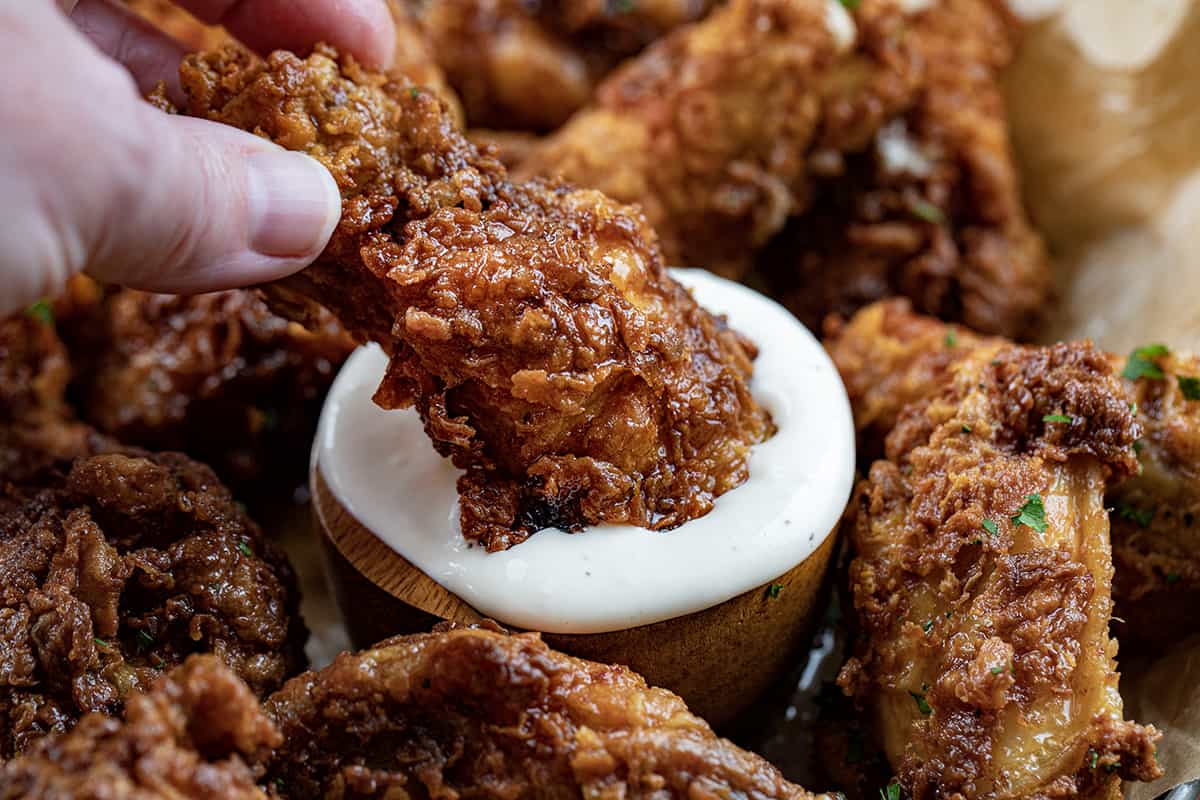 How to Store Fried Chicken Wings
When storing fried chicken wings, first, let them cool completely. This will prevent the wings from becoming soggy when stored. Next, store them in an airtight container in the refrigerator for 2-3 days. When ready to enjoy, reheat the wings in the oven at 350°F for 8-10 minutes, or until they are heated through. Or, reheat the wings in an air fryer for 5-7 minutes at 400°F, or until hot and crispy, flipping halfway.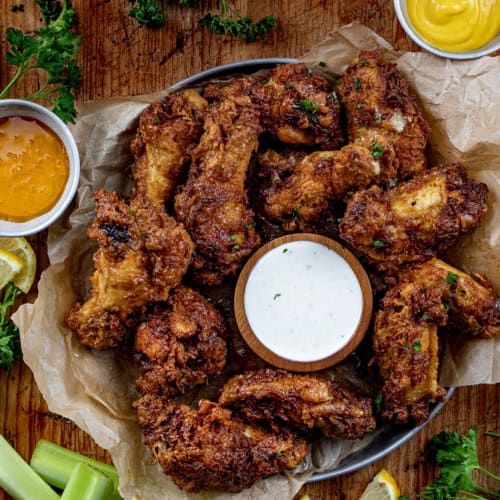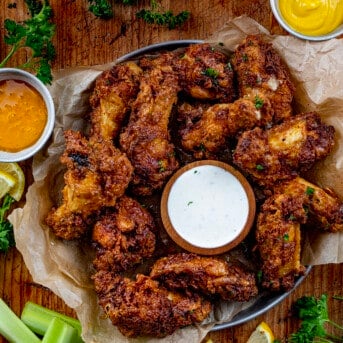 Buffalo Honey Mustard Chicken Wings
Buffalo Honey Mustard Wings are tossed in buffalo sauce and mustard before being deep-fried to a crispy golden brown, then smothered in a sweet and tangy sauce.
Ingredients
Wings
2

pounds

chicken wings,

wings and flats are okay

¼

cup

(62 g) yellow mustard

¼

cup

(68 g) buffalo sauce

1

cup

all-purpose flour

vegetable oil,

for frying
Sauce
¼

cup

(½ stick / 57 g) unsalted butter

¼

cup

(85 g) honey

2

tablespoons

freshly squeezed lemon juice,

about 1 medium lemon

1

teaspoon

kosher salt
Instructions
Line a baking sheet with parchment paper.
Wings
Place the chicken wings in a large bowl. Add mustard and buffalo sauce. Toss to coat.

To a separate bowl, add flour. Toss each wing in the flour to coat. Shake off any excess breading and place onto the parchment-lined baking sheet.
Frying in Oil*
Fill a large pot with vegetable oil until it reaches halfway up the pot*. Heat the pot until the oil reaches 375°F, using a thermometer to check the temperature. While the oil is heating, set a wire rack on top of a baking sheet.

Working 2-3 wings at a time to maintain the oil temperature, add the wings to the hot oil and fry for 6-8 minutes, or until crispy and golden brown.

Carefully remove the wings from the oil and place them on the wire rack.

Bring the oil temperature back up to 375°F. Once hot enough, place the fried wings back into the oil for an additional 2 minutes. Remove from the oil and set on the wire rack to allow excess oil to drain off as you make the sauce.
Sauce
In a medium saucepan over medium heat, melt the butter.

Add honey, lemon juice, and salt. Stir to combine. Remove from heat and set aside.

Place the wings into a large bowl.

Pour the sauce over the wings and toss to coat.

Serve with homemade ranch dressing for dipping.
Notes
*See Post for Air Fryer and Oven Baking Instructions.
Did you make this recipe?
You can tag me at @iamhomesteader.