Chicken and Broccoli Pasta is a hearty, cheesy dish loaded with seasoned chicken, rigatoni noodles, three kinds of cheese, and broccoli, all made in one large oven-safe skillet. It will definitely be a dish you want to make and serve on repeat! Try my Chicken Broccoli Stuffed Shells for another cheesy pasta dish you will love!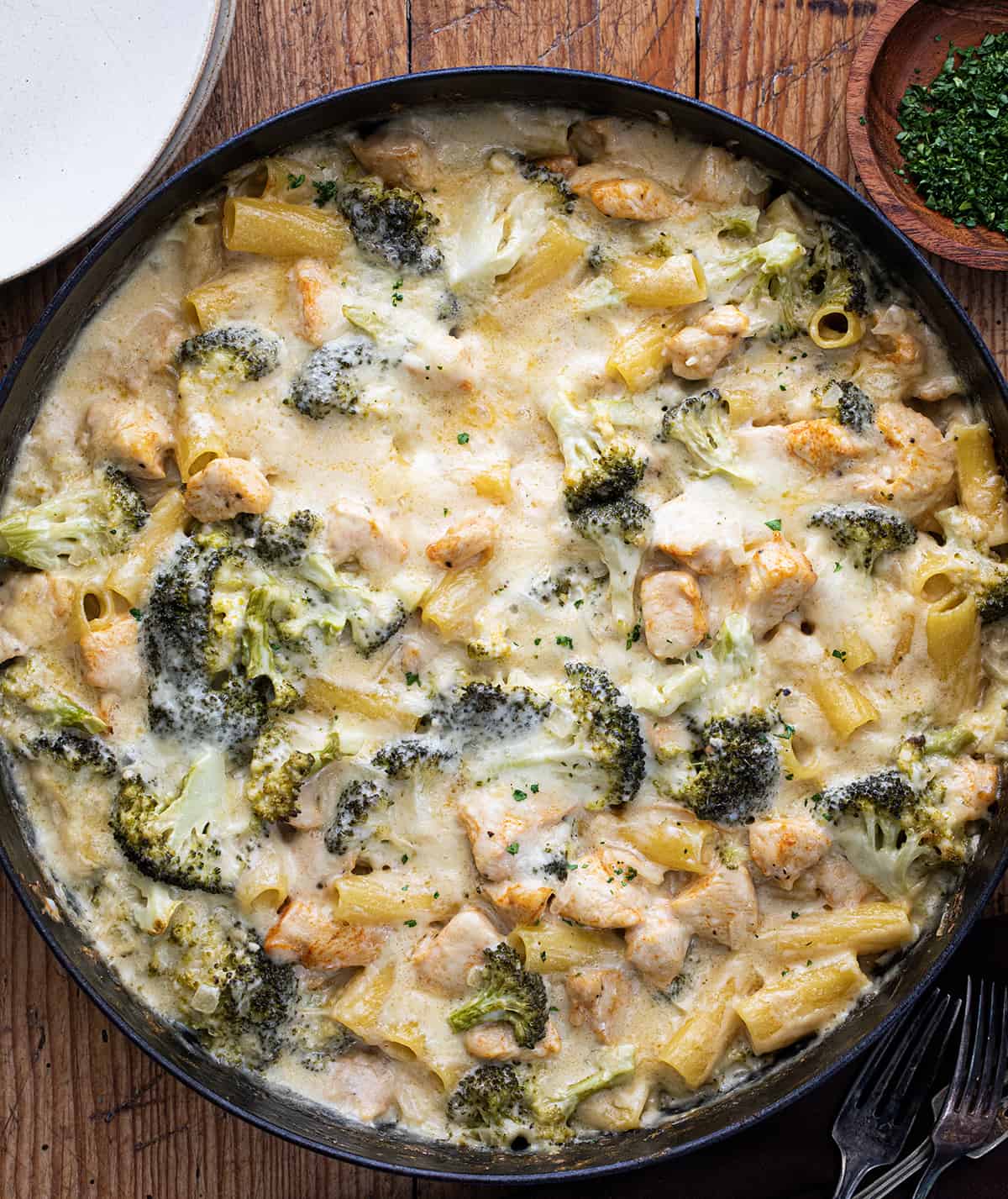 Ingredients & Substitutions
Chicken: When searing the chicken breast cubes, they will not be thoroughly cooked through. That is okay; they will continue to cook when transferred to the oven. You could substitute boneless, skinless chicken thighs if preferred.
Chicken Stock: You can use store-bought, or make your own chicken stock to use. Chicken broth would also work, but the dish may not be quite as rich.
Cheese: Three kinds of cheese is added to the skillet and tops the dish when baked. I used mozzarella cheese, Monterey Jack, and parmesan cheese for maximum cheesiness in every bite!
Noodles: I love tubular noodles like rigatoni to capture and hold all of the sauce and cheese. Rigatoni also has ridges which also keep the sauce clinging to the pasta. They also hold their shape well when baked. You could also use penne, ziti, or cavatappi noodles. In a pinch, use the pasta you have on hand.
Broccoli: I added about one head of broccoli, cutting it into florets. In one of our tests, we also added spinach, so if you have that on hand, throw some in there, too!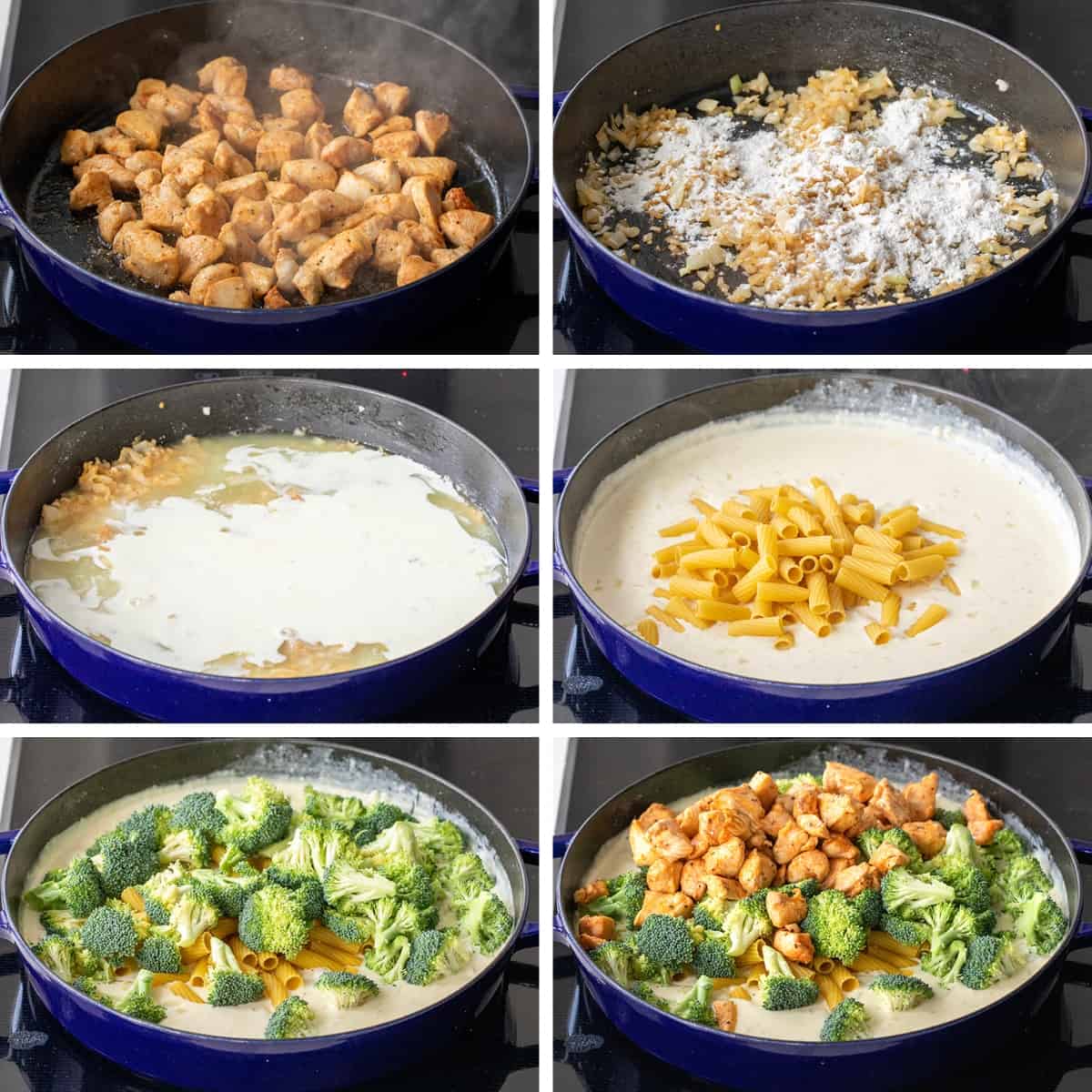 Can I Use a Different Pan?
Yes. Although I love using a large oven-safe skillet to keep this to a one-pan meal, you could also use a baking dish. Prepare the ingredients in a skillet. Then, transfer all of the ingredients to your baking dish before baking in the oven. Cooking time may need to be adjusted, so watch carefully.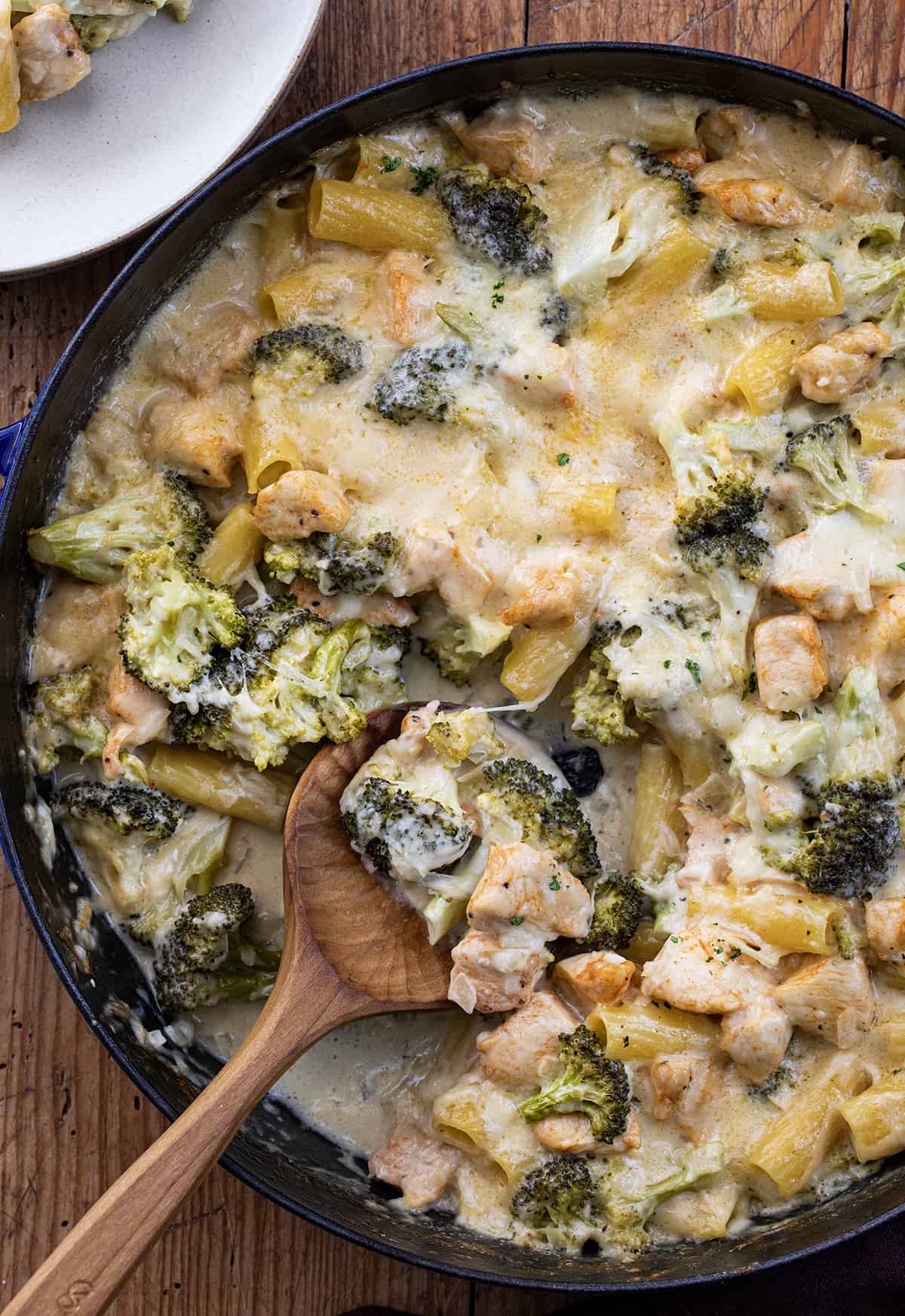 Storing Chicken and Broccoli Pasta
If you have any leftovers of chicken and broccoli pasta, don't let them go to waste! Leftovers can be stored in the refrigerator or in the freezer. Before storing, let the dish come to room temperature.
To Refrigerate: Store in an airtight container for up to 3-4 days. Reheat it in the microwave when ready to enjoy. This is a great dish to prepare on Sunday and portion out a few lunches to have ready for the week!
To Freeze: Chicken and Broccoli Pasta can be stored in a freezer-safe container for up to 2-3 months. Let it thaw in the refrigerator overnight before reheating.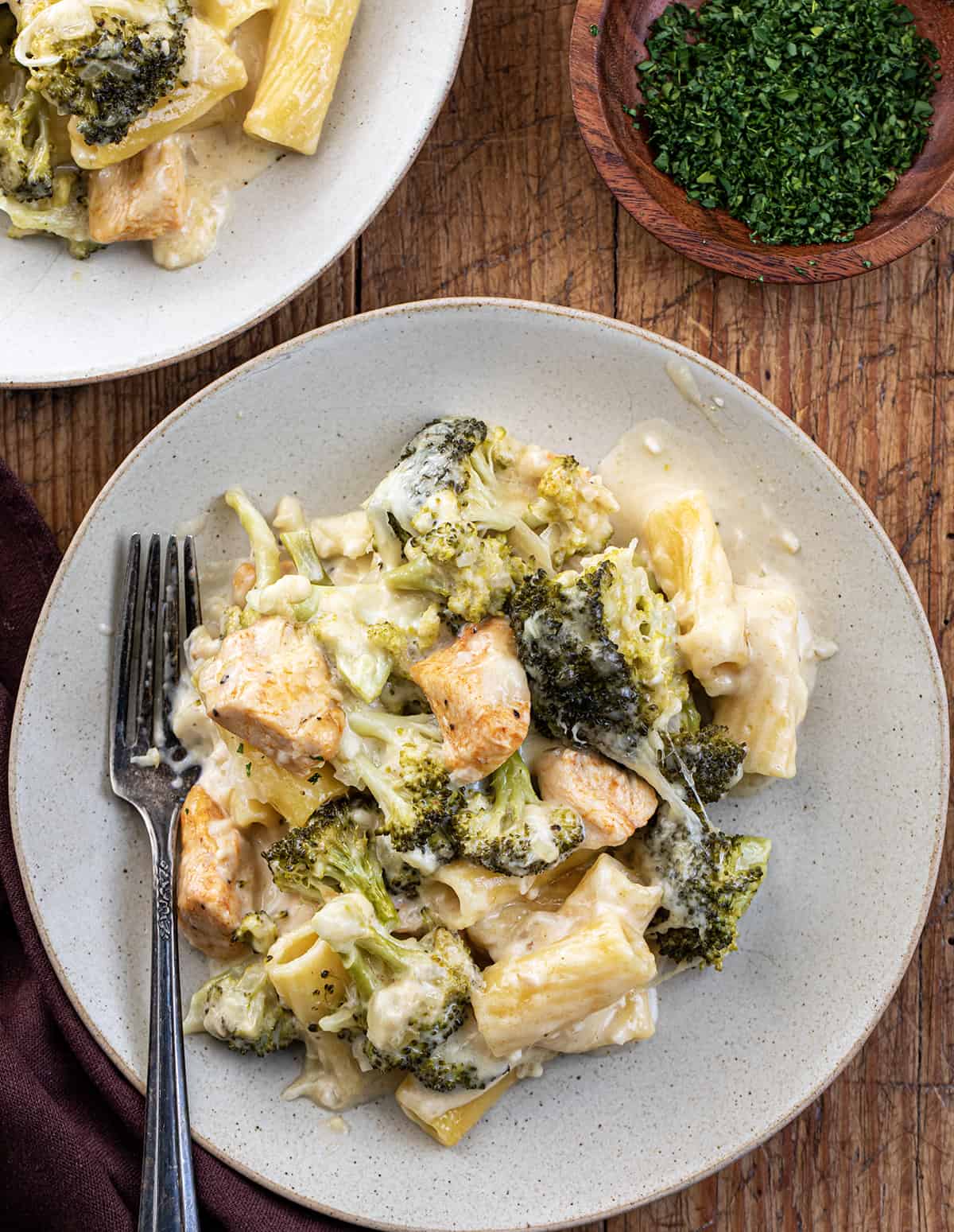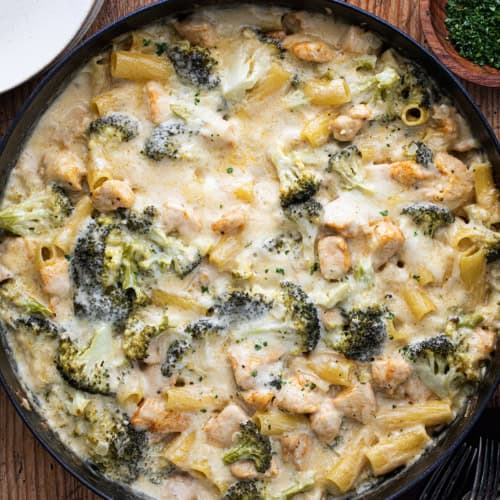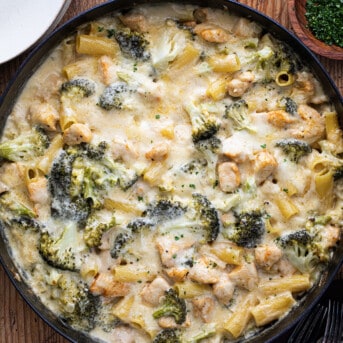 Chicken and Broccoli Pasta
Chicken and Broccoli Pasta is a hearty, cheesy dish loaded with seasoned chicken, rigatoni noodles, three kinds of cheese, and broccoli, all made in one large oven-safe skillet.
Ingredients
3

boneless

skinless chicken breasts,

cubed into bite-sized pieces

½

teaspoon

garlic powder

½

teaspoon

paprika

½

teaspoon

kosher salt

¼

teaspoon

pepper

3

tablespoons

unsalted butter

1

medium

yellow onion,

diced

2

tablespoons

garlic,

minced

3

tablespoons

all-purpose flour

3

cups

(720 g) chicken stock

1 ½

cups

(357 g) heavy cream

1

cup

(113 g) mozzarella cheese,

shredded, divided

1

cup

(113 g) Monterey Jack cheese,

shredded, divided

1

cup

(100 g) parmesan cheese,

shredded, divided

8

ounces

rigatoni noodles

1

head

broccoli,

cut into florets (about 2 ½-3 cups)

freshly chopped parsley,

for garnish
Instructions
Season chicken cubes all over with garlic powder, paprika, salt, and pepper.

In a large, 15-inch oven-safe skillet over medium-high heat, melt the butter. Once melted, add chicken and cook for 4-5 minutes on each side, or until golden brown. The chicken will not be completely cooked through.

Transfer chicken to a plate and tent to keep warm.

Reduce the heat of the skillet to medium-low. Add onions. Cook until softened (about 3 minutes). Add garlic and cook for 1 more minute.

Sprinkle flour over the onion mixture, and whisk to combine. Pour in the chicken stock, followed by heavy cream, whisking constantly. Increase heat to medium. Simmer for 6-8 minutes or until the mixture has reduced and thickened slightly.

To the skillet, add ½ cup of mozzarella, ½ cup of Monterey jack, and ½ cup of parmesan cheese. Stir to combine.

Add uncooked noodles, broccoli, and seared chicken. Stir to combine, making sure the noodles, broccoli, and chicken are all covered with the sauce.

Top with the remaining cheeses, cover with aluminum foil, and transfer to the oven. Bake for 24-27 minutes, or until the cheese is melted, the pasta is tender, and the sauce is bubbly. The chicken is fully cooked when it reaches an internal temperature of 165°F.

Remove the foil. Cook for an additional 3-5 minutes, or until the cheese has browned.

Serve garnished with parsley.
Did you make this recipe?
You can tag me at @iamhomesteader.
What the Test Kitchen had to say about this recipe: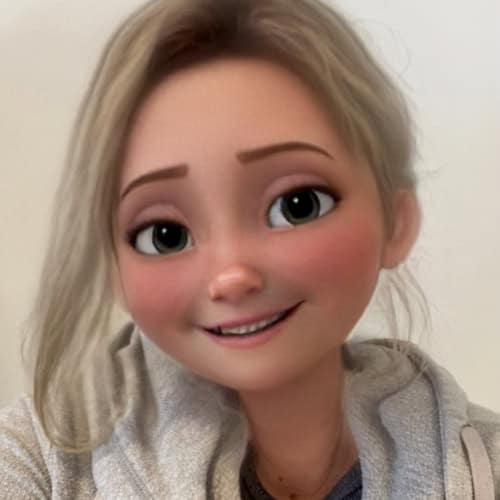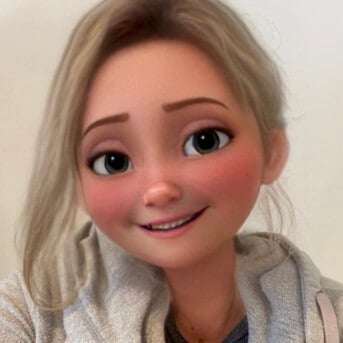 Autumn
I would for sure make this for my family! I was packed full of flavor, and I loved the creamy texture. Also, it was so easy to make with just one pan!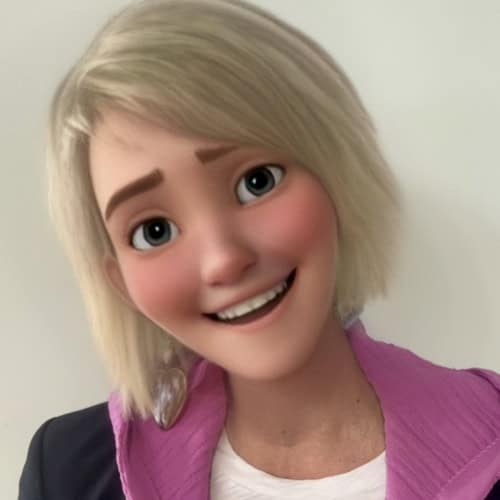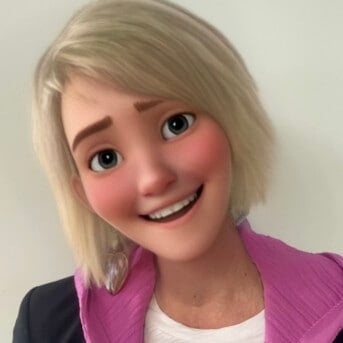 Elizabeth
After testing this recipe a couple of different ways, the simpler way actually won out in terms of flavor and consistency. The sauce was creamy and tasty with plenty of cheesiness. It is the perfect dish to serve a family, and I think it would make delicious leftovers!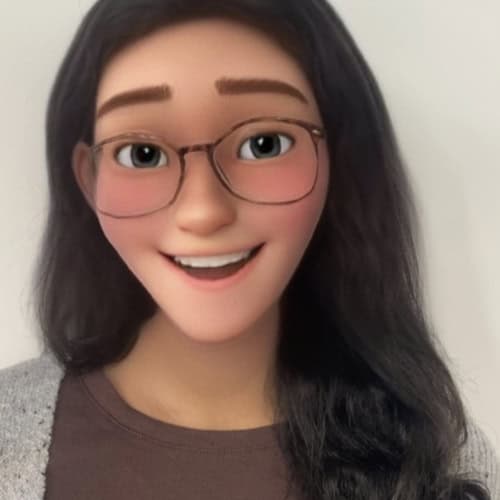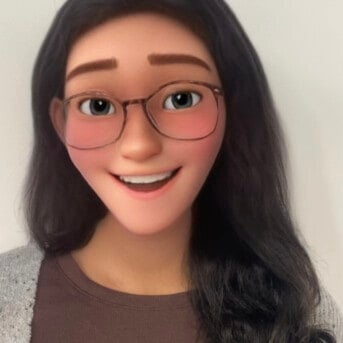 Bella
If I really wanted to, I could probably eat the entire pan of this pasta, but that is a job for another day. This is the perfect recipe to make for family or friends since it is convenient, creamy, and delicious!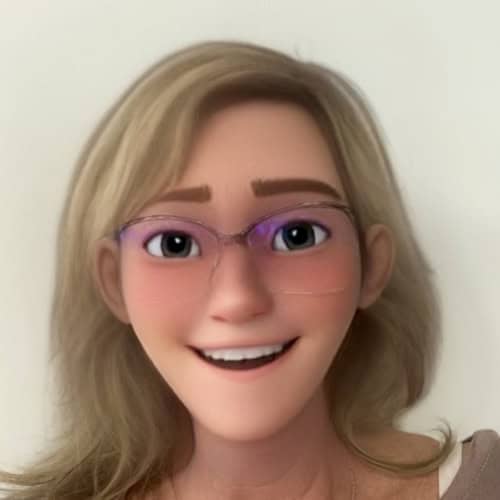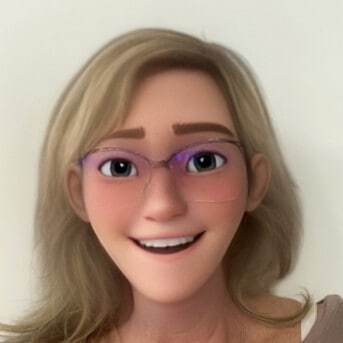 Christine
I enjoyed the 1st version, but this 2nd version was made so much simpler by eliminating the need to cook the noodles and the broccoli. Very creamy, lots of cheese! It's a win-win for me!!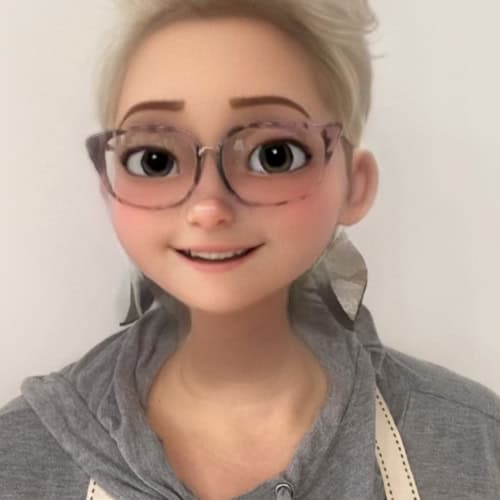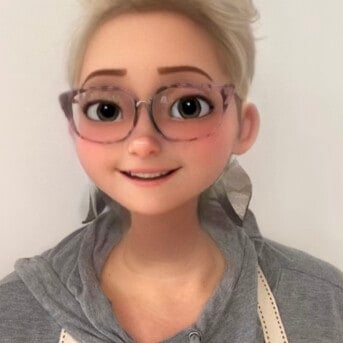 Selena
This one-pot meal is so easy and so delicious! It's super creamy and flavorful. My family loved it including my kids.