Chicken and Buttered Noodles are tender and juicy seasoned cubes of chicken that top a bed of buttery, melt-in-your-mouth noodles. It elevates the side dish of buttered noodles to a delectable main entree! This will definitely be a dish that the entire family will love.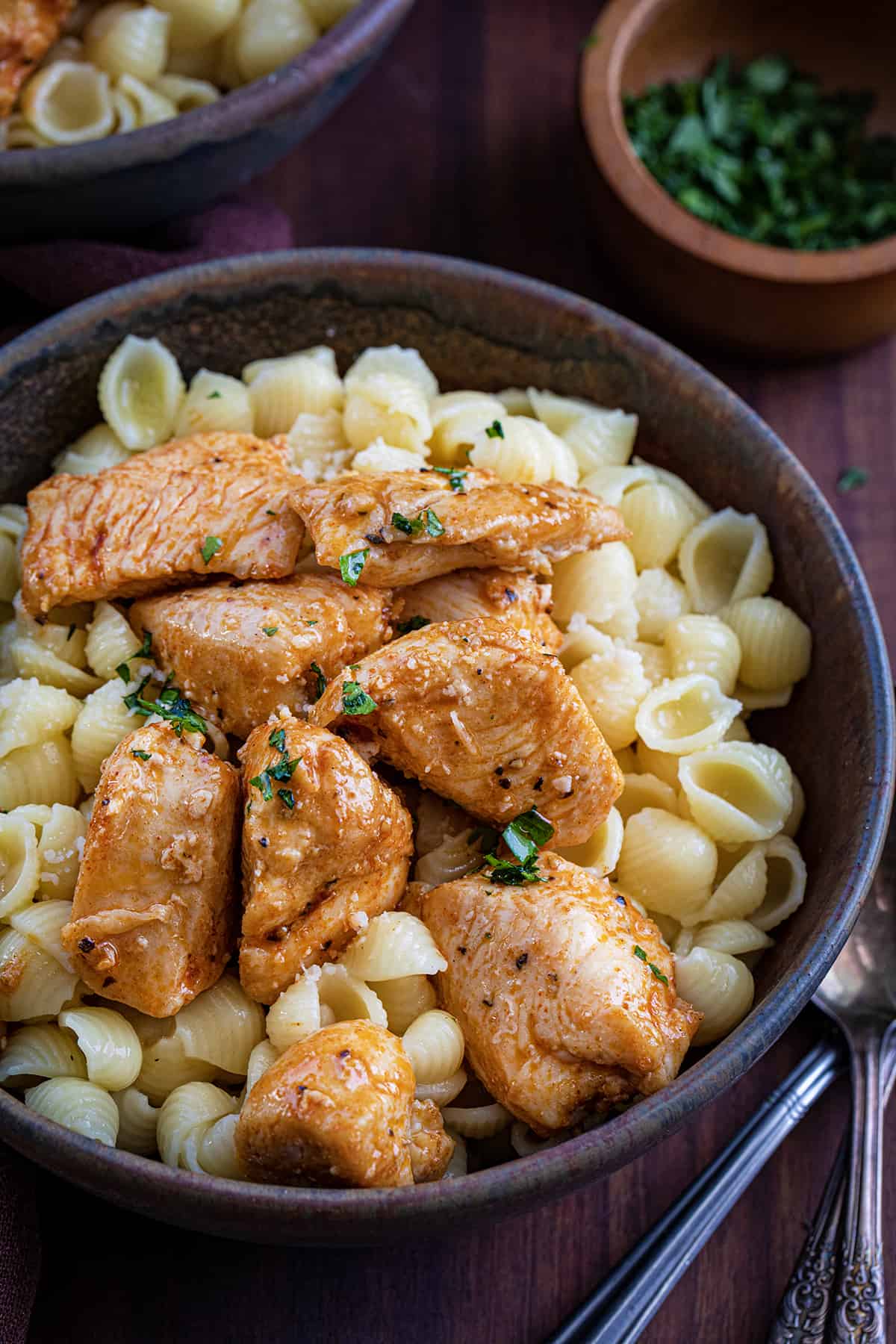 Ingredients & Substitutions
Chicken: I prefer chicken breasts in this recipe. However, you could certainly use boneless, skinless chicken thighs as well.
Seasonings: To season the chicken, you will need onion powder, salt, pepper, and paprika. Simple, but flavorful!
Pasta: Small shells are often used in buttered noodle recipes because of their shape and size. They allow the buttery sauce to be absorbed and hold the sauce more effectively. You can also use the pasta you have on hand or make your own homemade shaped noodles.
Chicken Bouillon: You will use chicken Bouillon powder when boiling the noodles and in the garlic butter sauce. You could also crush bouillon cubes to use. Each cube, crushed, is about one teaspoon.
Butter Sauce: For the sauce, you need a stick of salted butter (unsalted will also work). After all, these are called buttered noodles! You will also need more bouillon powder, garlic, and parmesan cheese.
Parmesan Cheese: For best results when melted into the noodles, I like to use freshly grated parmesan cheese. However, you could use what you have on hand. And, if you don't have any parmesan cheese, you can make the buttered noodles without it.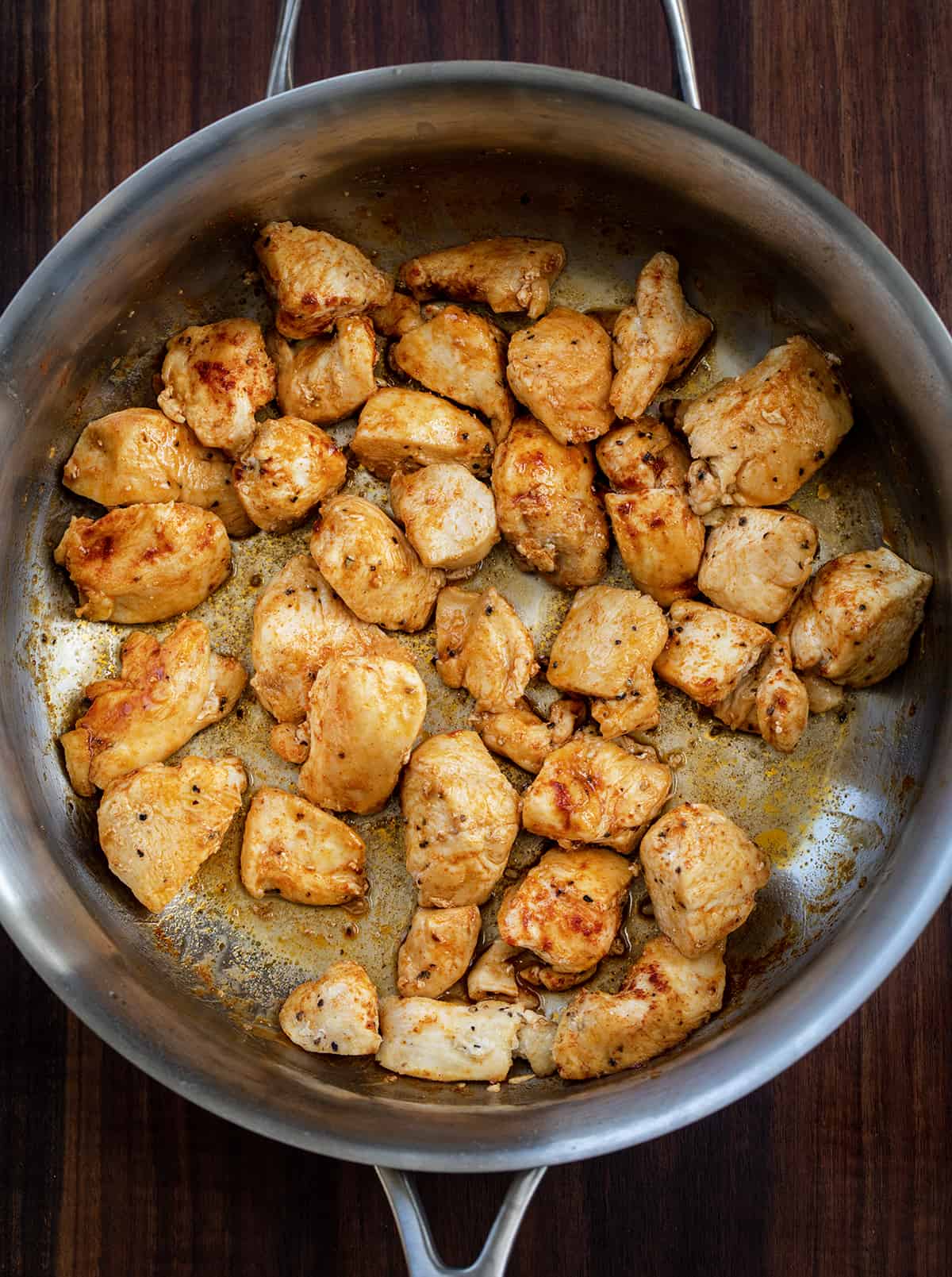 Why Reserve Pasta Water?
In many pasta dishes with sauce, such as my Spaghetti Limone, Vodka Sauce recipe, and Copycat Carbone's Spicy Pasta, it's common to reserve some of the pasta water. This simple technique offers multiple benefits to enhance the overall dish. The pasta water carries a touch of saltiness, contributing to the overall flavor profile. It also serves as a valuable tool for thickening the sauce, ensuring a velvety texture that evenly coats each and every noodle. When it comes to chicken and buttered noodles, the goal is to savor the delightful buttery flavor in every single bite, and reserving and utilizing pasta water is one of the tricks to achieve that delectable outcome!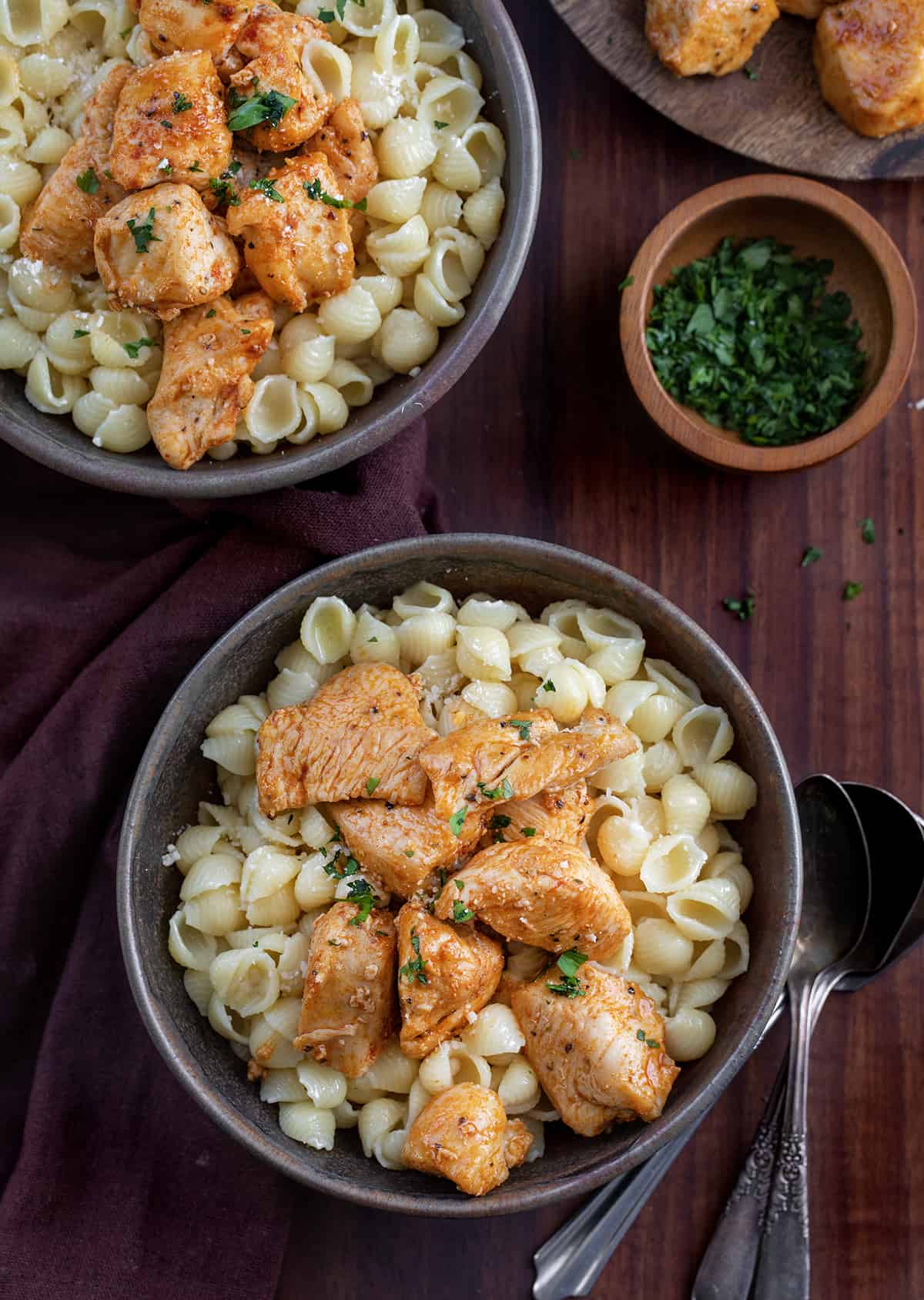 Can I Use A Different Protein Instead Of Chicken?
Sure! There are plenty of proteins that can be added to buttered noodles to create a delicious and satisfying meal. Here are a few you may want to try:
Shrimp: Cooked and seasoned shrimp can be a fantastic addition to buttered noodles, adding a seafood twist to the dish. Sauté the shrimp separately and toss them with the buttered noodles before serving.
Beef: Seasoned slices of tender beef can be seared to perfection and added to buttered noodles.
Pork: Season the pork with herbs and spices of your choice, pan-fry or roast it until cooked through, and mix it with the buttered noodles for a delightful twist.
Tofu: For a vegetarian option, cubed and pan-fried tofu can be added to the buttered noodles. Season the tofu with spices or marinate it in a sauce before cooking, then toss it with the noodles to incorporate a protein-rich element.
Bacon: Cook and crumble some bacon into the noodles.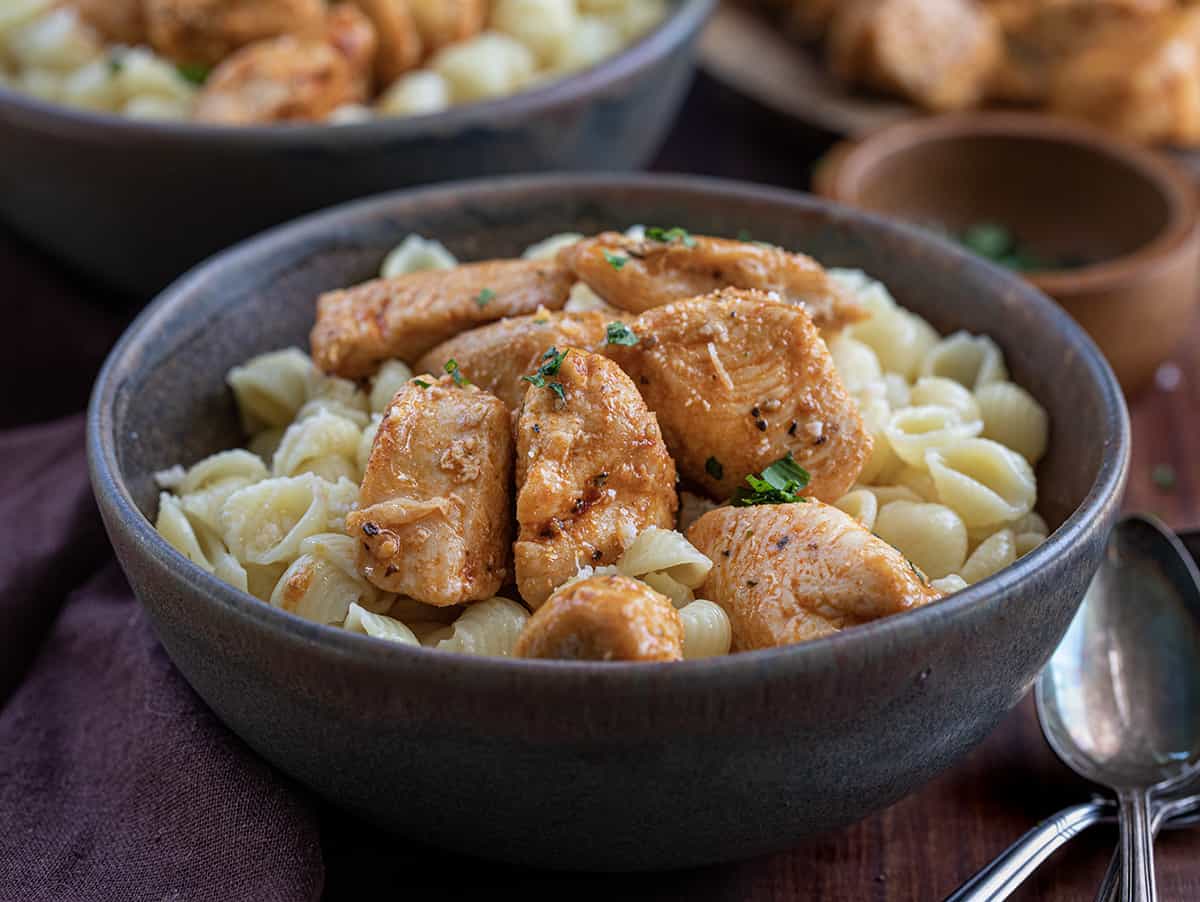 How To Store Chicken and Buttered Noodles
When storing chicken and buttered noodles, first, let the dish cool completely. Then, store the noodles and chicken (separately for best results) in an airtight container in the refrigerator. They will each last up to 3-4 days.
More Chicken Pasta Recipes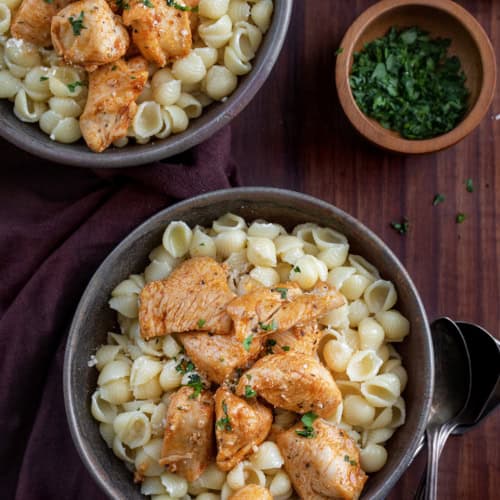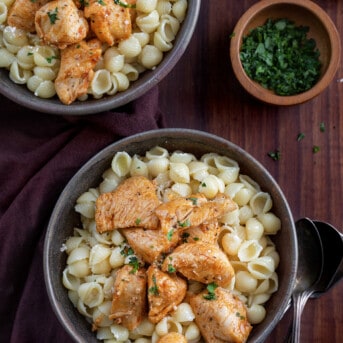 Chicken and Buttered Noodles
Chicken and Buttered Noodles are tender and juicy seasoned cubes of chicken that top a bed of buttery, melt-in-your-mouth noodles. It elevates the side dish of buttered noodles to a delectable main entree!
Ingredients
Chicken
1

pound

boneless skinless chicken breasts,

pat dry with a paper towel, cubed

½

teaspoon

onion powder

½

teaspoon

kosher salt

¼

teaspoon

black pepper

1

teaspoon

paprika

1

tablespoon

extra virgin olive oil
Pasta
8

ounces

small pasta shells

1

teaspoon

kosher salt

1

tablespoon

chicken bouillon powder
Garlic Butter Sauce
½

cup

(1 stick / 113 g) salted butter

2

teaspoons

chicken bouillon powder

2

teaspoons

garlic,

minced

¼

cup

(25 g) parmesan cheese,

plus more for garnish (optional)

parsley,

for garnish

salt and pepper,

to taste
Instructions
Chicken
In a medium bowl, mix together the onion powder, salt, pepper, and paprika. Toss the chicken cubes in the seasoning mix, coating all sides.

To a medium skillet over medium heat, add oil. Once hot, place the seasoned chicken cubes into the skillet and cook for 8-10 minutes, flipping halfway, until golden brown and cooked through. Chicken is fully cooked when it reaches an internal temperature of 165°F. Remove from the pan and tent to keep warm.
Noodles
Fill a large pot halfway with water. Add salt and bring to a boil. Add bouillon powder and small pasta shells and cook until al dente according to package instructions.

Reserve 1 cup of pasta water and drain the rest. Set noodles aside while you prepare the garlic butter sauce.
Garlic Butter Sauce
In the same pot you used to make the noodles, melt the butter and chicken bouillon powder. Stir to mix together. Add garlic and cook 1 more minute.

Add ½ cup of the reserved pasta water and stir to combine.

Add noodles and parmesan to the pot, tossing to combine. Add more pasta water, a little at a time, if needed, until the buttered noodles reach your desired consistency.

Plate the noodles and serve topped with chicken.

Top with parsley and additional parmesan cheese. Serve warm.
Did you make this recipe?
You can tag me at @iamhomesteader.
What the Test Kitchen had to say about this recipe: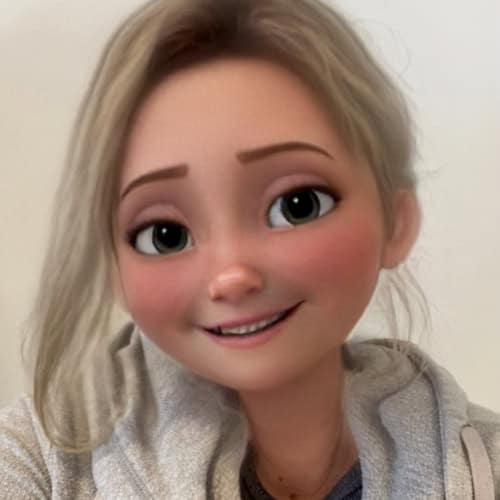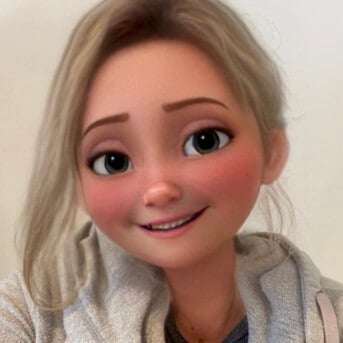 Autumn
I'm a sucker for quick and easy comfort food, and this dish belongs in that category. The chicken is so flavorful and juicy, and the garlic butter sauce is to die for. I love how the sauce coats the noodles and makes them creamy and delicious. As a mom of a picky eater, I highly recommend it!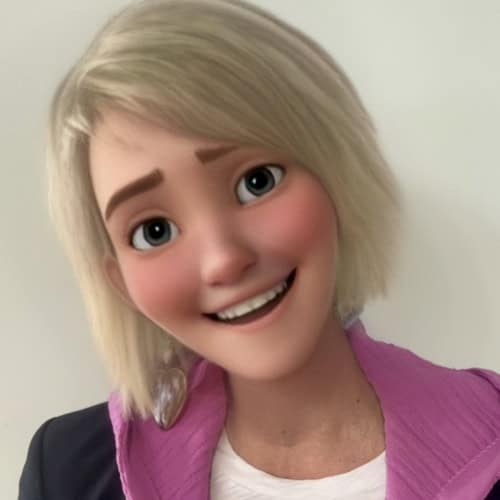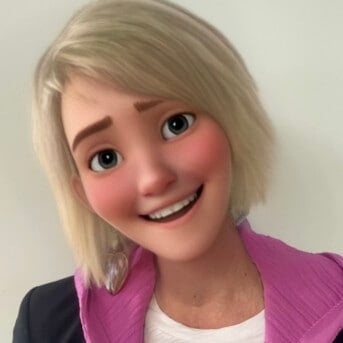 Elizabeth
Adding seasoned chicken to a plate of buttered noodles makes for a comforting and flavorful meal. My only complaint is that the noodles kept sliding off of my fork (and spoon)! I guess it's not a complaint, just frustration because I wanted more noodles in each bite! I will probably use larger noodles when I make it.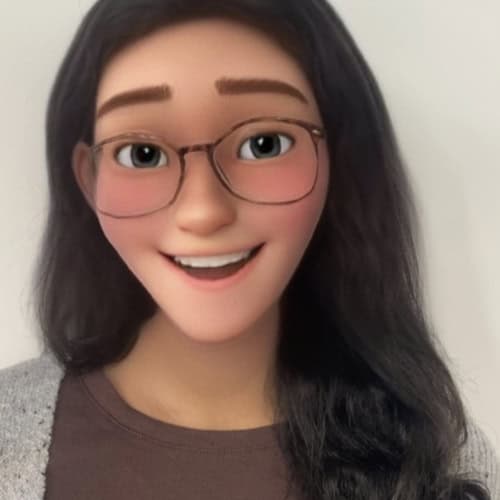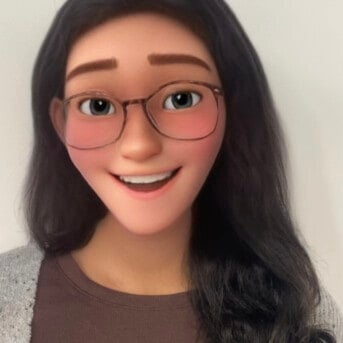 Bella
This dish is perfect if you're looking for something quick, simple, and tasty. The savory, buttery sauce wonderfully coats the noodles. The seasoned chicken adds some protein to the dish and its delicious and tender!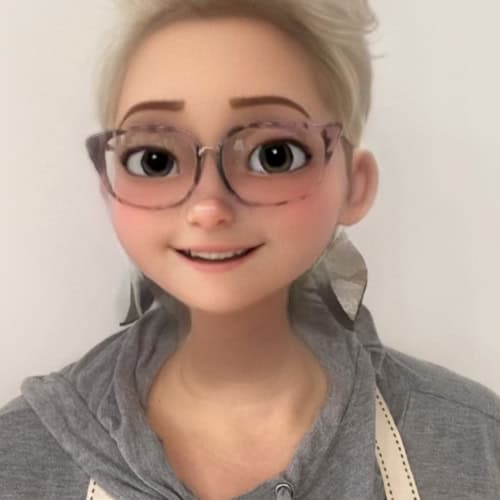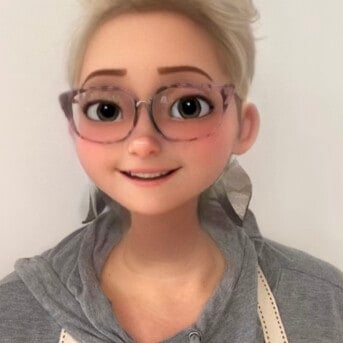 Selena
This is such a comforting dish. I loved the flavorful broth the shells were cooked in and the chicken bites just made in a whole meal!