Chicken Mushroom Stuffed Peppers are bell peppers stuffed with a cheesy chicken mixture and topped with provolone cheese. I opted for provolone cheese in this recipe, but you can use any cheese that you prefer!
If you love stuffed peppers, try my classic Stuffed Peppers recipe!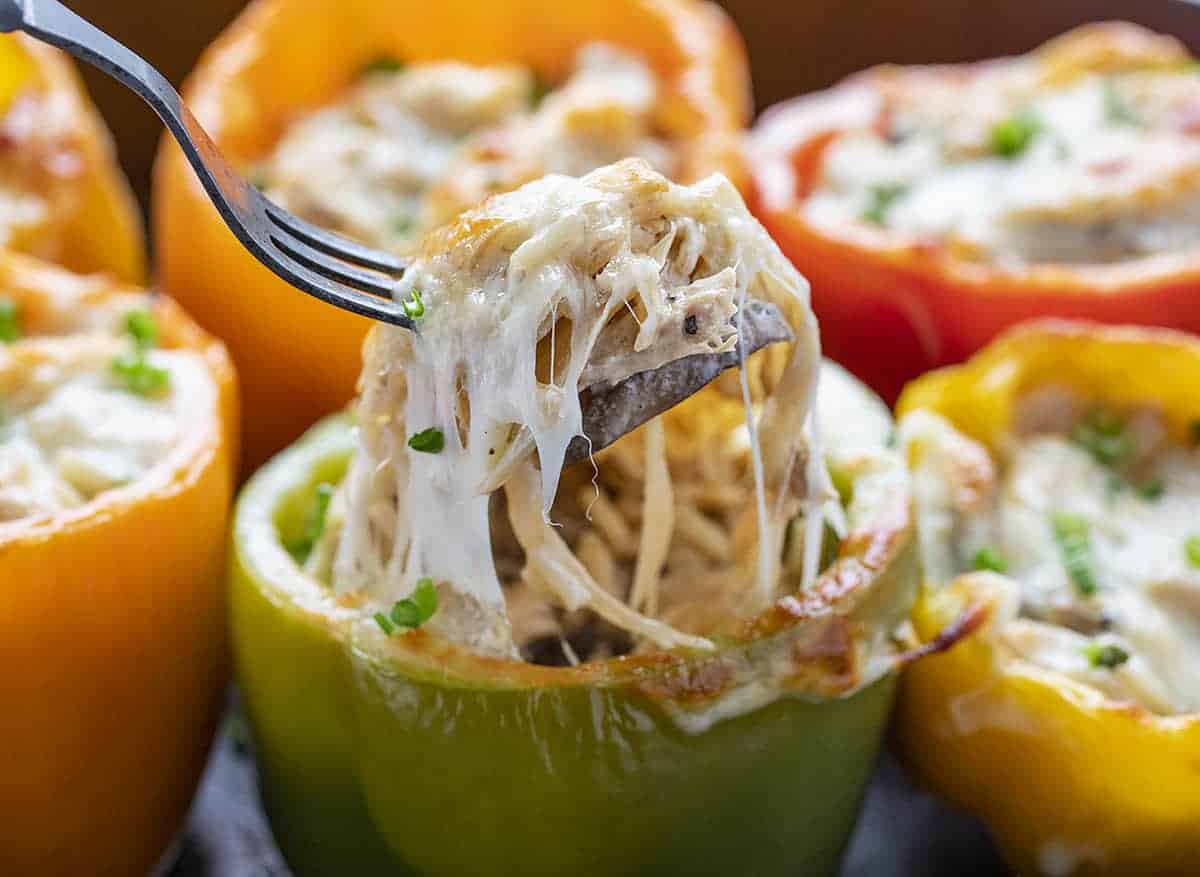 What is Blanching?
I recommend blanching the peppers for this recipe. Blanching is a method to cook vegetables so they end up being crisp and bright in color. It also helps them cook more evenly. All it takes to blanch peppers is a pot of salted boiling water and a bowl of ice water nearby.

How to Store Stuffed Peppers
Stuffed Peppers can be stored in the refrigerator for 3-4 days. When ready to reheat, put them in the oven or Air Fryer for 15-20 minutes at 350°F. You may want to add more cheese when reheating the peppers.

Can I Freeze Stuffed Peppers?
Yes! Stuffed Peppers are a great meal that you can make ahead of time and freeze. Once the stuffed peppers have been cooked, let them cool completely before freezing them. If they are still warm, they will probably end up soggy when they thaw.
The easiest way to freeze the peppers is in a freezer-safe casserole dish with a lid on it. If you don't have a casserole dish, you can double wrap (in plastic wrap) each stuffed pepper individually and put them in freezer-safe bags. Be sure to label and date the bags. The peppers can be frozen for up to a year, but are best eaten within 6 months.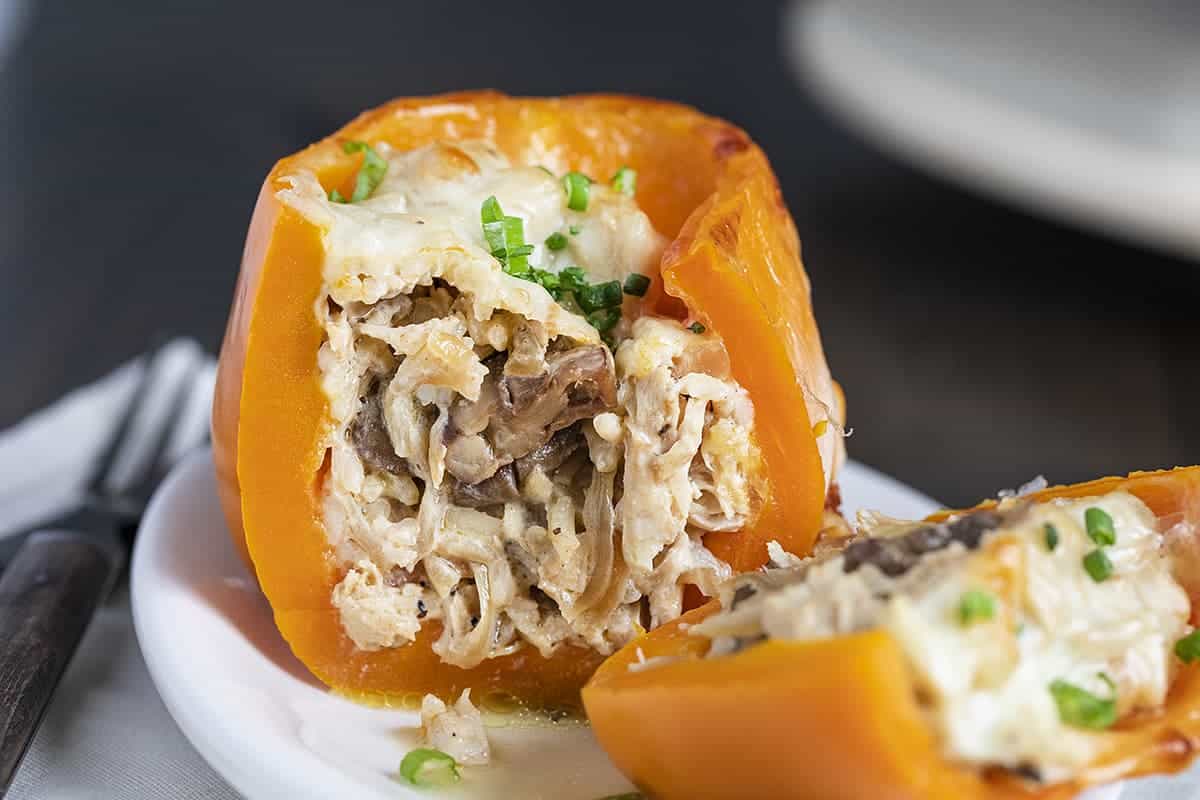 How to Reheat Frozen Stuffed Peppers
When you are ready to heat up the peppers, you can let them thaw in the refrigerator overnight, or simply take them from the freezer directly to the oven. Preheat the oven to 350°F and place the frozen (or thawed) stuffed peppers in the oven. Bake them until they are warm. The bake time will depend if they have been thawed or not.
Can I Make Stuffed Peppers in an Air Fryer?
Absolutely! It has actually become my new favorite way to enjoy this dish.
Stuff peppers with the chicken mixture. Place into the Air Fryer.
Cook the peppers at 360°F (or 375°F if you don't have 360°F) until tender for 10 minutes. Top with shredded provolone cheese and then cook for an additional 2-3 minutes, or until cheese is melted and golden.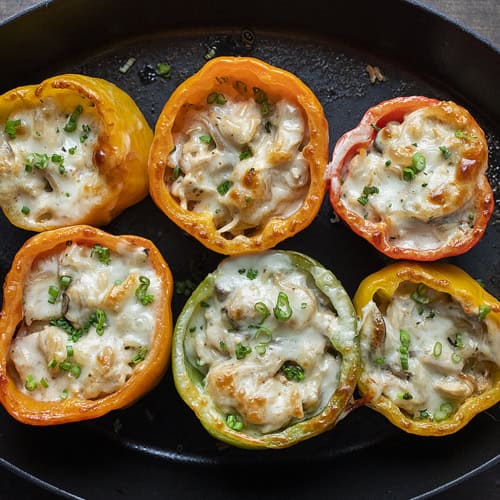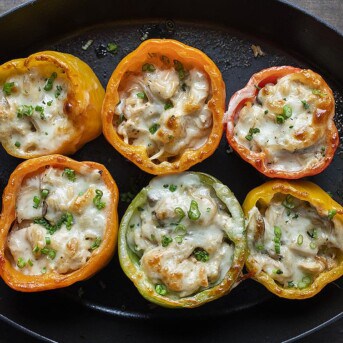 Chicken Mushroom Stuffed Peppers
Filled with a cheesy rotisserie chicken mixture and topped with provolone cheese, these Chicken Mushroom Stuffed Peppers are a well-rounded meal in one dish (or should I say pepper)!
Ingredients
Peppers
4

bell

peppers,

any color

ice water,

for blanching
Stuffing Mixture
½

cup

rice,

uncooked

1

cup

water

2

tablespoons

oil

2

tablespoons

butter

1

large

onion,

thinly sliced

1

cup

chopped mushrooms

2

chicken

bouillon cubes,

crushed

1

tablespoon

brown sugar

1

tablespoon

Worcestershire sauce

2

cups

rotisserie chicken breast,

shredded

1

teaspoon

garlic powder

1

teaspoon

salt

1

teaspoon

pepper

3

ounces

cream cheese,

room temperature

1

cup

provolone cheese,

shredded, divided

¼

cup

chicken broth
Instructions
Blanching Peppers (Optional, See Notes)
Cut off the tops of the peppers and remove the seeds only.

Fill a large pot with water and bring to a boil.

When the water gets to a boil, put in the peppers and let them cook for 3 minutes. They should be bright green (or red, orange, yellow) after a few minutes.

As the peppers are cooking, fill a large bowl with ice water.

With a slotted spoon or tongs, transfer the peppers into the ice water immediately. This 'shocking' will stop the peppers from cooking any longer.

After the peppers have cooled completely, drain them from the ice water and pat them down with a paper towel.

Remove the membranes from the peppers and discard them. Then, place the peppers in a 9×13-inch baking dish while you prepare the stuffing mixture.
Stuffing Mixture
Add oil and butter to a large skillet over medium-low heat. Add, onions, mushrooms, crushed bouillon, brown sugar, and Worcestershire sauce. Cook about 15 minutes, stirring occasionally until onions are soft.

In a medium bowl, mix together chicken, garlic powder, salt, and pepper.

Add chicken mixture to the skillet, stir to combine and cook for another 5 minutes.

Add cream cheese and stir to incorporate.

In the baking dish with the peppers, pour in the chicken broth.

Stuff peppers with the chicken mixture and top with cheese.

Cover with aluminum foil (making sure to tent the foil so the cheese doesn't stick to the foil).

Bake covered for 30 minutes.

Uncover, and bake for 10 more minutes.
Notes
If you don't have time and are not going to freeze the peppers, you can skip this step. If skipping blanching the peppers, be sure to cut off the tops of the peppers and remove the membranes and seeds before stuffing.
Did you make this recipe?
You can tag me at @iamhomesteader.