Chicken Parmesan Meatballs are Italian seasoned ground chicken balls nestled in marinara sauce, topped with mozzarella cheese, and baked to perfection. It's like the appetizer version of my Chicken Parmesan.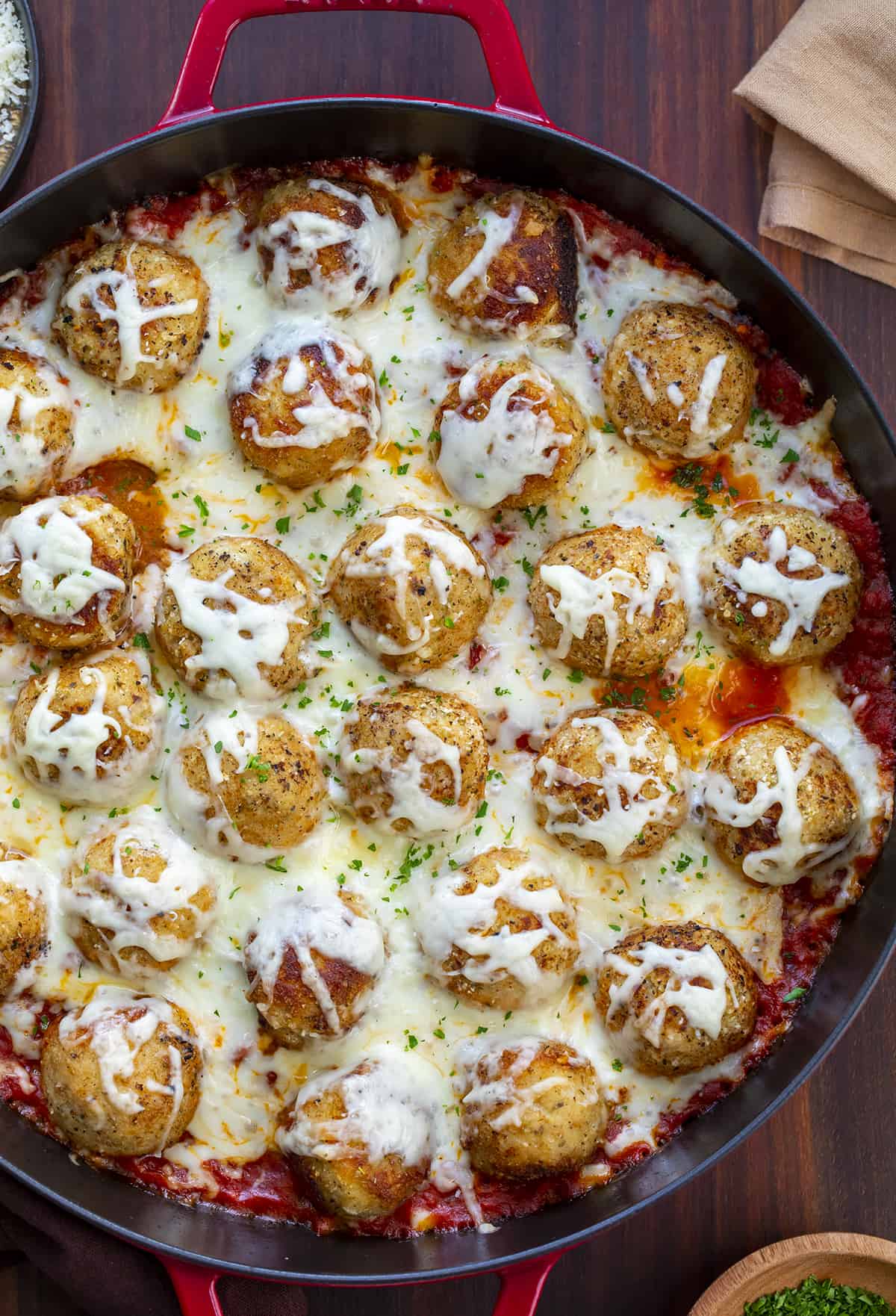 Chicken Parmesan Meatballs
These chicken meatballs were gone so fast, I only got to try one of them! But, one was enough to know that this recipe will be on repeat when it comes to appetizers. In fact, it might be one of my favorite meatball recipes, and I have LOTS of them. They give you all the flavors of chicken parmesan from the chicken to the marinara sauce to the cheese but in a bite-sized variety.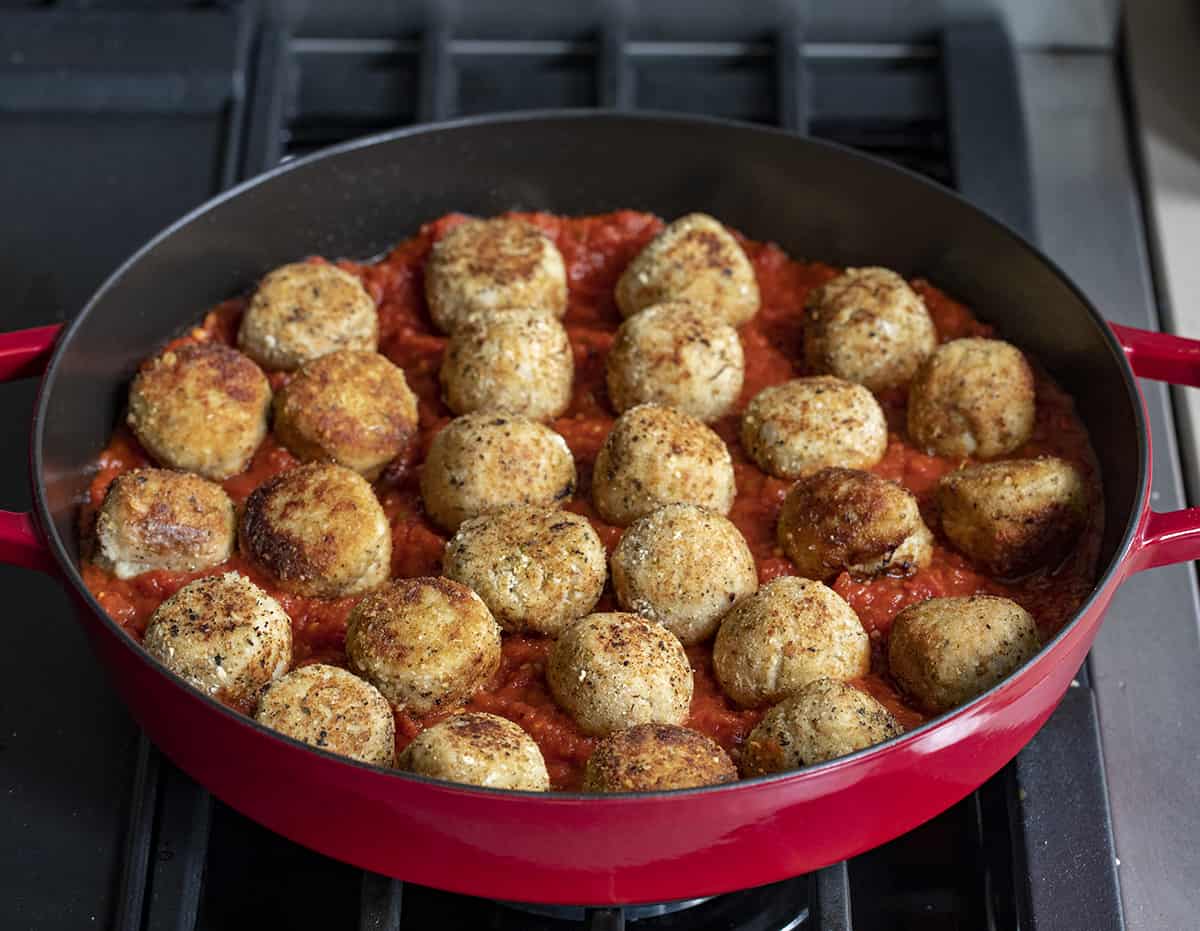 Ingredients & Substitutions
Chicken: I used 2 pounds of ground chicken in this recipe. You could also make these with ground beef, ground turkey, or ground pork.
Milk: I prefer whole milk, but you could use 2%, 1%, or even skim milk in a pinch.
Breadcrumbs: Look for Italian seasoned breadcrumbs to give the meatballs some added flavor and hold their shape. If you only have plain breadcrumbs, simply add a tablespoon of Italian seasoning to the crumbs.
Marinara Sauce: The chicken meatballs will be nestled into marinara sauce, so choose your favorite kind. Or, make your own!
Cheese: Just like chicken parmesan, top the meatballs with mozzarella cheese. And then, don't forget the parmesan cheese for garnish.
No Oven-Safe Skillet? No Problem!
It is convenient to have an oven-safe skillet to go from the stovetop to the oven. However, if you don't have one, you can still make these meatballs. Simply pan-fry the chicken meatballs in a pan; then, transfer the meatballs to an oven-safe baking dish before transferring them into the oven to bake. Easy-peasy!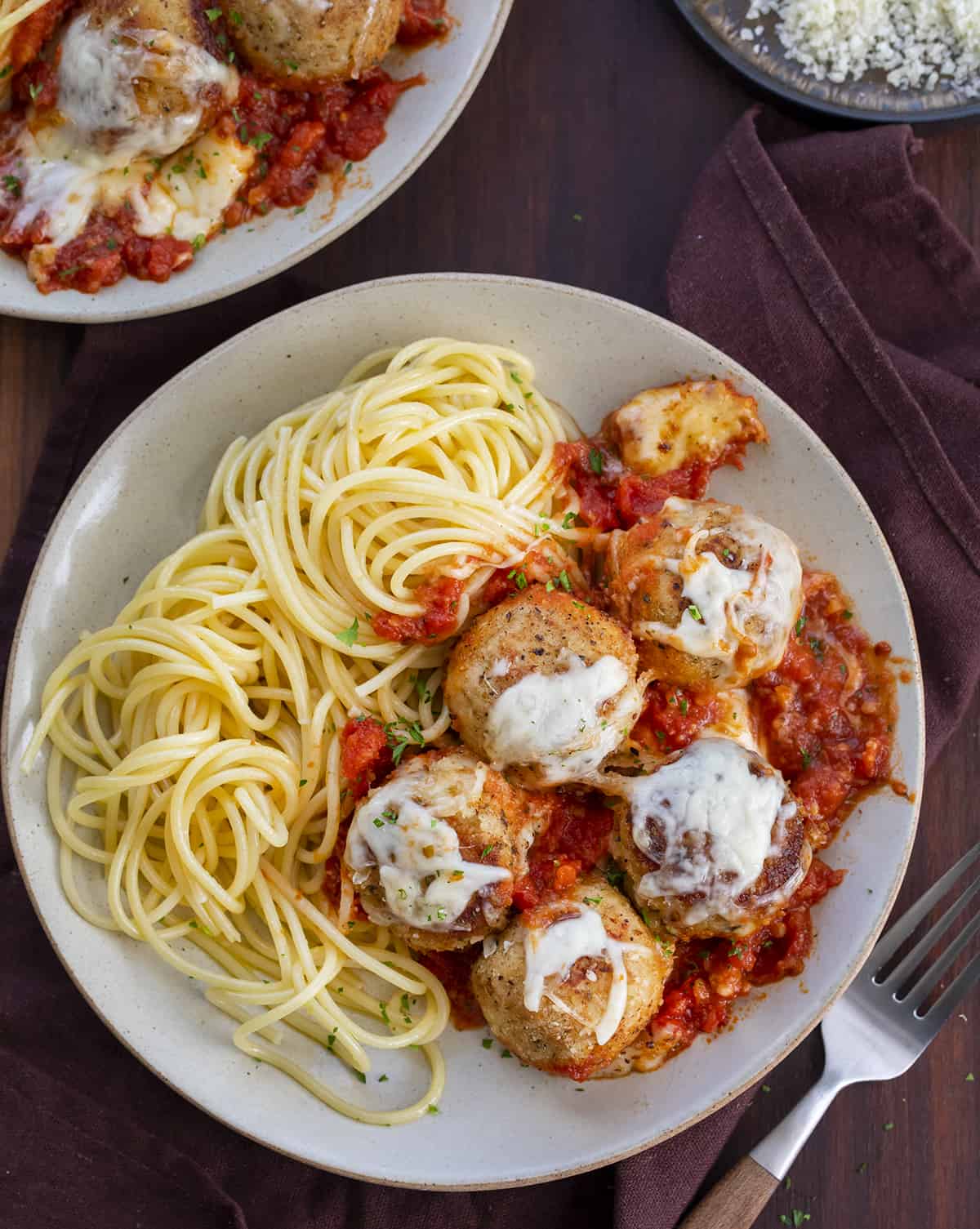 Can I Make Chicken Parmesan Meatballs Ahead of Time?
Yes! Meatballs are a wonderful appetizer to make ahead of time. One option is to prepare all of the meatballs and keep them warm in a crockpot or a commercial warming pan. In general, ceramics and glass will hold their heat better than metal pans, so opt for those if possible. If storing leftovers, they will last in an airtight container in the refrigerator for 3-4 days.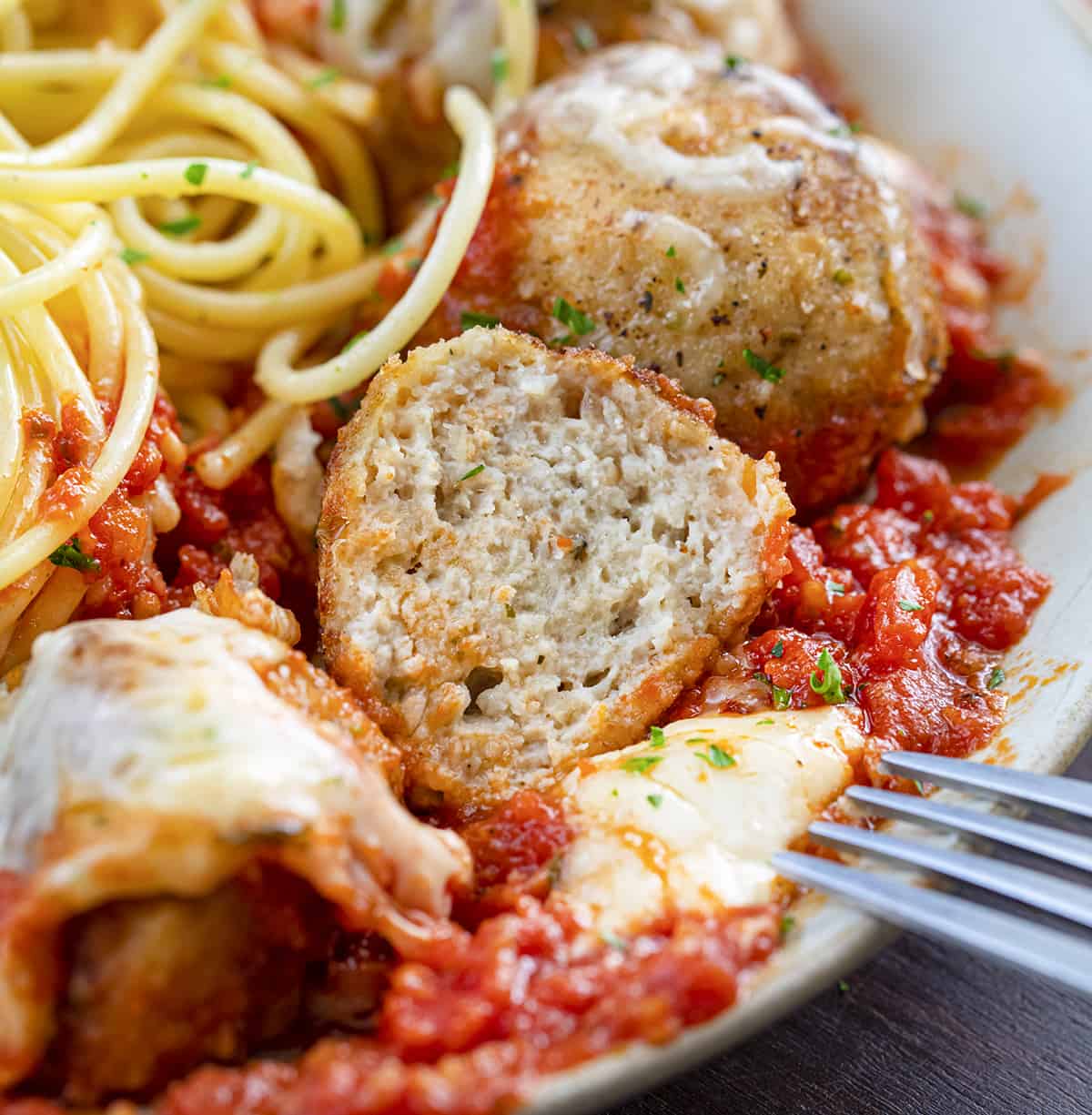 Can I Freeze the Meatballs?
Sure! You can freeze the meatballs either before cooking them or after. In either case, freeze the meatballs without the cheese or sauce. If freezing after baking, bake them as instructed and let them cool down completely. Put them into freezer bags and freeze them for up to 3 months.
Meatballs can also be frozen before you bake them. Follow all the instructions up to the pan-frying and baking of the meatballs. Then, on a parchment-lined baking sheet, pop them into the freezer for an hour or two. After they are frozen, store them in the freezer bags, labeling and dating the packaging, including the baking instructions.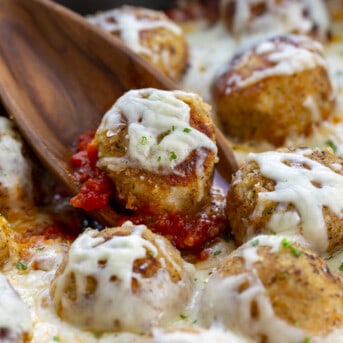 Chicken Parmesan Meatballs
Chicken Parmesan Meatballs are Italian seasoned ground chicken balls nestled in marinara sauce, topped with mozzarella cheese, and baked to perfection.
Ingredients
2

pounds

ground chicken

1

large

egg,

room temperature, beaten

½

cup

grated parmesan cheese

2

teaspoons

kosher salt

½

teaspoon

black pepper

½

cup

whole milk,

room temperature

1

cup

fine dry Italian breadcrumbs,

divided

2

teaspoons

garlic,

minced

¼

cup

yellow onion,

finely chopped (about ¼ of a large onion)

2

tablespoons

extra virgin olive oil

1

jar

(24 ounces) marinara sauce

2

cups

mozzarella cheese,

grated

parmesan cheese,

shaved for garnish

basil,

chopped for garnish
Instructions
Preheat the oven to 400°F.

In a large bowl, combine ground chicken, beaten egg, parmesan cheese, salt, pepper, milk, ½ cup of breadcrumbs, garlic, and onion. Stir together, being careful not to overwork the ingredients.

Greasing hands beforehand and working one at a time, form the ground chicken mixture into your desired size of meatballs. (Ours were golf ball size, or about 1½ ounces each.)

Roll each meatball in the remaining breadcrumbs until evenly coated and set aside.

In a large oven-safe skillet over medium-high heat, add oil. Once hot, add the meatballs and cook until browned on all sides, about 2-3 minutes per side. They will not be completely cooked through at this point. (You may need to work in batches; don't overcrowd the pan.) Remove the pan from heat and transfer the meatballs to a plate and set aside.

After wiping down the skillet, add the marinara sauce. Nestle the meatballs into the sauce. Top with mozzarella cheese.

Bake 15-18 minutes or until the meatballs reach an internal temperature of 165°F and the cheese is melted.

Garnish with parmesan cheese and chopped basil.
Did you make this recipe?
You can tag me at @iamhomesteader.