Chicken Scampi Linguini is strips of chicken breasts pan-seared and mixed in with pasta and a buttery, garlicky, lemon sauce with a little kick from red pepper flakes. Be sure to try my Shrimp Scampi Linguini for another zesty pasta recipe.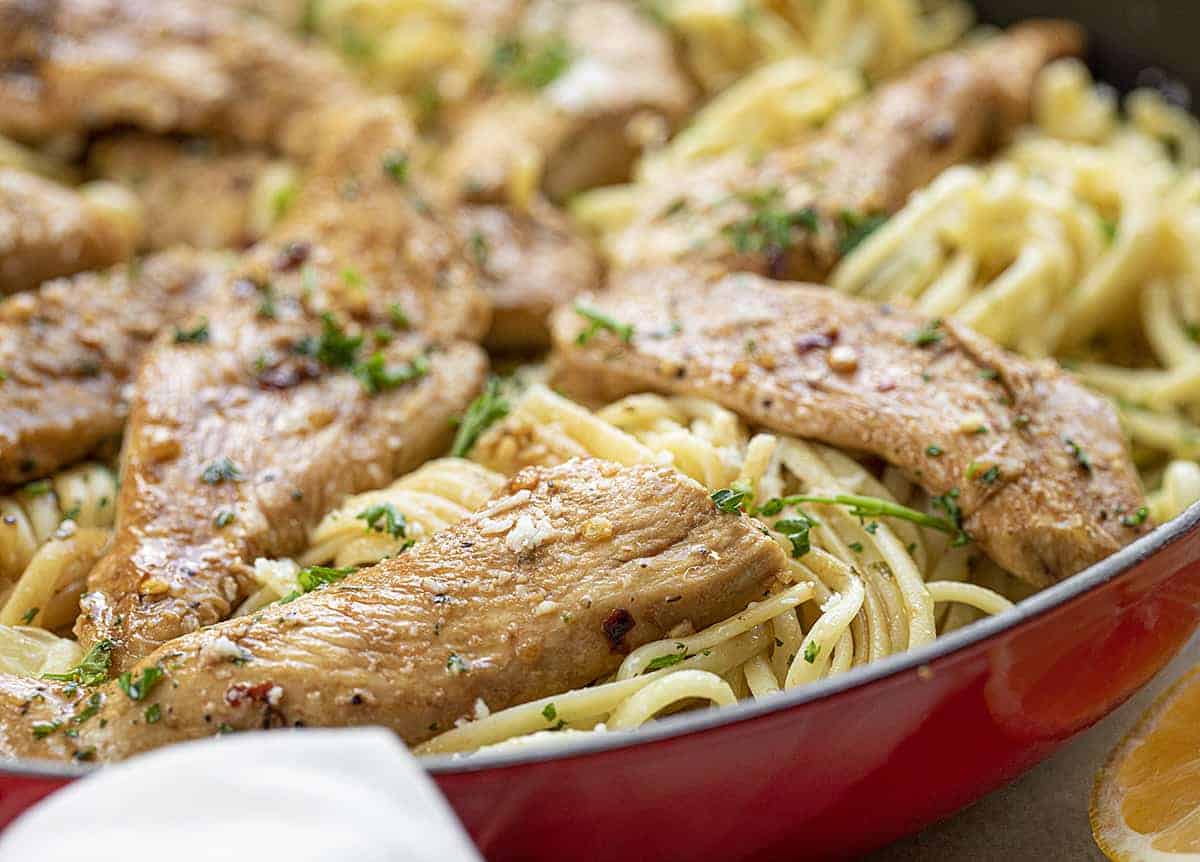 Chicken Scampi Linguini
I stuck with the traditional shrimp scampi sauce using garlic, butter, and lemon for this recipe. The name, chicken scampi, doesn't really make sense since scampi are really lobster-type crustaceans. But, I am not here to get into renaming this delicious pasta dish–just how to make it! (And no, there are no prawns or lobsters in this recipe.)

Ingredients & Substitutions
Chicken: I used boneless, skinless chicken breasts for this recipe.
Linguini noodles: Feel free to buy your noodles, or make your own homemade pasta noodles if you feel motivated! Instructions for linguini specifically will be given below.
Garlic: It makes such a huge difference in flavor when you mince your own garlic. Leave the jarred minced garlic on the shelf and take a minute to mince your own.
Dry white vermouth: There are a couple of substitutes to use in place of dry white vermouth. Use a dry white wine like Sauvignon Blanc or white wine vinegar.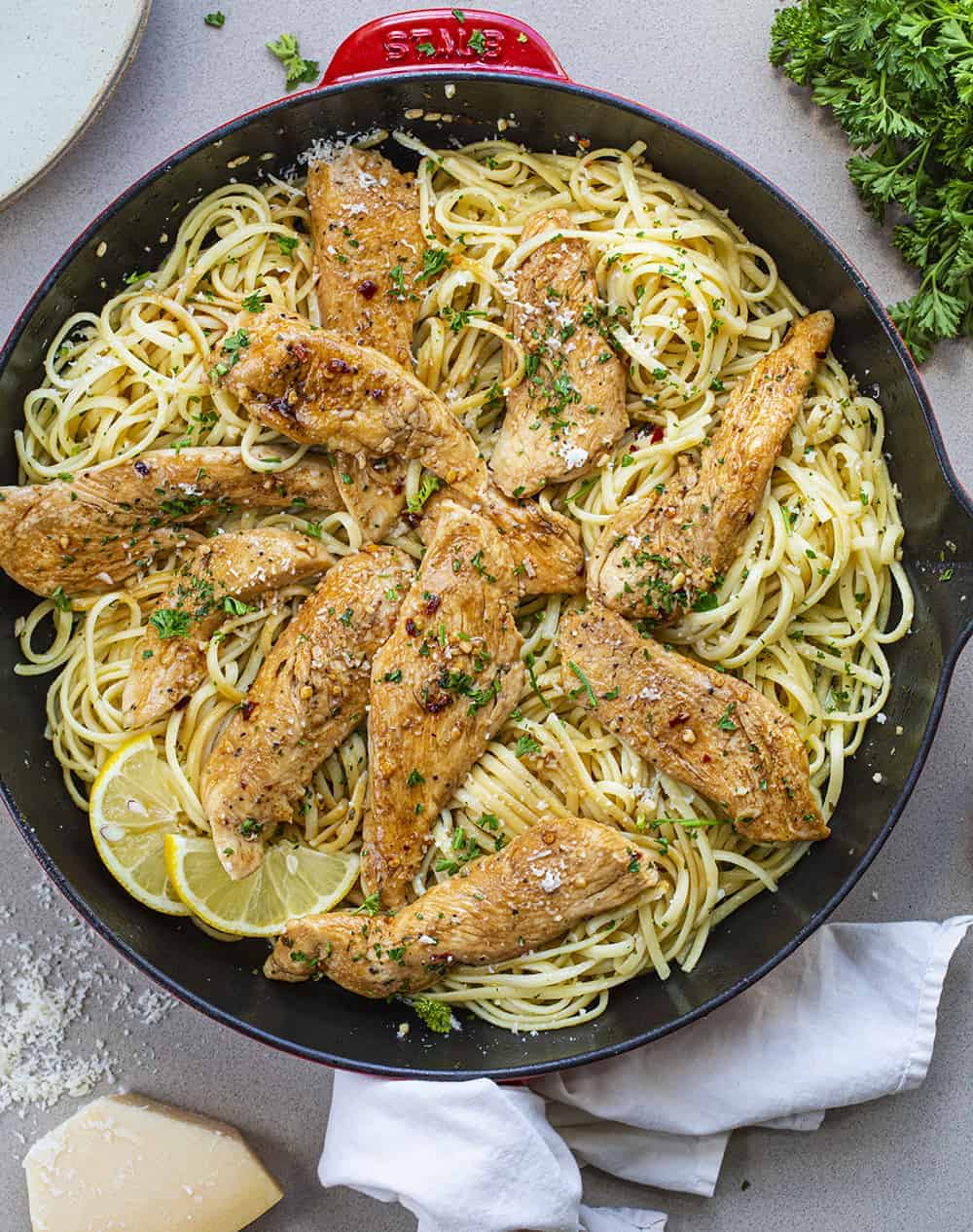 How to Make Homemade Linguini (or other pasta)
If you take a look at the ingredients needed for the homemade linguine, you should notice you don't need a lot of them! I used the same ingredients for my homemade Five Cheese Ravioli.
Start by sifting the flour and salt onto your work surface (like a large board), making a well in the center. A well is simply making a circle of flour and salt, leaving a space in the middle for your eggs.
Crack one full egg into the well. Then, add the egg whites and oil to the whole egg. Use a whisk to mix the eggs and oil together as best you can (within the well).
Begin to incorporate the flour into the egg mixture next. I like to use a wooden spoon when I first start. But, eventually, you will have to get your hands in there to knead the dough for a few minutes. A bench scraper comes in really handy when dealing with dough. A bench scraper can help get off any dough that has stuck to your work surface. It is also great for cutting apart any dough you need to separate. Don't let the dough get too moist. It will moisten as it sits.
After kneading the dough, roll it into a ball, cover it, and let it sit for about 30 minutes.
Next, roll out the dough into a rectangle that is about 1/4 inch thick. It has to fit into the KitchenAid Pasta Roller at its widest setting. Continue to lower the setting for each time you run the dough through the attachment. The final run-through of the dough should make the sheet of dough almost see-through.
Once you have your dough thin enough, cut it into thirds, lengthwise, or however long you want your linguine to be.
Switch out the pasta roller to your spaghetti, fettuccini, or linguine attachment, and run each piece of dough through to get your noodles!
Boil your noodles in salted water for about 4 minutes.
Toss the noodles with your chicken scampi and serve.

Can I Make Homemade Pasta Ahead of Time?
Although best made fresh, you can store your homemade pasta to use at a later time. Your ball of dough will be fine at room temperature for up to 3 hours, but if you need to store it for longer, you may wrap it in plastic wrap and put it in the refrigerator for no more than 2 days. Another option is freezing the dough. Just be sure to get it to room temperature before rolling it out.
If you have already cut your dough into noodles, you can keep the noodles in the refrigerator for a couple of hours or in the freezer for up to 2 weeks. In both cases, be sure to place the noodles on a baking sheet that is covered with semolina flour (a flour used in many pasta-making recipes). If you don't have semolina flour on hand, just use all-purpose flour. The point is to not let the noodles stick together while storing them. If freezing the noodles, let them freeze on the baking sheet before transferring them to a freezer bag.
How To Store Chicken Scampi Linguini
To store leftovers, first, let the chicken scampi linguini cool to room temperature. Then, store it in an airtight container in the refrigerator. It will last up to 3-4 days. Reheat in the microwave or on the stovetop.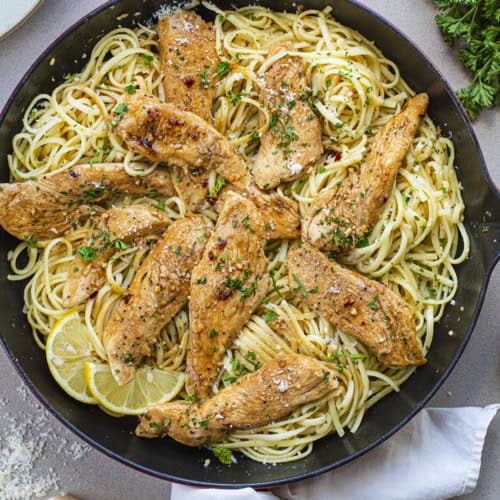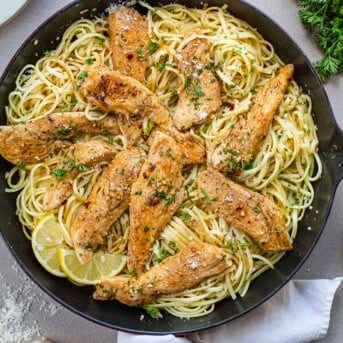 Chicken Scampi Linguini
Chicken Scampi  Linguini is strips of chicken breasts pan-seared and mixed in with the pasta and a buttery, garlicky, lemon sauce with a little kick from red pepper flakes.
Ingredients
12

ounces

Linguini noodles,

cooked al dente per package directions
Chicken
1

pound

(2-3) boneless, skinless chicken breasts,

cut into ½-inch-thick strips

½

teaspoon

kosher salt

¼

teaspoon

freshly ground black pepper

2

tablespoons

olive oil

2

teaspoons

minced garlic

½

teaspoon

crushed red pepper flakes
Sauce
6

tablespoons

unsalted butter

½

cup

dry white vermouth

2

tablespoons

freshly squeezed lemon juice

2

teaspoons

finely chopped flat-leaf parsley leaves

½

cup

(50 g) freshly grated parmesan cheese
Instructions
Bring a large pot of salted water to a boil. Add the linguine noodles and cook al dente (according to package directions). Drain and set aside.

Pat chicken dry with a paper towel, cut the chicken breasts into strips, and season with salt and pepper.

To a large skillet over medium heat, add oil. Once hot, add the chicken strips and cook until golden brown (about 3 minutes per side). The internal temperature of cooked chicken should be 165°F.

Transfer the chicken to a bowl, tent with aluminum foil, and set aside.

To the same skillet, add garlic and red pepper flakes. Cook for one minute. Remove from heat.

While off heat, add butter, vermouth, and lemon juice. Return the skillet to the heat. Boil until slightly thickened, scraping up any browned bits from the bottom of the pan.

Add parsley and stir to combine.

Combine the sauce, chicken, and noodles. Toss to combine.

Serve topped with parmesan cheese.
Did you make this recipe?
You can tag me at @iamhomesteader.