If you're looking for chicken casserole ideas or a way to introduce your young eaters to International cuisine, give this Chicken Tortilla Casserole recipe a try. 
This chicken tortilla casserole is layered and is extra cheesy, so they won't suspect a thing!
We like to plate ours like a chicken tortilla casserole pie, making this easy cheesy chicken recipe even more fun for the kiddos and a great option for a quick and easy weeknight meal.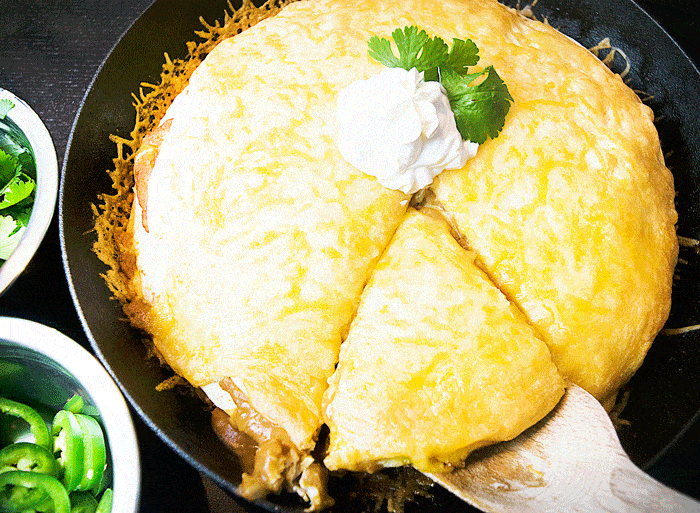 The best part?  With this easy chicken casserole recipe, you can even get your kids in the kitchen.  You'll just need to figure out a way to convince them to do the dishes after!

MY LATEST VIDEOS
Tips, Tricks, and Variations
Can you make this as a chicken crockpot casserole?
Yes!  I would suggest getting the street taco size tortillas (4 inches) and overlapping them within a layer to create more surface area.  Then, simply follow the directions above but reserve about a cup of cheese until the end.  Cook on low for 2-3 hours and then add the cheese and cook for approximately 20 minutes or until the cheese is hot and bubbly.
Do I have to make this chicken casserole recipe in a skillet?
No.  You can cook this recipe in any old pan.  We love the natural seasoning that comes from cooking chicken tortilla casserole in a skillet, but it is not a requirement.
What can I serve with this easy chicken casserole recipe?
As a fun appetizer, I like to pair this meal up with our Bacon, Cheese and Jalapeno Corn dip and some tortilla chips.  It is a fun, easy, and very unique recipe and pairs nicely with the spices in this cheesy chicken tortilla pie.