Fresh Corn Casserole that is baked to perfection! This simple side-dish is one you will make over and over again, as it is a fantastic complement to dishes like Ham and Cheese Stuffed Chicken, Salisbury Steak, and Pot Roast!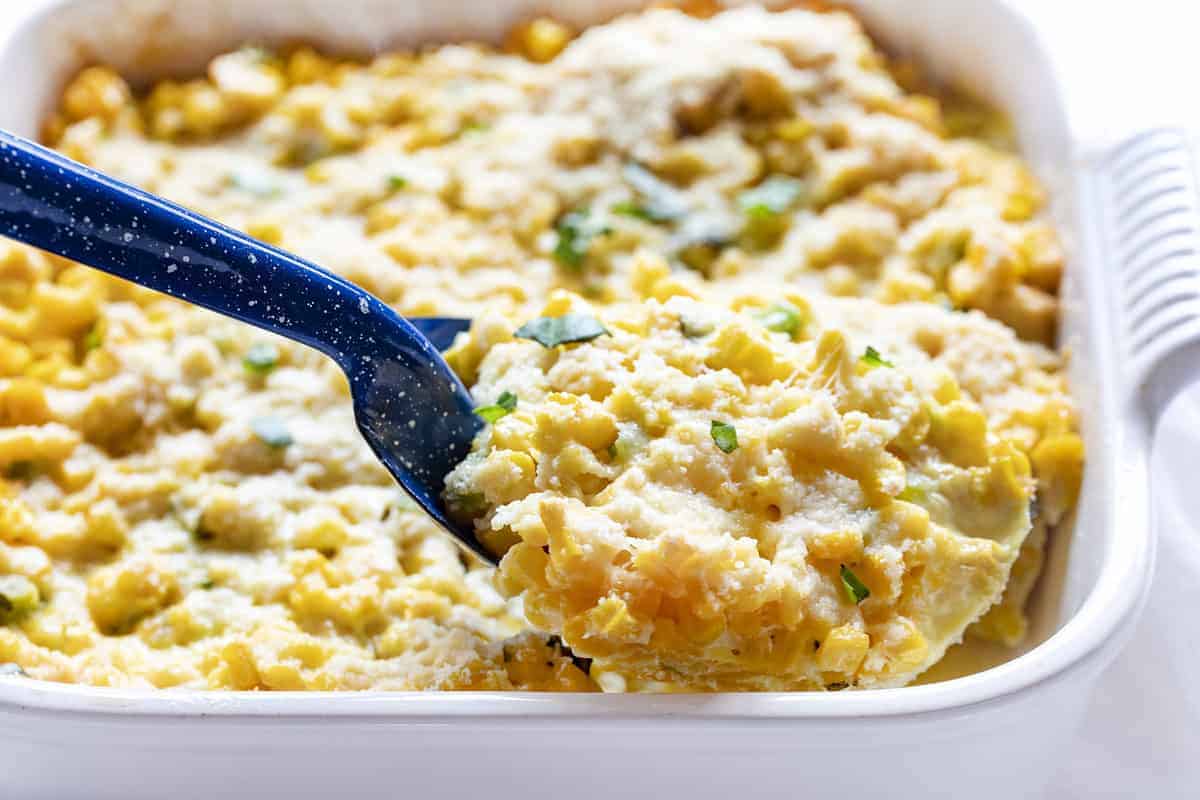 Corn Casserole
I have another recipe on my website for Slow Cooker Corn Chicken Casserole that is, quite frankly, a meal in itself. It is a big, hearty recipe that is sure to please a hungry crowd. But I wanted something lighter, something that would be a great side dish, and something that would satisfy my craving for corn! This is definitely that. With the addition of the basil, there is a lightness and freshness to this recipe that I have never had with corn casseroles. Most corn casseroles have cornmeal or a crumb of some sort added and are therefore heartier. This dish tastes more like cheesy fresh corn on the cob!
I have heard of a dish similar to this in the south that is called Corn Pudding. But that name sounds weird in my brain so I am going to stick to the name Corn Casserole. 🙂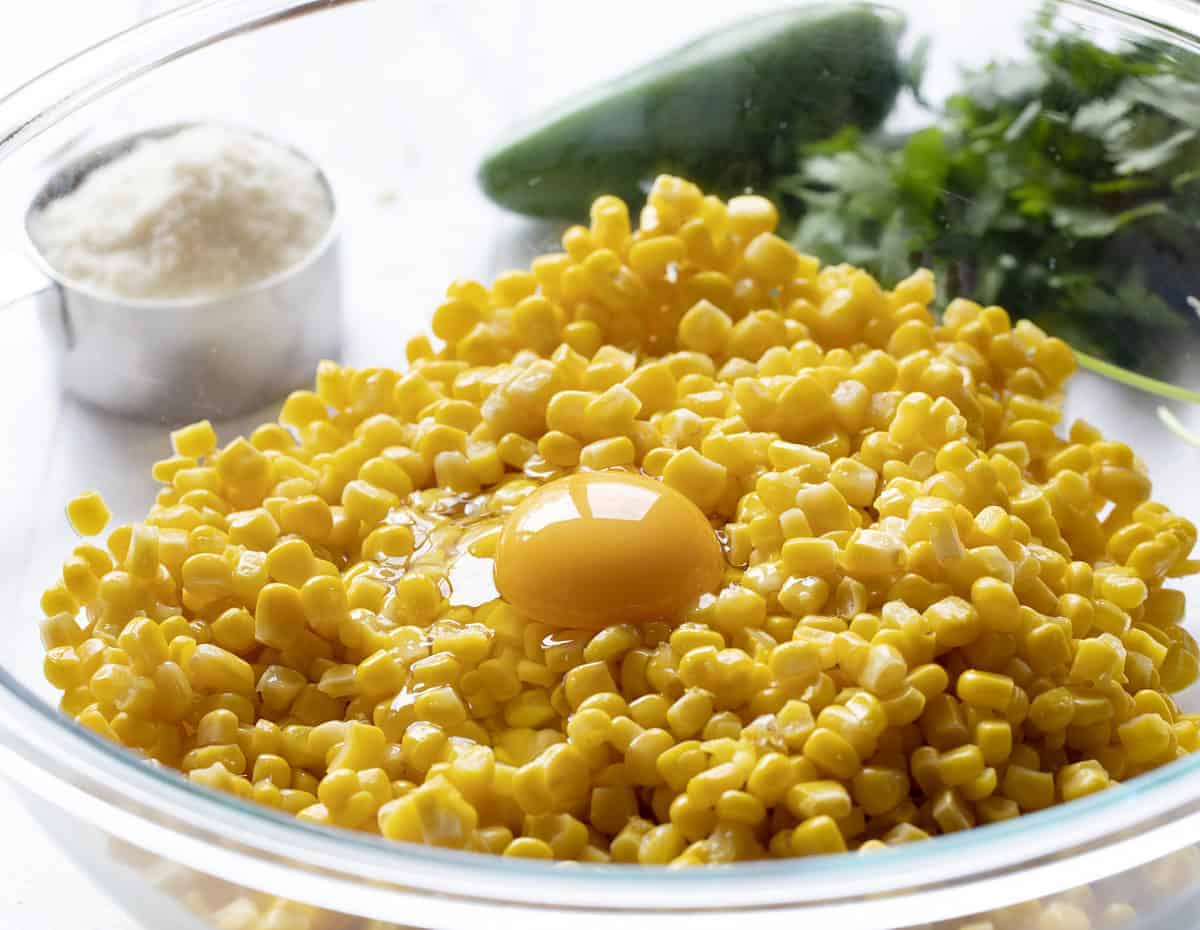 How to Make Corn Casserole
There are only a few simple ingredients, but I do want to share how they work together so beautifully in this recipe.
Corn – I opted for canned corn but this dish works beautifully with corn on the cob as well. If you opt for that, use about 8 small cobs. Remove the corn from the husks. In a large bowl or large cutting board, slice off the kernels of corn. A little bit more time, but definitely worth it if you want the freshest corn casserole possible!
Egg – One large egg will do!
Half & Half – You can also use heavy whipping cream or even sour cream.
Salt – Kosher, which is what I recommend in all baking.
Parmesan – Try to avoid the stuff in green cans and grate some yourself. If this isn't an option, you can certainly use store bought, but look for the freshest you can find. (Usually in the specialty cheese section in your grocery store.)
Basil – Freshly cut and chopped will add so much flavor to this dish! If you only have dried, use half the amount.
Jalapeno – I should list this as optional, but I just can't. The jalapeno brings this dish alive!
Shallots – I didn't start adding shallots until this year, and boy, I had been missing out! The sweet and subtle flavor shallots add to this dish complete it. If you are using a yellow or red onion, be sure to do a fine chop and use only 1/4 cup.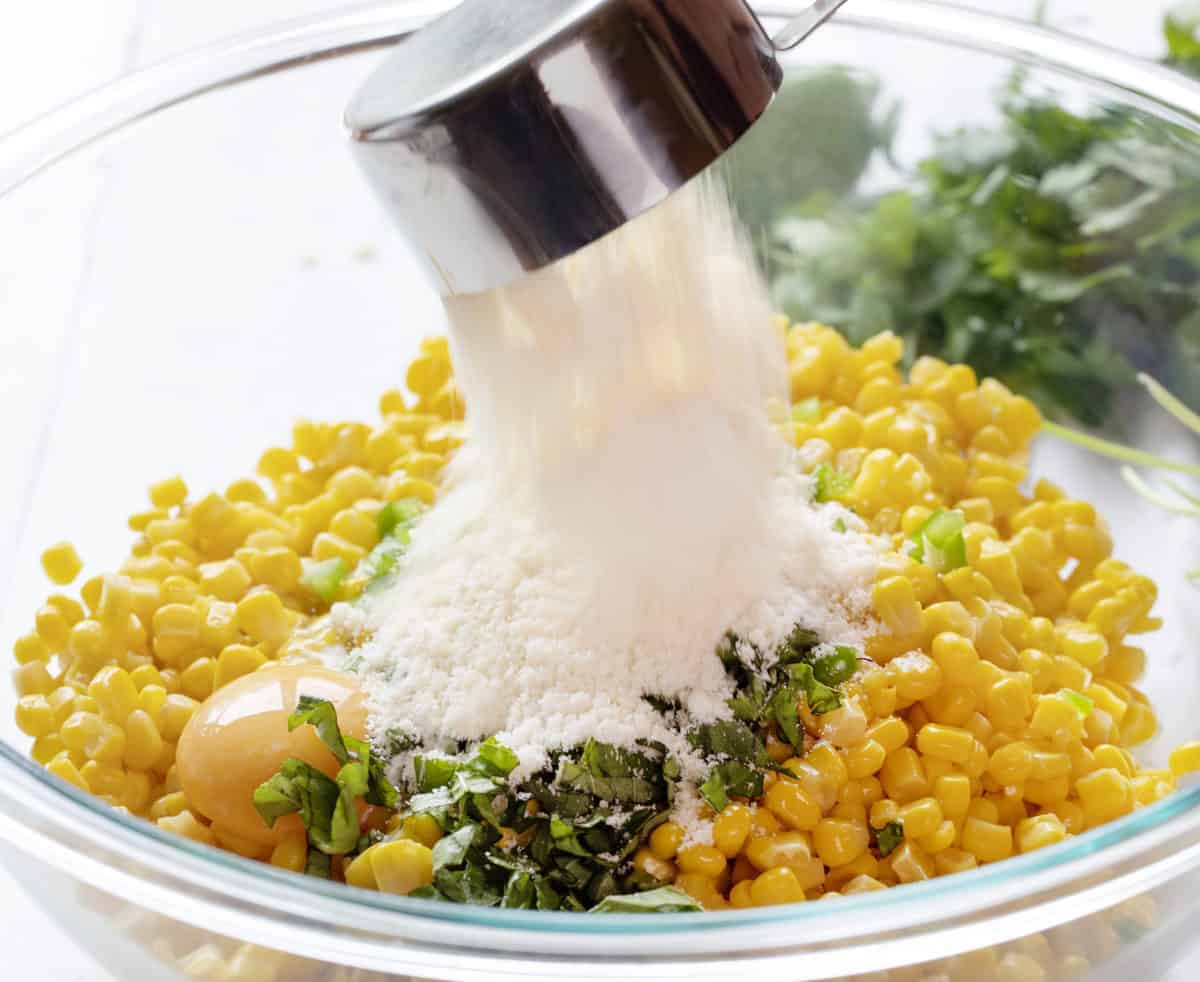 Start by adding the egg, half and half, salt, 1/2 cup parmesan, jalapeno, and shallots to your bowl of corn. Stir well to combine all ingredients. You want every kernel of corn to have touched each ingredient so that every bite is loaded with flavor!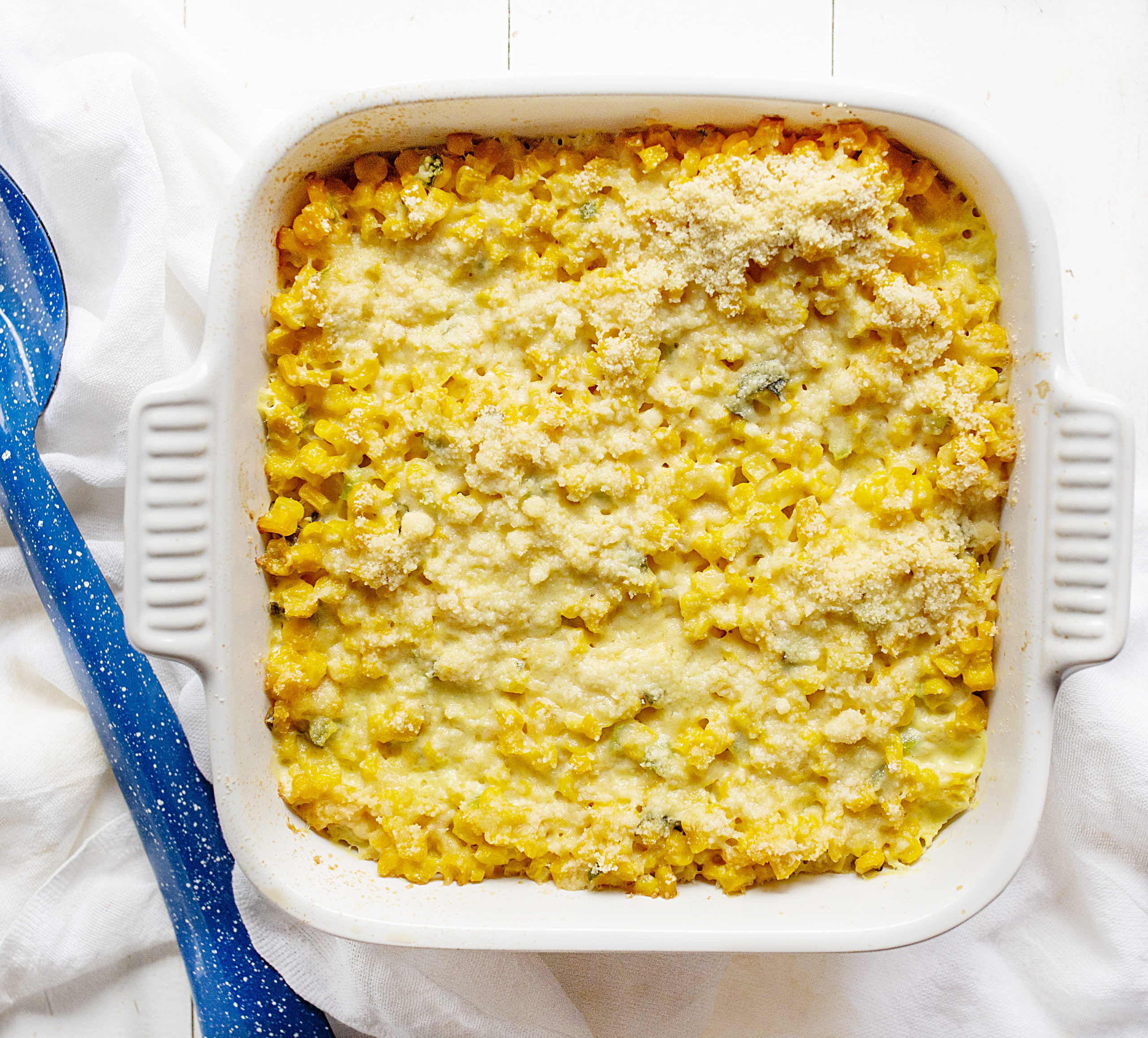 Pour all of the corn mixture into a greased 8×8 baking dish. Smooth it out as much as you can and then add the remaining parmesan.
Bake at 350°F for about 40 minutes, uncovered. When done, remove from oven and sprinkle with remaining basil.
This fresh corn casserole is best served hot and tastes amazing on a hot summer's day. It's also pretty amazing in the dead of winter, but I don't want to think about cold days just yet!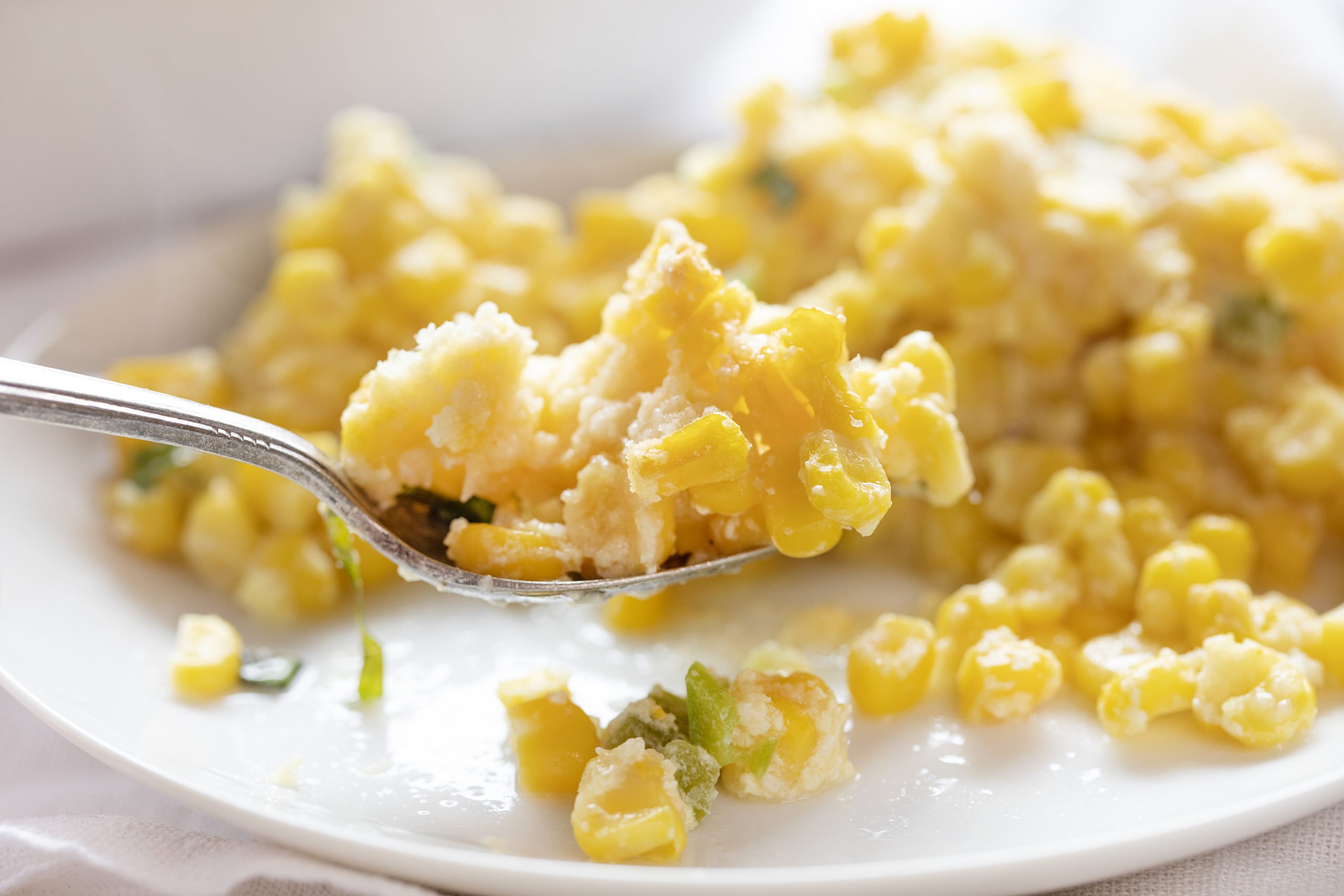 Can You Cook Corn Casserole In A Crock Pot?
This recipe can easily be adapted for the Crock-Pot if you don't want to turn on your stove. The cooking time depends on your slow cooker but generally, 2-3 hours on low is sufficient time to cook corn casserole.
Looking for More Recipes with Corn?
Summer Chicken Salad with Corn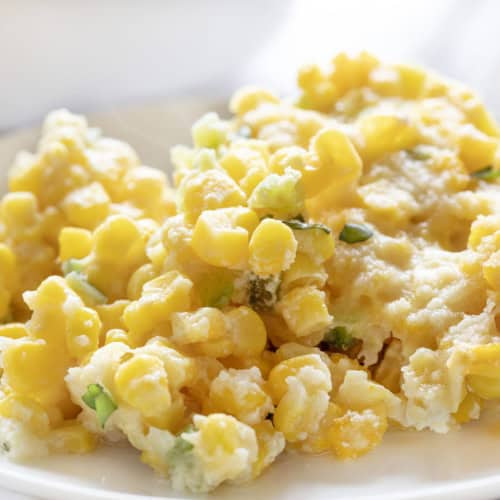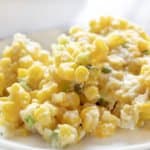 Corn Casserole
Light, fresh, and oh so good! This is a perfect summer-time side dish!
Ingredients
5

cups

canned corn,

drained

1

large egg

1/4

cup

half-and-half

1/2

teaspoon

kosher salt

1

cup

finely grated Parmesan cheese,

divided

2

teaspoons

finely chopped fresh basil leaves,

divided

1/4

cup

jalapeno,

finely diced

1/2

cup

shallots,

finely diced
Instructions
In a large bowl add corn, egg, half-and-half, salt, half the Parmesan, 1 teaspoon basil, jalapeno, and shallots. Stir to combine.

Transfer mixture to a prepared 8x8-inch baking dish. Use a small offset spatula and spread into an even layer. Top with the remaining Parmesan.

Bake until bubbling, about, 40 to 45 minutes. Set aside to cool on a wire rack for 10 minutes. Top with the remaining basil and serve.
Recipe Notes
Refrigerate leftovers in an airtight container for up to 3 days.