This Pot Roast is so easy my kids can make it! But the best part is the amazing flavor. Easy Pot Roast that is also the most delicious pot roast!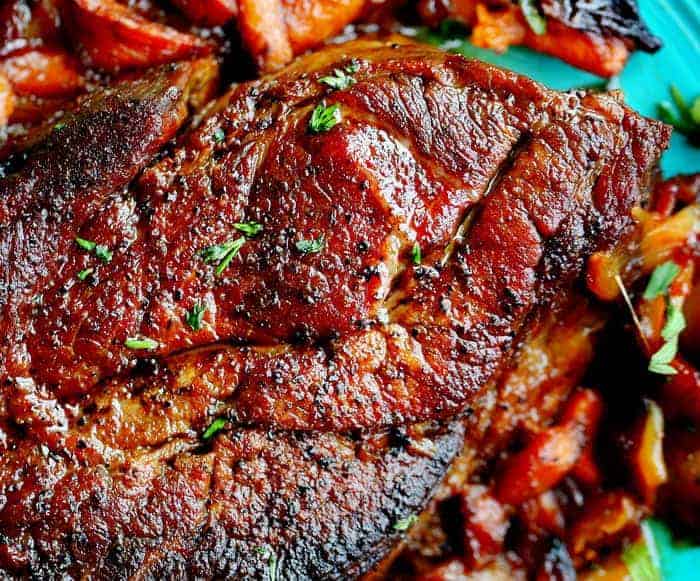 Easy Pot Roast
I scoured the internet looking for the perfect pot roast. I must have read 30 recipes!
After reading them all it seemed like they all had five basic ingredients in common. The meat, carrots, onions, and salt & pepper.
So I decided, why not just start there?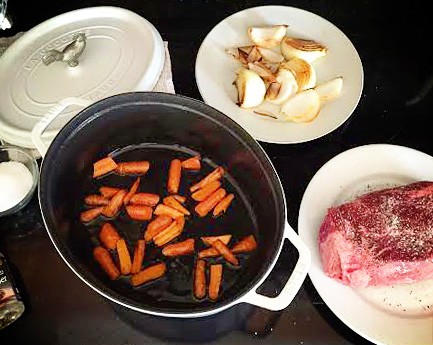 How to make Pot Roast
So I rough chopped some unpeeled carrots. Quartered some onions and then threw them in my favorite Staub oval cocotte with a couple tablespoons of oil. (not an affiliate link, I just seriously love Staub) It is basically the best Dutch oven of all time.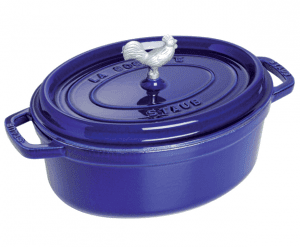 I ordered the one with the chicken on top. I love it. Love love love it. We are chicken people after all!
Ok, back to dinner.
So while the carrots we just barely searing, I added salt and pepper to the meat. Both sides. Remove the carrots and drop in the meat.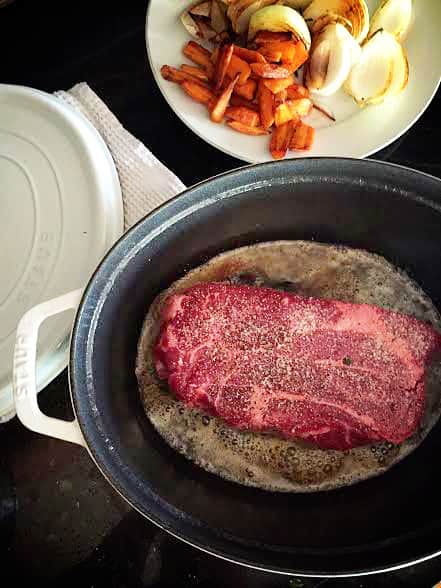 Sear for a couple minutes on each side and then throw the veggies back in the pan.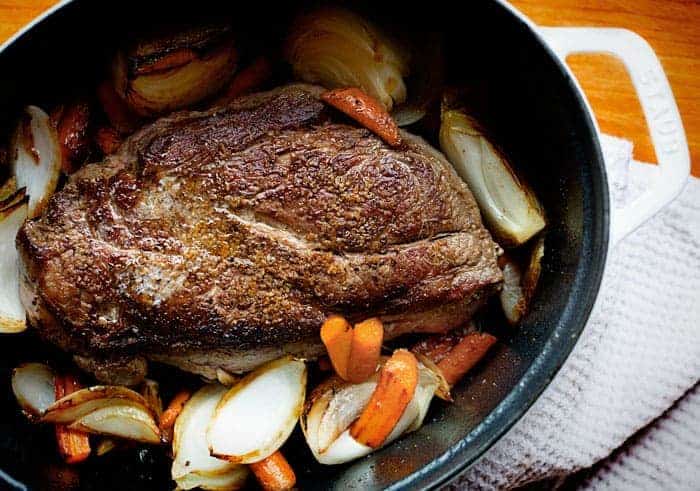 Add the lid and roast this baby for a few hours.  You can add potatoes of course, but I prefer to make mine separate. I will quarter some baby reds and roast them in the oven with some oil, salt, pepper, and rosemary for 30 minutes. Or prepare the best Country Mashed Potatoes!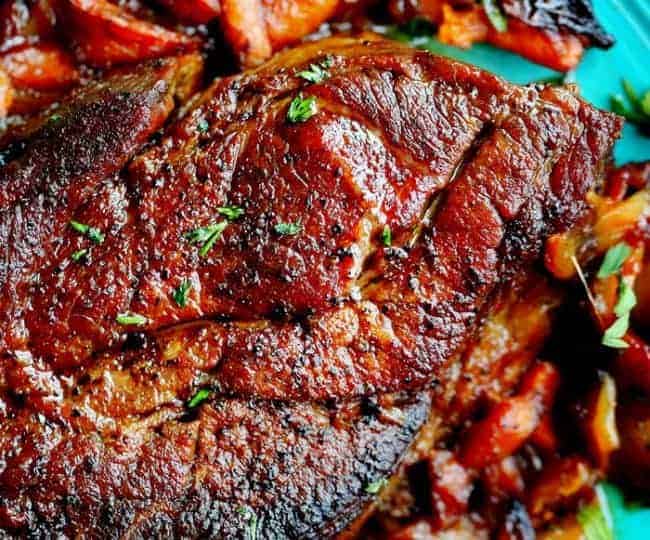 Can you make Slow Cooker Pot Roast
Sure, here's the scoop.  No matter how you cook pot roast the one common ingredient is patience.  To make this in a crockpot, you will still need to sear the meat.  I know what you are thinking, but not all slow cooker meals are meant to be dumped in and left alone.  Put oil in a skillet add the meat, season with salt and pepper and sear one side.  Repeat on the opposite side.  It doesn't need to cook all the way through, just a good browning.  Once you have seared both sides of the pot roast, transfer it to the slow cooker.  Don't put your searing pan away yet though.  Add in one cup of water and one cup of beef broth.  Scrape the pan an mix it all together.  Once heated through, you can add the liquid to the slow cooker.  Pack your chopped carrots and onions on the sides.  This will cook on low for 5-6 hours.  Once fully cooked, you will sear both sides one last time for extra flavor.  Melt butter in a skillet and transfer the pot roast to the skillet.  Sear each side one minute.
Pot Roast Gravy
The reserved liquids from the slow cooker pot roast can easily be turned into an amazing gravy.  Simply mix together 2 tablespoons of cold water and 2 tablespoons of cornstarch.  Pour the mixture in the juices and simmer, stirring occasionally.  The liquid will thicken into a gravy in a matter of minutes!
Here is the stove top recipe.
Did you make Easy Pot Roast?
I want to hear about it!  Take a picture and tag me on Instagram or on Facebook.  I would love to see your finished product!  Make sure to tag me @iamhomesteader or hashtag #iamhomesteader, or both!