Copycat Cheesecake Factory Warm Crab and Artichoke Dip is the ultimate appetizer. Inspired by the crab dip on the Cheesecake Factory restaurant's menu, this crowd-pleasing dip is a step up from the standard spinach and artichoke dip by using crab in the recipe. For another favorite appetizer, try my Skillet Onion Dip.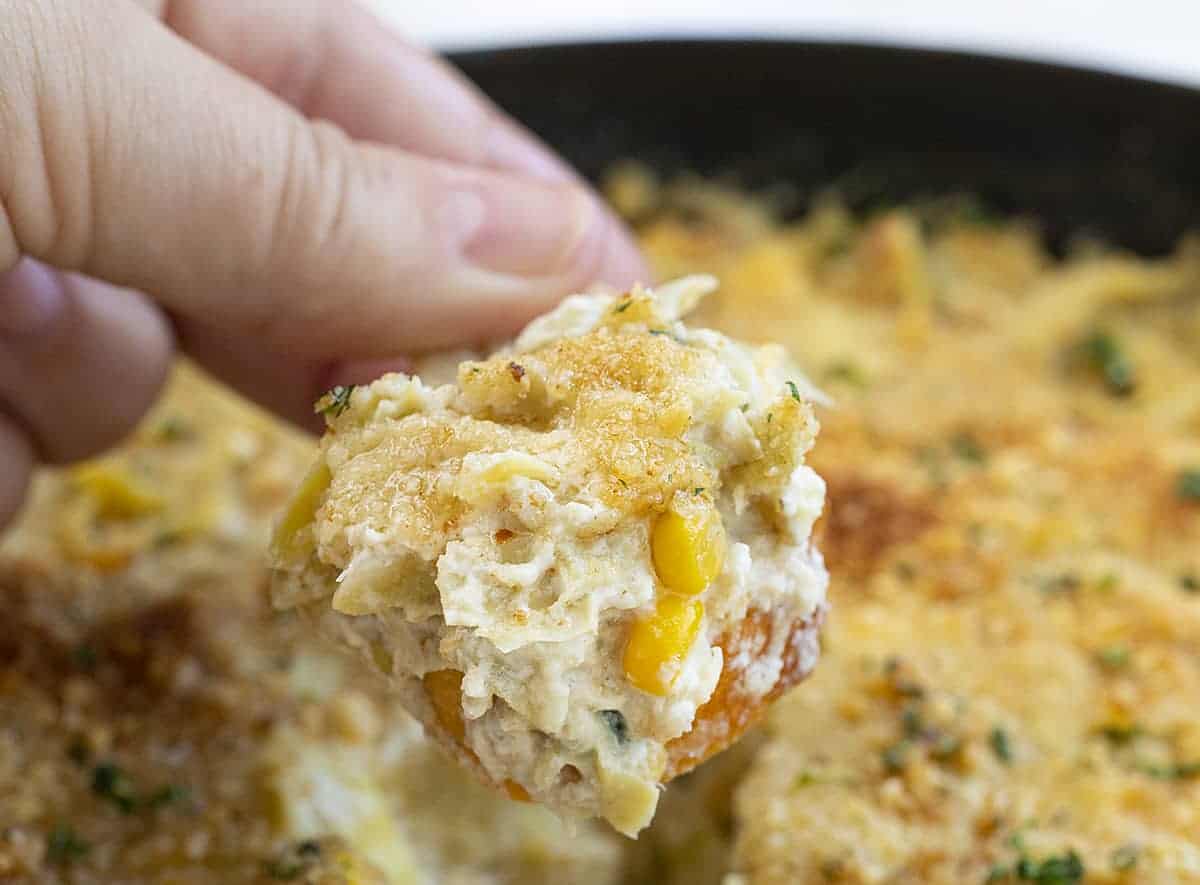 Warm Crab and Artichoke Dip
There is nothing like a warm and creamy dip that comes right out of the oven. It's comfort food that eats almost like a meal and a perfect dish to share. This crab and artichoke dip is a creamy, intense dip that is full of cream cheese, seasonings, artichokes, and crab meat that pairs wonderfully with toasted baguettes or pita chips.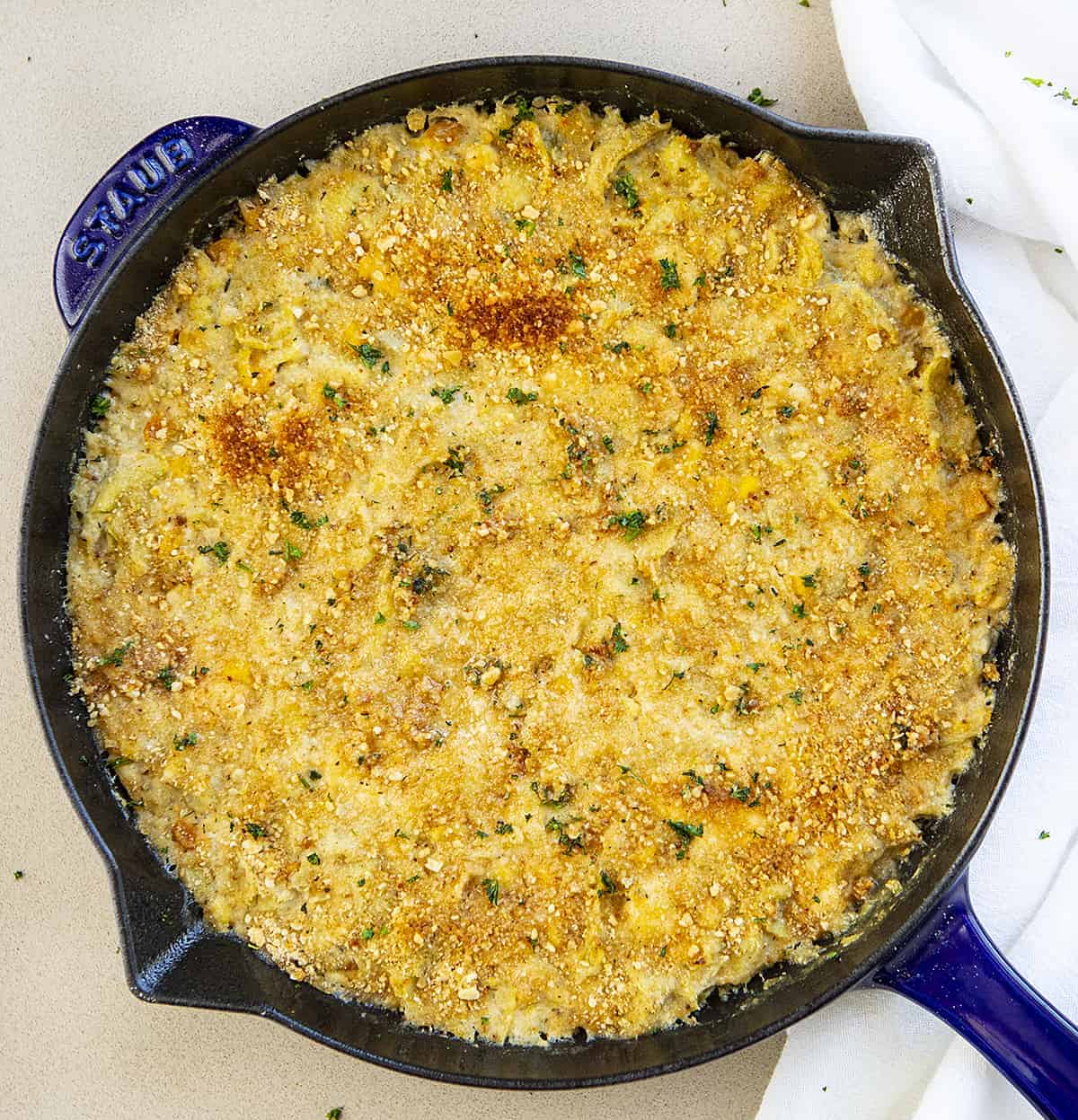 Crab Artichoke Dip Recipe
There isn't a whole lot of prep work that goes into this recipe. Once you have your ingredients ready to go, it's a matter of mixing them all together and baking them to get that warm, hearty dip.
Ingredients (full recipe below)
Slice of white bread
Cream cheese
Heavy cream
Sour cream
Corn kernels
Mayonnaise
Cayenne pepper
Kosher salt
Ground black pepper
Old Bay seasoning–If you don't have Old Bay seasoning, you could use Cajun seasoning, but be aware that the dip will have some heat to it!
Artichoke hearts
Crabmeat–You can use lump crabmeat or backfin, which both taste very similar. If you want finer pieces of meat, go for the backfin. If you use imitation crab, the taste will be affected, but still good!
Breadcrumbs
Parsley, optional for garnish

How to Make Crab Artichoke Dip
This creamy dip is simple to make. Start by mincing a piece of white bread. Mince the bread by chopping it into very small pieces, at least as small as you can make them. Set that aside and get out a large mixing bowl to add all the ingredients.
In a large mixing bowl, combine the minced bread, cream cheese, heavy cream, sour cream, corn kernels, mayonnaise, cayenne pepper, Kosher salt, black pepper, and Old Bay Seasoning. Remember, you can substitute Cajun seasoning for Old Bay seasoning if you don't have it or for a little added kick to the dip.
Gently fold in the artichoke hearts and crabmeat and put the mixture into an oven-safe skillet. Top the dip with breadcrumbs and bake it for 35-40 minutes at 350°F. It should be warm throughout before serving. If you don't have a cast-iron skillet, you can use an alternate baking dish, but the cooking time may be longer. Serve this dip with toasted baguettes, tortilla chips, pita chips, or even pour a bunch of the dip into a bread bowl to enjoy!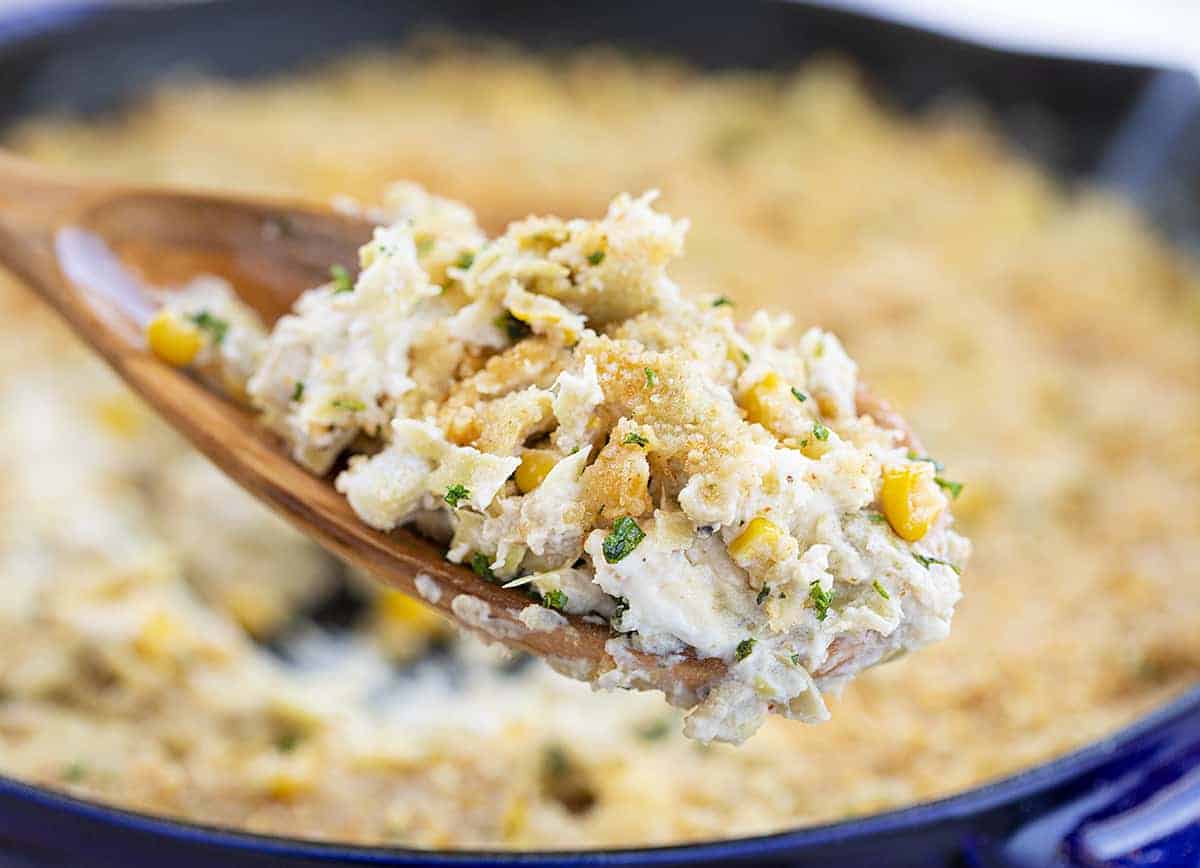 Can I Make the Dip Ahead of Time?
Yes, you can prepare this dip up to about eight hours ahead of bake time. Simply mix all the ingredients together, place the mixture in the skillet, and cover it with aluminum foil. Store it in the refrigerator until you are ready to bake it. You may have to increase the cooking time because it will be cold.
Looking for More Dip Recipes?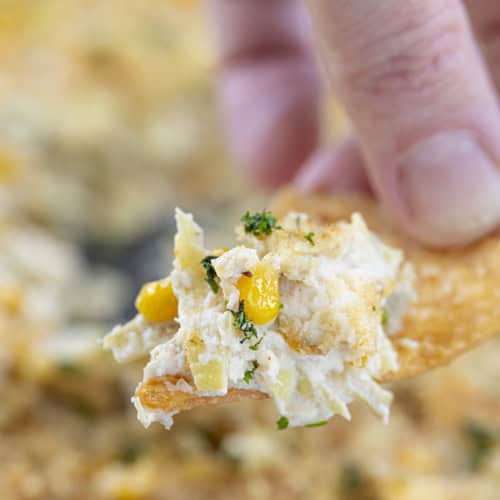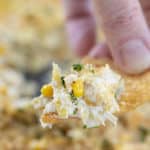 Warm Crab and Artichoke Dip
Crab and Artichoke Dip is a hearty, creamy dip loaded with crabmeat and artichokes that will for sure be a crowd-pleaser.
Ingredients
1

slice

white bread,

minced

3

ounces

cream cheese,

softened

1

cup

heavy cream

1/4

cup

sour cream

1

cup

corn kernels

1/4

cup

mayonnaise

1/4

teaspoon

cayenne pepper

1/2

teaspoon

Kosher salt

1/4

teaspoon

ground black pepper

1/4

teaspoon

Old Bay seasoning

1

can

(14 ounces) artichoke hearts,

drained and cut into 3/4" pieces

2

cans

(8.5 ounces) crabmeat,

lump or backfin, drained

1/4

cup

breadcrumbs

1/2

teaspoon

parsley,

chopped and optional garnish
Instructions
Before you get started, preheat your oven to 350°F and mince a slice of white bread.

To mince the slice of bread, chop the bread into very small pieces, and set that aside.

For the next step, you will need a large mixing bowl and spoon.

In the large mixing bowl combine the minced bread, cream cheese, heavy cream, sour cream, corn kernels, mayonnaise, cayenne pepper, salt, pepper, and Old Bay seasoning.

Before you add the artichoke hearts, drain and cut them into about 3/4-inch pieces.

Gently fold in the artichoke hearts and drained crab meat into the cream cheese mixture.

Get out a large oven-safe skillet and pour the crab mixture into the skillet.

Top with breadcrumbs.

Bake for 35-40 minutes, or until it is warm throughout.

Top with parsley, and serve warm with pita chips or toasted baguettes.