Creamy Tuscan Salmon is seasoned salmon filets pan-fried and smothered in a creamy and delicious sun-dried tomato-based sauce with spinach. You might also want to try my Tuscan Chicken and Tuscan Chicken Pasta, too!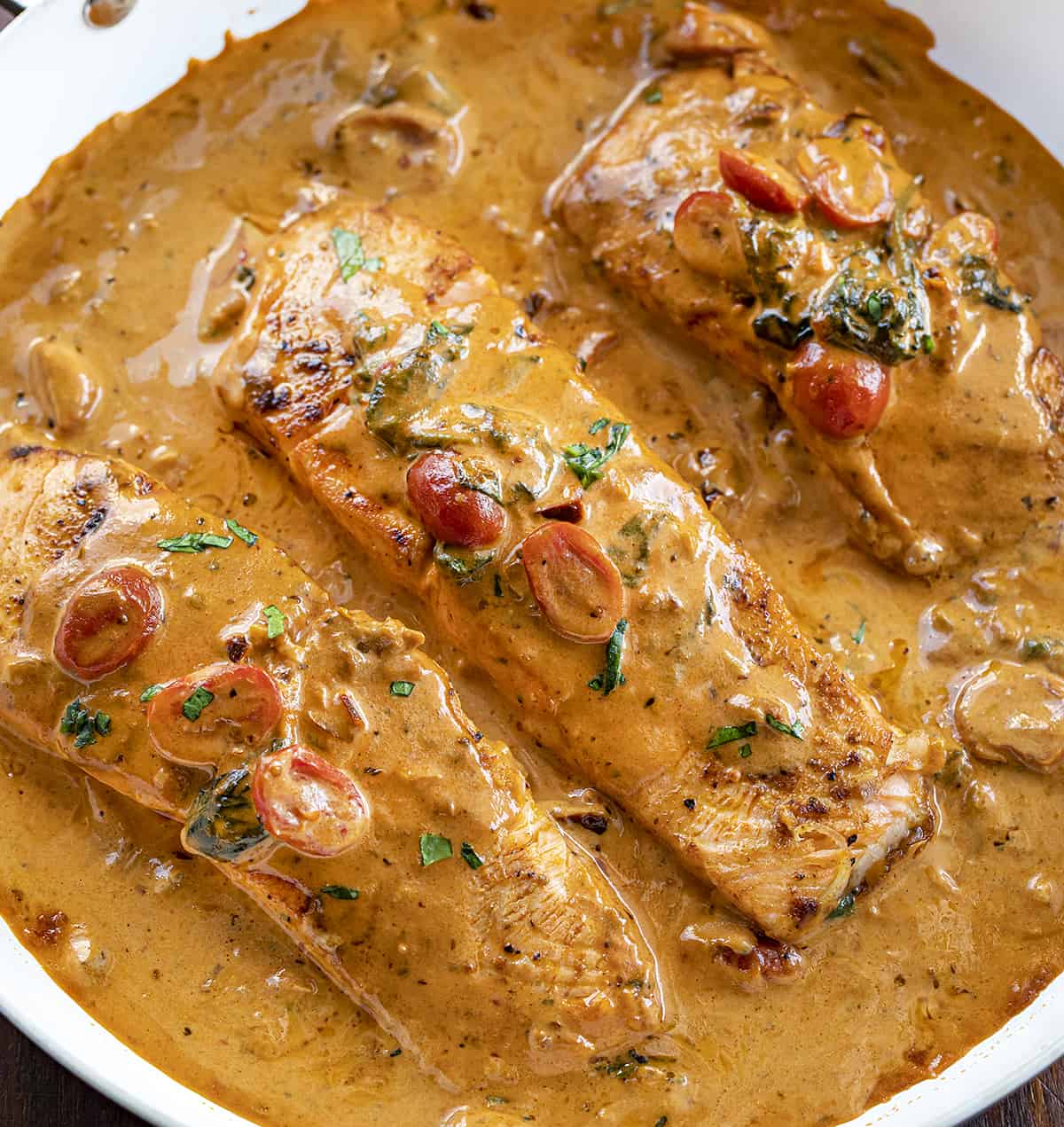 Creamy Tuscan Salmon
If you are still not a huge salmon fan, you must try this recipe! The salmon is perfectly seasoned and then pan-seared to tender and flaky filets. And then comes the garlicky, creamy, sauce that is served over the salmon. I would bet that this recipe will convert anyone out there that is still on the fence about eating salmon.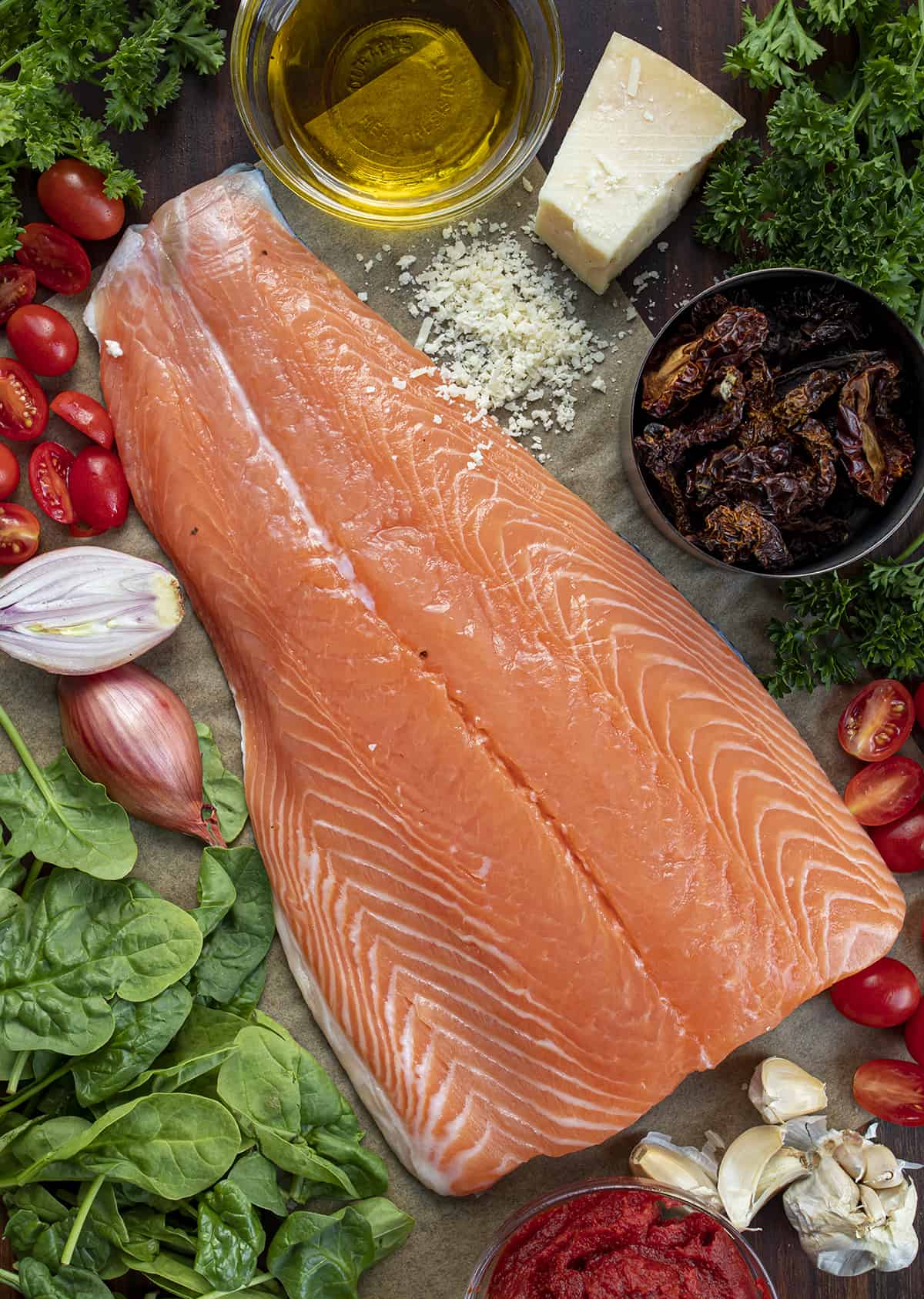 Ingredients
There are two parts to this recipe–the salmon and the sauce.
Salmon: Salmon is such a wonderful source of protein and full of nutritious value. It is loaded with Omega-3 fatty acids, which help lower blood pressure and reduce inflammation. So, if you can add it to your diet once or twice a week, go for it! You will need 3-4 salmon fillets for this recipe with the skins removed.
Sauce: The sauce is made with heavy cream and milk with sun-dried tomatoes and spinach (among other ingredients) added to the mix. You will need to soften the sun-dried tomatoes before you add them to the sauce.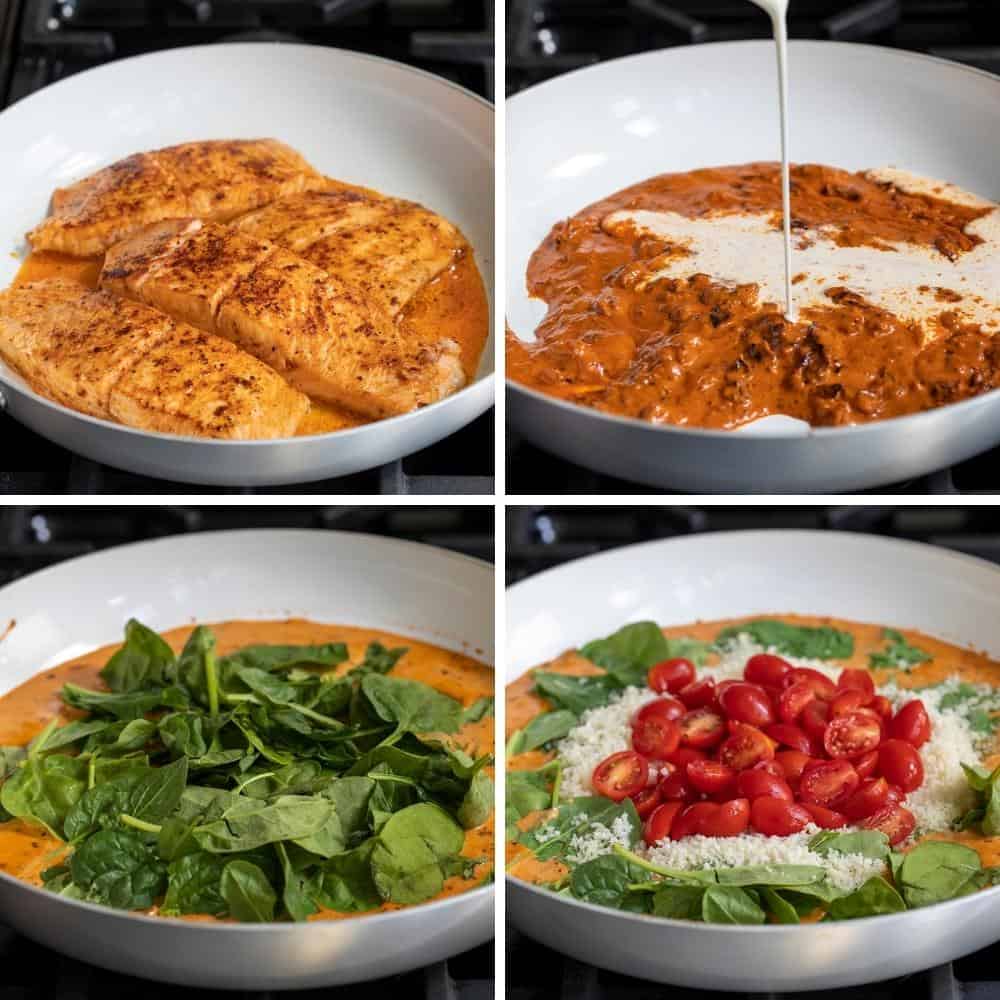 When is Salmon Done Cooking?
According to the United States Department of Agriculture, salmon is cooked through when the thickest part of the filet is 145°F on a meat thermometer. But, you can remove salmon from the oven, skillet, or grill closer to 130°F for a medium-cooked salmon; it will continue to cook after being removed from heat.
If you don't have a thermometer, salmon is done cooking when it is a bit flaky when using a fork. Be careful to not overcook salmon; that will make it dry. The outside should be an opaque pink when cooked. In addition, the cook times will vary depending on the cooking method and the size of the filets. If possible, I would definitely recommend a meat thermometer.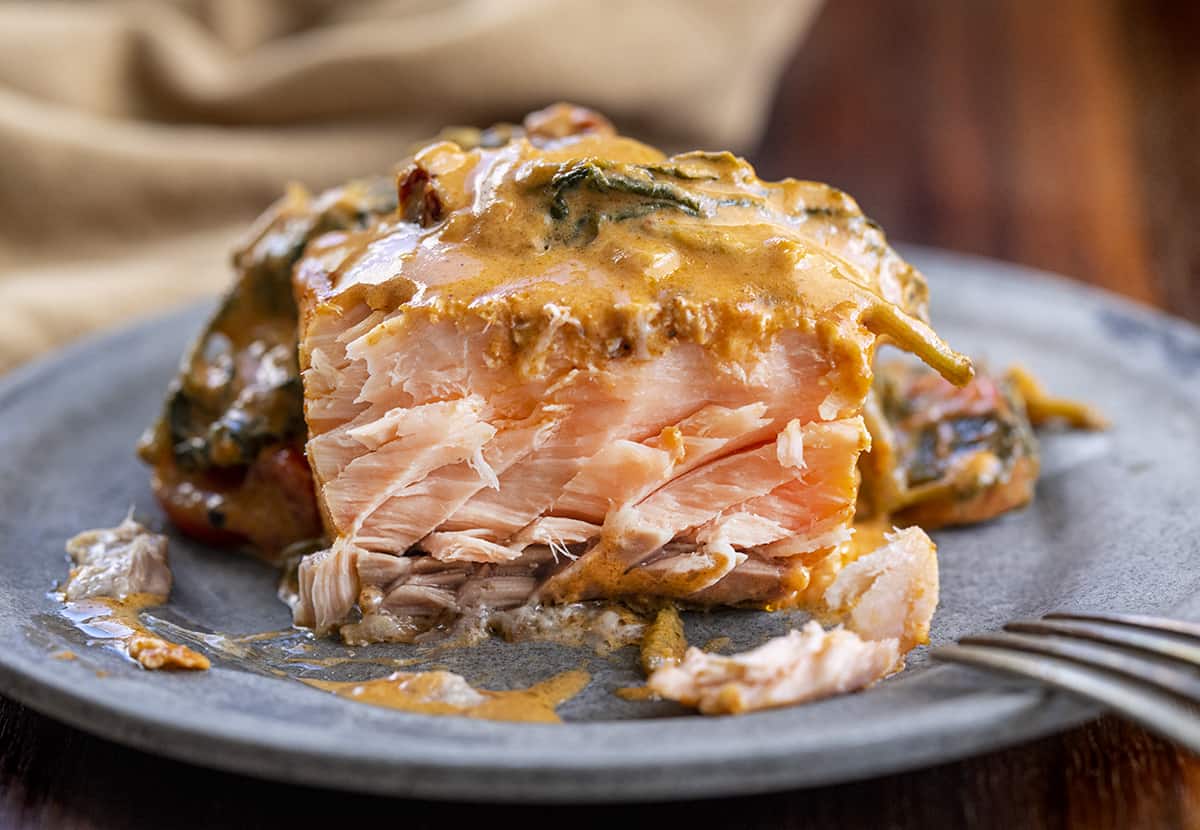 How to Soften Sun-Dried Tomatoes
Before you make the sauce, be sure to soften and chop the sun-dried tomatoes. They are softened so they blend into the sauce (and not be crunchy). The packaging may give instructions on how to soften them. However, if not, first, bring a pot of water to a boil. Next, add the tomatoes to the boiling water, cover the pot, and bring to a simmer.
Let the sun-dried tomatoes simmer for about 3 minutes. Then, drain them and let them cool before chopping. Set them aside until ready to add them to the sauce.
How to Store Creamy Tuscan Salmon
After the Creamy Tuscan Salmon has been cooked, you can save some of the leftovers (if there are any). Simply store it in an airtight container in the refrigerator for up to 3 days.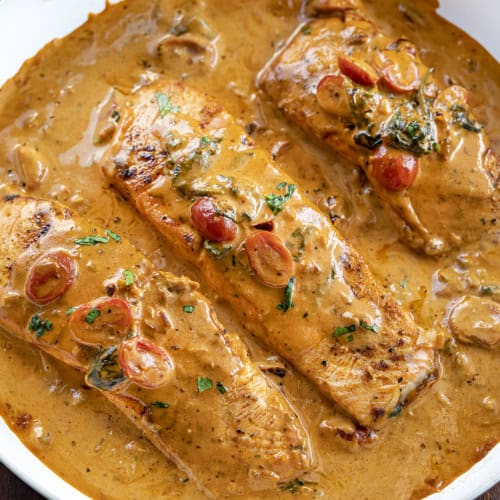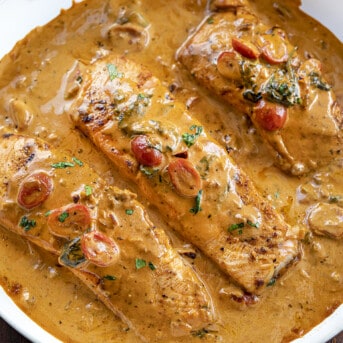 Creamy Tuscan Salmon
Creamy Tuscan Salmon is seasoned salmon filets pan-fried and smothered in a creamy and delicious sun-dried tomato-based sauce with spinach.
Ingredients
Salmon
3-4

salmon

filets,

skin removed, about 1½ pounds

3

tablespoons

olive oil,

divided

1

teaspoon

paprika

1

teaspoon

garlic powder

1

teaspoon

kosher salt

½

teaspoon

black pepper
Sauce
1

small

shallot,

diced (about ¼ cup)

⅓

cup

(37 g) sun-dried tomato,

softened in water, drained, and chopped

1

tablespoon

garlic,

minced

⅓

cup

(80 g) chicken broth

2

tablespoons

tomato paste

1

teaspoon

oregano

1

teaspoon

paprika

½

teaspoon

kosher salt

¼

teaspoon

black pepper

1

cup

(238 g) heavy cream

1

cup

(245 g) milk

2

cups

(60 g) baby spinach leaves

1

cup

(100 g) parmesan cheese,

grated (plus more for garnish)

1

cup

(149 g) cherry tomatoes,

halved

salt and pepper,

to taste
Instructions
Drizzle 2 tablespoons of olive oil over salmon on all sides and rub it in.

In a small bowl, combine paprika, garlic powder, salt, and pepper.

Sprinkle seasoning mixture over the salmon filets.

In a large skillet over medium-high heat, heat the remaining tablespoon of oil. Once hot, add salmon. Sear for 5 minutes on each side (or until cooked to your liking). Salmon is cooked when it reaches a temperature of 145°F.

Place the salmon onto a plate and tent to keep warm as you prepare the sauce.

In the same large skillet as you cooked the salmon, add shallots and sun-dried tomatoes. Cook until the shallots are softened (3-5 minutes). Add garlic and cook for 1 more minute.

Add chicken broth to deglaze the pan slightly, scraping the bottom bits as you go. Add tomato paste, oregano, paprika, salt, and pepper. Stir to combine.

Add heavy cream and milk. Stir to combine.

Add spinach, parmesan cheese, and tomatoes. Toss to combine. Reduce heat to low and simmer until cheese is fully melted and spinach is wilted, 7-10 minutes.

Nestle the salmon back into the pan and spoon sauce over the top.

Serve topped with more parmesan cheese. Add salt and pepper to taste.
Did you make this recipe?
You can tag me at @iamhomesteader.