Enjoy all the flavors of a Cuban sandwich wrapped up in this Cuban Pork Loin! This tender and juicy pork loin is loaded with the classic taste of the popular sandwich, making it a meal! Try my Jalapeno Popper Pork Loin recipe for another family favorite!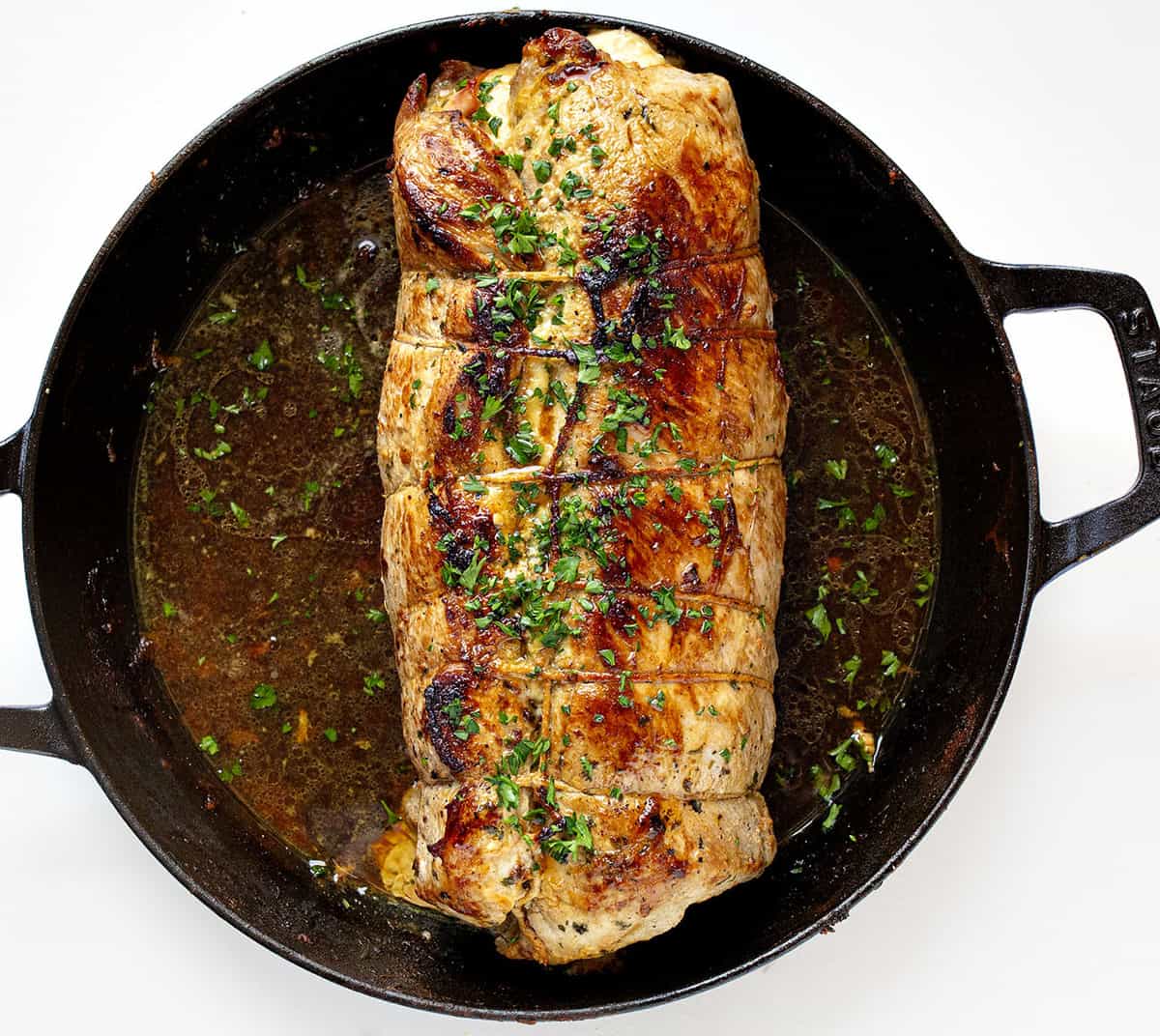 Cuban Pork Loin
I love a Cuban sandwich (check out my Cuban Sliders), but sometimes a sandwich just doesn't cut it for a full meal. This Cuban Pork Loin holds all of the Cuban sandwich ingredients, wrapped up in a tender pork loin.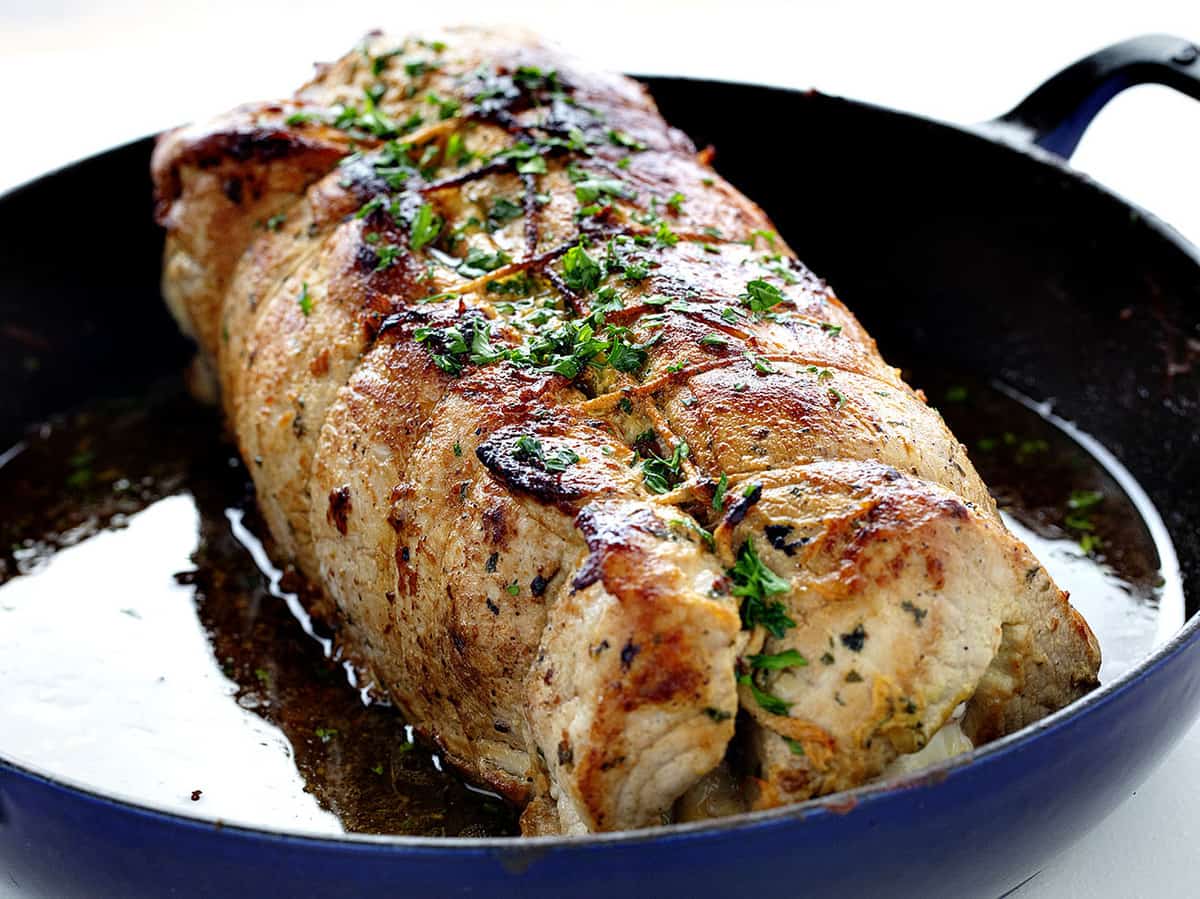 Cuban Pork Loin Recipe
If you love a Cuban sandwich, you already know what is going into this Cuban Pork Loin. I kept with the traditional ingredients, and it turned out even more flavorful than I thought it would!
Ingredients
Pork loin–Remember to look for a center-cut pork loin, not a tenderloin for this recipe!
Olive oil–Extra virgin olive oil is best.
Sea salt
Garlic salt
Parsley
Dijon mustard–I prefer the stronger flavor of Dijon mustard, but yellow mustard would work just as well.
Ham–Slices of deli styled ham works perfectly here.
Dill pickles
Swiss cheese–If you want a substitute for Swiss cheese, I would go for Gouda cheese.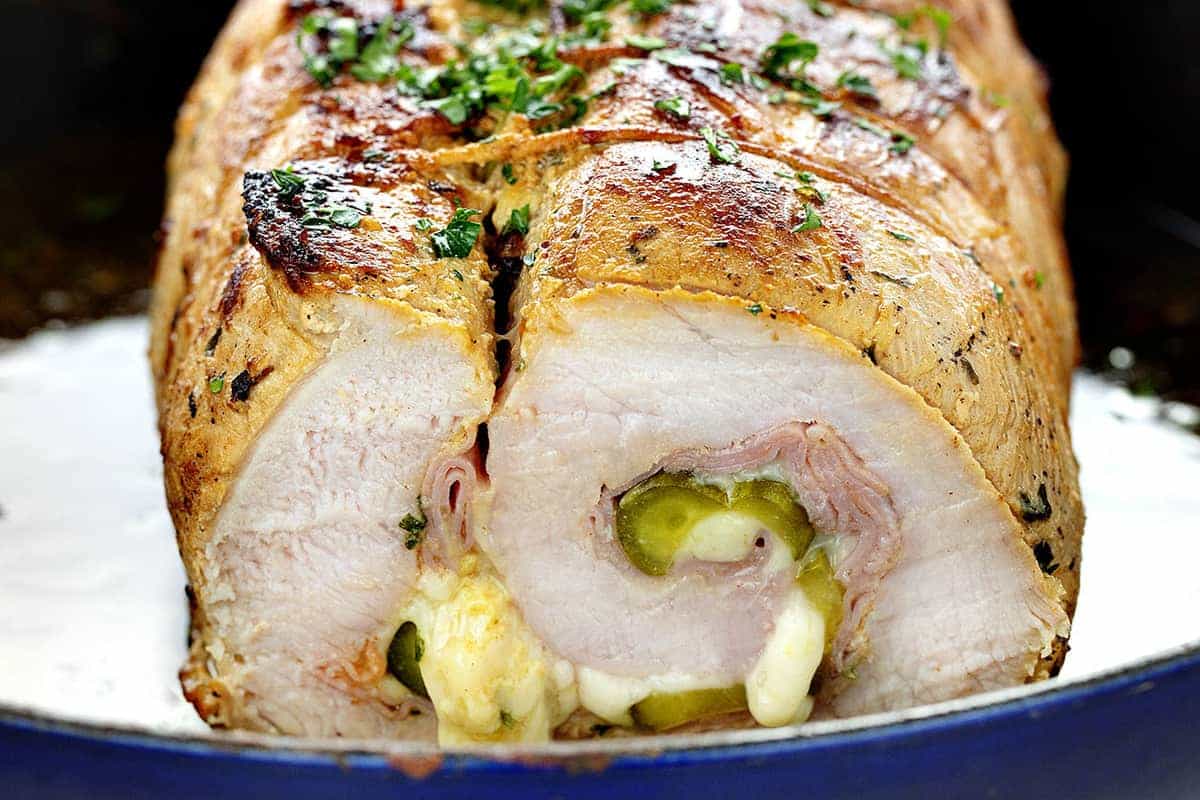 How to Make Cuban Pork Loin
Before you make the Cuban Pork Loin, you need to butterfly the loin. It's easier than you might think.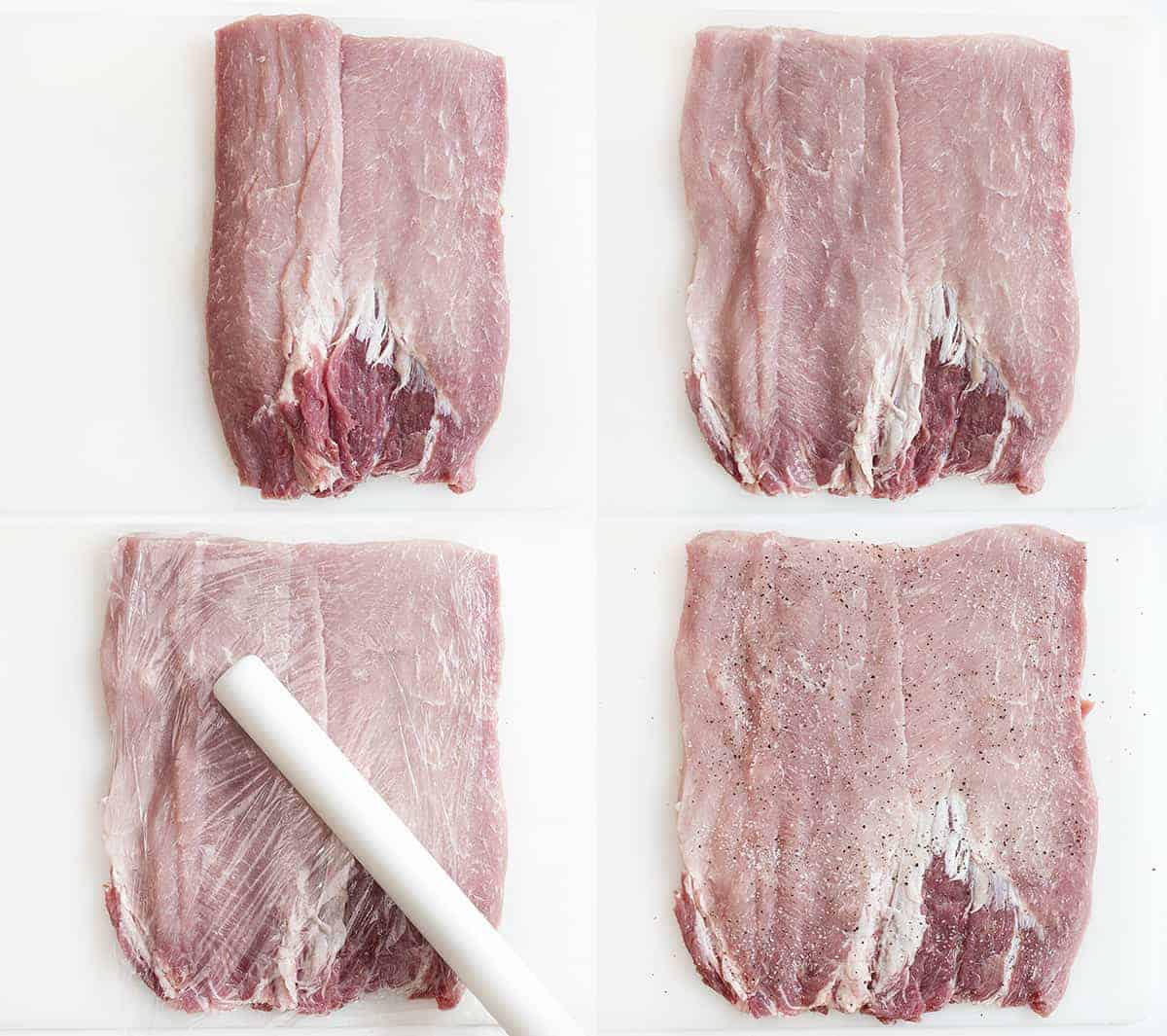 To see how I butterfly pork loin, check out the VIDEO in my Jalapeno Pork Loin!
To do this, use a sharp knife to make a horizontal cut about one-third of the way up from the bottom of the loin. Flip open the thicker, top flap (like opening a book). Then, take the knife and cut another horizontal line through the thicker part of the loin to open it up even more (like a trifold). You should now have a flat surface of meat that will hold the flavor of the ingredients. Put a piece of plastic wrap over the laid out pork loin and pound it out to about a 1/3 inch thickness all the way around. The more even the loin is, the more evenly it will cook. Season both sides with the oil, salt, garlic, and parsley mixture before you start stuffing it.
Once you have pounded and seasoned the pork loin, it's time to layer it, roll it, and sear it before cooking. First, preheat the oven to 450°F. Then, spread on the mustard. Next, add the ham, pickles, and shredded Swiss cheese. Roll up the pork loin, making sure you wrap up all that goodness inside! Then, using cooking twine, tie the rolled pork loin up to hold in all the ingredients. I used four pieces of twine if that helps. Put the rolled pork in an oven-safe skillet and sear it over medium-high heat. Finally, it is ready to go into the oven for 35-40 minutes. The internal temperature of pork should be 145°F.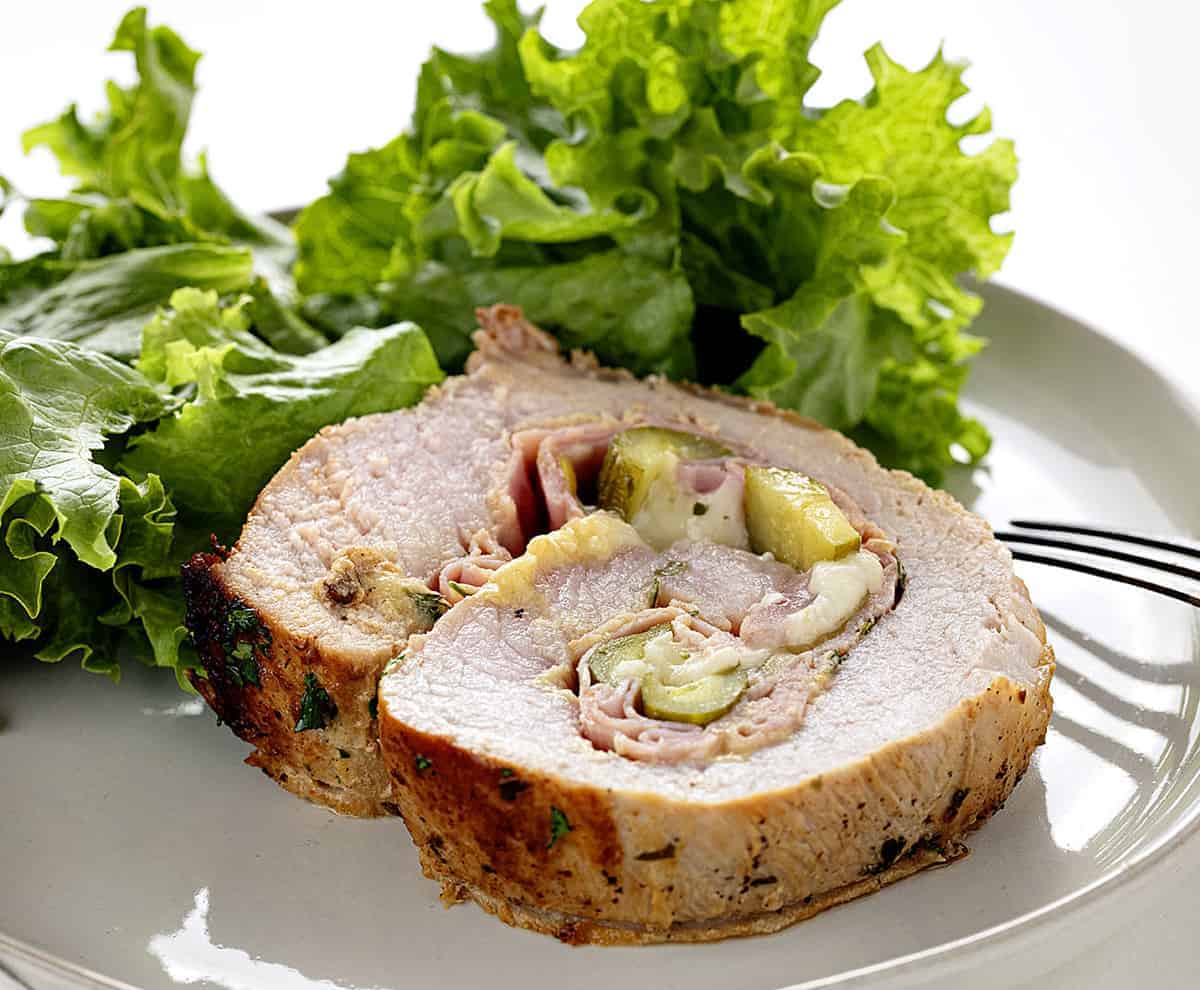 Looking for More Pork Recipes?
Pork Loin with Roasted Garlic Cream Sauce
French Onion Stuffed Pork Loin
Creamy Cherry Stuffed Pork Loin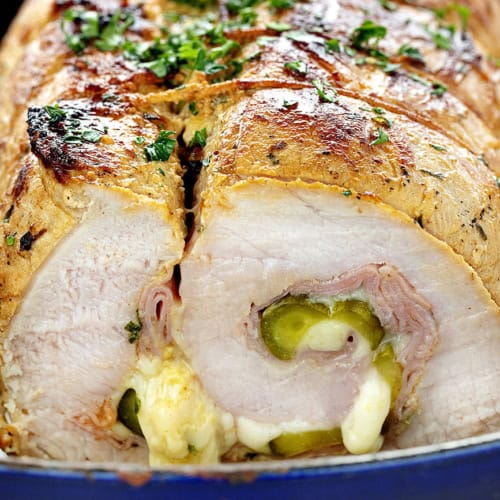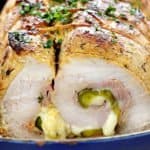 Cuban Pork Loin
Rolled in a tender pork loin, Cuban Pork Loin is packed with all the flavors of the popular sandwich!
Ingredients
1

center-cut pork loin,

about 3 pounds

2

tablespoon

extra virgin olive oil

1

teaspoon

sea salt

3

teaspoons

garlic salt

1

tablespoon

dried parsley

2

tablespoons

Dijon mustard

1

pound

sliced ham,

dried with a paper towel

5-6

Dill pickles,

sliced lengthwise

1

block

(8 oz) Swiss cheese,

shredded
Instructions
Preheat oven to 450°F.

Butterfly the pork. With the pork on a cutting board, hold a knife bald parallel to the board and carefully make a lengthwise cut about 1/3 of the way from the bottom, stopping about 1 inch from the opposite end, being careful not to cut through.

Open the loin like a book.

Make a second cut on the thick side of the pork loin, horizontal with the first cut. Do not cut all the way through, stop about 1 inch from the opposite edge. Fold that edge over making one long cut of pork loin.

Cover the entire cut of meat with plastic wrap and pound to an even 1/3 inch thickness.

In a small bowl, combine oil, salt, garlic, and parsley. Rub over both sides of pork loin.

Top the pork loin with mustard, ham, pickles and swiss cheese.

Tightly roll the pork loin to completely enclose all of the fillings.

Using cooking twine, tightly secure the roll.

In an oven-safe skillet, over medium heat, add a tablespoon of olive oil and the pork loin to the pan and sear on all sides (about 5 minutes on each side), turning the loin a total of 4 times.

Transfer the skillet to the oven and cook for 35-40 minutes or until the pork loin reaches an internal temperature of 145 °F. Occasionally baste the pork loin with the pan juices.

Slice and serve warm.