Homemade Egg Rolls start with egg roll wrappers filled with a mixture of vegetables and ground pork, rolled into a cylindrical shape, and fried to a crispy golden brown. It is a popular appetizer served at American Chinese restaurants. But now, you can easily make them at home. And, I will also let you know how to make egg rolls in an air fryer and oven. You may also want to try my Pickle Egg Rolls, too!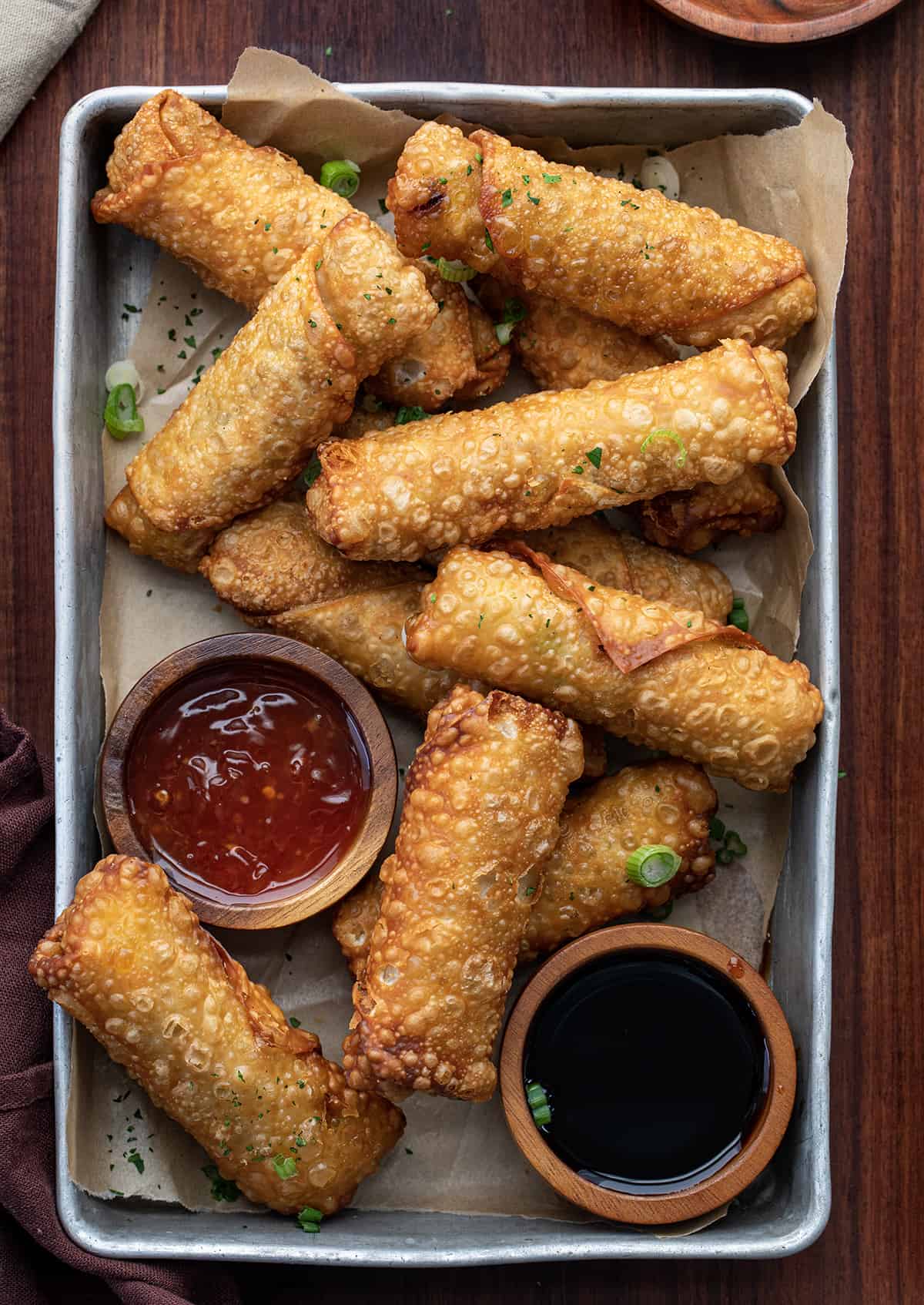 Ingredients & Substitutions
Egg Roll Wrappers: Egg roll wrappers are made of wheat flour and eggs, which gives them a thick, crispy texture when fried. Look for the wrappers in the refrigerated section of the grocery store. You can also try to use wonton wrappers but they will be much smaller, hold fewer ingredients, and could be a bit trickier to work with.
Meat: I used ground pork in these egg rolls. However, you could certainly make these with different proteins like beef, chicken, shrimp, crab, or tofu.
Vegetables: Shredded cabbage and carrots are added to these egg rolls. You could substitute premixed coleslaw (already shredded) to save some time. In addition, you could add your favorite vegetables like bell peppers, onions, or celery, just to name a few.
Fish Sauce: Fish sauce is a condiment made from fermented fish mixed with salt and water. When added to the egg roll filling, it adds some depth to the flavor. However, if you don't have any on hand, or just don't like it, you can certainly leave it out of this recipe. We tested the egg rolls with and without fish sauce, and they were both delicious!
Oil: Canola oil is great for frying because of its neutral flavor. And check out How to Clarify Used Oil so you don't have to waste it after you have fried the egg rolls!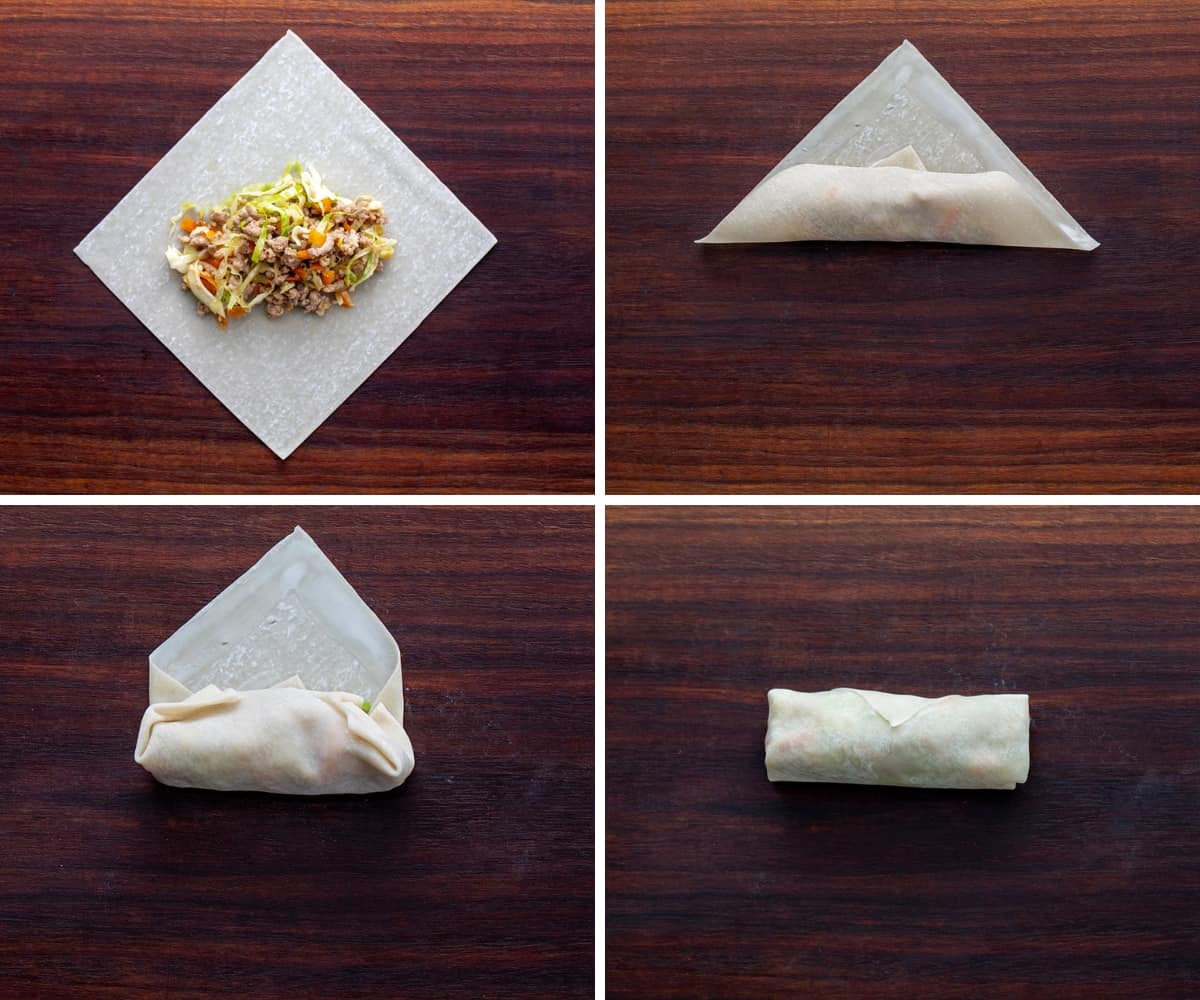 Dipping Sauces for Egg Rolls
There are a few tasty options for dipping sauces to serve with egg rolls. Try them with: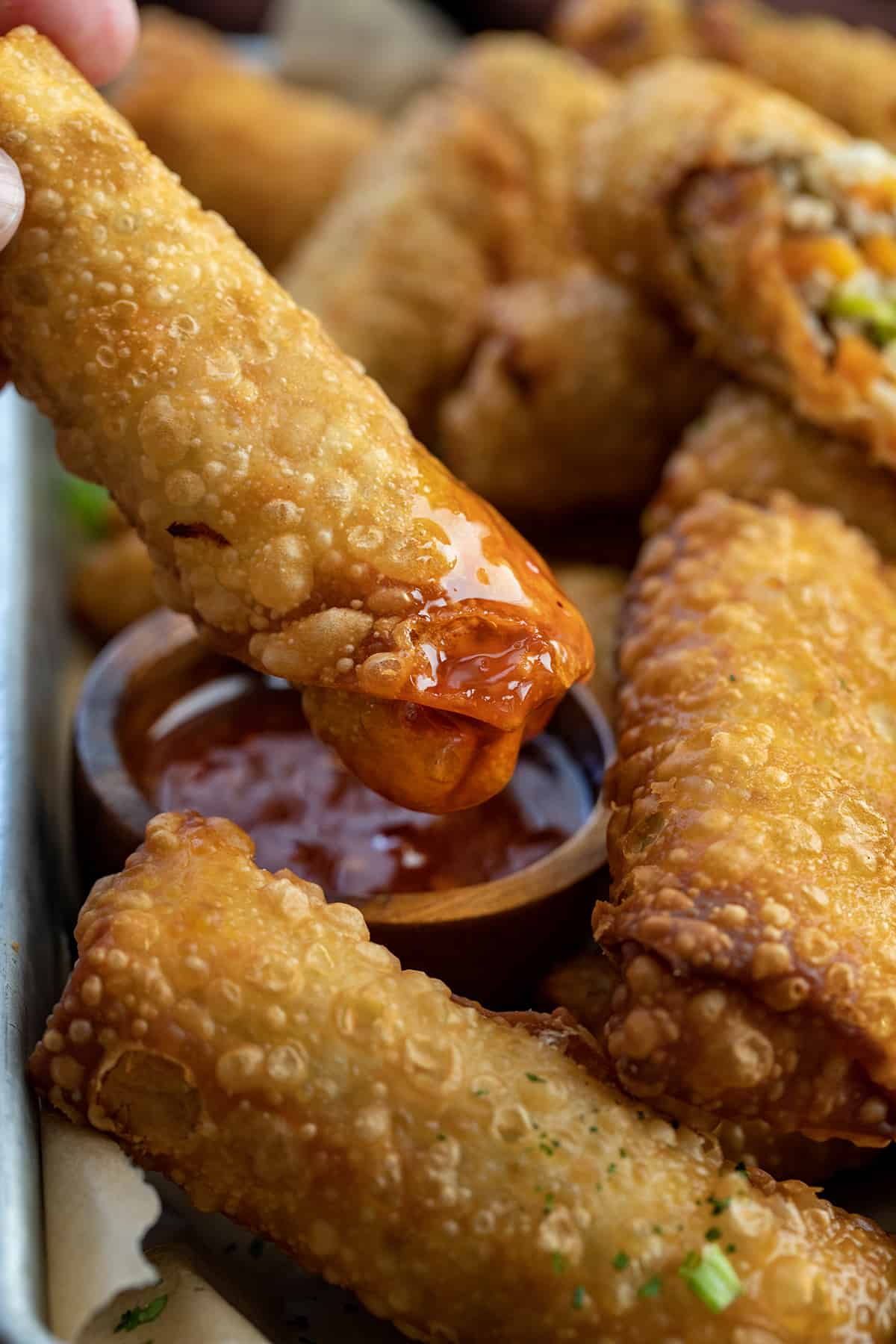 Egg Rolls vs. Spring Rolls
Although similar, there are some differences between egg rolls and spring rolls. Egg roll wrappers are thicker and are made with eggs. Spring roll wrappers on the other hand are thinner and usually made with just water and flour (wheat or rice flour). When it comes to preparing the two, egg rolls are always fried. Spring rolls can be served fried, steamed, or baked. Finally, the texture after both being fried is different. Egg rolls have a thick, crunchy texture whereas spring rolls have an almost translucent appearance with a flaky, crispy texture.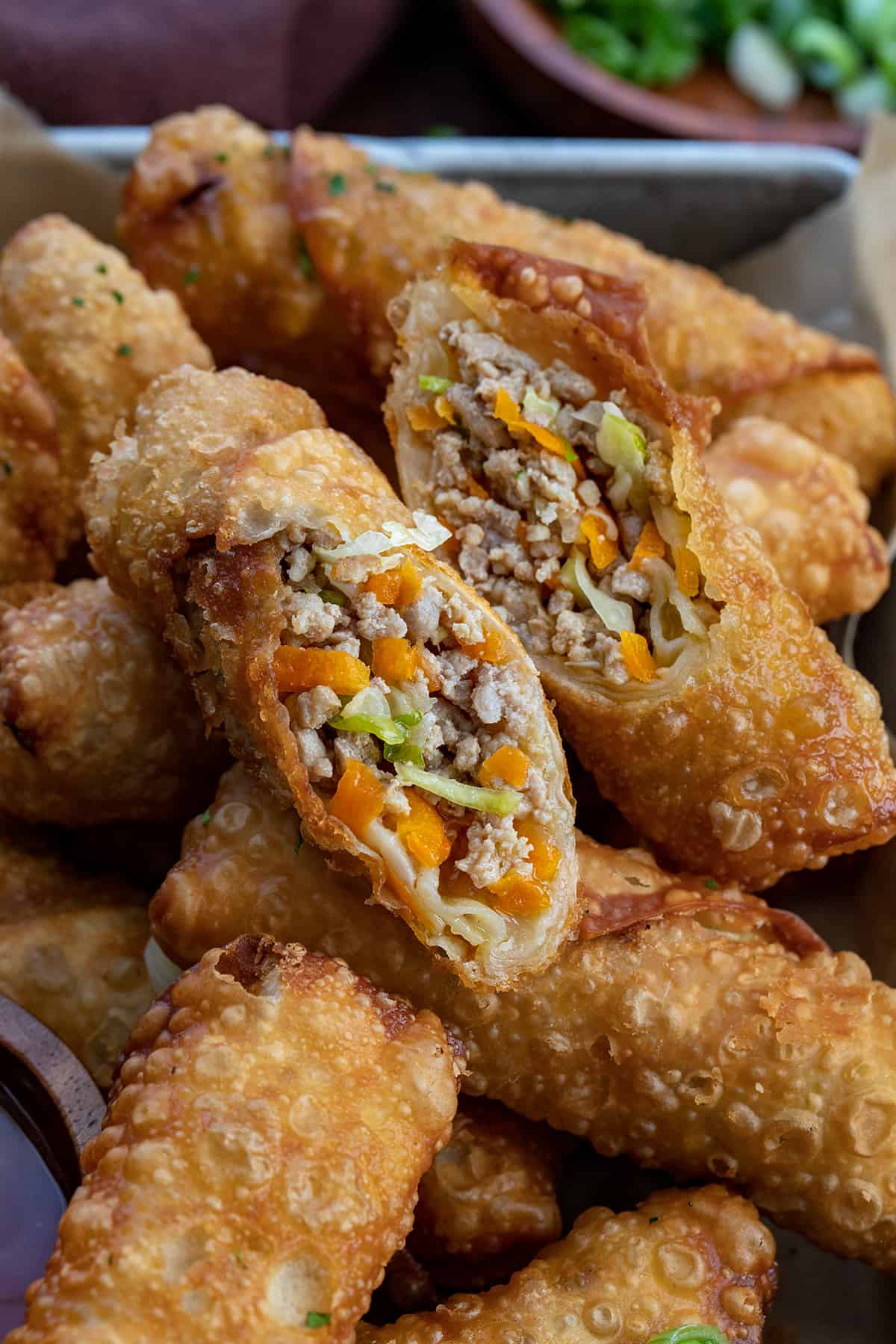 How to Store Homemade Egg Rolls
To store fried egg rolls, first, let them cool completely. Next, wrap each egg roll individually with plastic wrap or aluminum foil. Keep them in an airtight container in the refrigerator for up to 3-4 days. If freezing the egg rolls, store them in a freezer-safe container or bag for up to 2-3 months. Let them thaw in the refrigerator overnight before reheating. To reheat, preheat the oven to 375°F, place the egg rolls on a baking sheet, and bake for 10-15 minutes, or until they are heated through and crispy. It's important to note that while storing fried egg rolls is possible, their texture and flavor may not be the same as freshly made ones.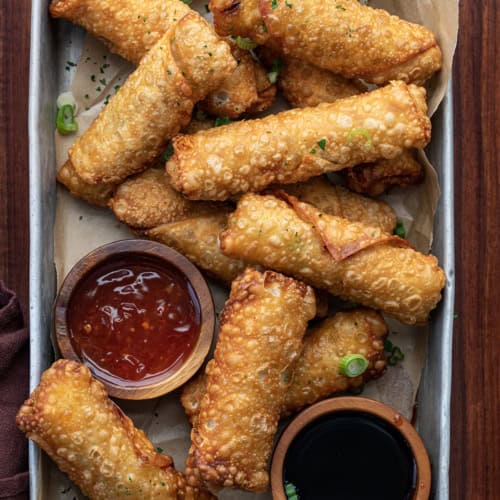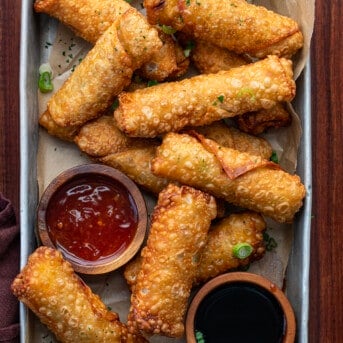 Homemade Egg Rolls
Homemade Egg Rolls start with egg roll wrappers filled with a mixture of vegetables and ground pork, rolled into a cylindrical shape, and fried to a crispy golden brown.
Ingredients
1

pound

ground pork

2

cups

shredded cabbage

1

medium

carrot,

shredded (about ½ cup)

2

tablespoons

soy sauce

1

tablespoon

sesame oil

1

tablespoon

fish sauce,

optional

1

teaspoon

granulated sugar

½

teaspoon

kosher salt

1

tablespoon

fresh ginger,

minced

1

tablespoon

garlic,

minced

1

tablespoon

water

1

tablespoon

cornstarch

15

egg

roll wrappers

canola oil,

for frying
Instructions
Filling
In a medium skillet over medium heat, add ground pork. Cook, stirring occasionally until the pork is browned and crumbly, 5 to 7 minutes.

Add cabbage, carrots, soy sauce, sesame oil, fish sauce, sugar, and salt. Sauté until the vegetables are softened, about 4-5 minutes. Add garlic and ginger and cook for an additional minute.
Assembly
In a small bowl, combine cornstarch and water. Whisk together until combined and set aside.

On a clean work surface, set out 15 egg roll wrappers.

Working one at a time, top each wrapper with ¼ cup of the pork mixture.

To roll, first, wet the edges of the egg roll lightly with the cornstarch mixture, and then fold up the bottom corner to just over the filling and roll once.

Second, fold in the right and left corners of the wrapper to the center, lightly pressing to seal. (You may need to add more cornstarch mixture to the edges and corners to help the wrapper stay folded.) It should now look like an open envelope.

Continue rolling until the filling is fully wrapped inside of the egg roll.

Press to seal.
Frying in Oil*
To a deep pot, add 2-3 inches of canola oil. Heat the oil to 365°F.

Working in batches of 3 or 4, fry egg rolls in the hot oil, turning occasionally, until golden brown and crispy, about 3 minutes. Remove from oil and drain on paper towels. Before frying each batch of egg rolls, check that the temperature is back at 365°F.

Serve with soy sauce, sweet and sour sauce, or chili sauce.
Notes
*Air Fryer Egg Roll Instructions:
Place the egg rolls into the basket of your air fryer. Depending on the size of your air fryer, you may have to work in batches.
Spray the tops of the egg rolls with cooking spray. Air fry at 400°F for 3 minutes.
Flip over the egg rolls, spray the tops again with cooking spray, and air fry for another 3 minutes, or until golden brown and crispy.
*Baking Egg Rolls in the Oven
Preheat the oven to 400°F and line a baking sheet with parchment paper.
Place the egg rolls onto the lined baking sheet and spray the tops of the egg rolls with cooking spray (or brush the tops with oil).
Bake for 15-20 minutes, or until golden brown and crispy.
Did you make this recipe?
You can tag me at @iamhomesteader.