Sweet Chili Sauce, also known as Thai Chili Sauce or nam chim kai, is a versatile condiment that adds a sweet, sour, and spicy flavor to various dishes. It's perfect for dipping, and it goes well with Chicken Wonton Tacos and Bang Bang Shrimp.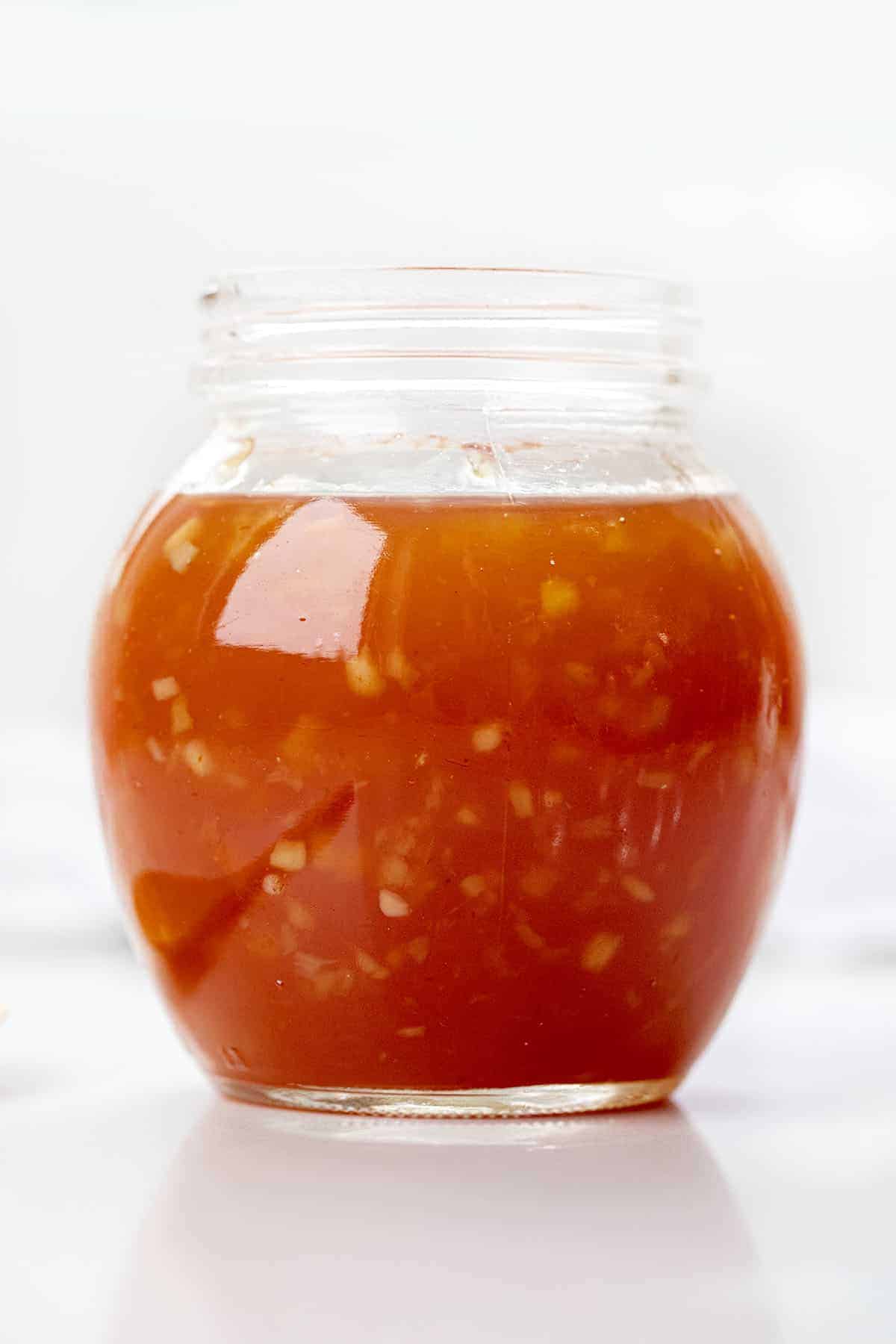 Ingredients & Substitutions
Vinegar: Use rice vinegar in this recipe. It is made from fermented rice and adds just a touch of sweetness. You could get by with white wine vinegar if that is all you have on hand. Do not use distilled white vinegar in this recipe.
Sugar: Granulated sugar gives the sauce its sweetness.
Chili Pepper: Don't forget about the chili pepper in the recipe to give the sauce a little kick. I used a habanero pepper. For even more heat, do not remove the seeds from the pepper. You could also use red pepper flakes or a hotter pepper for a spicier sauce.
Ginger: I peeled the ginger root and finely chopped it. However, in this recipe, you could get using ground ginger. (Pro tip: Use a spoon to peel ginger root; it works the best.)
Slurry: The slurry, made with cornstarch and water, will thicken the sauce.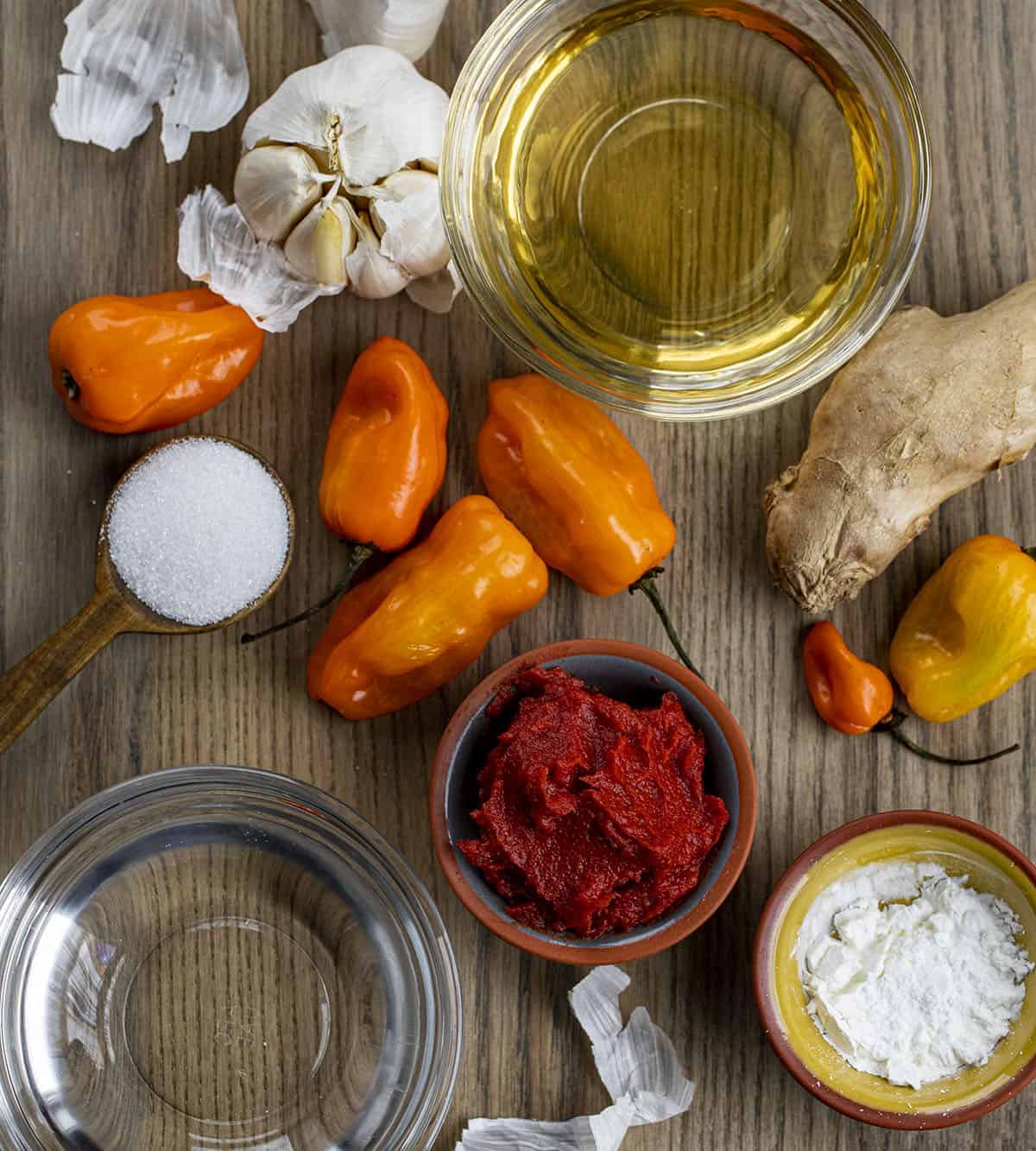 What does Sweet Chili Sauce Taste Like?
Sweet Chili Sauce is a little bit sweet, a little bit sour, and a little bit spicy with the added chili pepper (habanero pepper). It is similar to sweet and sour sauce but has the kick from the habanero pepper. This batch really wasn't too spicy. It does depend on the chili pepper you choose to add to the sauce. The habanero pepper I used in this recipe is rated at medium heat according to the Scoville scale. (This scale will let you know how hot a particular pepper is.) Making this sauce at home definitely lets you fine-tune it to your level of spice, which is one thing I love about homemade sauces. You can enjoy the sauce hot or cold. Try it with my Sweet Chili Chicken, Pork Potstickers, and Cream Cheese Wontons.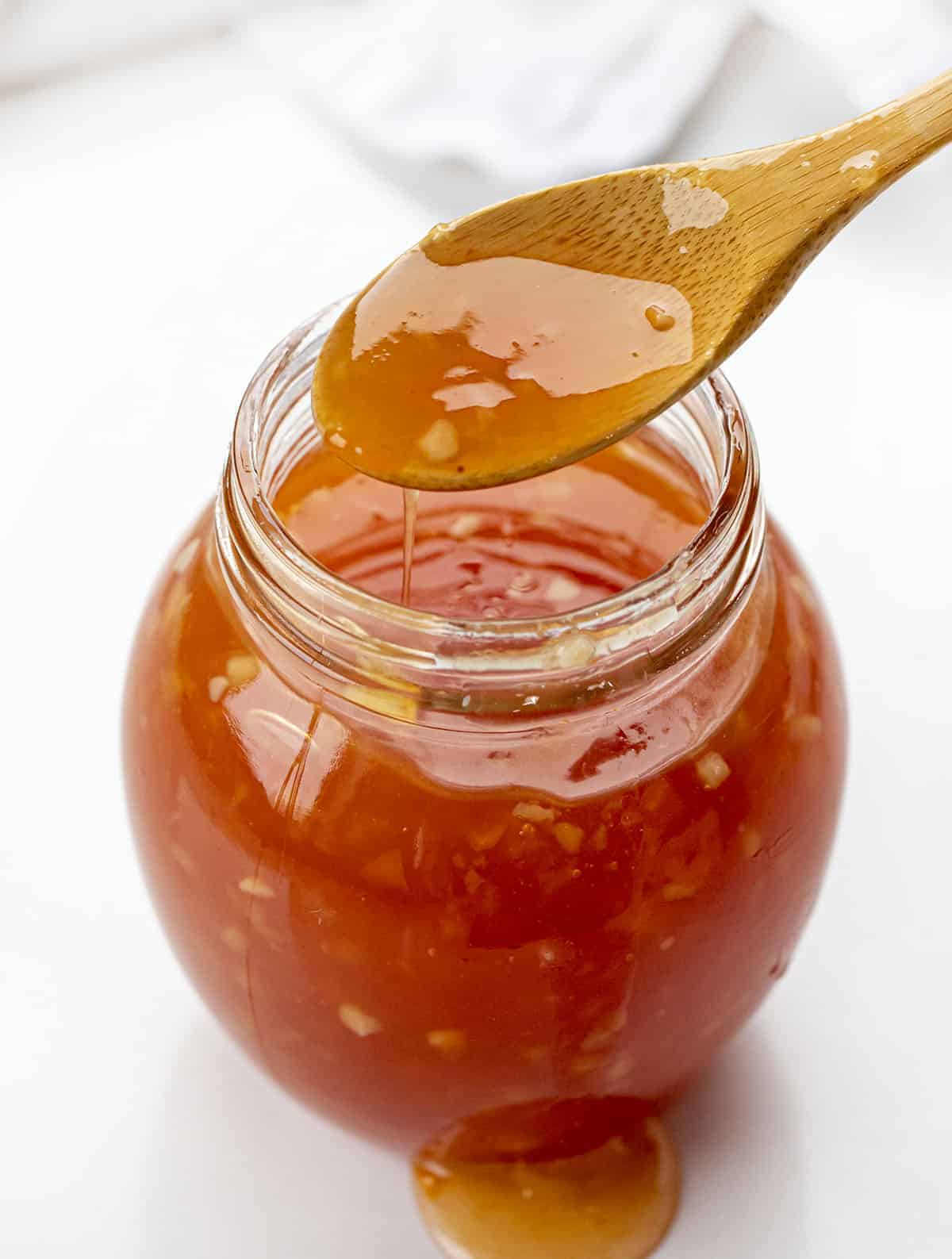 How Thick is the Sauce?
The sauce is thick enough to coat the back of a spoon. And, when you add the slurry and let the sweet chili sauce cool, it will continue to thicken. If you think the sauce is too thick, simply add a little water to it until it reaches your desired consistency. You can also warm it up in the microwave to thin it out a little.
What is the Difference between Sweet Chili Sauce and Chili Sauce?
There is a difference between this sauce and chili sauce. Sweet Chili Sauce is made with chili peppers and sugar, which gives it a sweet flavor. Chili sauce, on the other hand, is more tomato-based, almost like ketchup.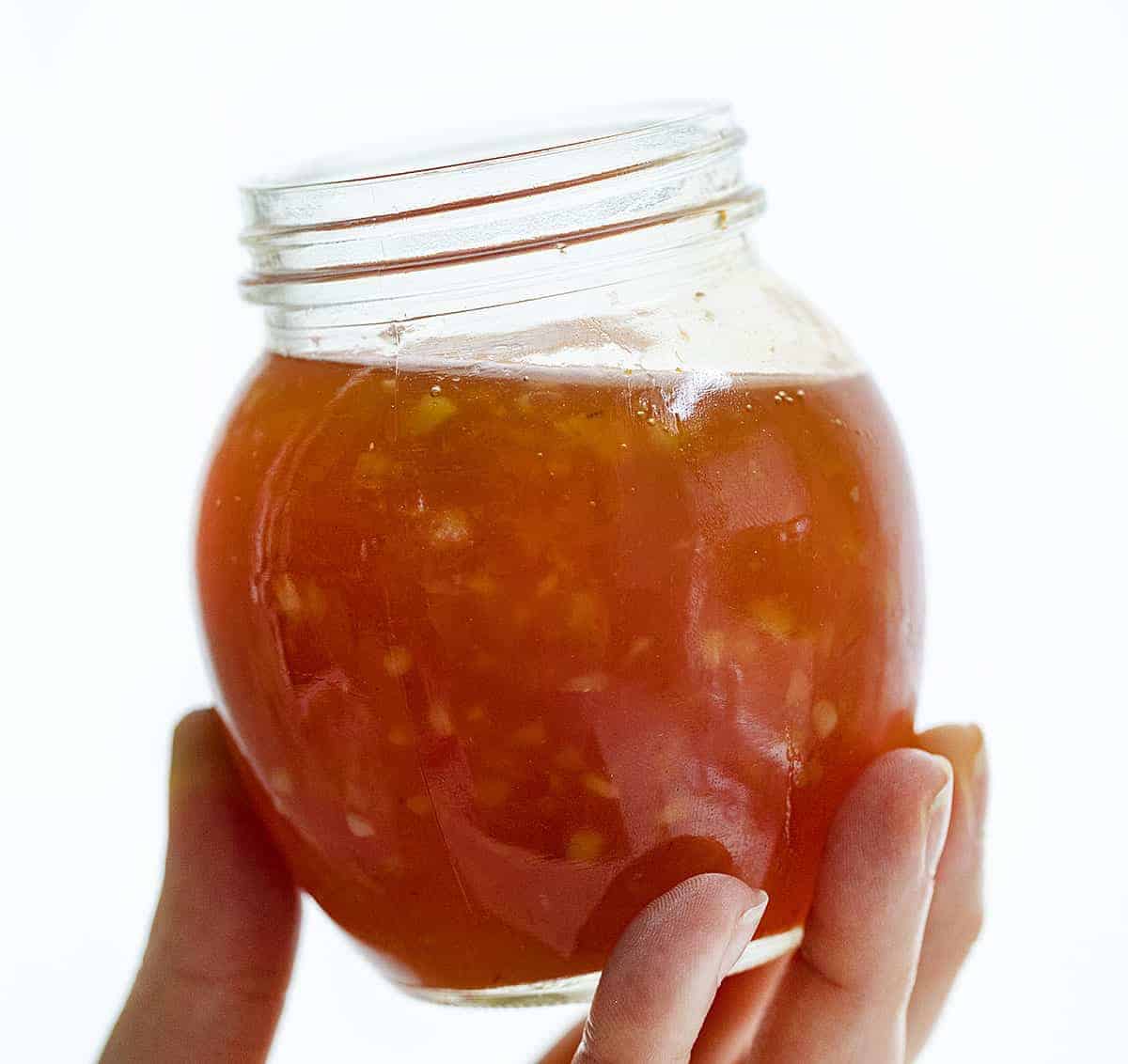 How to Store Sweet Chili Sauce
Sweet Chili Sauce can be stored in a sealed container in the refrigerator for up to a week. It can be enjoyed warm or cold. If you want to warm it up, place some in the microwave for 20-30 seconds, or until it has reached your desired temperature. This batch made about 1 1/2 cups.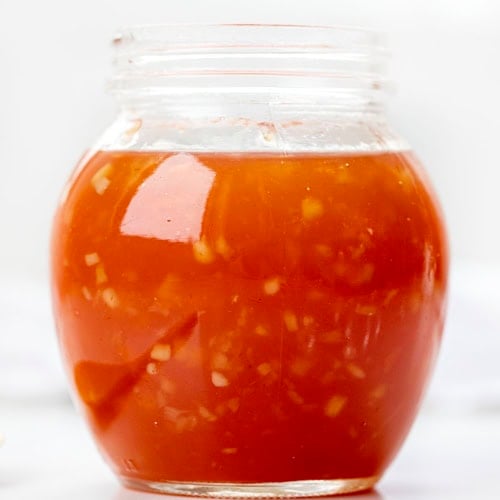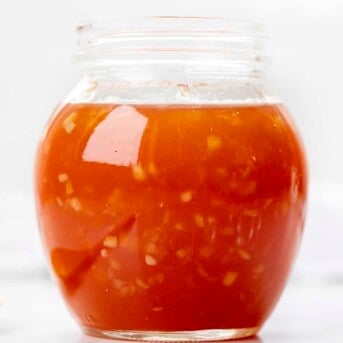 Sweet Chili Sauce
Sweet Chili Sauce is a sweet and spicy thick condiment that can be enjoyed with many foods and is perfect as a dipping sauce, too.
Ingredients
Chili Sauce Mixture
1

cup

(250 g) water

1

cup

(238 g) rice vinegar

¾

cup

(150 g) granulated sugar

2

teaspoons

tomato paste

1

habanero

pepper,

finely diced (about 2 teaspoons)

2

teaspoons

fresh ginger root,

minced

1

teaspoon

garlic,

minced
Slurry
1

tablespoon

cornstarch

1

tablespoon

water
Instructions
In a medium saucepan over medium-high heat, add water and vinegar.

Add sugar, tomato paste, chili (habanero) pepper, ginger, and garlic. Stirring frequently, boil for about 10 minutes, or until the sugar is fully dissolved.

In a small dish, combine cornstarch and water to create a slurry. Stir together until no clumps remain.

Pour the slurry into the saucepan and stir to combine. Continue to cook the sauce, stirring occasionally, for about 8-10 minutes. The mixture will thicken slightly and should coat the back of a spoon. (Don't worry if the mixture is still somewhat thin; it will continue to thicken as it cools.)

Remove from heat and allow the mixture to cool. If you feel like it is too thick after cooling, whisk in ½ teaspoon of water to thin it out as desired. It can also be thinned by warming the sauce slightly in the microwave at 20-30 second intervals, stirring in between.

Store Sweet Chili Sauce in the refrigerator for up to a week. Serve warm or cold.
Did you make this recipe?
You can tag me at @iamhomesteader.