Homemade Cream Cheese Wontons are wonton wrappers filled with a cream cheese center and fried to perfection for a perfect appetizer. If you are feeling up to it, you can even make your own homemade wonton wrappers! For another dish as good as any takeout, try my Easy Spicy Pork Noodles.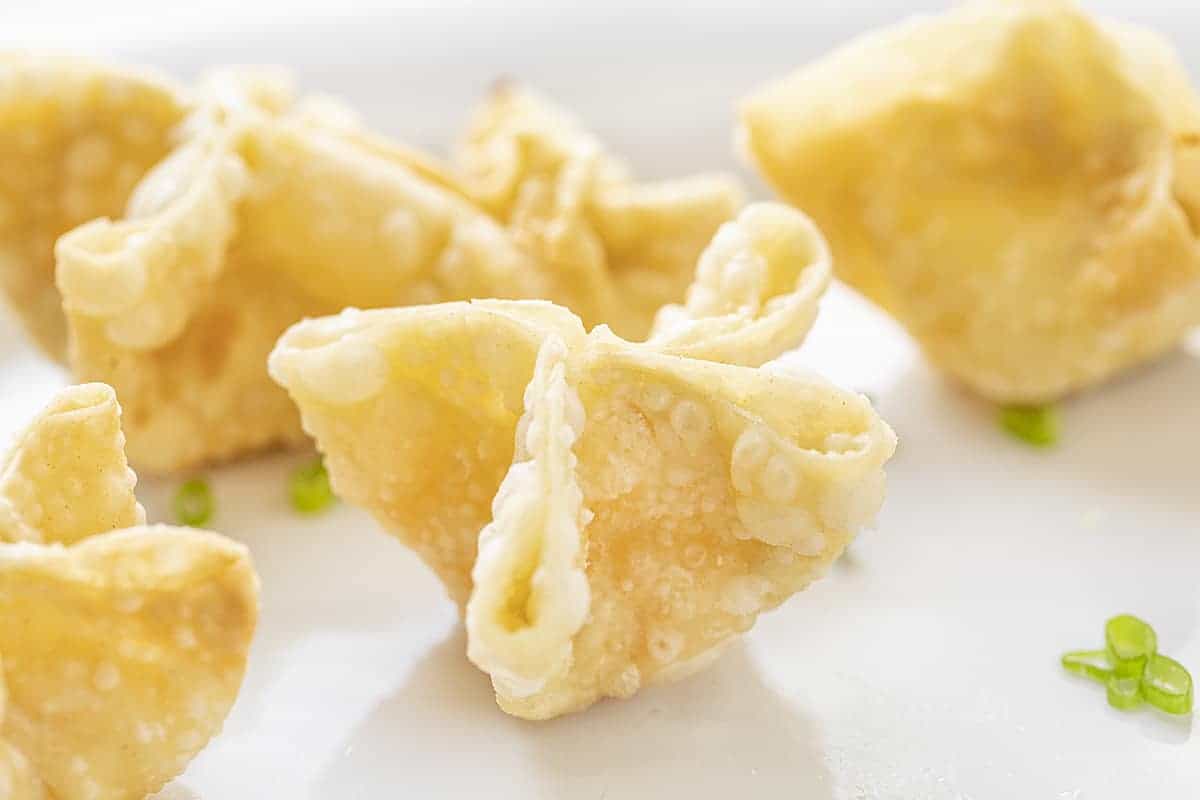 Cream Cheese Wontons
Wontons originated in Northern China and wontons were considered sealed buns. The original name was 'huidun', meaning chaos. Eventually, the term was changed to wonton as the Chinese writing characters were starting to form.
Wontons are similar to dumplings, but the wonton wrappers are usually thinner than dumplings and are square in shape. Wontons are often boiled in soup and can be stuffed with both savory and sweet fillings. I used a cream cheese mixture to be wrapped up in this cream cheese wonton recipe. Dip them into homemade Sweet Chili Sauce for the perfect complement to the cream cheese filling. I also have Air Fryer Buffalo Chicken Wontons you may want to try!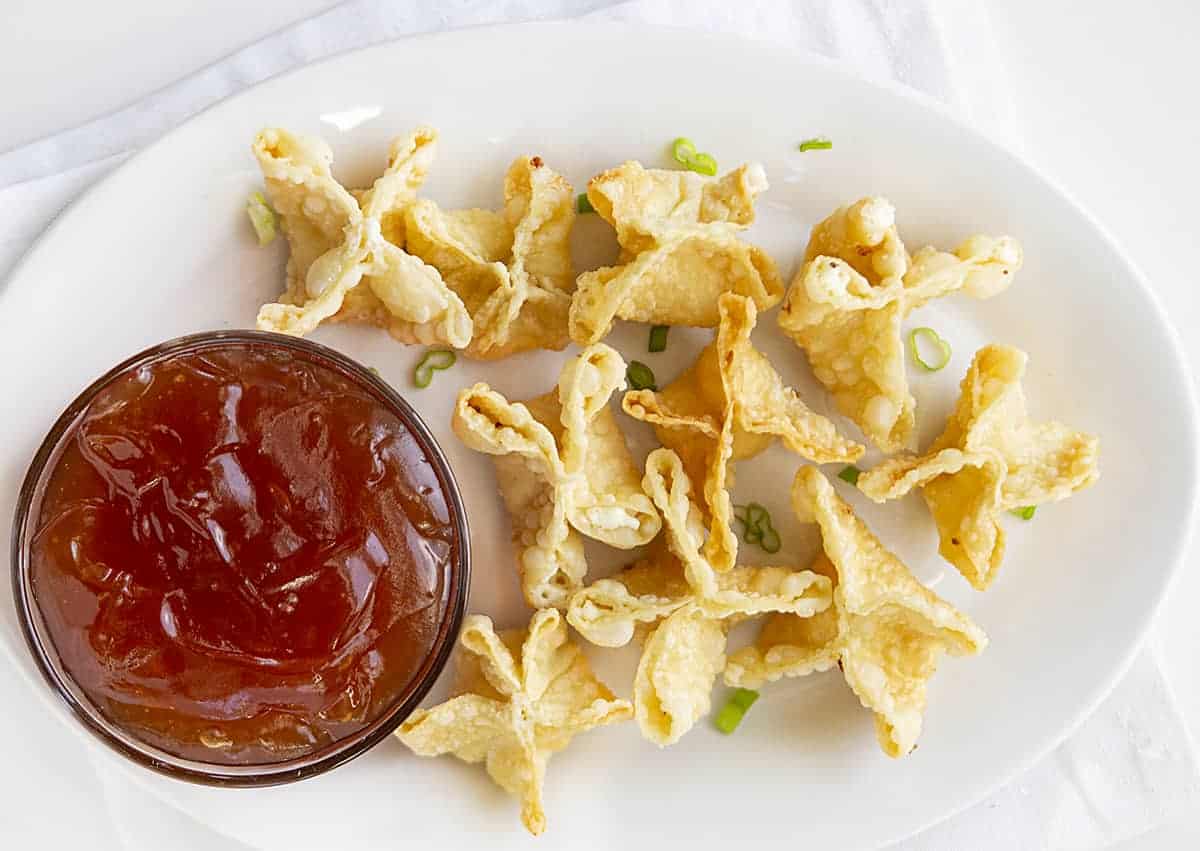 Cream Cheese Wontons Recipe
In just a few minutes, you can have these cheesy wontons fried to perfection for a rich and flavorful appetizer. You will be frying these in vegetable or canola oil. If you have any leftover oil after frying, don't just throw it out; be sure to check out my How to Clarify Used Cooking Oil so you can use it again!

Frying Cream Cheese Wontons
To fry the wontons, fill up a deep pan with about 2 inches of oil. Heat up the oil over medium heat until the oil reaches a temperature of 350°F. Use a candy thermometer or deep-fry thermometer to check the temperature. If you don't have a thermometer, it usually takes 12-15 minutes for the oil to reach a temperature of 350°F. You can always try a few testing methods as well:
One method to test the oil temperature is to put the handle of a wooden spoon into the hot oil. The oil will start to bubble steadily when it's good to go. If you are seeing the oil bubbling like crazy, it's too hot and needs to cool down a bit. If there are only a few to no bubbles, it's not hot enough.
Another method is using a 1-inch square of bread. Carefully put the bread into the oil and if it browns in 60 seconds, the oil is ready.
My favorite method is the popcorn test. Put a kernel of popcorn into the pan of oil as soon as you begin heating up the oil. As soon as that kernel pops, the oil is ready!
Once the oil is ready, place 4-5 wontons into the hot oil and leave them in the oil for 2-3 minutes. Remove the wontons with a slotted spoon and let them rest on paper towel-lined wire racks. Finish frying the rest of the wontons, but make sure the oil is still the right temperature. Each time you fry a group of the wontons, the oil will cool down a bit, so just be aware of that. Enjoy them warm with some homemade sweet and sour sauce!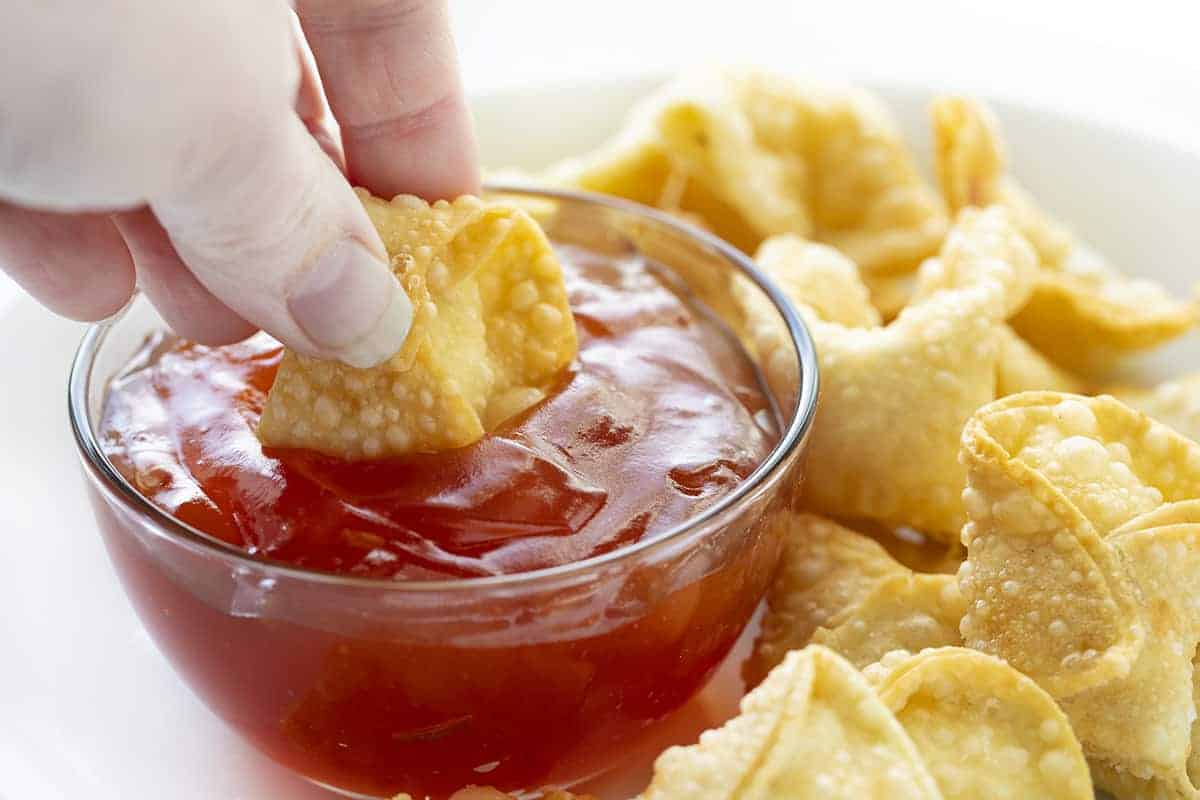 Can I Make Wontons in an Air Fryer?
Sure! You will work in batches. Either place parchment into your air fryer or spray with a non-stick spray. (Check your air fryer manual to see what is the suggested method. Some also recommend doing nothing and placing the food directly onto the basket or tray.)
Spread the wontons into a single layer (slightly touching is okay) and spray with olive oil or a non-stick oil-based spray. Cook at 375°F for 8-10 minutes. If you want them golden and crispy, the full 10 minutes is recommended.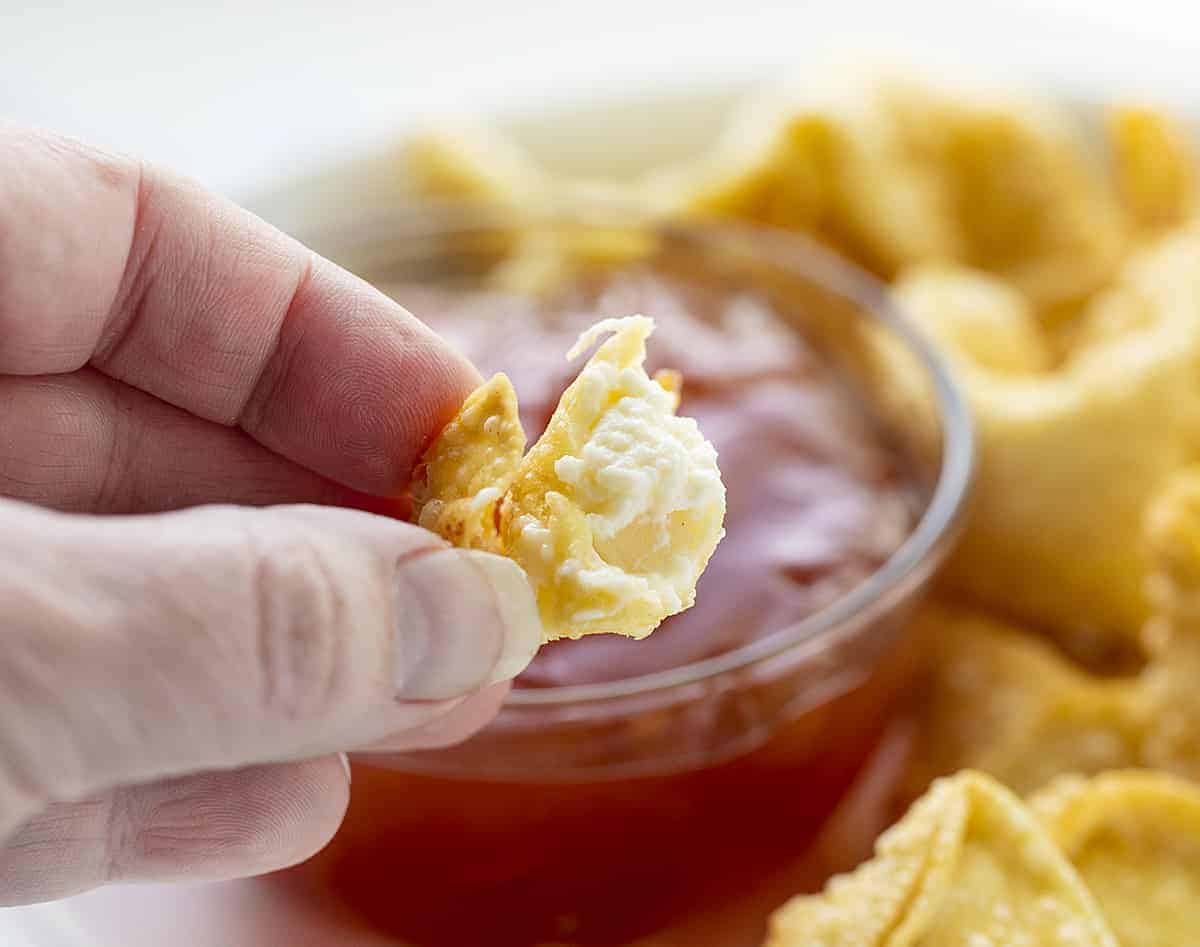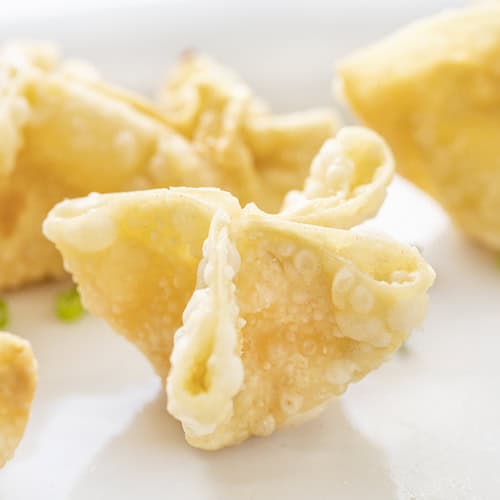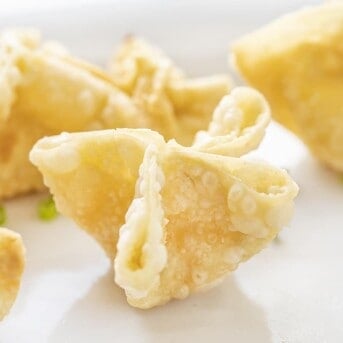 Homemade Cream Cheese Wontons
Cream Cheese Wontons are easy to put together for a rich and creamy deep-fried appetizer.
Ingredients
1

package

(8 ounces) cream cheese

1

medium

shallot,

diced

2

tablespoons

granulated sugar

1

large

egg,

plus one tablespoon of water whisked together

1

package

wonton wrappers,

storebought or 24 homemade wontons

Vegetable or canola oil,

for frying
Instructions
In a medium bowl, mix together the cream cheese, shallot, and sugar until well combined.

In a separate bowl, whisk the egg with 1 tablespoon of water.

In the middle of each wonton, place about 2 teaspoons of the cream cheese mixture in the middle. (Be careful to not overfill the wontons so they don't burst while frying.)

To fold your wontons, dip your finger in the egg wash and rub it around the edges of the wrapper, folding it into a half-moon shape. I used circular wrappers for this recipe, but the same folding method will work on a square wrapper. After you have folded the wrapper in half, sealing it, dab more egg wash on the corners. Bring the two corners together for the final seal. 

Fill a deep pan with about 2 inches of oil. Heat over medium heat until the oil reaches 350°F with a candy thermometer.

Place 4-5 wontons in the oil at a time and let fry for 2-3 minutes, or until golden brown.

Transfer to a paper towel-lined cooling rack to let any excess oil absorb into the paper towel. Repeat with the remaining wontons, begin sure to check the temperature of the oil throughout the process. Enjoy them warm with your favorite sauce.
Did you make this recipe?
You can tag me at @iamhomesteader.