Easy Spicy Pork Noodles are as easy to make as they are to eat! Don't let the easy part fool you. This delicious dish is packed with protein and flavor, all mixed together with ramen noodles. If you want another delicious dinner recipe that is as good as takeout, try my Healthy Kung Pao Chicken.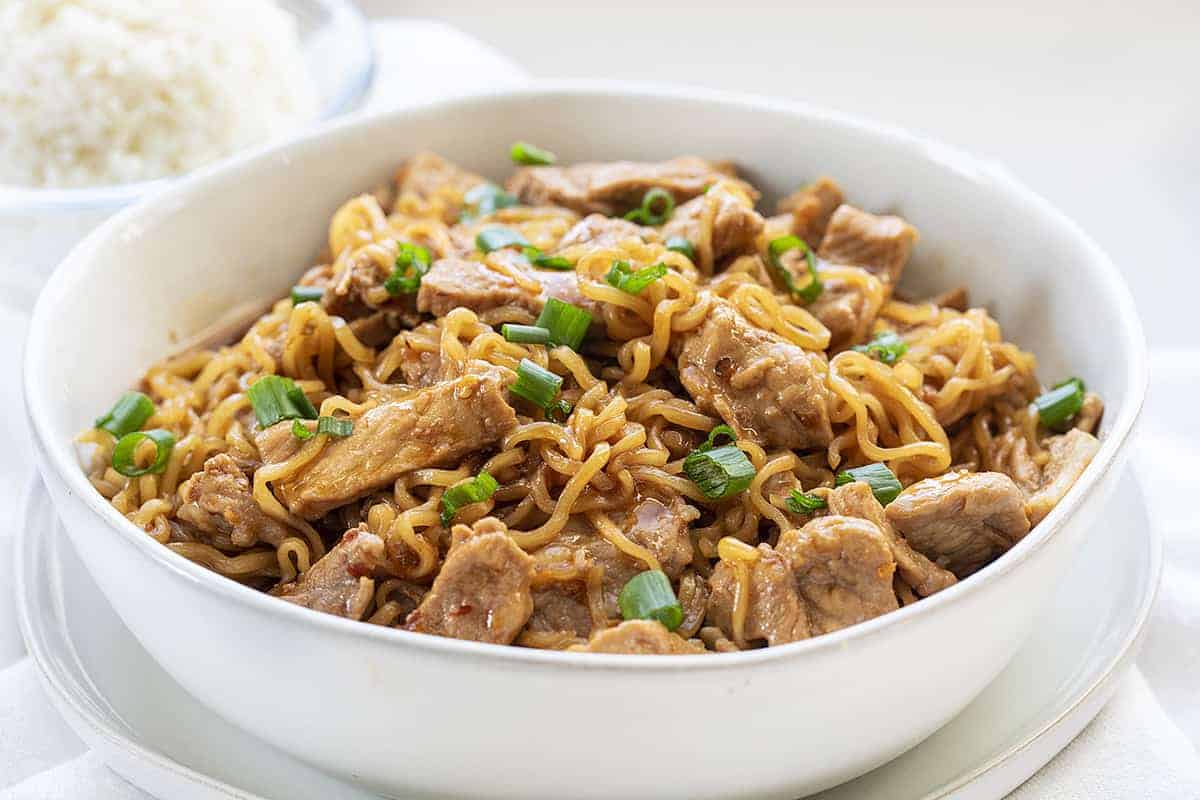 Easy Spicy Pork Noodles
Ramen noodles have a reputation of being stacked in college students' rooms, eaten for most meals. I admit I went through a few packages of the noodles myself😊. I happen to love them, and when I decided to use them for this Easy Spicy Pork Noodles recipe, I actually loved them even more! So, when you see how easy this meal is to make, you will stock up on the noodles again, just like old times.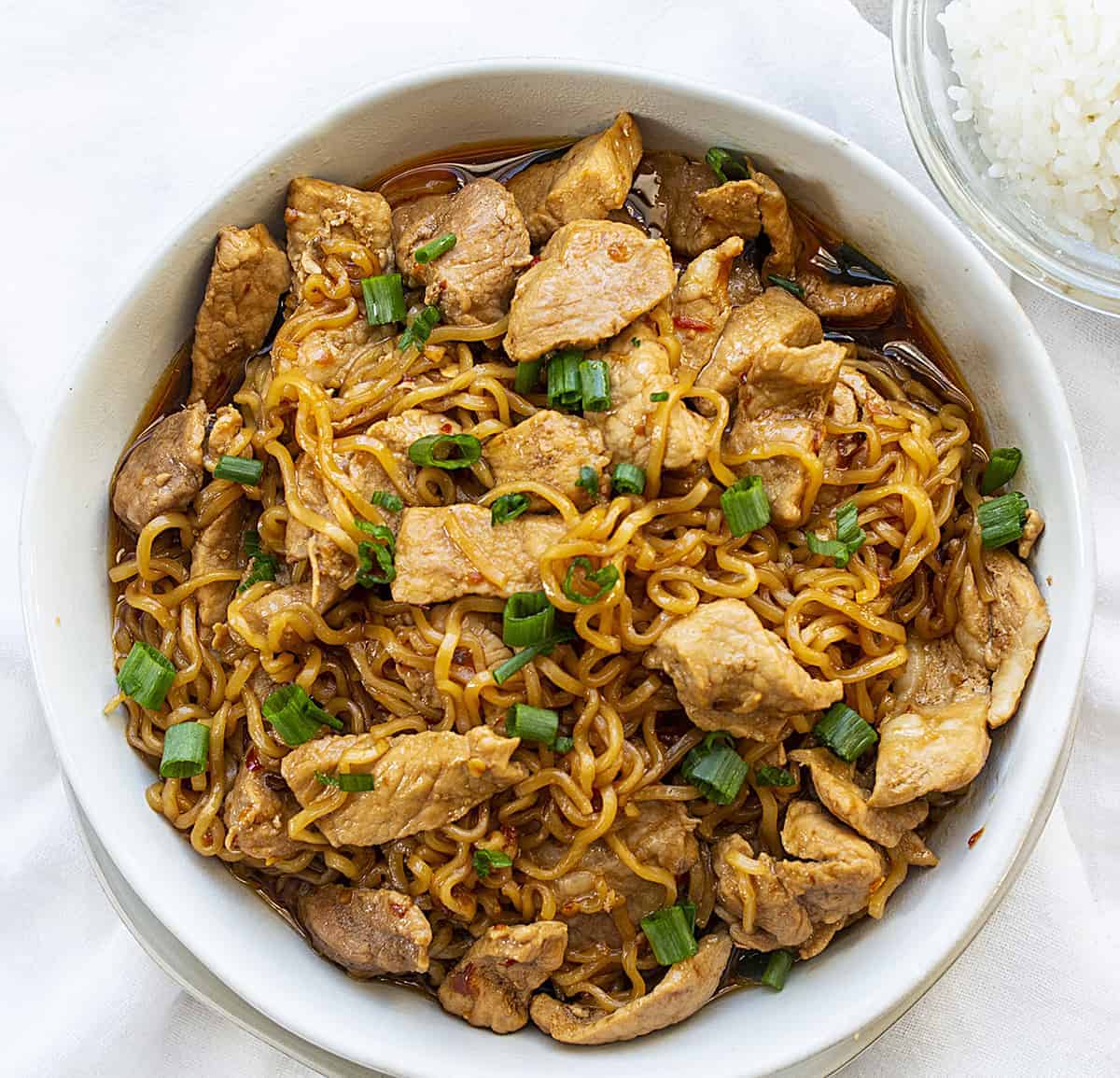 Easy Spicy Pork Noodles Recipe
As I have mentioned, this recipe is easy to make, yet so delicious to eat! It's as good as any takeout you might order, and it can be on the table in just a few minutes.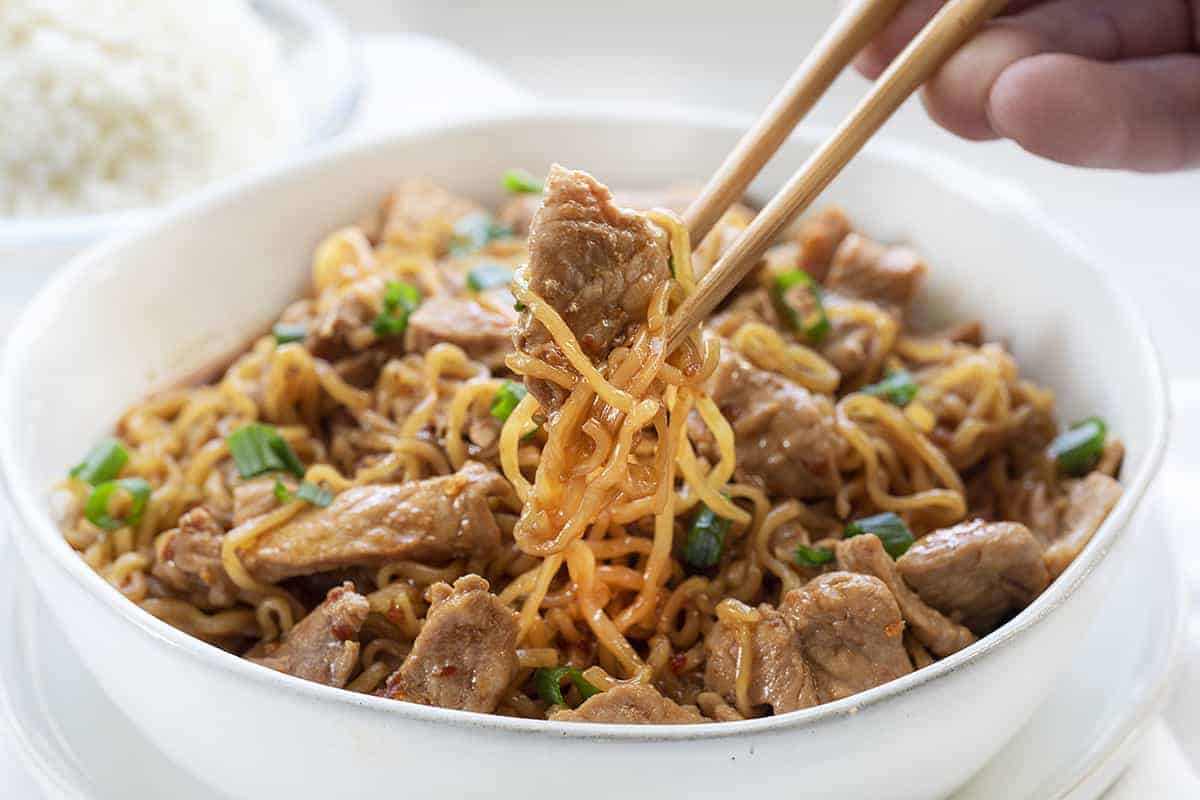 How to Make Easy Spicy Pork Noodles
Once you have your ingredients out and ready to go, it's a matter of getting all that flavor mixed together. First, cook the ramen noodles, but do not add the flavor pack (if there is one). They usually take about 3 minutes in boiling water. Drain the noodles and set them aside.
Meanwhile, in a large skillet, heat up the oil and cook the sliced pork loin in the heated oil until it has been browned. Then, add the garlic and cook it for about a minute. Next, add the brown sugar, soy sauce, and chili garlic sauce to the skillet, stirring to combine. Reduce the heat to medium-low, cover the skillet, and let the ingredients simmer for about 5 minutes. Finally, mix in the boiled noodles and serve! You can add green onions to the top if you wish.
How to Slice the Pork
I have emphasized slicing the pork very thin, but what does that mean exactly? If you can't buy it already sliced, you can definitely do it on your own. First, place the cut of meat into a freezer-safe bag and freeze the meat for about an hour. If you are letting the meat thaw from a frozen state, don't let it get completely thawed out before slicing it. You want the pork to be easy enough to cut through, but still have some firmness to it. Grab a sharp knife and carefully slice pieces about 1/8-inch thick and set aside until you have all the meat sliced. You can use the meat immediately, or you can wrap the pieces in plastic wrap, seal in a freezer-safe bag, and store in the freezer until you are ready to use them.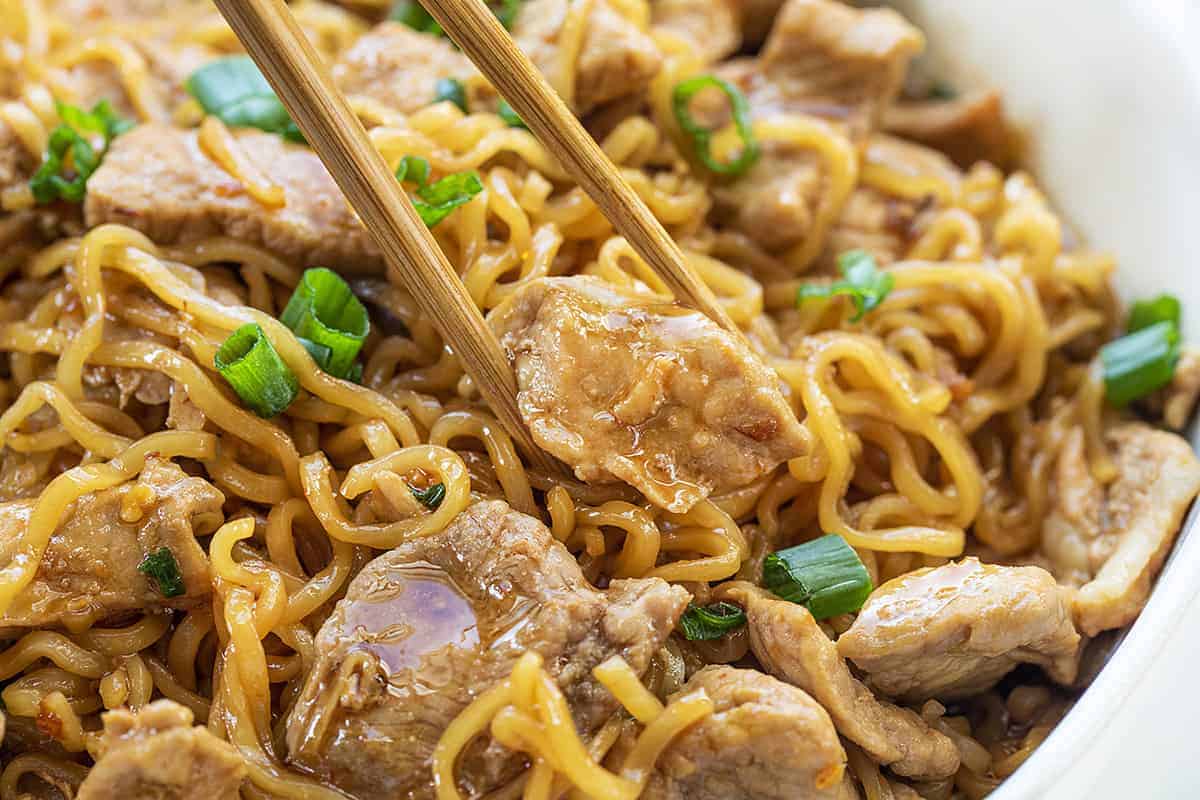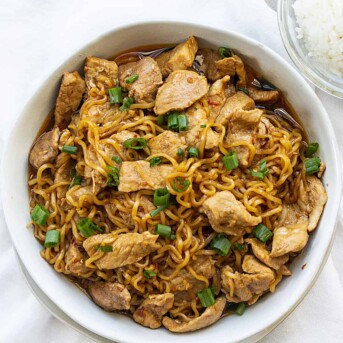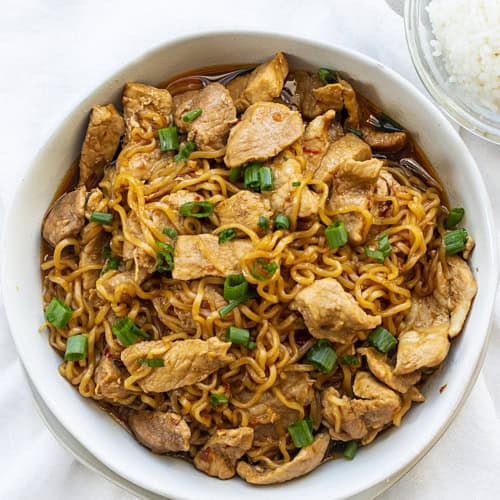 Easy Spicy Pork Noodles
Spice up your ramen noodles with this Easy Spicy Pork Noodles recipe!
Ingredients
1

tablespoon

extra virgin olive oil

1

pound

pork loin,

sliced very thin

1

clove

garlic,

minced

⅓

cup

brown sugar

½

cup

soy sauce

1

tablespoon

chili garlic sauce

6

ounces

ramen noodles,

any flavor

1

tablespoon

green onions,

sliced
Instructions
In a medium saucepan, boil water. Add noodles (not the flavor packet if included) and cook for 3 minutes. Drain the noodles and set them aside.

In a large skillet over medium heat, heat oil until it sizzles. Add sliced pork and cook until just brown.

Add garlic and cook until fragrant (about 1 minute).

Add brown sugar, soy sauce, and chili garlic sauce. Stir to combine.

Reduce heat to medium-low, cover and simmer for 5 minutes.

Add noodles and stir to combine.

Serve immediately, garnished with green onions.
Did you make this recipe?
You can tag me at @iamhomesteader.