If you love French Onion soup or any sort of French onion flavor, you will LOVE this French Onion Stuffed Pork Loin! It is one of my favorite pork dishes I have made in a while! Try my French Onion Chicken Macaroni and Cheese for another dish that is loaded with French onion flavor.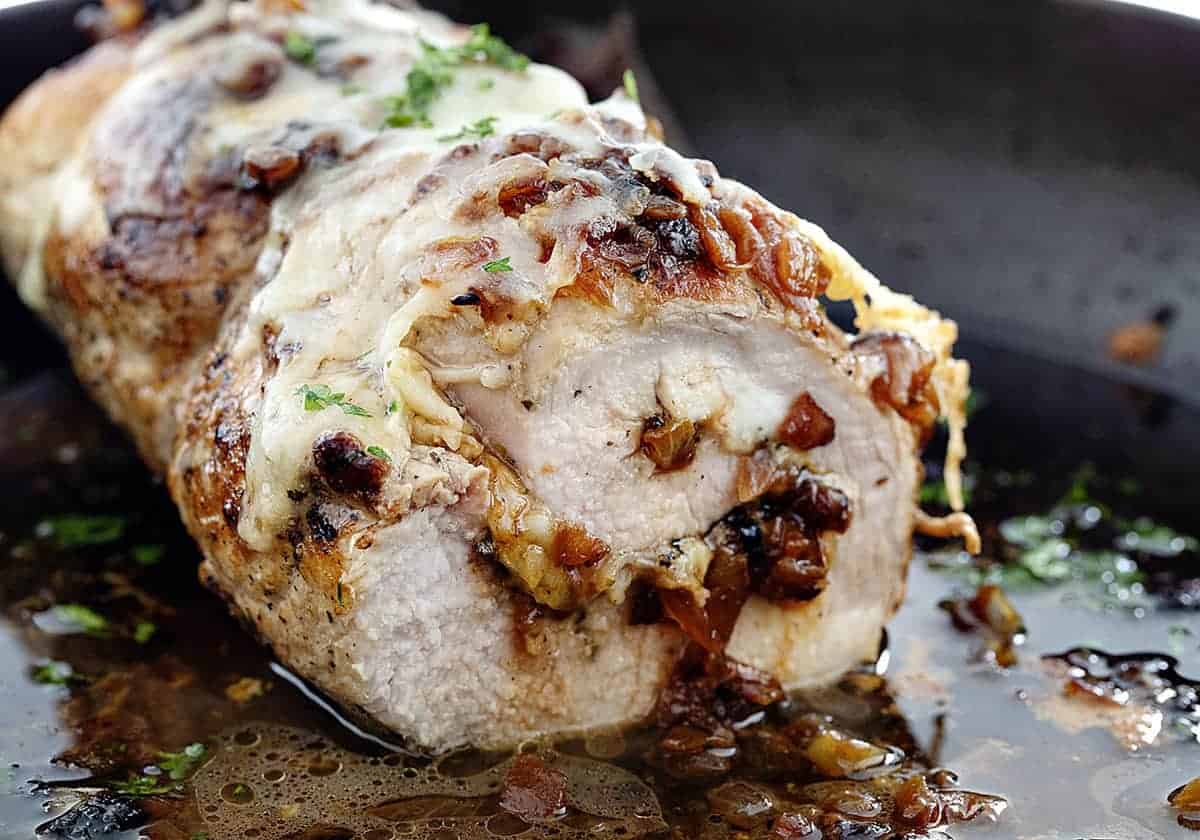 French Onion Stuffed Pork Loin
I don't know how to convince you enough to make this French Onion Stuffed Pork Loin recipe. I thought about using all caps to get my point across, but I didn't want you to think I was yelling. But, I really want to yell it from the mountaintops, 'MAKE THIS RECIPE!' It has to be one of the tastiest pork recipes I have ever tried! French onion flavor is perfect for the fall season and cooler temperatures, and it is beyond perfect for a pork loin. For another flavorful pork loin recipe, don't miss out on my Honey Garlic Pork Loin!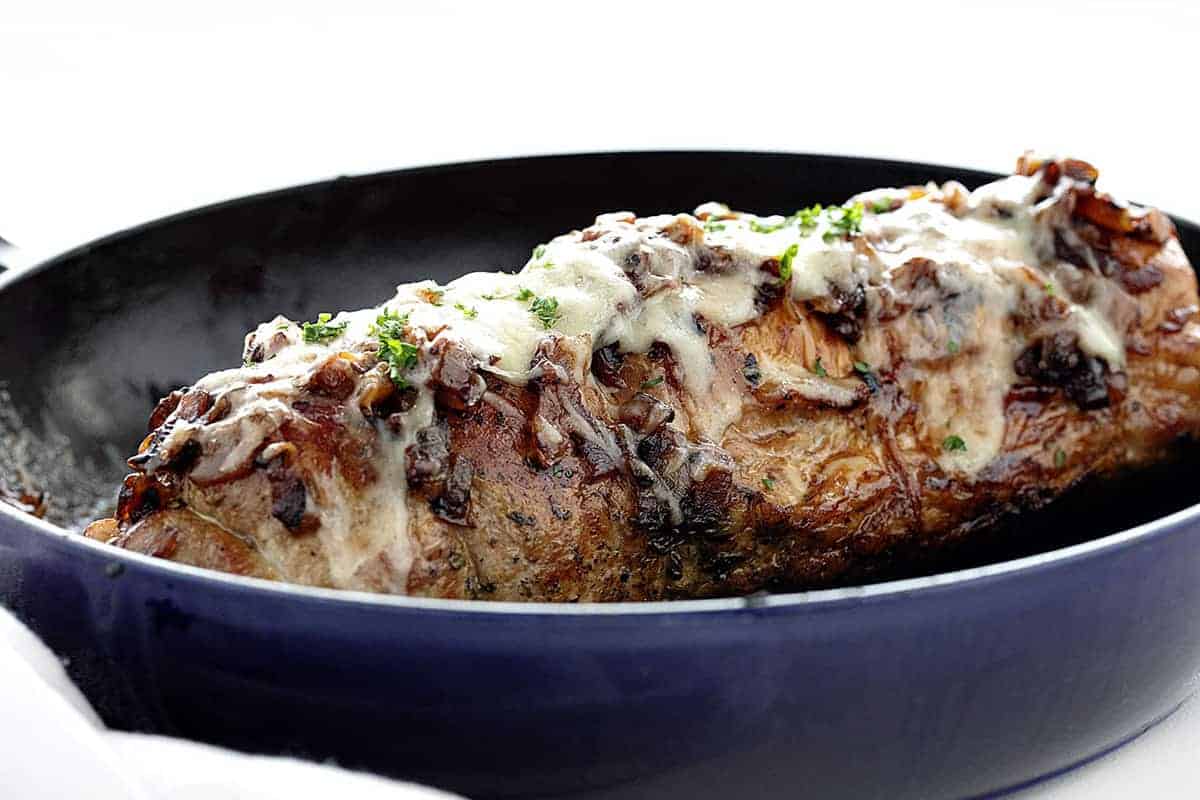 French Onion Stuffed Pork Loin Recipe
In this French Onion Stuffed Pork Loin recipe, I used a center-cut pork loin, not a pork tenderloin. Although the names are very similar, the cuts of meat are actually quite different. Both cuts of meat are very lean and healthy, but the size and cooking times are quite a bit different. The center-cut pork loin is quite a bit larger than a pork tenderloin. For this recipe, I used a 3-pound pork loin.
Center-cut pork loin is one of the leanest cuts of meat, so be careful about choosing one. The redder the meat, the leaner it is, but also the tougher it is. I recommend choosing a pork loin with a more pinkish color with some white streaks. Don't be fooled if you see a pork sirloin. That is a different cut of meat that is not as tender or lean as a pork loin or tenderloin. Who knew there were so many cuts of pork?!? I didn't even begin to mention the ribs, pork shoulder, pork butt, ham, etc!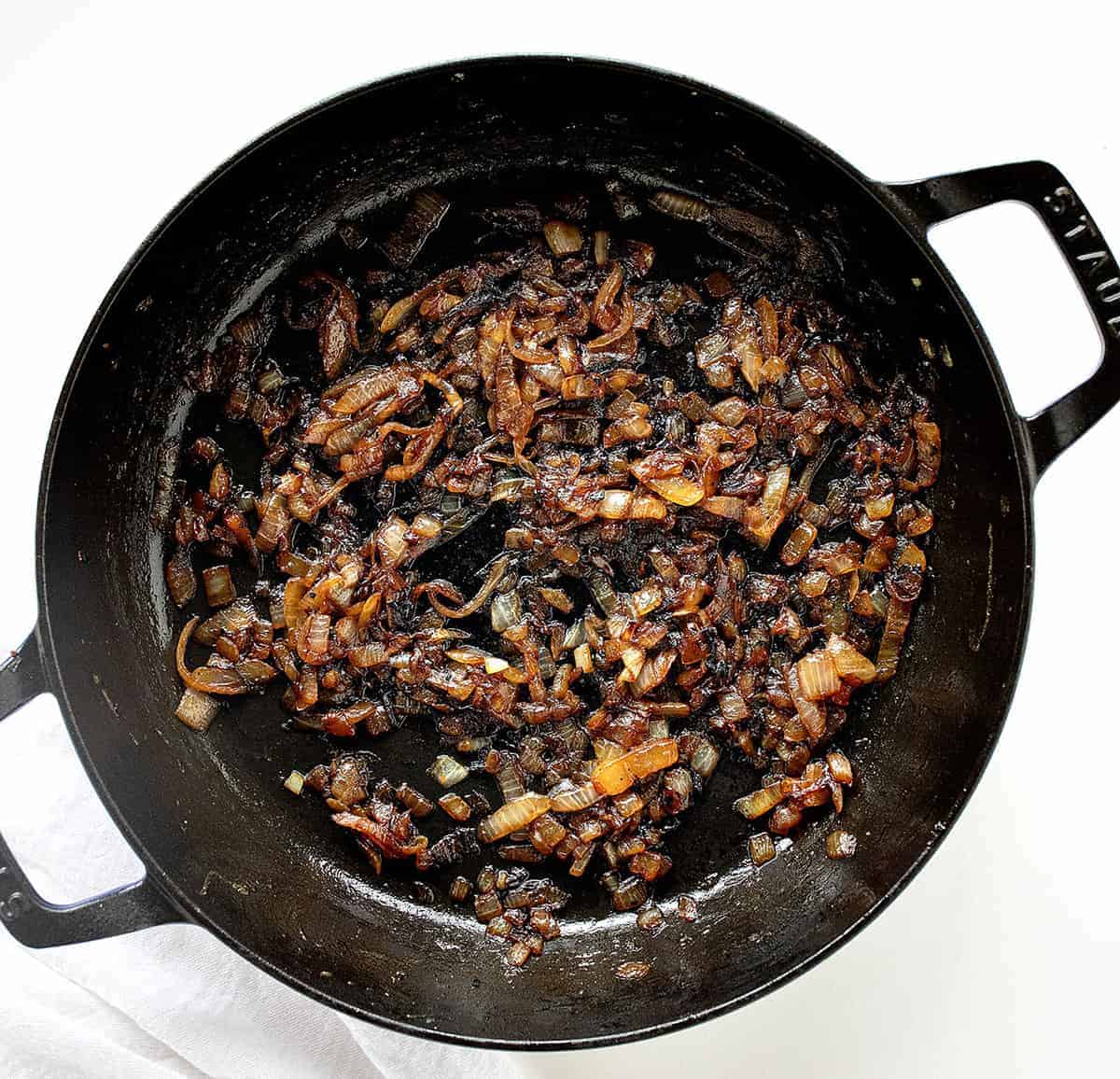 How to Make French Onion Stuffed Pork Loin
With the popularity of my Jalapeno Popper Pork Loin, I knew I had to make another stuffed pork loin, and I am so glad I did! The French onion flavors that are bursting from this recipe are amazing! (Are you starting to sense my excitement over this recipe)? It's all about the onions and the cheese.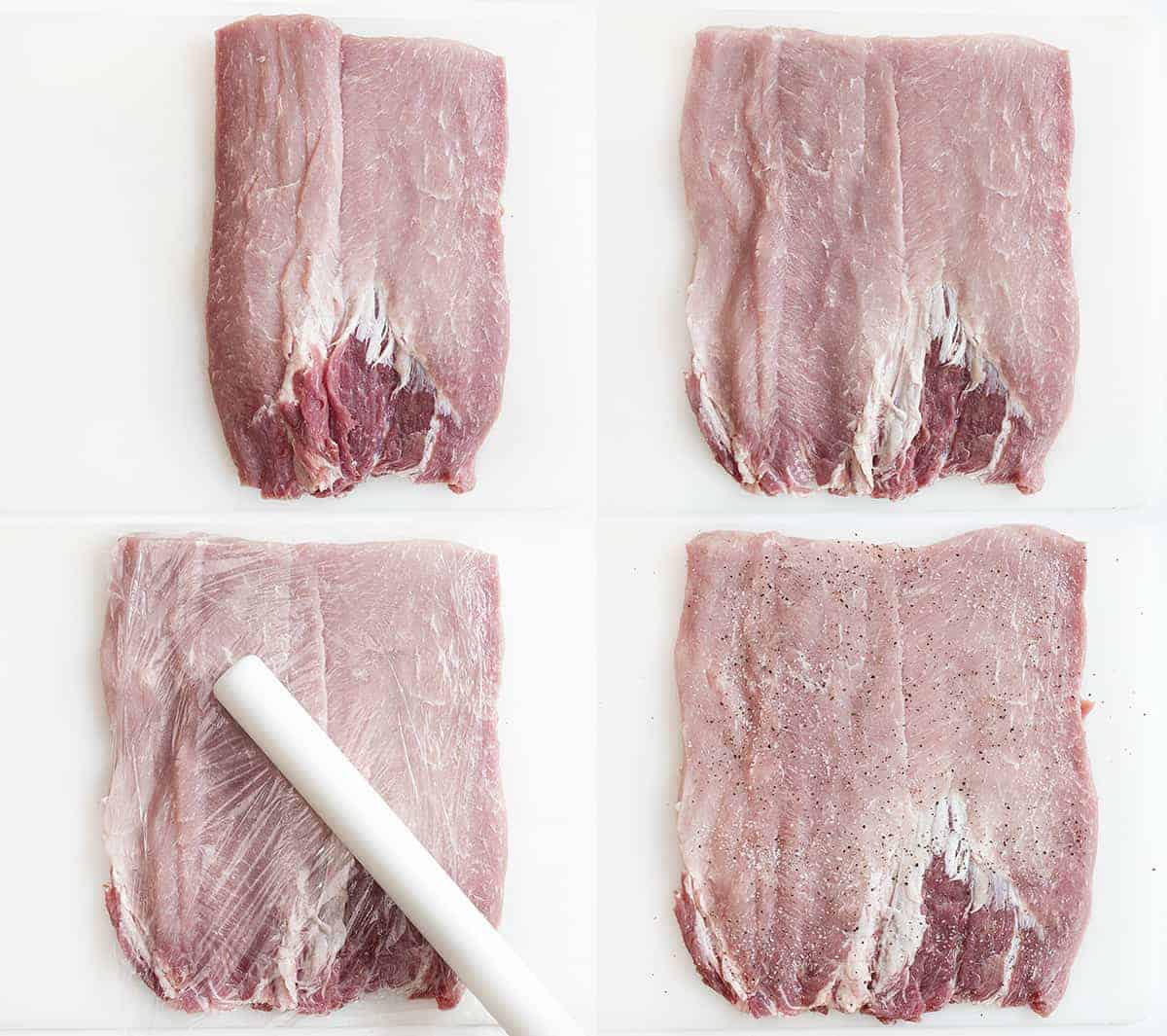 To see how I butterfly pork loin, check out the VIDEO in my Jalapeno Pork Loin!
Preheat the oven to 450°F while you brown the onions. This will take about 20 minutes. Cook the onions in an oven-safe, large skillet. The pork loin will be going back in there. Be sure to keep the cooked onions warm by putting an aluminum tent over them while you prepare the pork loin. Before butterflying the loin, mix the oil, salt, pepper, and Italian seasoning in a bowl. This will be rubbed on both sides of the loin.
To butterfly the pork loin, use a sharp knife to make a horizontal cut about one-third of the way up from the bottom of the loin. Flip open the thicker, top flap (like opening a book). Then, take the knife and cut another horizontal line through the thicker part of the loin to open it up even more (like a trifold). You should now have a flat surface of meat that will hold the flavor of the French Onion Stuffed Pork Loin. Put a piece of plastic wrap over the laid out pork loin and pound it out to about a 1/3 inch thickness all the way around. The more even the loin is, the more evenly it will cook. Once the pork loin has been butterflied, rub both sides with the oil mixture.

How to Stuff, Roll, and Sear your French Onion Stuffed Pork Loin
Remember 'Stop, Drop, and Roll'? Well, it's 'Stuff, Roll, and Sear' for today. Top the pork loin with half of the cooked onions and half of the shredded cheese. It's ready to roll! Roll up the pork loin, making sure you wrap up all that goodness inside! Then, using cooking twine, tie the rolled pork loin up to hold in all the ingredients. I used four pieces of twine if that helps. Next, sear the pork loin on all sides, using the oven-safe skillet that you used for the onions. I know it's rolled up, so what do I mean by sides? Simply rotate it about four times to get as much of the loin seared as possible.
Next, cook the pork loin for about 25-30 minutes, making sure the internal temperature is at 145°F. Don't worry, I did not forget about the other halves of the onions and cheese. Top the loin with both and broil for about 5 minutes, or until the cheese is melted and golden brown. Enjoy!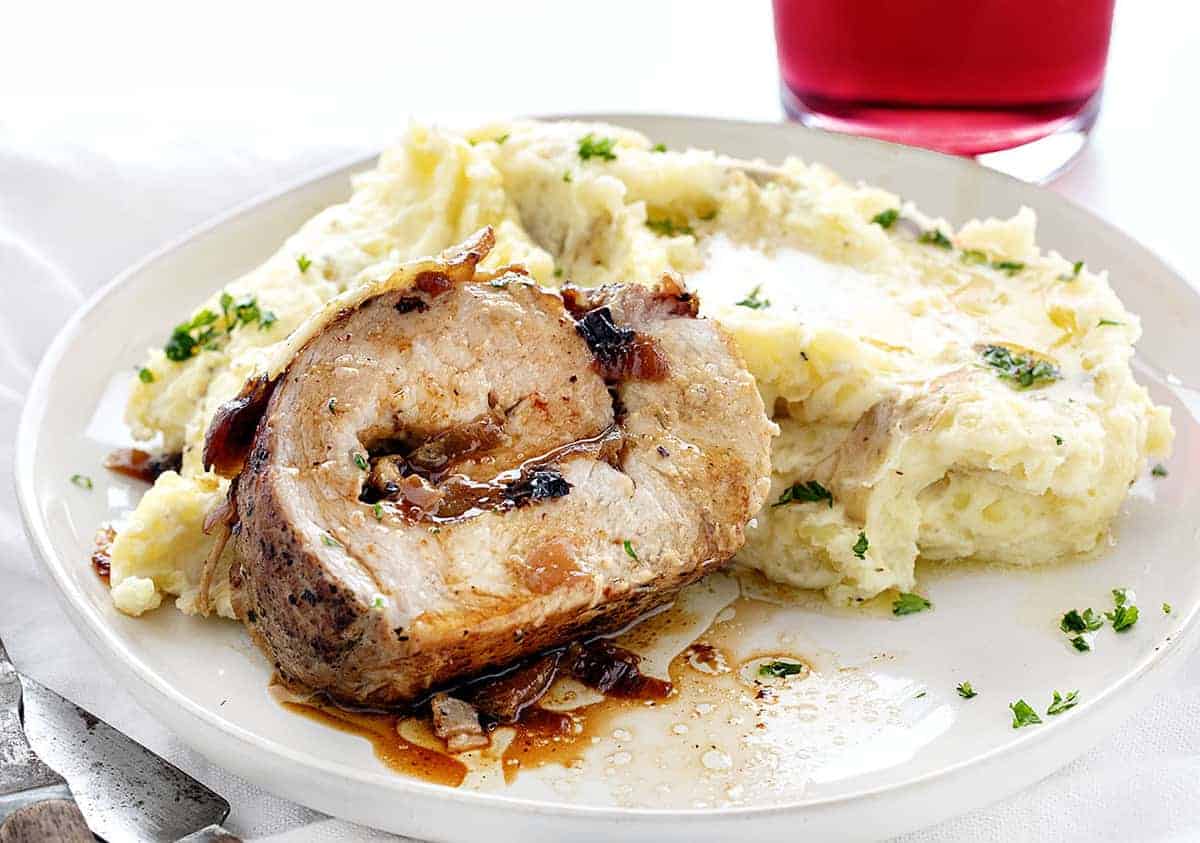 How to Store & Reheat Pork Loin
Refrigerate the pork loin in an airtight container or wrap tightly with heavy-duty aluminum foil or plastic wrap. It will last for 3 to 4 days in the refrigerator.
To reheat French Onion Stuffed Pork Loin, place the loin into a pan with 1-2 tablespoons of oil. If you have sliced the loin already, cook for 3-4 minutes, flipping once. If the stuffed loin is still whole, cook for about 15 minutes total, flipping 3-4 times throughout.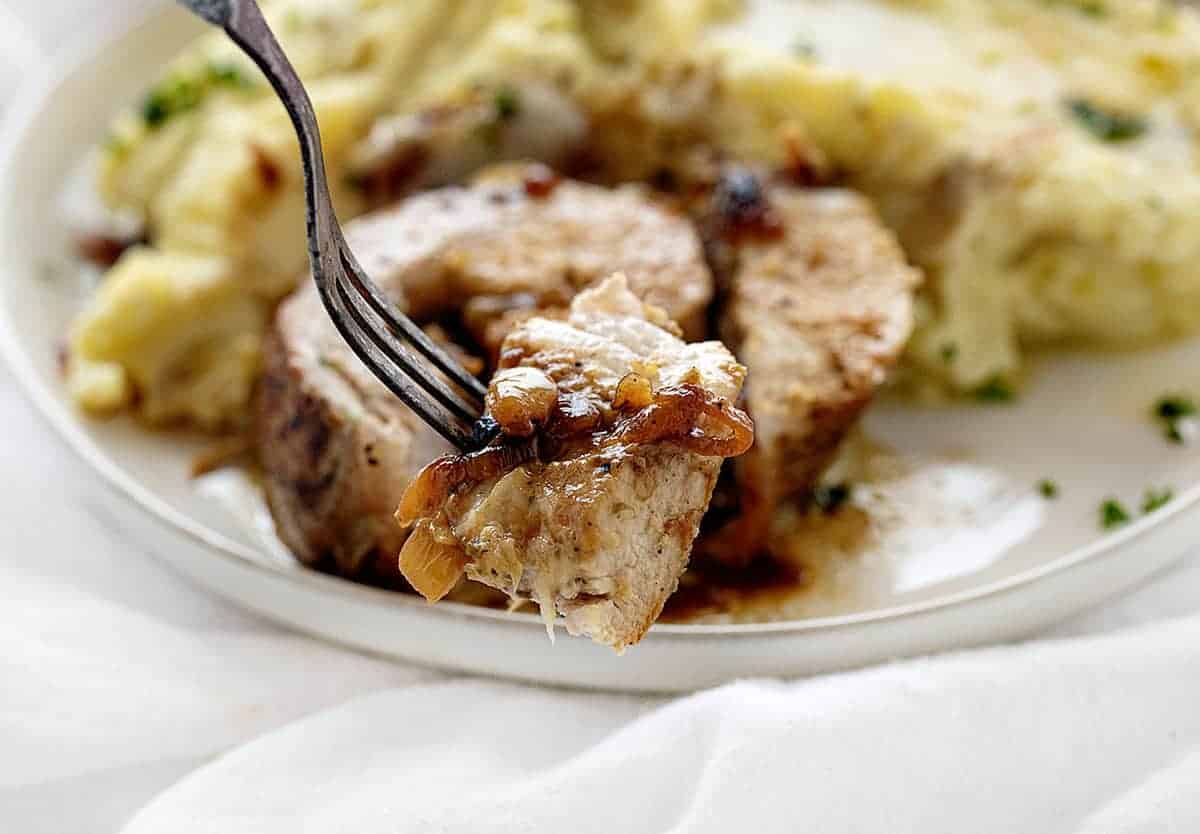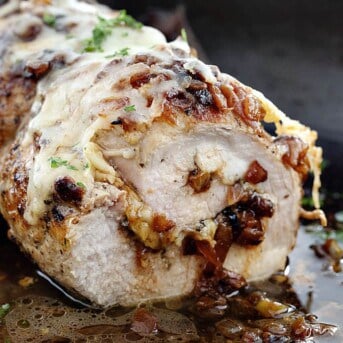 French Onion Stuffed Pork Loin
Seriously AMAZING stuffed pork loin with French Onion!
Ingredients
ONIONS
3

tablespoons

butter

2

yellow onions,

thinly sliced

½

cup

beef broth
PORK LOIN
1

center-cut pork loin,

about 3 pounds

2

tablespoon

extra virgin olive oil

1

teaspoon

salt

¼

teaspoon

pepper

1

teaspoon

Italian seasoning

2

cups

shredded gruyere cheese,

divided
Instructions
Onions
In a large oven-safe skillet over medium-high heat, melt butter.

Add butter, onions, and beef broth and cook until the onions are browned and tender (approximately 15-20 minutes). Transfer cooked onions to a bowl and tent to keep warm.
Pork Loin
Butterfly the pork. With the pork on a cutting board, hold a knife blade parallel to the board and carefully make a lengthwise cut about 1/3 of the way from the bottom, stopping about 1 inch from the opposite end, being careful not to cut through.

Open the loin like a book.

Make a second cut on the thick side of the pork loin, horizontal with the first cut. Do not cut all the way through, stop about 1 inch from the opposite edge. Fold that edge over making one long cut of pork loin.

Cover the entire cut of meat with plastic wrap and pound to an even ⅓ inch thickness.

In a small bowl, combine oil, salt, pepper, and Italian seasoning. Rub over both sides of pork loin.

Top the pork loin with half of the cooked onions and half of the shredded cheese.

Tightly roll the pork loin to completely enclose all of the fillings.

Using cooking twine, tightly secure the roll.

In the same skillet over medium heat, add the pork loin to the pan and sear on all sides (about 5 minutes on each side). Turning the loin a total of 4 times.

Transfer the skillet to the oven and cook for 25-30 minutes or until the pork loin reaches an internal temperature of 145 °F. Occasionally baste the pork loin with the pan juices.

Increase oven temperature to broil. Top pork loin with remaining cheese and onions and cook for 5 minutes or until cheese is melted and golden brown.
Did you make this recipe?
You can tag me at @iamhomesteader.