Gumbo is a flavorful thick stew made with andouille sausage, shrimp, tomatoes, and vegetables served over a bed of rice. Letting all of the flavors meld takes some time, but it is worth it! Serve it with a side of homemade cornbread.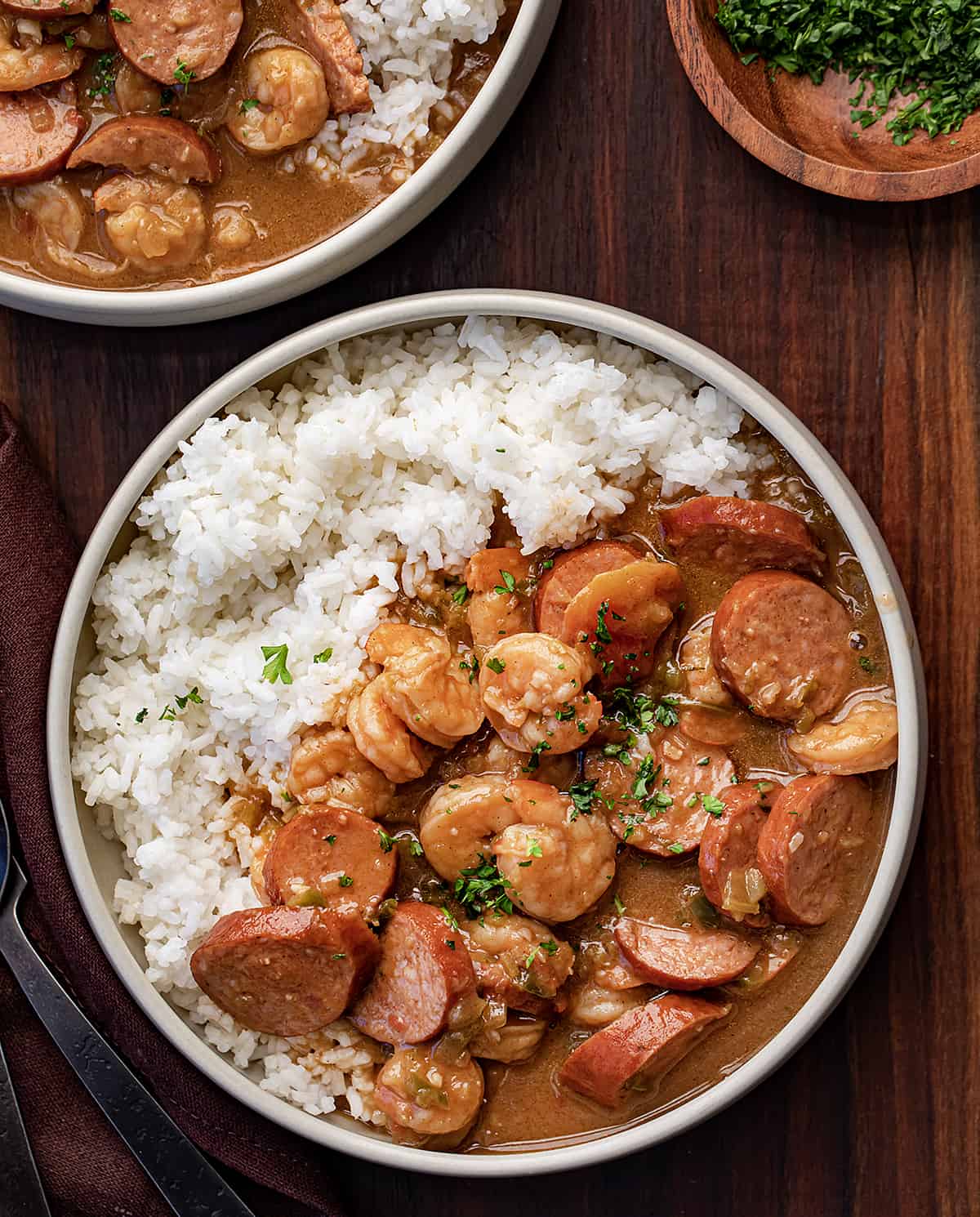 Gumbo
There are so many gumbo recipes out there, with lots of variations. But, I think this recipe holds its own. Yes, it would help if you had patience when making this recipe, but it will be worth it! I used both sausage and shrimp, but you could definitely add your favorite proteins.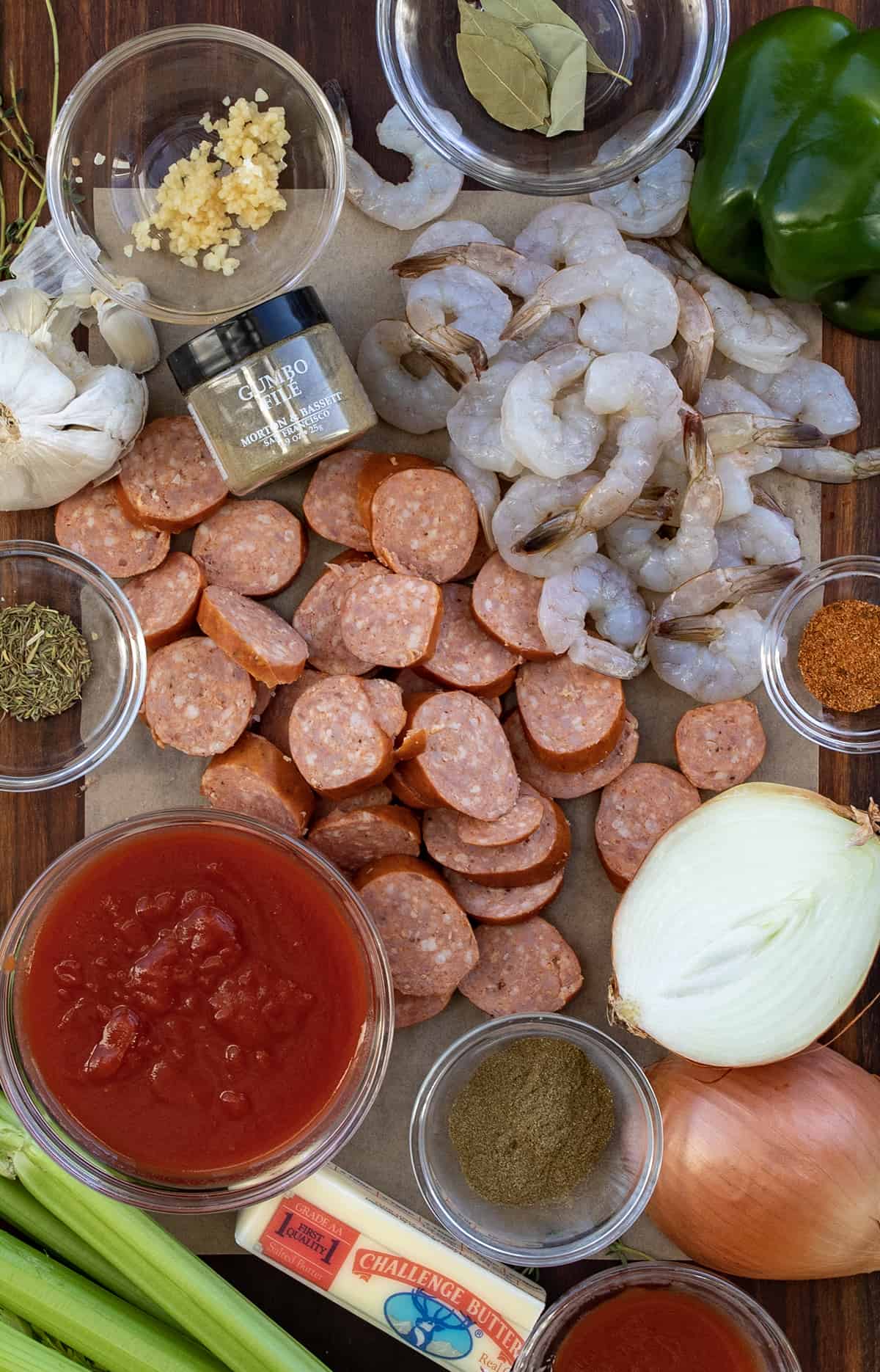 Ingredients & Substitutions
Roux: The roux is very important when it comes to making gumbo; it will be the main thickening agent. I would advise you to hold off on your upper body workout when making this recipe; the roux needs to be stirred constantly for about 40 minutes!
Vegetables: Celery, onion, and green bell peppers are common in gumbo, and sometimes referred to as 'The Holy Trinity'. I also added some minced garlic to the mix.
Meats: I used both andouille sausage (smoked sausage) and shrimp in this recipe. However, the meat added to gumbo is easily adaptable. You could also add crab, chicken, or crawfish if preferred.
Tomatoes: Adding tomatoes to gumbo can cause heated debates, depending on the protein added. But, I love the flavor it adds to the stew, and it also complements the shrimp in this recipe.
Filé Powder: Filé powder, also known as gumbo filé, is an herbal powder made from the ground leaves of the sassafras tree. It is added to the stew to add flavor and serve as a thickening agent. If you don't have filé powder, you could get by in a pinch using cornstarch or tapioca powder.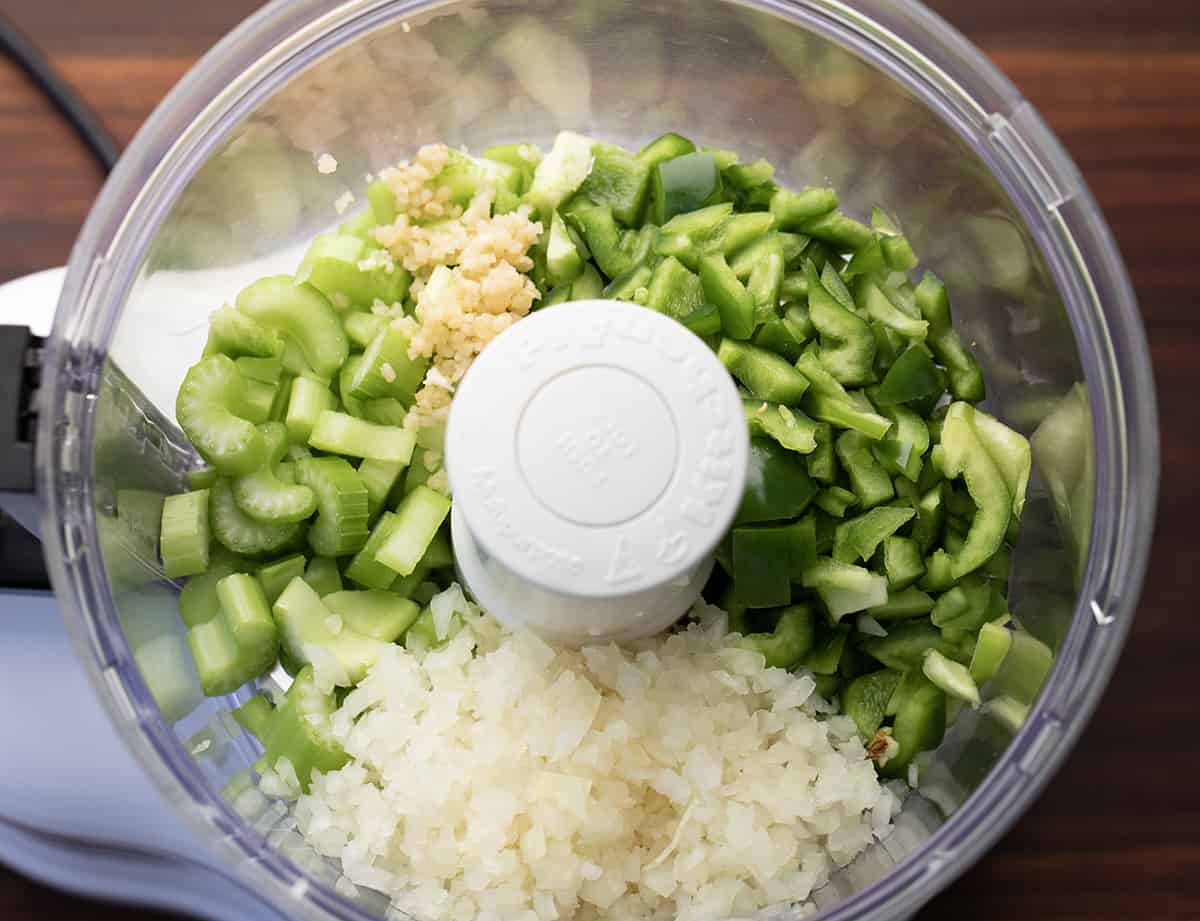 What is Gumbo?
Gumbo is a thick soup or stew that is usually served over rice. It is also the official cuisine of the state of Louisiana and recipes can vary when it comes to protein added, from meat to shellfish. However, it generally starts with a roux for thickening and has added celery, onion, and green bell peppers.
What is the Difference Between Gumbo and Jambalaya?
Gumbo and Jambalaya are very similar southern dishes, but also different. Gumbo, like this recipe, is served over cooked rice. On the other hand, jambalaya is made with rice cooked in the dish. Both have similar ingredients when it comes to vegetables and meats. Another difference is the use of a roux in gumbo, which most gumbo recipes have, whereas jambalaya does not include a roux.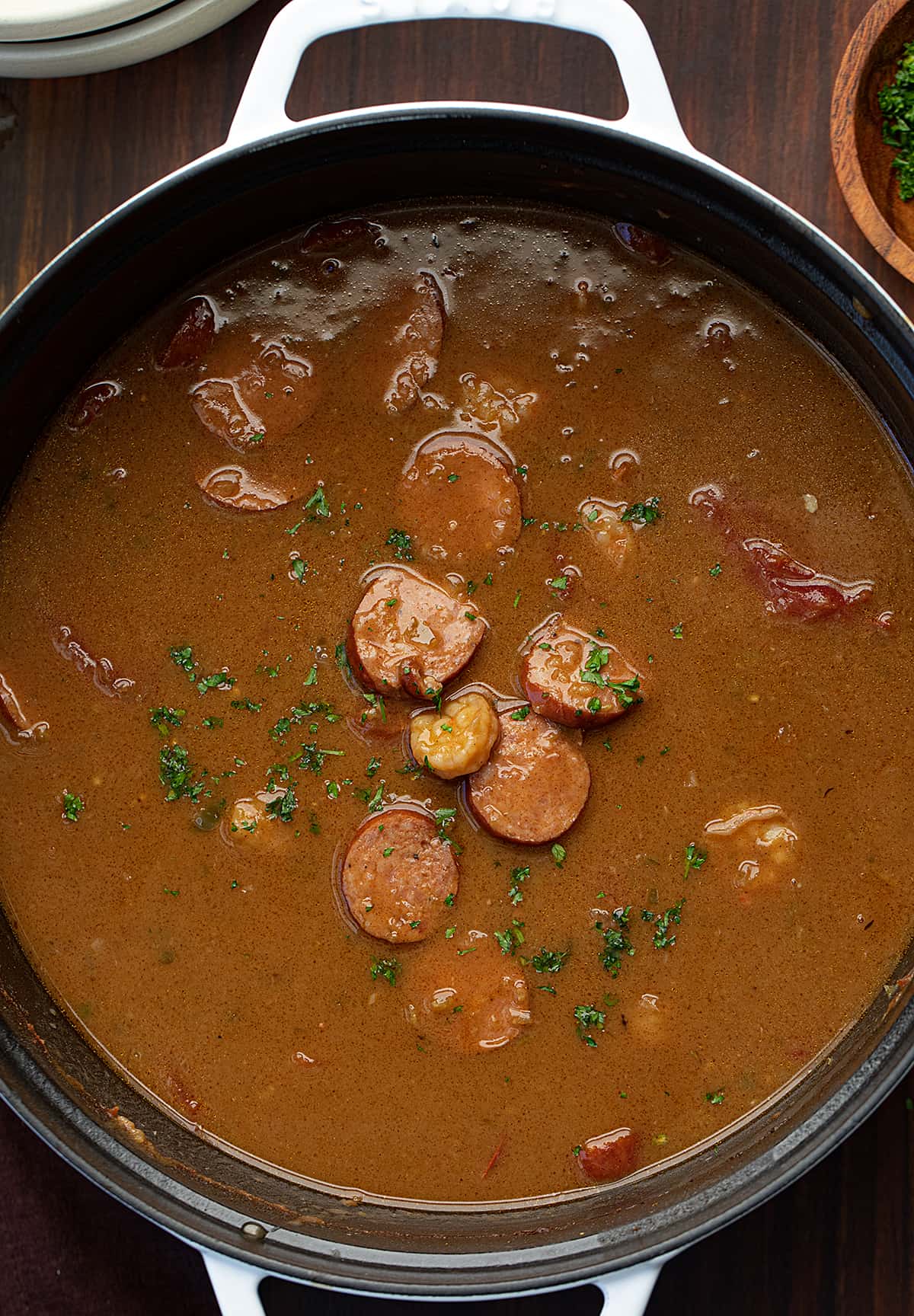 Can I Make Gumbo Ahead of Time?
Sure! In fact, storing the stew overnight lets the flavors all come together even more! Once you have it made, let it cool. Then, store it in an airtight container in the refrigerator for a day or two. When ready to serve, warm it up on the stovetop and make the rice.
How to Store
If you have any leftover gumbo, it can be stored in the refrigerator. Store it in an airtight container for up to 3 days.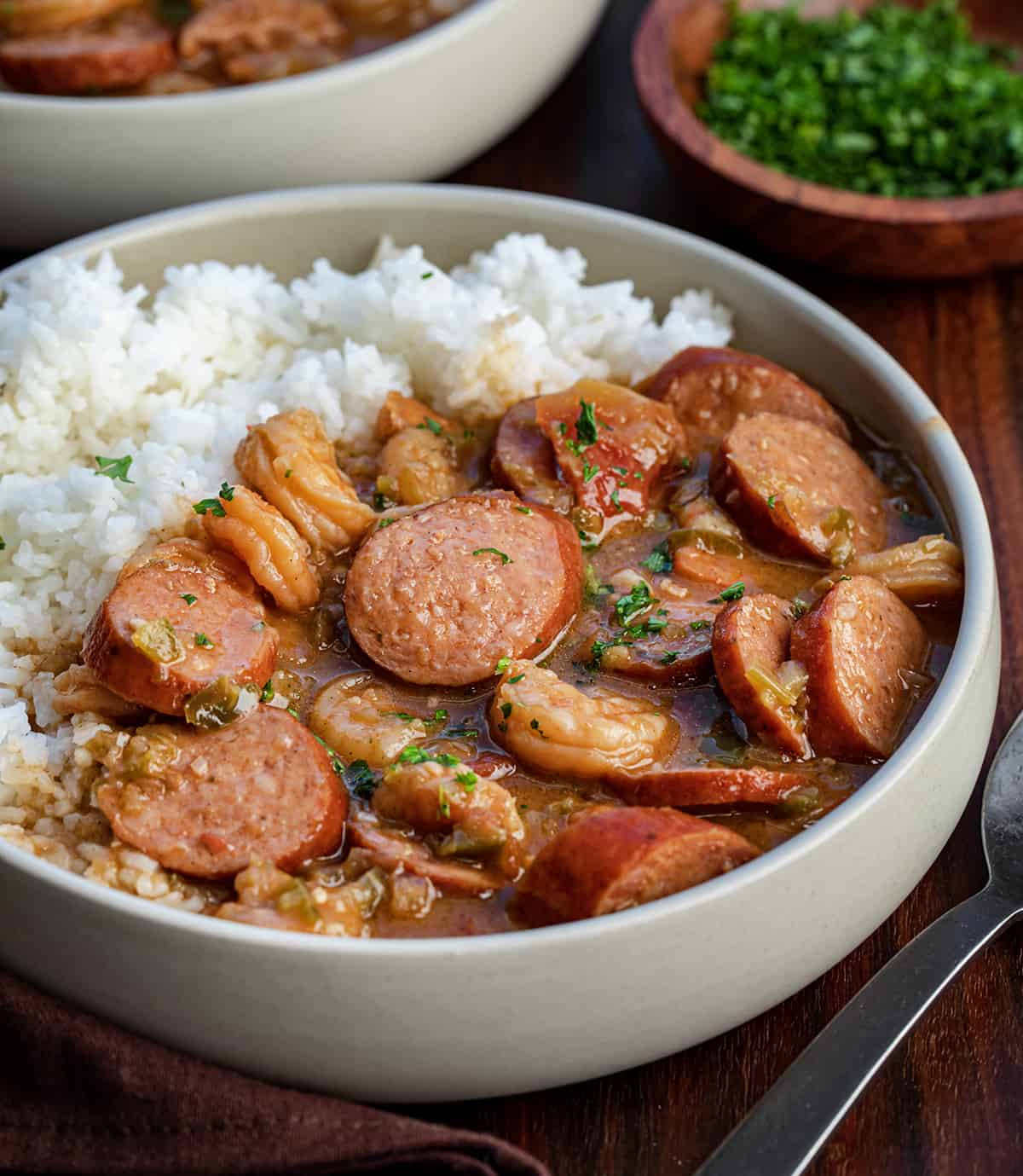 Can I Freeze Gumbo?
Yes! Gumbo can be frozen for up to 3 months. (However, do not freeze it with rice.) I like to store it in smaller portions for an easy lunch or dinner. When freezing, make sure to leave a bit of room at the top for expansion. When reheated, it will not be quite as tasty as when enjoyed fresh, but it is still delicious to have on hand. Remember to label and date the containers.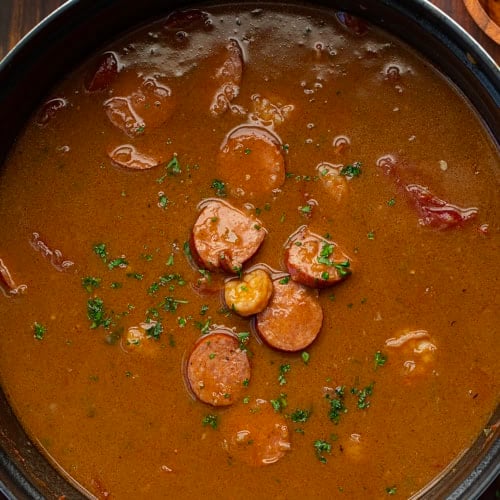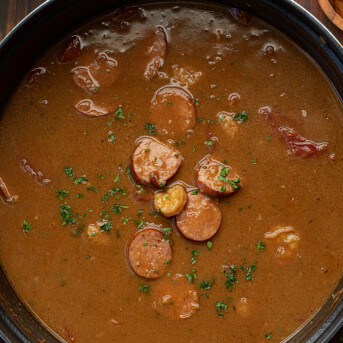 Gumbo
Gumbo is a flavorful thick stew made with andouille sausage, shrimp, tomatoes, and vegetables served over a bed of rice.
Ingredients
Roux
¾

cup

(1½ sticks / 170 g) unsalted butter

1

cup

(125 g) all-purpose flour
Veggie Mixture
2

ribs

celery,

roughly chopped (about 1 cup)

1

large

yellow onion,

roughly chopped (about 1 cup)

1

large

green bell pepper,

roughly chopped, seeds removed (about 1 cup)

2

teaspoons

garlic,

minced
Gumbo
10

cups

(2.41 kg) beef broth

1

ring

(14 ounces) andouille sausage,

or kielbasa, sliced into rounds

1

can

(14.5 ounces) stewed tomatoes

1

can

(6 ounces) tomato sauce

2

tablespoons

hot sauce

1

tablespoon

white sugar

½

teaspoon

Cajun seasoning

½

teaspoon

dried thyme leaves

4

teaspoons

gumbo file powder,

divided

4

bay

leaves

3

pounds

uncooked medium shrimp,

peeled, deveined

2

tablespoons

Worcestershire sauce

cooked white rice,

for serving
Instructions
In a large 6-quart pot over medium-low heat, melt butter. Once melted, add flour and whisk together until smooth. Continue cooking, whisking constantly until the roux is a deep brown color (about 30-40 minutes). Be careful not to let it burn.

Remove from heat. Continue whisking until the mixture is cooled slightly. Set aside.

While the roux is cooling, add the chopped celery, onion, pepper, and garlic to the bowl of a food processor. Process until finely chopped.

Add the vegetable mixture to the roux and stir to combine. Place the pot over medium-low heat and continue to heat until vegetables are tender (8-12 minutes). Slowly whisk in broth and heat to boiling (15-20 minutes).

Reduce heat to low. Add sausage, stewed tomatoes, tomato sauce, hot sauce, sugar, Cajun seasoning, and thyme. Stir to combine. Add bay leaves and simmer, uncovered for 45 minutes.

After simmering for 45 minutes, add 2 teaspoons of gumbo filé powder, stirring to combine. Continue to simmer for 15 more minutes.

Remove the bay leaves. Then, add shrimp and Worcestershire sauce. Continue to cook over low heat for 45-60 minutes to give the flavors ample time to meld.

Stir in the remaining gumbo filé powder.

Serve over cooked white rice.
Did you make this recipe?
You can tag me at @iamhomesteader.
This recipe was adapted from All Recipe's New Orleans Creole Gumbo.