Jalapeno Popper Stuffed Shells is a delicious way to turn a jalapeno popper appetizer into a meal. Jumbo shells are loaded with the kick of jalapenos, bacon, and that all-important cream cheese filling! If you love jalapenos in your recipes, try my Jalapeno Popper Dip and my popular Jalapeno Popper Pork Loin!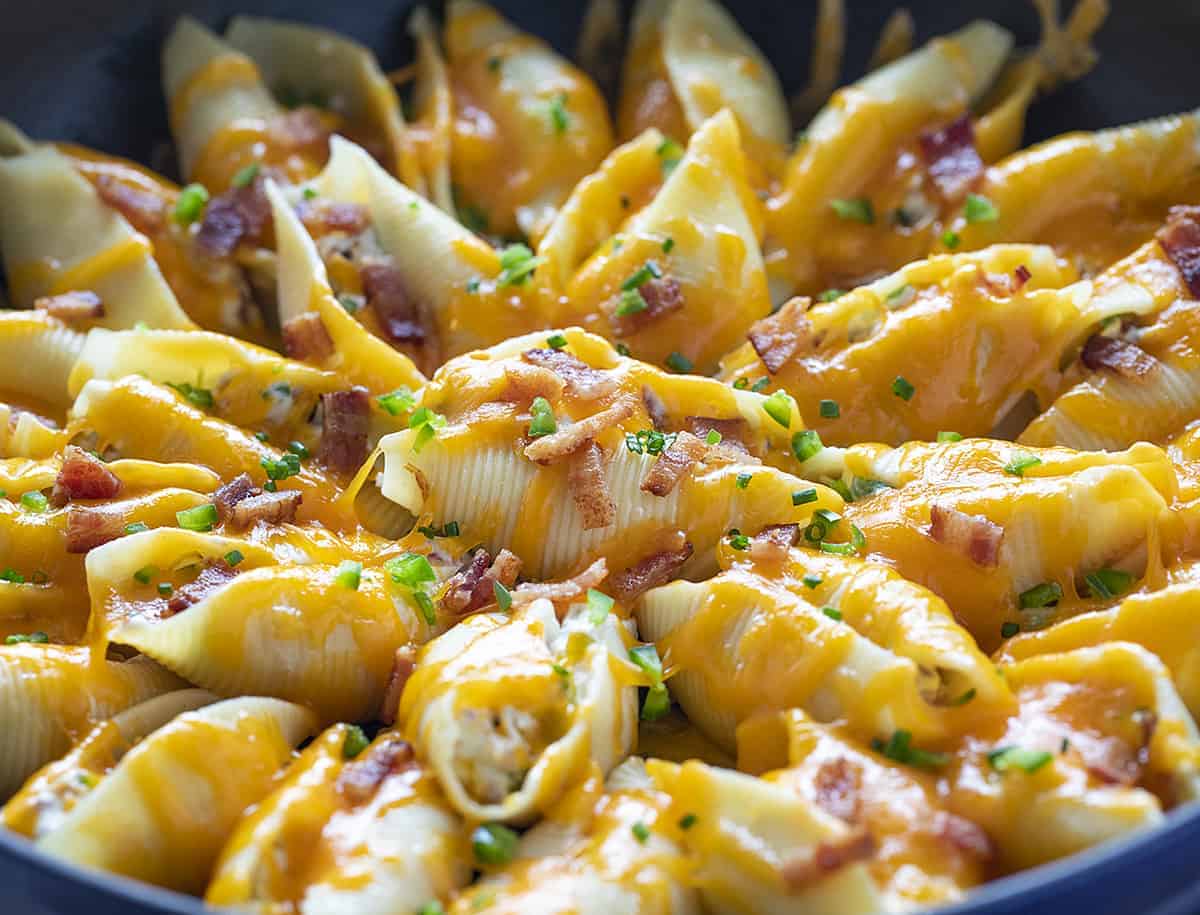 Jalapeno Popper Stuffed Shells
There is a local restaurant that makes the most amazing jalapeno poppers. I order the appetizer almost every time I go there. I just wish there was enough substance there to fill me up. The Jalapeno Popper Stuffed Shells is my way of getting that jalapeno popper taste but in a complete and filling meal.
Jalapeno Popper Stuffed Shells Recipe
This recipe is so easy to make and has such great flavor, it's going to be at the top of your recipe ideas if you love a little spice in your life, I mean meals😉.

How to Make Jalapeno Popper Stuffed Shells
These stuffed shells are so easy to make and they pack a lot of rich and spicy flavor in each shell. The only preparation you have to do is to bake (yes, I said bake) the bacon, cut up some cheese, and finely dice a couple of jalapeno peppers. Once you have those three things out of the way, get your shells cooked al dente and mix all the cheesy filling ingredients together. After you have combined the ingredients, fill each shell (make sure the shells have had time to cool down a bit) with a spoonful of the cream cheese mixture. Place each shell in a 9×13-inch greased baking dish and sprinkle the shredded cheddar cheese over the top. Bake the shells for 15-20 minutes, or until bubbly. Top the cooked shells with the leftover bacon and chives.
How to Bake Bacon
When I cook bacon, I do it in the oven. I set the temperature to 415°F and while it is preheating, I lay out the individual slices of bacon on a foil-lined rimmed baking sheet. (Yes, right on the pan! No rack needed.) They are perfectly crispy in 18-20 minutes. No flipping and easy cleanup! Then, crumble the strips of bacon into little pieces. Use this trick for other recipes calling for bacon like my Bacon Corn Dip.

How to Cut and Seed a Jalapeno Pepper
Jalapeno peppers are hot peppers, so be careful when you cut them! If you have any cuts on your hands, I would suggest to wear food-safe gloves, or be prepared to feel some pain if some oil gets in those cuts! If you don't have gloves, just be sure to wash your hands with white vinegar and cold water when you are done with the jalapenos.
There are a couple of ways you can cut and seed a jalapeno. One way is to simply slice the jalapeno down the middle, vertically, and carefully remove the seeds with a spoon. Another way to remove the seeds is to hold the jalapeno up by the stem–you can always cut across the bottom of the pepper so it can stand a little flatter– and slice along the sides of the pepper, hopefully leaving the seeds attached to the core. Then, simply stack the pepper strips and chop them into pieces, throwing away the core and seeds, of course. Remember, the capsaicin (what makes the pepper hot) will be on your hands, so don't touch your fingers to your mouth or eyes until you wash your hands. For this recipe, be sure to get the peppers as finely diced as you can.
How to Know When the Jalapeno is Spicy
If you are like me and you like things a little spicy, you have been the recipient of the jalapeno that had no kick. On the flip side, you may have had the jalapeno that tasted like a ghost pepper. So, how can you tell if the jalapeno is spicy? The older the pepper the spicier it will be. Looking at a pepper, the older ones will have stress marks, like little white lines or flecks on the flesh. The younger (less spicy) peppers will have clear shiny flesh. So if you like them hot, pick the older pepper. If you like the mild, pick the younger one.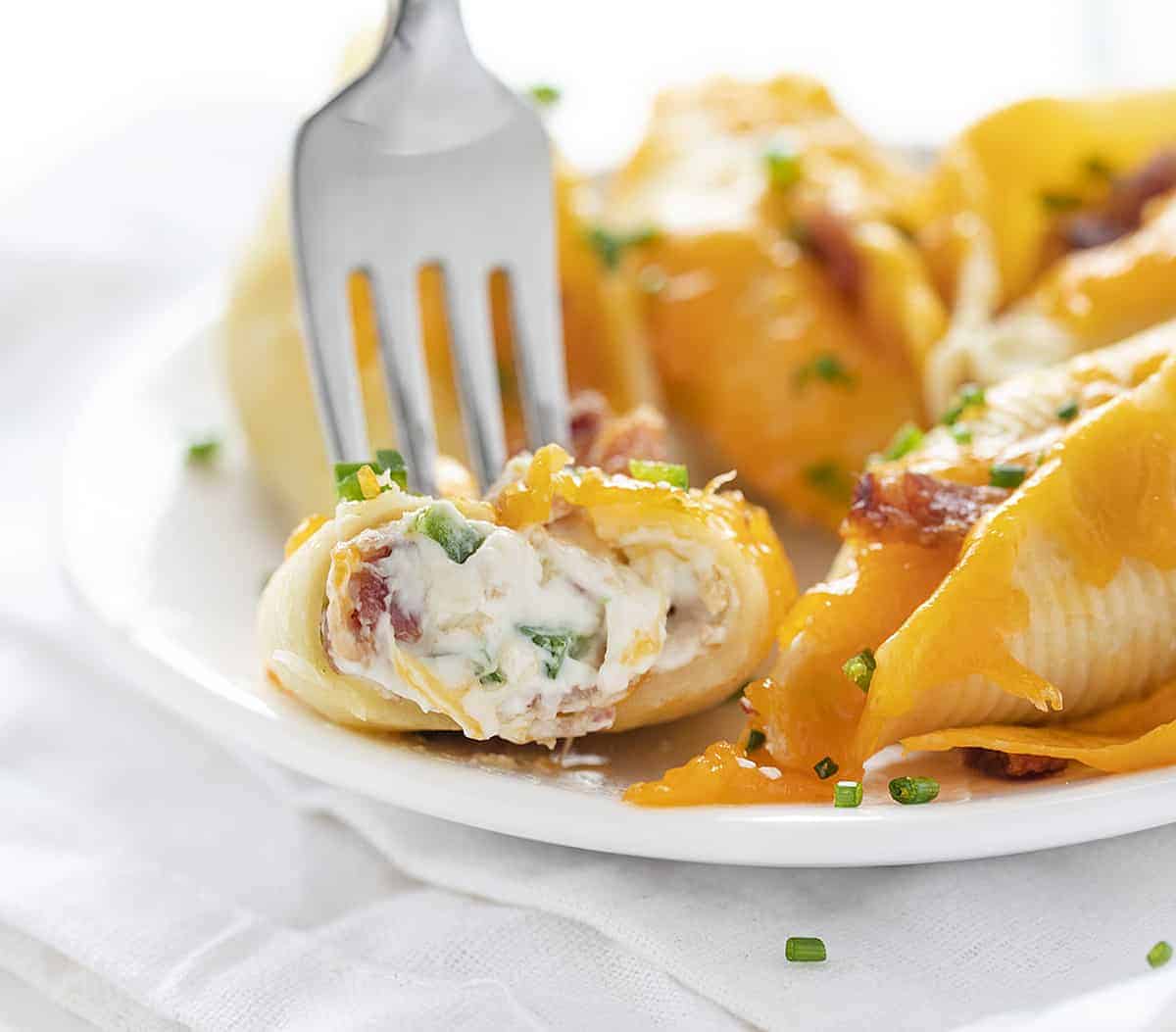 More Stuffed Shells Recipes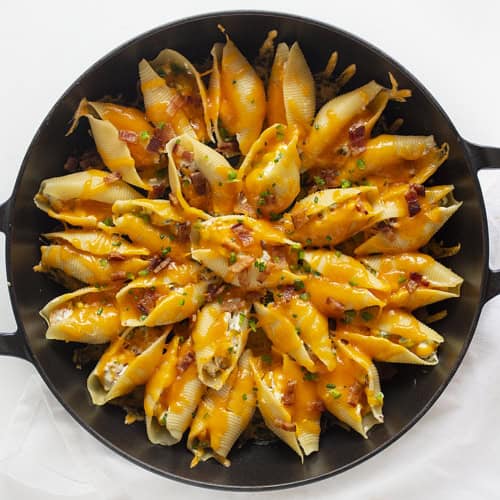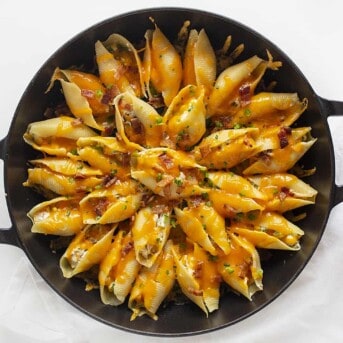 Jalapeno Popper Stuffed Shells
Make a popular spicy appetizer a meal with these Jalapeno Popper Stuffed Shells.
Ingredients
1

box

jumbo shells,

cooked al dente

2

large

jalapeno peppers,

finely diced

12

strips

bacon,

cooked, crumbled, and divided

12

ounces

(1 1/2 packages) cream cheese,

softened

½

cup

cheddar cheese,

cubed

¼

teaspoon

pepper

1

teaspoon

onion powder

1

cup

shredded cheddar cheese

1

teaspoon

chives,

diced for garnish
Instructions
Preheat oven to 350°F.

In a bowl, mix the diced jalapeno peppers, 10 pieces of the cooked and crumbled bacon, cream cheese, cubed cheddar cheese, pepper, and onion powder.

Spoon about 1 tablespoon of the mixture into each shell.

Arrange stuffed shells on a greased 9×13 pan.

Top with the shredded cheddar cheese.

Bake 15-20 minutes, or until bubbly.

Serve immediately, topping with reserved bacon and chives (optional).
Did you make this recipe?
You can tag me at @iamhomesteader.