Using the homemade alfredo sauce from my Classic Fettuccine Alfredo just made sense for this rich and creamy Chicken Alfredo Stuffed Shells recipe. If you love a red sauce with your stuffed shells, be sure to check out my Three Cheese Stuffed Shells.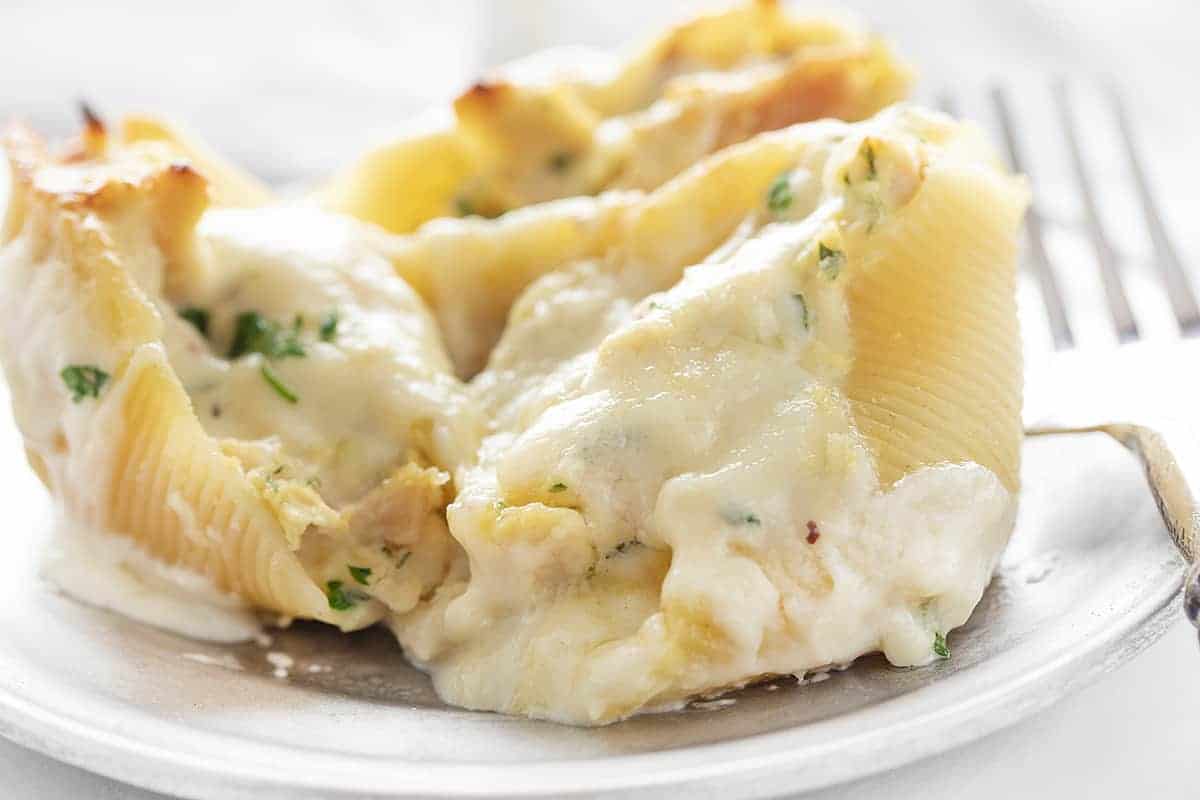 Chicken Alfredo Stuffed Shells
I absolutely love to go to our local Italian restaurant and order fettuccini alfredo. There is something so special and comforting about that creamy sauce that drenches the fettuccine noodles. Of course, adding the chicken is a must for me to complete the dish. Chicken Alfredo Stuffed Shells has the same comforting taste has that fancy restaurant-style fettucini alfredo has, and I can make it without leaving the comfort of my home! That's a win-win, for sure!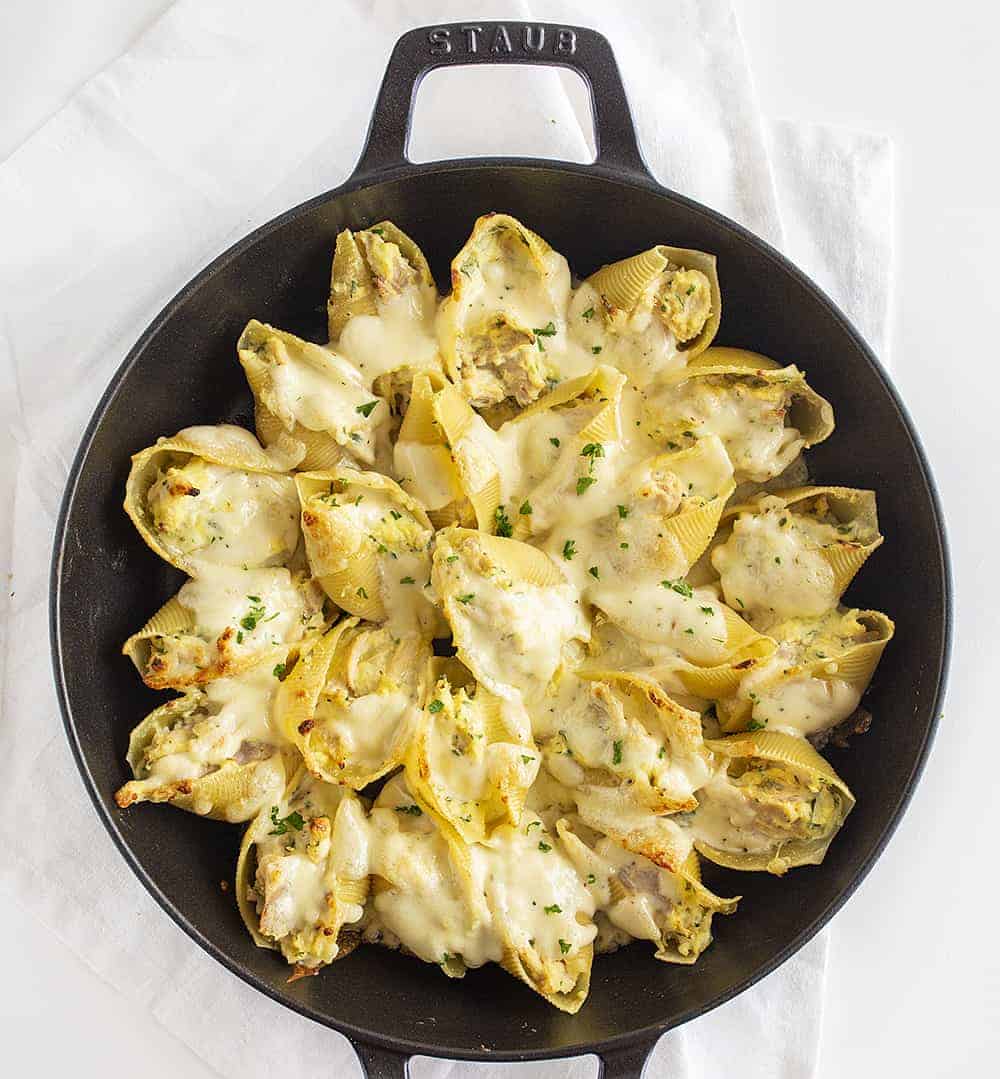 Chicken Alfredo Stuffed Shells Recipe
Get out your baking dish, pot, and all the ingredients you will need to make your new favorite pasta dish! You can even make your own rotisserie chicken to use in this recipe!

How to Make Chicken Alfredo Stuffed Shells
There are three main parts to this easy dinner recipe–cooking the pasta shells, stuffing the noodles, and making the alfredo sauce.
Boil the Pasta Shells
The trick with boiling the noodles is that you want them to be "al dente". That basically means you don't want them soggy. A soggy jumbo shell will not hold up to the filling process. You want the noodle to be soft and pliable, but still a little firm. A typical jumbo shell noodle needs to cook for about 9 minutes. You will want them to cool off a bit before you start filling them unless you have a cooking glove, the shells will be hot. One trick is to put a small amount of olive oil over the noodles after draining. Tossing them in the oil will keep them from sticking together.
Stuff the Noodles
While the noodles are cooling down, preheat the oven to 350°F. Meanwhile, mix together eggs, ricotta cheese, half the mozzarella, half the parmesan, parsley, salt, pepper, and chicken. Stuff each shell with the chicken mixture and place them in a greased 9×13-inch pan.
Make the Alfredo Sauce
This is the easiest version of alfredo. It's got minimal ingredients and the beauty of the flavors really shine through. The sauce is the beautiful, silky consistency that reminds of fancy restaurants, but the taste is pure. One of the ways to achieve this perfect fettuccine alfredo is to make sure your ingredients are the best possible quality. I like to splurge and get a really good parmesan and grate it myself.

Assembling the Chicken Alfredo Stuffed Shells
Once you have the shells cooked and stuffed, pour the freshly made alfredo sauce over the shells. Top this with the rest of the mozzarella cheese and parmesan cheese. Bake the dish for about 25 minutes, or until bubbly.
Alternatives to Ricotta Cheese
Sometimes I hear that people just do not like Ricotta Cheese. It seems like it doesn't taste like a traditional "cheese". I tend to like it in small doses myself. If you are one of these people, don't fret…I have you covered. There are a few options for the Ricotta haters out there. Just a note, this recipe does not call for a huge amount of ricotta cheese but feel free to use some of the following substitutions if you like.
Adjust the Ratios: You can reduce the amount of ricotta by half and increase the mozzarella by the same amount. That way you will still get the necessary moisture that makes this dish amazing, but it won't have the overwhelming flavor and texture of ricotta.
Substitutions: There are several options when it comes to Ricotta substitutions. They will all alter the flavor of the dish slightly but they will probably be better if you are against the aforementioned cheese in the first place.
Cottage Cheese – It has a mild taste, similar to ricotta but it is less creamy. Cottage cheese is also low in fat and calories, so it is a healthier option too.
Goat Cheese – Fresh goat cheese (not aged goat cheese) is rich and creamy, with a mild but slightly tart flavor.
Queso Fresco – This fresh Mexican cheese has a mild, salty, and milky flavor. The main difference is that queso fresco is drier than Ricotta, but it can be grated or crumbled in lieu of Ricotta cheese.
Cream Cheese – Both have a soft, creamy texture but cream cheese is higher in fat than Ricotta cheese.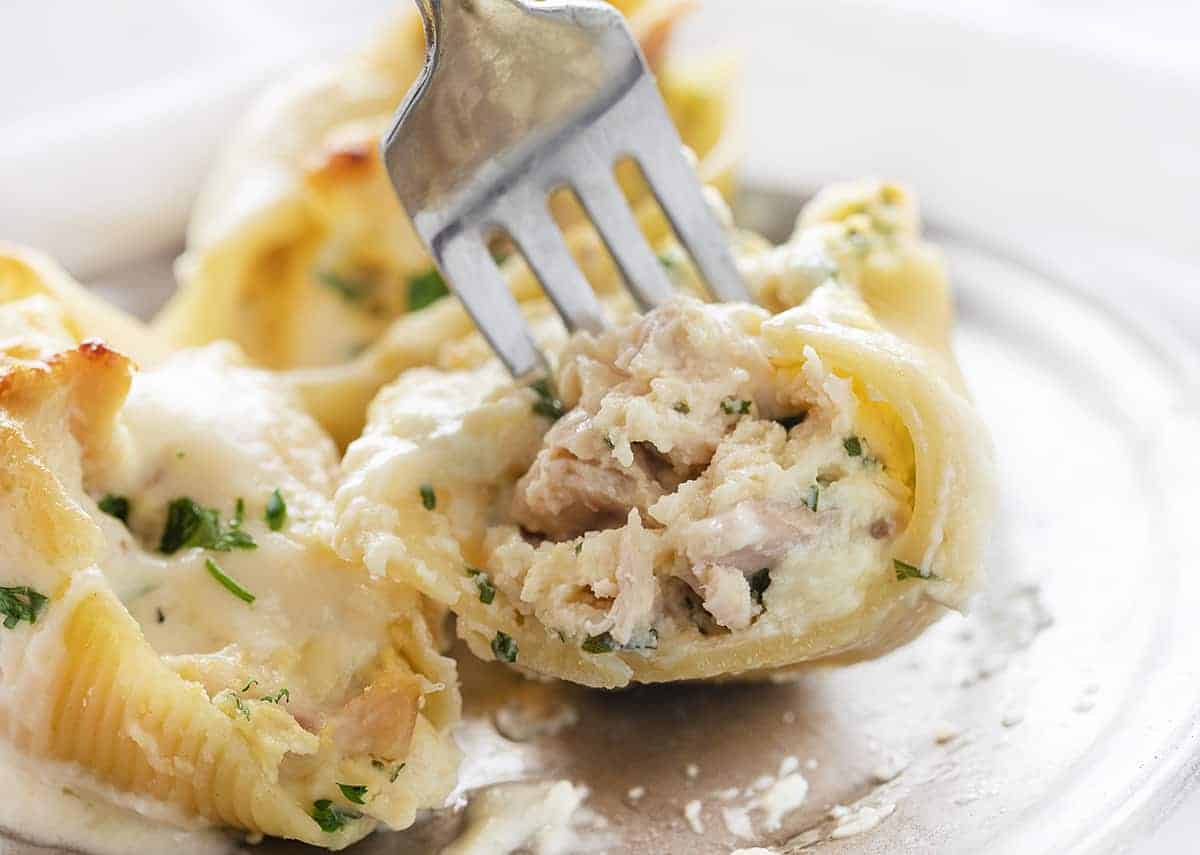 More Stuffed Shells Recipes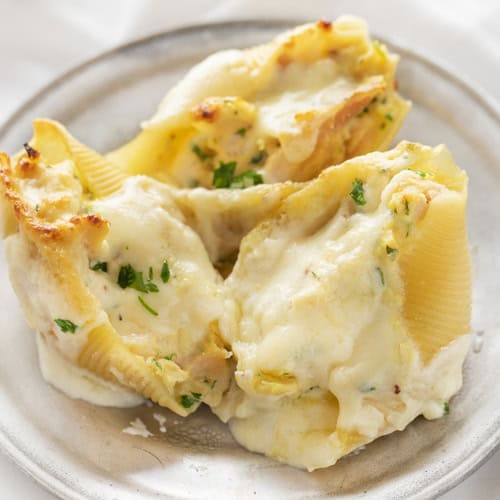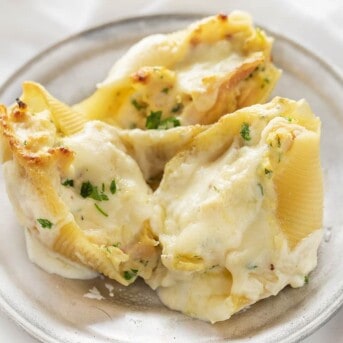 Chicken Alfredo Stuffed Shells
Topped with homemade alfredo sauce, these Chicken Alfredo Stuffed Shells are as creamy and cheesy as they are delicious.
Ingredients
STUFFED SHELLS
1

package

(12 ounces) jumbo pasta shells,

cooked al dente

2

large

eggs,

beaten

1

cup

ricotta cheese

1

cup

shredded mozzarella cheese,

divided

1

cup

grated Parmesan cheese,

divided

1

tablespoon

dried parsley

2

teaspoons

salt

1

teaspoon

ground black pepper

3

cups

rotisserie chicken
ALFREDO SAUCE
2

tablespoons

salted butter

1

cup

heavy cream

½

teaspoon

salt

⅛

teaspoon

freshly ground black pepper

½

cup

freshly grated Parmesan cheese
Instructions
STUFFED SHELLS
Cook pasta until al dente, per package instructions. Drain.

In a large bowl, mix together the eggs, ricotta cheese, half the mozzarella, half the Parmesan, parsley, salt, pepper, and chicken until well combined. Set aside.
ALFREDO SAUCE
In a large saucepan, melt butter then add cream, salt, and pepper.

Bring to a slow rolling boil.

Reduce heat and boil gently for 3-5 minutes or until the mixture begins to thicken.

Remove from heat and stir in ½ cup grated Parmesan cheese.
ASSEMBLING THE SHELLS
Stuff each jumbo shell with the chicken mixture and place in a greased 9×13-inch baking pan.

Pour the alfredo sauce and reserved mozzarella and Parmesan cheeses over the stuffed shells.

Bake for 25 minutes, or until bubbly.
Did you make this recipe?
You can tag me at @iamhomesteader.