Korean BBQ Pork is a marinated pork using a red chili paste (Gochujang) that is pan-cooked and topped with sesame seeds. It is delicious on its own but works great served over a bed of rice and a side of vegetables. Try my Teriyaki Meatballs for another flavorful pork recipe.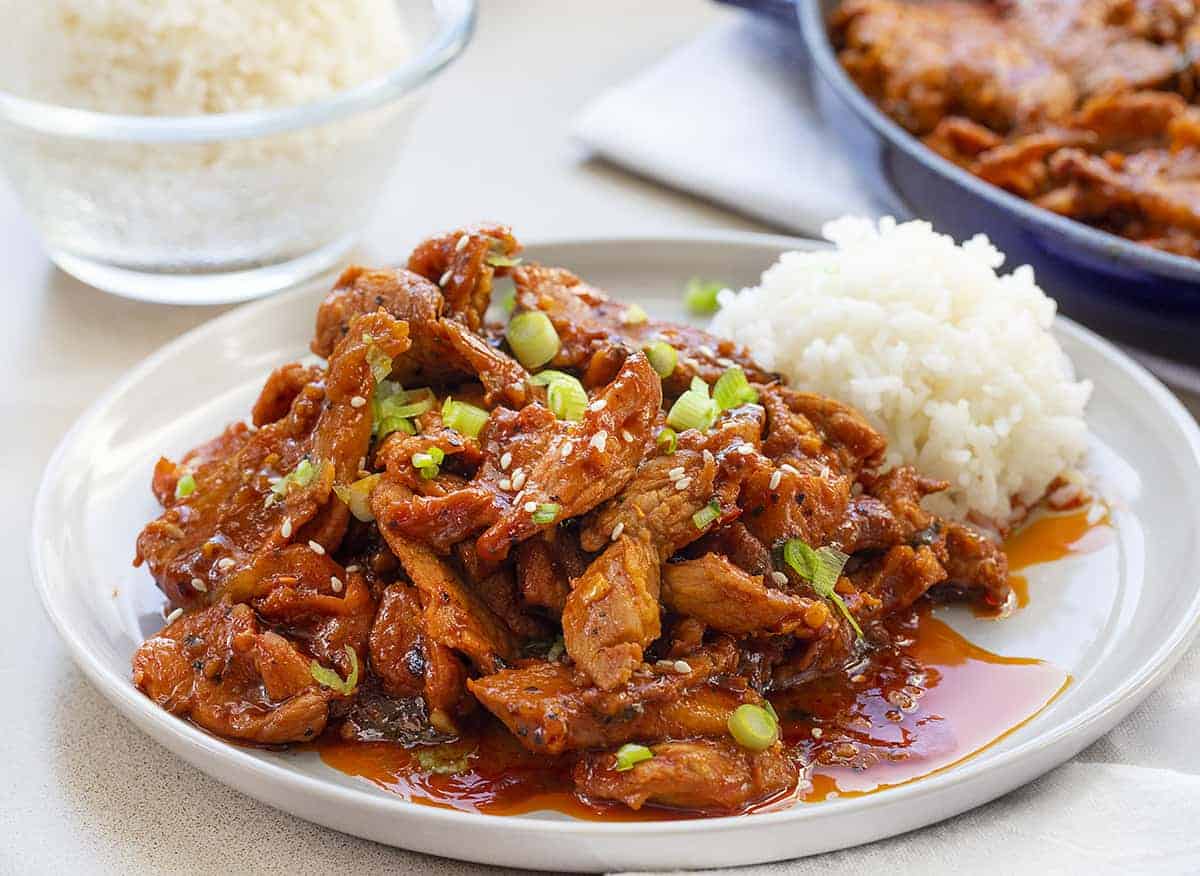 Korean BBQ Pork
A Korean BBQ is generally a group affair where friends and family come together to grill (traditionally) thin cuts of marinated meat and add a bunch of sides to the mix. Many times, the grill is at the center of attention since it is the center of the table! But, this recipe of Korean BBQ Pork doesn't have to be a group affair to be enjoyed. And, you can simply use a skillet or wok to get the flavor that is expected. It's all about the Gochujang paste and additional red pepper flakes that give it that spicy kick. While the recipe I am sharing is not authentic, I happen to love this version should you want to see how it's really done! Jeyuk Bokkeum (Spicy Pork BBQ) by Korean Bapsang.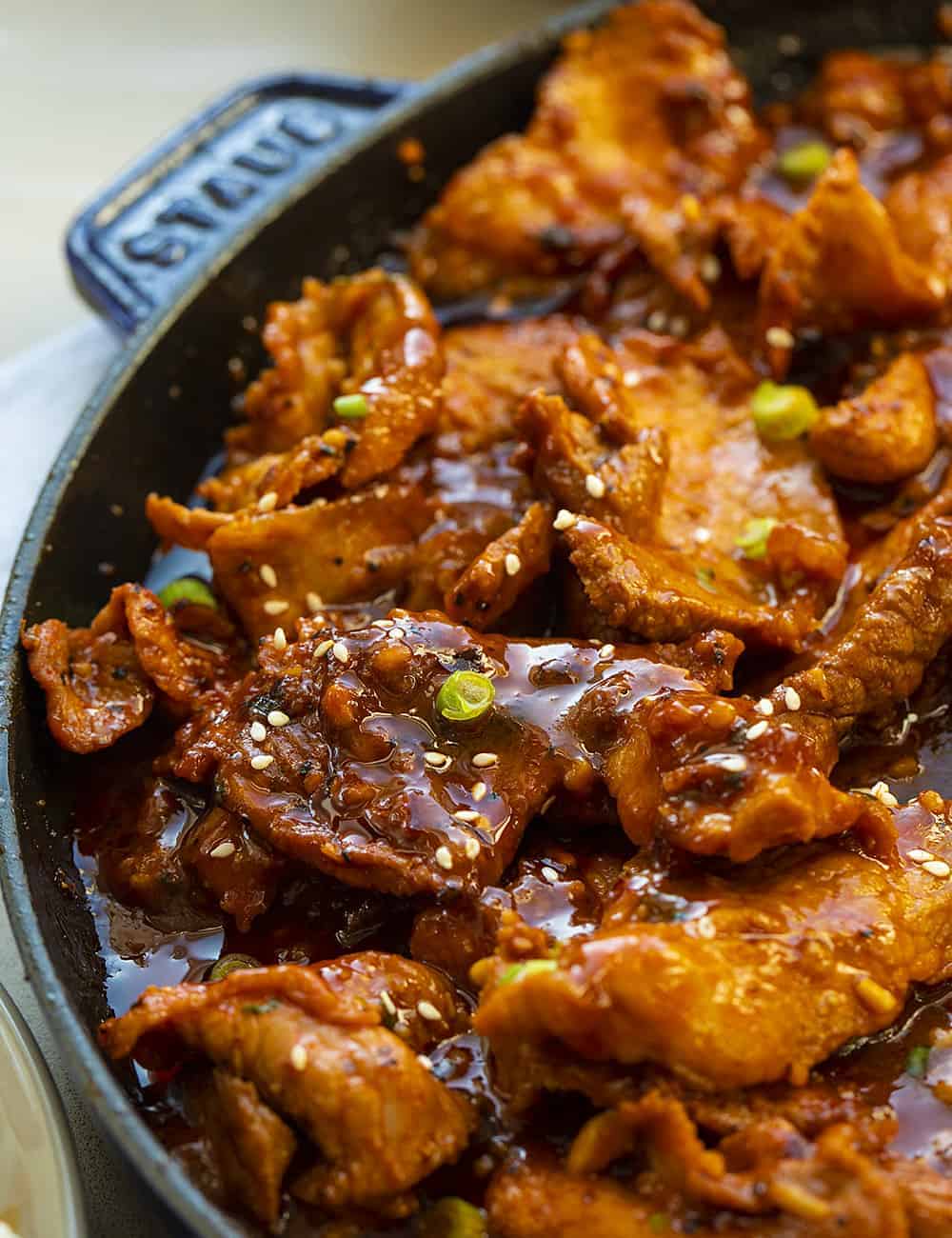 Korean BBQ Pork Recipe
It's all about the marinade and thinly sliced pork in this Korean BBQ Pork Recipe.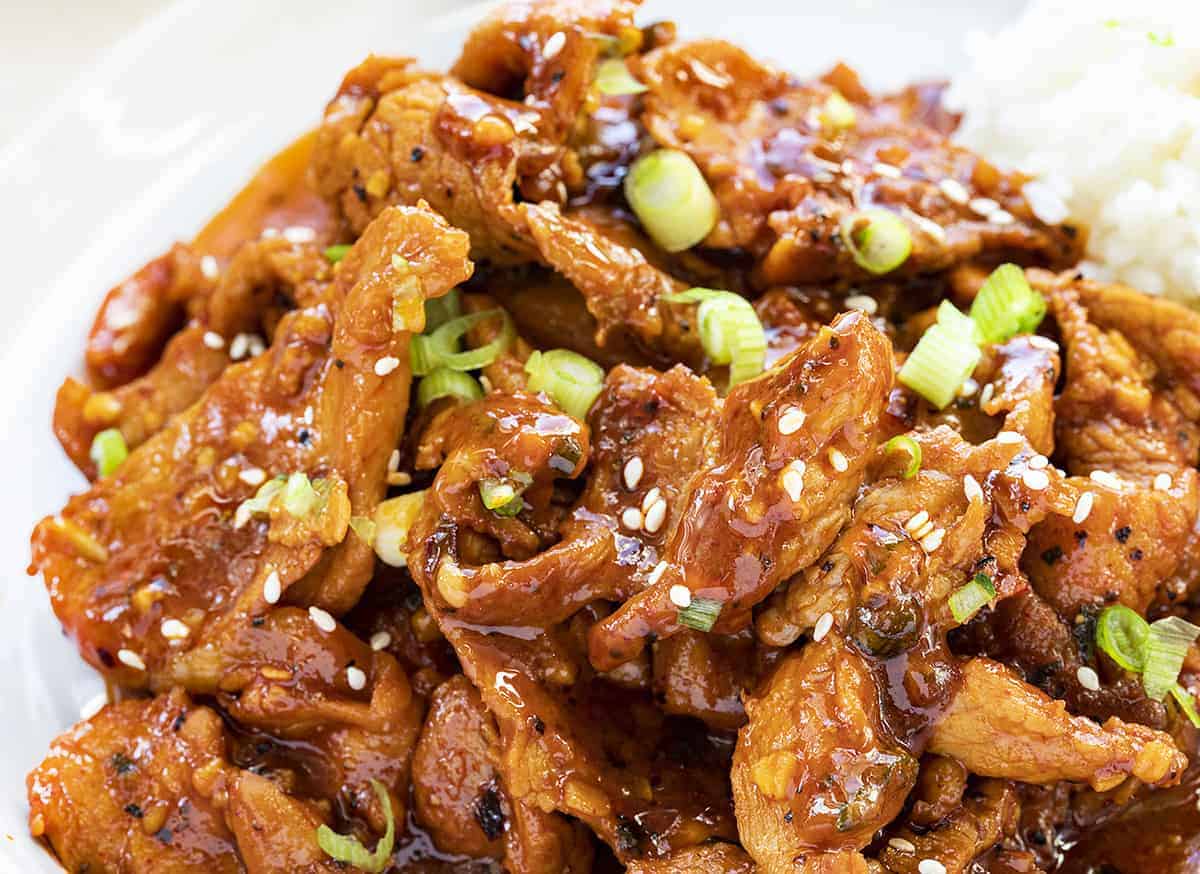 How to Make Korean BBQ Pork
This recipe starts with marinating the thinly sliced pork shoulder pieces. Once you have the pork thinly sliced, mix it in with the green onion, garlic, ginger, chili paste, red pepper flakes, soy sauce, rice vinegar, sesame oil, sugar, and pepper. Let the pork marinate in all the ingredients, covered and chilled, for 30-60 minutes. After you have let the pork slices marinate, get the oil sizzling in a large skillet or wok. In batches, not overcrowding the skillet or wok, cook the pork for 3-5 minutes, or until it gets slightly crispy. Set the cooked pieces aside until all the pieces have been cooked. Sprinkle the pork with sesame seeds to complete the recipe. Serve with rice or simply enjoy on its own as an appetizer.
How to Slice the Pork
I have emphasized slicing the pork very thin, but what does that mean exactly? If you can't buy it already sliced, you can definitely do it on your own. First, place the cut of meat into a freezer-safe bag and freeze the meat for about an hour. If you are letting the meat thaw from a frozen state, don't let it get completely thawed out before slicing it. You want the pork to be easy enough to cut through, but still have some firmness to it. Grab a sharp knife and carefully slice pieces about 1/8-inch thick and set aside until you have all the meat sliced. You can use the meat immediately, or you can wrap the pieces in plastic wrap, seal in a freezer-safe bag, and store in the freezer until you are ready to use them.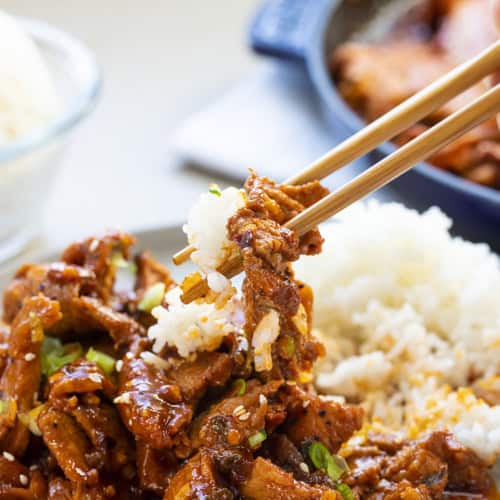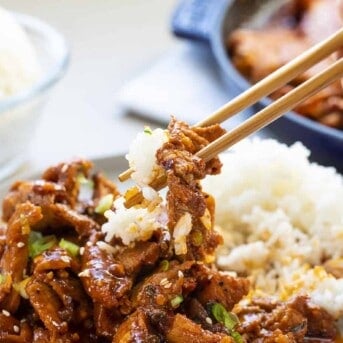 Korean BBQ Pork
Chilled in the perfect marinade with a kick, Korean BBQ Pork is cooked over high heat and served with rice for a delicious dinner idea.
Ingredients
1 ½

pounds

pork shoulder,

sliced very thin

2

tablespoons

green onion,

diced

5

cloves

garlic,

minced

1

teaspoon

ginger,

minced

1/2

cup

Korean red chili paste,

Gochujang

1

teaspoon

red pepper flakes

¼

cup

soy sauce

3

tablespoons

rice vinegar

1

tablespoon

sesame oil

1

tablespoon

sugar

1

teaspoon

black pepper

1

tablespoon

canola oil

sesame seeds,

to garnish
Instructions
In a large bowl, add pork, green onion, garlic, ginger, chili paste, red pepper flakes, soy sauce, rice vinegar, sesame oil, sugar, and pepper.

Cover and chill for 30 minutes – 1 hour.

In a large skillet or wok, over medium-high heat, add oil. Heat until sizzling hot.

In batches, add pork (do not overcrowd the pan). Cook about 3-5 minutes or until slightly crispy. Remove from pan and set in a bowl to keep warm. Continue with remaining pork.

Top with sesame seeds.

Serve with a side of rice and vegetables.
Did you make this recipe?
You can tag me at @iamhomesteader.