Mozzarella Sticks are coated pieces of string cheese, cooked crispy in an air fryer, and dipped in homemade marinara sauce. These are so much better than store-bought! Use my recipe for the marinara sauce for the perfect dipping sauce.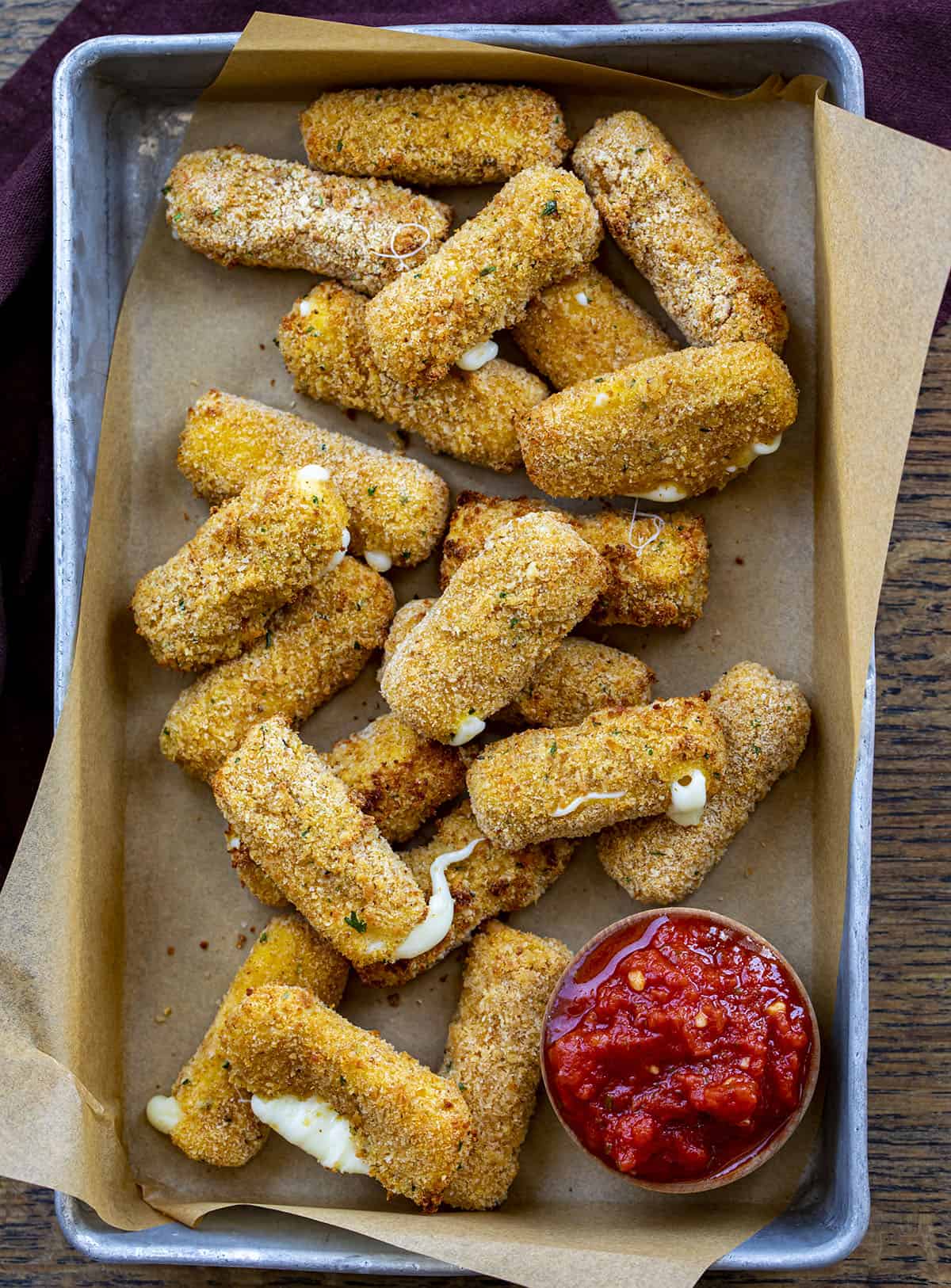 Mozzarella Sticks
If you have recently tried store-bought homemade mozzarella sticks, you probably know that they just aren't as good as you want them to be. These mozzarella sticks start with string cheese. Then, each half of string cheese is coated and double-coated to cook up nice and crispy in an air fryer. I will also let you know how to bake them or fry the mozzarella sticks in oil.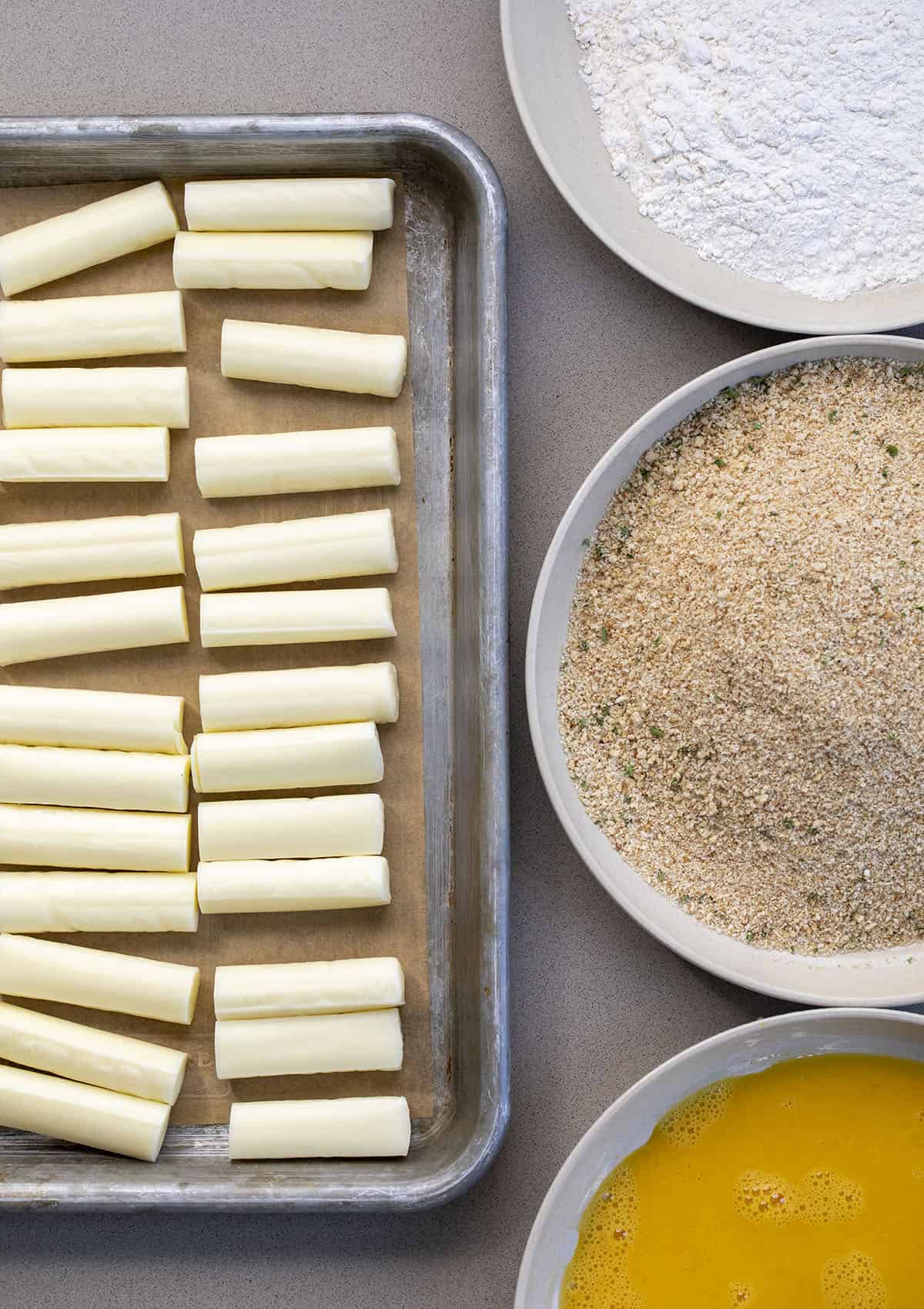 Ingredients & Substitutions
Cheese: Look for mozzarella string cheese sticks to use (or regular mozzarella cheese but into sticks). You could use light string cheese or the variety you have on hand. I think these would be delicious with pepper jack string cheese.
Breadcrumbs: I used Italian-seasoned breadcrumbs for some extra flavor. If you only have plain, simply add a tablespoon of Italian seasoning to the cup of breadcrumbs. Or, try another flavor of breadcrumbs, like garlic.
Eggs: You will need four eggs, beaten, for helping keep the coating on each cheese stick. In fact, you will be dipping each cheese stick into the eggs and breadcrumbs twice to get them completely coated.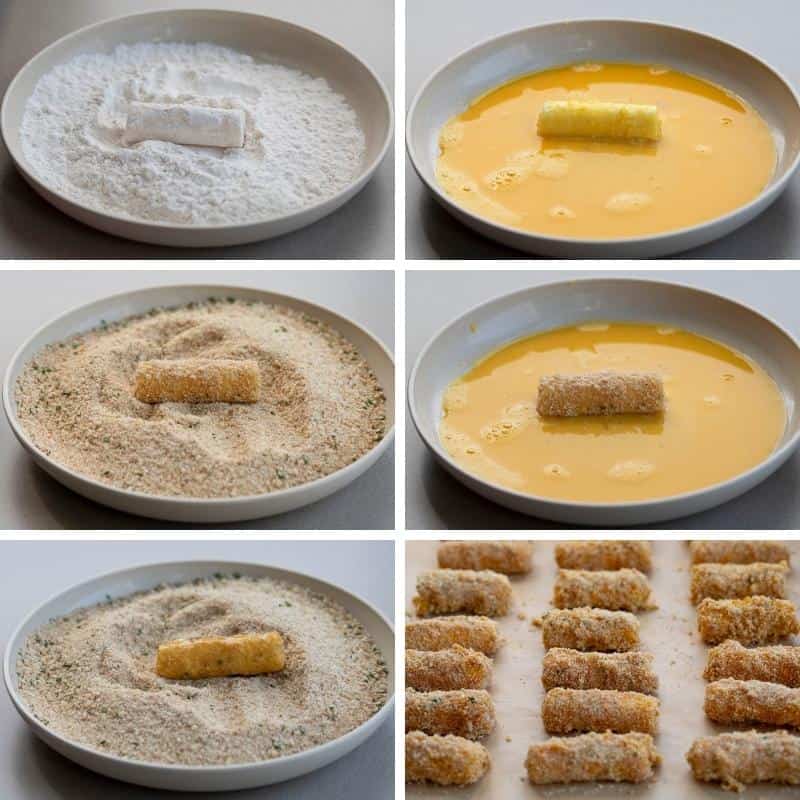 Can I Make these Without Freezing Them?
Yes, you could coat the cheese sticks and place them directly into the air fryer. However, there is a strong possibility that the cheese will ooze out sooner than you want it to. However, it can be done if you are in a hurry to get them made.
How to Bake Mozzarella Sticks in the Oven
If you don't have an air fryer, you can certainly bake these cheese sticks in the oven. Follow the instructions up to placing them into the air fryer. Instead, place the coated cheese sticks onto a baking sheet lined with parchment paper. Bake for 6-8 minutes.
How to Fry Mozzarella Sticks in Oil
Generally, this appetizer is deep-fried in oil to make them extra crispy. (However, when we taste-tested the different methods, the deep-fried cheese sticks ranked lowest.) To fry in oil, first, heat about 2 inches of canola oil in a heavy-bottom pot to 365°F. Once hot, add a few mozzarella sticks to the oil without crowding the pot. Fry for 1-2 minutes, or until golden brown. Use a slotted spoon to transfer the cheese sticks to a plate lined with a paper towel. Be sure to save any leftover oil; check out How to Clarify Used Cooking Oil so it doesn't go to waste!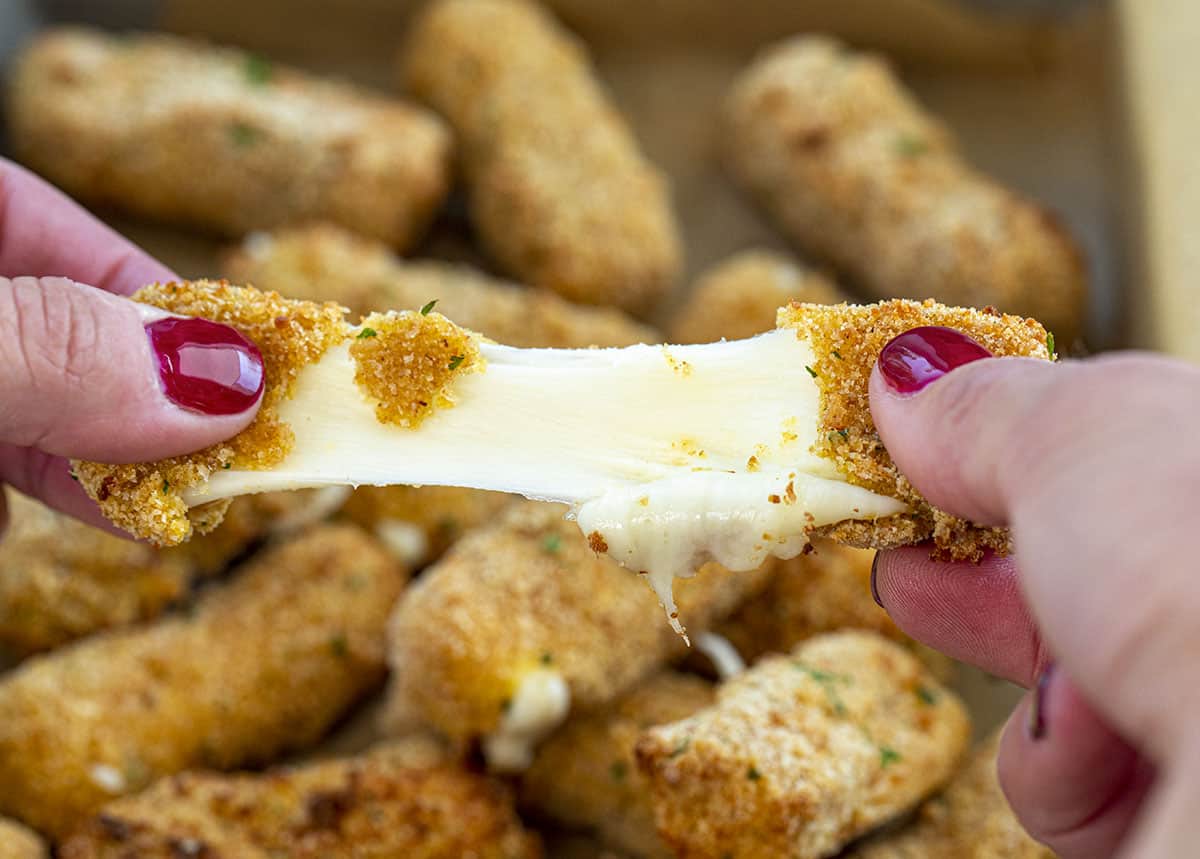 How to Store Leftovers
If you have any cooked mozzarella sticks left, you can store them in the refrigerator or freeze them. To store in the refrigerator, let the cheese sticks cool completely. Then, store them in an airtight container for up to a week. If you are not going to eat them within a week, freeze them. When stored in the freezer, they can last up to 6 months. Reheat the mozzarella sticks in the air fryer or oven. I do not recommend using the microwave.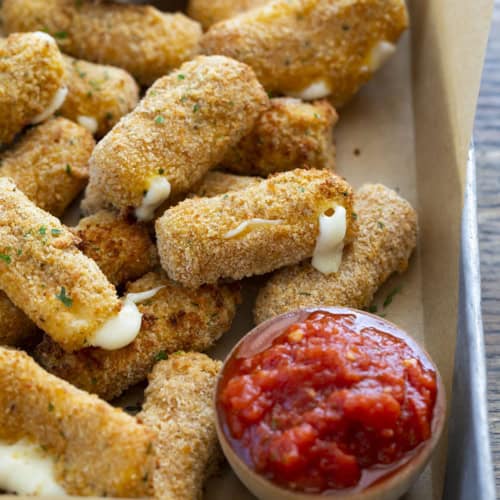 Mozzarella Sticks
Mozzarella Sticks are coated pieces of string cheese, cooked crispy in an air fryer, and dipped in homemade marinara sauce.
Ingredients
12

sticks

mozzarella string cheese,

cut in half

½

cup

(62.5 g) all-purpose flour

1

teaspoon

kosher salt

½

teaspoon

garlic powder

4

large

eggs,

room temperature

1½

cups

(162 g) Italian seasoned breadcrumbs

parsley,

chopped, for garnish

1

cup

(257 g) marinara sauce,

for dipping
Instructions
Set out three shallow bowls and a piece of parchment paper.

In the first bowl, add flour, salt and garlic powder.

In the second bowl, add eggs and whisk vigorously.

In the third bowl, add breadcrumbs.

Working one at a time, first, dip the mozzarella stick into the flour mixture, turning to coat all sides. Next, roll it into the eggs, coating all sides. Third, dip the mozzarella stick into the breadcrumbs. Finally, go back and dip the cheese stick in both the eggs and the breadcrumbs. The mozzarella stick should be fully coated. Place it onto the parchment paper.

Repeat with the remaining mozzarella sticks.

Place the coated cheese sticks into the freezer for at least 30 minutes, up to an hour.

When ready, preheat the air fryer to 390°F for 5 minutes.

Lightly spray the mozzarella sticks with cooking spray and carefully place them into the basket of the air fryer, leaving some space in between each cheese stick. (Depending on the size of your air fryer, you may have to work in batches.)

Air fry for 4-6 minutes, or until golden brown.

Remove from the air fryer and let cool for 1-2 minutes. Serve hot with marinara sauce.
Did you make this recipe?
You can tag me at @iamhomesteader.