Roasted Pork Loin is a tender and lean pork loin that is pan-seared, baked, and covered with a homemade gravy for a delicious dinner. To complete the meal, add some creamy mashed potatoes and Roasted Parmesan Green Beans.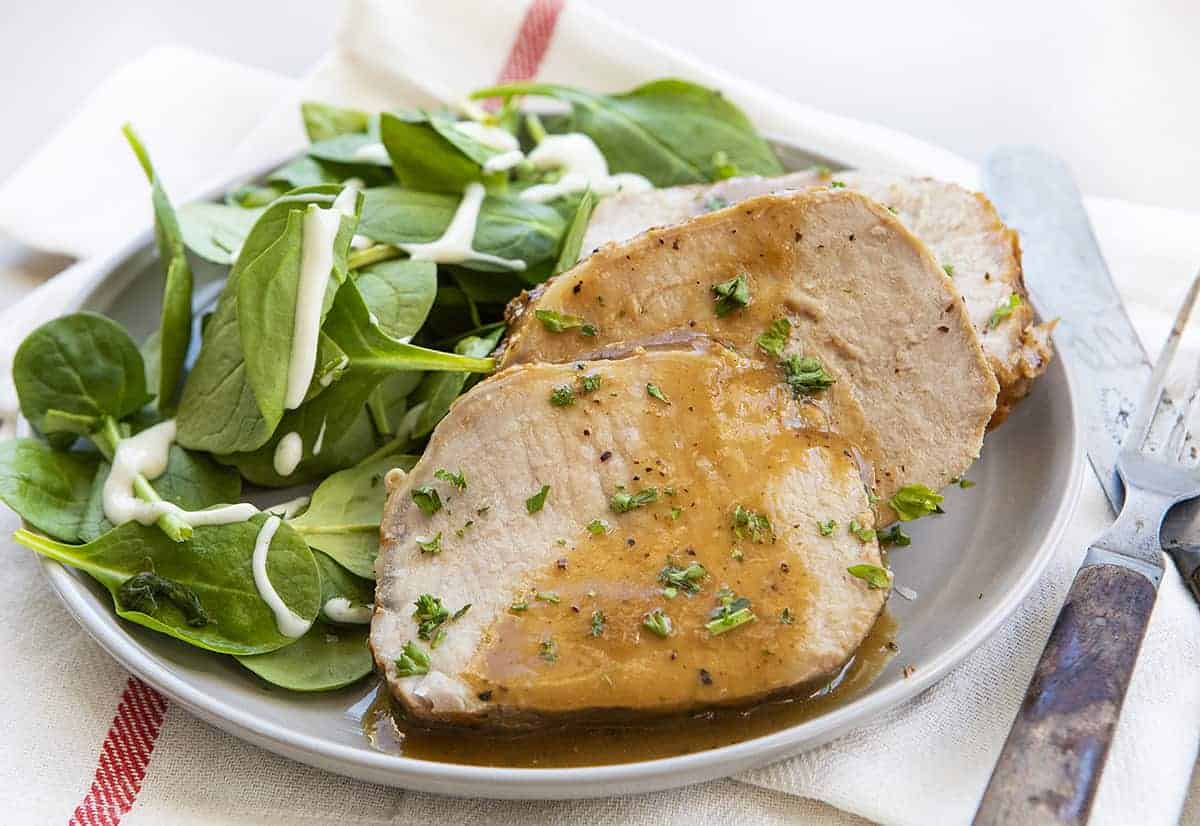 Roasted Pork Loin with Gravy
If you love pork chops, I encourage you to try a pork loin roast next time. It can be bought bone-in or boneless. I used a boneless pork roast for this recipe. Look for pork that is labeled center-cut pork loin, center-cut pork roast, or a center-cut rib roast (bone-in roast). It is usually less expensive than tenderloin and comes in a larger size if you need to feed a large group of people. Pork tenderloin and pork loin roasts do cook differently because of size, so it's important to not substitute one for the other in recipes.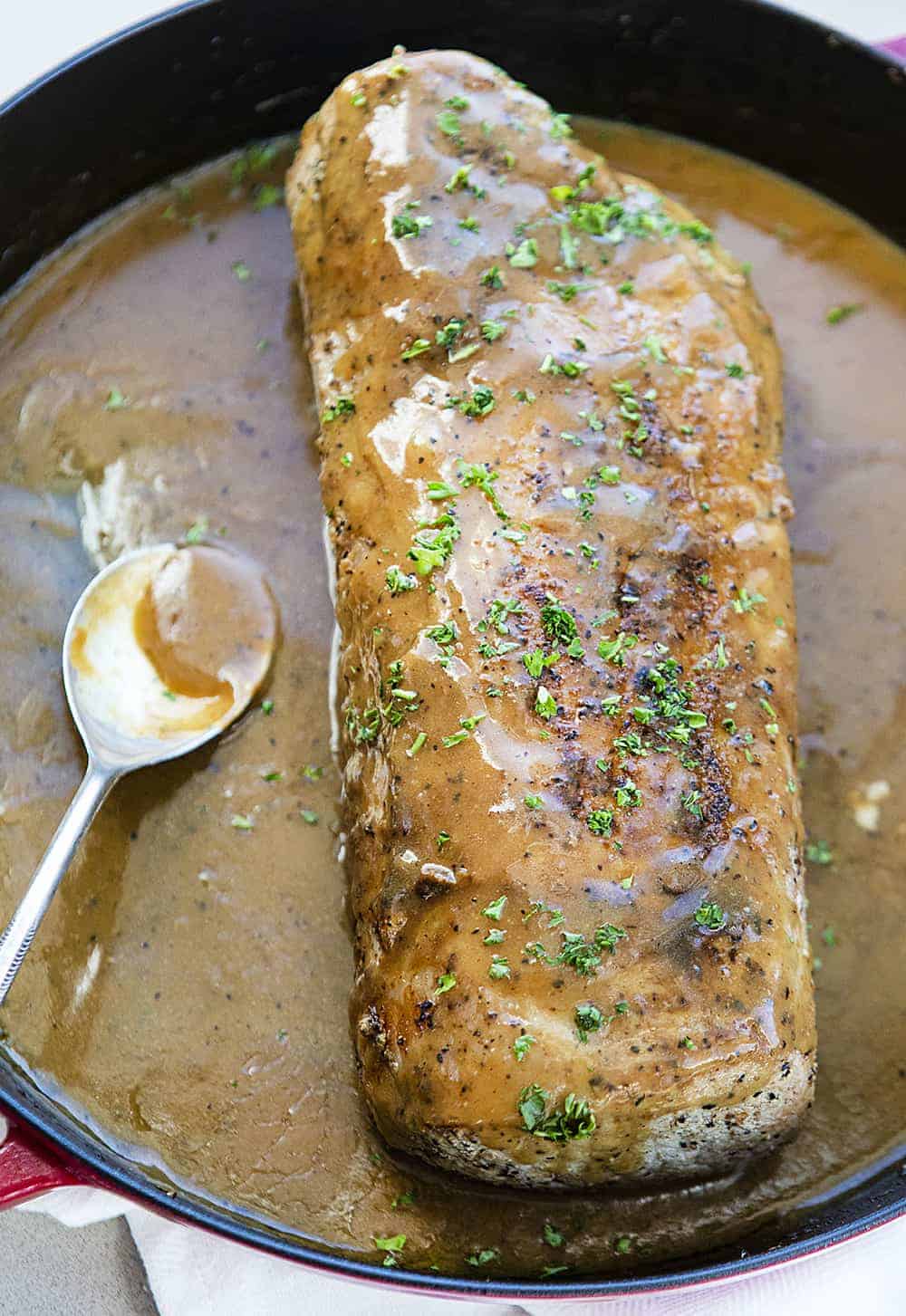 Roasted Pork Loin with Gravy Recipe
I went with a center-cut pork loin for this recipe. Center-cut pork loin is one of the leanest cuts of meat, so be careful about choosing one. The redder the meat, the leaner it is, but also the tougher it is. I recommend choosing a pork loin with a more pinkish color with some white streaks. Don't be fooled if you see a pork sirloin. That is a different cut of meat that is not as tender or lean as a pork loin or tenderloin. Who knew there were so many cuts of pork?!? I didn't even begin to mention the ribs, pork shoulder, pork butt, ham, etc! After you have cooked the pork, a homemade gravy tops it all off.

How to Make Roasted Pork Loin
To make the Roasted Pork Loin, start by patting the loin dry with a paper towel. This will keep the meat dry enough to not slip as you trim the fat. Be sure to use a very sharp knife when trimming any fat off the roast. It's fine to leave up to 1/4-inch of fat on the roast if you want to. This will keep the pork loin from getting too dry. Next, preheat the oven to 350°F and combine the rub in a small bowl. The rub is 1 tablespoon olive oil, garlic powder, onion powder, salt, and pepper.
Rub the mixture all over the roast and heat up the remaining olive oil in a large, oven-safe skillet over medium heat.

Sear the pork loin on all 'sides'. Simply rotate it about four times to get as much of the loin seared as possible.

Then, add the chicken broth to the skillet, cover the skillet with aluminum foil and bake the pork for 15-20 minutes.

After the 15-20 minutes, remove the pork from the oven, baste it with the pan juices, and put it back into the oven (uncovered) for another 20-25 minutes.

To make sure pork is completely cooked through, a meat thermometer should read 145°F. Transfer the cooked pork to a plate while you make the gravy.
How to Make the Gravy for Roasted Pork Loin
Once the pork loin has been seared and cooked to perfection, it's time to make the gravy that will go over the pork. It's really easy to make your own gravy, so skip buying the jarred gravy or gravy mix. To make the gravy, whisk together the broth and flour in a medium bowl until there are no lumps. Then, add this mixture to the pan drippings that were left in the skillet. Set the heat to medium and whisk until you get the desired thickness of your gravy. Pour the gravy over slices of the pork loin roast. Yum!

Storing Pork Loin Roast
Once you have the perfect pork loin roast picked out, it's best to use it as soon as you can. If you are not cooking the pork loin right away, it can be stored in the refrigerator for up to 3 days. Be sure to freeze it if you are not planning to use it within the 3 days. The pork can be frozen for up to 6 months, and then has to be thawed in the refrigerator for up to 24 hours before cooking. Any way you go, be sure to let the thawed pork loin sit out at room temperature for about 30 minutes before cooking it.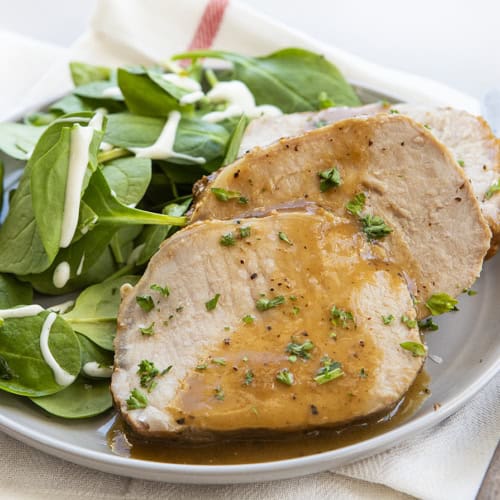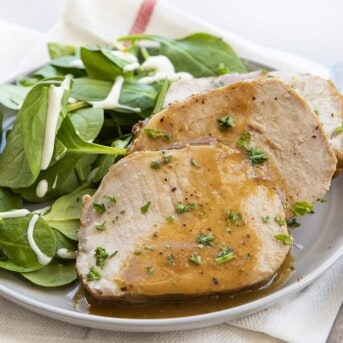 Roasted Pork Loin
A deliciously seared pork loin is topped with homemade gravy in this Roasted Pork Loin recipe.
Ingredients
4-5

pound

pork loin roast,

trimmed of fat

2

tablespoons

olive oil,

divided

1

teaspoon

garlic powder

1

teaspoon

onion powder

2

teaspoons

kosher salt

1

teaspoon

fresh cracked black pepper

1

cup

chicken stock
Gravy
1

cup

chicken broth

3

tablespoons

flour
Instructions
Pat pork loin dry with a paper towel.

In a small bowl combine 1 tablespoon olive oil, garlic powder, onion powder, salt, and pepper. Rub mixture on all sides of the pork loin.

In a large skillet, over medium heat, add remaining 1 tablespoon of olive oil. Once heated, sear pork loin on all sides until browned (about 4 minutes per side).

Add chicken broth to skillet, cover with foil and transfer the pan to the oven for 15 minutes.

Remove the foil and baste the pork loin in the pan juices. Bake uncovered for another 20-25 minutes (or until the pork reaches an internal temperature of 145°F).

Remove the skillet from the oven and transfer the pork loin to a plate while you make the gravy.
Gravy
In a medium bowl, whisk together broth and flour until no lumps appear.

Pour into the skillet with the pan drippings.

Set the skillet to medium heat and whisk to combine. The mixture will thicken. Once the desired thickness is reached, remove from heat.

Slice the pork loin and drizzle gravy over the top. Serve immediately.
Did you make this recipe?
You can tag me at @iamhomesteader.