With a pumpkin spice dry rub, Pumpkin Spice Pork Tenderloin is a tender, flavorful tenderloin that will fit right into your fall recipes! If you love the tenderness and flavor of pork tenderloin, be sure to try my Pork Tenderloin with Roasted Garlic Cream Sauce.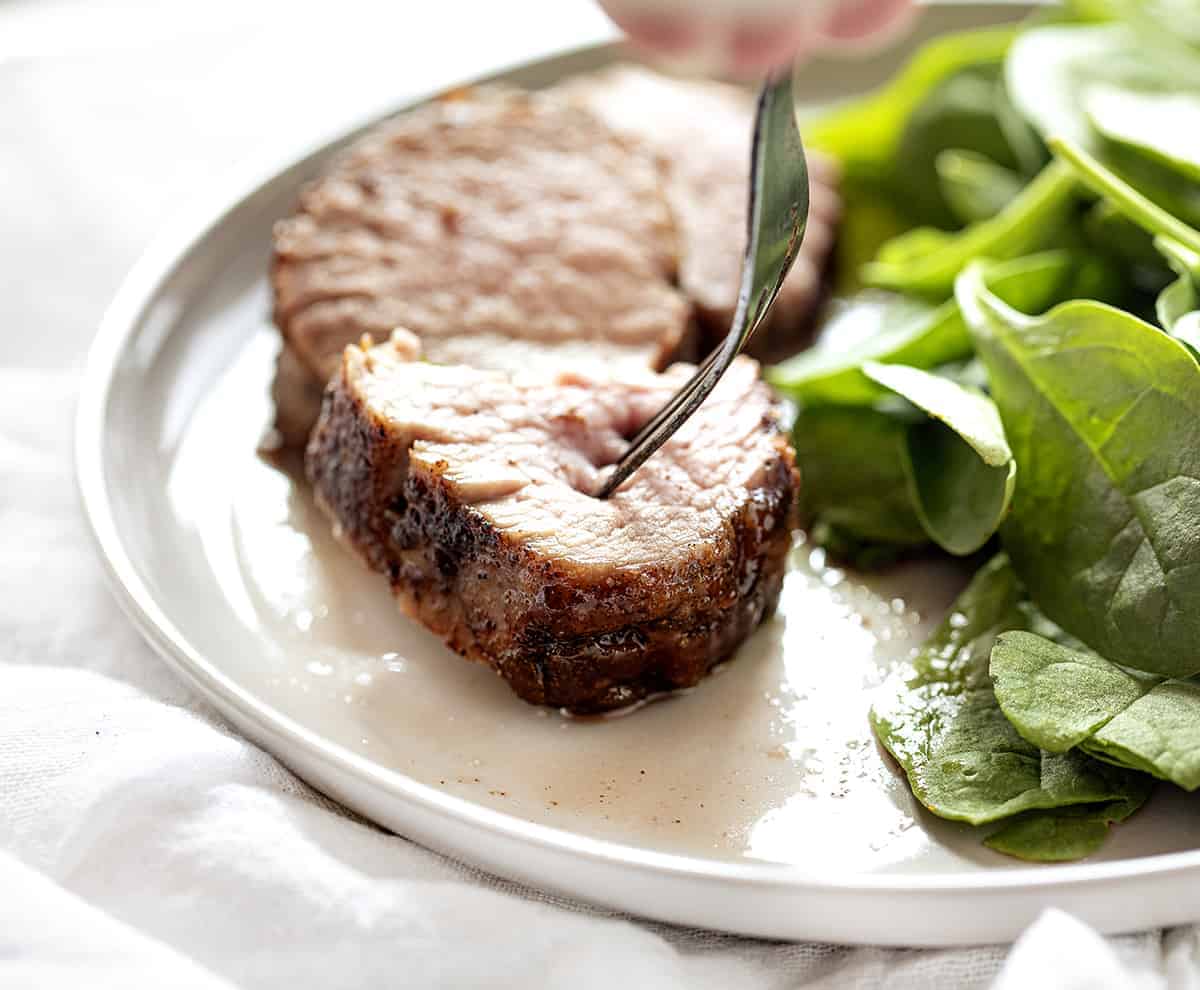 Pumpkin Spice Pork Tenderloin
Pumpkin Spice is all the rage right now! It's in drinks, treats, desserts, and even breakfast rolls like my Pumpkin Sweet Rolls. You might notice that there is a category I haven't mentioned…pumpkin spiced meat! Yes, you read that correctly. Pumpkin Spice Pork Tenderloin is a pork tenderloin that is covered in a dry rub that includes my homemade pumpkin pie spice! It was only a matter of time before pumpkin spice invaded the protein world! And I have to admit, I loved it!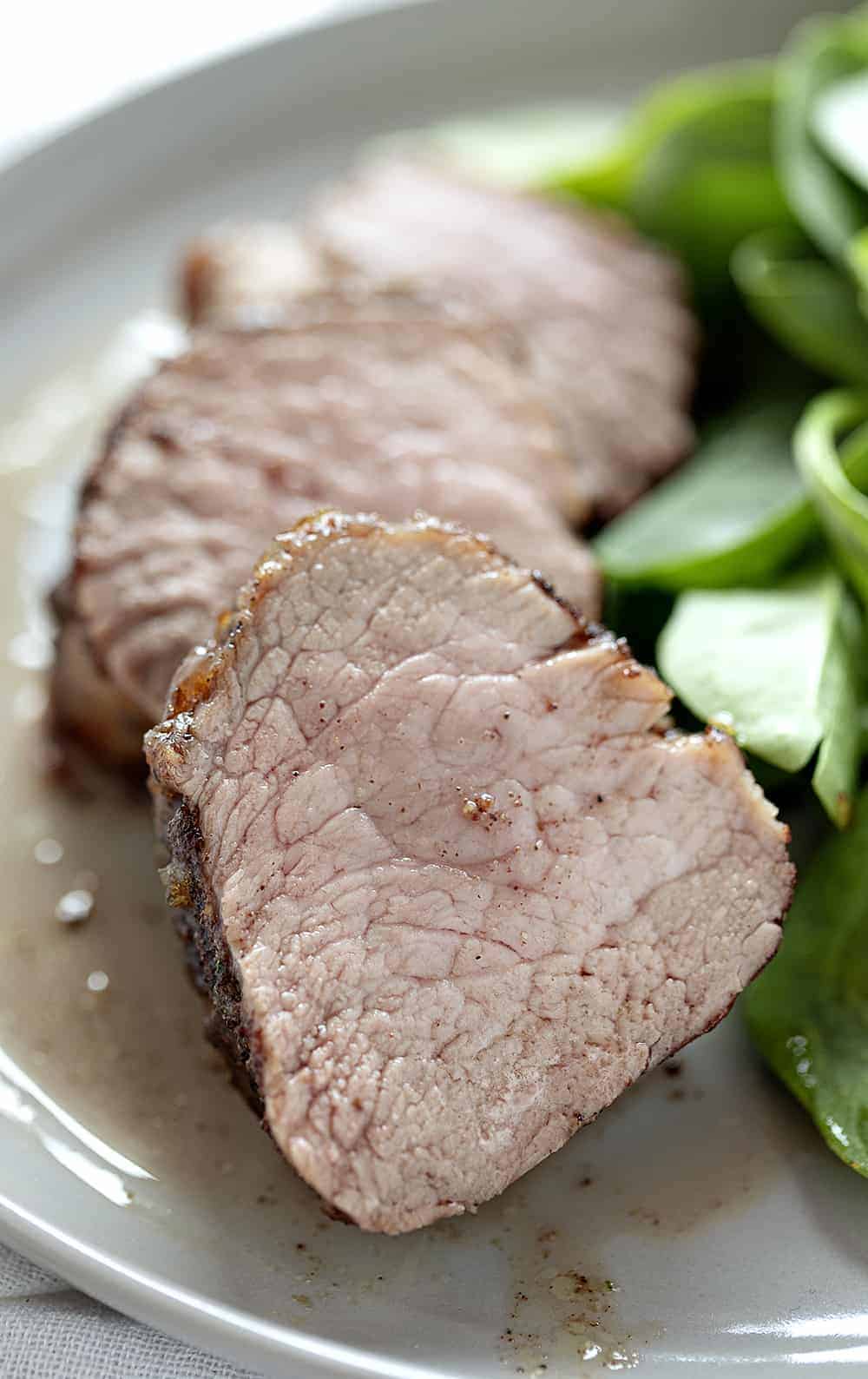 Pumpkin Spice Pork Tenderloin Recipe
If you read the title of this recipe correctly, you will notice it says pork tenderloin, not pork loin. There is a difference between pork tenderloin and pork loin. Both cuts of meat are very lean and healthy, but the size and cooking times are quite a bit different. Pork tenderloin is quite a bit smaller than a pork loin. Each tenderloin is about one pound and sold as one boneless piece. Because of its size, be careful not to overcook it!
The first thing you need to do is prepare the dry rub, completely covering the pork tenderloin with the rub.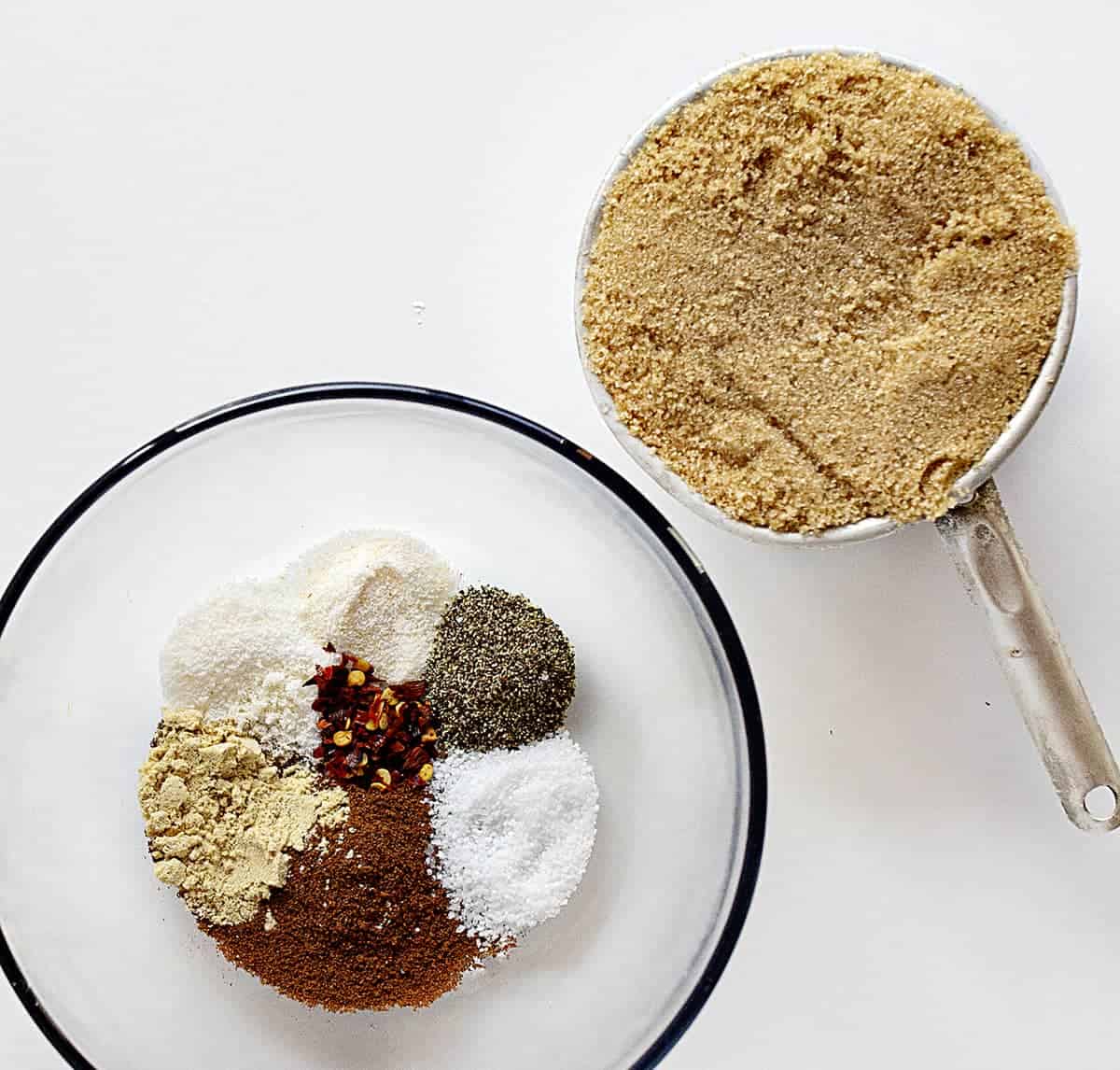 Pork tenderloin: Remember to get the tenderloin, not a pork loin.
Pumpkin pie spice: You can make your own pumpkin pie spice if you don't have any on hand. Just remember, a homemade spice usually has a stronger flavor than store-bought spices. I recommend using half of the amount the recipe calls for (to start) and slowly adding more from there.
Onion powder: Make your own homemade onion powder for this recipe!

How to Make Pumpkin Spice Pork Tenderloin
When I first came across a pork tenderloin that called for a pumpkin spice rub, I did not have high hopes. In fact, I wasn't sure I could even try it to be honest! But I was shocked by how well the sweetness in the rub did compliment the meat. It was a lot of flavor going on in stages after one bite!
When you are ready to cook the Pumpkin Spice Pork Tenderloin, preheat the oven to 375°F. While the oven is preheating, sear the pork tenderloin in olive oil for about 4-5 minutes per side. Yes, I know it is more cylindrical, but what I am saying is sear it all the way around as much as possible. After searing it, set the tenderloin off to the side and make the glaze. The glaze will be the final step to add to the tenderloin before cooking it. Check the meat after 15 minutes. The internal temperature of pork should be at least 145°F. Let it rest for a few minutes before cutting into it.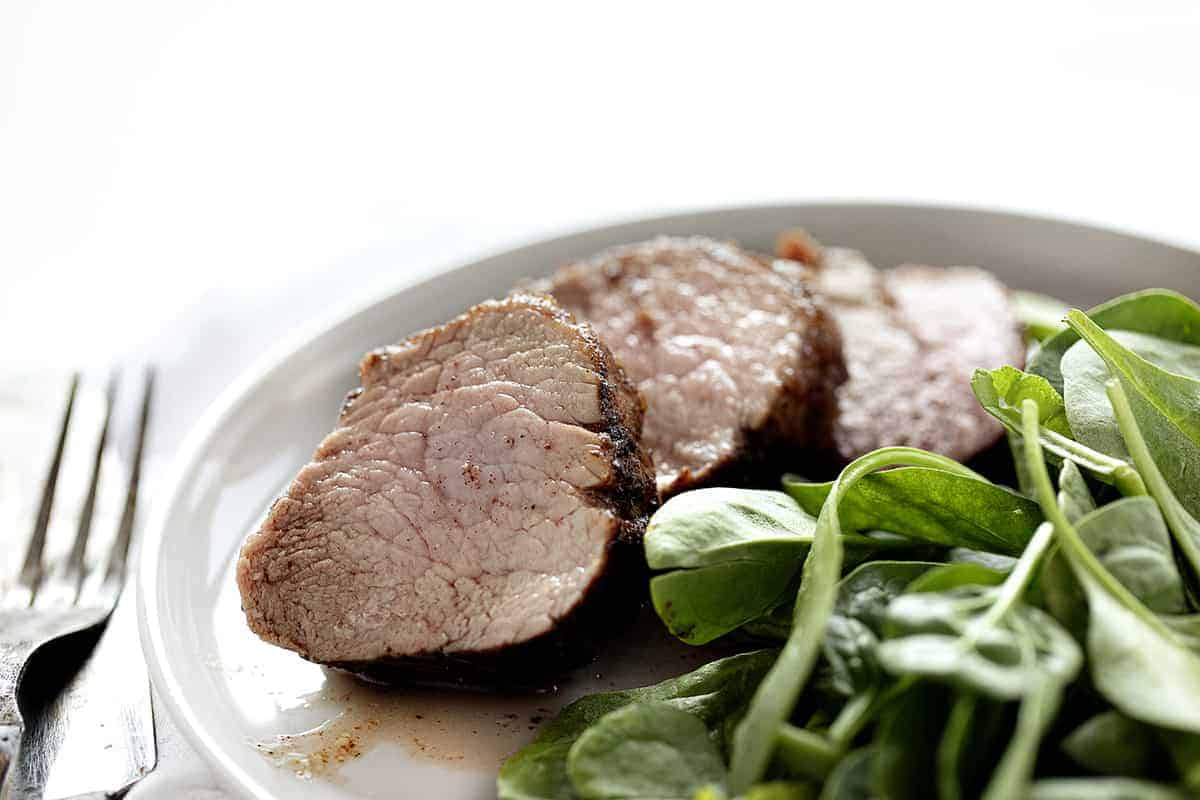 Can I Freeze Leftover Pumpkin Spice Pork Tenderloin
You can definitely freeze cooked pork tenderloin. You can leave it as a whole piece, which I recommend. Or, if you want individual cuts of the meat for meals, that is always an option as well! Either way, make sure you wrap it tightly in tin foil, plastic wrap, or in a freezer bag. Thaw it in the refrigerator until it is ready to be heated back up on the stove, oven, or even microwave.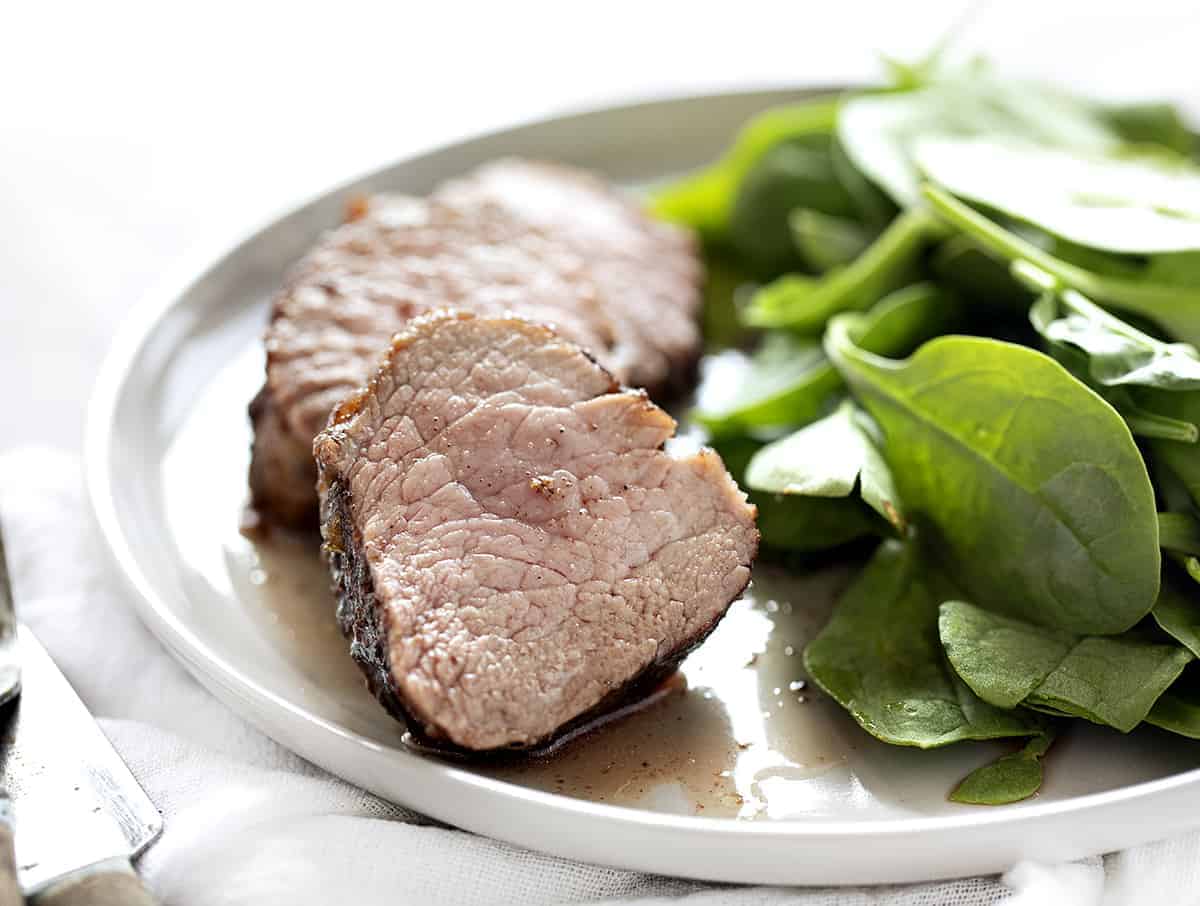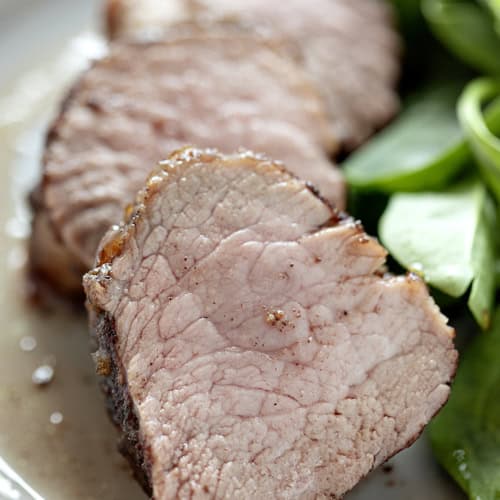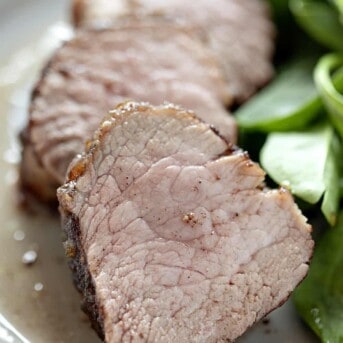 Pumpkin Spice Pork Tenderloin
Pumpkin Spice Pork Tenderloin is a tender, flavorful tenderloin that will fit right into your fall recipes!
Ingredients
Dry Rub
1

teaspoons

pumpkin pie spice

½

teaspoon

ground mustard

½

teaspoon

onion powder

½

teaspoon

garlic powder

¼

teaspoon

salt

¼

teaspoon

pepper

⅛

teaspoon

crushed red pepper
Pork
1

boneless pork tenderloin

2

tablespoons

olive oil
Glaze
1

cup

brown sugar

2

tablespoons

olive oil
Instructions
Preheat the oven to 375° F.
Dry Rub
In a small bowl, combine pumpkin pie spice, ground mustard, onion powder, garlic powder, salt, pepper, and crushed red pepper. Stir and rub on all sides of the pork loin. Let rest at room temperature for up to 2 hours.
Pork
Heat 2 tablespoons olive oil in a large skillet over medium heat. Add the pork loin and sear on all sides (about 4-5 . minutes per side).

Remove pork from pan and set on a cutting board.
Glaze
In a small bowl, mix together the brown sugar, olive oil, and salt. Rub all over the pork loin and then return the meat back to the skillet. Transfer the skillet to the oven and bake 15-20 minutes (or until meat reaches an internal temperature of 145°F). This amount of time will vary based on how large the pork tenderloin is.
Did you make this recipe?
You can tag me at @iamhomesteader.