Ranch Pork Chops with Green Beans and Potatoes is seasoned perfectly and combined with softly baked baby red potatoes and fresh green beans. If you love pork chop recipes, make sure to check out these browned butter pork chops and mushrooms!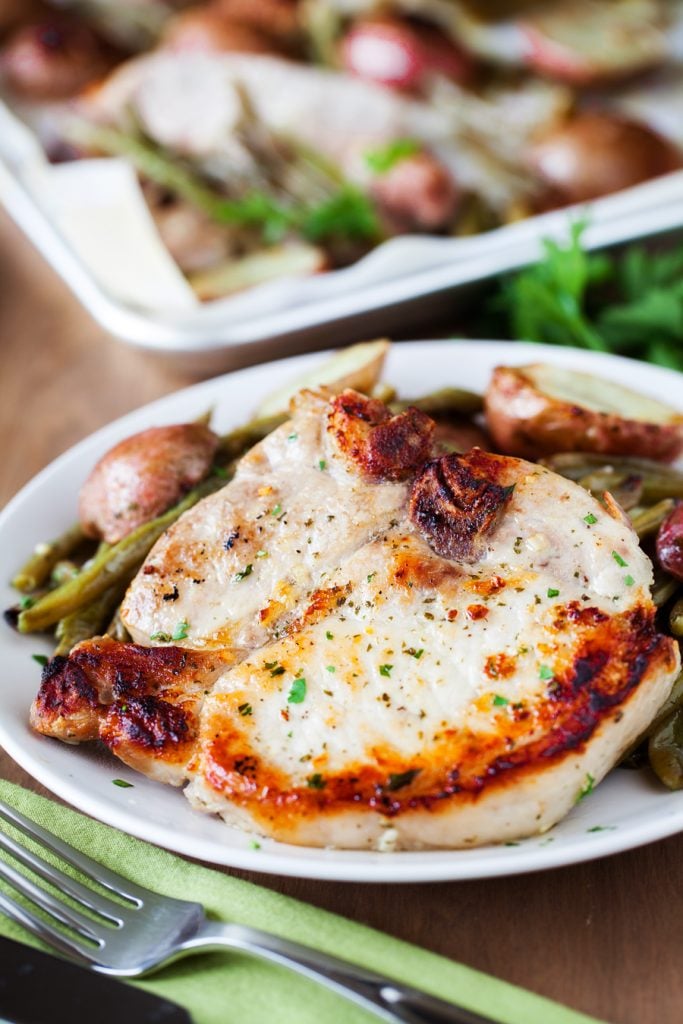 Ranch Pork Chops
This is a quick, easy, and delicious way to get dinner on the table fast! The pork chops and vegetables cook together in one pan so that everything is ready at the same time and stays hot when ready to serve. By using the ranch seasoning, an ordinary meal transforms from bland to completely scrumptious.
One-pan meals are rising in popularity these days.  I think I might know why.  I love throwing everything into one pan and having it all cook at once.  The clean-up is so easy!  If you are anything like me, you need little magic potions like this recipe to keep some sanity in your world.  One-pan meals are like a secret weapon when you have a busy hectic household!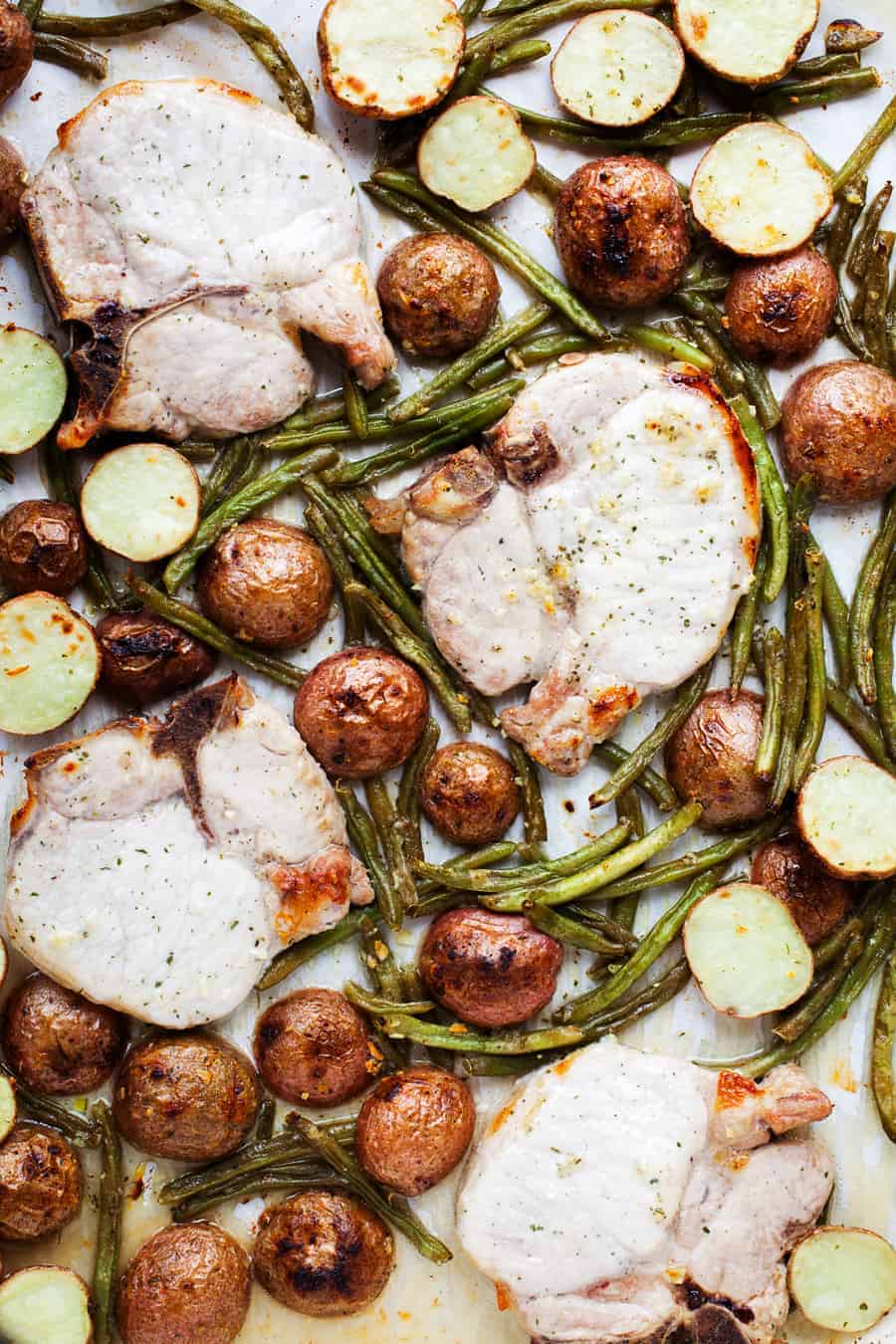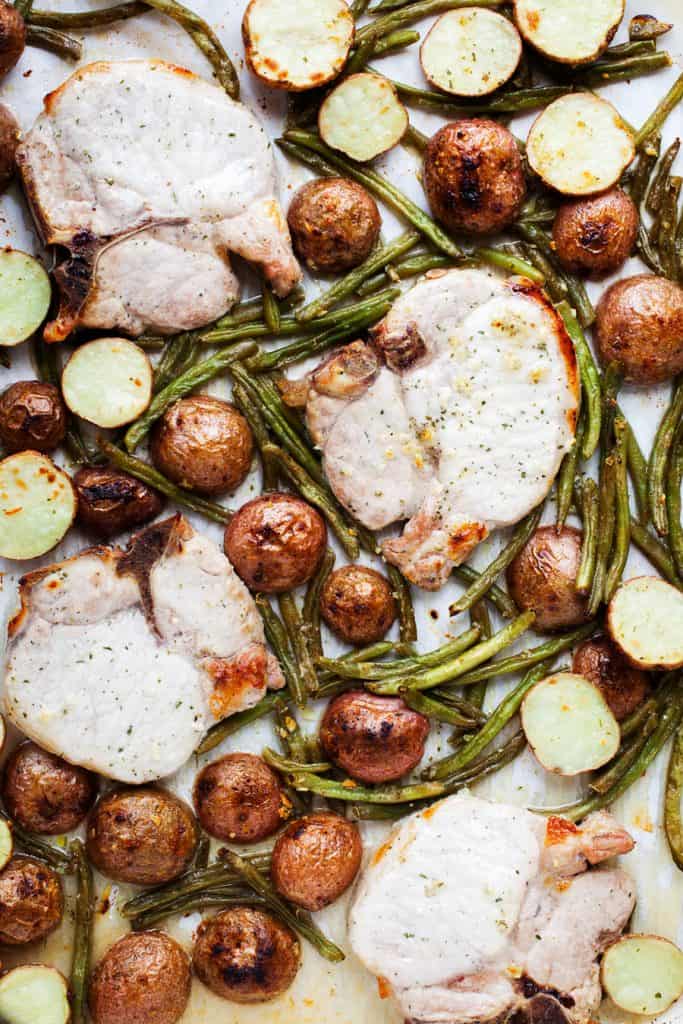 How to Cook Ranch Pork Chops
Pork Chops are relatively simple to cook, but arming yourself with a few basic tips will ensure your success:
Room Temperature
Starting with a room-temperature chop is a great way to ensure that they cook perfectly. You can leave them on the counter for 30 minutes (up to 2 hours) to ensure that the chop is not cold throughout.
Cooking Temperature
It is important to make sure that your pork reaches an internal temperature of 145°F. Using a meat thermometer is a great idea when cooking with pork as you do not want to overcook it. Overcooked pork chops are tough and dry.
Cut Type
Another thing to consider when cooking pork chops is the cut of meat you choose. This recipe uses boneless but can also work well with bone-in chops. A bone-in chop can provide substantial flavor as well as cooking more evenly. When testing the meat temperature just be sure to not touch the thermometer to the bone to ensure an accurate reading.
Rest
Remember to let your chops rest for a few minutes before serving! You want to make sure all of that beautiful moisture and flavor stays inside your perfectly cooked pork chops.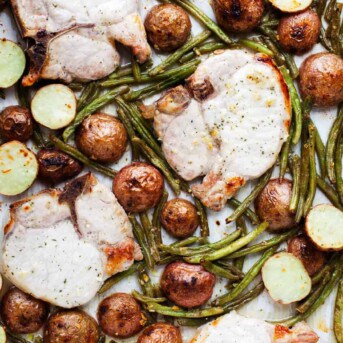 Ranch Pork Chops with Green Beans and Potatoes
Ranch Pork Chops with Green Beans and Potatoes is seasoned perfectly and combined with softly baked baby red potatoes and fresh green beans.
Ingredients
4

bone-in pork chops,

3/4-inch to 1-inch thick

16

ounces

baby red potatoes,

halved

16

ounces

green beans,

frozen

2

tablespoons

olive oil

1

package

dry ranch seasoning

3

cloves

garlic,

minced

2

tablespoons

fresh parsley leaves,

chopped
Instructions
Pre-heat oven to 400°F and line a large baking sheet with parchment paper.

Place the chops, potatoes, and green beans in a single layer on the baking sheet. Drizzle with olive oil.

In a small bowl, stir together the ranch seasoning mix and garlic. Sprinkle over the pork and vegetables.

Bake for 22 to 24 minutes, rotating after 10 minutes until the thickest part reaches 145°F with a meat thermometer. Place under the broiler for a few minutes to add some color.

Sprinkle on the chopped parsley to garnish. (or sprinkle with parmesan!) Serve hot.
Did you make this recipe?
You can tag me at @iamhomesteader.