This Easy Shrimp Boil, also known as a Low-Country Boil, is smoked sausage, potatoes, corn, and shrimp boiled together in a seasoned broth, then served coated in a rich and flavorful butter sauce. It's a delicious way to enjoy fresh seafood and is often associated with summertime gatherings and backyard parties. But, no need to wait for a large group to make this recipe as it is a wonderful dinner idea! If you love this flavor combination, you will also love my Cajun Shrimp and Sausage Foil Packs.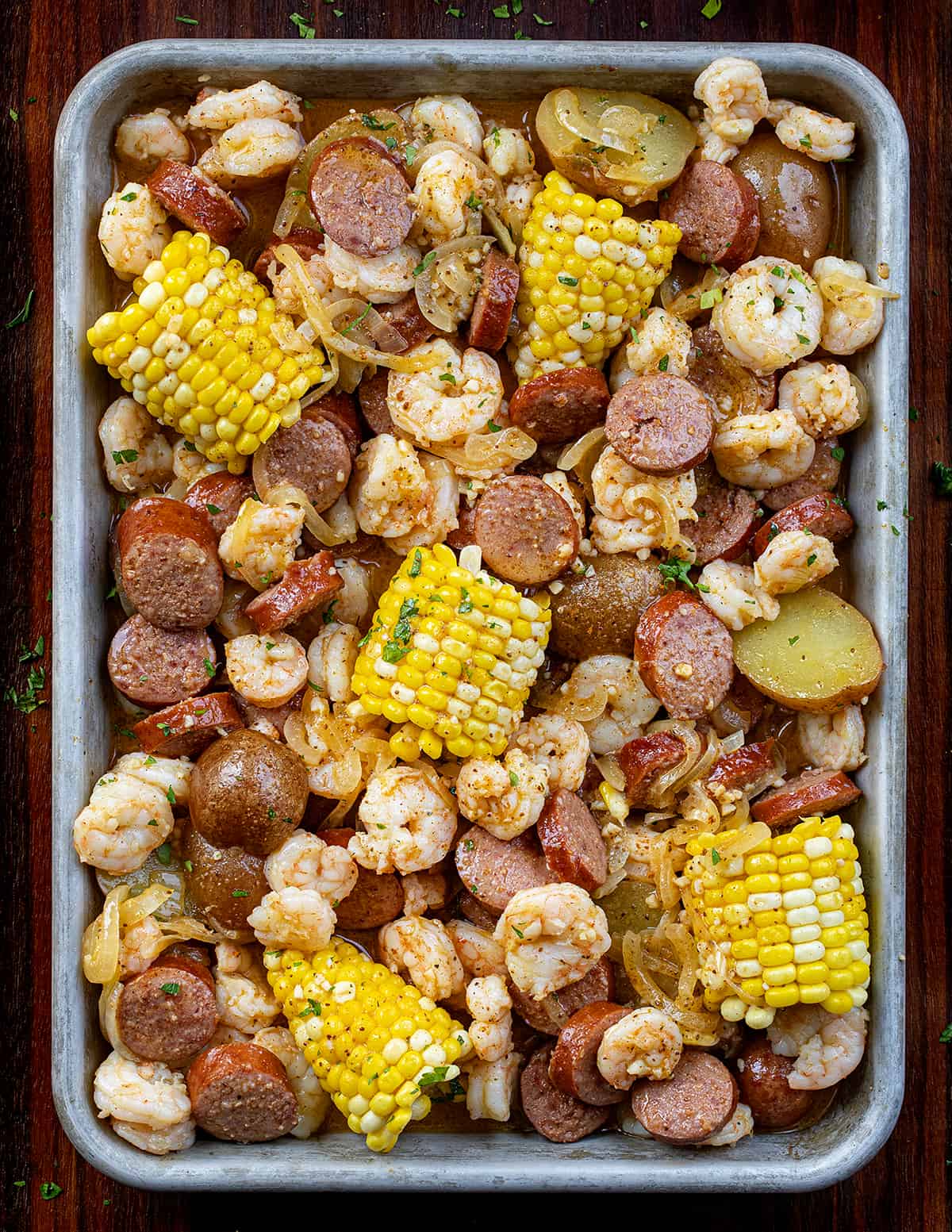 What Is A Shrimp Boil?
A shrimp boil, or a seafood boil, can be traced back to coastal regions of the United States, particularly Louisiana and the Gulf Coast. Many times, seafood boils were a way to celebrate and showcase the fresh catches of the day. The seafood is boiled in a large pot or kettle over a fire outdoors, which is a convenient and efficient method of cooking large quantities of food for a gathering. Over time, the tradition of seafood boils has spread throughout many regions around the country. Whether feeding a huge crowd or your family (like this recipe), a seafood boil is a delicious way to enjoy a variety of flavors in one dish.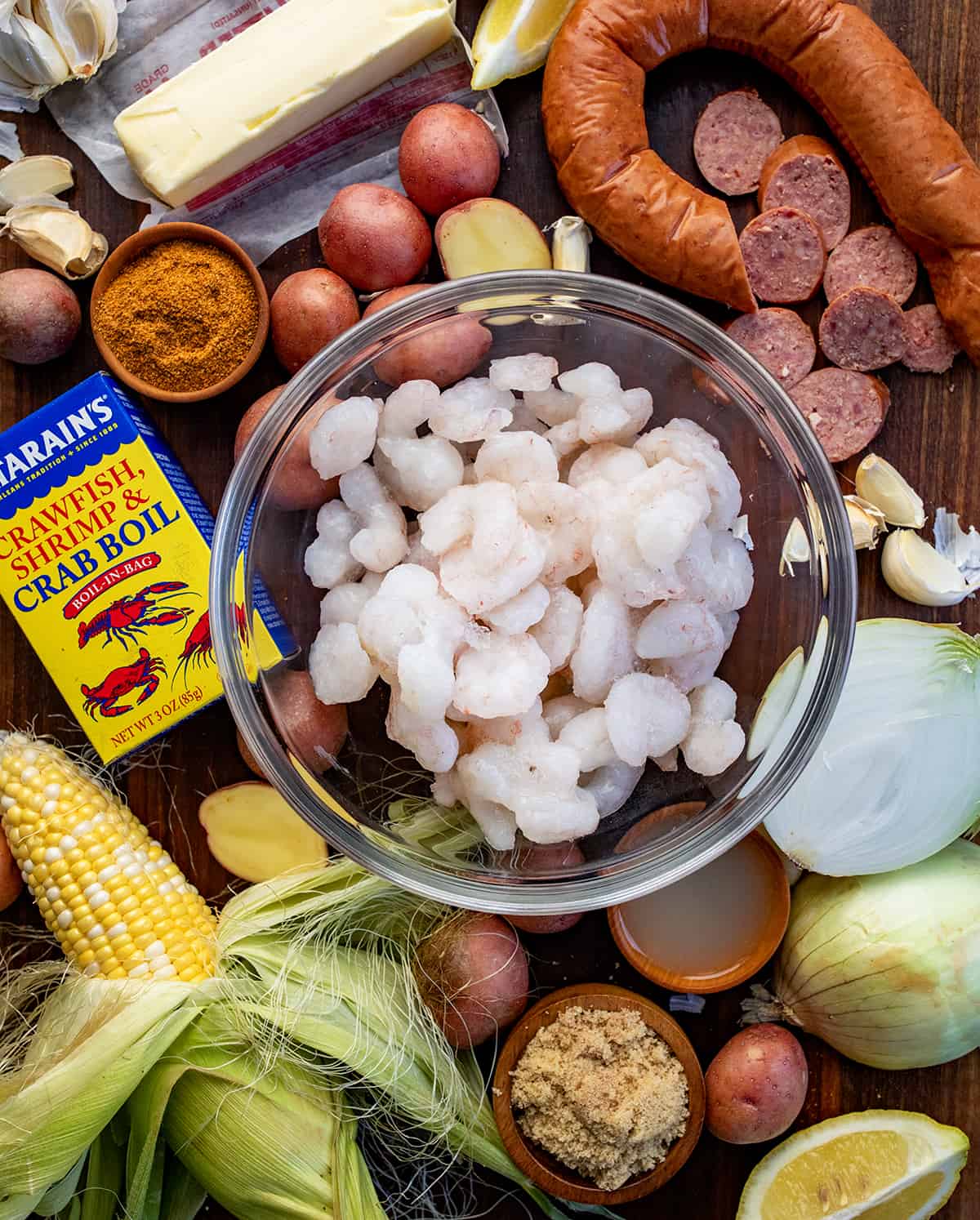 Ingredients & Substitutions
Seasoning Packet: Look for Zatarain's crawfish, shrimp, and crab boil-in packet. It is added to a pot of water and simmers with the other ingredients.
Smoked Sausage: I used 2 packages of pre-cooked smoked sausage (like andouille) in the shrimp boil. You could also use turkey sausage, chorizo, or Polish kielbasa.
Potatoes: Baby red potatoes, or new potatoes, are small immature potatoes with thin skins.
Corn: When cutting ears of corn into smaller sections, use a very sharp knife, being very careful. Or, you could just cut or break the corn in half for larger pieces if preferred.
Lemon: You will need 3 lemons for the shrimp boil. One lemon will be in the boil, another lemon will be juiced for the butter sauce, and the third lemon will be cut into wedges for serving. Lemons provide a refreshing citrusy note that complements the rich and savory flavors of the seafood, sausage, and other ingredients. The acidity of the lemon juice helps balance out the richness and adds a zesty element to the dish.
Shrimp: Fresh shrimp is best, and it's easy to peel and devein. To peel, start from underneath. To devein, make a slit (not too deep) along the back of the shrimp, pulling out the black vein with the tip of a knife. It is up to you if you leave the tails on or off. (We removed the tails.) You could also use raw frozen shrimp, but it may take a couple of additional minutes of cook time. Shrimp are fully cooked when their interior is white and the outside is light pink. They will also form a 'c' shape when cooked.
Butter Sauce: The butter sauce is made with unsalted butter, onion, garlic, light brown sugar, Old Bay seasoning, and lemon juice.
Old Bay Seasoning: Old Bay Seasoning is a blend of herbs and spices often associated with seafood.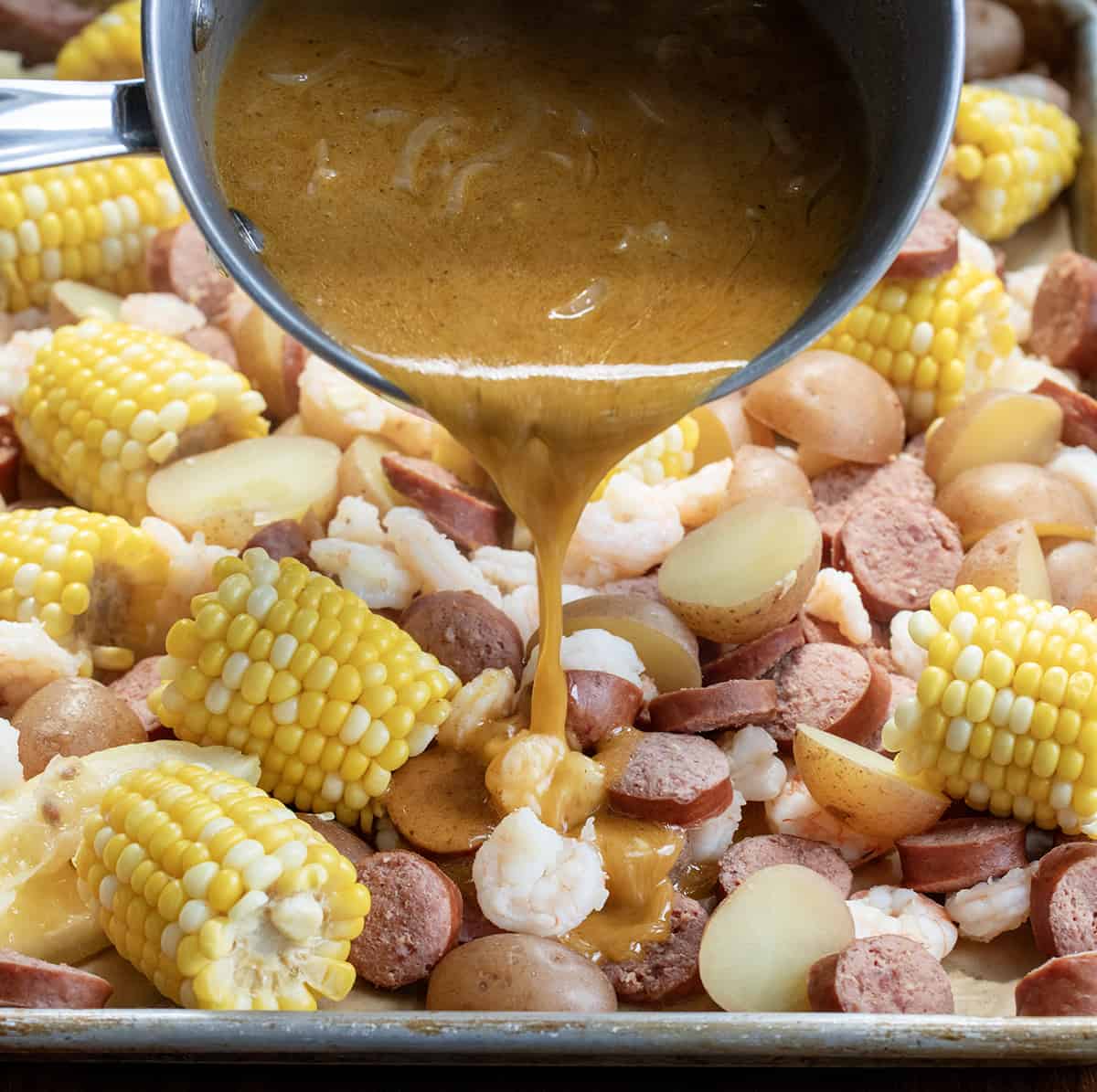 Tips For Selecting the Best Raw Shrimp
Using raw shrimp in recipes is nothing to be intimidated by! However, it's important to be a little cautious when purchasing fresh shrimp. When choosing your shrimp:
Steer clear of ones with slimy or soft shells.
Make sure there's no unpleasant or ammonia-like odor.
Keep an eye out for any black spots on the shrimp.
Once you've got your shrimp and you're all set to use them in your recipe, it's time to peel and devein them. Removing the tail is a personal preference.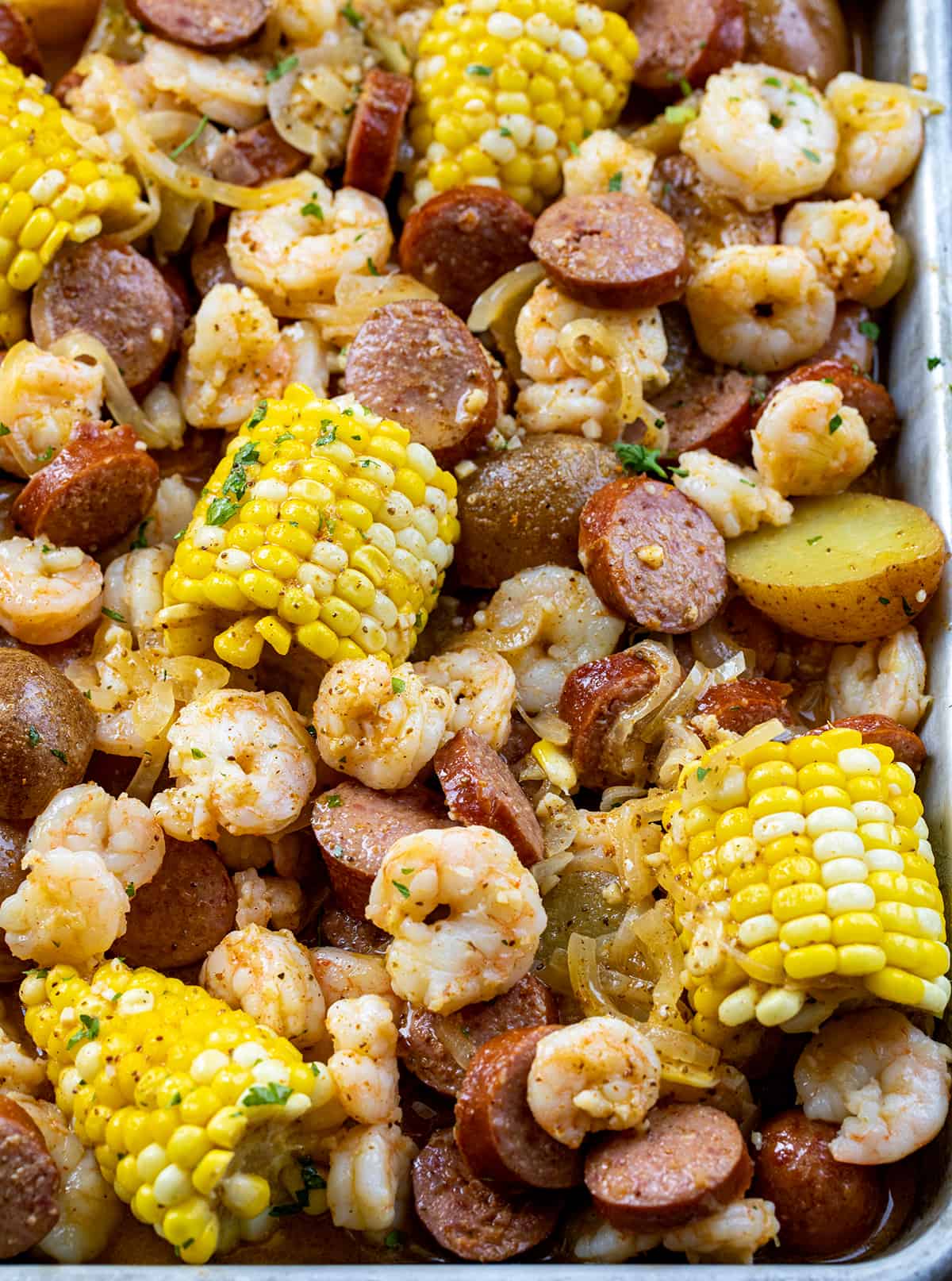 What To Serve With A Shrimp Boil
Yes, a shrimp boil is loaded with a variety of ingredients, but it is always a good idea to have some sides to serve with the dish. Here are some of my favorites:
Storing & Reheating A Shrimp Boil
If you have any leftover shrimp boil, store it in an airtight container in the refrigerator. It will last up to 2-3 days. When reheating it, use the oven. (Reheating in the microwave can result in rubbery shrimp.) Lightly grease a baking dish, add the shrimp boil, and cover with aluminum foil. Bake on low heat (300°F or so) for 10-15 minutes.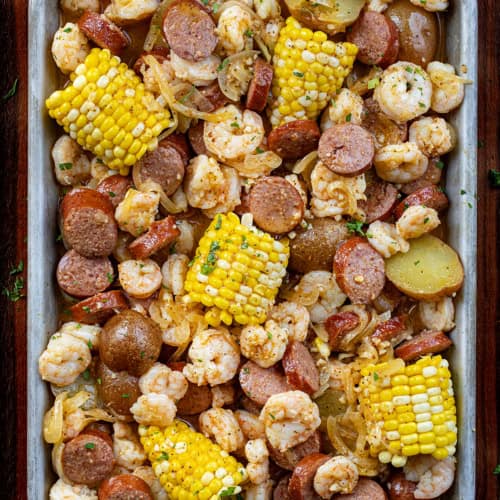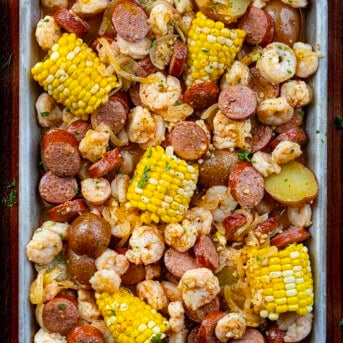 Easy Shrimp Boil
This Easy Shrimp Boil is smoked sausage, potatoes, corn, and fresh shrimp boiled together in a seasoned broth, then served coated in a rich and flavorful butter sauce!
Ingredients
2

package

(12.8 ounces each) smoked sausage,

or kielbasa, cut into ½-inch slices

1

pound

baby red potatoes,

halved

3

ears

corn,

husked, each carefully cut into 4 sections (for a total of 12)

1

medium

lemon,

quartered

2

pounds

medium uncooked shrimp,

peeled, deveined, tails removed
Butter Sauce
1 ½

cups

(3 sticks / 340 g) unsalted butter,

melted

1

large

yellow onion,

cut into half-moon slices

2

tablespoons

garlic,

minced

1

tablespoon

light brown sugar,

packed

¼

cup

Old Bay seasoning

2

tablespoons

lemon juice
Toppings
1

medium

lemon,

cut into wedges (for serving)

parsley,

for garnish

additional Old Bay seasoning,

to taste
Instructions
Fill a large pot over medium heat with 3 quarts of water. Add the Zatarain's seasoning packet, smoked sausage, red potatoes, corn, and lemon. Simmer for 10-15 minutes, or until the potatoes are fork-tender. While this is simmering, prepare the butter sauce.

In a medium saucepan over medium heat, melt the butter. Add the sliced onion and cook for about 10-12 minutes, or until the onion is softened. Stir in the minced garlic and cook for an additional minute.

To the butter sauce, mix in the brown sugar, Old Bay seasoning, and lemon juice. Stir until the sugar is dissolved.

When ready, add the shrimp to the pot and cook for an additional 1-2 minutes, or until the shrimp is pink and cooked through. Reserve ¼ cup of the liquid from the pot and set aside. (You will use this in the next step.) Drain the remaining liquid from the pot and discard the seasoning packet.

Add the reserved broth to the butter sauce, stirring to combine.

Place the contents of the pot of shrimp and sausage onto a serving platter, sheet pan, or table lined with butcher paper. Drizzle or pour the butter sauce over the seafood boil and serve with lemon wedges.

Garnish with parsley and sprinkle additional Old Bay seasoning to taste.
Did you make this recipe?
You can tag me at @iamhomesteader.
What the Test Kitchen had to say about this recipe: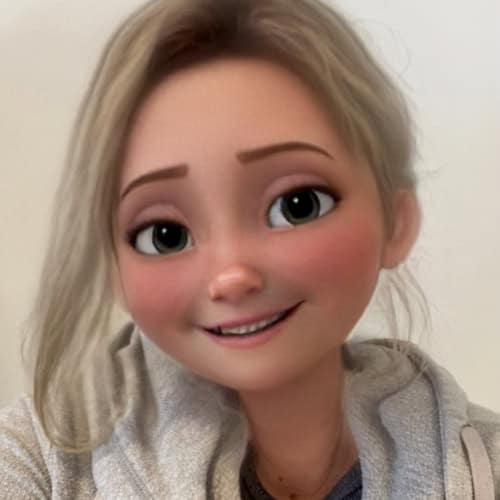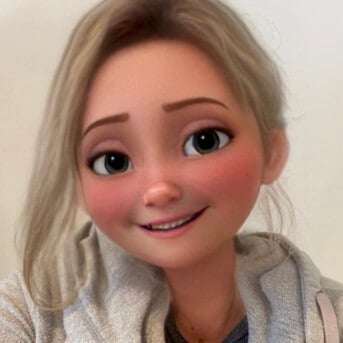 Autumn
I have never tried a shrimp boil before. So good! I love the easy of just throwing in a packet of seasoning. its all ready for you and gives this dish so much amazing flavor!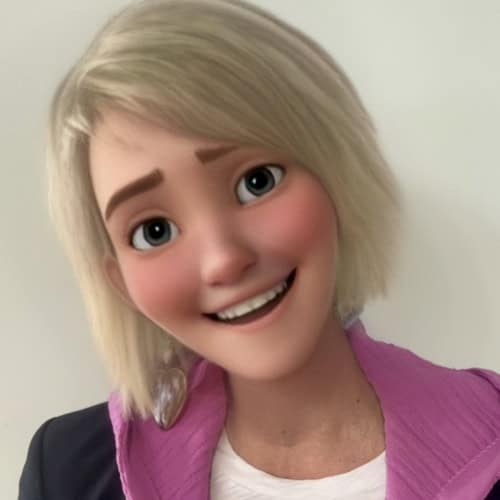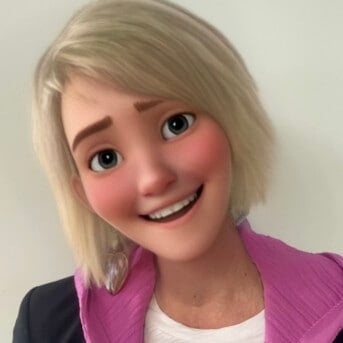 Elizabeth
This was absolutely delicious! WOW! I can honestly say I have never had shrimp boil before, but I do love shrimp. I actually think I could pull this off and make it myself. The seasoned broth was plenty flavorful and the butter sauce added richness to the dish. Yum!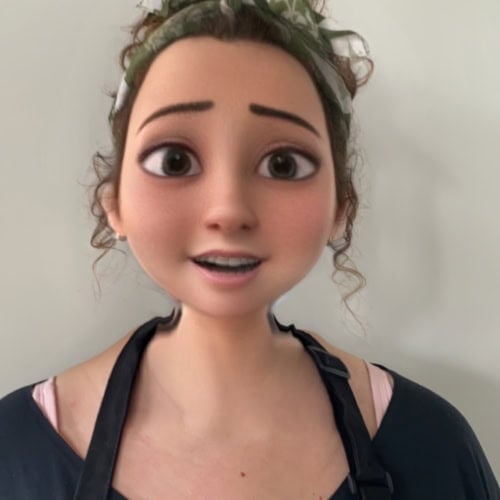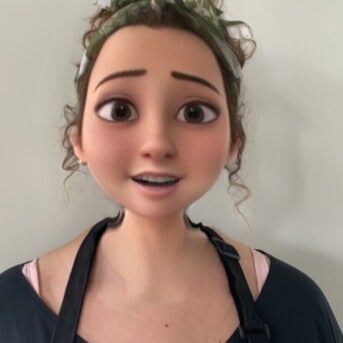 Rachael
AMAZING! I absolutely love this, so delicious! Really not hard to put together but the flavor is out of this world! I will be making this again….and again…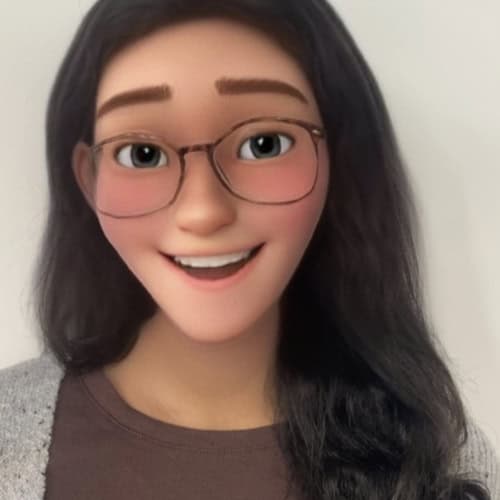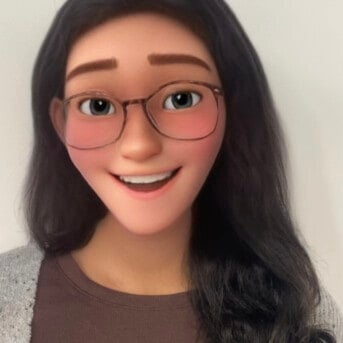 Bella
This is packed with flavor! Toss everything into a pot of water and soon enough you'll have a delicious shrimp boil! It is buttery, well-seasoned, and juicy!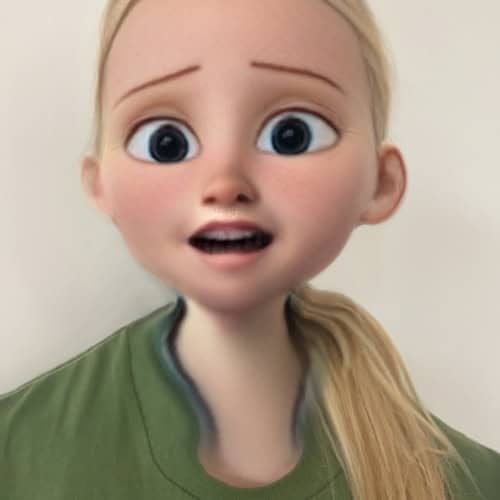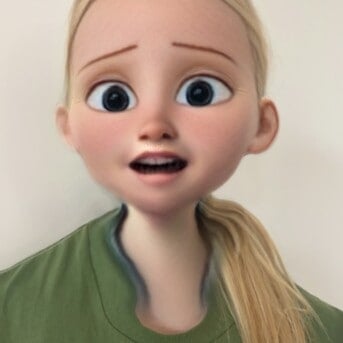 Annabelle
Absolutely delicious!! Super easy to make and so so tasty!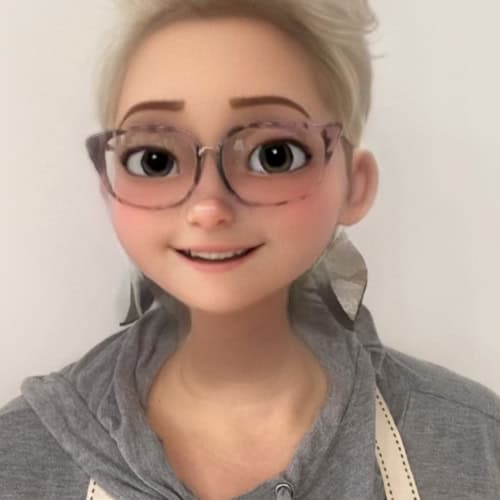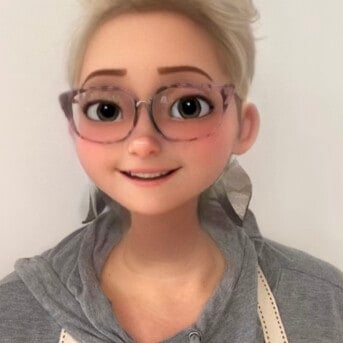 Selena
I was surprised by this dish. I didn't know if I would like it but ended up really enjoying it. It's actually fairly simple to put together but really packs a punch of flavor and something different. My family really enjoyed it as well!