Stuffed Pork Loin is stuffed with all the traditional stuffing ingredients that you think you would get to enjoy only on Thanksgiving. Rolled up in a tender pork loin, you can make this meal year-round! Try my Creamy Cherry Stuffed Pork Loin for another stuffed pork favorite of mine!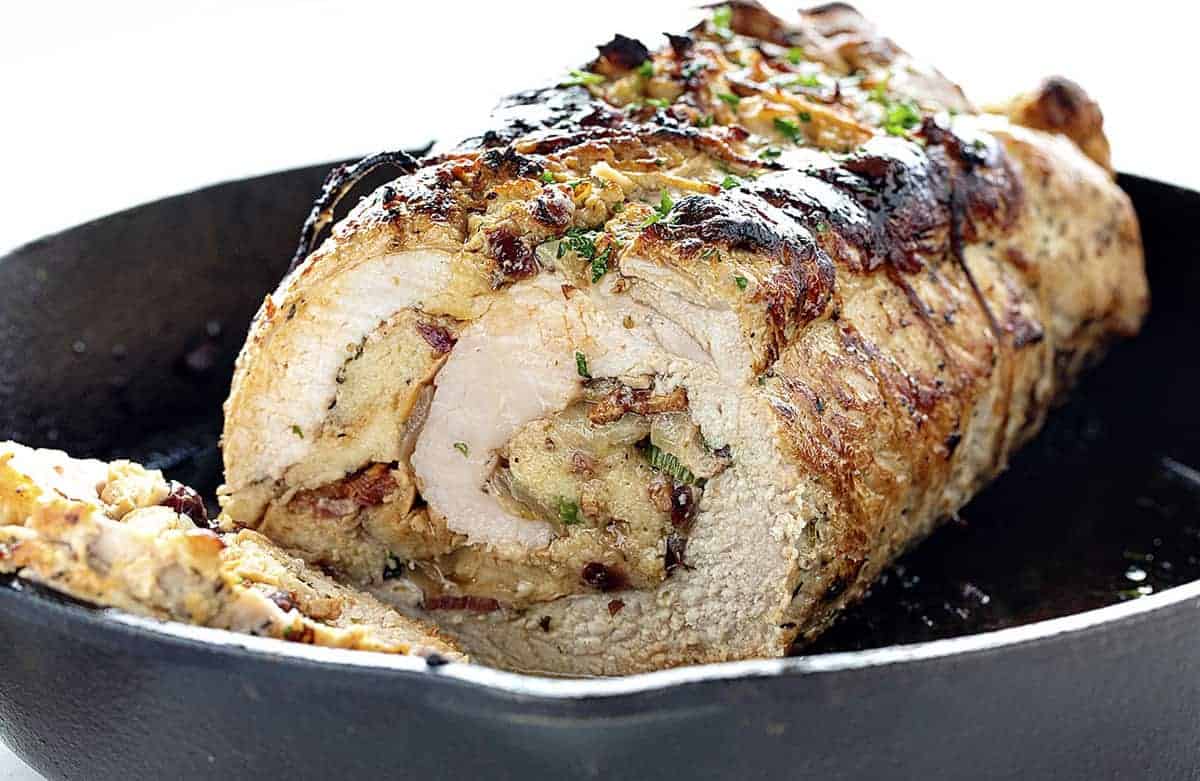 How to Make Stuffed Pork Loin
Making Stuffed Pork Loin is pretty simple to do and it gets fun when it's time to roll the stuffing into the pork loin! The first part is to prepare the stuffing. In some recipes, it makes sense to bake the bacon ahead of time, but in this recipe, you want all the juices from the butter and bacon to be in the skillet as you add the other stuffing ingredients. Once the stuffing has been made, set it aside while you butterfly the pork loin. Don't clean out the skillet since you will be using that to sear the stuffed loin before cooking it. Oh, and remember to preheat your oven to 450°F.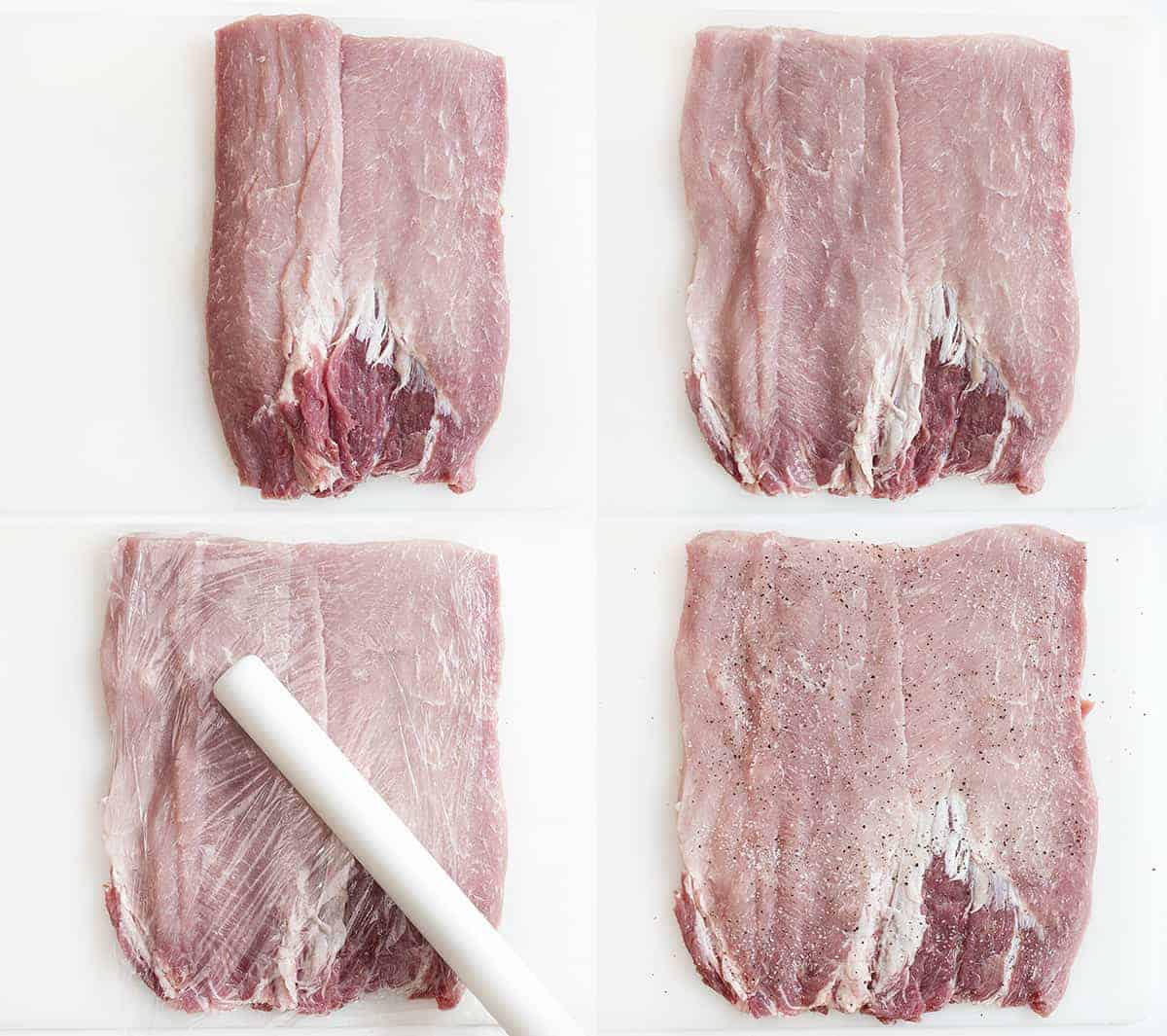 To see how I butterfly pork loin, check out the VIDEO in my Jalapeno Pork Loin!
To butterfly the pork loin, use a sharp knife to make a horizontal cut about one-third of the way up from the bottom of the loin. Flip open the thicker, top flap (like opening a book). Then, take the knife and cut another horizontal line through the thicker part of the loin to open it up even more (like a trifold). Put a piece of plastic wrap over the laid out pork loin and pound it out to about a 1/3 inch thickness all the way around. The more even the loin is, the more evenly it will cook. Season both sides with a mixture of olive oil, salt, pepper, and Italian seasoning.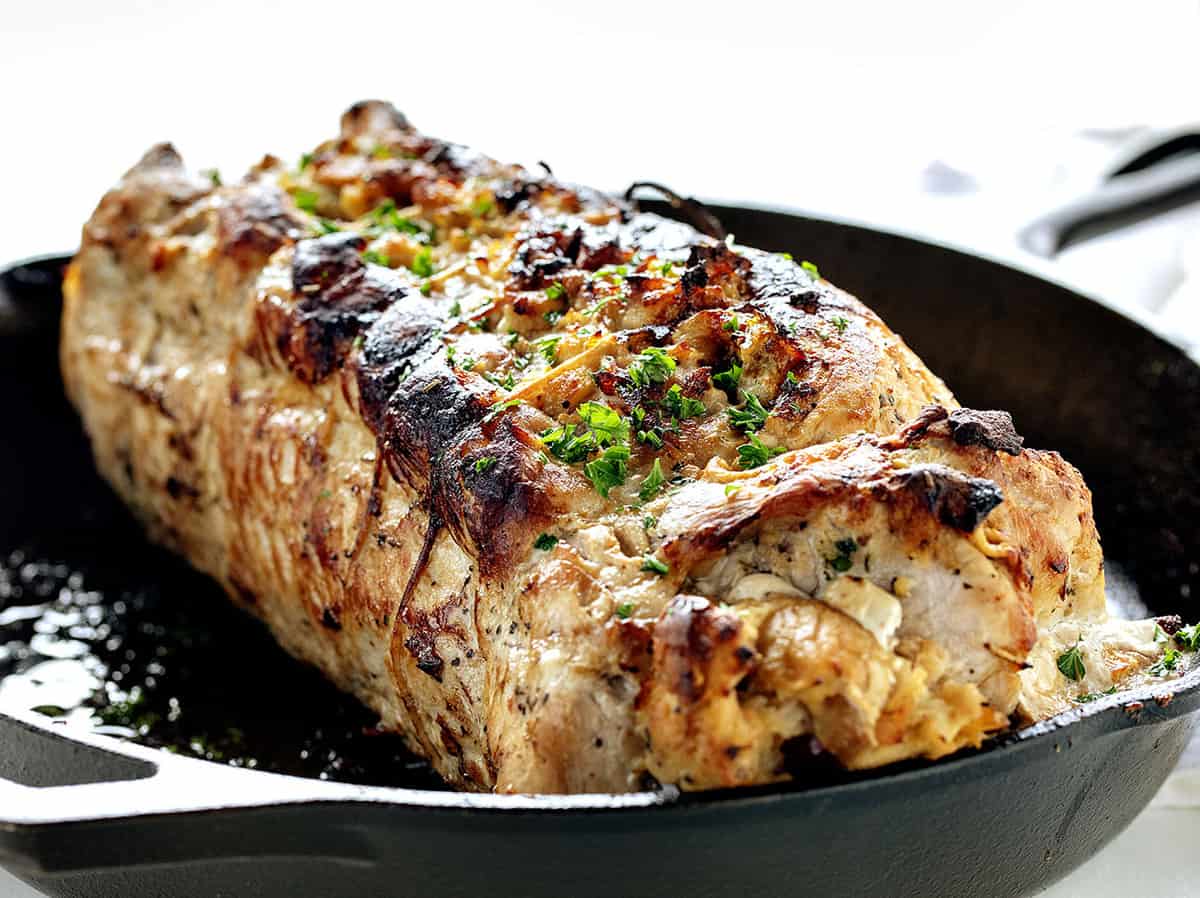 How to Stuff and Roll your Stuffed Pork Loin
Once the pork loin has been butterflied, pounded to an even thickness, and seasoned, it's time to load it with the stuffing! Take your stuffing mixture and top the pork loin with all of it!
Now, it's ready to roll! Roll up the pork loin, making sure you wrap up all that goodness inside! Then, using cooking twine, tie the rolled pork loin up to hold in all the ingredients. I used four pieces of the twine if that helps. Remember the oven-safe skillet you cooked the butter, bacon, onions, and celery? Bring that back over medium heat, add oil, and sear the pork loin on all sides. I know it's rolled up, so what do I mean by sides? Simply rotate it about four times to get as much of the loin seared as possible. Finally, cook the Stuffed Pork Loin in the oven for 35-40 minutes, or until the pork temperature reaches 145°F. Pair this with my Homemade Mashed Potatoes for a hearty, down-home meal!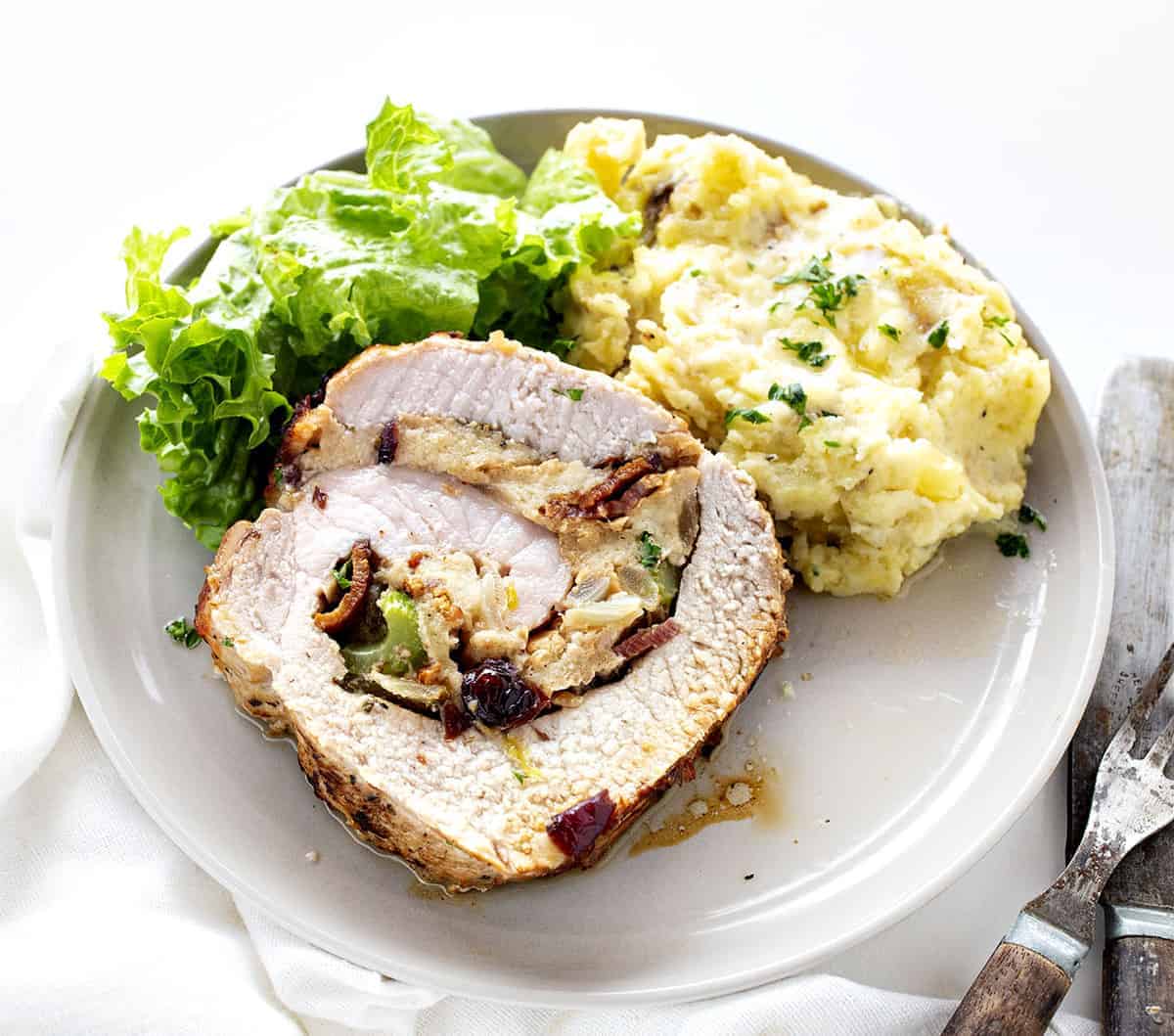 EASY Version of Stuffed Pork
Just in case you want to save time, opt for a store-bought stuffing. It comes together fast and then all you need to do is cut the pork loin, add stuffing, and bake. Easy peasy!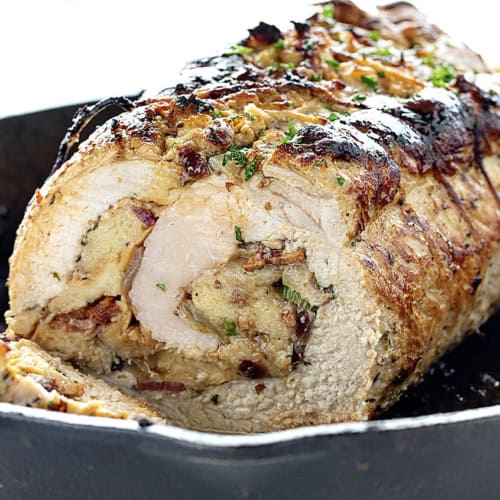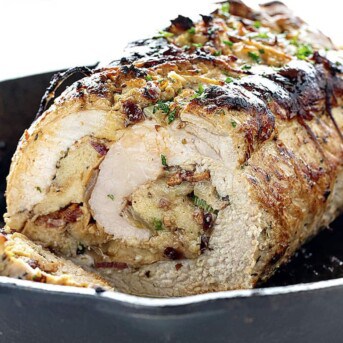 Stuffed Pork Loin
You will taste why stuffing isn't just for turkeys anymore when you try this Stuffed Pork Loin!
Ingredients
STUFFING
4

tablespoons

1 stick (113g) salted butter

2

slices

thick-cut bacon,

cut into small chunks

1

medium onion,

cut into 1/4-inch dice (about 3 cups)

3

stalks celery with leaves,

cut into 1/4-inch dice (about 2 1/2 cups)

1

loaf (9 inches) French bread,

cut into 1/4 cubes

1

tablespoon

fresh parsley,

chopped

½

teaspoon

celery salt

½

teaspoon

dried sage,

crumbled

½

teaspoon

dried rosemary,

crushed

¼

teaspoon

dried thyme,

crumbled

¼

teaspoon

salt

¼

teaspoon

freshly ground black pepper

½

cup

dried cranberries

2

cups

chicken stock
PORK LOIN
1

center-cut pork loin,

about 3 pounds

2

tablespoons

extra virgin olive oil

1

teaspoon

salt

¼

teaspoon

pepper

1

teaspoon

Italian seasoning
Instructions
STUFFING
In 12-inch heavy skillet over medium heat, add butter and cook until melted. Add bacon to skillet and cook 5-10 minutes until bacon is cooked through and starting to get crispy. (There should be a lot of liquid in the pan.)

Stir in onion and celery, cover, and cook, stirring occasionally for about 5-10 minutes. You want onions to be translucent.

Transfer to a large bowl, and add bread cubes, parsley, celery salt, sage, rosemary, thyme, cranberries, salt, and pepper.

Stir in chicken stock. Set aside
PORK LOIN
Butterfly the pork. With the pork on a cutting board, hold a knife bald parallel to the board and carefully make a lengthwise cut about 1/3 of the way from the bottom, stopping about 1 inch from the opposite end, being careful not to cut through.

Open the loin like a book.

Make a second cut on the thick side of the pork loin, horizontal with the first cut. Do not cut all the way through, stop about 1 inch from the opposite edge. Fold that edge over making one long cut of pork loin.

Cover the entire cut of meat with plastic wrap and pound to an even ⅓ inch thickness.

In a small bowl, combine oil, salt, pepper, and Italian seasoning. Rub over both sides of pork loin.

Top the pork loin with the stuffing mixture.

Tightly roll the pork loin to completely enclose all of the fillings.

Using cooking twine, tightly secure the roll.

In the same skillet over medium heat, add the olive oil and the pork loin to the pan and sear on all sides (about 5 minutes on each side). Turning the loin a total of 4 times.

Transfer the skillet to the oven and cook for 35-40 minutes or until the pork loin reaches an internal temperature of 145 °F. Occasionally baste the pork loin with the pan juices.

Slice and serve warm.
Did you make this recipe?
You can tag me at @iamhomesteader.