Swedish Meatloaf is a tender loaf of meat made with both ground beef and ground pork, smothered in homemade gravy. This recipe is actually my Swedish Meatballs recipe turned into a loaf. No, it is not a Swedish dish, but it's based on my meatballs recipe, which was really Norweigan meatballs if you want to get picky about it. Uff da…just enjoy the meatloaf! It's the perfect comfort food!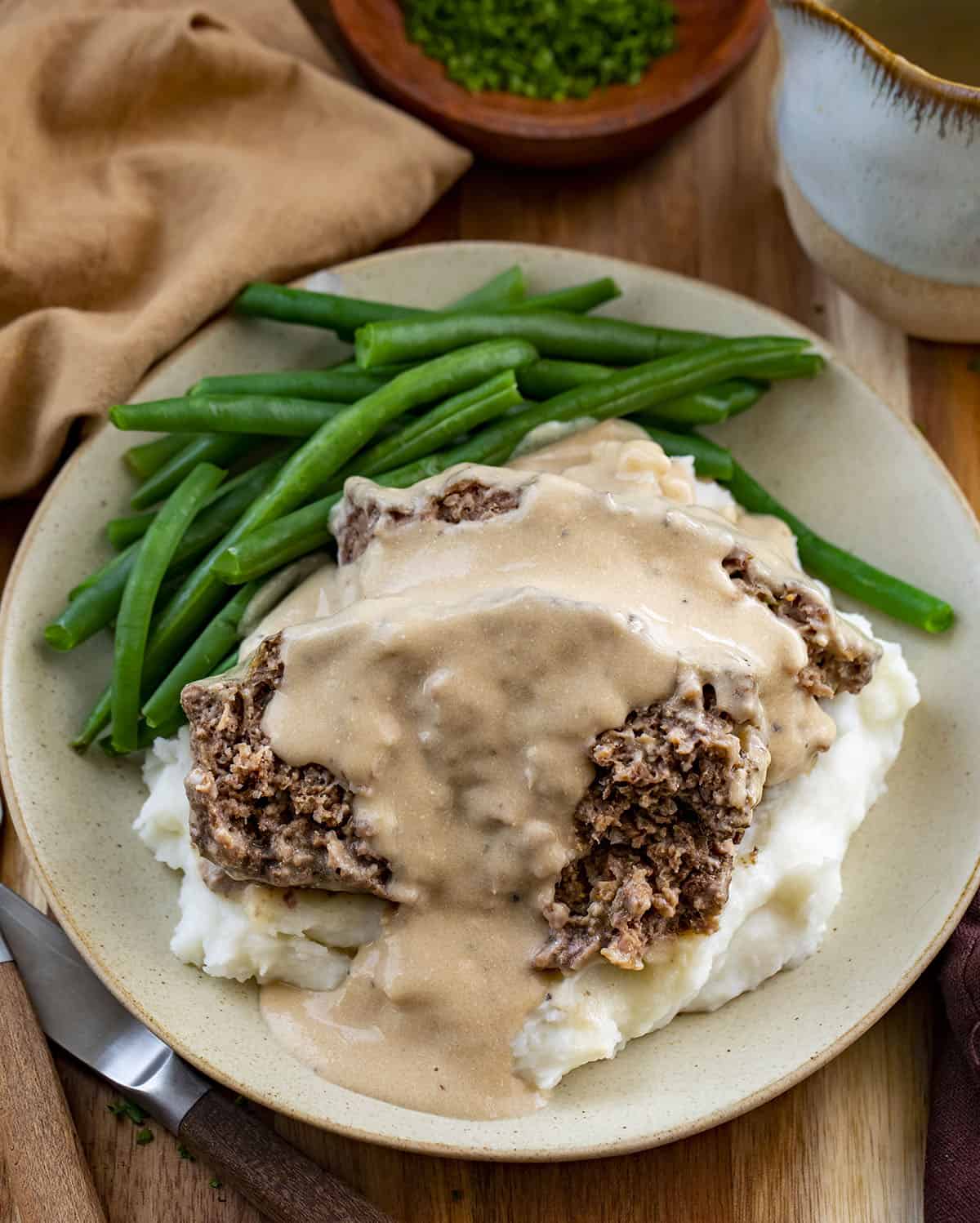 Ingredients
Meat: The combination of both ground beef and ground pork is really the secret to the flavor and tenderness of this Swedish meatloaf. In addition, look for the meat to be about 80% lean and 20% fat for the best results.
Egg: The egg acts as a binding agent for the meatloaf, which means you do not need to overwork the ingredients.
Breadcrumbs: I just used 1/2 cup of breadcrumbs. When you add too much filler to meatloaf, it can dry it out.
Gravy: The creamy gravy adds a lot of flavor to the meatloaf. However, you could enjoy the loaf without the gravy, too! (If enjoying the meatloaf without the gravy, you may have to add a little salt and pepper to taste.)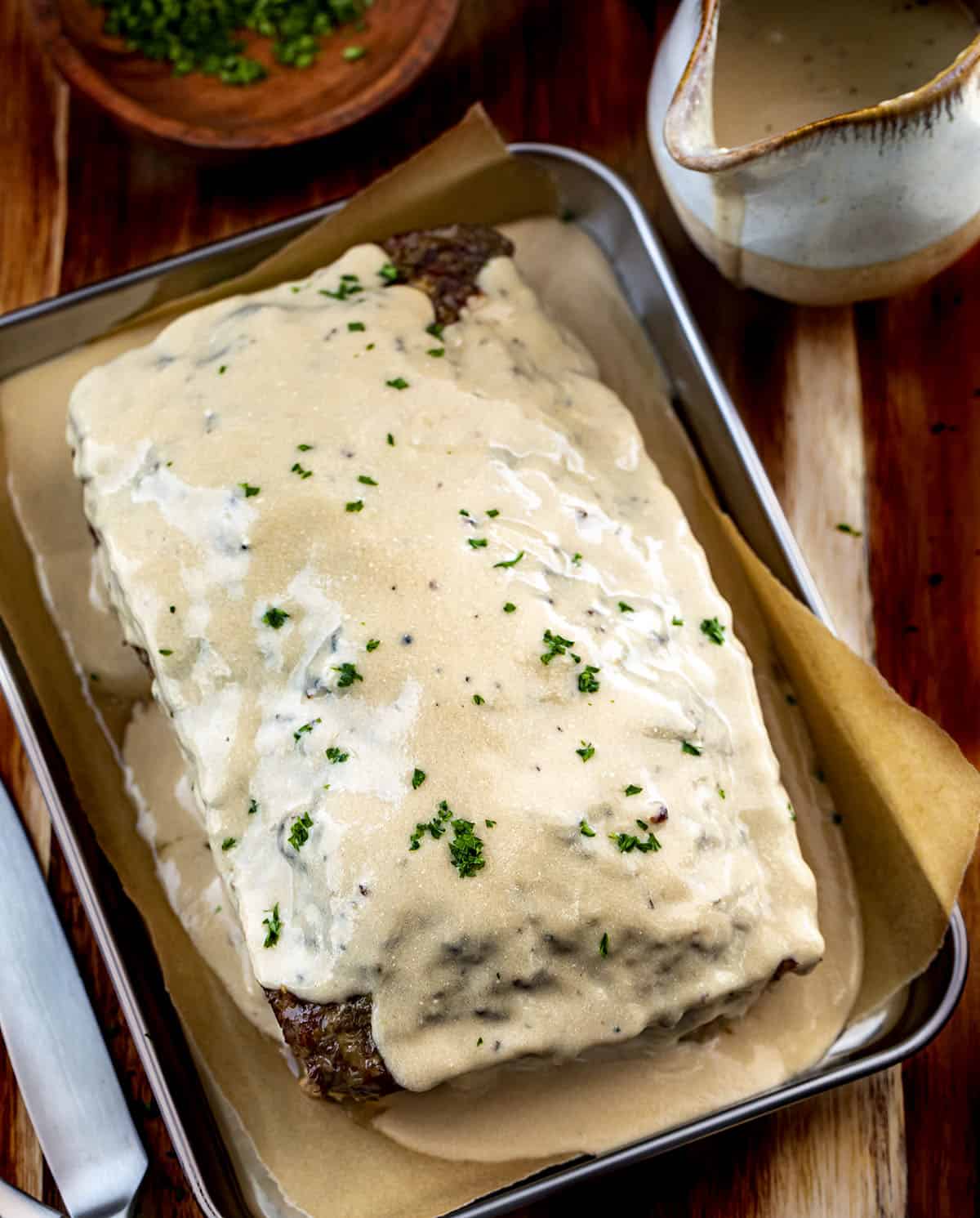 Can I Make Swedish Meatloaf Ahead of Time?
Yes! One nice thing about meatloaf is that you can get it ready to go and freeze it until you are ready to bake it. To freeze the uncooked loaf, first, get the ingredients mixed together. Next, form it into the loaf shape and wrap it in plastic wrap. Finally, store the wrapped loaf in a freezer-safe bag. When ready to enjoy, take it out and let it thaw in the refrigerator for 24 hours before baking. If you are planning to cook the loaf within a day or two, store it in the refrigerator. Let it come to room temperature before baking.
And don't forget some mashed potatoes and green beans to balance the meal.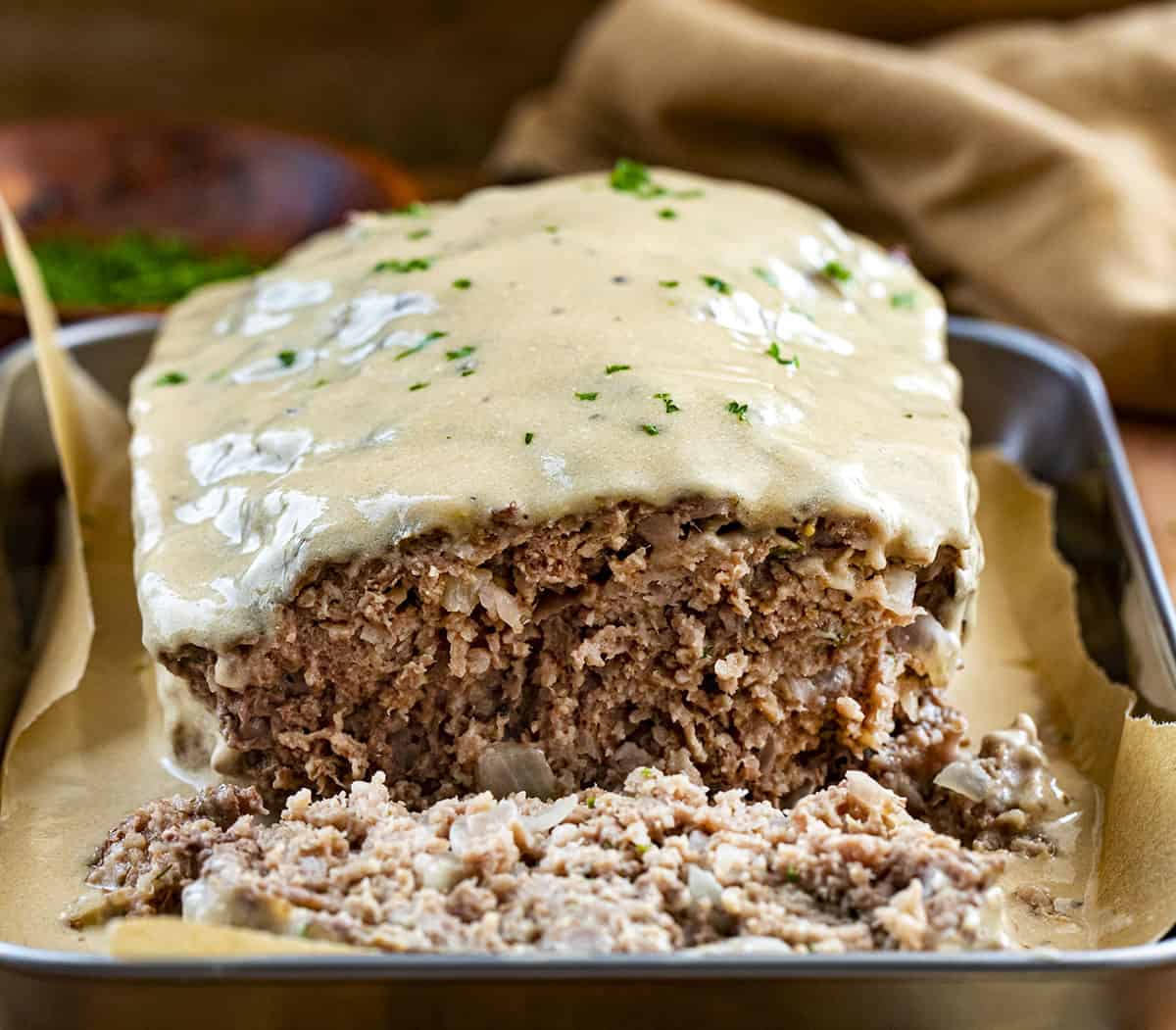 Can I Make Meatloaf Without a Loaf Pan?
Sure! Simply line a baking sheet with aluminum foil, form the mixture into a loaf, and place it onto the baking sheet. I've used a baking dish for meatloaf, too.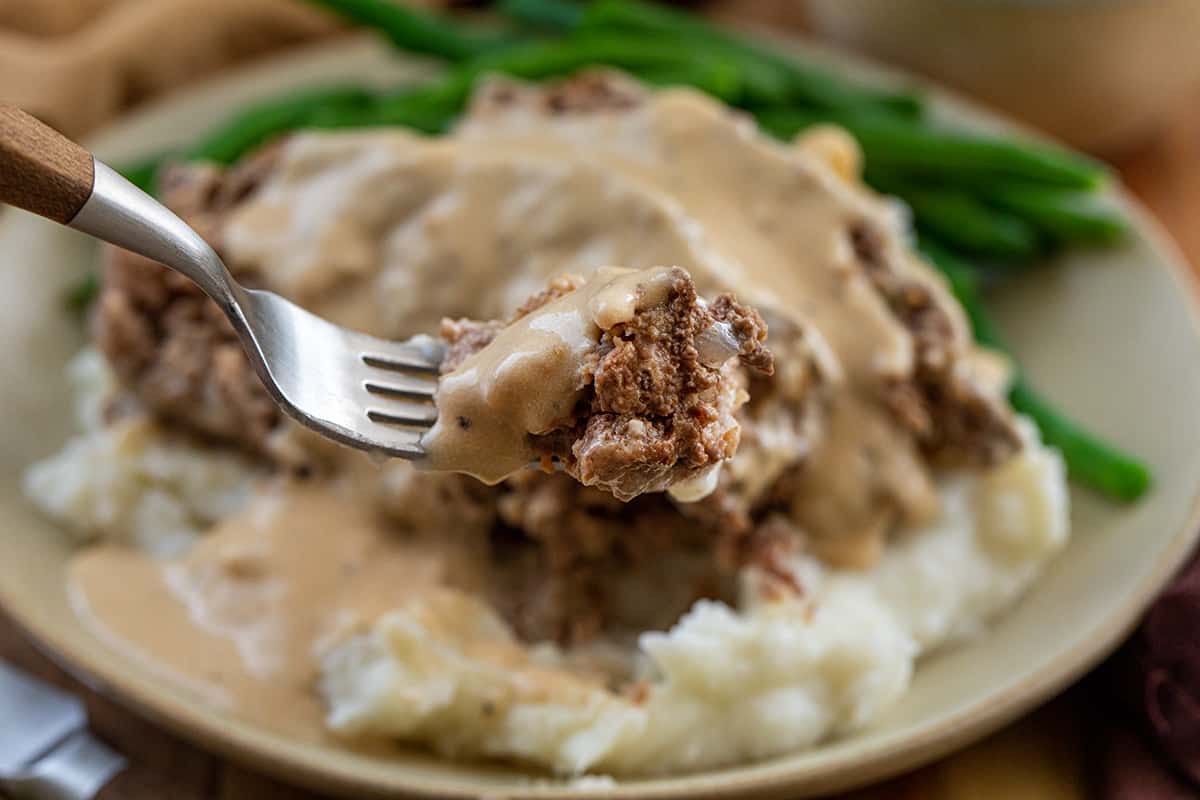 How to Store Leftovers
If you have any meatloaf leftover after it's been baked, it will last in the refrigerator for 3-4 days. You could reheat it in the microwave, but it's even better when reheated at a low temperature in the oven.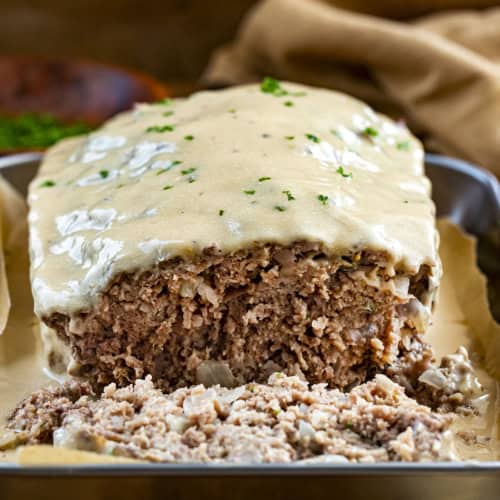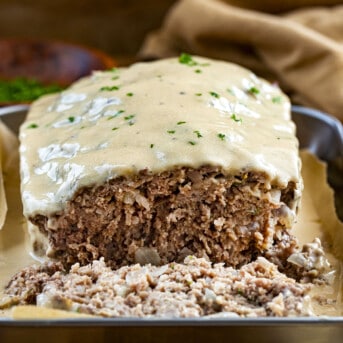 Swedish Meatloaf
Ingredients
Meatloaf
1

pound

ground beef

1

pound

ground pork

1

tablespoon

freshly chopped parsley

1

teaspoon

kosher salt

½

teaspoon

pepper

¼

teaspoon

garlic powder

1

large

egg,

room temperature, beaten

¾

cup

(184 g) milk,

room temperature

½

cup

(54 g) bread crumbs

1

medium

yellow onion,

diced (about 1 cup)
Gravy
¼

cup

(½ stick / 57 g) unsalted butter

¼

cup

(31 g) all-purpose flour

2

cups

(482 g) beef broth

1

cup

(230 g) sour cream

1

teaspoon

kosher salt

½

teaspoon

pepper
Instructions
Meatloaf
Preheat the oven to 350°F. Spray a 9×5-inch loaf pan with nonstick cooking spray. Set aside.

To a large bowl, add ground beef, ground pork, parsley, salt, pepper, garlic powder, and beaten egg. Mix together until just combined. (I prefer to use my hands to mix, but a spoon or spatula would also work.)

In a medium bowl, combine the milk, breadcrumbs, and onion.

Add milk mixture to the meat mixture being careful not to overwork ingredients.

Add the meat mixture to the prepared loaf pan, pressing the meat in tightly.

Bake for 60-65 minutes, or until no longer pink in the center. The meatloaf is fully cooked when it reaches an internal temperature of 160°F.

During the final 5-10 minutes of cooking the meatloaf, prepare the gravy.
Gravy
To a large skillet over medium heat melt butter. Add flour and whisk to combine.

Add beef broth, sour cream, salt, and pepper. Stir to combine. The mixture will thicken slightly.

Pour gravy over meatloaf and serve warm!
Did you make this recipe?
You can tag me at @iamhomesteader.