Three Cheese Manicotti is what dreams are made of! Perfectly cooked manicotti noodles are filled with a glorious blend of ricotta cheese, mozzarella cheese, and parmesan cheese. These stuffed noodles are nestled in a bed of spaghetti sauce and topped with melty mozzarella cheese. If you like pasta, make sure to check out my Tomato Spinach Chicken Spaghetti!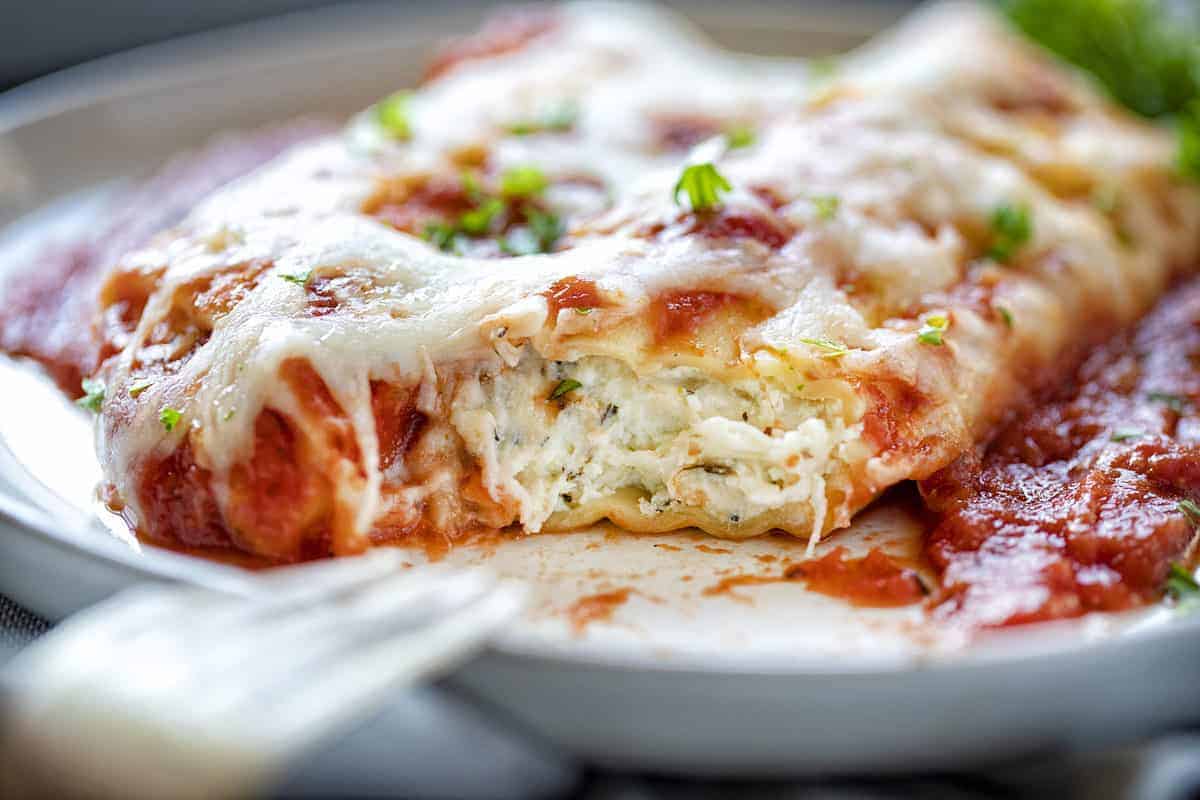 Three Cheese Manicotti
When I was a little girl, I remember my parents taking me to the "fancy" Italian restaurant. All I wanted was to order the tried and true, old reliable, spaghetti. I was told no. Wait, WHAT? The rule was that I had to order something I couldn't get at home. That was the moment my food world was officially expanded, folks. It wasn't until I was forced to look at the rest of the menu that I realized the possibilities. After much debate, I chose Manicotti. It was a simple choice. Stuffed noodles, cheese, and spaghetti sauce. That was probably the closest thing I could find to Spaghetti anyway. Fast forward to today. Imagine my excitement when I realized that this fancy, beautiful dish, was not only delicious but also, incredibly easy to make at home.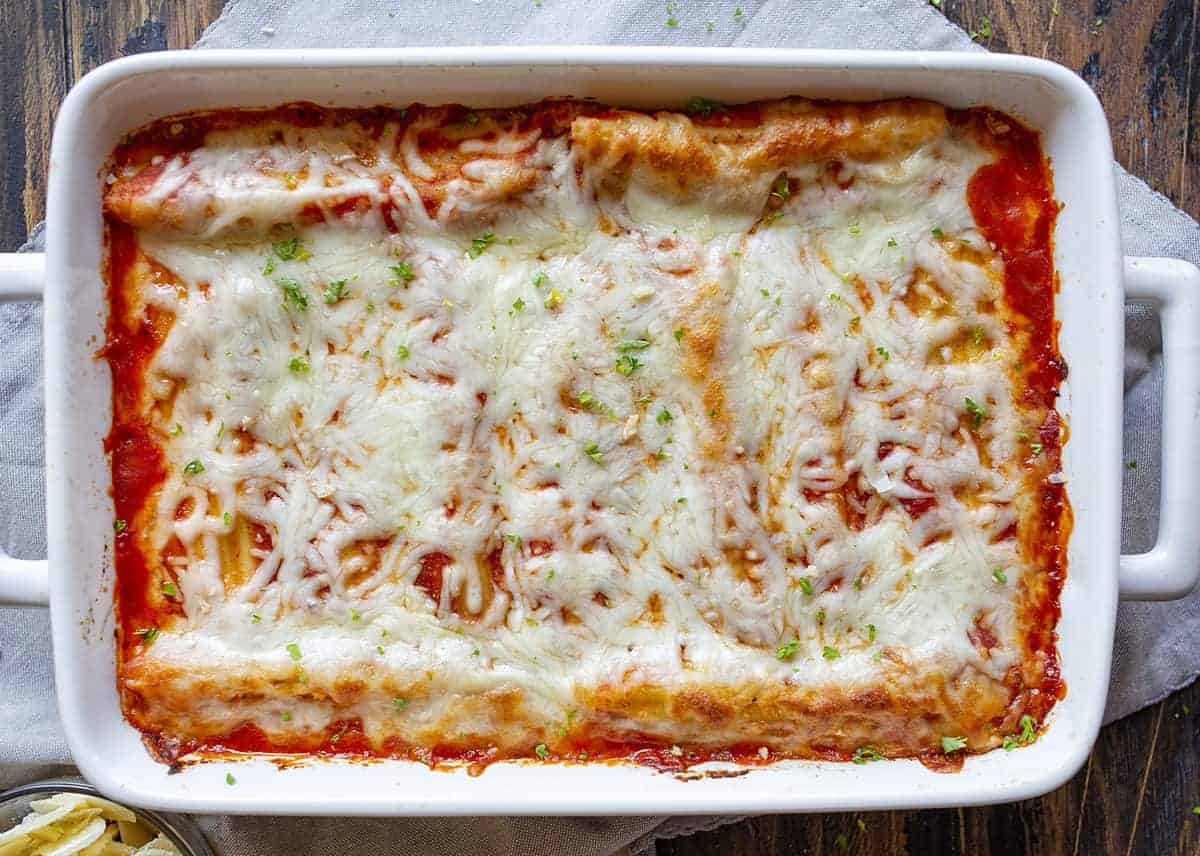 How to Make Three Cheese Manicotti
There are essentially three steps in this Three Cheese Manicotti Recipe
Boil the Noodles
The trick with boiling the noodles is that you want them to be "al dente". That basically means you don't want them soggy. A soggy manicotti noodle will not hold up to the filling process. You want the noodle to be soft and pliable, but still a little firm. A typical manicotti noodle needs to cook for about 7 minutes. You will want them to cool off a bit before you start filling them unless you have a cooking glove, the noodles will be hot. One trick is to put a small amount of olive oil over the noodles after draining. Tossing them in the oil will keep them from sticking together.
Stuff the Noodles
First, mix the cheeses together, along with the garlic, egg, and basil seasoning. Once you have that blended nicely together you can either spoon the mixture into the cooled noodles OR, you can fill a ziplock bag with the mixture. Snip off the corner of the bag, and pipe the mixture into the noodle. I tried it both ways and the ziplock method was much cleaner.
Bake the Noodles
To bake the manicotti, first, start by greasing your baking dish. Then add sauce to the bottom of the pan, nestle the stuffed noodles into the sauce, cover with more sauce and the remaining mozzarella cheese. Pop that into the oven for 30 minutes or until the cheese is hot and melted. You can serve this up immediately.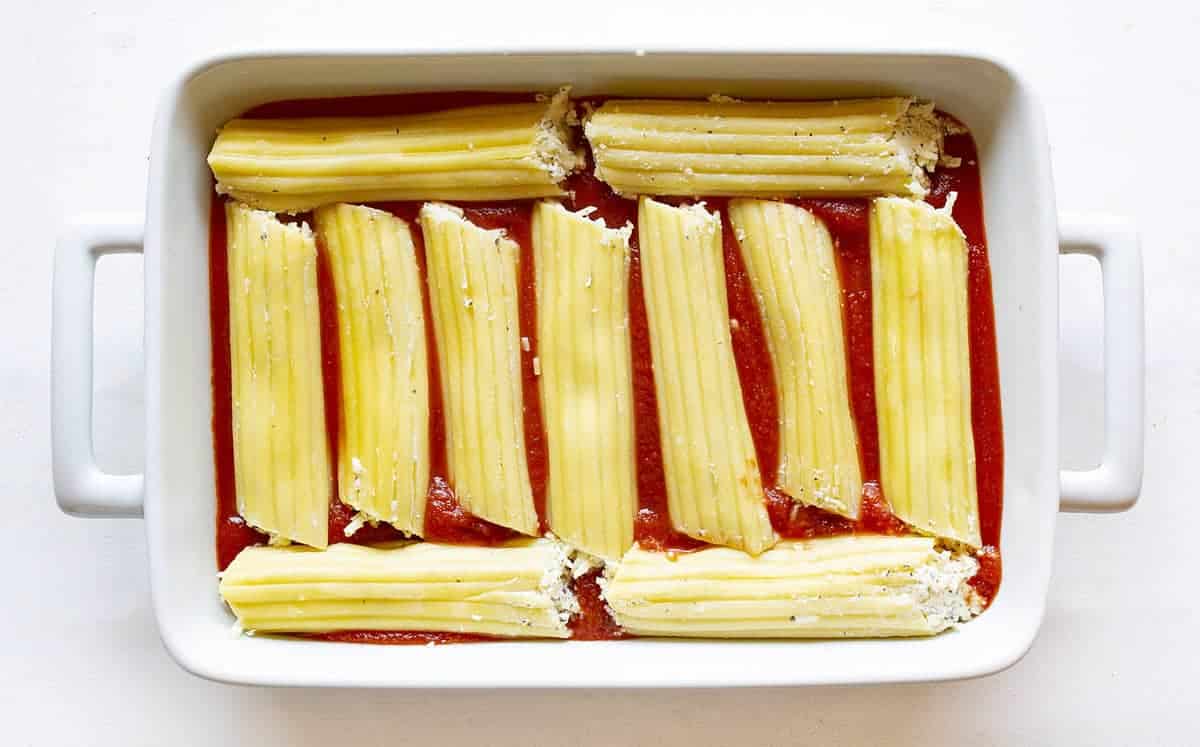 Alternatives to Ricotta Cheese
Sometimes I hear that people just do not like Ricotta Cheese. It seems like it doesn't taste like a traditional "cheese". I tend to like it in small doses myself. If you are one of these people, don't fret…I have you covered. There are a few options for the Ricotta haters out there.
Adjust the Ratios: You can reduce the amount of ricotta by half and increase the mozzarella by the same amount. That way you will still get the necessary moisture that makes this dish amazing, but it won't have the overwhelming flavor and texture of ricotta.
Substitutions: There are several options when it comes to Ricotta substitutions. They will all alter the flavor of the dish slightly but they will probably be better if you are against the aforementioned cheese in the first place.
Cottage Cheese – It has a mild taste, similar to ricotta but it is less creamy. Cottage cheese is also low in fat and calories, so it is a healthier option too.
Goat Cheese – Fresh goat cheese (not aged goat cheese) is rich and creamy, with a mild but slightly tart flavor.
Queso Fresco – This fresh Mexican cheese has a mild, salty, and milky flavor. The main difference is that queso fresco is drier than Ricotta, but it can be grated or crumbled in lieu of Ricotta cheese.
Cream Cheese – Both have a soft, creamy texture but cream cheese is higher in fat than Ricotta cheese.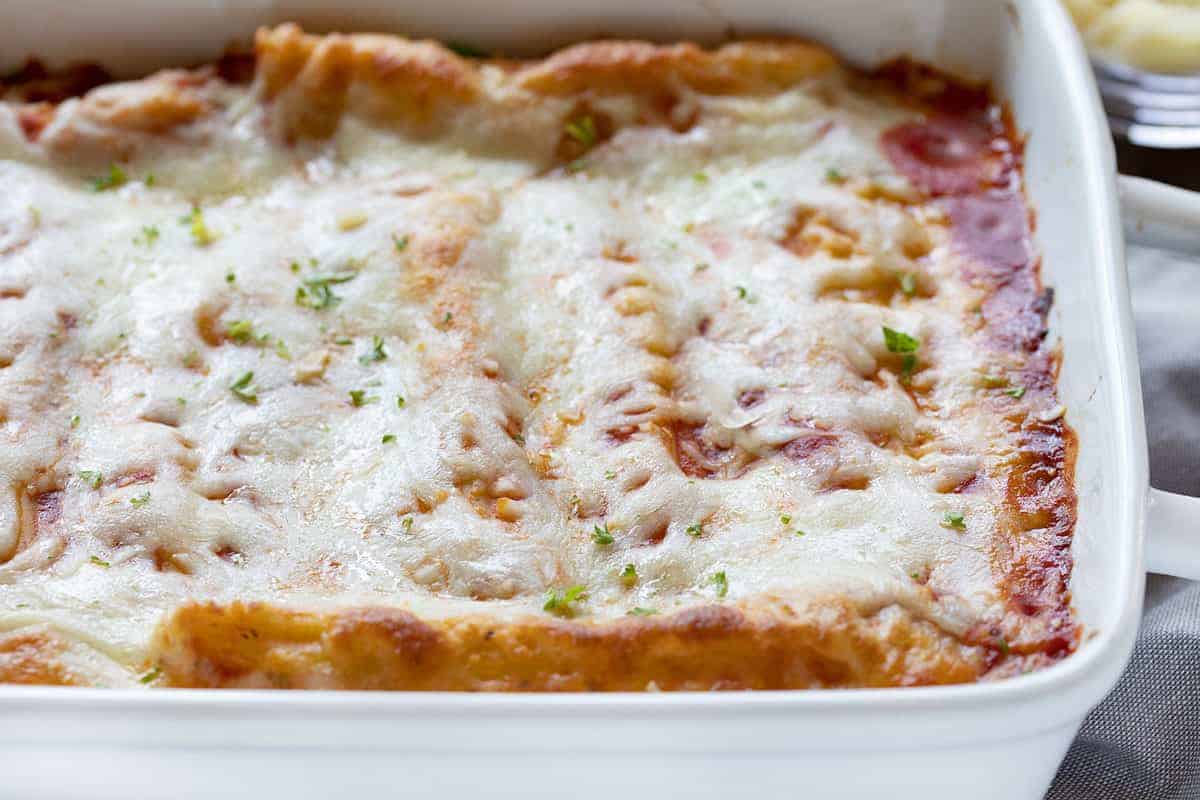 Three Cheese Manicotti with Meat
Adding Ground beef or shredded chicken to this meal can really be a game-changer. We also like to use our homemade spaghetti sauce which has meat already in it. To introduce meat just follow these simple instructions.
Ground Beef, Sausage, or Turkey: Brown ground beef, sausage, or turkey until it is cooked through (feel free to add some Italian seasoning or even some sauteed veggies to the mix). Add in pasta sauce and simmer. Use this as your base and topping for the manicotti noodles.
Shredded Chicken: Add shredded chicken into the cheese mixture that gets stuffed into the manicotti noodles. You will want to make sure it is finely shredded or they won't fit well.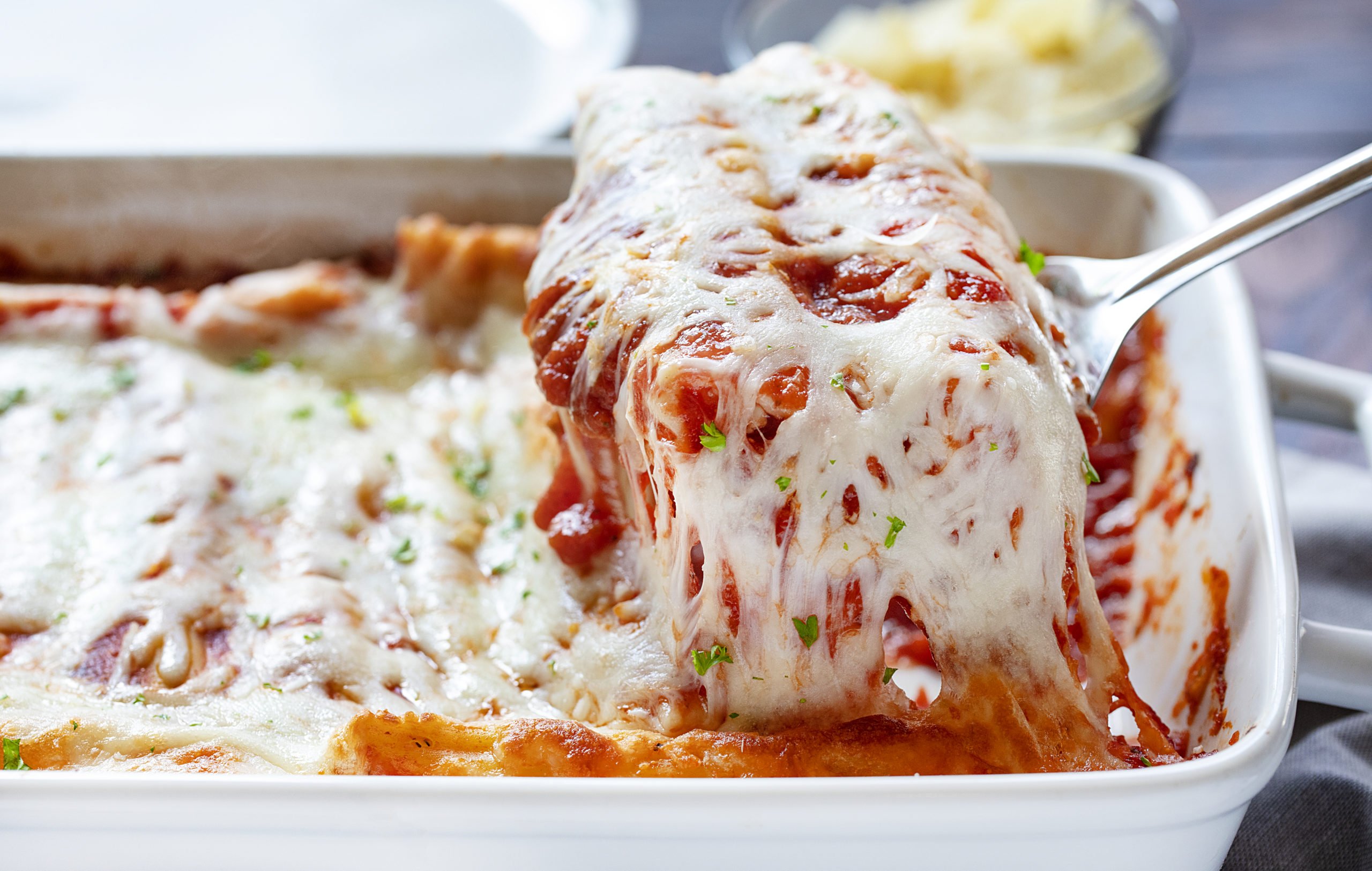 What Other Ingredients Can Be Added to Manicotti
I always like to add some options for adding vegetables into my meals. Here are some ideas:
yellow onions
green peppers
mushrooms
red, yellow, or orange peppers
jalapeno peppers
spinach
zucchini
more sauce (you can make this even better by adding the second jar of sauce)
All of these can be sauteed or cooked and added to the spaghetti sauce before adding in the manicotti noodles.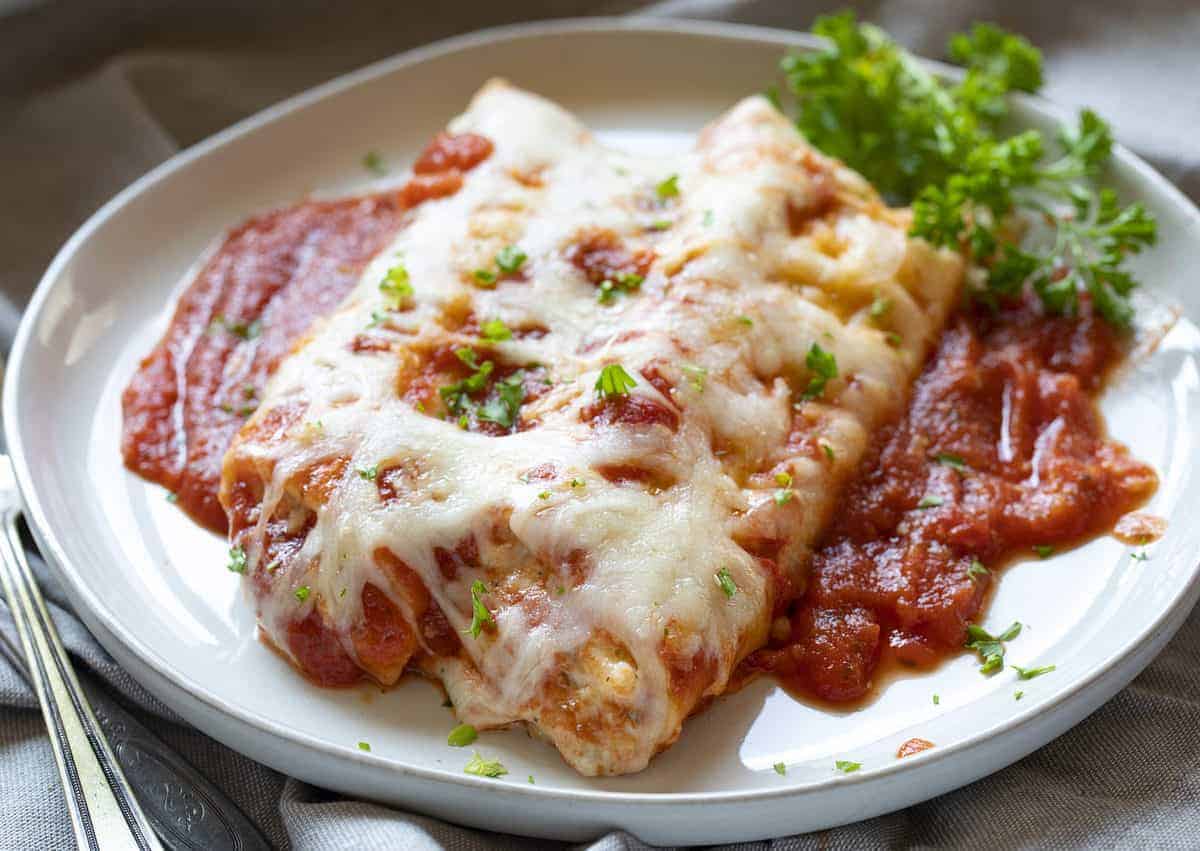 Can I Freeze Three Cheese Manicotti?
Yes, but before you cook it. I love to make this in advance so I can pop it in the oven in a pinch! To freeze manicotti just cover with plastic wrap and place in the freezer for up to 3 months. When you're ready to eat it, just let it thaw 15 minutes and then follow the cooking instructions below.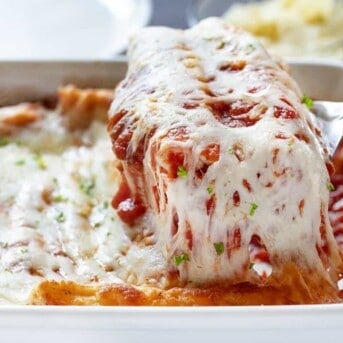 Three Cheese Manicotti
Three Cheese Manicotti is what dreams are made of.  Perfectly cooked manicotti noodles are filled with a glorious blend of ricotta cheese, mozzarella cheese, and parmesan cheese.  These stuffed noodles are nestled in a bed of spaghetti sauce and topped with melty mozzarella cheese.
Ingredients
8

ounces

manicotti shells

4

cups

mozzarella cheese,

shredded and divided

2

cups

ricotta cheese

1

cup

Parmesan cheese,

grated

1

tablespoon

garlic,

minced

1

large

egg

2

tablespoons

dried basil

1

jar

(26 ounces) pasta sauce
Instructions
Preheat oven to 350° F. Lightly grease a 9×13-inch baking dish.

Bring a large pot of lightly salted water to a boil. Add manicotti and cook for 8 to 10 minutes or until al dente and then drain (optional: drizzle lightly with oil to prevent the noodles from sticking).

In a bowl, mix 3 cups mozzarella cheese, ricotta cheese, Parmesan cheese, garlic, egg, and basil. Stuff cooked manicotti noodles with the mixture.

Spread about 2 cups pasta sauce over the bottom of the prepared baking dish. Arrange stuffed manicotti in the dish, and cover with remaining sauce. Sprinkle with remaining mozzarella cheese.

Bake 25-30 minutes in the preheated oven. until mozzarella is melted and bubbly.
Did you make this recipe?
You can tag me at @iamhomesteader.