Turkey Meatballs are seasoned ground turkey balls baked just right. They are a great snack, appetizer, or addition to any dish that you would add meatballs. If you love meatballs, try my Bacon Cheeseburger Meatballs.
Turkey Meatballs
It's not really clear how meatballs originated, but I am certainly happy these round balls of meat came to be so popular! Of course, you can't stick with the traditional beef meatball all the time. Well, you can, but I would encourage you to try some other meatball flavors. I used ground turkey for this recipe, and I loved how they turned out. It is a great snack full of protein, but also an excellent idea for an appetizer to share.
Turkey Meatballs Recipe
It doesn't take any fancy ingredients to make these tasty Turkey Meatballs. They are packed with flavor and protein!

How to Make Turkey Meatballs
It's easy to make these Turkey Meatballs. In fact, you will probably choose to make your own meatballs from now on and skip the frozen meatballs.
First, combine the ground turkey, egg, cheese, parsley and salt in a large bowl.
In a separate bowl, combine the milk, breadcrumbs, garlic, and onion.
Add the milk mixture to the ground turkey mixture. Don't overmix all the ingredients.
I would suggest that you grease your hands before you start forming the turkey meatballs. Place each ball on a parchment-lined baking sheet. I was able to make 24 meatballs out of this batch, but it does depend on how big you want to make them. Just double-check that each meatball reaches an internal temperature of 165°F.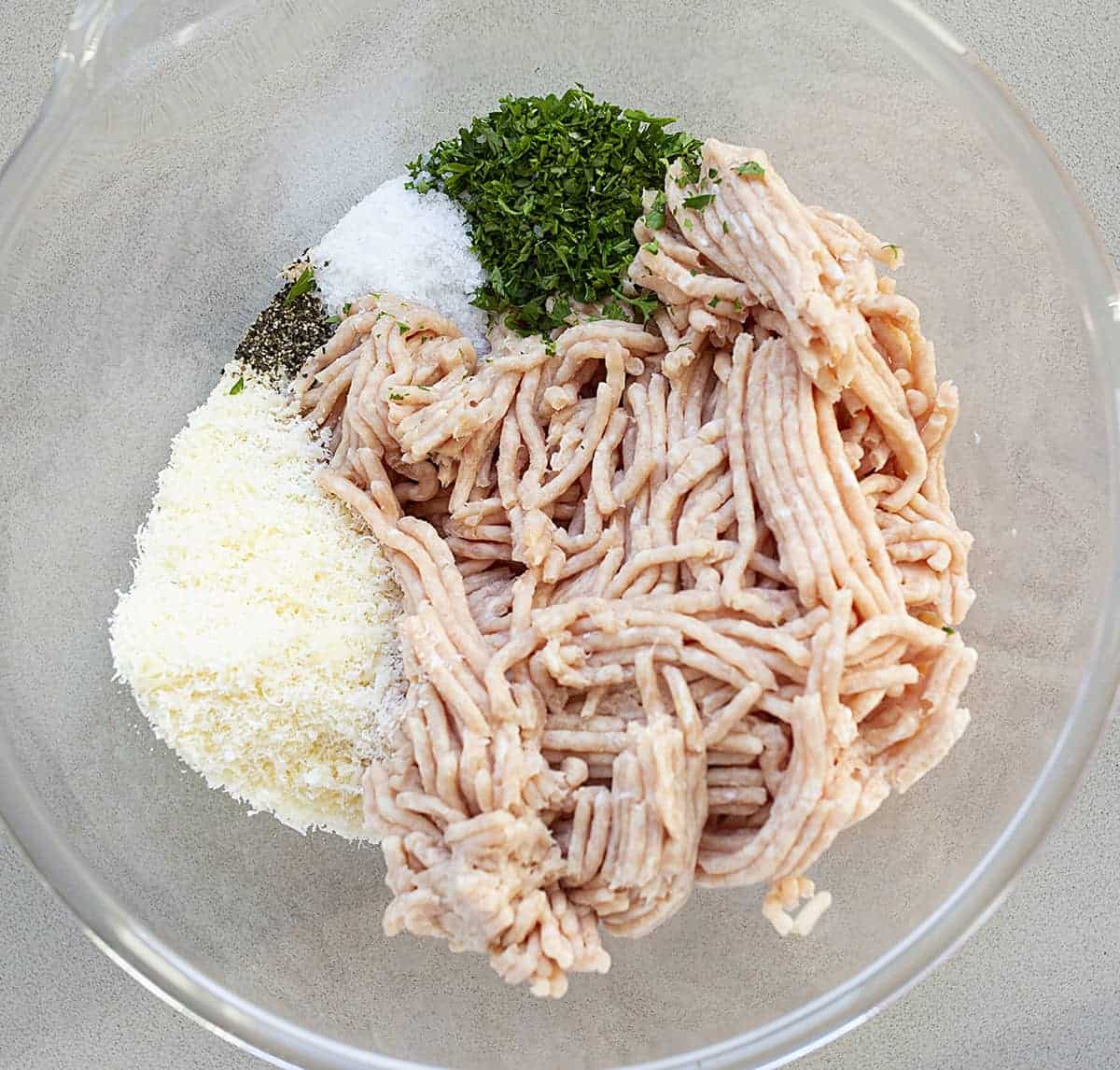 Can I Freeze Turkey Meatballs?
Yes! Isn't it great when you can have a meal ready to go ahead of time? Meatballs are great to freeze and reheat when you are ready to eat them! You have a couple of options when it comes to freezing the turkey meatballs. The first option would be to bake them as instructed and let them cool down completely. Put them into freezer bags and freeze them for up to 3 months. Remember to date the bags so you know how long they have been in the freezer! You may also want to write how to reheat the meatballs–bake for 15 minutes at 300°F.
Meatballs can also be frozen before you bake them. Follow all the instructions up to the baking of the meatballs. Then, on a parchment-lined baking sheet, pop them into the freezer for an hour or two. After they are frozen, store them in the freezer bags, remembering to date them and write the cooking instructions.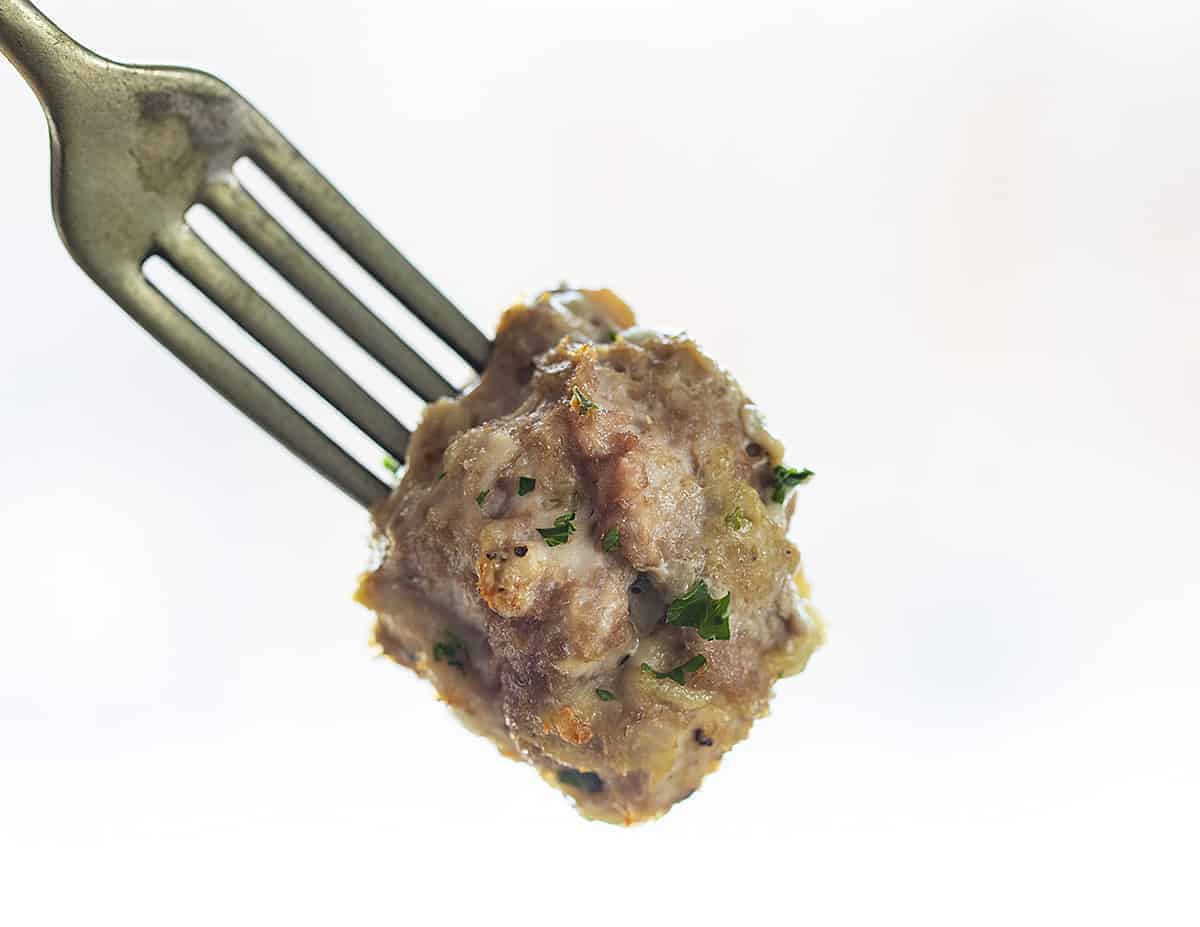 Turkey Meatballs as an Appetizer
Just in case you are looking for something amazing to serve at a get-together or pot luck, this recipe would be perfect! You can prepare all of the meatballs and keep them warm in a crockpot or a commercial warming pan. In general, ceramics and glass will hold their heat better than metal pans, so opt for those if possible.
How to Pan Fry Meatballs
For perfectly seared meatballs, roll the ingredients into the size of meatball you want. Over medium heat, in a large skillet, heat up 2 tablespoons of butter. Place the meatballs in the skillet, browning them on all sides. Again, you can check for doneness by making sure a meat thermometer reaches 165°F.
How to Make Turkey Meatballs in an Instant Pot
For a quick way to make these Turkey Meatballs, get out your instant pot and have meatballs ready in just a few minutes! Combine all the ingredients, just like you would do when baking them. However, you will want to make them much SMALLER! At least half the size of a regular meatball.
Pour one cup of beef broth to the base of the instant pot. Then, put the meatballs on the rack that is just above the broth. Cook for 7 minutes and after the beep, push the button to allow the pressure release. That's it! Serve them with your favorite sauce or add them to marinara sauce.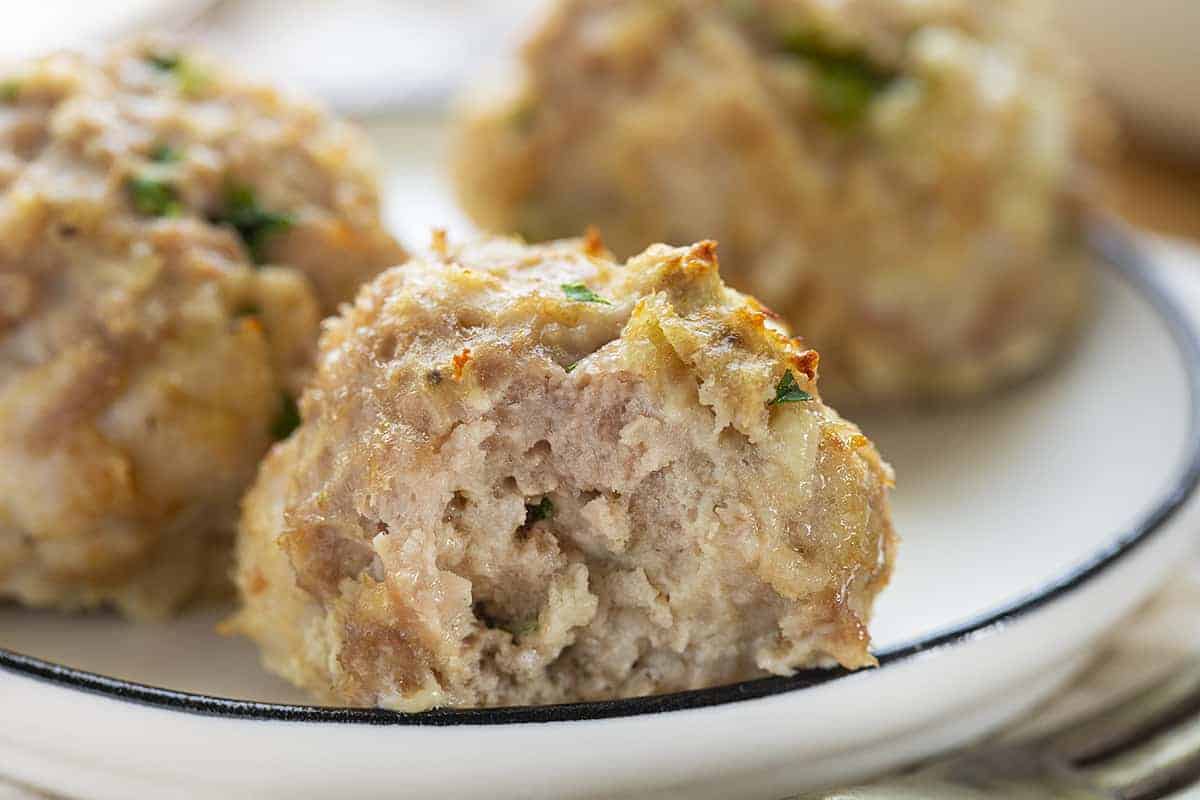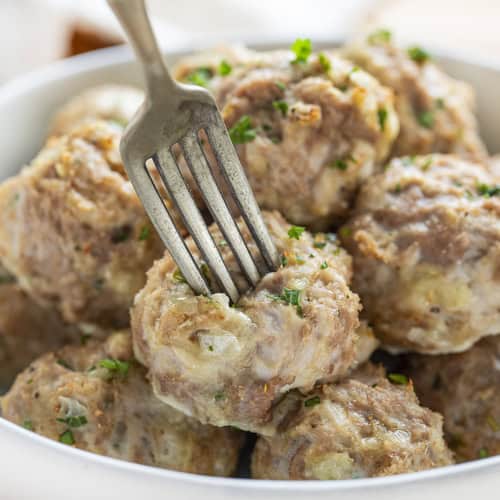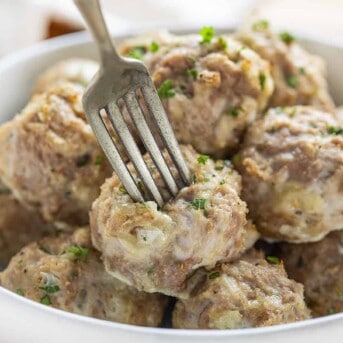 Turkey Meatballs
Packed with protein and flavor, Turkey Meatballs taste just as good as traditional meatballs!
Ingredients
2

pounds

ground turkey

1

large

egg,

beaten

½

cup

grated parmesan cheese

2

tablespoons

flat-leaf parsley,

chopped

2

teaspoons

salt

½

teaspoon

black pepper

½

cup

milk

½

cup

dry breadcrumbs

2

cloves

garlic,

minced

¼

cup

onion,

finely chopped
Instructions
In a large bowl, combine the ground turkey, beaten egg, cheese, parsley, salt, and pepper. Mix together until just combined.

In a medium bowl, combine milk, breadcrumbs, garlic, and onion.

Add milk mixture to the meat mixture being careful not to overwork ingredients.

Form into desired size meatball (grease hands before starting to keep the meat from sticking) and place on a parchment-lined baking sheet.

Place in preheated oven and roast until the outsides are browned and they read 165°F on a meat thermometer (about 25 minutes).
Did you make this recipe?
You can tag me at @iamhomesteader.