Pepper Crusted Beef Tenderloin is so 'melt in your mouth' tender, you would not think the steak would be so easy! It's the recipe I used for my Beef Tenderloin Baguettes recipe, and you don't even need a grill!

Pepper Crusted Beef Tenderloin
I love steak! I love it right off the grill, piled in my fajitas, in a salad, and it's always my go-to meat of choice in my burritos! So, when I discovered how easy it was to make the perfect steak on the stovetop, I was thrilled! Plus, when you tell your family and friends you are serving steak for dinner, I bet they will be delighted and surprised! But, it shouldn't be a surprise. This Pepper Crusted Beef Tenderloin is so easy to make that it will be a recipe you will come back to time and time again! To really top it off, literally, add a pat of cowboy butter to the steak.
Beef Tenderloin Recipe
Have I mentioned how easy it is to make this beef tenderloin recipe? It's all about choosing the right cut of beef and letting it marinate in…wait for it…salt and pepper. Yep, that is it! Letting the meat marinate for about 30 minutes will lead to a perfect steak right off the stovetop! Be sure to use kosher salt and ground black pepper. Don't be afraid of using too much salt–you won't!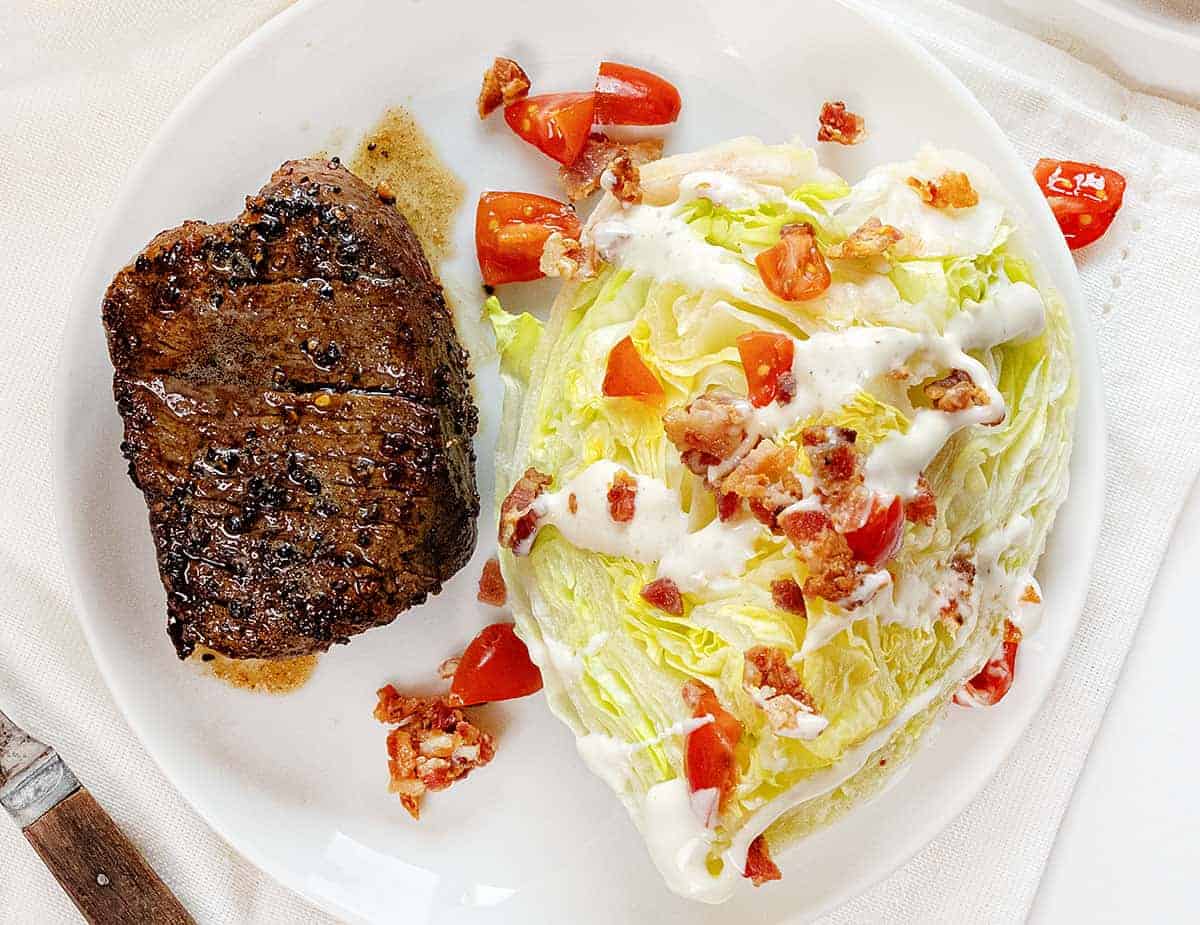 Beef Tenderloin Nutrition
With loin or round in the name, you know that you are getting the leanest cut of meat. Beef Tenderloin is actually one of the leanest and most tender cuts of beef you can buy. It is more expensive than other cuts of meat, but in this case, you get what you pay for. Beef tenderloin is high in protein and full of B vitamins.
How to Cook the Perfect Steak
You can have perfectly cooked beef tenderloin all year round, no grill needed! All it takes is a skillet, butter, and salt and pepper marinated beef tenderloin! I recommend a cast-iron skillet. If you do not have one yet, order one now! They can be used for so many things, including a few of my favorite dips like my Skillet Onion Dip and Skillet Pizza Dip. Anyway, back to the beef tenderloin. Get your skillet, if not cast-iron, a heavy-duty pan. Set the heat to medium and add the butter. Then, take the beef tenderloin and cook it on each side for about 4-5 minutes each side. If you have a meat thermometer, it is easy to get your beef exactly as you want it. Here are some benchmark temperatures to follow:
125°F=Rare
130-135°F=Medium Rare
140°F=Medium
145°F=Medium-well
PRO TIP: Be sure to remove the beef when the temperature is 5 degrees less than your desired 'doneness'. The meat will continue to cook as it is sitting, before cutting into it.
Pair the Pepper Crusted Beef Tenderloin with a wedge salad for a complete meal!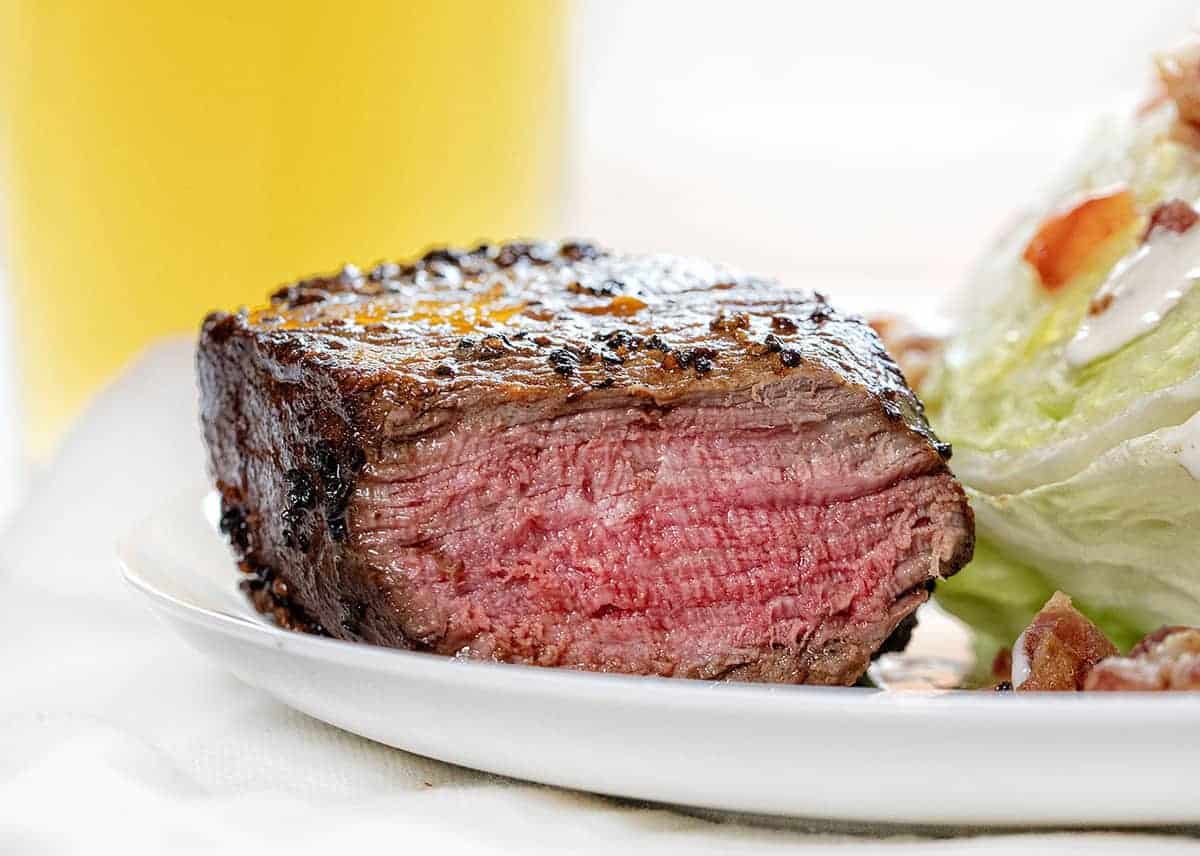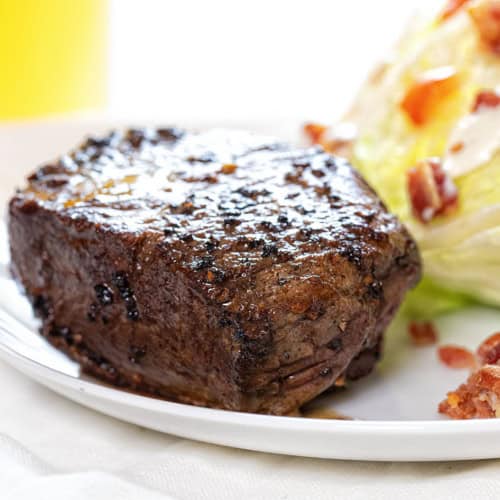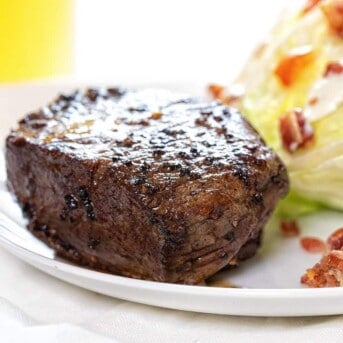 Pepper Crusted Beef Tenderloin
Tender and flavorful, Pepper Crusted Beef Tenderloin is so easy to make, steak night will be a weekly meal!
Ingredients
STEAK
1½

pounds

beef tenderloin,

trimmed of fat

1

tablespoon

black pepper,

freshly ground and coarse

¾

teaspoon

kosher salt

1-2

tablespoons

butter (I start with one and add more if needed)
Instructions
STEAK
Remove the steaks from the refrigerator and season with salt and pepper about 30 minutes before cooking.

In a large skillet over medium heat, cook steaks in butter for 4-5 minutes on each side or until meat reaches desired doneness. (For medium-rare, a thermometer should read 135°F, medium, 140°F, medium-well, 145°F.)

Try tipping the skillet up and spooning the butter back over the steak. You can also add more butter to the pan if you want.

Set aside to cool slightly, approximately 5 minutes.

Slice against the grain as thinly as possible.
Did you make this recipe?
You can tag me at @iamhomesteader.