Beef Tenderloin Baguettes should be on everyone's appetizer list! Beef tenderloin tops a creamy horseradish sauce that sits on a crunchy baguette. The flavor of the horseradish sauce jumps out at you and paired with the beef tenderloin, it's a perfect match! Try my Marinated Steak Bites for another beefy appetizer.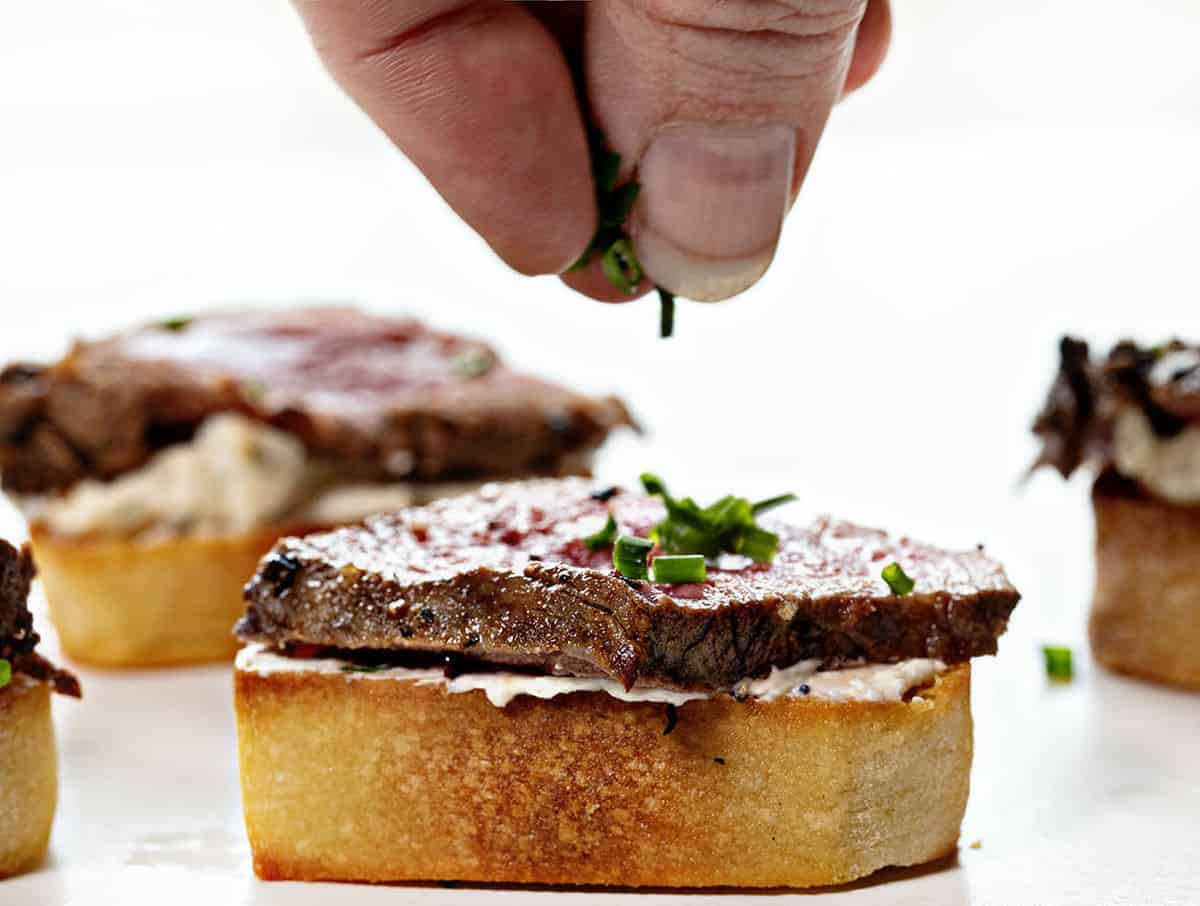 Beef Tenderloin Baguettes
As soon as I tried these Beef Tenderloin Baguettes, I was hooked! Horseradish is a common accompaniment to beef, chicken, and seafood, but it has also been used for more than that! In fact, horseradish has been used as a rub for lower back pain and an aphrodisiac! I think I will eat just a couple more of those baguettes😊.
PRO TIP: Horseradish is a powerful ingredient and one that should be used sparingly until you fully understand your preference. I recommend starting with a THIN layer of the horseradish sauce and then adding more as needed.
Beef Tenderloin Baguettes Recipe
This baguette recipe is so easy to make! An important part of the recipe is to marinate the beef tenderloin. Simply add salt and pepper to the beef and let it sit for about half an hour.

How to Cook Your Steak on the Stovetop
Yes, you can have a perfect steak without grilling it (in case you were wondering). This stovetop method is quick and perfect for the Beef Tenderloin Baguettes. First, you need to pick out a beef tenderloin. They are a bit more expensive because it is the most tender cut of beef. The more expensive cuts of beef don't need much seasoning, which is why you only need salt and a little bit of pepper before you cook it. Put some butter in a skillet (I prefer a cast-iron skillet), and cook the tenderloin for 4-5 minutes on each side.
The nice thing about this is you can make your beef as rare (or as well-done) as you prefer. Just be careful to not overcook it! The more tender the meat, the easier it is to dry out. Here are the temperatures I use to gauge how 'done' I want my meat:
125°F=Rare
130-135°F=Medium Rare
140°F=Medium
145°F=Medium-well

How to Use Horseradish Sauce
I must admit, this horseradish sauce is pretty powerful! So, it's up to you how much you put on your baguette. If you have any leftover sauce, it doesn't have to be used only for beef! With all the health benefits of horseradish, it's a good idea to eat it when you can! Try it on a sandwich to kick it up a notch. Or, add it to your scrambled eggs. It's great to add to sour cream for your baked potatoes, too! I have even seen it added to salad dressings to give them a little bite.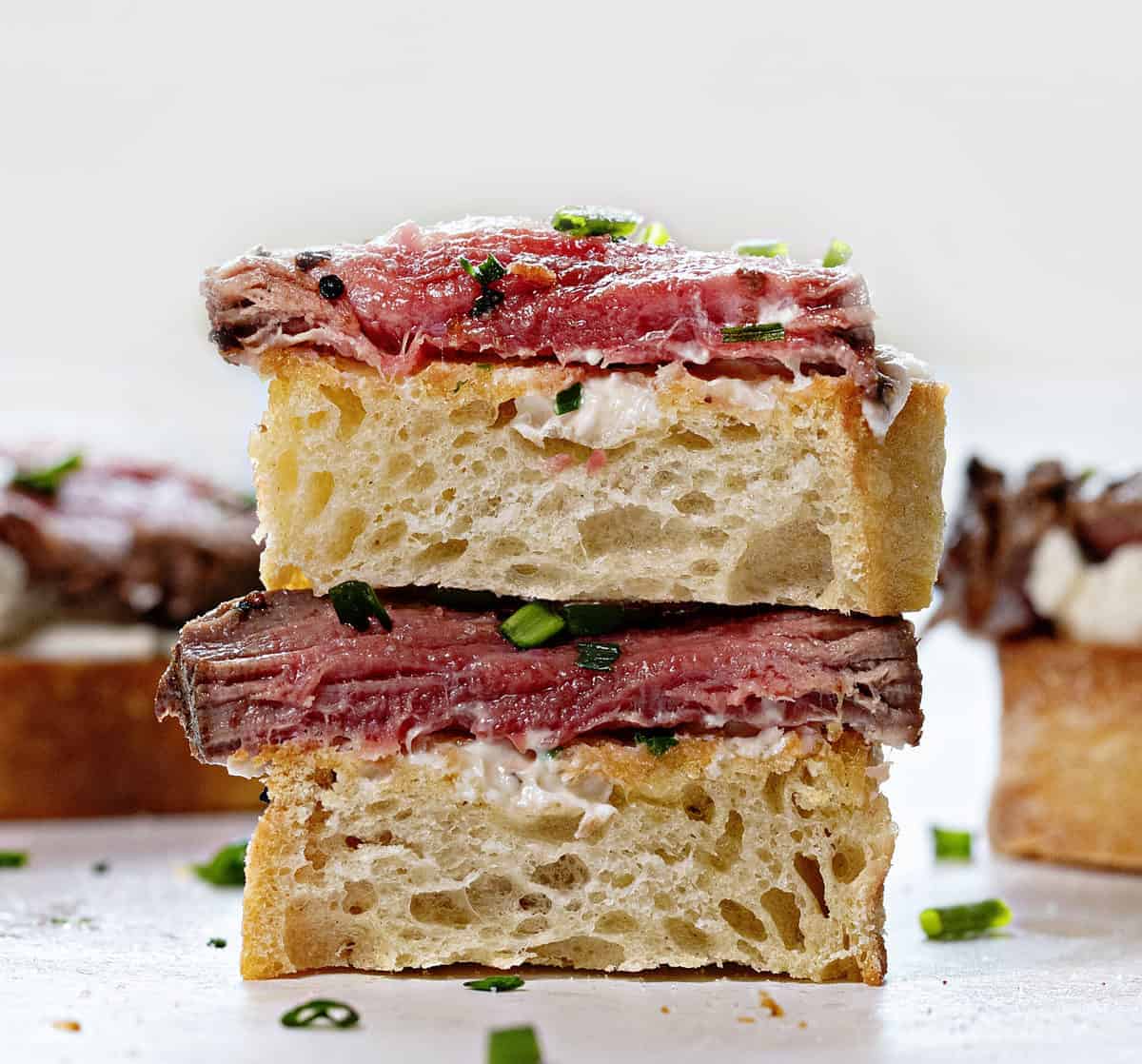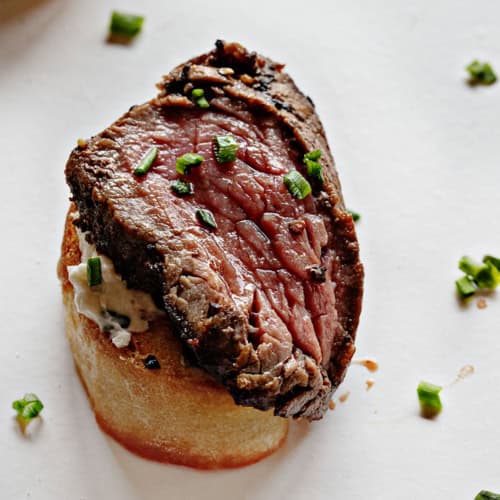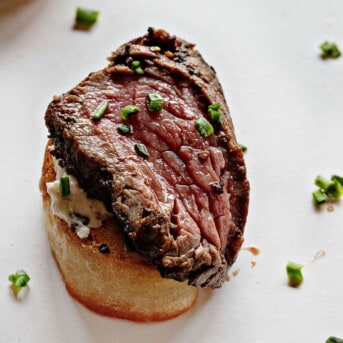 Beef Tenderloin Baguettes
A crunchy baguette is layered in a creamy horseradish sauce, topped with beef tenderloin in these Beef Tenderloin Baguettes.
Ingredients
STEAK
1 ½

pound

piece of beef tenderloin,

trimmed of fat

1

tablespoon

black pepper,

freshly ground and coarse

¾

teaspoon

kosher salt

1

tablespoon

butter
BAGUETTES
1

French baguette,

cut into 1-inch slices

1

tablespoon

olive oil
HORSERADISH SAUCE
1/2

cup

(120g) cream cheese,

room temperature

2

tablespoons

prepared horseradish

2

tablespoons

chives,

minced

½

teaspoon

apple cider vinegar

⅛

teaspoon

pepper

¼

teaspoon

sea salt
Instructions
Steak
Remove the steaks from the refrigerator and season with salt and pepper about 30 minutes before cooking.

In a large skillet over medium heat, cook steaks in butter for 4-5 minutes on each side or until meat reaches desired doneness. (For medium-rare, a thermometer should read 135°F, medium, 140°F, medium-well, 145°F.)

Slice against the grain as thinly as possible.
Baguettes
Arrange the baguette slices in a single layer on a rimmed baking sheet.

Toast in oven, turning occasionally, until golden brown on both sides, about 5 minutes.

Remove from the oven and let cool.
Horseradish Sauce
In a small bowl, whisk together the cream cheese, horseradish, chives, vinegar, pepper, and sea salt.
Assemble
Spread an equal amount of the horseradish cream on each of the toasts.

Place a slice or two of the beef on top of the horseradish cream.
Did you make this recipe?
You can tag me at @iamhomesteader.