Breakfast Bombs are buttermilk biscuits filled with cheese, scrambled eggs, and sausage, brushed with salted butter, and baked to a golden brown. It will be your new favorite way to start the day! Try my Biscuits and Gravy Bombs, too!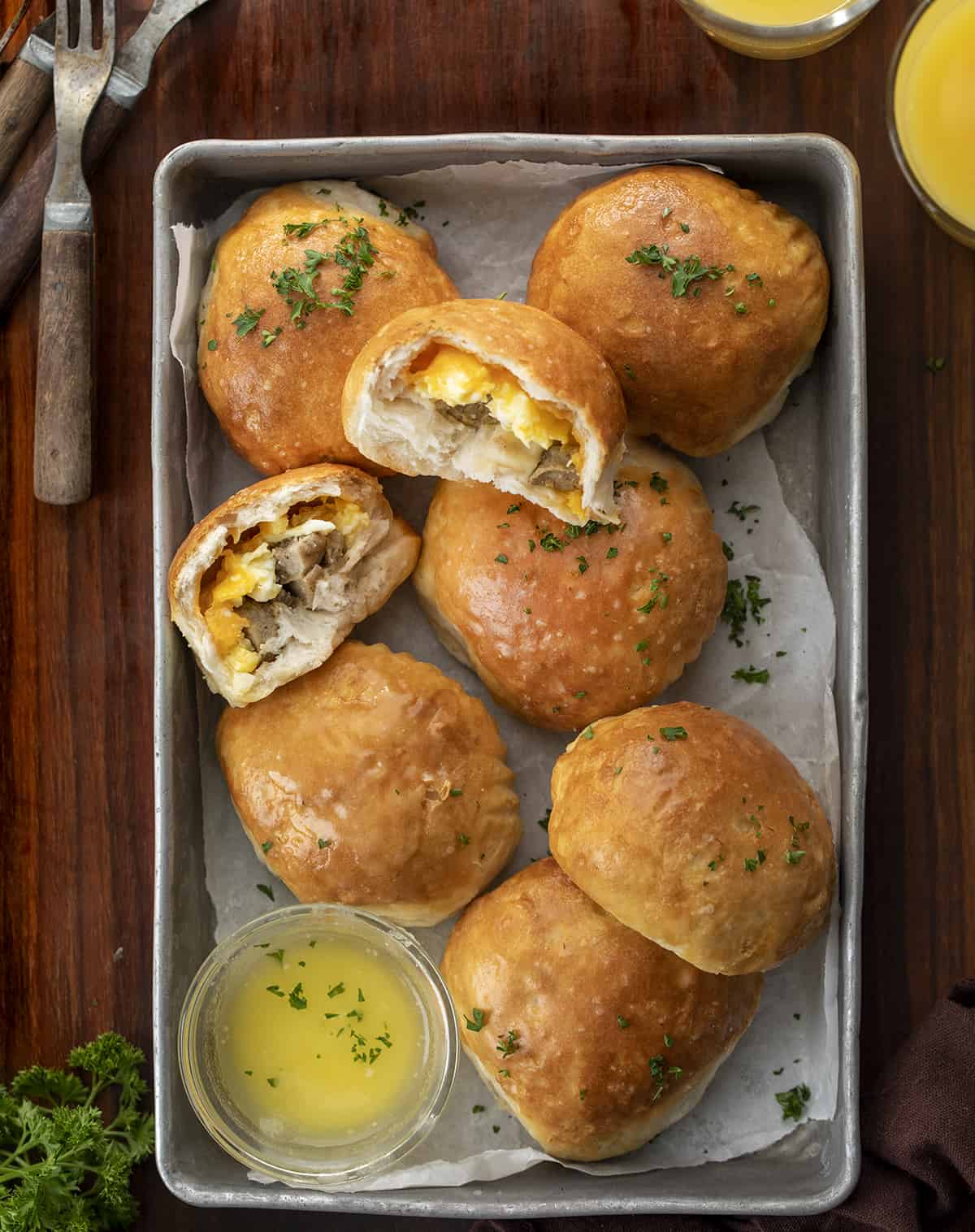 Sausage, Egg, and Cheese Breakfast Bombs
If you need a jumpstart to your day, look no further than this recipe (and maybe a giant Iced Sugar Cookie Latte). It starts with buttermilk biscuits, and then each is filled with the classic breakfast combination of sausage, eggs, and cheese. As the name implies, the Breakfast Bombs are bursting with flavor and energy to get you through the morning (or at least close…). Plus, they are easy to put together and can also be made in an air fryer!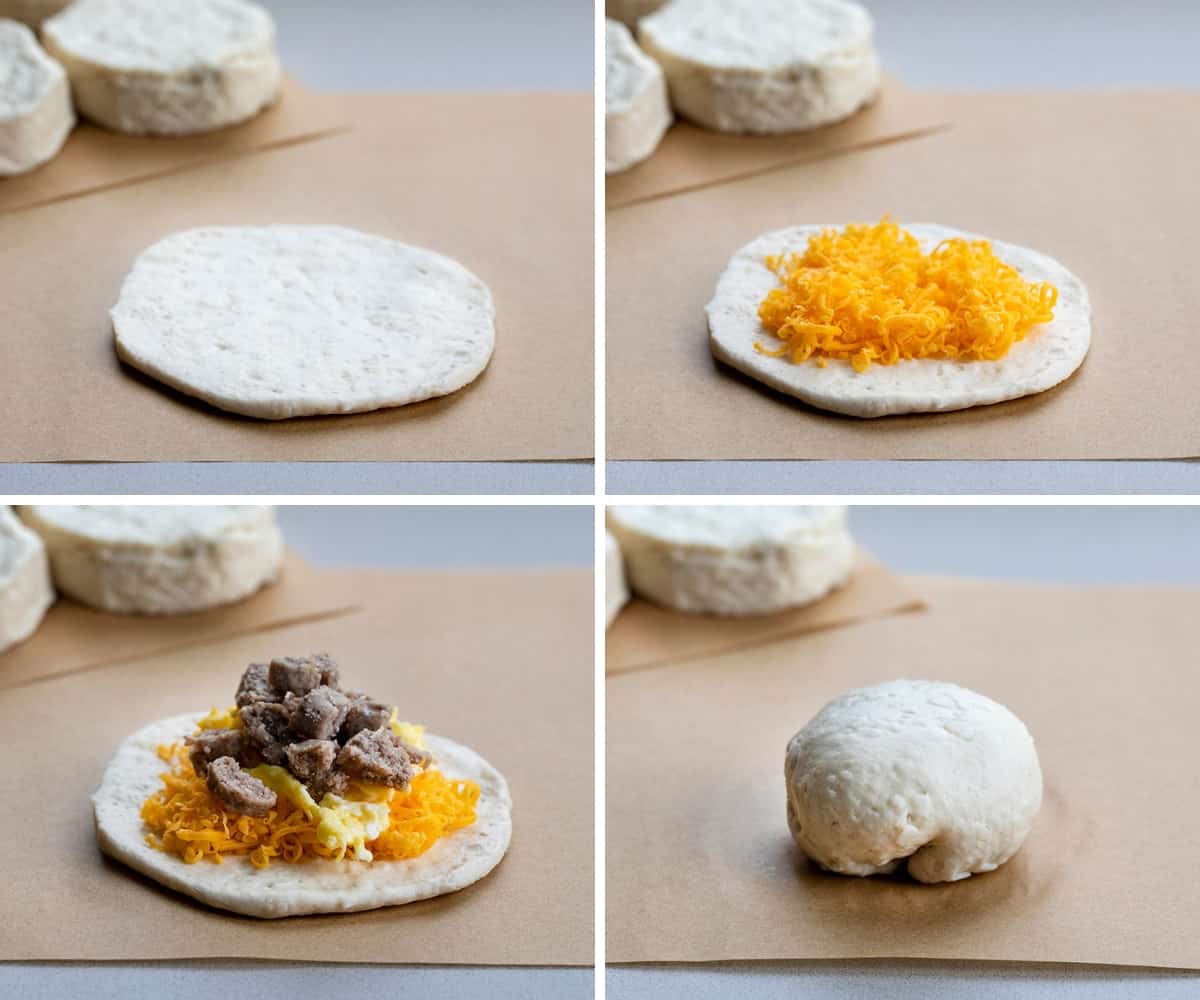 Ingredients
Biscuits: Look for a tube of buttermilk biscuits, not the flaky variety. Or, if you have some extra time, you could make homemade buttermilk biscuits to use.
Cheese: I used shredded mild cheddar cheese, but almost any kind of cheese would be delicious!
Eggs: Scramble the eggs how you like them. I do have a scrambled egg recipe you could refer to; but, you may have a few extra after filling the bombs.
Sausage: Make sure the sausage links you choose are pre-cooked. Then, it's just a matter of chopping the links and heating them up in the breakfast bombs.
Salted Butter: The salted butter can be optional, but it adds so much flavor. It is brushed on the tops of the bombs before and after they have been baked.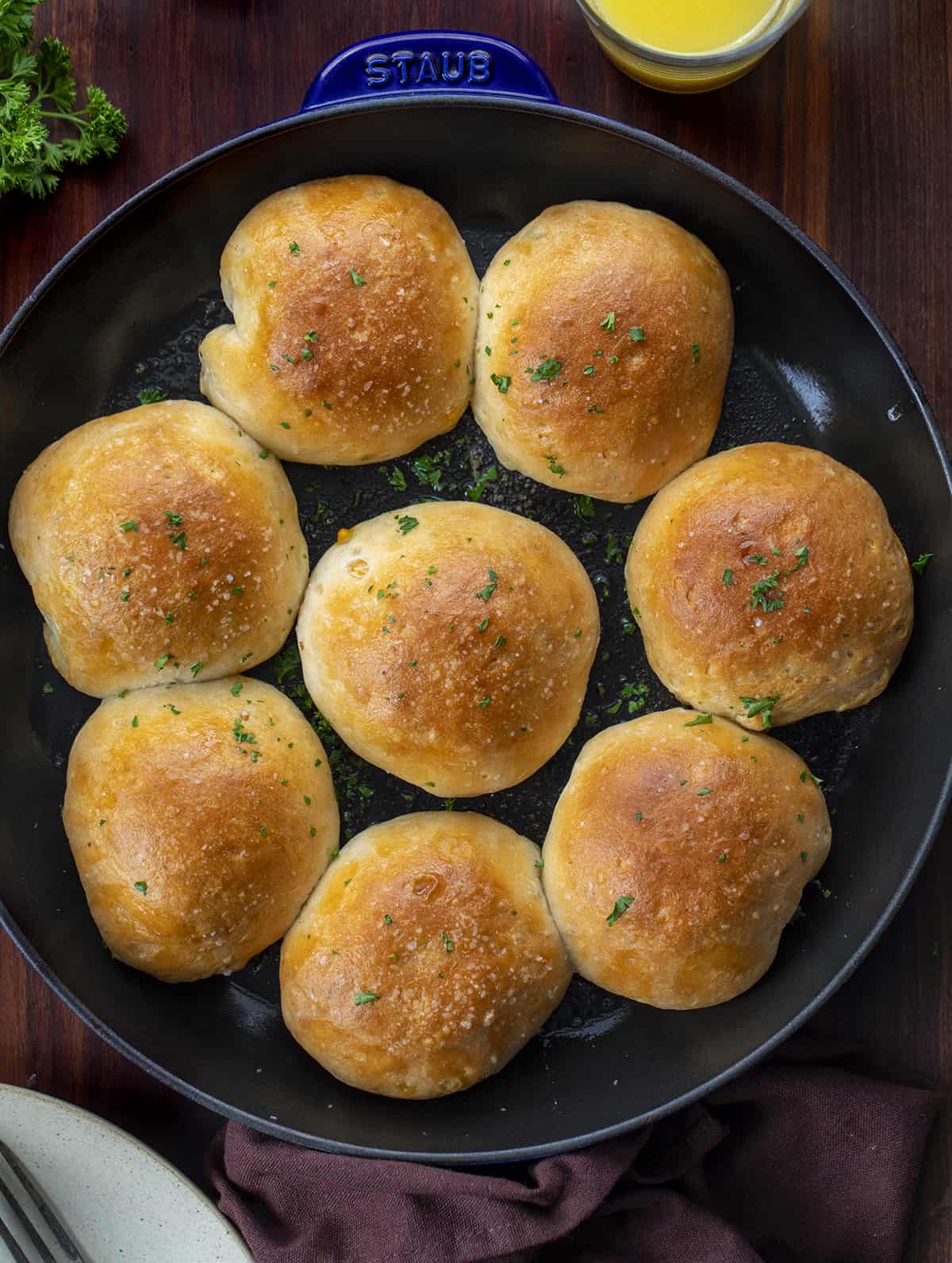 Can I Make Breakfast Bombs Ahead of Time?
Sure! If you want to get a head start on the next morning's breakfast, get them assembled the night before. Then, place the bombs into the baking dish or oven-safe skillet, cover them, and store them in the refrigerator overnight. Bake them the next morning.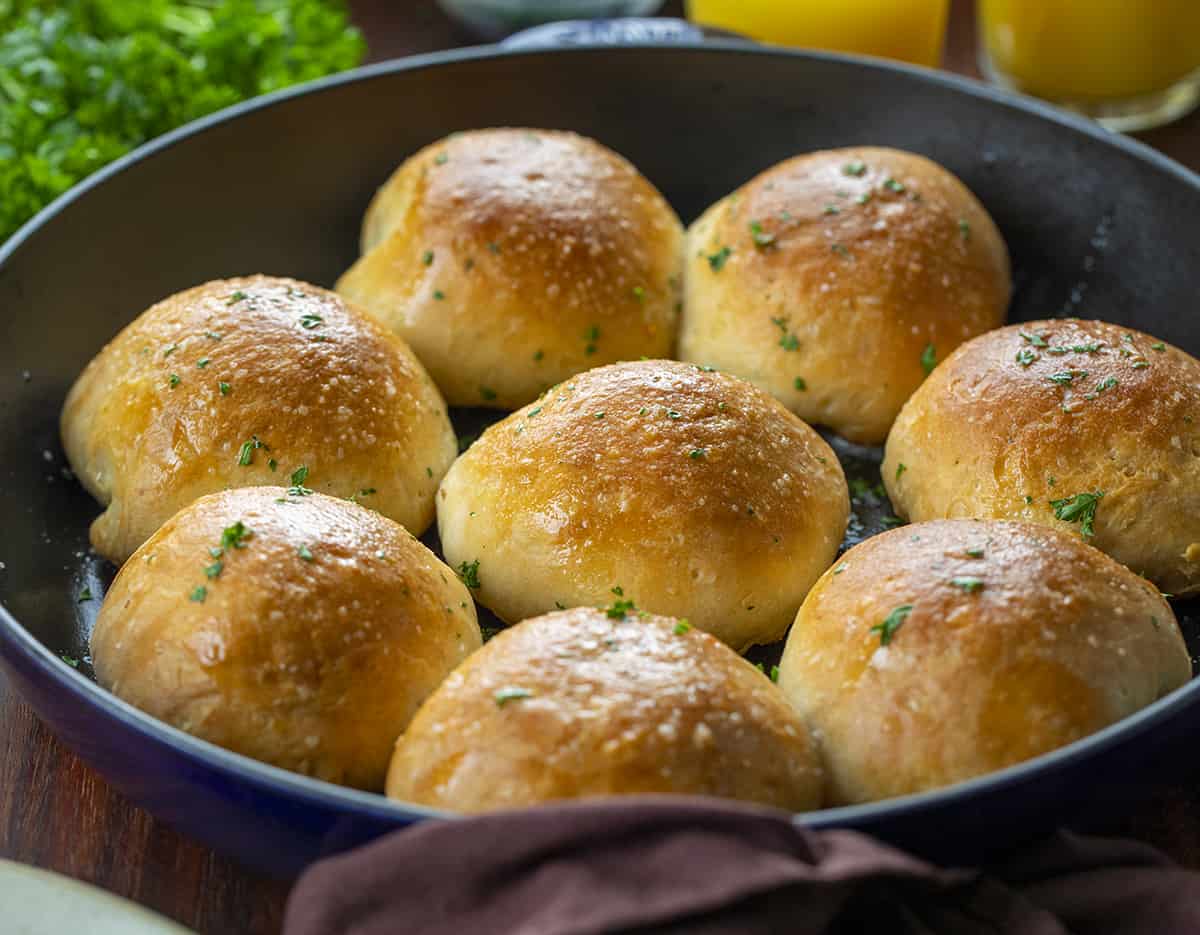 Variations to Breakfast Bombs
Although I think these are perfect as-is, they are also easy to make your own. Here are a couple of options and variations you can try:
Leave out the sausage and make the bombs meatless.
Use different meat like ham, bacon, or breakfast sausage.
Add vegetables like bell peppers and onions to the bombs.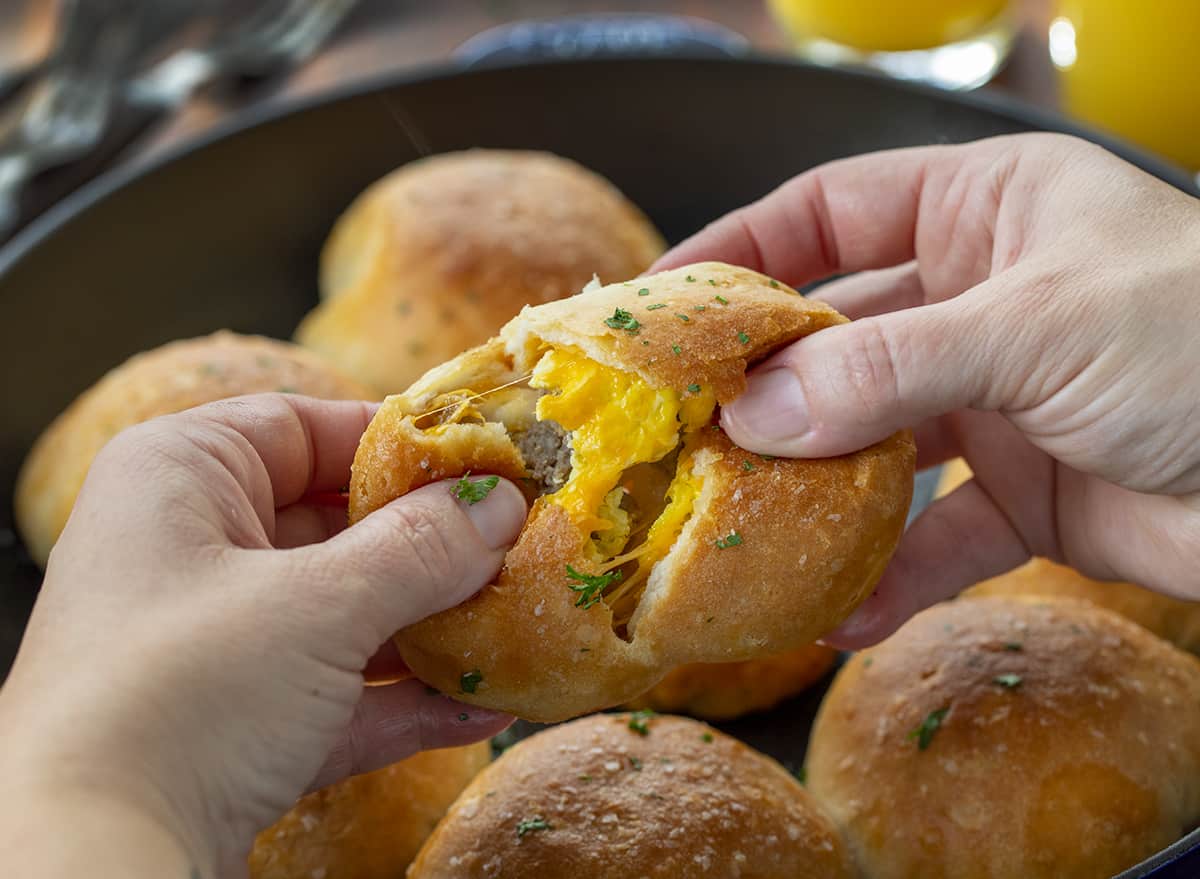 Air Fryer Breakfast Bombs
As I stated above, Breakfast Bombs can also be made in an air fryer. First, preheat the air fryer for about 5 minutes at 330°F. (Preheating the air fryer helps the biscuits cook completely). Then, instead of placing the assembled bombs into the skillet, place a few bombs into the basket of your air fryer. You will probably have to work in batches, depending on the size of your air fryer.
After placing the bombs into the air fryer (don't forget about the salted butter), air fry for 8 minutes. After eight minutes, carefully pull apart the bombs if they are connected to one another. Air fry for another 2 minutes, or until golden brown. Brush with the remaining salted butter and enjoy!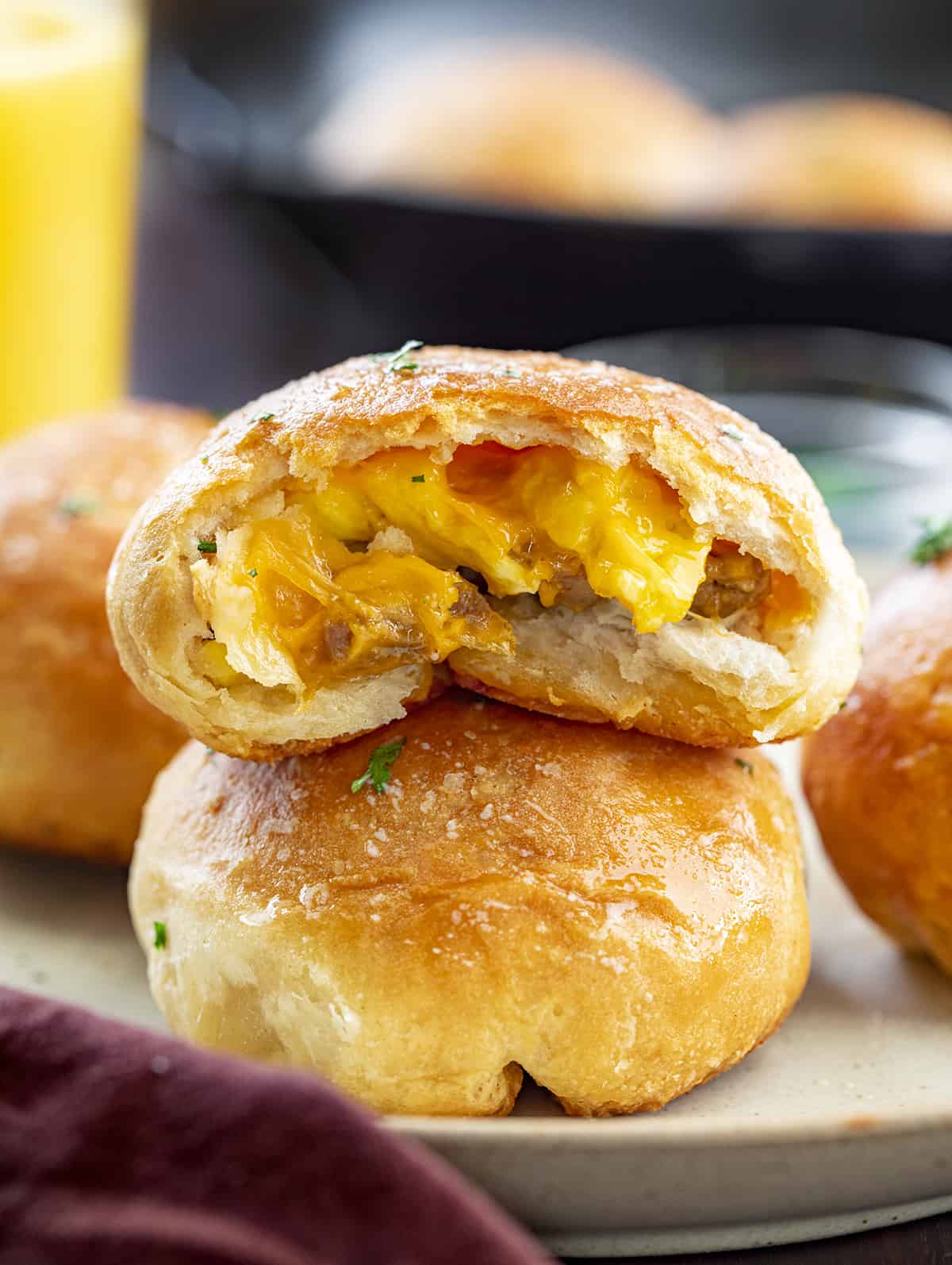 Can I Freeze Breakfast Bombs?
Sure! Once the bombs have been baked and cooled, you could definitely store them in the freezer. Wrap them in plastic wrap and in a freezer-safe bag or container. Having a breakfast bomb at your fingertips will save you some stress on those hectic mornings when you need to get out the door or just get your day started. Grab a frozen bomb and heat it up in the microwave.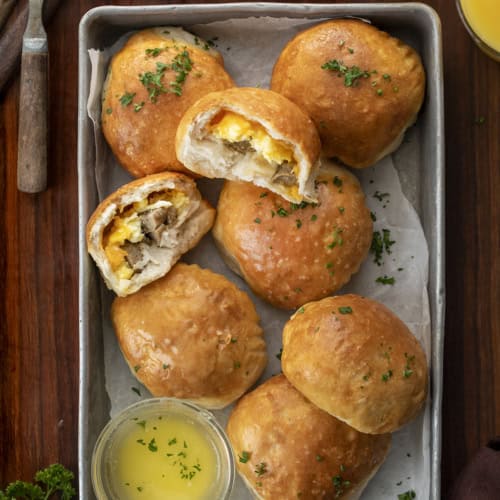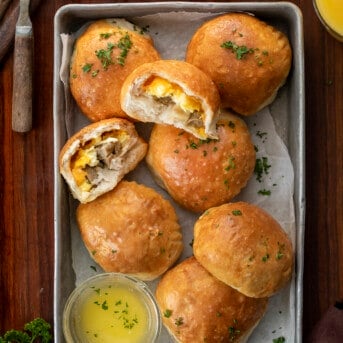 Breakfast Bombs
Breakfast Bombs are buttermilk biscuits filled with cheese, scrambled eggs, and sausage, brushed with salted butter, and baked to a golden brown.
Ingredients
1

can

(8-count) Southern Homestyle Buttermilk Biscuits,

not flaky

1½

cups

(169.5 g) mild cheddar cheese,

shredded, divided

1

cup

scrambled eggs,

prepared to your liking (roughly 4-5 eggs depending on size), divided

8

precooked

sausage links,

chopped (about 1 cup), divided

¼

cup

(½ stick / 57 g) unsalted butter,

melted

1

teaspoon

kosher salt

fresh parsley,

chopped, for garnish
Instructions
Preheat the oven to 375°F. Spray a 12-inch oven-safe skillet with nonstick cooking spray. Set aside. (If you have not made the scrambled eggs yet, now would be a good time.)

Remove the biscuits from the can and place them on a clean work surface. Using a rolling pin, flatten each biscuit to about ⅛-inch thickness.

Top each flattened biscuit with an equal amount of the shredded cheese leaving room around the rim of the circle. Then add an equal amount of scrambled eggs and chopped sausage on top of the cheese.

Use your fingers to pull the sides of the biscuit and pinch to seal the edges together. Place the bomb (pinched side down) into the prepared skillet. Repeat with the remaining biscuits.

In a small bowl, whisk together the melted butter and salt. Brush half of the salted butter over the tops of the bombs.

Bake 20-23 minutes, or until golden brown.

Immediately brush with the remaining half of melted butter, garnish with parsley, and serve.
Did you make this recipe?
You can tag me at @iamhomesteader.