These Country Buttermilk Scrambled Eggs will be the fluffiest, creamiest, most delicious scrambled eggs you've ever had. Get ready I am going to tell you my secret ingredient! Try these eggs in my Ham Egg & Cheese Breakfast Sandwich.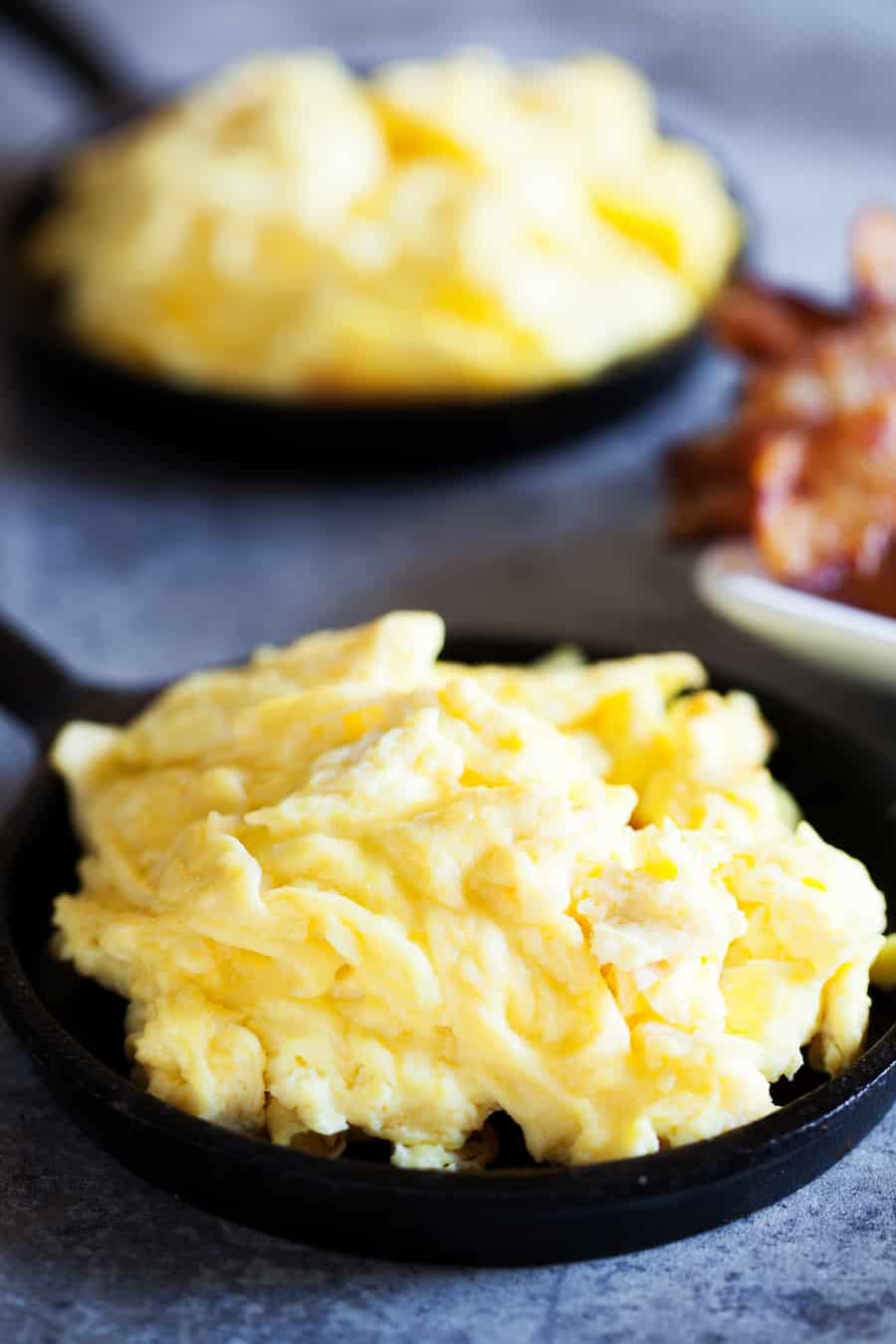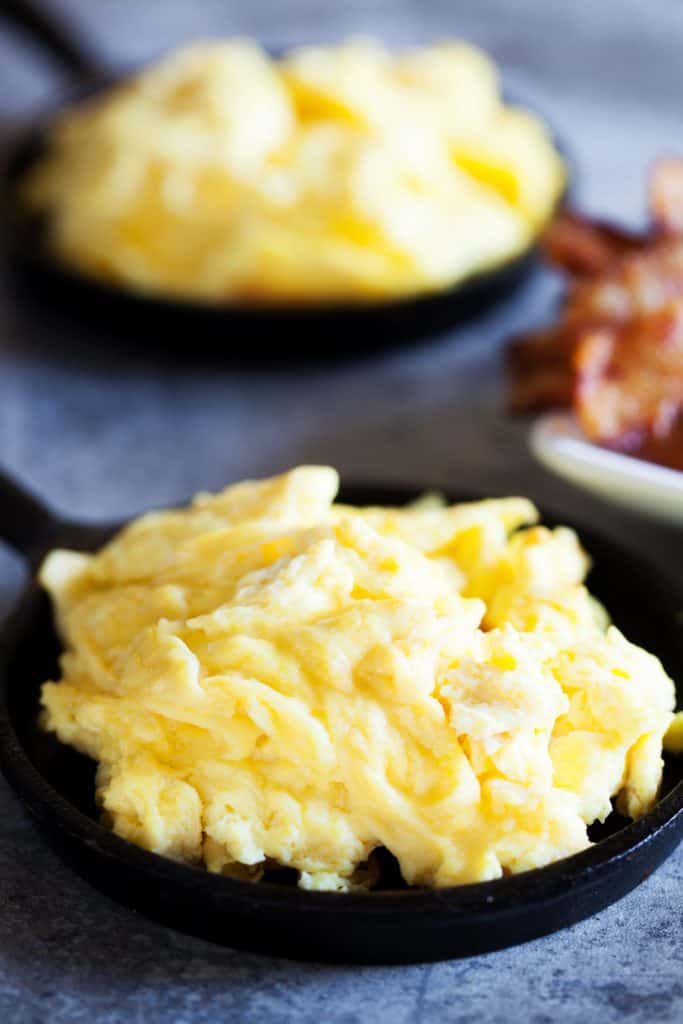 Country Buttermilk Scrambled Eggs
Since I raise my own chickens, I feel I am deserving of the title of self-proclaimed egg snob. Breakfast is a big deal around here. Let's be honest with each other though, eggs are good at any time of day. Most people think of scrambled eggs as a breakfast so today I will roll with that assumption. So here is where my inner egg snob reveals itself. Scrambled eggs. If you are shaking your head or rolling your eyes, allow me to explain. Not all scramble eggs are created equal. These are the questions one must ask when making scrambled eggs. What pan do I use? How hot should the pan be? How long do I cook them? Do I add milk? What about cheese? Salt and Pepper? When do these ingredients get added, before or after cooking? Do I butter the pan? Should the pan be hot or cold before I add the eggs? You see, these are big churning questions that need answers! I am here to help!
How to get the perfect Buttermilk Scrambled Eggs
First, let's start with cookware and utensils. The best pan for scrambled eggs is a good quality non-stick pan. You want the eggs to loosely slide and bind together and they can't do that if they are adhering to the bottom of your pan. They also can't do that if the pan is too hot. Don't try to cook your eggs to fast or you'll have dry eggs. Set the pan to medium-low.
When you start to combine all of the ingredients (sans salt and pepper) you will whip them together using a wire whisk. A good strong whisk is important, you will want to make some air bubbles. Why? Yes, there is a reason other than just mixing them. You want to combine the whites and yolks of your eggs so that your dish is a uniform color, but also, getting a good amount of air into the mix makes for light and fluffy eggs. This is the goal.
Buttermilk Scrambled Egg Ingredients
Now let's talk ingredients, this kind of goes without saying, but when it comes to cooking scrambled eggs, your final product is only as good as the ingredients you use. Use the freshest eggs you can find. Also, this recipe calls for buttermilk. Why does buttermilk work for scrambled eggs? Buttermilk is the liquid that remains from the process of churning butter. If you have never made butter before, and most haven't, you would probably never think to use it. Buttermilk has a very distinct tangy flavor. It also is very rich and creamy, making it perfect for a soft, rich, creamy scrambled egg.
You will also need my secret ingredient but well talk about that in a minute. The last thing I will say about the ingredients is if you are going to add salt, pepper, or cheese, do it at the end. If you add salt and pepper too early, your eggs will come out looking a strange green color. If you add cheese too soon, the eggs don't have time to bind together and they bind with the cheese instead, which makes them runny. Not to mention the additional moisture you add depending on what type of cheese you choose.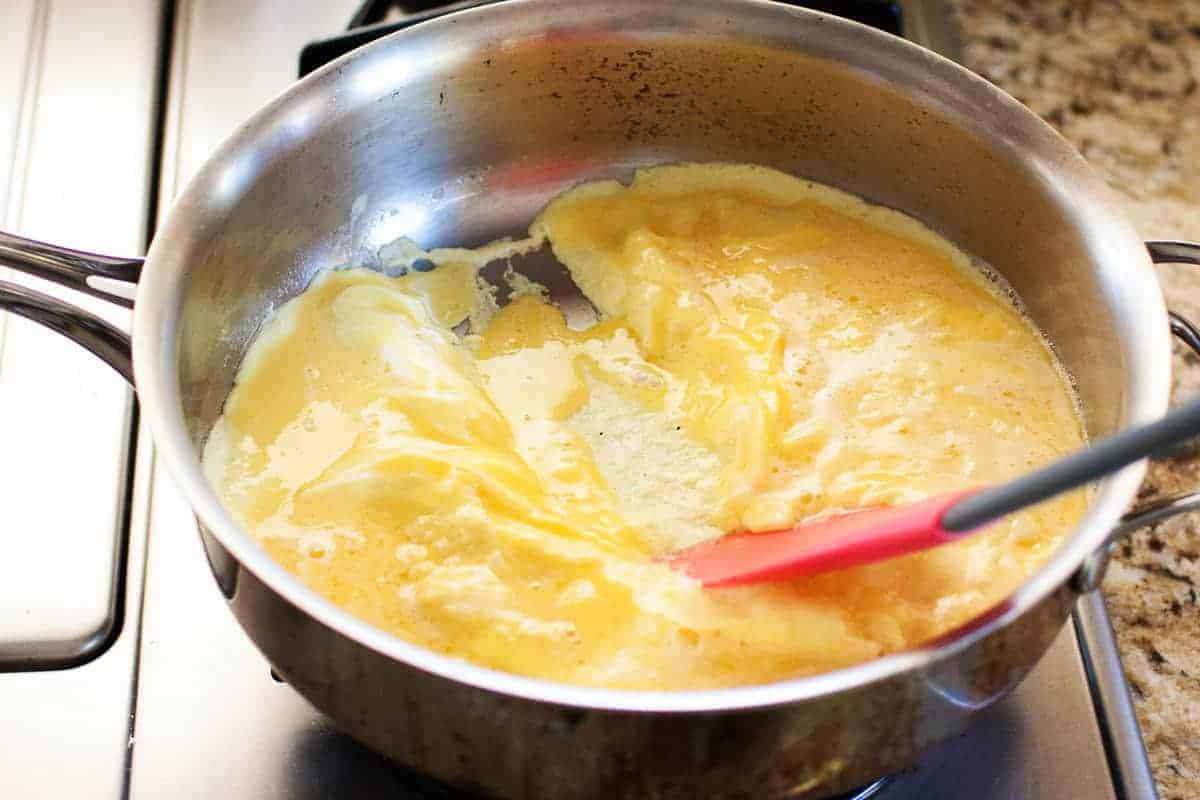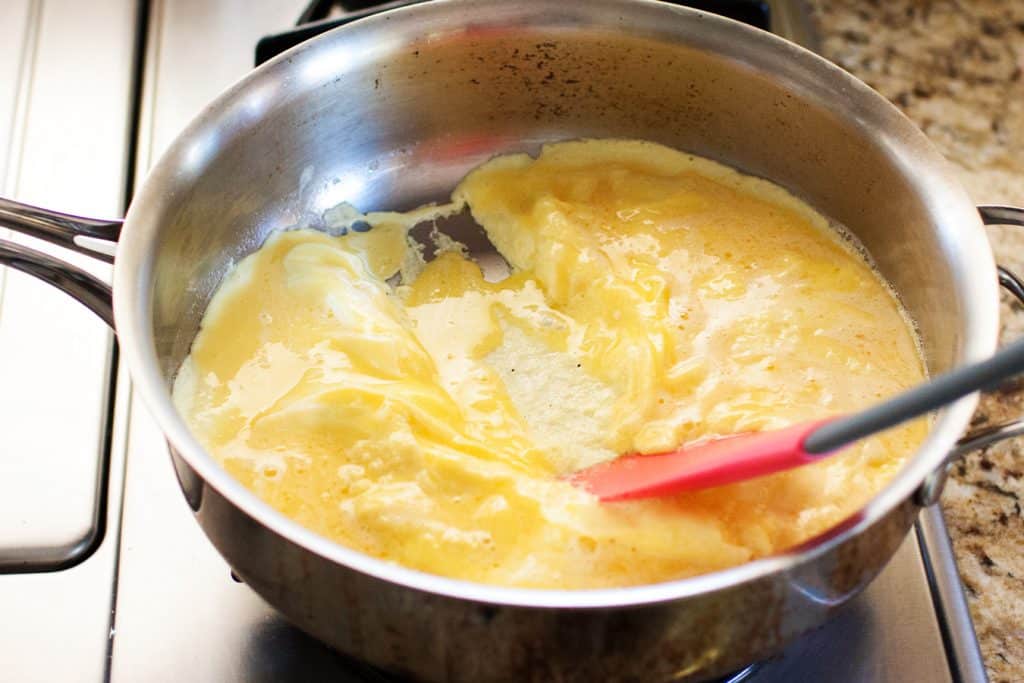 Scrambled Egg Secret
Right now you are probably shaking your head picturing all of the times you ate dry, overcooked, scrambled eggs. Oh, what could have been?
Do you want to know my secret ingredient? It's cornstarch! Did you know that cornstarch is a natural egg substitute? I have a vegan friend who loves to bake and she uses cornstarch as an egg replacement when she makes bread or cake. When you give it some thought it does make sense. You use corn starch to thicken juices into a gravy, why wouldn't it work to make your eggs creamy?
Basically, the cornstarch acts as a stabilizer of sorts and helps to make sure the eggs bind together and do not get rubbery and overcooked. It has saved me quite a few times when I am multitasking breakfast (and five kids!) and maybe forget to remove the eggs from the stove when they are done. It's such an easy and helpful trick, I can't recommend it enough!
PRO TIP: Put an oven-safe plate in a low-temperature oven or in hot water while you're cooking your eggs. An ice-cold plate will suck all of the heat out of your eggs, and who likes to eat cold eggs??
Scrambled Egg Recipes
I would suggest giving this one a try in its original format and then adding to it as you start to get braver. Onions, mushrooms, spinach, cheese, peppers, bacon, sausage, ham, the possibilities are truly endless. I like to use this in some of my other recipes as well. Check out these variations:
Ham Egg and Cheese Breakfast Sandwich
LOOKING FOR OTHER BREAKFAST IDEAS?
We raise our own chickens so, we ALWAYS have plenty of eggs on hand. Breakfast recipes are not hard to come by in my house, here are a few of my favorites.
Breakfast Skillet Spinach and Eggs
Cream Cheese and Strawberry Stuffed French Toast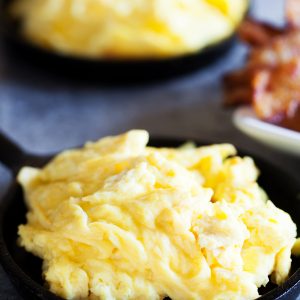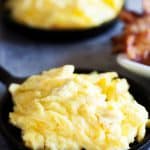 COUNTRY BUTTERMILK SCRAMBLED EGGS
These Country Buttermilk Scrambled Eggs will be the fluffiest, creamiest, most delicious scrambled eggs you've ever had. Get ready I am going to tell you my secret ingredient!
Ingredients
6

large

eggs

4

tablespoons

of buttermilk

1½

teaspoons

cornstarch

1

tablespoon

of real butter

salt and pepper,

to taste
Instructions
In a medium bowl, vigorously whisk together the eggs, buttermilk, and cornstarch. Whisk until frothy with many air bubbles.

In a skillet over medium-low heat, heat the butter until just melted, swirling to coat the pan's surface. Add the scrambled eggs and leave undisturbed for a few seconds to let the bottom of the eggs cook. Drag a spatula down the middle of the eggs to expose the bottom of the skillet and allow uncooked egg to run into the exposed surface. Continue in this matter until most of the eggs are cooked.

When the eggs no longer appear runny remove from the heat (the residual heat from the skillet will finish cooking the eggs). Season with salt and pepper to taste. Serve immediately.
Photography by The PKP Way.