There is just something about a hot breakfast that gets my day going. Hash Brown Breakfast Skillet is loaded with eggs, bacon, tomato, and a homemade cheddar cheese sauce that will definitely get you motivated for the day ahead. This would also be a great breakfast for dinner recipe. Serve it with my homemade buttermilk biscuits for a complete and delicious meal!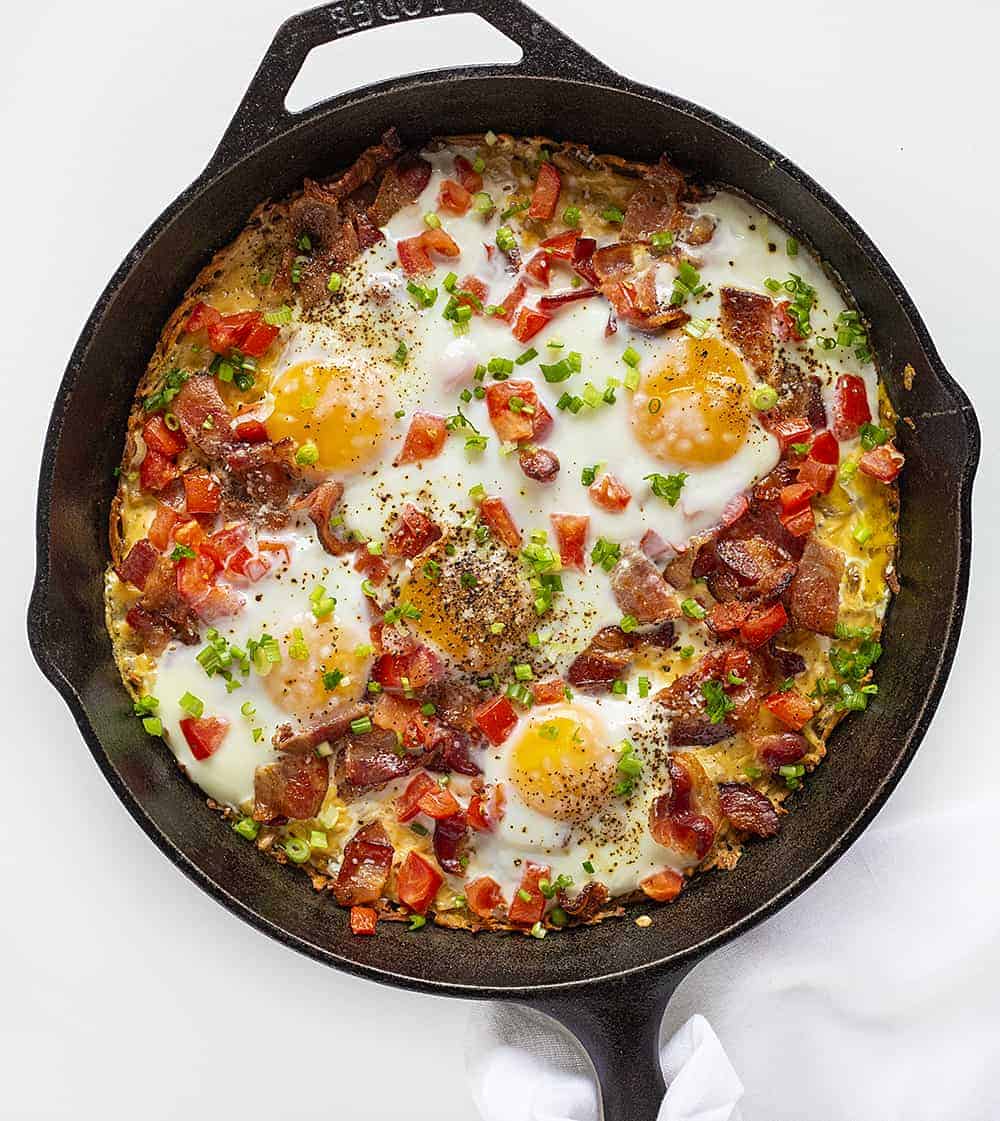 Hash Brown Breakfast Skillet
Hash Browns don't have to just be a side for your eggs and toast anymore. In fact, they can be the base that holds all the wonderful ingredients in this Hash Brown Breakfast Skillet. It takes a little time to put it all together, but it's definitely worth it! You and your family will be thankful as soon as they bite into a piece of this skillet.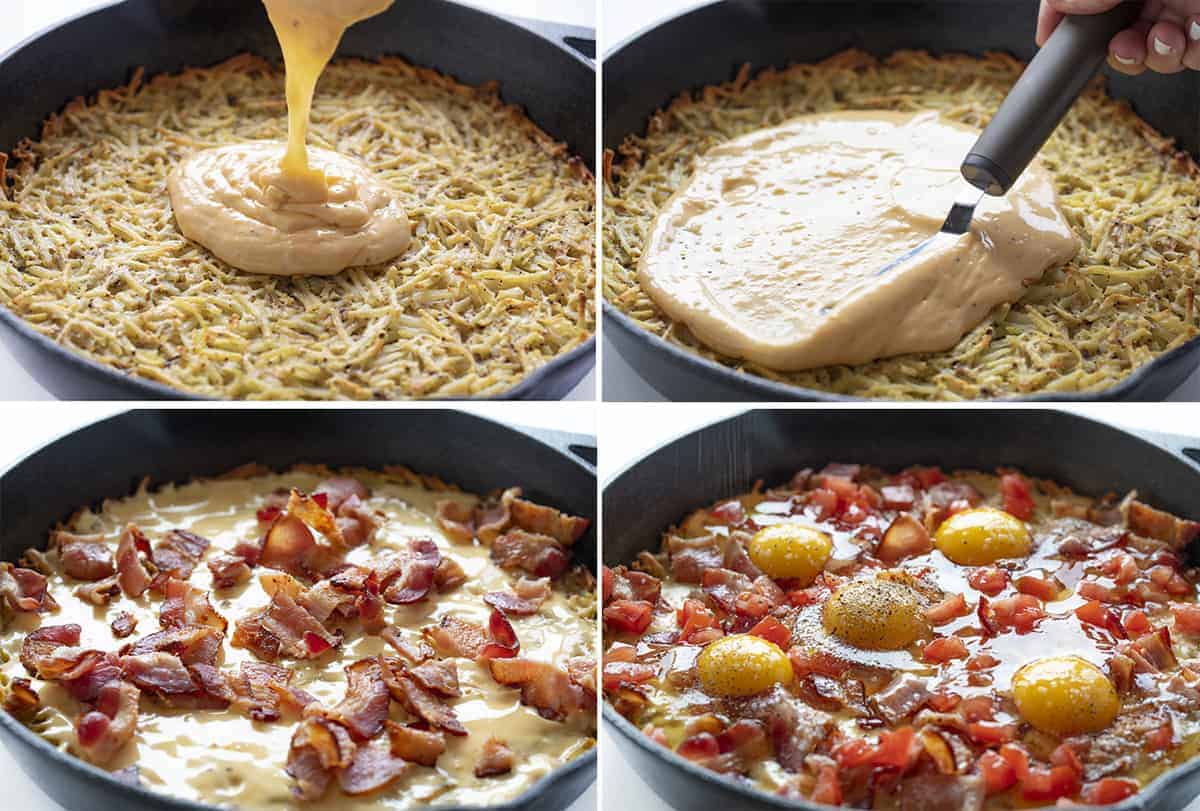 Hash Brown Breakfast Skillet Recipe
There are two main parts to this Hash Brown Breakfast Skillet Recipe–the hash brown crust and the toppings. One of the toppings is a super easy homemade cheddar cheese sauce that I will explain how to make later (or you can go directly to the recipe from the link).
Crust Ingredients (Scroll Down for Recipe Card)
Oil
Shredded hash browns
Eggs
Kosher salt
Pepper
Topping Ingredients
Bacon
Tomato
Eggs
Salt
Pepper
Chives

How to Make Hash Brown Breakfast Skillet
The first part of this recipe is to make the hash brown crust. This took a little longer than I thought it would, so give yourself up to an hour for the hashbrowns to become golden brown. First, preheat the oven to 400°F. Then, in a large bowl, mix together the hash browns, 2 eggs, salt, and pepper. Add the oil to your oven-safe skillet and firmly press in the hash brown mixture. Bake for 45-60 minutes.
After you remove the baked hash browns from the oven, it's time to layer all the goodness on top. Start with the homemade cheddar cheese sauce. Then, add the crumbled bacon and chopped tomato. Next, crack 5 eggs over the top of the tomatoes, followed by sprinkling with salt and pepper. Put this back into the oven to bake for another 15 minutes or so. I like a runnier yolk, but if you prefer the yolk to be cooked a little longer, add 3-5 minutes to the baking time.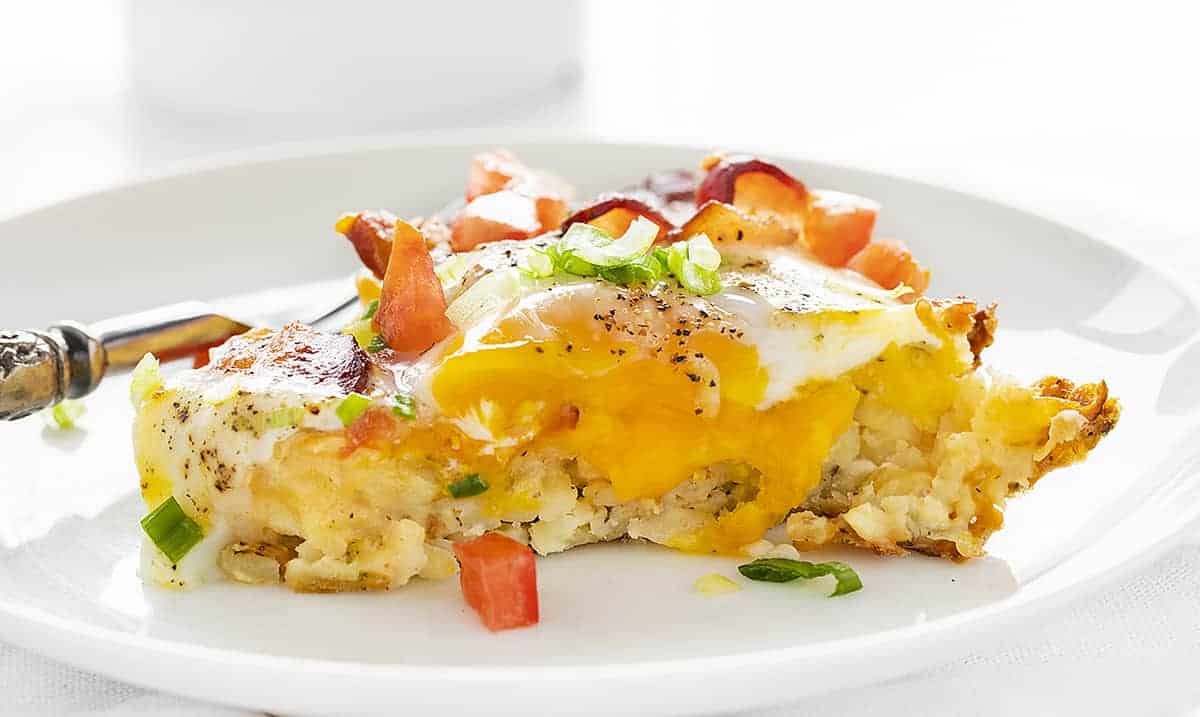 How to Bake Bacon
For this recipe, as well as a few other recipes I have made, it makes sense to bake the bacon ahead of time. Yes, I said bake. When I cook bacon, I do it in the oven. I set the temperature to 415°F and while it is preheating, I lay out the individual slices of bacon on a foil-lined rimmed baking sheet. (Yes, right on the pan! No rack needed.) They are perfectly crispy in 18-20 minutes. No flipping and easy cleanup! Then, crumble the strips of bacon into little pieces. You can store the bacon in an airtight container overnight and use them when you are ready to put them on the breakfast skillet.
How to Make Cheddar Cheese Sauce
With a saucepan and ingredients that you probably have on hand, you can have some ooey-gooey cheese sauce ready to go!
Ingredients
Whole milk
All-purpose flour
Salt
Sharp cheddar cheese
Ground black pepper
To make the sauce, combine 1/4 cup of milk and 4 teaspoons flour in a saucepan. Stir it with a whisk, and then add 3/4 cup milk and 1/2 teaspoon salt. Bring it to a boil over medium heat, stirring a few times. Reduce heat to low and simmer for a couple of minutes, constantly stirring. Remove from the heat to stir in the cheese and 1/4 teaspoon pepper until the cheese melts. Yes, you do need to remove the saucepan from the heat when stirring in the cheese. If you leave the sauce over the heat, the cheese will curdle and you will not get that creaminess that you would expect. If you have any leftovers, use this cheese sauce to pour over veggies, potatoes, or chips!
AUTHOR NOTE: If you do not want to make the cheese sauce you can use 2 cups of shredded cheddar cheese. Sprinkle on after the hashbrowns have baked and before you add the bacon.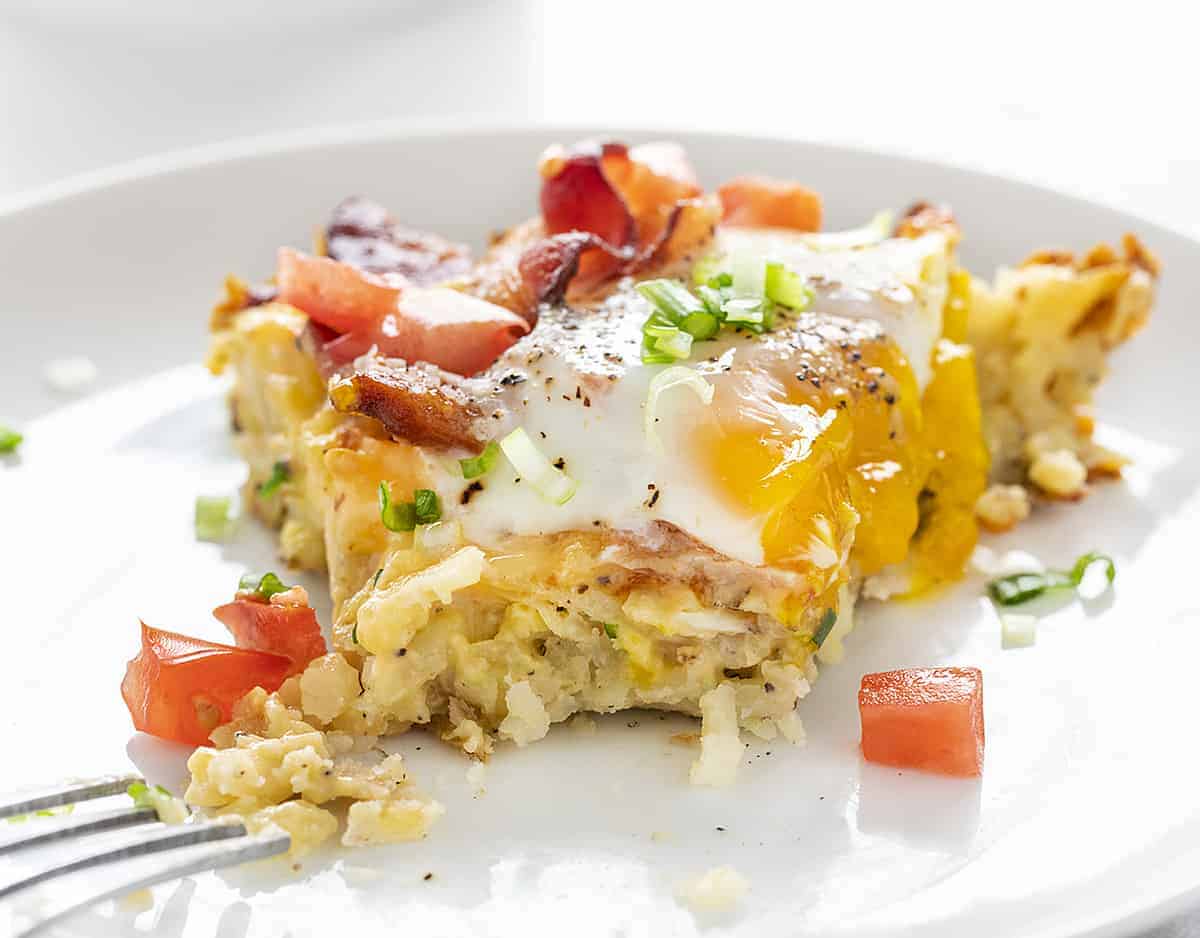 Looking for other Hot Breakfast Recipes?
Sausage and Zucchini Breakfast Skillet
Ham Egg and Cheese Breakfast Sandwich
Loaded Hash Brown Breakfast Nachos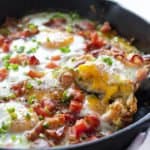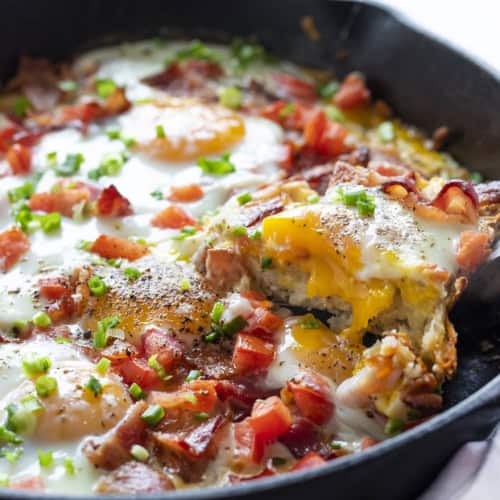 Hash Brown Breakfast Skillet
Start your day off on the right foot with this warm and hearty Hash Brown Breakfast Skillet.
Cook Time
1
hour
15
minutes
Total Time
1
hour
35
minutes
Ingredients
CRUST
1

tablespoon

oil

1

pound

frozen shredded hash browns,

thawed

2

large

eggs

1

teaspoon

Kosher salt

1

teaspoon

freshly ground black pepper
TOPPING
1

cup

cheese sauce*

6

slices

bacon,

cooked and crumbled

1

large

tomato,

chopped

5

large

eggs,

cracked over top

1/2

teaspoon

salt

1/2

teaspoon

pepper

1/2

cup

chives,

chopped for garnish
Instructions
CRUST
Preheat the oven to 400°F.

In a large bowl, mix together the thawed hash browns, two eggs, salt, and pepper.

Using your hands, firmly press the hashbrown mixture into an oiled, oven-safe skillet. Bake for 45-60 minutes, or until golden brown.
TOPPING
Remove the baked hash browns from the oven.

Top the hash browns with the homemade cheese sauce*, bacon, and tomatoes.

Crack five eggs over the top and season with salt and pepper.

Bake for about 15 minutes, or until egg whites are set but yolks are slightly runny. For a less runny yolk, bake another 3-5 minutes.

Garnish with chives. Serve warm.
Recipe Notes
https://iamhomesteader.com/cheddar-cheese-sauce/