Breakfast Tacos are tortillas loaded with scrambled eggs, homemade breakfast sausage, cheese, and tasty toppings! These are easy to make and so delicious to eat! Starting your day with a breakfast like these Breakfast Tacos will definitely get your day started on the right foot! If you love scrambled eggs, try my Country Buttermilk Scrambled Eggs for the perfect eggs.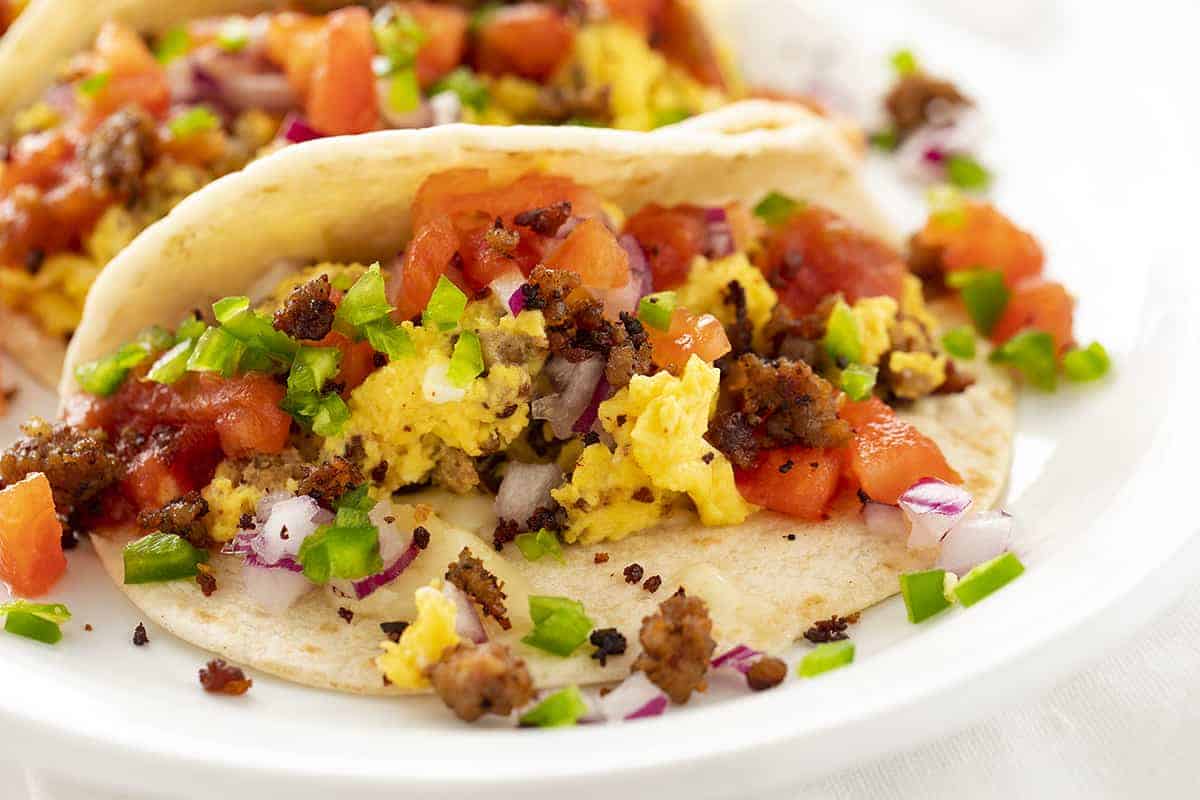 Breakfast Tacos
Tacos for breakfast, you say? Well, yes, I will say that. And, I will go ahead and eat them! Packed with protein on a softshell tortilla, Breakfast Tacos give you all the nutrition you need to get you on your way in the morning.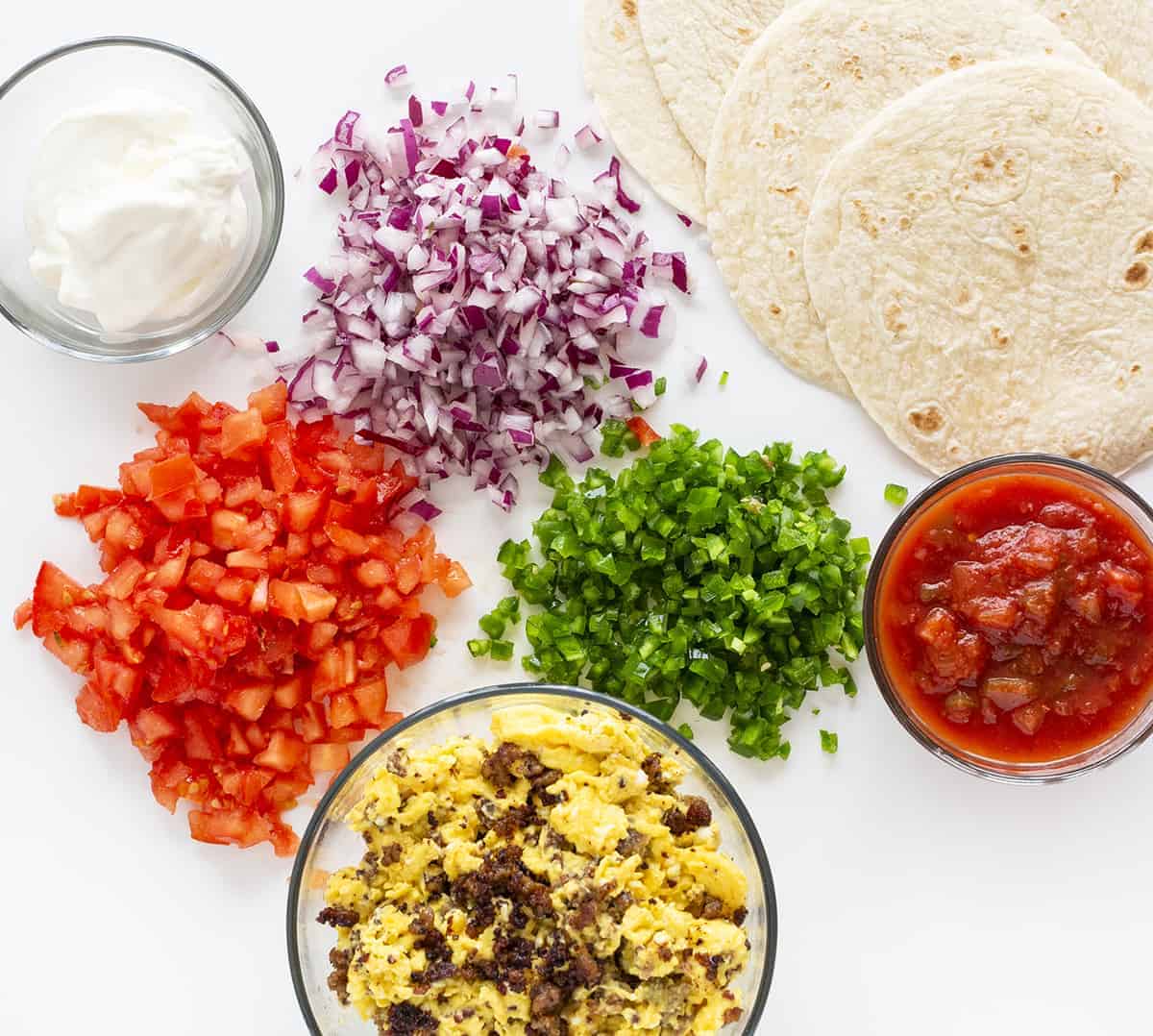 Breakfast Tacos Recipe
With fresh ingredients topping a scrambled egg and sausage mixture, you really can't go wrong with these Breakfast Tacos. You will get the protein from the eggs and sausage, as well as some fresh veggies to add to it. The options are endless when it comes to the toppings, but I am going to give you the toppings I used (and LOVED).
Ingredients
Breakfast sausage–I used the recipe I have for my Breakfast patties for the tacos. But, you can always buy breakfast sausage from the grocery store. They usually come in a 16-ounce package, but you only need 10 ounces for this recipe.
Soft-shell tortillas–I was able to make 12 small tortillas, but go for the larger tortillas if you are feeling hungry! (Just know that it will change the serving amount in the recipe.) Go ahead and skip the tortilla altogether if you are watching carbs.
Eggs–Farm fresh is best, but go for organic or cage-free if buying from the store.
Buttermilk–Have you ever tried to make your own buttermilk? I have the recipe here if you want to give it a shot!
Shredded Monterey Jack cheese–I think cheddar cheese would work well on these tacos, but any cheese would be delicious.
Salsa
Tomato
Jalapeno peppers–You can skip the peppers if you don't want spice, but I added just a few of the diced peppers and it was not too hot at all!
Red onion–Red onions go great with salsas and salads because of the mild flavor. Use a white onion if you want a stronger onion taste.

How to Make Breakfast Tacos
It is pretty quick and simple to make Breakfast Tacos. One thing you could do to save time, especially if you are in a hurry in the mornings, is to cut up the tomato, peppers, and onion ahead of time. Just store them in the refrigerator overnight so they are ready to go the next day.
Cooking the Sausage
To cook the sausage, crumble it into a skillet and cook it over medium-high heat, or until brown. The internal temperature should be 160°F if you want to check with a thermometer. Remember, you can always make your own tasty breakfast sausage for this recipe. Remove the cooked sausage from the skillet and set it aside. Leave the skillet over the heat for the tortillas. You can wipe down the skillet, but don't wash it.
Preparing the Eggs
To make the eggs, whisk them in a small bowl with the buttermilk. Then, pour them into a separate skillet or pan over medium heat. Cook them until they are almost firm. Do not add any salt or pepper to the eggs while they are cooking. You can always add that later. In fact, I didn't add any salt or pepper to my Breakfast Taco, and I didn't miss it! Once the eggs are almost firm, add the cooked sausage to the eggs. Cook a couple of minutes until the eggs become firm. Remove the eggs and sausage mixture from the heat.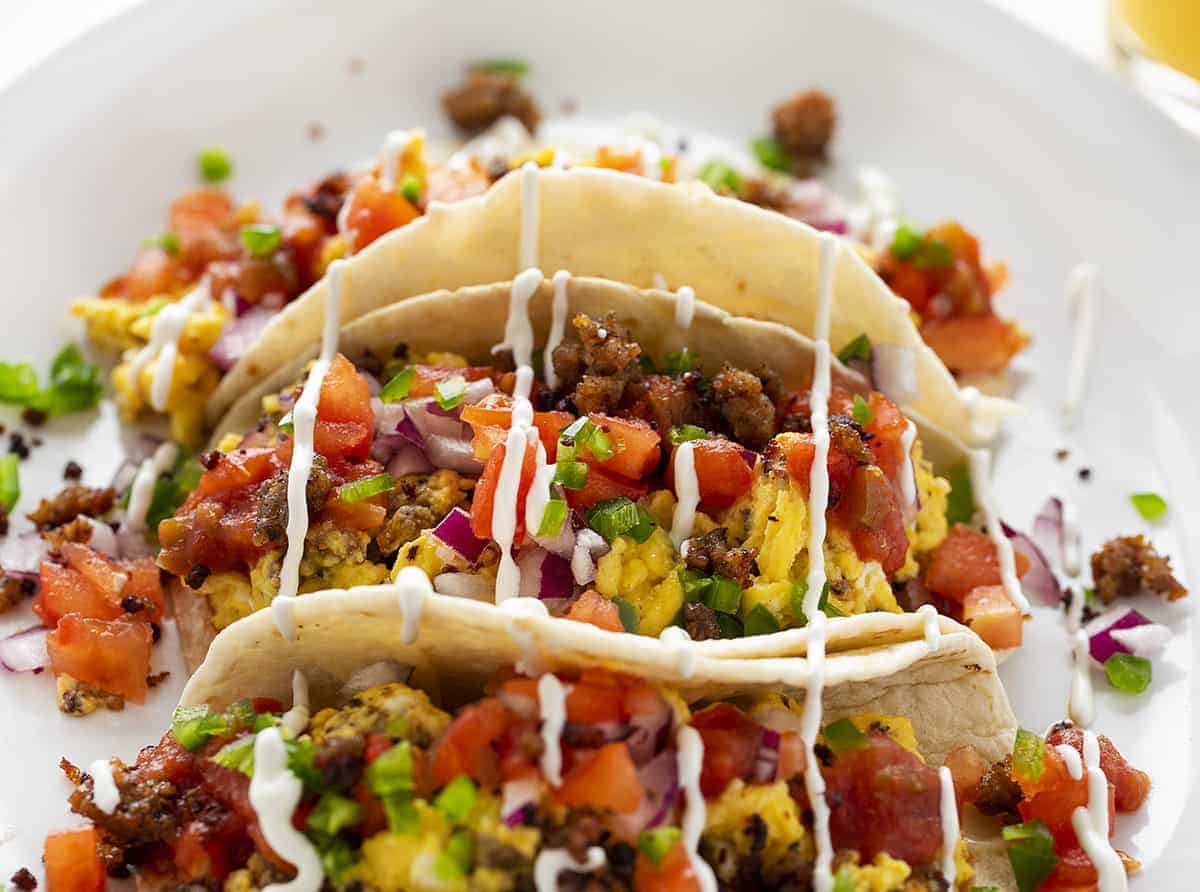 How to Assemble Breakfast Tacos
Back to the sausage skillet…hopefully, it is still warmed up. Take a tortilla or two, depending on the size, and let it warm up for about 45 seconds on one side. Flip it over, and while it is warming up on the other side, add some shredded cheese to the tortilla. After the cheese has melted some, remove the tortilla(s) and start layering it with the sausage egg mixture and all the toppings you can get on there! I recommend grabbing a fork as well. You don't want to leave any of the fillings left uneaten!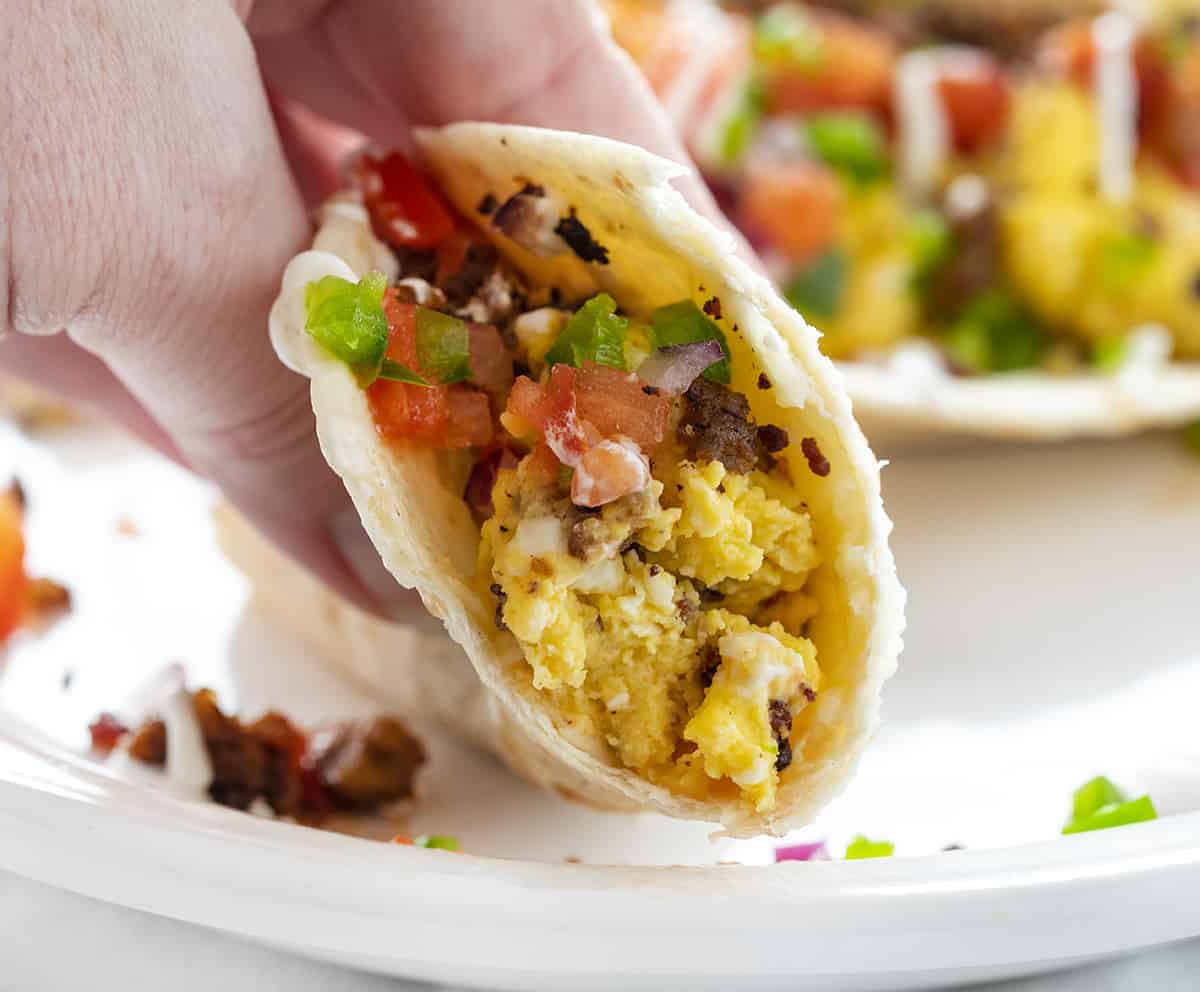 Looking for More Hot Breakfast Recipes?
Sausage and Zucchini Breakfast Skillet
Loaded Hash Brown Breakfast Nachos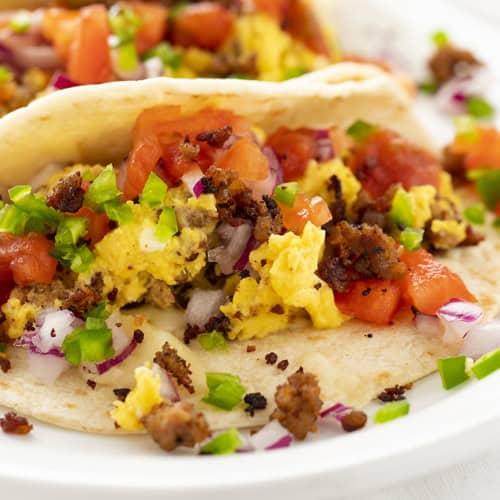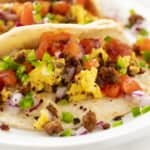 Breakfast Tacos
Loaded with a sausage and egg mixture and piled high with fresh vegetables, Breakfast Tacos will be enough to get you energized for the day ahead!
Ingredients
10

ounces

homemade breakfast sausage,

crumbled (or you can use cooked store-bought)

12

small

(4-inch) tortillas

8

large

eggs

1/4

cup

buttermilk

1

cup

Monterey jack cheese,

shredded

1/2

cup

salsa

1

medium

tomato,

chopped

1-2

medium

jalapeno peppers,

diced

1

medium

red onion,

diced
Instructions
Over medium-high heat, cook crumbled sausage in a large skillet until evenly browned. Wipe down the skillet (but don't wash it). Set sausage aside and leave the skillet on the heat for the tortillas.

Heat another skillet over medium heat while you whisk together the eggs and buttermilk in a medium bowl. Pour them into the skillet. Cook until almost firm.

Add the sausage crumbles to the eggs, cooking until the eggs are firm.

Using the sausage skillet, warm the tortillas for about 45 seconds per side. After warming the first side, flip over the tortilla and add some shredded cheese to the tortilla.

After the cheese has melted a little, top it with the scrambled eggs and sausage mixture. Then, remove from heat and add as many toppings as you like! Enjoy!