Breakfast will never be the same with this Ham, Egg, and Cheese Breakfast Sandwich recipe! We love breakfast recipes in our house, but this one is easily our favorite. We also like to use eggs from the chickens we raise as well as homemade rolls!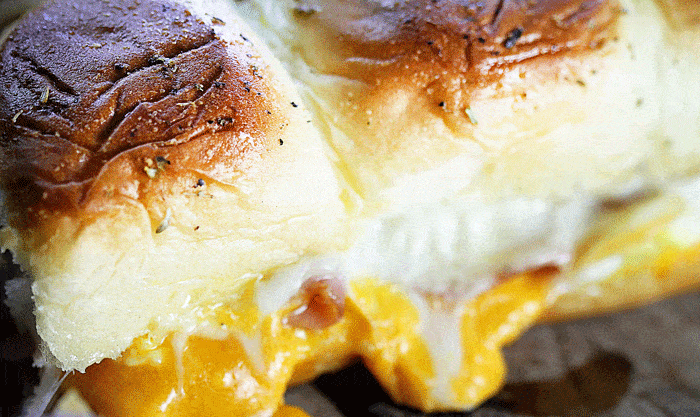 Ham Egg & Cheese Breakfast Sandwich
Just look at all of those ooey gooey layers of melty cheesy goodness. This easy breakfast sandwich will change your day, maybe even your life.  They are jam-packed with flavor and so easy to prepare!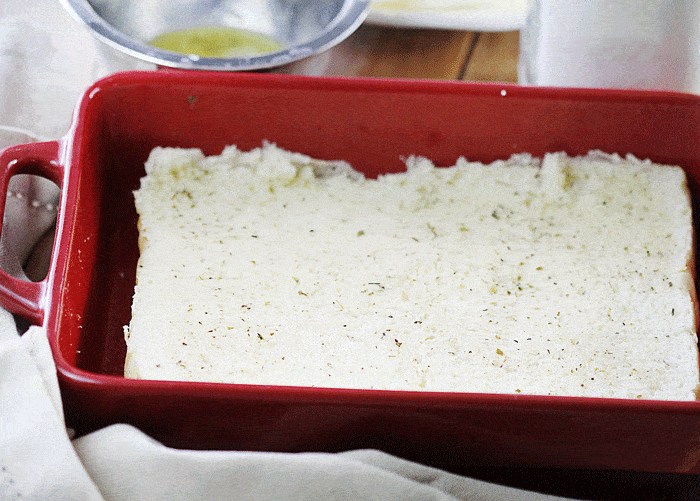 MY LATEST VIDEOS
When I don't have time to make homemade rolls, I like to use Kings Hawaiian dinner rolls.  The Kings rolls are deliciously sweet and cutting the whole pack in half makes this cheesy breakfast sandwich recipe a breeze.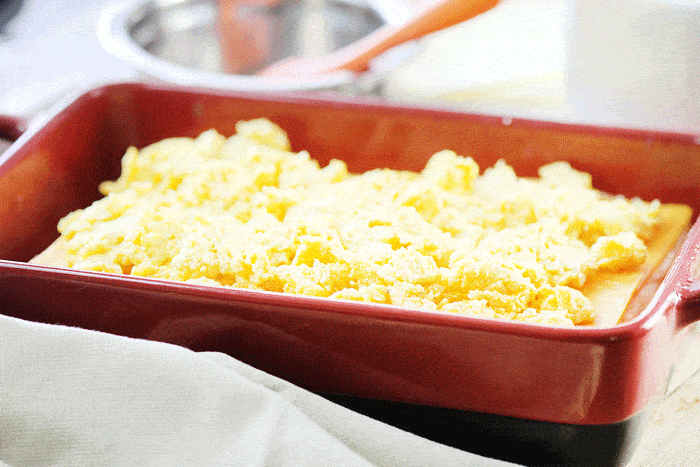 Your family and friends will go nuts over the cheesy layers in this recipe.  It will quickly become the best breakfast sandwich recipe in your arsenal. Just be ready for folks to ask to come over a lot more! (And also ask them to come over early so they can help collect eggs!????)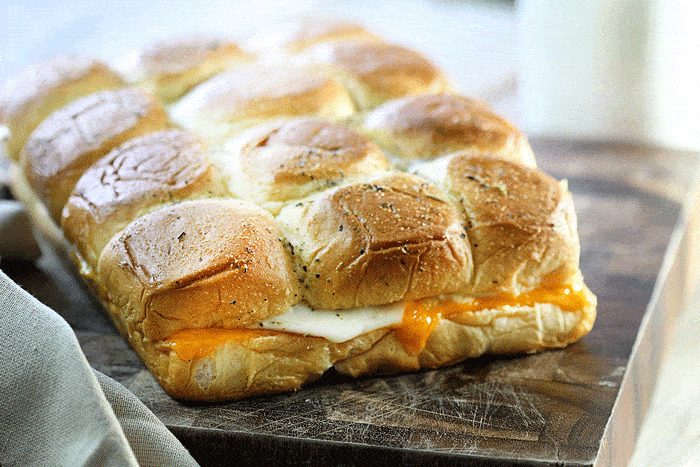 The finished breakfast sandwich is sure to be a crowd pleaser!
Tips, Tricks, and Variations
Can I make this quick and easy breakfast sandwich with bacon?
Sure, you can substitute any cooked meats in this recipe.  Bacon, Canadian Bacon, Sausage are all options.  Just make sure they are pre-cooked.  You can even simplify and just make a quick and easy egg and cheese breakfast sandwich.
Can I make this a Ham Egg and Cheese English Muffin?
Why not?  Replace the dinner rolls with English Muffins, or bread, or even bagels.  Just make sure that you place them as close together in the pan as possible.  This quick and easy sandwich has so many possibilities.
How do I make a Frozen Breakfast Sandwich?
Get out your tinfoil, if you want to make this recipe even easier.  Simply wrap the sandwiches individually in tinfoil and throw them in your freezer.  They will be good for up to one month.  When you are ready, unwrap the sandwich and place it in an oven preheated to 350° Fahrenheit for about 10 minutes.  Or you can zap it in the microwave for 3 minutes.  Either way, make extra and keep the leftovers!
Looking for other breakfast ideas?
We raise our own chickens so, we ALWAYS have plenty of eggs on hand.  Breakfast recipes are not hard to come by in my house, here are a few of my favorites.
Breakfast Skillet Spinach and Eggs
Ham Egg and Cheese Breakfast Sandwich
Country Buttermilk Scrambled Eggs
Cream Cheese and Strawberry Stuffed French Toast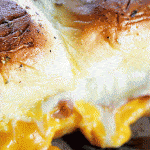 HAM EGG & CHEESE BREAKFAST SANDWICH
Breakfast will never be the same with this Ham, Egg, and Cheese Breakfast Sandwich recipe!
Ingredients
6

eggs

room temperature

1/2

teaspoon

salt

1/2

teaspoon

pepper

1/4

cup

butter

melted

1/2

teaspoon

garlic salt

1/2

teaspoon

Italian seasoning

12

dinner rolls

can use 12-count package

6

slices

sharp cheddar cheese

12

slices

ham

6

slices

provolone cheese
Instructions
Preheat oven to 350° F. Prepare a 7x10 pan with non-stick spray.

In a medium bowl, whisk eggs, salt, and pepper until blended.

Heat a large skillet over medium heat.

Pour egg mixture into the pan, as eggs begin to set, GENTLY PULL the eggs across the pan with a spatula, forming large soft curds.

Continue cooking – pulling, lifting and folding eggs – until thickened and no visible liquid egg remains. Do not stir constantly. REMOVE from heat and set aside.

In a small bowl, mix together the melted butter, garlic salt, and Italian seasoning.

Split your rolls in half, place one half in the bottom of baking dish.

Top the buns with the cheddar cheese slices, ham slices, cooked eggs, and then the provolone cheese slices.

Place the top half of the buns on top and brush the top of the rolls with the melted butter mixture.

Cover the dish with tinfoil and bake for 15-20 minutes or until the cheese is hot and bubbly
Did you make this recipe?
I want to hear about it!  Take a picture and tag me on Instagram or on Facebook.  I would love to see your finished product!  Make sure to tag me @iamhomesteader or hashtag #iamhomesteader, or both!