A Thanksgiving side dish on a lot of families' tables is sweet potatoes or yams, especially candied yams. These Candied Yams take some patience in cooking time, but they are easy to put together, and I will let you know how to prepare the potatoes ahead of time! I think you will want to make these many times a year, not just at Thanksgiving. Make them as a side for Macaroni and Cheese or Country Fried Pork. Of course, with Thanksgiving right around the corner, people will be expecting these Candied Yams to go with my Bacon Wrapped Turkey and Skins On Mashed Potatoes!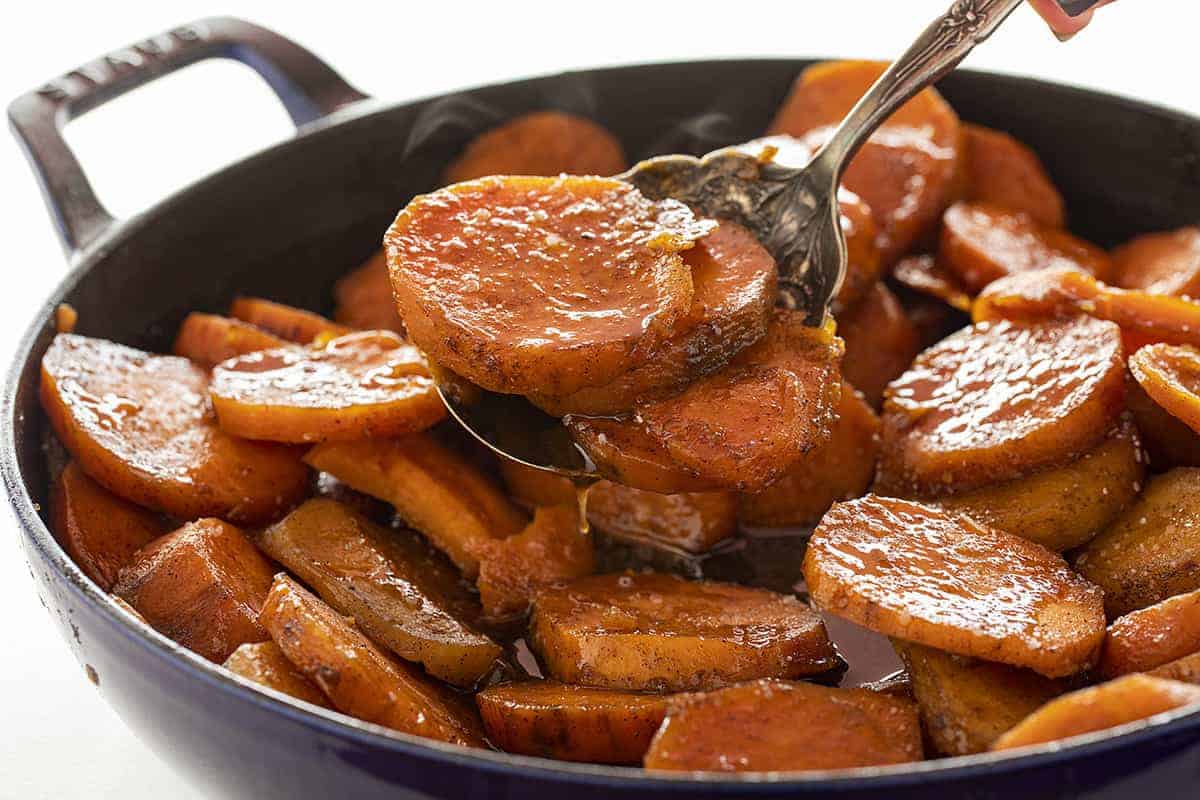 Candied Yams vs. Sweet Potatoes
Are they yams or are they sweet potatoes? What is the difference, really? I am calling this a Candied Yam because that is how the grocery store labels it. I always want to be providing you with accurate recipes so will disclose right out of the gate that these are technically sweet potatoes. When you are shopping for yams you will probably see sweet potatoes.
Yams are actually very different than you might imagine. They have rough dark skin and the flesh is starchy and white, not sweet at all! If fact, a true yam tastes more like a white russet potato than a sweet potato. However, in the 1960s a sweet potato grower started to label their sweet potatoes as yams and the name has stuck since.
When I am buying sweet potatoes, or yams, at the grocery store, I am looking for the orange inside. For all practical purposes, the terms are interchangeable in many traditional American recipes.
So just to be clear, a TRUE yam might taste different in this recipe!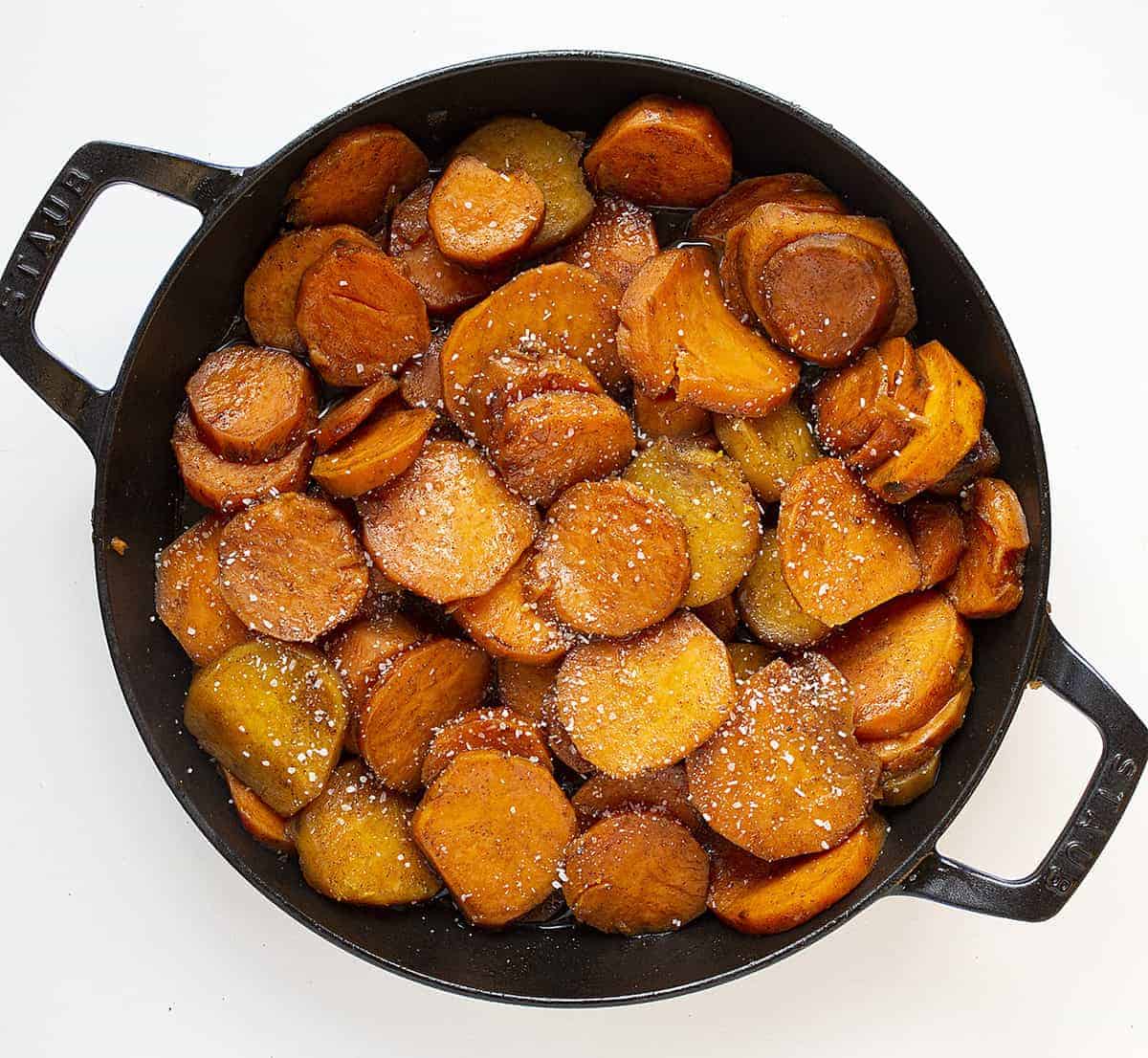 Candied Yams Recipe
George Washington Carver came up with over 100 products using sweet potatoes, including a variety of foods as well as dyes and wood fillers! Well, I only have one use for now, and that is this Candied Yams Recipe. You may notice I use pumpkin pie spice for this recipe, and I encourage you to make your own pumpkin pie spice! If you do use store-bought pumpkin pie spice, use half a teaspoon for this recipe. Homemade spices have a lot more flavor and spice, so cut the amounts in half for future recipes.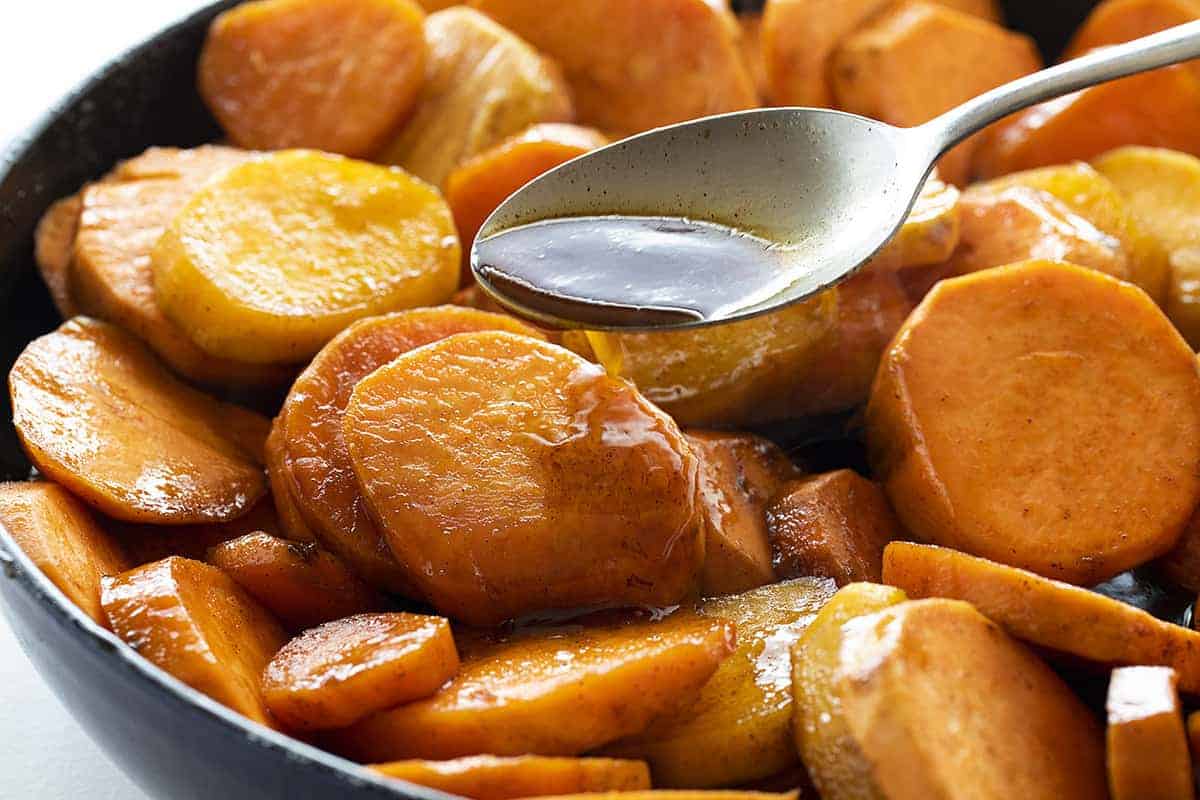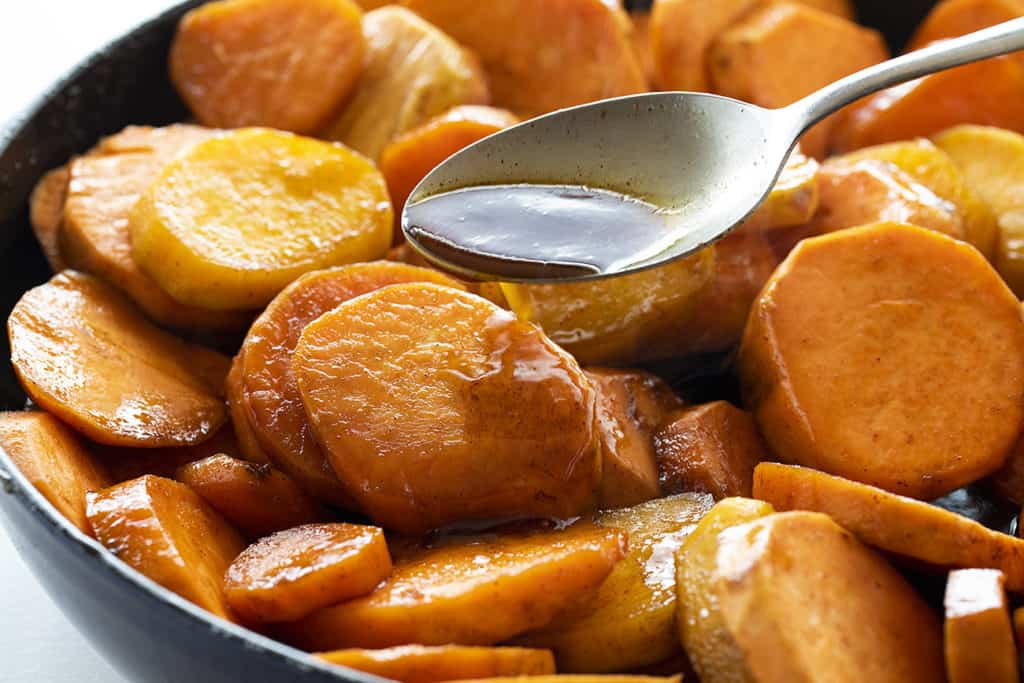 How to Make Candied Yams
The hardest part (if you consider peeling potatoes hard) is the peeling and slicing of the yams. But, I will give you some tips on that later.
Peel the yams. Slice them into 1/3 inch slices.
Melt butter in a skillet, then add the yams and toss to coat all pieces.
Stir in brown sugar, pumpkin pie spice, and vanilla. Mix well.
Cover skillet and cook for 1 hour, stirring occasionally.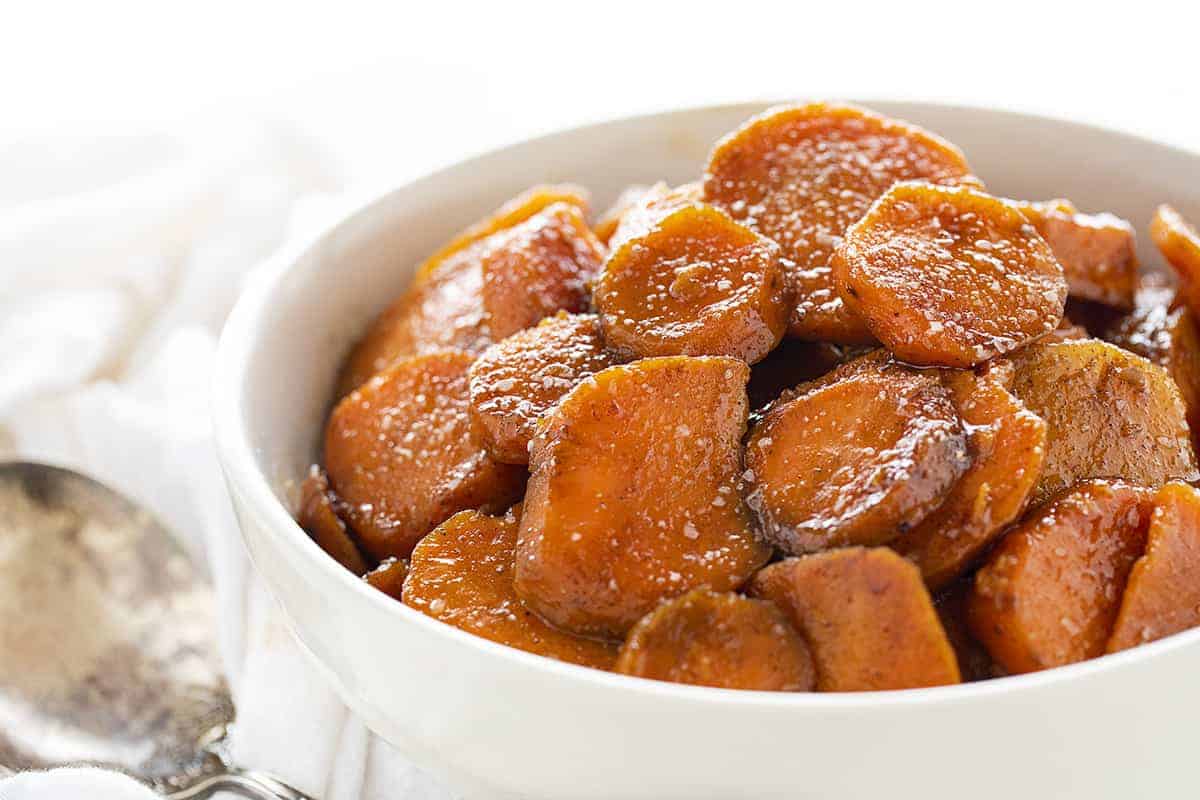 How to Peel and Slice Yams/Sweet Potato
Sweet potatoes generally have tougher skin than other potatoes, especially depending on the specific yam or sweet potato you are using. But, do not let that stop you from making Candied Yams! There are a few tricks you can do to help make the process a little easier…
Wash the potatoes in warm water. The warm water will help to soften the skin a bit, but not as much as you would like. If you really scrub while cleaning the potatoes, that will also help thin the skin.
Cut off any rough or 'woody' ends of the potato.
Use a serrated peeler (preferably) or regular peeler to peel from root to tip. Generally, the tapering point is the bottom and the blunt end is the top, but sometimes it is hard to tell. Just make sure you are peeling top to bottom or bottom to top😊.
Once peeled, slice the potatoes as evenly as you can. This will help them cook more evenly.
Can I Make This Ahead of Time?
Yes! If you are making these Candied Yams for Thanksgiving, you may want to prepare as many recipes as you can ahead of time. It's nice to know that you can peel the potatoes a day before you use them. Just keep the peeled sweet potatoes in a bowl of cold water. Be sure to dry off the potatoes with a paper towel before slicing and cooking them to reduce any bacteria.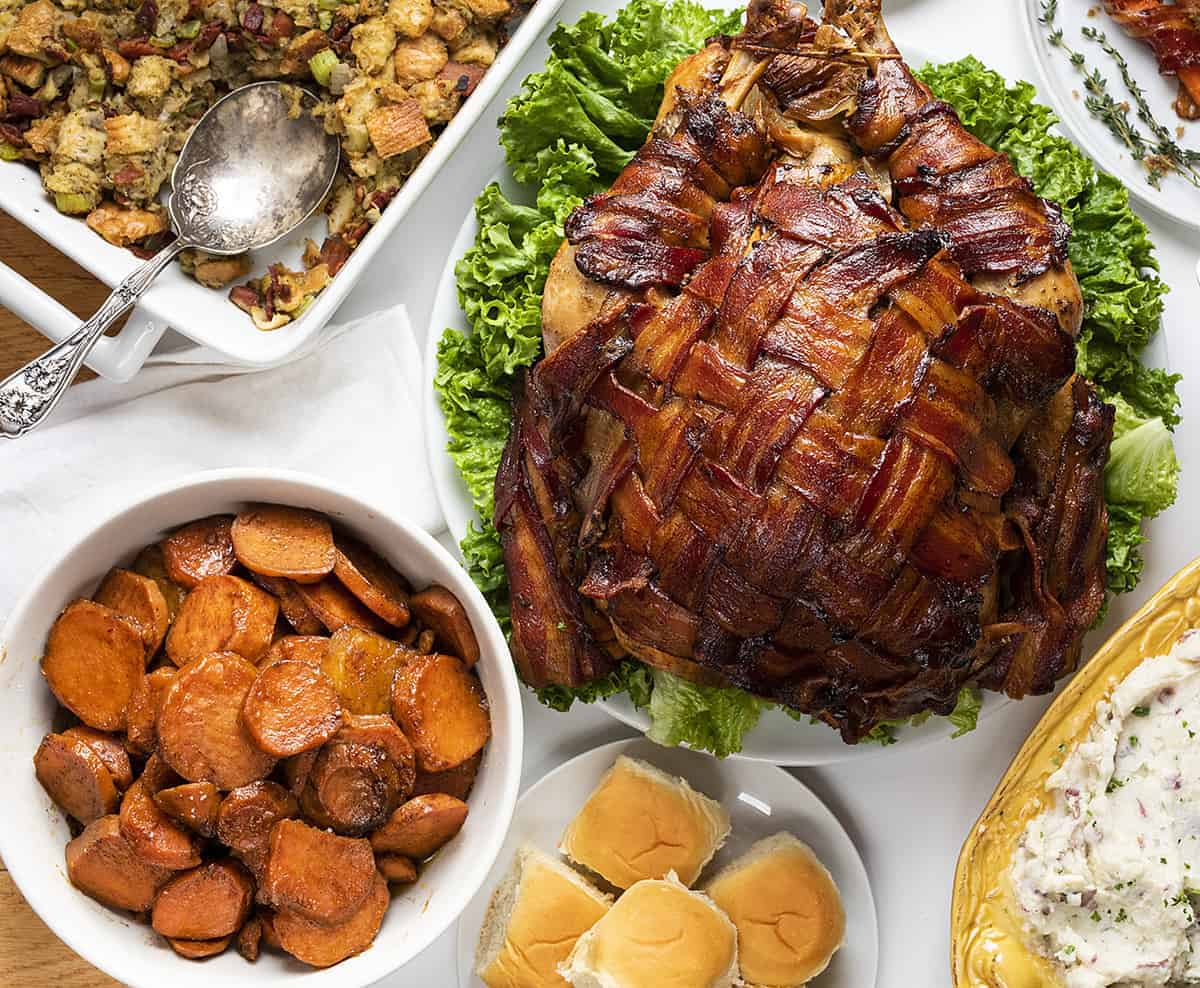 You can find that Bacon Turkey here!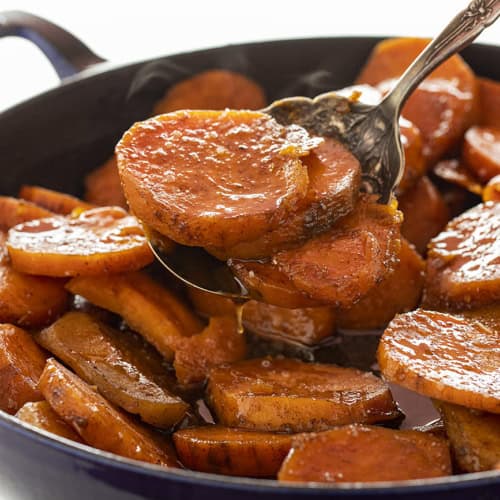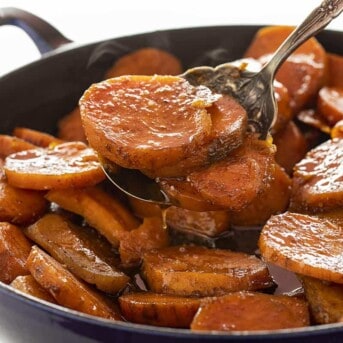 Candied Yams
Candied Yams are a Thanksgiving staple with a perfect blend of sweet and spice that are always a hit during the holidays!
Ingredients
½

cup

unsalted butter

6

yams

(3.5 pounds),

peeled and sliced ⅓ inch thick

1

cup

brown sugar

1

teaspoon

pumpkin pie spice

1

teaspoon

vanilla

½

teaspoon

Kosher salt
Instructions
In a skillet over medium heat, melt butter.

Add yams and stir to completely coat each piece.

Stir in brown sugar, pumpkin pie spice, and vanilla. Mix together until sugar dissolves.

Cover the dish and cook for 1 hour, stirring occasionally.

Add salt and serve.
Did you make this recipe?
You can tag me at @iamhomesteader.